i-Drink Products is the global sales, marketing and distribution center for the Drinkmate brand of home and portable carbonation appliances. Drinkmate is the world's first home carbonation system that allows the user to directly carbonate not just water, but all kinds of cold beverages, like juice, tea, cocktails, wine, and even other drinks. Drinkmate is the smart, healthy choice for consumers who want fresh alternatives to traditional carbonated soft drinks.
This brings us to i-Drink's Drinkmate Spritzer. The Drinkmate Spritzer Kit contains everything you need to carbonate your drinks on-the-go. It allows you to add some sparkle to your next tailgate party, barbeque, or picnic. Inside the kit, users will find a Drinkmate Spritzer, a 16.9-oz. (0.5L) Bottle, a Fizz Infuser, and two 3-oz. (10L) CO2 Cylinders.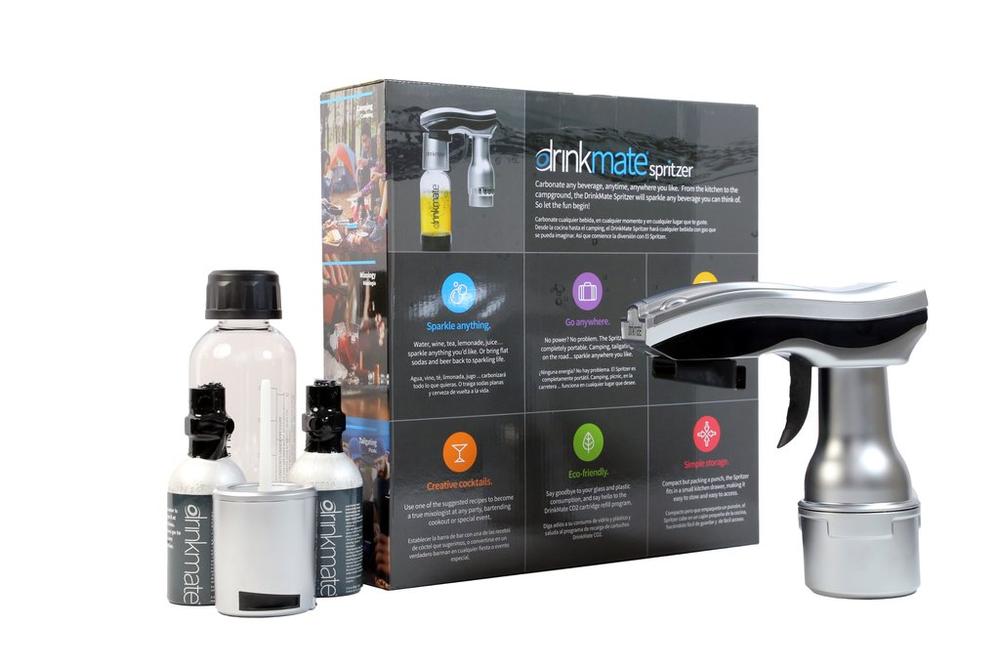 The Drinkmate Spritzer is the only hand-held portable carbonation system that can carbonate any beverage, anywhere, with both ease and speed. It lets you have sparkle anywhere.  Since it's portable, you can use it outdoors or at home, and you can easily fit it in a kitchen drawer. It's a blast to use at picnics, BBQs, or tailgate events. You can be creative and get healthy, while completely avoiding sugar. The Drinkmate Spritzer lets you add fizz to anything.
This specially engineered system lets you carbonate almost anything, allowing you to be creative and explore new sparkling drinks that weren't even possible to make before.  And since you control what goes in them, you can avoid excessive sugar and any harmful chemicals.
Its patented detachable Fizz Infuser and dual-stage valve system provides users with a better control on release of CO2. The Drinkmate Spritzer is incredibly easy to operate, and it's also really easy to clean. And the best part, no electricity or batteries are required. The simplicity of this device and its portability are two great reasons to get one if you're looking to carbonate your own drinks.

The Drinkmate Spritzer Kit is available in three modern colors: Silver, Metallic Red, and Matte Black. If you're looking to buy one kit, each one is currently going for $80 (currently discounted from $100, saving you $20). You can get a Drinkmate Spritzer Kit on i-Drink Products' official website, by clicking here.