Apple is getting ready to reveal some new hardware at its annual September event. According to all the gossip that has been going around, the rumors speak about new iPhones, a new Apple Watch, potentially a new MacBook, and maybe even a new iPad Pro. However, not everything that's included in these rumors might appear, so try to have only reasonably expectations for Apple's upcoming September 10 event, which will take place at the Steve Jobs Theater in Cupertino, California. The event will start at 10AM PT / 1PM EST / 6PM BST (and 4AM AEDT on September 11 in Australia).
And in case you are not able to attend Apple's upcoming event, there's no reason to start overthinking about what you might be missing. The event has been added as a special event livestream. This means that those who are interested in watching the event's live broadcast may look up session listings to watch the event at a local Apple Store. But be aware that not all Apple Stores around the world will stream the event. To be specific, a store must have a Forum, a video wall, and also be located in an English-speaking region to qualify for the broadcasting standards.
iPhone users can check the keynote streaming availability on their Apple Store app (below the Session Calendar) or by visiting the event page listed as "Today at Apple" in Apple's website. While these store's will have a registration to secure a seat, it's not totally necessary that you register, since you can enter the broadcasting stores and start watching the live broadcast if there are any vacant seats.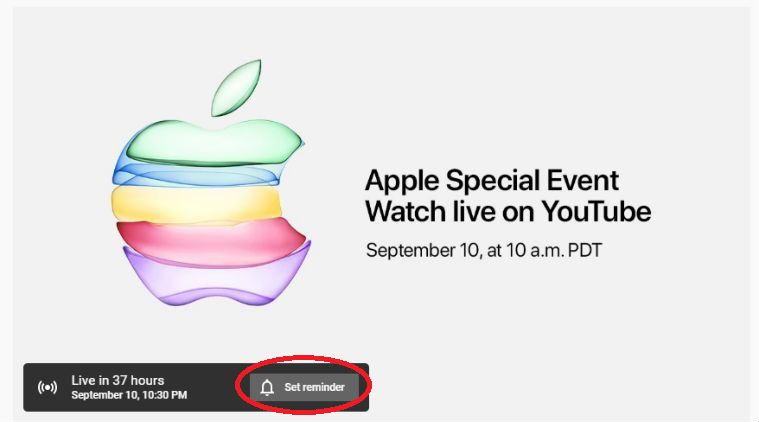 Everyone looks at Apple's upcoming September 10 event as a special one, and this is one that's certainly a must-see for any Apple enthusiast out there, since this could be when the iPhone 11 is finally announced. Keep in mind that if you can't attend any Apple Stores, you'll also be able to watch the Apple Event live on YouTube, and you can even set a reminder.
Also Read: Apricorn Aegis Fortress L3 Portable Encrypted SSD – Software-Free Setup/Operation and Cross-Platform Compatibility