If you're looking for a new refrigerator for your home, Sears has got you covered. Sears currently has the Galanz GL31RDE 3.1 cu ft Red Retro Mini Fridge refrigerator on discount, and this is a great one to consider buying.
Sears, Roebuck and Company, commonly known as Sears, is a chain of department stores founded in 1893, reincorporated by Richard Sears and new partner Julius Rosenwald in 1906.
But what makes this refrigerator a top-quality electronic home appliance is the fact that it's made by Guangdong Galanz Group Co., Ltd, a chinese manufacturer of electronic home appliances that's headquartered in Foshan, Guangdong. The company (Galanz) is known as the largest microwave oven manufacturer in the world, producing one in every two microwave ovens, which makes them a trustworthy brand, to say the least.
The Galanz Red GL31RDE refrigerator is a 3.1 cu ft (cubic foot) Red Retro Mini Fridge that truly combines a freezer with a cool "Retro-Look". The Galanz Red GL31RDE refrigerator measures 23.31 inches long by 19.17 inches wide by 35.16 inches tall and weighs 58.42 pounds. The door is made out of steel, the handle is made out of stainless steel and the shelves are made out of solid glass.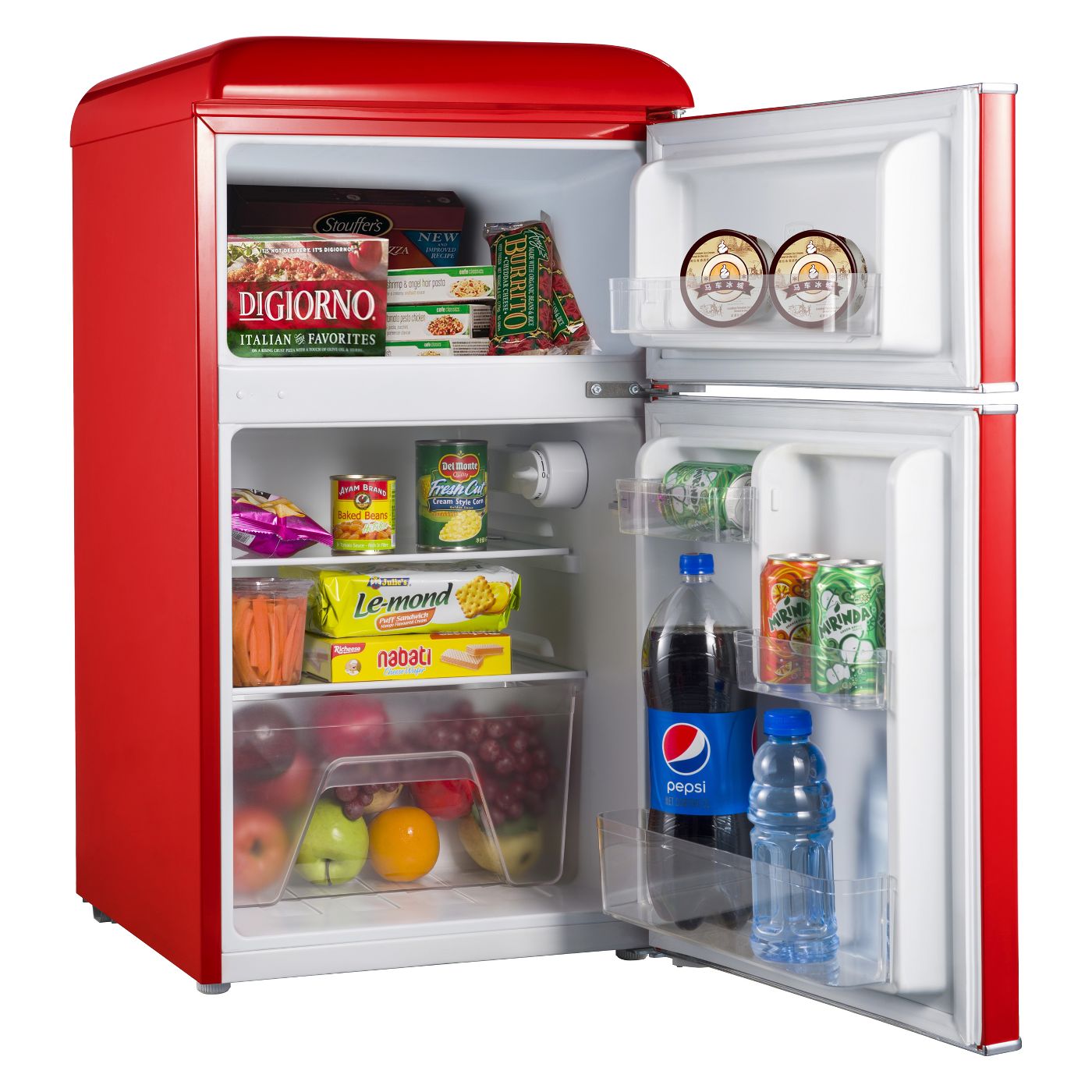 The refrigerator comes equipped with 2 slide-out glass shelves, 2-liter bottle storage and a crisper (compartment with a different level of humidity that prolongs the freshness of stored produce, like fruits and vegetables). The refrigerator also includes a can dispenser and 2 leveling front legs. The freezer is located on the top part of the refrigerator, making this a top door freezer refrigerator.
The Galanz Red Retro Mini Fridge (GL31RDE) comes with a cooled compressor with a coolest temperature capability of 0 degrees Fahrenheit (-17.7778º Celsius). The Galanz Red Retro Mini Fridge (GL31RDE) features a wattage output of 321 watts, and also comes with a sustainability certification; it's Energy Star Certified.
The Galanz 3.1 cu ft Retro Mini Fridge is perfect for additional kitchen spaces, garage or lower level family room entertaining. Or if you have a son or daughter that are going to college, this is also a great gift that they can take with them. Like it was said before, Sears currently has the Galanz Red GL31RDE refrigerator on discount.
If you're interested in buying it, the Galanz Red (GL31RDE) 3.1 cu ft Retro Mini Fridge is currently priced at $371.53, and it's available at Sears' official website. You can find it on their shopping page, by clicking here.