French consumer electronics company Withings had announced their upcoming Withings Move ECG Monitor & Activity watch earlier in January.
Withings is a French consumer electronics company headquartered in Issy-les-Moulineaux, France, with offices in Cambridge, Massachusetts, USA, and Hong Kong, distributing products worldwide.
While this hyped watch was meant to arrive during this Spring, we were left hanging, and we waited for quite some time. But the world's first analog watch with a built-in electrocardiogram to detect atrial fibrillation is finally here. All we can do now is see if it was worth the wait.
Like most of Withings' products, the Move ECG is a hybrid analog watch and fitness tracker. The watch was expertly conceived and is clinically validated. The Move ECG was developed with the help of cardiologists from renowned institutions.
Its most notable feature is obviously its built-in ECG, which allows you to measure your heart's health while on the go. While there weren't that many smart ECG watches available on the market, the Withings Move ECG Monitor & Activity watch is certainly a novelty, especially when considering its current price tag.
The Withings Move ECG features a minimalist design that offers a less formal, and friendlier look. Its 38mm case looks a lot smaller on your wrist when compared to other smart ECG watches.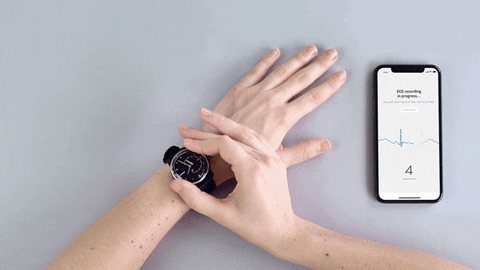 Taking an ECG with this new Withings watch is incredibly simple. You just need to push the single button (or "pusher", which is the opposite of the typical crown dial, as watch fans call this button) that's located on the right-hand side of the 38mm case. Then you need to pinch either side of the watch with your fingers, with just a bit of pressure. The subdial, which is normally used to track your steps, will then work as a countdown timer, counting down 30 seconds for the test to be complete. But keep in mind that you need to have your arms resting on a table.
Setting up the watch is incredibly simple. All you need to do is download the free proprietary Withings Health Mate App (available on Google Play and the App Store) and follow some simple, quick instructions to set it up via Bluetooth.
The watch offers an easy, always-on way to take an electrocardiogram, proving to be ready whenever you are. In case you feel any palpitations or an irregular heart rhythm, by simply pressing the side button and placing your finger on the bezel you're presented with a detailed medical-grade ECG within 30 seconds. And the best part is that you're able to record an ECG with or without your phone nearby, since the data can be stored in the watch until the next time you sync them together. While the tests are uploaded to your phone for later analysis, those can also be sent to your physician via PDF, allowing you to get an expert's opinion.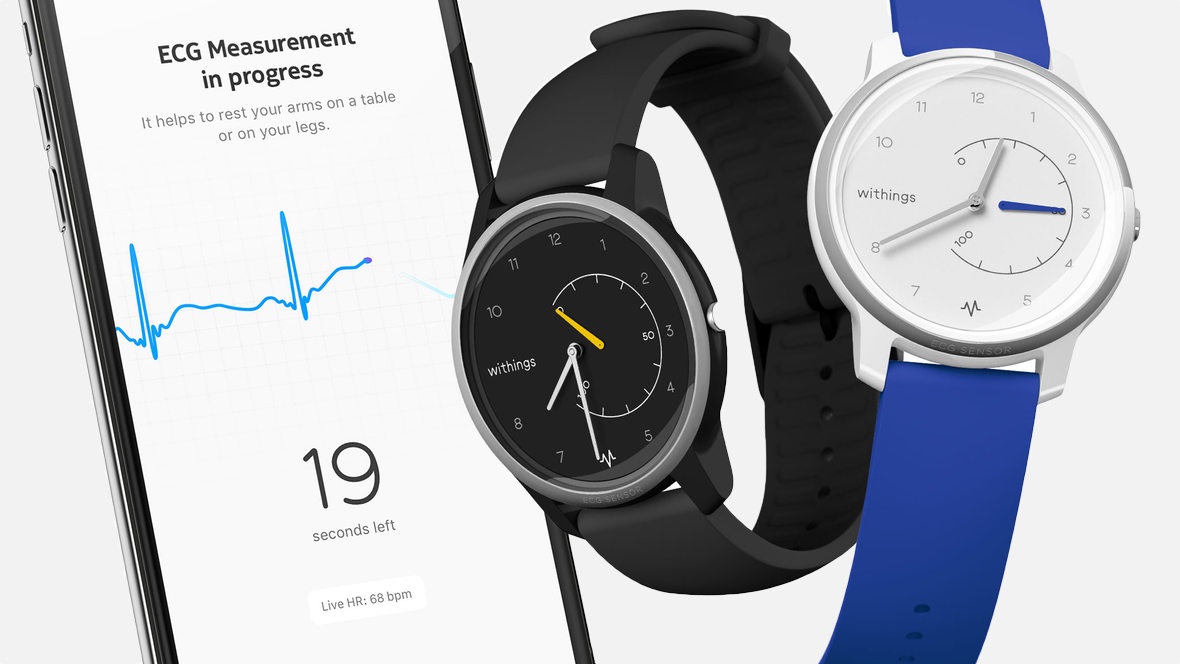 All results are sent to the Withings Health Mate App via Bluetooth, and the App provides unlimited storage for those same tests. The tests are displayed with simple to understand color code results. You can get detailed information about your Sinus Rhythm and Atrial Fibrillation.
Since the Withings Move ECG lacks a digital display, there's not much more that you can do with it. The watch also lets users track sleep and activity (including walking, running, and swimming) without any charging required. The watch operates on a single cell battery that offers 12 months of battery life, and users are able to run it during that entire period while taking two ECGs a day. The watch is also water resistant up to 50m.
Another downside is that the watch doesn't glow in the dark (which is a common functionality on most watches nowadays), or have any form of backlighting, which means that if you want to check the time in the dead of night, you'll have to use your phone's light.
The Withings Health Mate App aggregates all of your health data into one place. The information is easy to read, providing you tons of helpful graphs that break down the state of your body. It's one the best fitness software available (and arguably the best). During the day you can easily see how close you are to your step goal by taking a look at the subdial.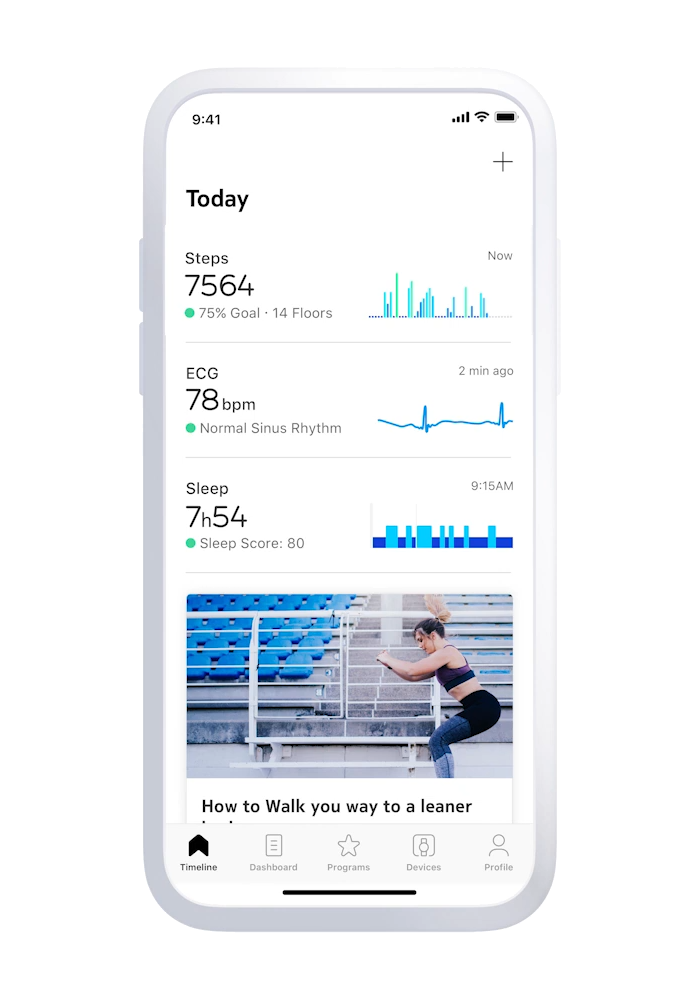 By checking the App, you can also get a summary of your Daily Activity after performing a sync between the watch and your smartphone, providing you with a detailed view in the form of a list with information about your Step Count (with Distance, Elevation, Calories Burned, Total Calories, and Number of Stairs Climbed), ECG tests and Sleep Score (Sleep Patterns details like Breakdown of Your Night, % of Sleep Goal, Time Spent Sleeping and even Number of Wake Ups).
The Withings Move ECG can also track up to 30 different activities by using its featured Workout Mode. This mode tracks the duration of your workout, calories burned, elevation, and even offers connected GPS. Just like taking an EGC, starting the Workout Mode is also incredibly simple. It's actually even easier; all you have to do is press the same side button (instead of holding it) to start the Workout Mode, right before starting your workout. Pressing the same button again stops the Workout Mode.
Going back to the Sleeping Score tracking, users can also configure the Withings Move ECG to wake them up with a silent vibration smart alarm at a set time.

While it does lack some functionalities (like the previously mentioned lack of night light/backlighting), there's one place where it really does win. The Withings Move ECG is incredibly cheap when compared to the Apple Watch, going for a third of its price. This basically means that you can easily get a stylish hybrid fitness tracker with the same heart-checking capability at a very accessible price. However, there's also the tradeoff between having a constant heart-rate monitor versus the rare nature of an ECG. This means you'll have to decide between a device that's always tracking the pattern of your heart, or one that'll give you better data when you need it.
While the watch is already available in Europe, US residents will have to wait a little longer. The FDA is still looking to approve the sale of the watch, which is expected to drop in Q4 of this year. Hopefully, it'll be available to buy before the end of the Holidays.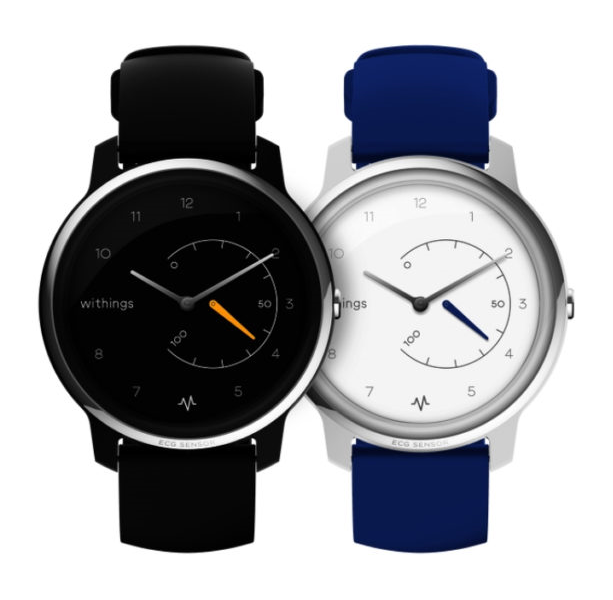 The Move ECG can come in two different models: Black and Grey (with a Yellow Subdial), or White and Blue (with a Blue Subdial). Both models come with a shiny silver bezel that works as the third sensor for the ECG circuit, with the other two pressed into your wrist. All three sensors need to be touching your skin for the measurement of your heart to work properly.
Whenever the Withings Move ECG is available, it will be going for $129.95. It will come with a 30-day return policy and a 1-year warranty. While US residents still need to wait a bit more for this amazing watch, you can already sign up with your email address to be notified whenever its sales are open. You can do so by going to Withings official website, on this page.
Also Read: Sony Gives Fans More Reasons Why the PS5 will be a Huge Upgrade Over the PS4