If you own multiple portable devices, you would probably value having a charging station that's capable of charging up all those devices simultaneously.
Limitless Innovations started its business in 2012. The product company is focused on providing consumers with the most innovative solutions for everyday problems, while doing it with style. One of the company's greatest creations is the ChargeHub, a portable charger that's capable of charging up multiple devices simultaneously.
Limitless Innovations went on to create the ChargeHub after identifying a need and opportunity in the technology market back in 2013. This multi-port USB charging station contained a unique set of features previously unseen in any off-the-shelf products. Then, during 2014, the innovative, patent-pending design and capabilities of the ChargeHub hit the Consumer Electronics Show (CES), one of the largest technology shows in the world. That's where the ChargeHub was awarded Best of CES 2014, among thousands of new products in the field. Later it was also awarded Best of CES 2016 by iPhone Life Magazine as one of the most innovative new iOS related products.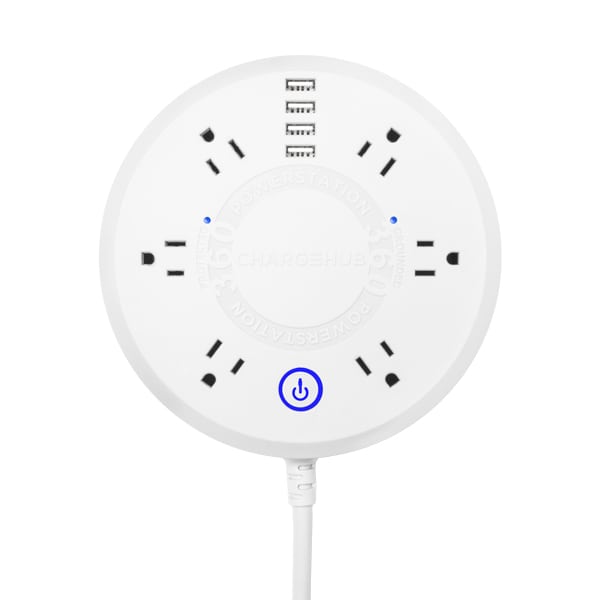 The ChargeHub Powerstation 360 is one of the ChargeHub's newer models, and was released last year, during December. The ChargeHub Powerstation 360 is the ultimate charging solution. It can charge up to ten USB devices simultaneously, including four USB's, six AC Outlets, and is capable of providing up to 4000 Joules of Surge Protection with Lifetime Connected Equipment Warranty. The ChargeHub Powerstation 360 features a textured finish that's scratch resistant.
The advanced 4000 Joules of Surge Protection ensures all connected devices are safe from power fluctuations, spikes, and surges. The ChargeHub Powerstation 360 can also be wall mounted – wall mounting it is extremely easy thanks to the provided screws, hanging template, and instructions. This device is a perfect fit for any home, office, dorm room, or workshop that needs a solution to charge multiple portable devices.
Within the package users will find: one ChargeHub Powerstation with AC Power Cord, two incldued Mounting Anchors, one included Hanging Template, the User Manual, and a one Year Limited Warranty documentation by Limitless Innovations.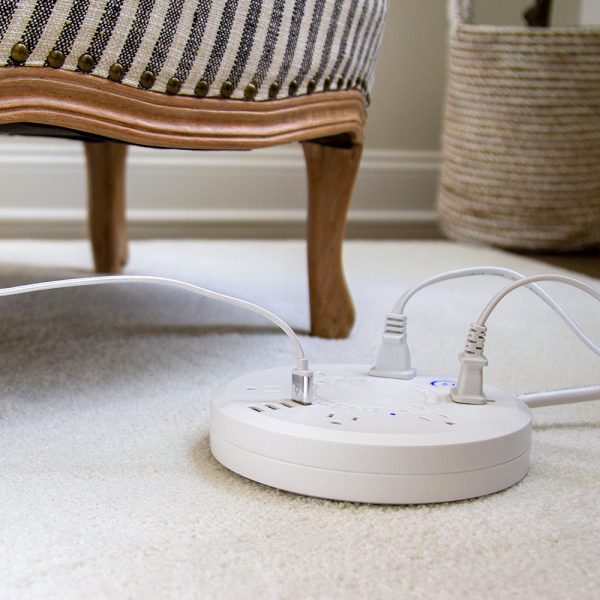 The ChargeHub Powerstation 360's Surge Protector uses patented SmartSpeed Technology to provide an optimal charge for virtually any four devices, providing up to 2.4 Amps per port, or 5 Amps overall. The six AC outlets (125V / 10A / 60Hz / 1250W) are positioned in a circular pattern to provide more space between each outlet and deliver maximum functionality. The device includes a 6-foot heavy-duty power cord with a 90-degree plug.
This charging station is the ultimate space saver. Its unique technology allows for a powerful charge to be delivered to multiple devices all while using only one outlet. Wall mounting the device is incredibly easy. Having one of these creates a neat and organized space and in turn eliminates excess cables, multiple outlet usage, and clunky power strips.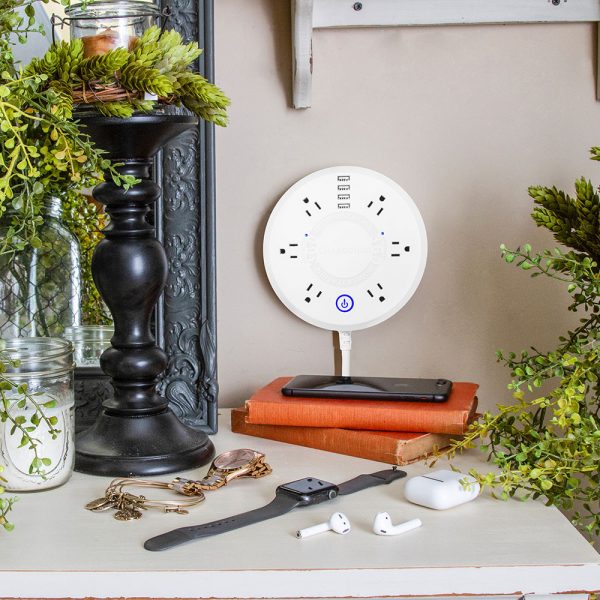 Whether you're the proud father or mother of a big family, a college student with tons or portable devices, or if you're workspace is filled with people that constantly need a charging solution for their smartphones and tablets, consider getting the ChargeHub Powerstation 360. This is one of the best charging stations currently available that's capable of charging up multiple devices simultaneously.
If you're interested in getting it, each unit is going for $60. You can get the ChargeHub Powerstation 360 at Limitless Innovations's official website, by clicking here.