While smartphone cases are designed to attach to, support, and hold a smartphone, offering a great layer of protection against dust, unexpected drops or any accidental damage, they aren't really designed with gaming in mind.
But that's about to change with the Mobile Gaming Corps Valor Gaming Case, the first smartphone case that's designed for gaming. This smartphone case was designed exclusively for gamers, so, if gaming is your passion, this case is definitely worth checking out.

MGC (Mobile Gaming Corps) designs, develops and manufactures innovative accessories that enhance your mobile gaming experience. The company is based in Los Angeles, California. MGC's vision is to deliver innovative hardware that can give mobile gamers a competitive edge, without having to carry around bulky accessories.
Now, let's take a deeper look at the MGC Valor Gaming Case.
PRODUCT SPECS
The Mobile Gaming Corps Valor Gaming Case features an ergonomically slim design. The case was designed specifically for gaming, making it incredibly comfortable even when used for your standard smartphone functions. Its chamfered (45º angle) edge allows you to rest your fingers in a comfortable way, while its rubberized back plate with soft non-slip coating offers added ergonomic gaming grip. This slim and stylish case adds just 4.3mm of thickness to your phone, and packs some serious gaming power.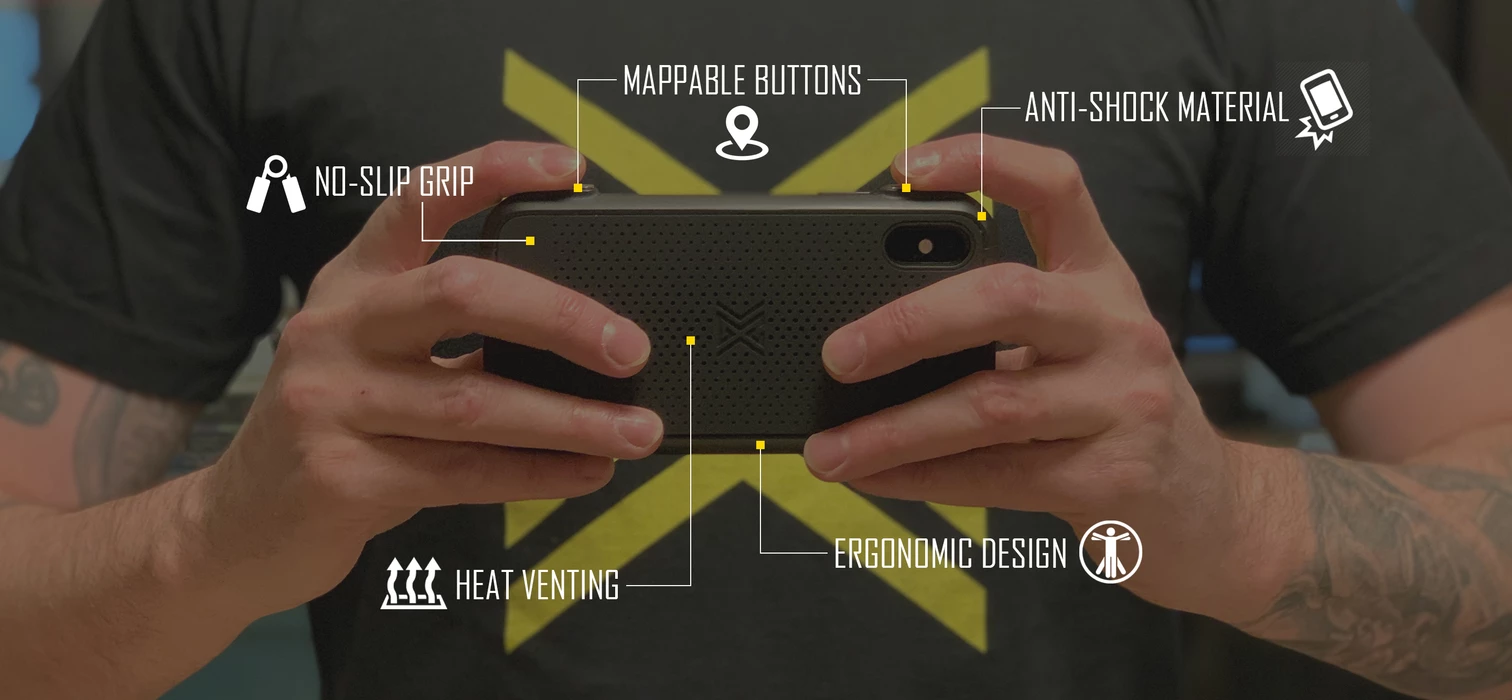 The MGC Valor Gaming Case is made of premium anti-shock materials to keep your phone safe. This ensures that your phone is ultimately protected against sudden drops or unexpected accidents.
But the MGC Valor Gaming Case can also keep your phone cool with ease. The case's featured heat vents help heat escape, as intense gaming can really crank your phone's processor. The provided heat dissipation is critical to the healthy life of your phone and battery.
FEATURES
No Battery Needed
The MGC Valor Gaming Case is designed with thrilling technology, and requires no power to work, keeping your battery life maximized. The only thing the case really needs is your touch to work, making it completely powered by you. There's no added battery and it doesn't leech power from your phone. "This means that all of your battery can be used for more important things, like gaming, texting, chatting, posting, and… more gaming!"
Mappable Buttons for 21 Mobile Games (More Soon)
The MGC Valor Gaming Case comes equipped with Mappable Buttons that can be mapped to any in-game control you want through the game's custom control tool, turning mobile gaming into a more engaging console-like experience. The case is optimized for games with customizable controls like PUBG Mobile, Fortnite Mobile, and even the upcoming Call of Duty – Legends of War (Mobile).
The Mappable buttons on the case provide gamers with two extra points of customized controls, making mobile gaming no longer limited to 2 thumbs. This allows you to play with your thumbs on both sides of the smartphone and each index fingers at the top of the phone (one on each side).
These Mappable "Tactile Buttons" deliver a satisfying "clicky" feedback with minimal travel, making sure your commands hit just as fast as your touch. The MGC Valor Gaming Case allows you to customize your controls and boost your performance without ever getting banned.
The MGC Valor's customizable controls are currently fully compatible with 21 games, and more are coming soon. There is no "cheat app" required, so there is zero risk of getting banned from the games you love. Once you've played a game using its mappable buttons, you'll never want to play without the MGC Valor Gaming Case ever again.
And if your favorite game doesn't offer any custom controls, there's no problem at all. As stated before, the MGC Valor is designed to improve your gaming experience on all mobile games with its advanced ergonomic and protective features.
Screen Protection
Every MGC Valor Gaming Case also comes with an included Gaming Glass screen protector. This is the key to MGC's breakthrough gaming technology. The special blend of materials and tech. transfers your touch from the case's buttons to the screen in an instant.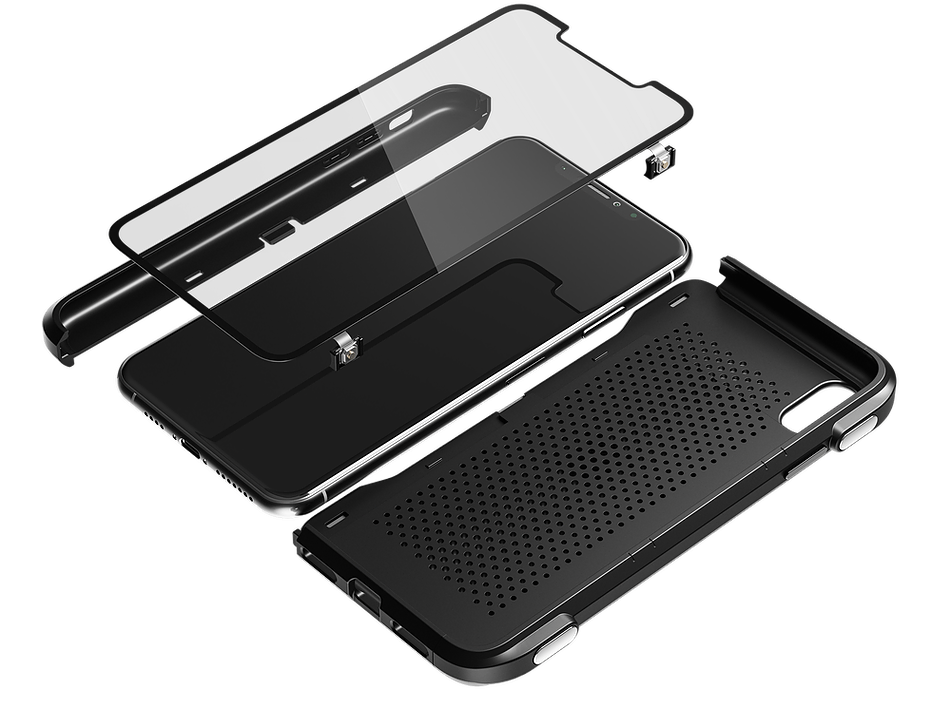 The Gaming Glass screen protector is hard, offering your screen some welcomed protection, as well as 100% crystal-clear, capable of keeping the screen fully visible, responsive and perfectly protected while you focus on your game. Keep in mind that using the included Gaming Glass screen protector is required to achieve proper operation when using the MGC Valor Gaming Case.
FINAL THOUGHTS
The MGC Valor Gaming Case powers your game with protection, and is made for gaming perfection. Once again, this case is specifically designed for gaming, and it's built to win. If you're an avid mobile gamer, this phone case is made for you, and can easily make you an absolute gaming beast.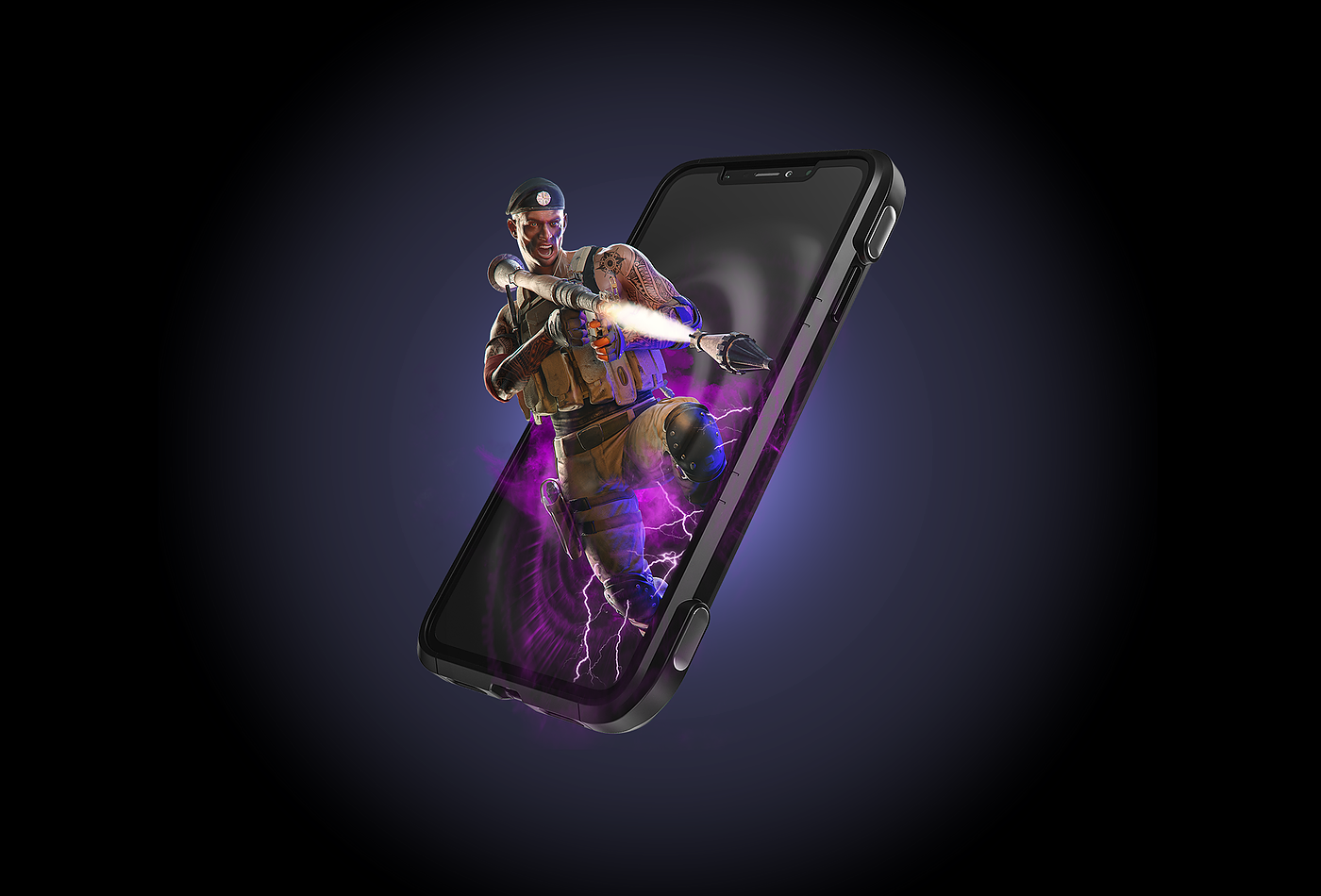 The MGC Valor Gaming Case is one of the best mobile gaming accessories ever created, capable of bridging the gap between mobile and console, ultimately turning mobile gaming into a more engaging console-like experience with its ergonomic design, customizable buttons and it's crystal-clear, protective Gaming Glass screen protector.
The Mobile Gaming Corps Valor Gaming Case is currently available for multiple devices, including: iPhone XS Max, iPhone X/XS, iPhone XR, iPhone 7 Plus/8 Plus, and iPhone 7/8. The MGC Valor Gaming Case is currently available in 3 different models: Blackout (Full Black), Arctic Sky (Full Grey), and the Powerbang Limited Edition (Black Outline with Red Back Plate).

If you're interested in getting a Mobile Gaming Corps Valor Gaming Case, each unit is currently going for $60. Using the code "MOBILEUP" takes 10% OFF your order (making it available for $54). You can find the MGC Valor Gaming Case available at MGC's online gaming shop, on this page.
If you're also looking to stay informed about Mobile Gaming Corps' products, promotions and events, make sure you "Join The Corps" and sign-up with your email after scrolling down to the very end of this page.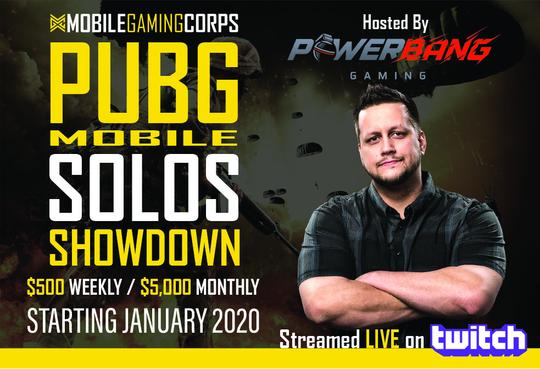 If you end up buying the case, know that together with your Valor Gaming Case purchase you'll receive a code to register for MGC's exclusive PUBG Mobile Tournament hosted by Powerbang Gaming with a total prize pool of $500 every week for the first 3 weeks followed by a $5K+ prize pool in the last week of the month. The event starts at the beginning of the next year, during January 2020.