If you're a fitness enthusiast, or you're at least fitness conscious, you probably know just how important it is to stay fit. It improves your health, general lifestyle, and helps you feel like a stronger version of yourself throughout each day.
But feeling stronger isn't just about fitness. Strength training is also important to achieve stronger muscles. While some people might not be familiar with this expression, isometric training is a type of strength training. Isometric exercises help maintain strength, and can even help with building strength, but not effectively.
WHAT IS ISOMETRIC TRAINING?
Isometric exercises are a form of strength training exercises that involve the static contraction of a muscle without any visible movement in the angle of the joint, while that same muscle also does not change in length. This basically translates to the contraction of a muscle, and then sustaining that contraction for a few seconds. This can be compared to concentric or eccentric contractions (they're also known as dynamic/isotonic movements), which is what we typically do when working out with weights.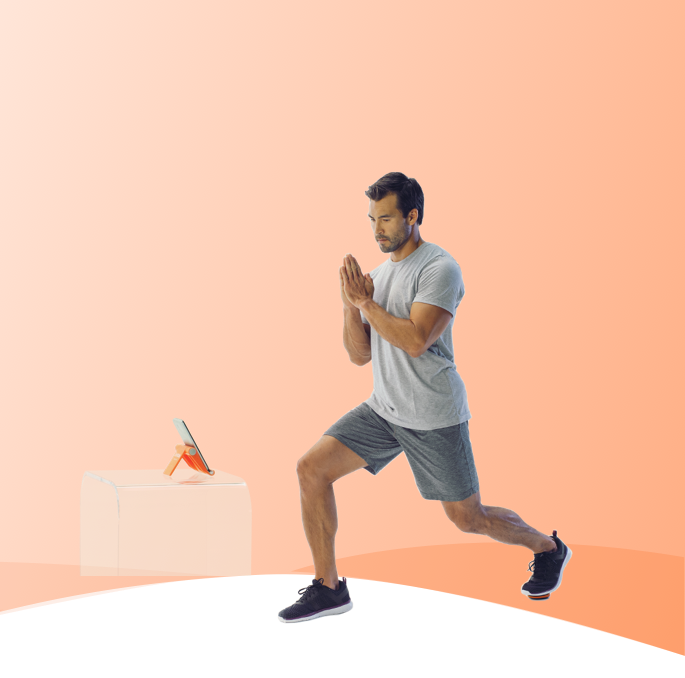 BENEFITS OF ISOMETRICS
While isometric exercises can help to maintain strength and even with building strength (not super effectively – weight training is better for that), there's a couple more benefits that we can get from this type of strength training. Isometrics can also boost brain performance, promote weight loss, lower blood pressure, improve flexibility, and increase bone density.

MEET THE ACTIV5 – A PORTABLE FITNESS DEVICE
This brings us to the Activ5, a portable fitness device that's designed for anyone who wants to get in the best shape of their lives and stay that way.
HOW DOES THE ACTIV 5 WORK?
Isometric exercise has been proven to be one of the most effective fitness routines, regardless of your age or fitness level. The Activ5 takes isometrics to a whole new level, combining a high-tech fitness device with a personalized smartphone App (free) that coaches you and tracks your progress.
The Activ5 is a compact handheld device that you can use to exercise anywhere. This includes using it at home, at the office (during lunch or any other breaks, conference calls) while traveling (on the phone, in the hotel, while in an Uber ride), and virtually anywhere else while you're on-the-go.
All you have to do is set up the included mobile stand, follow the steps provided by the companion App to complete your Activ5 workout, and enjoy the sudden burst of energy right after that, getting you ready for anything. The App will also track users' results and improvements over time.
The Activ5 comes equipped with high-precision pressure sensors that work with proprietary technology to measure your force/strength in pounds and to track your performance gains. After measuring your applied pressure, the device sends the data to the free Activ5 Mobile App via Bluetooth. The device will then calibrate (and re-calibrate) each exercise to your unique strength level and dynamically personalize over 100 workouts to your ability. This will ultimately help you understand your total weight lifted and measure all of your results.
So, whether you're an amateur athlete looking to supplement your strength routine on a busy day, a couch potato looking to get a little more healthy, or somewhere in between, the Activ5 is perfect for you.
SPECS
The Activ5 is a compact handheld device that measures 3.7 inches long by 3.1 inches wide by 1.3 inches tall (95 x 78 x 33 mm) and weighs 4.6 oz (131 gr.) when equipped with its included AAA battery. The Activ5 measures 8.5 in³ (139 cm³) as its total volume.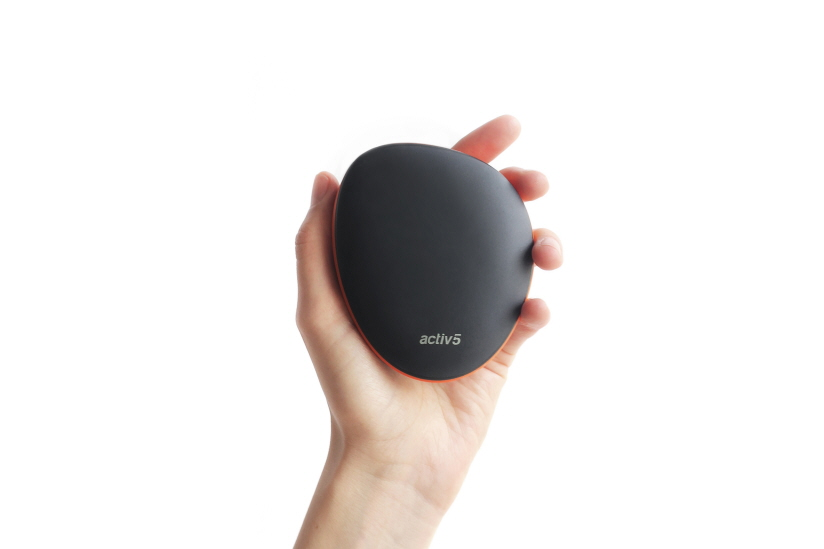 The Activ5 features a durable design that's capable of withstanding a force range of 200 lb (90 kg /) and a force accuracy (% of the applied force) of 1.4 lb + 5% of the applied force. The device can withstand a max load of 250 lb (110 kg).
The Activ5 portable fitness device supports Bluetooth 4.1 and can operate within a frequency range of 2402 – 2480 MHz, operating up to up to 7 ft. (2 m) from the Activ5 Training App host device.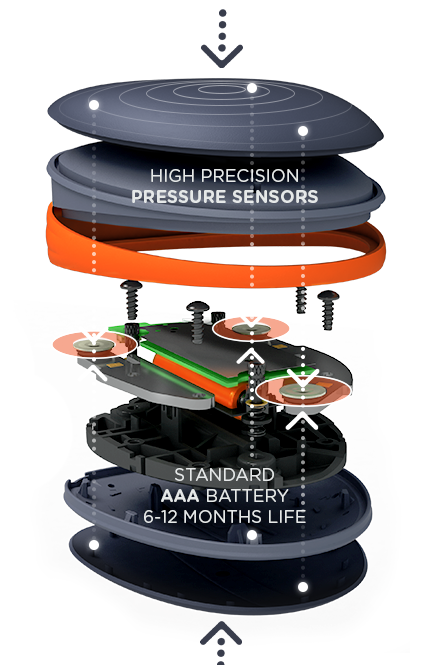 The device also comes equipped with one replaceable AAA battery that offers between 6-12 months of battery life, depending on usage and/or environmental conditions. This means there's no need for daily charging, allowing you to focus entirely on your isometric exercises.
WHAT'S IN THE BOX?
If you're looking to get started with the Activ5, you should definitely try out the Activ5 Fit Package. This package includes all the needed basics: one Activ5 device and an included mobile stand to prop up your phone or tablet while using your Activ5. All you have to do after is download the free Activ5 Training App (works under iOS 8.1 / and with Android 4.4 or later) and you'll be ready to start.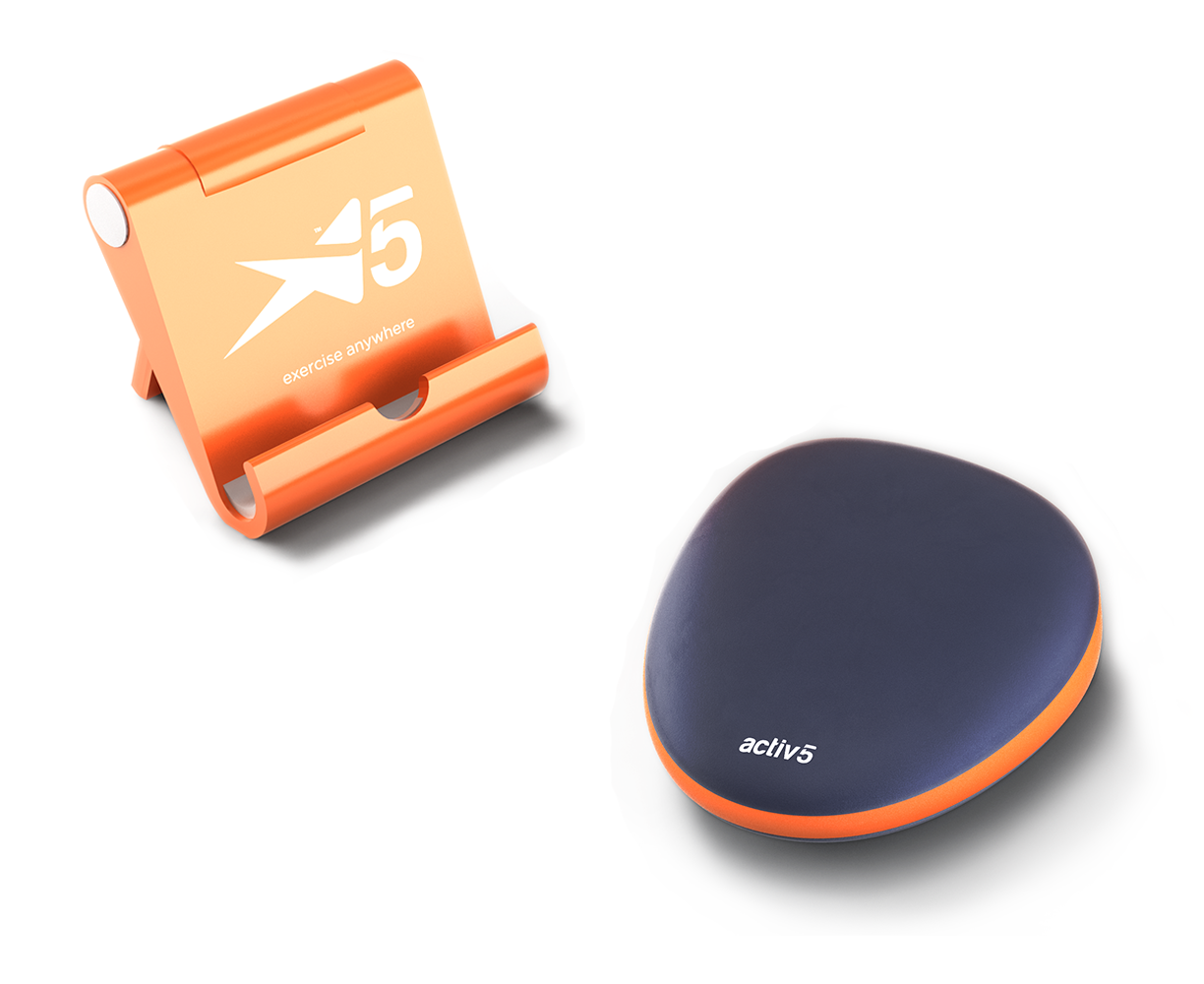 FEATURES
Activ5 offers its users over 100 full-body no-impact isometric workouts in seated, standing, and advanced positions. As stated before, according to your strength level and strength gains, the device will re-calibrate itself to offer you the same or newer and harder workouts to help you improve your strength training even further.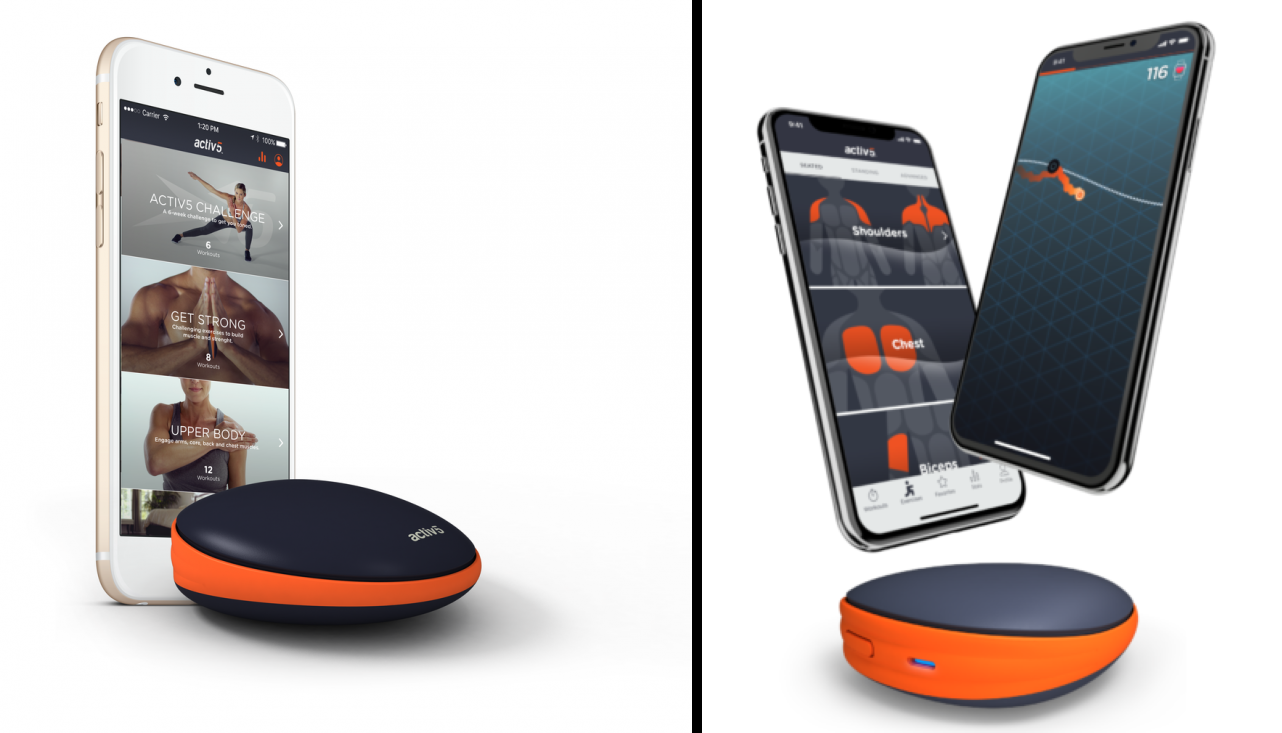 These workouts usually take around five minutes, and are super fun and easy to learn. These will help you stay active throughout the day, keeping your metabolism burning.
TURNING THE ACTIV5 ON/OFF
To turn the Activ5 On or Off press and hold the power button (located at the top of the device) for 2 seconds. A blue light will mean that the Activ5 is searching for any available Bluetooth connections so you're able to start your isometric workout.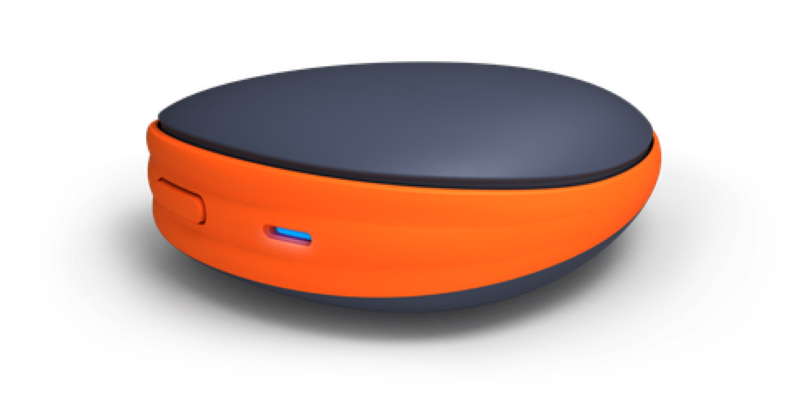 A green light will mean that the Activ5 is connected to the App, while a red light will mean that the Activ5 device was disconnected from the App.
THE ACTIV5 APP
The free Activ5 Training App (works under iOS 8.1 / with Android 4.4 or later) will coach you through each exercise. By adopting the correct pose and applying varying amounts of pressure on the Activ5 device, you'll follow each coaching curve like a game.
The App is simple to use, but still detailed enough to allow you to understand your gains and where you can still improve. The App also allows you to download many different Activ5 games and enjoy the benefits of exercise while having fun.
FINAL THOUGHTS
The Activ5 portable fitness handheld device offers its users over 100 workouts for every muscle group, which can be done at home, on-the-go, or at the office, while sitting, standing or with advanced yoga/pilates positions. The Active5 companion App will then track your results and improvement over time. The Activ5 is portable, convenient, fun and easy to use, allowing you to exercise anywhere.
If you're interested in getting the Activ5 Fit Package (just the basics – Activ5 Device + Mobile Stand), each of these packages is currently going for $130. You can find it at Activ5's official website, by going to this page.
However, if you would prefer to check out what other Activ5 Packages (more complete ones) the company currently has available, you can do so by accessing this page.