Imagine you're about to go out for a quick coffee with a close friend just to catch up with each other, but you don't really feel like bringing your wallet with you. This brings us to the Casery Phone Pocket, a smart utility adhesive that can be easily attached to the back of your phone, allowing you to keep your needed debit/credit cards at your fingertips.
DESIGN AND INSTALLATION
The Casery Phone Pocket features a slim and lightweight design that allows you to store your cards securely without the bulk. Its 3M adhesive backing keeps the pocket in place and leaves zero residue whenever you decide to remove it.
The Casery Phone Pocket is incredibly easy to install on the back of your smartphone. All you have to do is remove its protective cover (protecting the adhesive side), line up the adhesive side carefully with the back of your smartphone, center it between both of the lower corners, and apply just enough pressure with your palm, sliding it from the bottom to the top of the pocket unit. And that's it, quick and simple!
Every Casery Phone Pocket is made from a durable material, and unlike cheap rubber copies, it's crafted with detail, featuring a stitched finish that's made with care, meaning it's built to last.
FEATURES
Accessibility, The Main Advantage
Thanks to its slim and lightweight design, the Casery Phone Pocket allows you to keep your essentials right at your fingertips. This great smart utility gadget features two card slots, allowing users to leave their wallets at home and bring just two personal cards with them when going out.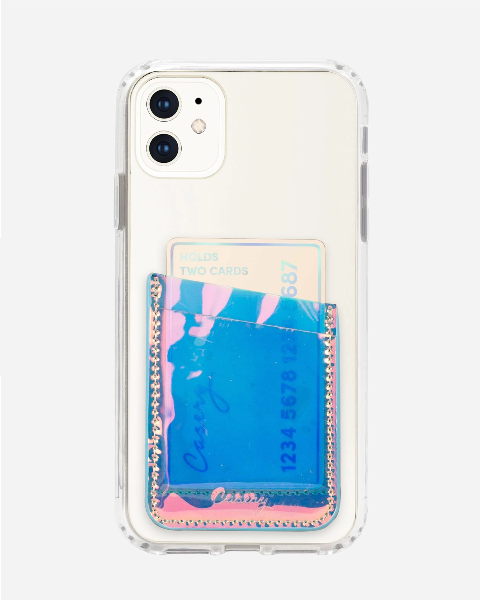 Imagine going out for just some hours to enjoy some quality time with your best friend, while bringing just your phone, your ID card, and your debit/credit card. That's only some super lightweight essentials you're bringing along, meaning your hands will be free at all times. That same level of convenience would also be extremely welcomed when going out to shop some quick groceries, when visiting the mall to buy a new shirt, etcetera.
Extended Safety
As stated before, every Casery Phone Pocket is crafted with care and is built to last a long time. This also means that your cards will not only be safe at all times, but also extremely accessible, right from the back of your smartphone.
FINAL THOUGHTS
The Casery Phone Pocket is a convenient smart utility adhesive pocket that can be easily attached to the back of your phone, allowing you to bring up to two cards with you in a safe way, together with your phone.
The Casery Phone Pocket is designed in Los Angeles, California and is currently available in 5 different models that feature the city's beautiful color palette: Rose Gold, Black Velvet, Iridescent, Holographic, and Beige Leather.

If you're interested in getting it, each Casery Phone Pocket is currently going for $15. You can get it directly from Casery's official website, by accessing this page.