This awesome piece of equipment was designed exclusively for kayaking lovers. If kayaking is your passion, the Pakayak Bluefin 14 "Nesting" Kayak is made for you.
Every time you go out onto the water, having one of these saves you both time and money. The Pakayak is a "Nesting" Kayak that, just like Russian Dolls (A.K.A. nesting dolls – set of wooden dolls of decreasing size placed one inside another), can have all of its parts stored inside each other. That's such a handy feature!
Pakayak is an eco-conscious company of the world's first high-performance packable kayak. The company is gearing up for the holiday season with the mission of helping more people find new adventures on the water and exclusive deals for holiday shoppers.
While it's important to know how to properly use a kayak, which takes a lot of upper body strength and a lot of balance, kayaking isn't only a great form of exercise. Kayaking is the perfect excuse to enjoy being alone. It also allows you to connect with nature, and to be honest, you never know what you'll find, which makes it a great way of exploring the outdoors.
Now, let's take a fully detailed look at what the Pakayak Bluefin 14 has to offer.
DESIGN AND SPECS
The Pakayak Bluefin 14 measures 14 feet long and weighs 59 lbs. Its cockpit's dimensions are 18 inches by 34 inches. This hard-shell touring kayak can be dismantled piece by piece and nested within itself to a size of only three-and-a-half feet.

The Pakayak Bluefin 14 is proudly designed, molded and hand-assembled in the USA, and it's completely leak-free. When assembled, the Bluefin 14 is a solid, sleek, and sea-worthy kayak.
WHAT'S IN THE PACKAGE?
The Pakayak Bluefin 14 is composed by 6 different parts, and comes stored inside an included Zipper Nylon Bag w/ Wheels.

The Bluefin 14 also contains two watertight storage compartments, two bulkheads, a padded seat, adjustable foot braces, reflective safety lines, a bungee deck rigging and both front and rear handles.
HOW TO ASSEMBLE AND DISMANTLE THE PAKAYAK?
The Pakayak Bluefin 14 is composed of six interconnecting sections and can be assembled in under three minutes.
The instructional video embedded below is a virtual demo that will guide you through the full assembly process of the Bluefin 14. The video was recorded by the Pakayak's inventor, Doug Mackro, with the intent of helping you learn how to fully assemble and also dismantle the Pakayak, with both confidence and simplicity.
FEATURES
"Bomb-Proof" Construction
To ensure the strength and watertightness of the Pakayak, the company uses a design that has been successfully used in a huge variety of industries from scuba to aerospace. That design features the same basic technology that makes underwater dive cameras and dive lights possible.
Not only does this type of design provides a 100% waterproof seal but also increases the strength at the connection points, creating bulkheads that are stronger than the hull itself. To make sure the interlocking sections are watertight, the company uses silicone gaskets compressed by 19 extremely strong clamps (each has 300 pounds of force) with auto engaging secondary lock systems to prevent accidentally unlatching a clamp.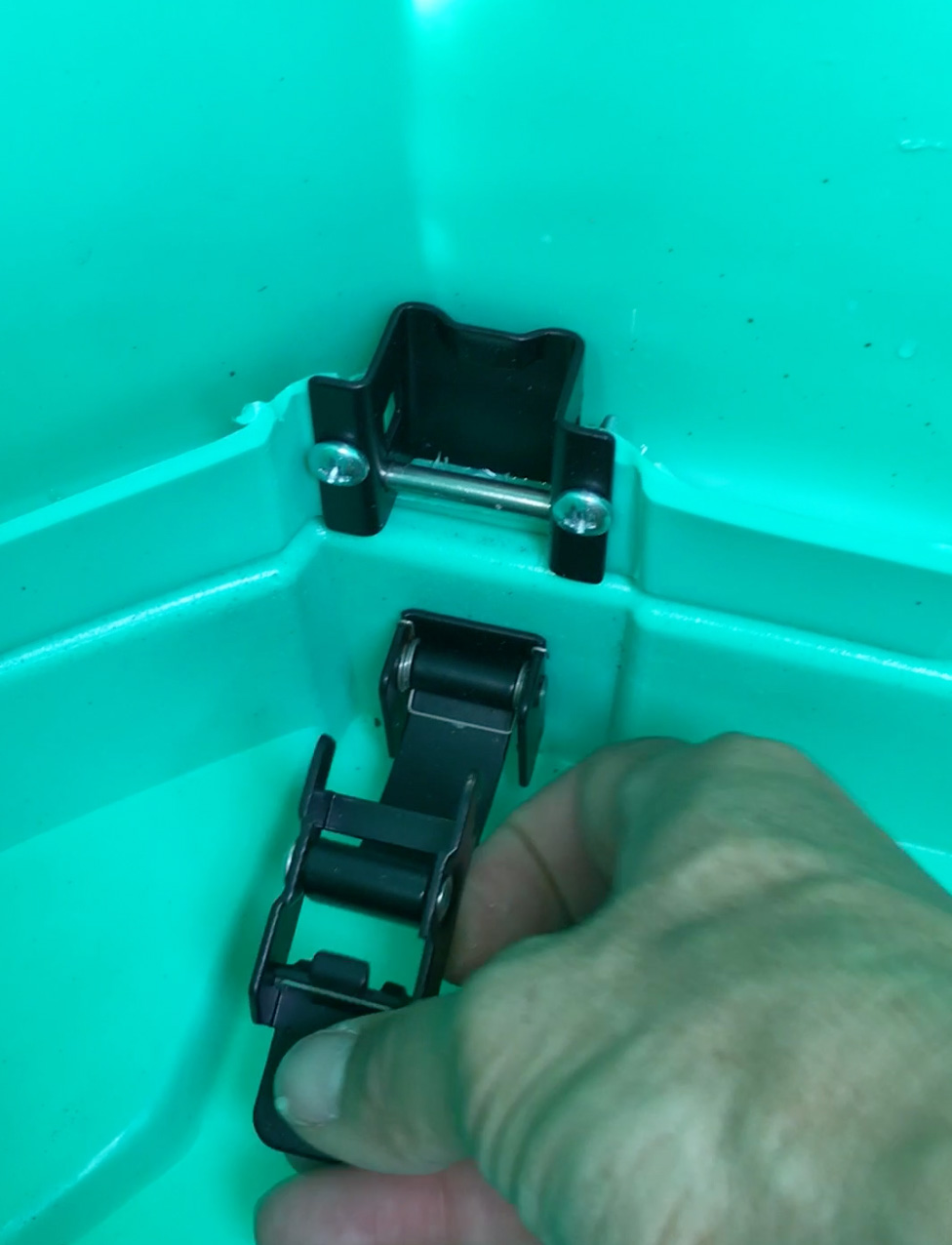 While some people might think that's overkill, this "bomb-proof" kayak lets you have the confidence you need to take it anywhere you would take a typical one-piece boat and not worry at all.
Quick and Easy to Assemble
As said before, the Pakayak is composed of six interconnecting sections and can be assembled in under three minutes. There is no fun in trying to assemble something that needs an instruction manual and a half hour to put together.
You want to be out enjoying the water. The Pakayak's clamps are as simple to use as the clamps on any toolbox – just "clip, clip, clip" and you're ready to go. And the best part is that there are no small parts to lose in the sand.
Easy Transport and Storage
Thanks to its "Nesting" design, you're able to take your Pakayak anywhere, all on your own, without needing any help. With the Pakayak, you don't need two people to carry or lift it. This allows you to easily take your kayak down the elevator, hop with its wheeled bag on the subway, take it in a cab and go for a paddle, or put it in your trunk and drive to your favorite destination, even if there's no boat ramp.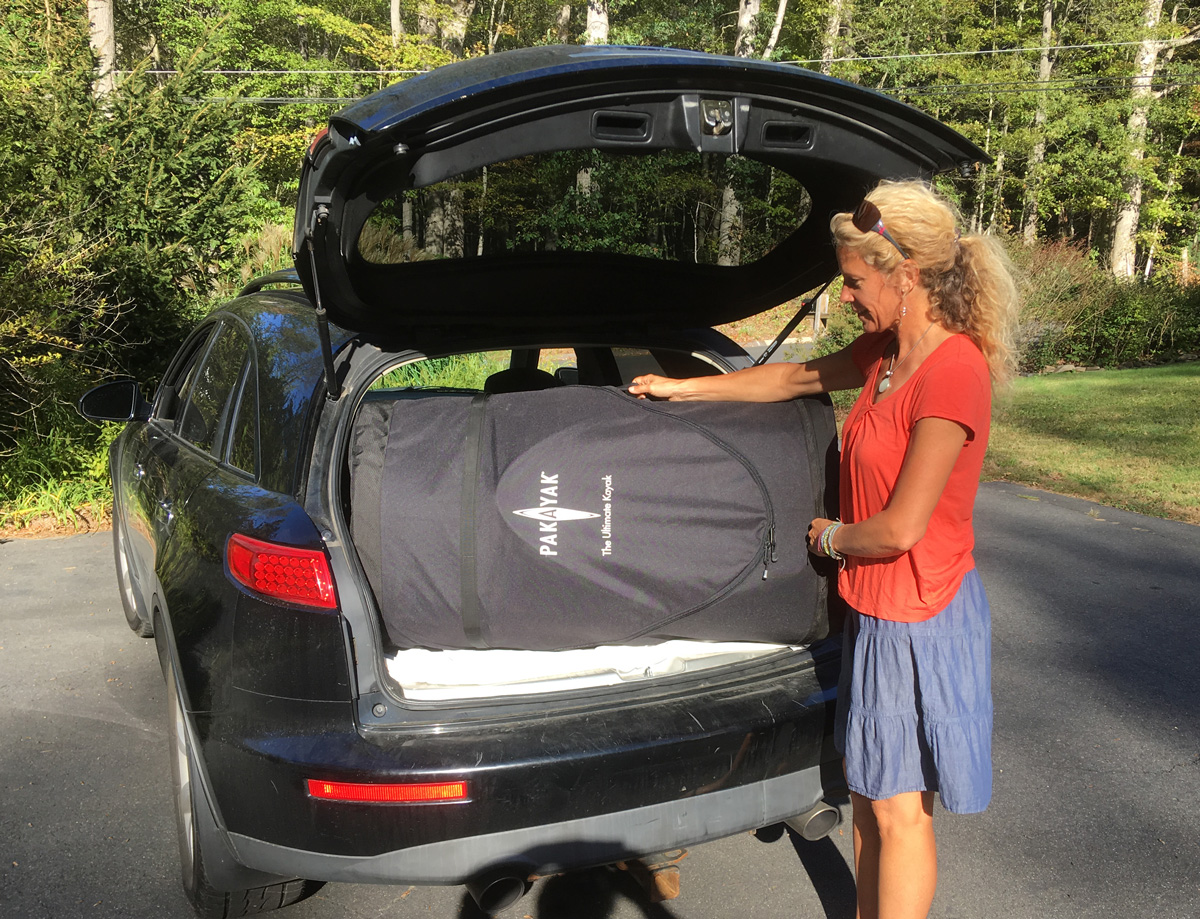 And before you say all kayaks are portable ("sure… on top of a car with a $500 kayak rack"), the Bluefin 14 doesn't need a kayak rack. The Pakayak eliminates the need of having car roof racks, and it doesn't need to be dragged across the beach or rocks to your water hole.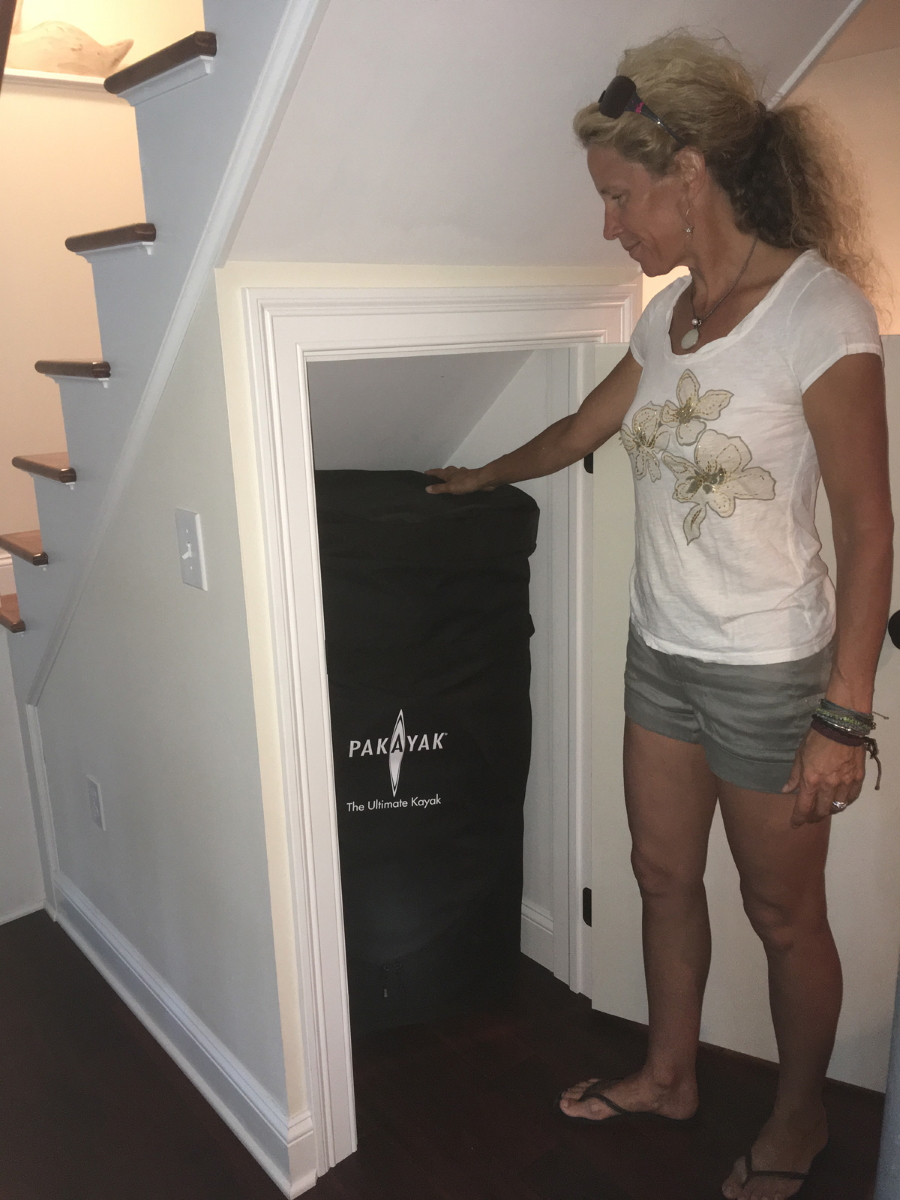 Lastly, it requires no need for a garage or storage unit. Once again, its "Nesting" design truly shines, meaning that when it's dismantled and nested within itself it only measures three-and-a-half feet, allowing you to store it anywhere.
Literally, anywhere – bring it in your car's trunk, store it in a closet, or bring it together with you for vacations on an airplane ride.
FINAL THOUGHTS
The Pakayak Bluefin 14 is everything you love about kayaking – only better. This "Nesting" Kayak is fast, reliable, and portable, thanks to its design that frees you up to explore the waters of the world without the limitations of traditional kayaks. Now you can have a kayak no matter where you live, work or play.
The Pakayak Bluefin 14 is currently available in 4 different models (colors): Surf ("Surf" Green – Signature color), Chili (Red), Sunshine (Gold), and Habanero (Orange).

If you're interested in buying the Pakayak Bluefin 14, each unit is currently going for $1,795 (all models are priced the same) and is supported by a 30-day return policy. You can order yours right now by accessing Pakayak's official website. Clicking here will take you to the official shopping page.
And if you think this is all the company's product has to offer, that's where you're wrong. Think again, because Pakayak (the company) is just getting started. They already announced a second model via its Kickstarter campaign, which will be available in the nearby future.
The Pakayak Bluefin 142 will be "the ultimate portable kayak – the only hard-shell packable kayak that nests into itself is 2 inches longer with 3½ inches more legroom." Click here to check out their new Kickstarter campaign and back their new project.