While the renowned Black Friday event always takes place after Thanksgiving, Best Buy's Black Friday Online Event is already here.
Best Buy just announced its Black Friday 2019 event during this Thursday (November 7th, 2019), listing all the deals it has prepared for its upcoming Black Friday weekend. The American multinational consumer electronics retailer posted a press release on its Company News website, where it explained that hundreds of deals from the online ad are already available through Sunday, November 10th, including Apple doorbusters.
This is probably the best part about a Black Friday event. The simple fact that sales started a lot earlier than November 29th allow you to stay away from all the stomping mess that people tend to create.
And you can order these online, so it should be easy to get what you need. But you obviously need to be fast, because these deals end-pretty fast, and usually it's not because you run out of time; it's because the company runs out of stuck.
Best Buy will be hosting a couple of early Black Friday events, including an astonishing sale that features plenty of hot Apple products. In this sale you'll find included: the brand-new iPhone 11, the newest iPad, and even Apple's latest MacBooks. All of these Apple products are already on sale at BestBuy.com, as are plenty of other discounted gadgets.
Take a look at this excerpt from Best Buy's press release, or check out all the deals by viewing the full post, which you can access by clicking here.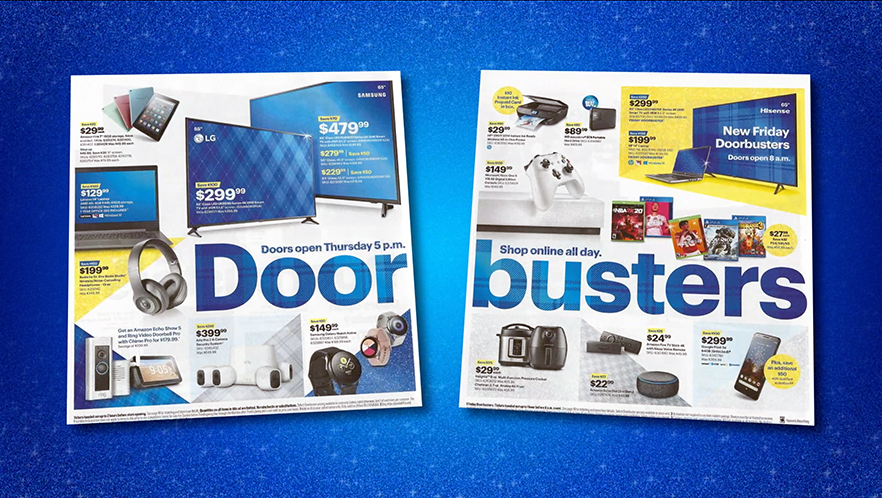 Best Buy's Black Friday ad is here
Hundreds of deals, including Apple doorbusters, available now
Every day from Nov. 11-20, one doorbuster from the ad will be available early, for one day only
For the 6th consecutive year, Best Buy stores will open at 5 p.m. local time on Thanksgiving Day
MINNEAPOLIS – NOV. 7, 2019. Yule love this: Black Friday starts now. Best Buy's Black Friday ad is here, full of thousands of deals on the hottest tech, and this year there are even more opportunities than ever to get your hands on these deals and doorbusters before Thanksgiving Day.
Hundreds of deals from the ad – including Apple doorbusters – are available now through Sunday, Nov. 10.
And the savings don't freeze there. Starting Monday, Nov. 11, Best Buy will kick off Daily Doorbusters, where shoppers can get access to 10 of the ad's "doorbusters" (the very best deals in the ad) early. Each day between Nov. 11 and Nov. 20, a new doorbuster from the ad will be unveiled. The first Daily Doorbuster, which will go live on Nov. 11 is an LG 55-inch 4K Smart TV with HDR for just $299.99.
Worried about being left out in the cold? Sign up on BestBuy.com for daily text alerts to remind you of each doorbuster.
---
So what are you waiting for? Go on and check Best Buy's Black Friday Online! If you're looking for any new electronic products or the latest technology gadgets, make sure you head out to BestBuy's official website and browse through all of their early Black Friday discounts.