If you're a fitness enthusiast, but like most people, you just can't find enough time for a proper workout, then you should definitely take a look at what the CAR.O.L Studio Stationary Exercise Bike has to offer.
The CAR.O.L Studio Bike is a stationary, smart, personalized true HIIT (High Intensity Interval Training) bike that cuts your exercise time dramatically, allowing you to get fit in short periods of time. The CAR.O.L Studio Bike is scientifically proven to give you the same cardio benefits of longer workout routines in under 9 minutes, instead of the typical 45-minute routines.
That's what makes this AI-powered, interactive stationary exercise bike so unique. The fact that each of its workouts can last only 40 seconds long makes it an amazing piece of equipment for short duration exercises. 40 seconds is an incredibly short amount of time, meaning that the CAR.O.L won't even make you sweat because of how short its workout routines are.
I drove to Chicago to look at this sucker, and I interviewed Cheryl Delio, owner of Bespoke Fitness. She has partnered with CAR.OL Fitness Bikes as part of her fitness offering at her gym.
Let's take a detailed look at the CAR.O.L Studio Bike to understand how it manages to get you fit in just 40 seconds at your maximum resistance.
WHAT IS THE CAR.O.L STUDIO BIKE?
CAR.O.L. stands for Cardiovascular Optimization Logic, meaning this technology benefits both your cardiovascular system and your heart's health.
The CAR.O.L. stationary smart studio bike runs A.I. protocols within its system, making it capable of offering you a high-intensity workout that lasts around ten minutes (or less). The CAR.O.L. was developed based on science, meaning it was designed from peer-reviewed HIIT (High Intensity Interval Training) research.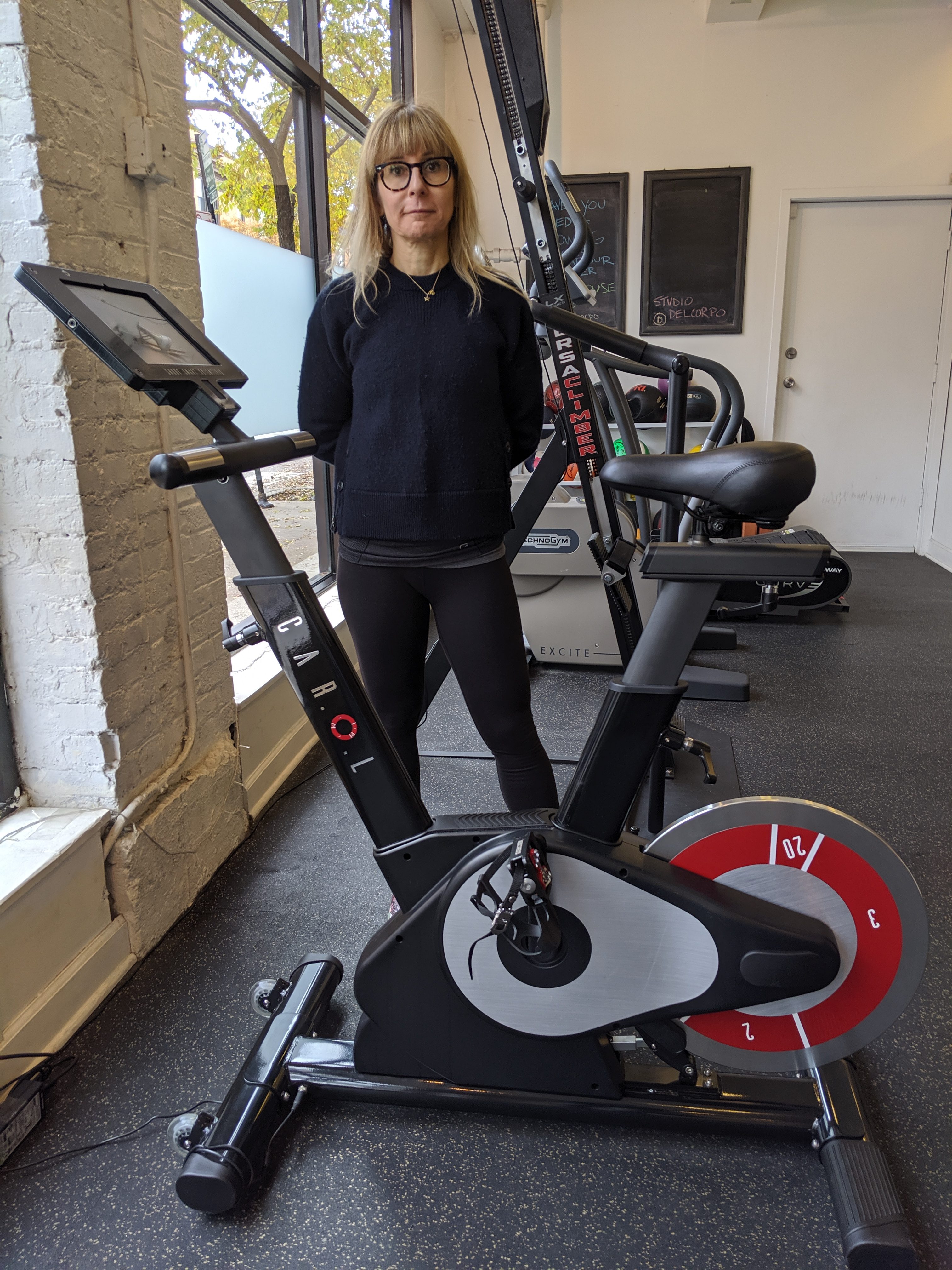 In 2012, Dr. Niels Vollaard found the minimum effective dose of exercise: pedalling against a precisely calculated resistance for only two 20-second sprints; no more, no less. This created an effective way to work out in even less time than a HIIT workout.
High-intensity interval training (or high-intensity intermittent exercise/sprint interval training) is a form of interval training, a cardiovascular exercise strategy that alternates short periods of intense anaerobic exercise with less intense recovery periods, until you're too exhausted to continue.
SO HOW DOES THE CAR.O.L STUDIO BIKE WORK?
Unlike regular exercise bikes, the CAR.O.L can calculate how fast you lose muscle power to determine how fit you are getting, or not. The smart bike then precisely increases, decreases or maintains your resistance and saves that configuration for your next ride, making you work out at your optimal ability. It also encourages you to concentrate on your breathing during your rest period, providing a visual animated bar that tells you when to breath in and when to breath out. CAR.O.L figured out that, in addition to full-on exertion, that yoga-inspired breathing encourages greater blood oxygenation and flow for better cardio and well-being results.
This is a great advantage when compared to regular exercise bikes, meaning that you'll no longer have to worry about knobs or external hardware just to change your bike's resistance in the middle of your workout.
The CAR.O.L Studio Bike is designed for HIIT, which means it's capable of determining your ideal resistance down to the decimal point. The CAR.O.L's motors are automatically mobilized in less than a second, adjusting perfectly to your fitness stats and skills.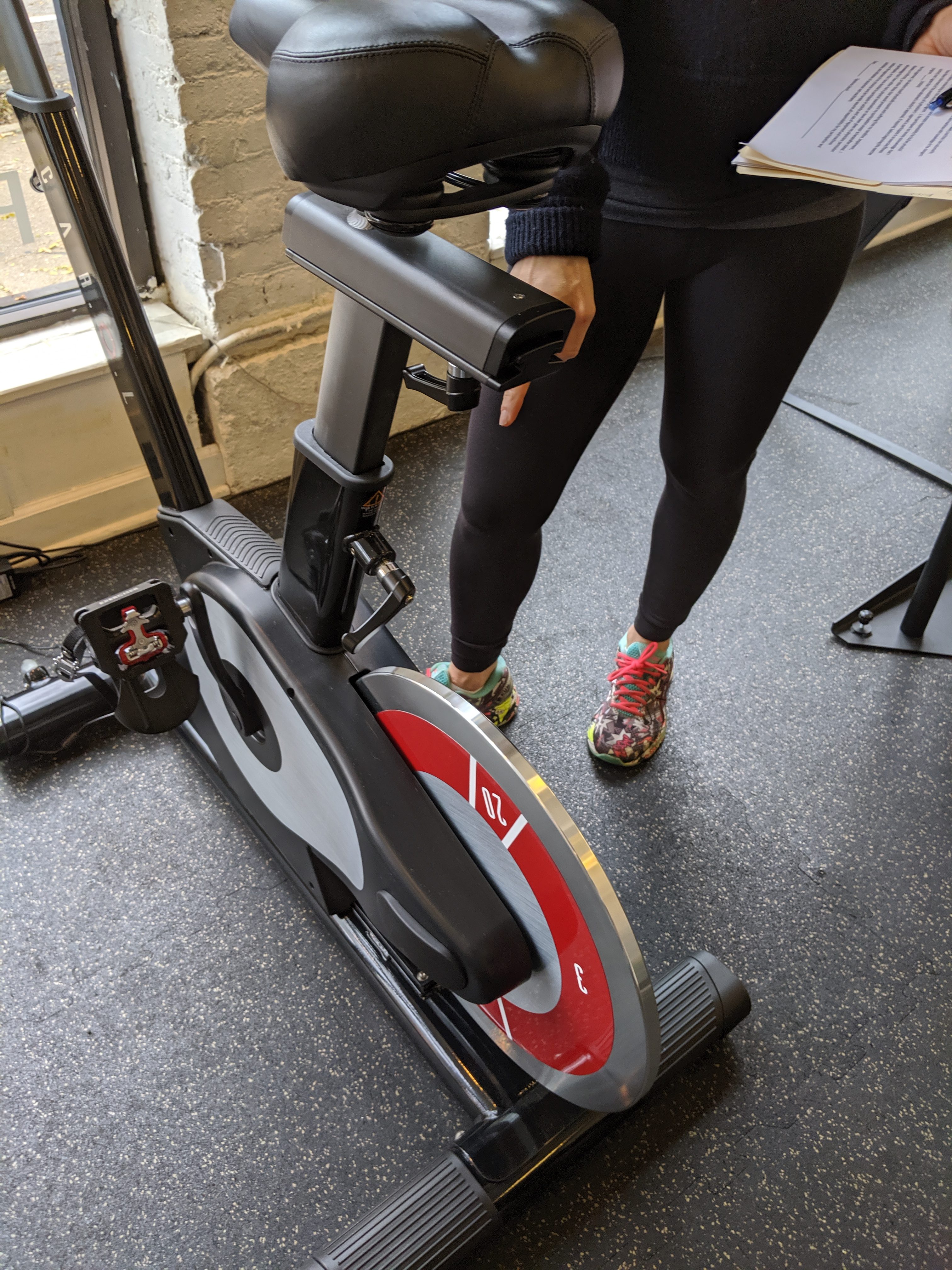 As said before, the short workouts are pre-programmed into the CAR.O.L. bike, causing your body to respond to each bike workout. The technology responds to your body's adaptations by automatically adjusting metrics, such as resistance, over time.
The CAR.O.L will also let you know if you're a "low," "good" or "super" responder to aerobic exercise, right after it determines and tracks the rate of change of your fitness score (Octane Score), which is calculated at the end of every ride.
DESIGN & APP FEATURES
The CAR.O.L Studio Bike comes equipped with heart-rate sensors on each handle (the silver part of the handles) that effectively record your ECG. The bike is also Cloud Connected, working with login credentials and then downloading your fitness stats to re-configure itself in real-time for your optimal fitness settings.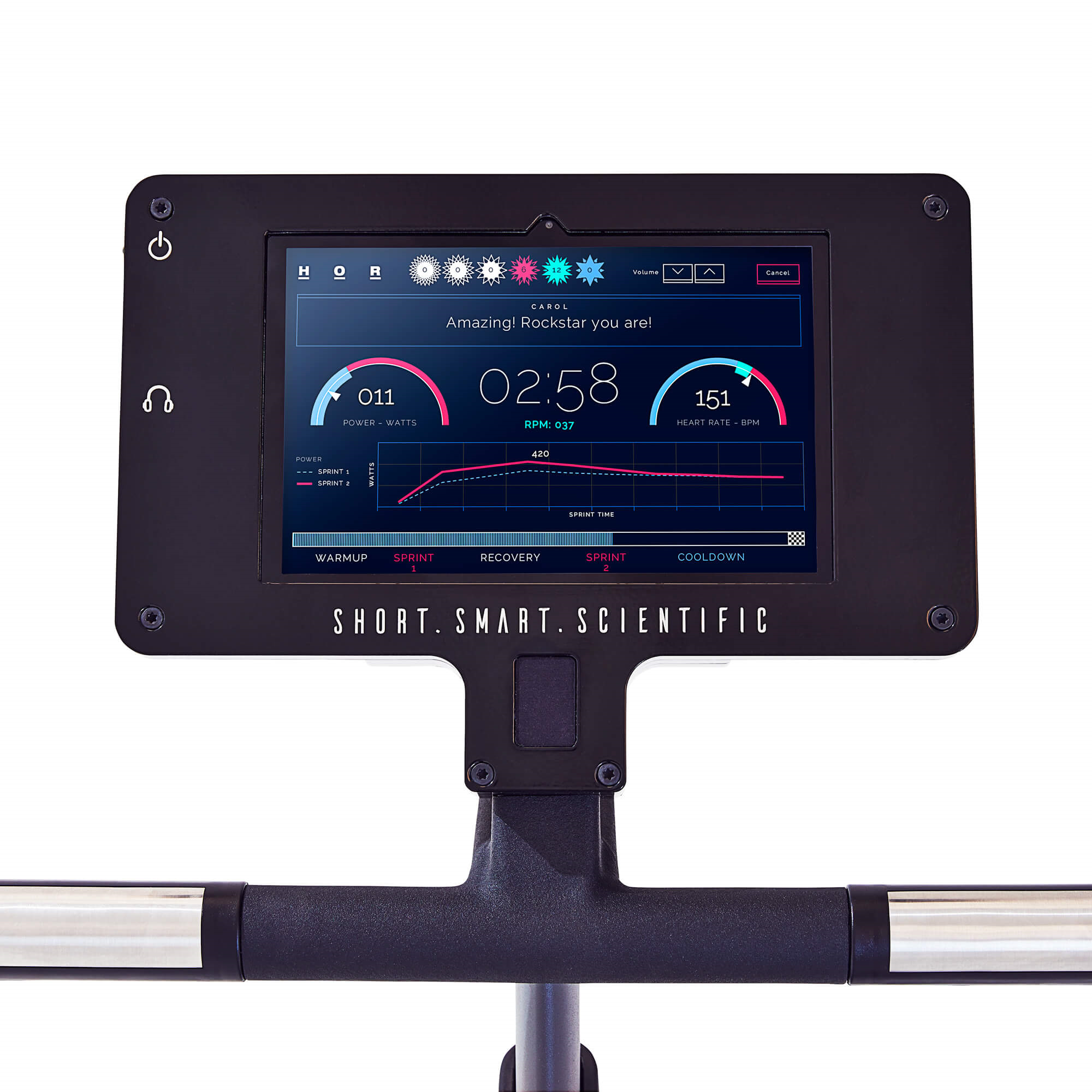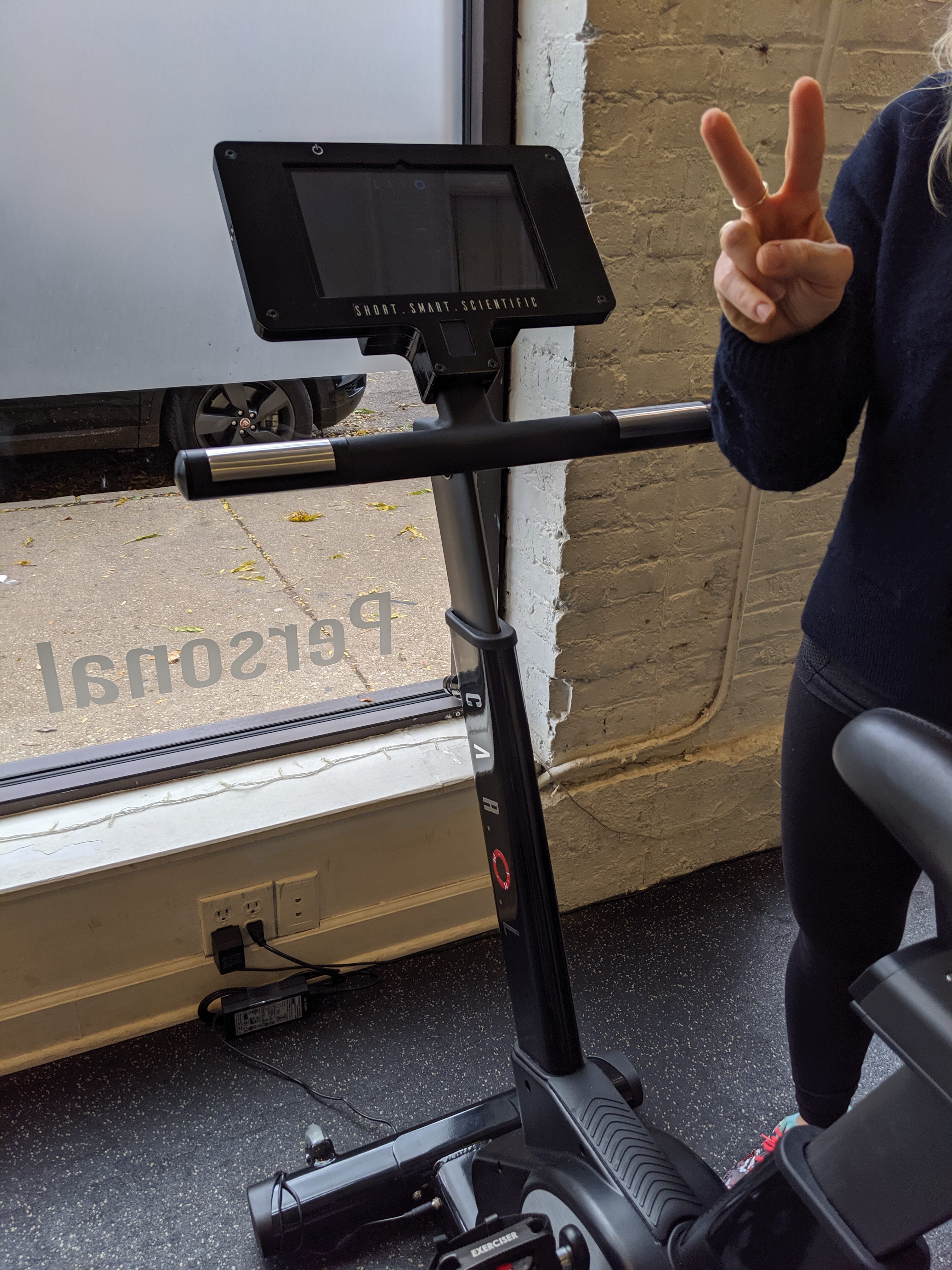 Cheryl also showed me how the "login screen" system works using your login credentials, which are then verified via the cloud.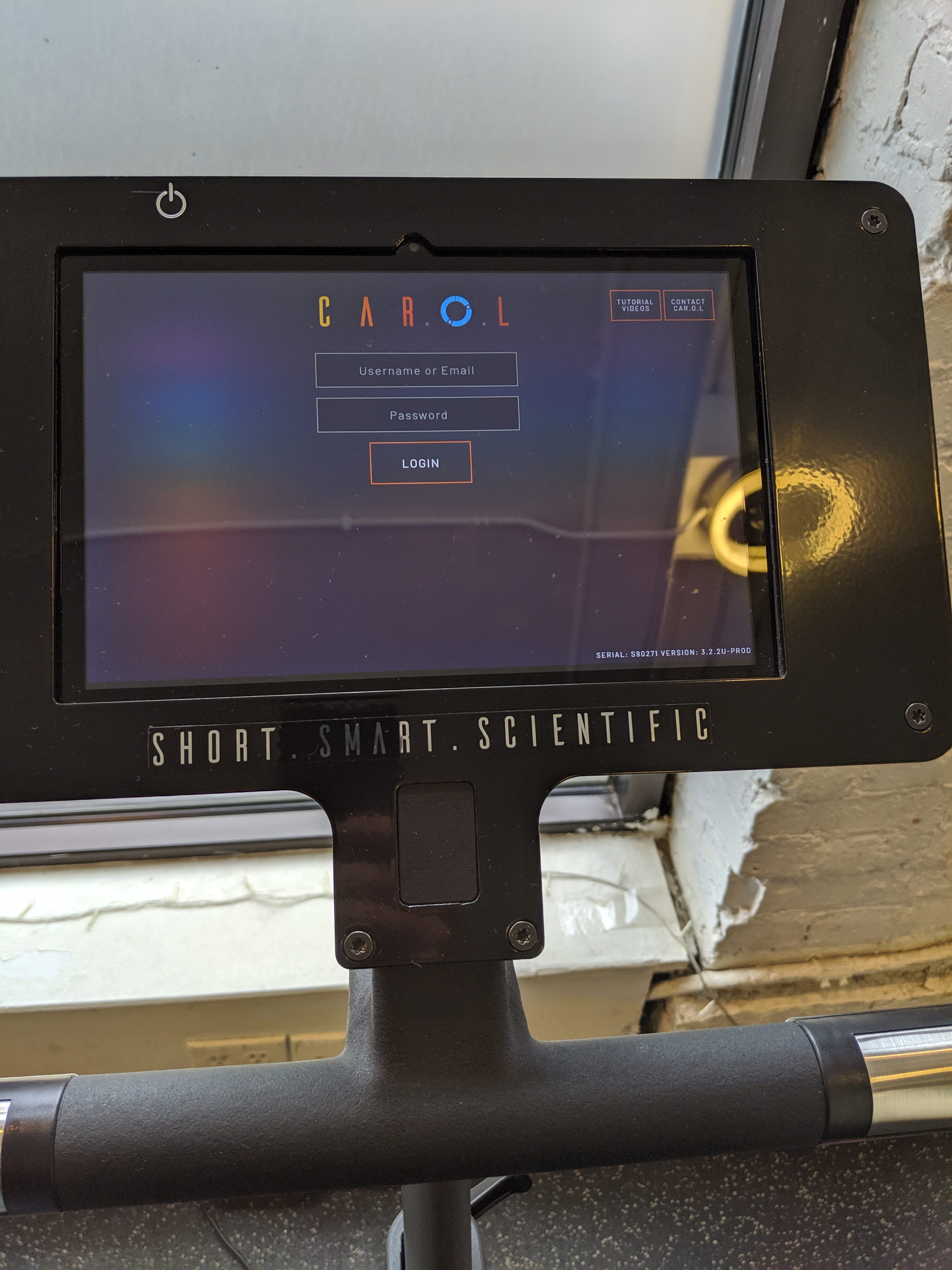 The CAR.O.L Studio Bike also comes with a companion APP that displays your detailed stats and lets you compete with other users on the platform for the best score in the weekly leaderboard.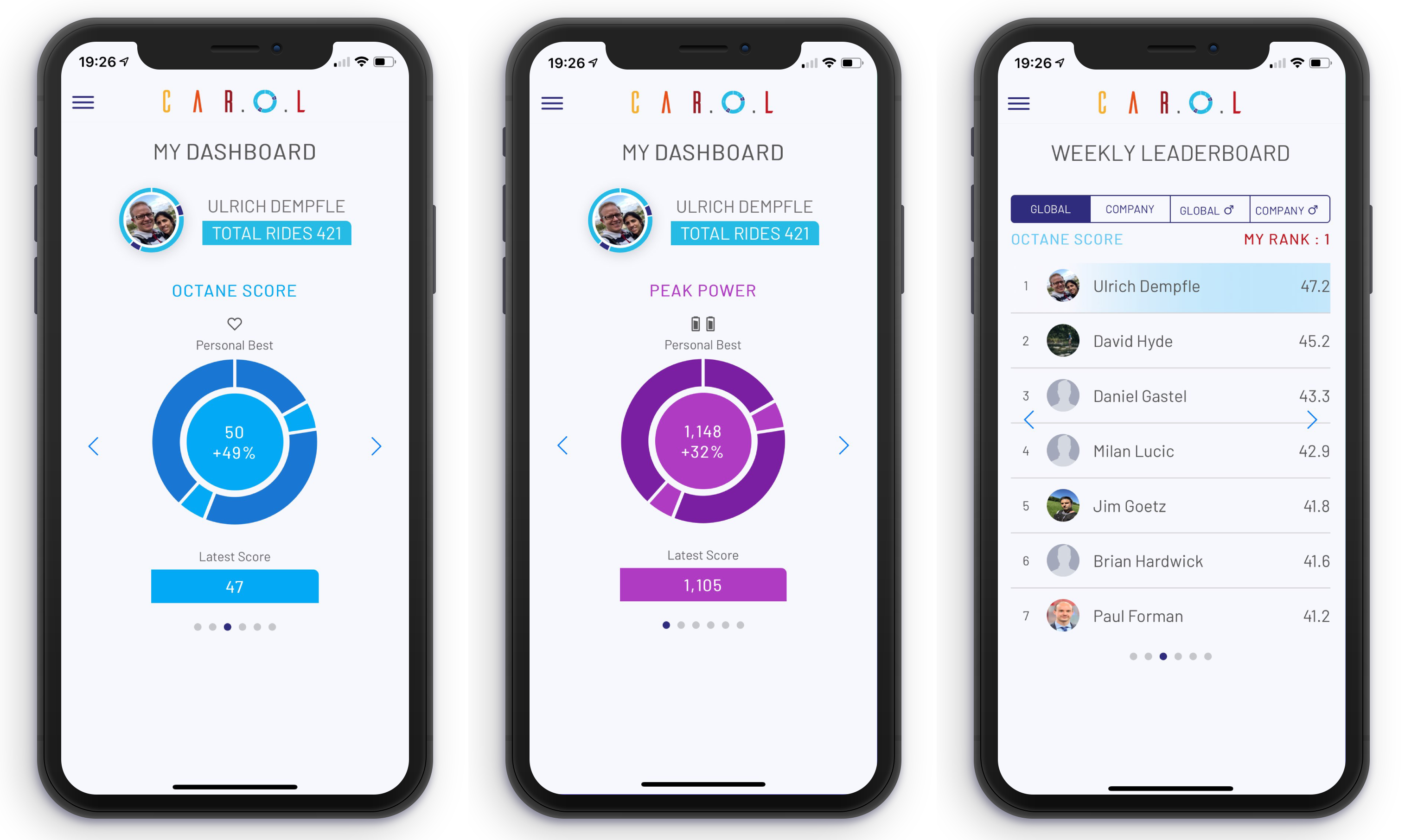 WHAT DO I GAIN FROM USING THE CAR.O.L STUDIO BIKE?
I talked to Cheryl about the CAR.OL bike, looking to know more about how it works and what are the benefits of using this state-of-the-art training equipment.
As Cheryl stated in the video above, the CAR.O.L Studio Bike's A.I. protocols need at least 6 rides, which you are asked to do during your first session.
These work like "information-gathering rides" that record all the necessary information, such as your maximum heart rate, your pedaling power and your speed stats. Thanks to these A.I. technology protocols, the CAR.O.L. bike gets you fit in the least amount of time.
In an independent research study led by the American Council on Exercise (ACE), researchers found that REHIT workouts (reduced-exertion high-intensity training) on the CAR.O.L. bike were "more potent and more time-efficient" than a more traditional, aerobic-exercise protocol.
The study consisted of thirty minutes cycling at 50-65% of your max heart rate for five days per week, going for a total of 8 weeks. REHIT workouts are a modified form of HIIT.
Positive health changes started happening after 6-8 weeks of staying consistent with CAR.O.L Studio Bike's workouts, and included improvements to:
Aerobic fitness (measured by VO2 max)
HDL cholesterol (the good kind of cholesterol)
Triglyceride levels
Systolic blood pressure
Waist circumference
While these positive health changes can also come from traditional biking, HIIT and REHIT workouts will take you significantly less time to achieve them.
Owner of Bespoke Fitness Cheryl Delio has already experienced tremendous success with her clients from this bike.
FINAL THOUGHTS
The CAR.O.L Studio Stationary Exercise Bike isn't just a smart bike. It's a cool training machine that easily condenses 45-minute workouts into short 9-10 minute workouts. Just like Cheryl says: "It's short, it's 10 minutes, you're in and out, no excuses."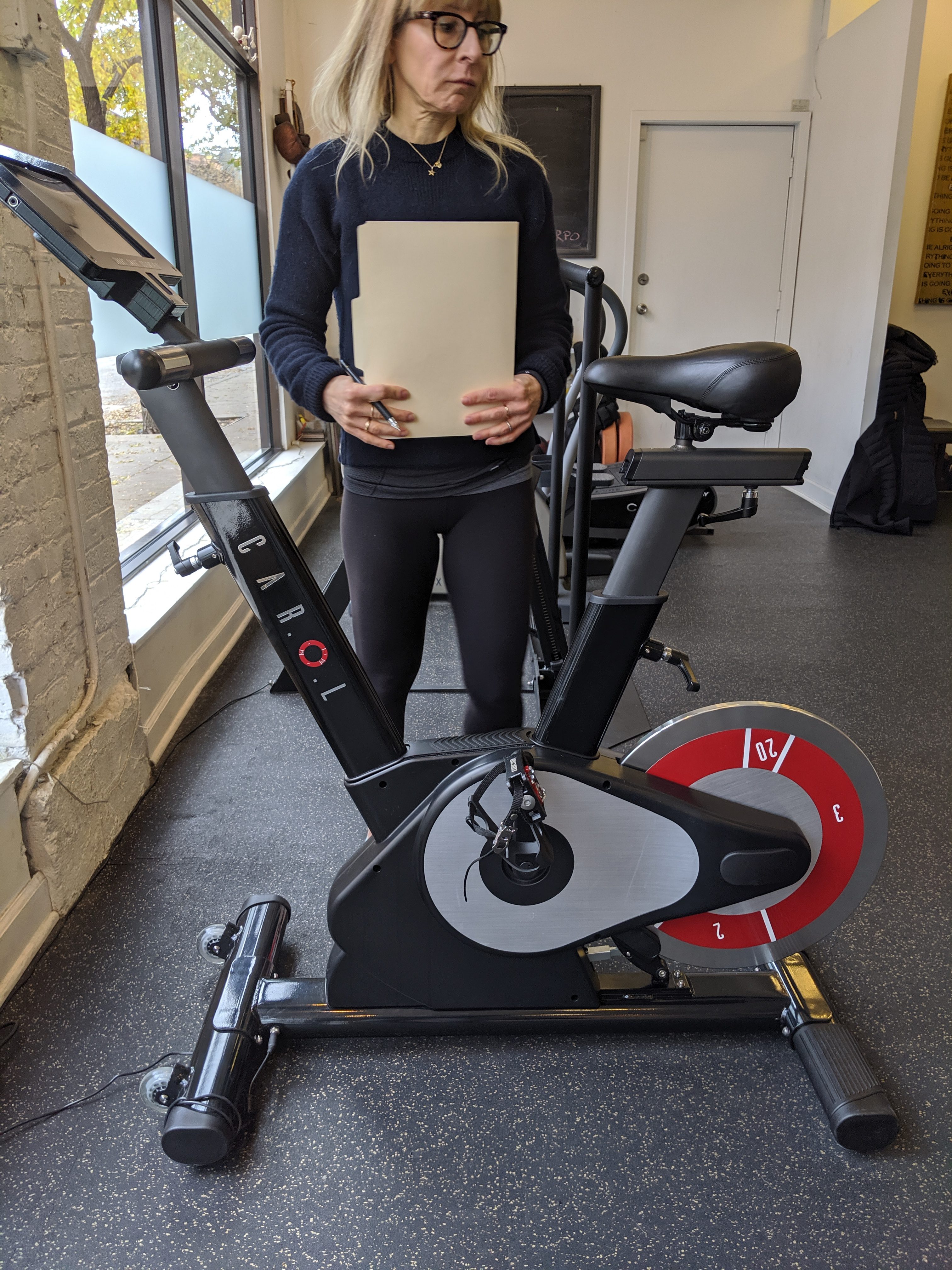 This makes it great to provide time-crunched people with a workout option that yields healthy heart results.
If you're considering to buy the CAR.O.L Studio Bike and what to know more about it, each bike is priced at $2.995 and requires a software license to work (costs $12 per month – billed annually). The company will be taking off $300 of its CAR.O.L AI HIIT bike's list price between Black Friday and Cyber Monday. You can also get it for commercial use (gym owners, fitness center owners, etc). You can buy yours by going to its official shopping page here.  If you're in Chicago and want to book a ride on the CAR.O.L, visit Bespoke Fitness and Studio. You can find their info here.