If you're looking to get a new smartphone, you should take a look at what the LG V40 ThinQ has to offer. This amazing five-camera Smartphone was released back in October 2018, but it still packs some amazing features, and not all of them are directly related to its multiple cameras.
The Korean tech company was really looking to smash its competition with this one. This smartphone is the first mainstream phone to have five camera lenses dedicated to improving your photography experience. While the Amazon Fire Phone also had five cameras, those were specifically designed for motion tracking, and not photography.
So, let's have a detailed look at what LG's V40 ThinQ Smartphone has to offer.
DESIGN, DISPLAY AND SPECS
The LG V40's body measures 6.25 inches long by 2.98 inches wide by 0.30 inches tall (158.8 x 75.7 x 7.6 mm), weighing only 5.96 oz (169 g). This actually makes it a lightweight smartphone when considering its actual size. The phone is rated IP68 dust/water resistant, proving capable of staying underwater up to 1.5m for a maximum of 30 mins.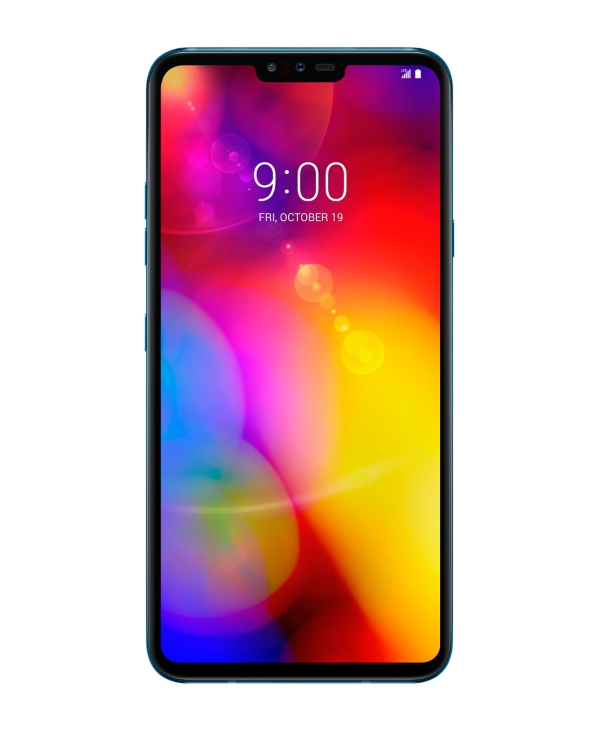 The smartphone is also MIL-STD-810G compliant, meaning its build is sturdy enough to withstand most accidental drops/falls. The LG V40 is compatible with both Nano-SIM and Dual SIM cards and comes with Android 8.1 Oreo installed. There's also a 3.5 mm headphone jack and a microSD card slot, supporting up to 1 TB microSD cards.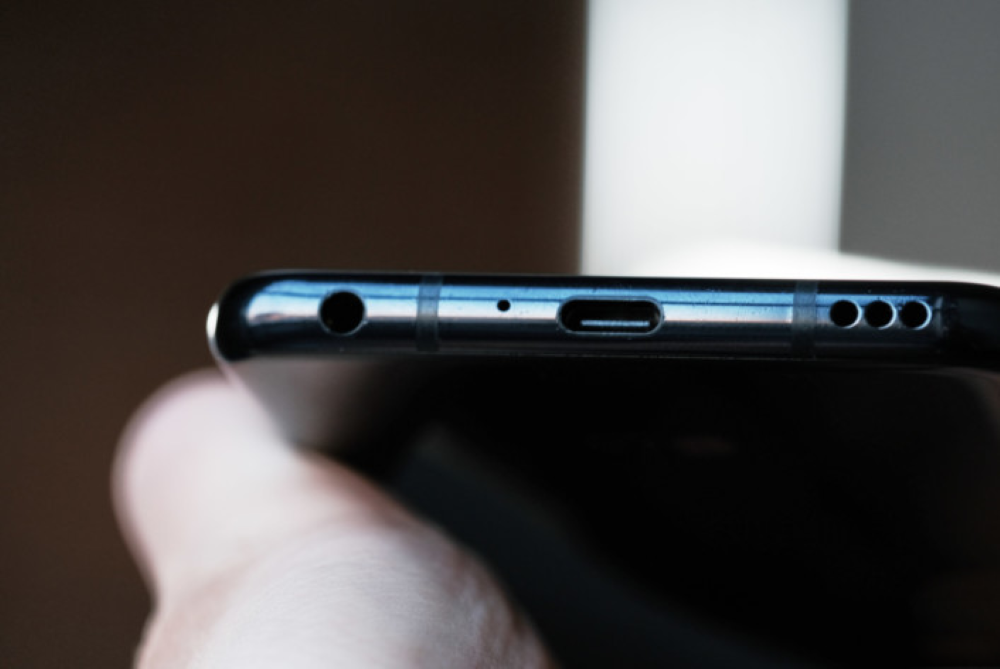 The smartphone features an aluminum frame and comes equipped with a Gorilla Glass 5 display. This means the LG V40 features a huge 6.4-inch QuadHD+ OLED panel, which runs a 3,120 x 1,440 resolution in a 19.5:9 aspect ratio, offering users a pixels-per-inch measurement of 537.
While the phone's 6.4-inch screen is indeed quite large, which kinda reminds you of the LG G7's shape and aesthetic (6.1 inches), it's still surprisingly comfortable to hold. But something great about it is the fact that the LG V40 features LG's OLED technology, making it capable of offering deep, dark black tones that come side-by-side with vibrant colors, but it won't be as bright as the G7 ThinQ's LCD screen. Overall, it's still a great OLED screen to look at every time, displaying bright and intense colors.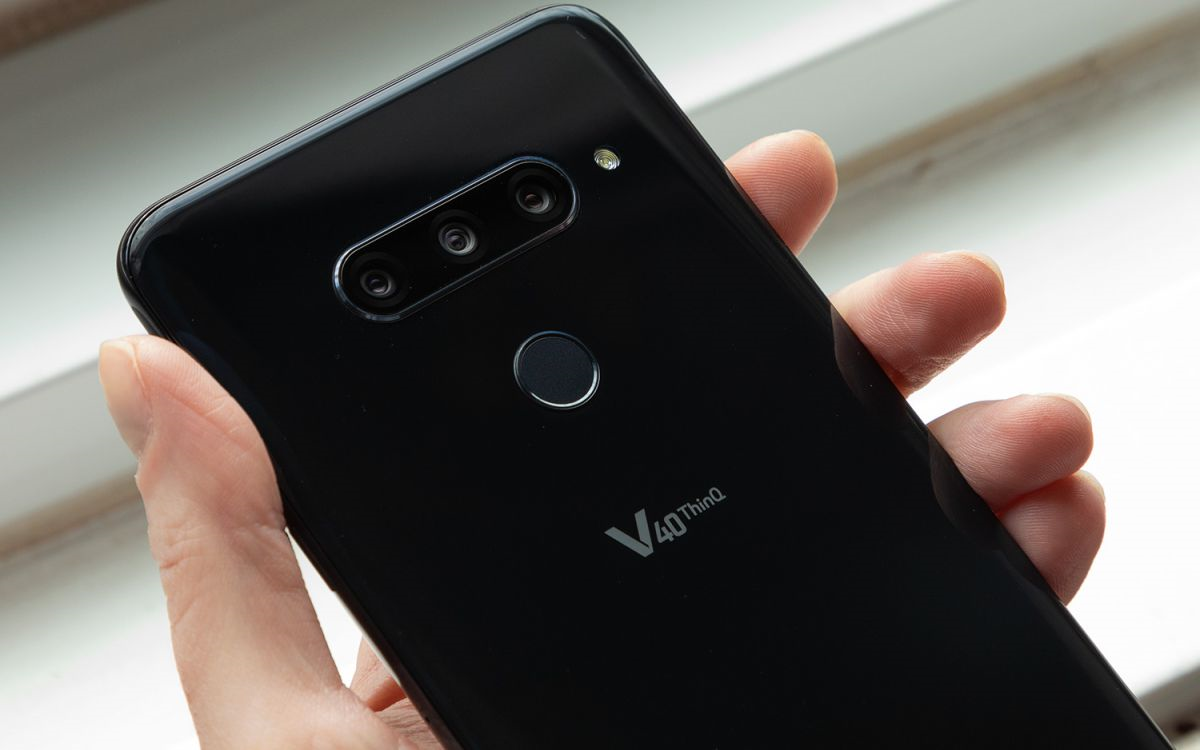 The LG V40 smartphone also comes equipped with a powerful Boombox Loudspeaker, allowing you to turn up the bass at any time. This offers you ANC (active noise cancellation) with a dedicated mic, but also means the phone supports 32-bit/192kHz audio playback and 24-bit/48kHz audio recording. Your audio experience is guaranteed to be decent (to say the least), allowing you to fill up any room with deep bass and crisp, pulse-pounding sound.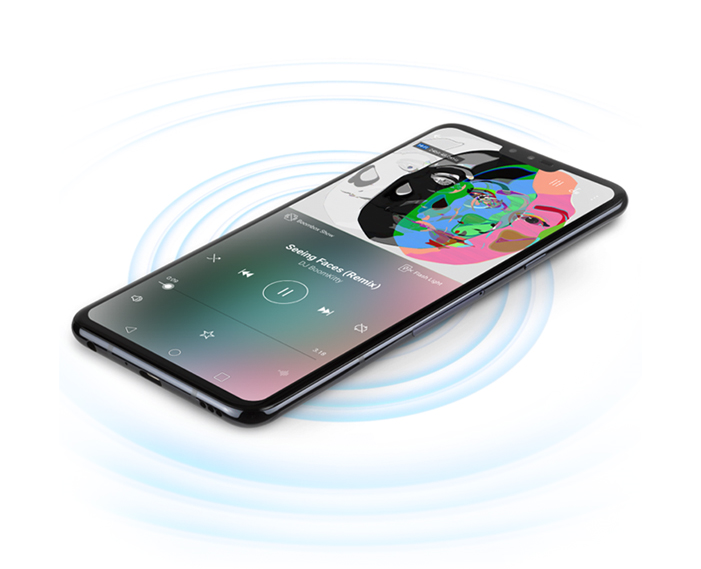 BATTERY & BATTERY LIFE
The LG V40 comes equipped with a non-removable Li-Po 3300 mAh battery that's charged via its USB 2.0 included charging cable and charger/adapter. That's sort of a small battery when considering its large screen, which directly translates to a short amount of screen-on time, meaning its battery will last you around four to five hours of screen-on time before the smartphone needs to be recharged.
The smartphone supports fast battery charging (18W), reaching 50% of its full-battery capacity in just 36 minutes (Quick Charge 4.0-compatible, but ships with a QC 3.0 charger). The smartphone also supports Qi fast wireless charging (10W).
CONNECTIVITY & VOICE ASSISTANT SUPPORT
The LG V40 ThinQ can connect to Wi-Fi (supporting 802.11 a, b, g, n, ac), and also features Bluetooth 5.0 BLE, NFC, and FM Radio connectivity.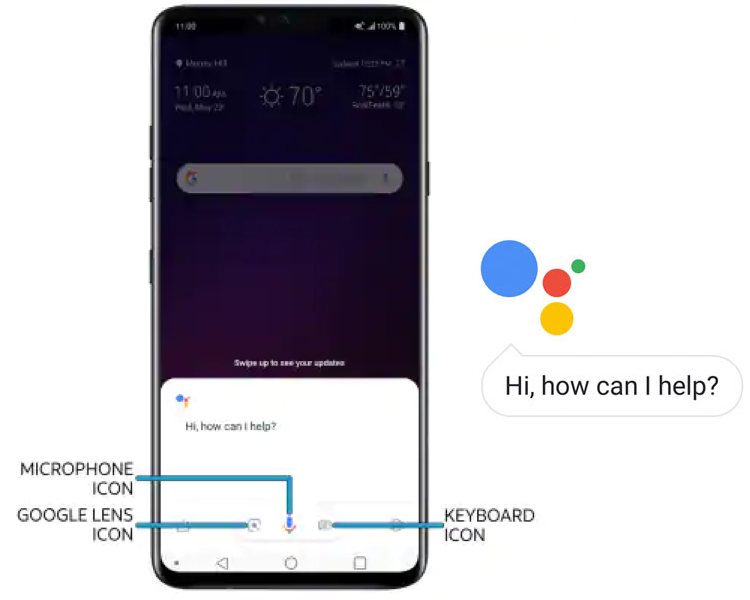 Not only that, but the LG V40 also supports Google Assistant. This means that whether you're at home or on the go you can use your voice to get more done. You can talk to Google Assistant by selecting the Microphone Icon, type a question via the Keyboard Icon, and even access Google Lens via the Google Lens Icon.
CAMERA
This is the "pièce de résistance". The LG V40 comes equipped with a total of five cameras, offering you the ultimate photography experience – three of those are located on the back and the other two on the front. This allows you to take better, more creative photos than either the iPhone XS Max or the Galaxy Note 9.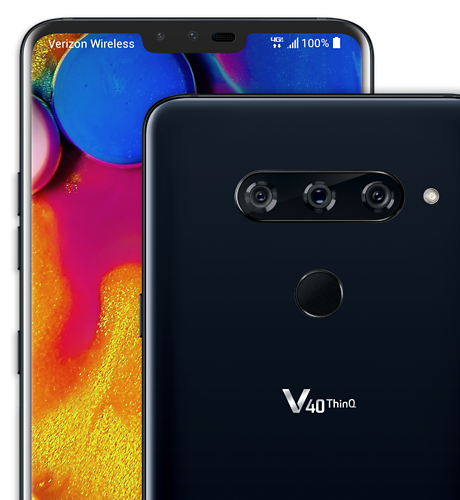 The LG V40's five cameras give you a variety of photography options. Below you'll find a short description of each of those options:
One Click, 3 Photos
With one click, you can capture more of a single moment, offering you 3 different perspectives – standard, 2x zoom and super wide angle – all at the same time.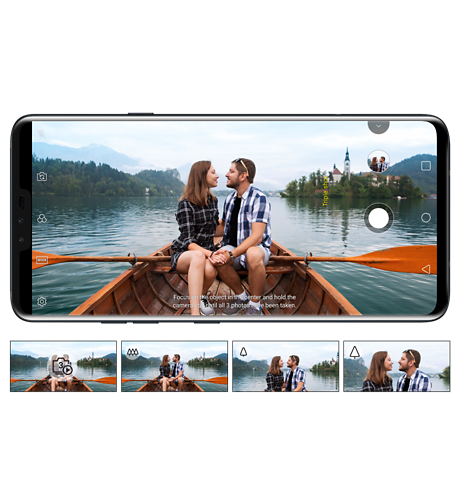 Preview 3 Angles at Once
After taking a shot you can pick the angle you love the most. You can choose what's the best lens for your scene via a live preview that lets you compare shots from all 3 rear cameras.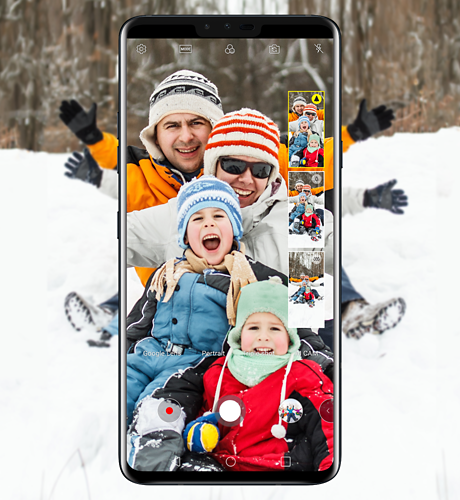 Selfies Made Simple
As said before, when compared to other smartphones' screens, LG V40 features a wider size screen. However, that's not necessarily a bad thing, meaning it allows for things such as wide-angle selfies and portrait mode when using its 2 front-facing cameras.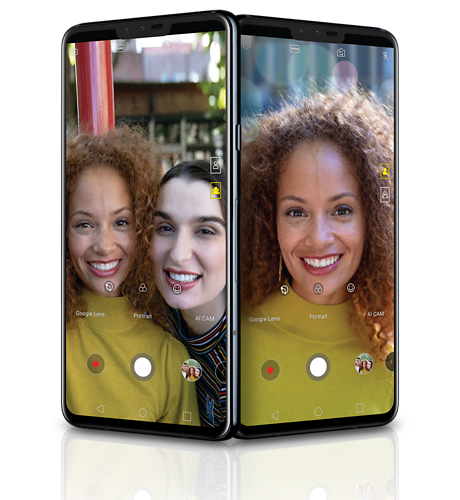 This allows you to take the best shots and capture some awesome selfies on the standard-angle camera. You can also switch to "wide-angle mode" to get all of your friends in frame for a giant group shot.
Stay in focus
By using advanced studio lighting effects users can blur the background and adjust the lighting in their photos, allowing them to draw viewers' attention to a specific object or person.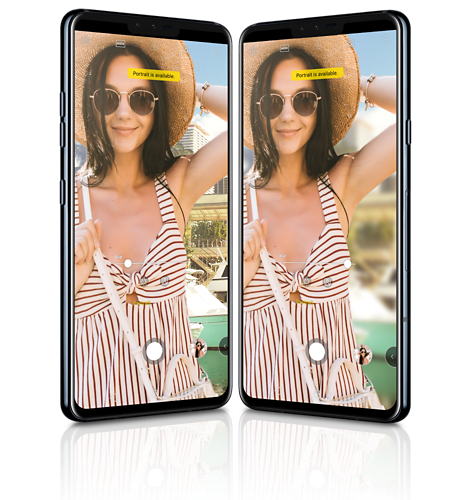 Indoor shots will also bring up all colors, making them look extremely vivid and vibrant (especially basic colors, like red, green, or blue hues), while also making objects look extremely detailed, sharp and focused.
Bring photos to life
You'll be able to bring your still photos to life and astonish all your friends and family. Using Cine Shot (more studio tools) allows you do things like animate the rain or add bursting fireworks to any picture, letting you close the gap between image and video to choose which part of your pictures you'll bring to life.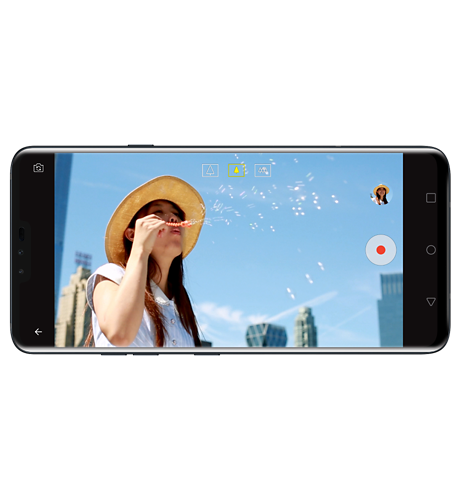 This option allows you to animate just one part of your pictures, while having the rest of it completely still. This gives all of your photos an amazing effect.
Smarter Photos
The LG V40 ThinQ automatically edits the position of your subject for improved balance and composition, adding an artistic touch to each of your pictures.
FINAL THOUGHTS
The LG V40 ThinQ is one of the best phones of 2018. It's true that its multiple photo and camera tools can be a bit too much for a casual user. Still, they're also amazing photography editing tools that make this five-camera smartphone one of the best available when it comes to photography.
However, its battery life is just average, and when compared to the Pixel 3 XL it falls short – the Pixel 3 XL offers you a better battery life, but comes with a cheaper camera option.
The LG V40 ThinQ Smartphone is currently available in 2 different colors: Aurora Black and the Moroccan Blue.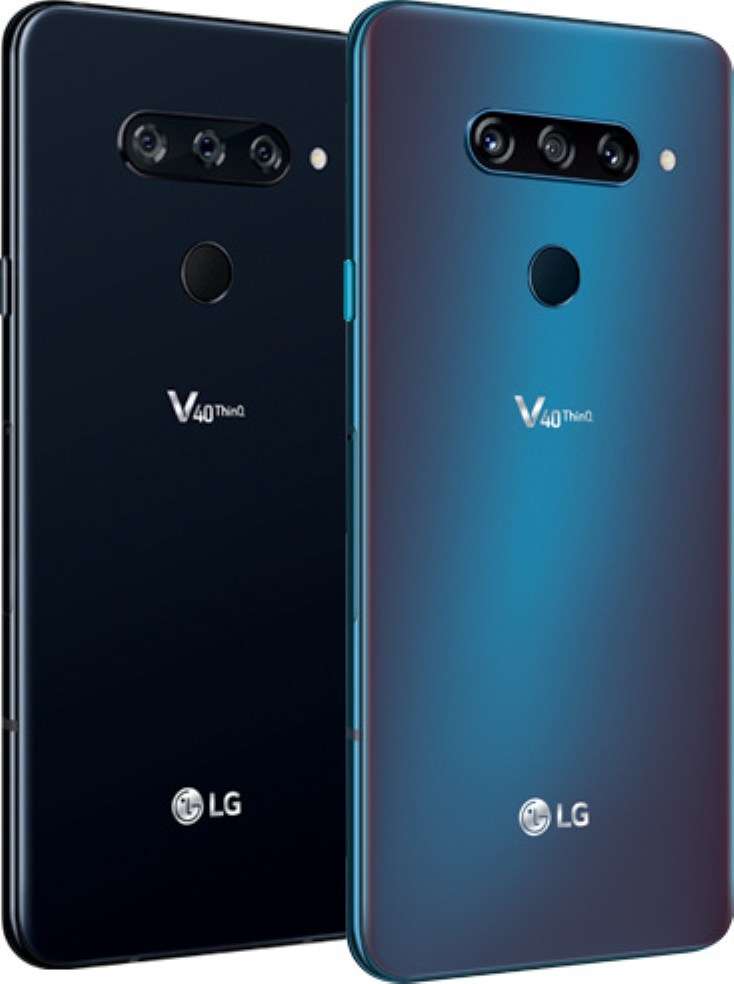 If you're interested in getting the LG V40 ThinQ, this legendary five-camera phone is currently available at Verizon's official website, and you have two different payments options available.
You can get your LG V40 ThinQ by paying its full retail price of $980, or go with a more affordable option to get it, the 24-monthly payments option, which will only cost you $40.83 per month.
Keep in mind that both the Aurora Black and the Moroccan Blue models are only available with a 64 GB Internal Storage Capacity. Nonetheless, the smartphone's internal memory is still expandable, meaning you do have some extra options after buying it.
Clicking this link will take you to Verizon's official shopping page, where you can choose the model you're looking to get, as well as the payment option that better suits your wallet.