The fast-growing market for USB charging hubs means that there are now a lot more options available. However, when looking for a USB charging hub, you probably would prefer getting the best possible one you can, both at a reasonable and accessible price. This brings us to the ChargeHub X3 3 Port USB Charger.
Owning multiple portable devices directly translates to a lot of USB recharging throughout each week, and that's when a Multi-USB Port Charging Hub like the ChargeHub X3 3 Port USB Charger (made by Limitless Innovations) comes in handy.

Limitless Innovations started its business in 2012. The product company is focused on providing consumers with the most innovative solutions for everyday problems, while doing it with style.
Now, let's take a look at what makes the ChargeHub X3 3-Port USB Charger a great go-to charging hub.
DESIGN & SEPCS
The ChargeHub X3 features a solid build, meaning it's designed to last. This charging hub is made of polycarbonate, aluminum, rubber, FR-4, paper and Lexan (another polycarbonate). The device measures 3.5 inches long by 3.5 inches wide by 1.5 inches tall, and weighs a measly 0.5 lb, meaning it's super-lightweight, allowing you to bring it everywhere with you (school, college, work, you name it).
The device features an Input Voltage of 110-240 V (Dual Voltage) and a Max Output Voltage of 5 VDC (Vaults Direct Current), also featuring a total power of 25 Watts. The ChargeHub X3 supports a maximum Current Per Port of 2.4 Amps, and a Max Total Current of 5 Amps, reaching up to 85.06% charging efficiency with each and every charge. The device holds a total of three safety certifications (UL/cUL, RoHS, FCC) that make it safety certified.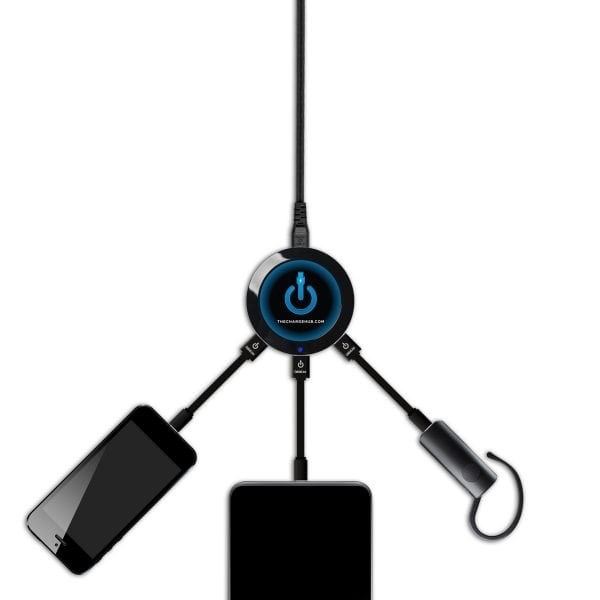 The ChargeHub X3 comes equipped with a total of 3 USB ports for USB charging. This means you can quickly power up to 3 USB devices simultaneously with a single power supply. Connecting the maximum of 3 devices is extremely easy thanks to its circular shape, and its USB ports are properly built, featuring no flaws or loose connectors (USB ports' pins).
WHAT'S IN THE BOX?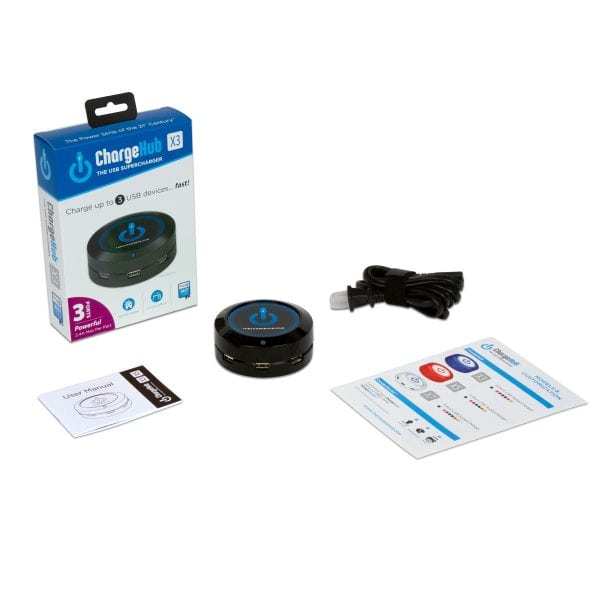 Within each package, users will find: one ChargeHub X3 unit, one included 6 ft. Detachable Power Cord, a User Manual, a Clear Lens with Removable Film, and the included 1-Year Limited Warranty by Limitless Innovations.
FEATURES
Patented Charging Technology
The ChargeHub X3 3 Port USB Charger features SmartSpeed Technology, making it capable of offering the fastest possible charge for 3 USB devices simultaneously, up to 2.4 amps per port, or 5 amps overall, with an impressive 25 watts of total power.
Keep in mind that the device does not support Qualcomm Quick Charge.
Compatibility
The ChargeHub X3 is compatible with almost any USB chargeable device, including: iPhone X, iPhone 8/8 Plus, iPhone 7/7 Plus, 6/6s Plus, 5/5s/5c, iPad Pro/Air/Air2/Mini, iPod, Samsung Galaxy S7/8/S9/Edge/Plus, Note 4/5, Google Pixel, LG, Windows, Nexus, HTC, MP3, Cameras, between many others.
Space Saver
Thanks to its small size and lightweight build you'll have the ability to create a neat and organized space in just a few seconds, allowing you to avoid using any excess cables, as well as multiple outlet usage and clunky power strips.
FINAL THOUGHTS
The ChargeHub X3 3 Port USB Charger is a very decent charging hub. It supports most recently released portable devices and offers you stable USB charging, all at a very accessible price.
The ChargeHub X3 3 is currently available in 10 different colors: Black, White, Red, Blue, Pink, Purple, Green, Dove Grey, Orange, and Turquoise.
You can also customize it to your taste by using Limitless Innovations's FREE online Design Studio, which allows you to personalize your ChargeHub X3 with any logo, text, graphic or artwork right from your home. And the process is super simple, as easy as counting "1, 2, 3". All you have to do is upload your media, customize and print your logo.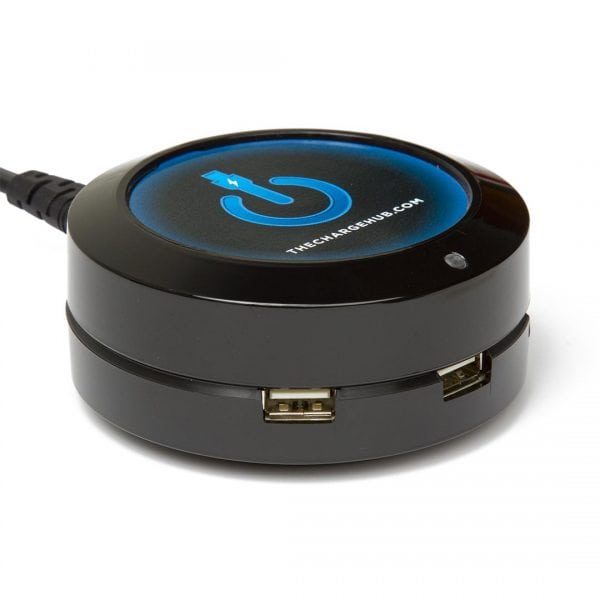 If you're interested in getting the ChargeHub X3 3 Port USB Charger, each unit is currently priced at $40. With such an accessible price, this could be a great holiday gift for a working family member or a son or daughter that just went to college.
Each ChargeHub X3 comes with a 1-Year limited warranty by Limitless Innovations (as stated before), and all ChargeHub's are packaged with US style plugs. You can get your's by accessing Limitless Innovations's official shopping page, which you can do so by clicking this link.
If you're looking for a charging hub that features a couple more USB Ports, let's say… 10, then consider taking a look at the ChargeHub Powerstation 360, which is Limitless Innovations's 10-USB Port charging hub.