If you happen to be a coffee lover, or just know anyone that deeply loves some grinded and hot brewed coffee to start their day, then you should definitely take a look at the Civilized Coffee Premium Gift Box Set.
While many coffee consumers will see themselves as "coffee lovers", they usually turn out to just love coffee, instead of a decent quality coffee.
Civilized Coffee Whole Bean Premium Gift Box Set
Civilized Coffee just launched a series of Gift Boxes just for the holidays. This is the company's Best-Selling Gift Box, and it is available on Amazon for a limited time.
The company deeply believes in "bringing civility back to conversations – one cup at a time". When selecting their coffee beans sources, the company decided to go with countries like Colombia, Tanzania and Kenya, all African countries that are famous for producing high-quality coffee beans.
Nothing's better than some premium quality coffee beans from the best producers in the world to start a conversation.
So, if you happen to know anyone that just can't live without a warm cup of coffee in the morning, consider getting them one of these awesome Gift Boxes this Christmas.
WHAT'S IN THE BOX?
Each Civilized Coffee Whole Bean Premium Gift Box Set includes: one Bodum Bistro Electric Coffee Grinder, an included Coffee Scoop, and 3 (12oz) different bags of Fresh Roasted Gourmet Coffee.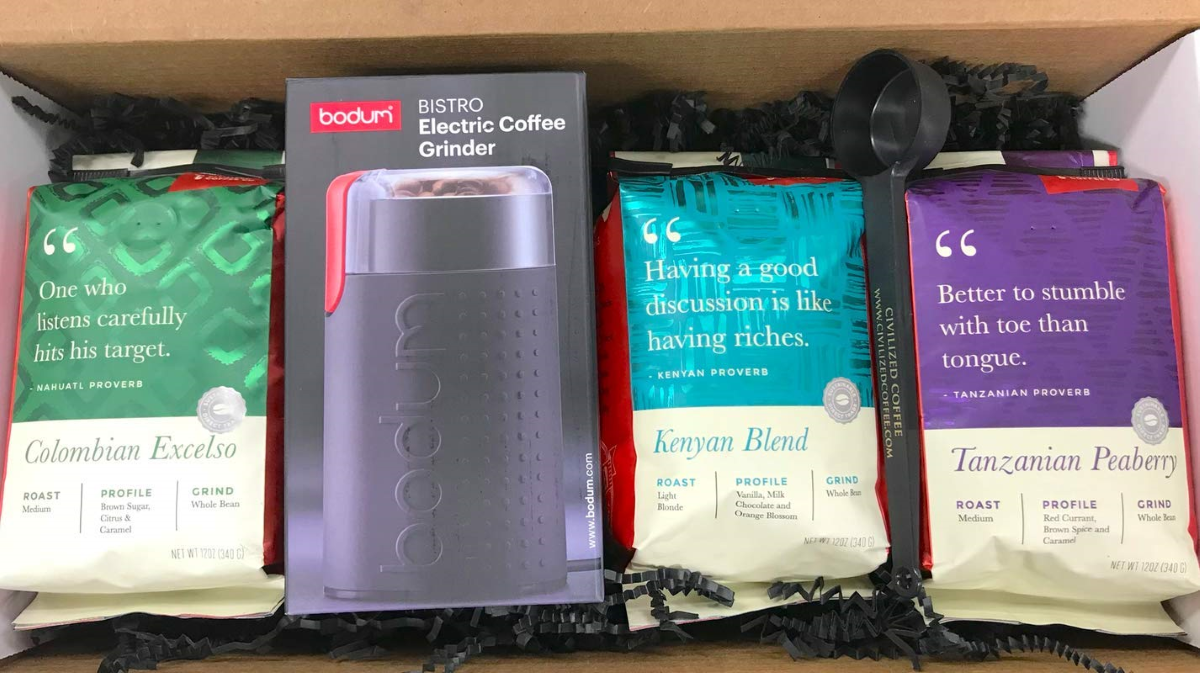 Each Premium Fresh Roasted Gourmet Coffee Bag (12oz each) contains a different type of premium whole coffee beans. As said before, these are carefully selected from some of the best coffee beans in the world, coming from classic coffee regions like Colombia, Tanzania and Kenya.
So, there's a total of 3 different flavors for you and your loved ones to enjoy: Colombian Excelso, Tanzanian Peaberry, and Kenyan Blend.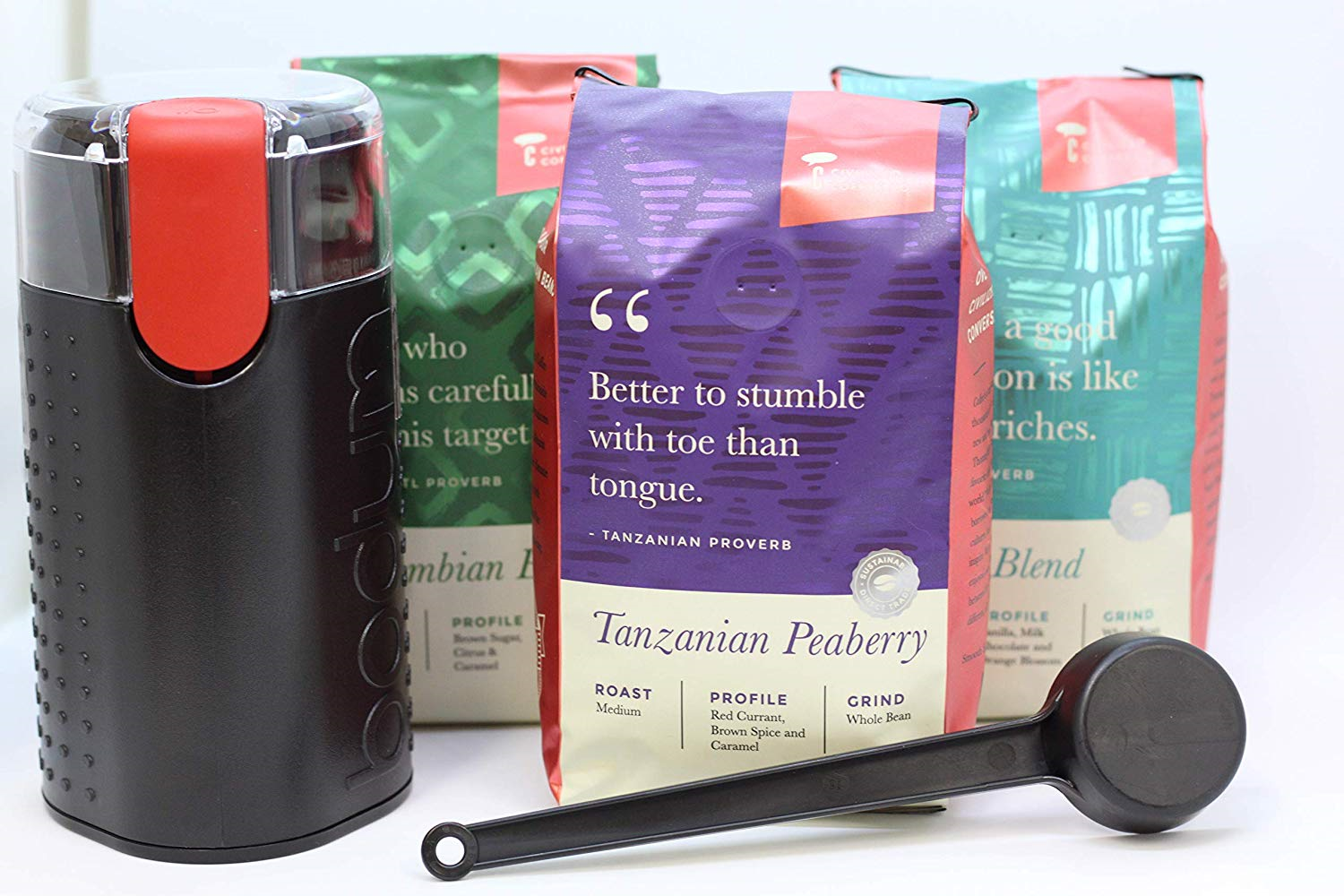 All these premium coffee beans start as green coffee beans, and are then roasted and packed with love and care, in US (Jacksonville, FL).
GET IT WHILE IT'S HOT
This Premium Gift Box Set is a great holiday gift, coming with 3 different Bags of Gourmet Coffee, a Bodum Bistro Electric Coffee Grinder and a Coffee Scoop.
These Gift Box Sets are perfect for the "Coffee Lover" in your life, and nothing says "Warm & Cozy" like a great cup of coffee.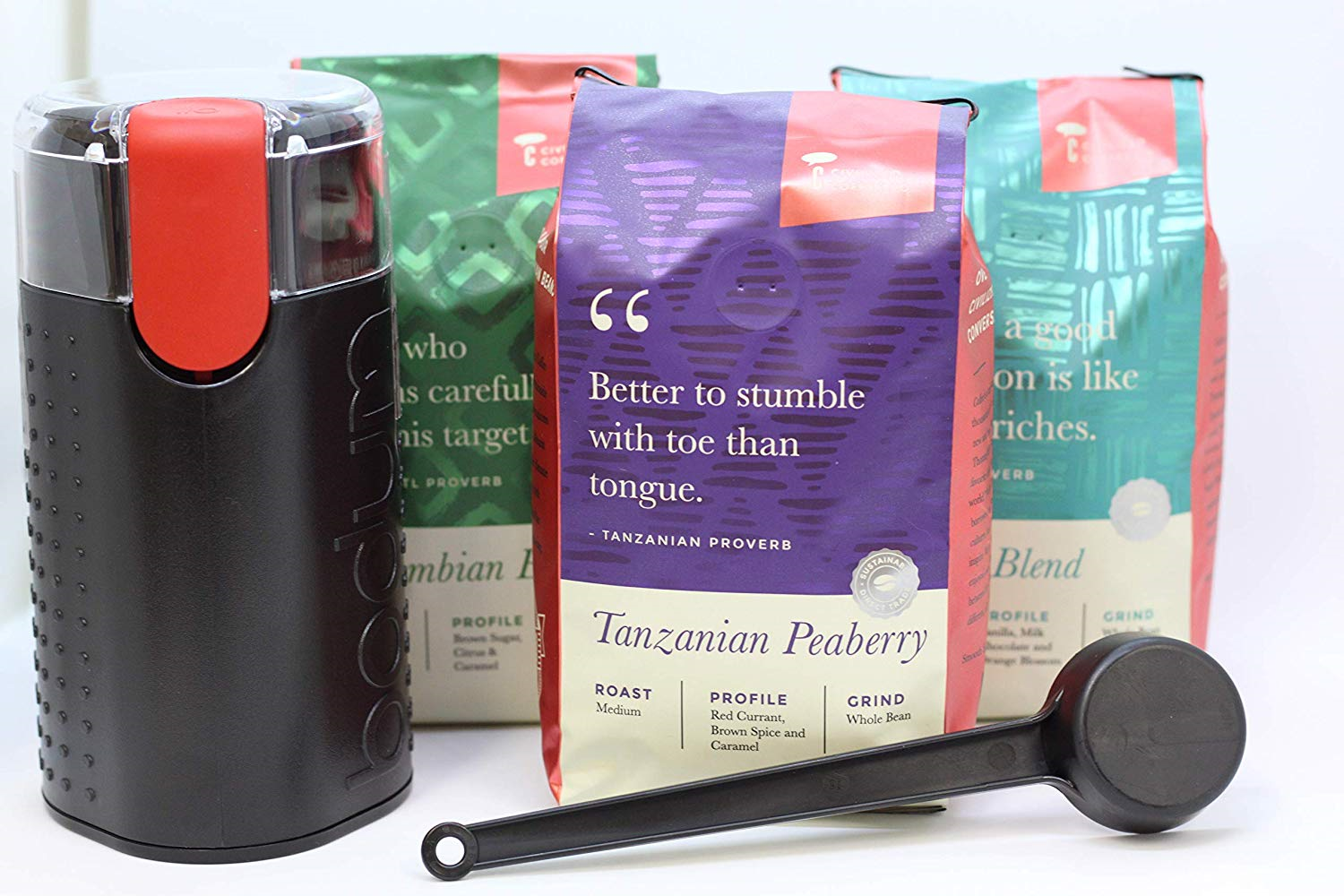 If you're interested in getting a Civilized Coffee Premium Gift Box Set, each set is currently priced at $75. You can get yours directly from Amazon (who's partnered with Civilized Coffee) by accessing this link.
There's also a special/bonus deal associated with every purchase. For less than $5 Amazon can gift wrap your Coffee Box Set and add gift messaging. This Premium Care Package deal features different funny messages like: All Great Coffee Lover, Fan, Barista, Fanatic. There's also Amazon's classic Gift Wrapping available.
You can get one of these limited Gift Boxes for your anyone in your family, any of your friends, or even for yourself. Spoil yourself and the ones you love during Christmas time with this amazing gourmet coffee and enjoy many mornings to come with a cup of premium quality coffee.
And hey, gourmet coffee is always a great gift. The Civilized Coffee Premium Gift Box Set also works great as a Birthday, Corporate, Graduation, or Anniversary gift, and it's also amazing to host any Housewarming party or to enjoy any other Holiday celebration.