If you're looking to build the ultimate smart home, you should know that there are already some smart home decoration pieces out there that are NFC (Near-field communication) enabled. A great example is the recently released Senic Muse Blocks Art Bar Set, which basically consists of a Wooden Walmount with 7 attached small Art squares – called Muse Blocks- that are equipped with an NFC chip.
These simple, smart NFC enabled Art squares provide you with a whole new way of interacting with your favorite streaming services, like Spotify for example. This way, if your smartphone supports NFC, all you have to do is bring it within 0.78 inches (2 cm) of any of your Muse Blocks and you'll be automatically taken to the NCF chip's programmed location within your music service's app.
Having the ability to jump straight to your favorite playlist without needing to search for the App, open it, and search for that playlist within the App is really cool. That's an amazing feature that saves you a ton of time.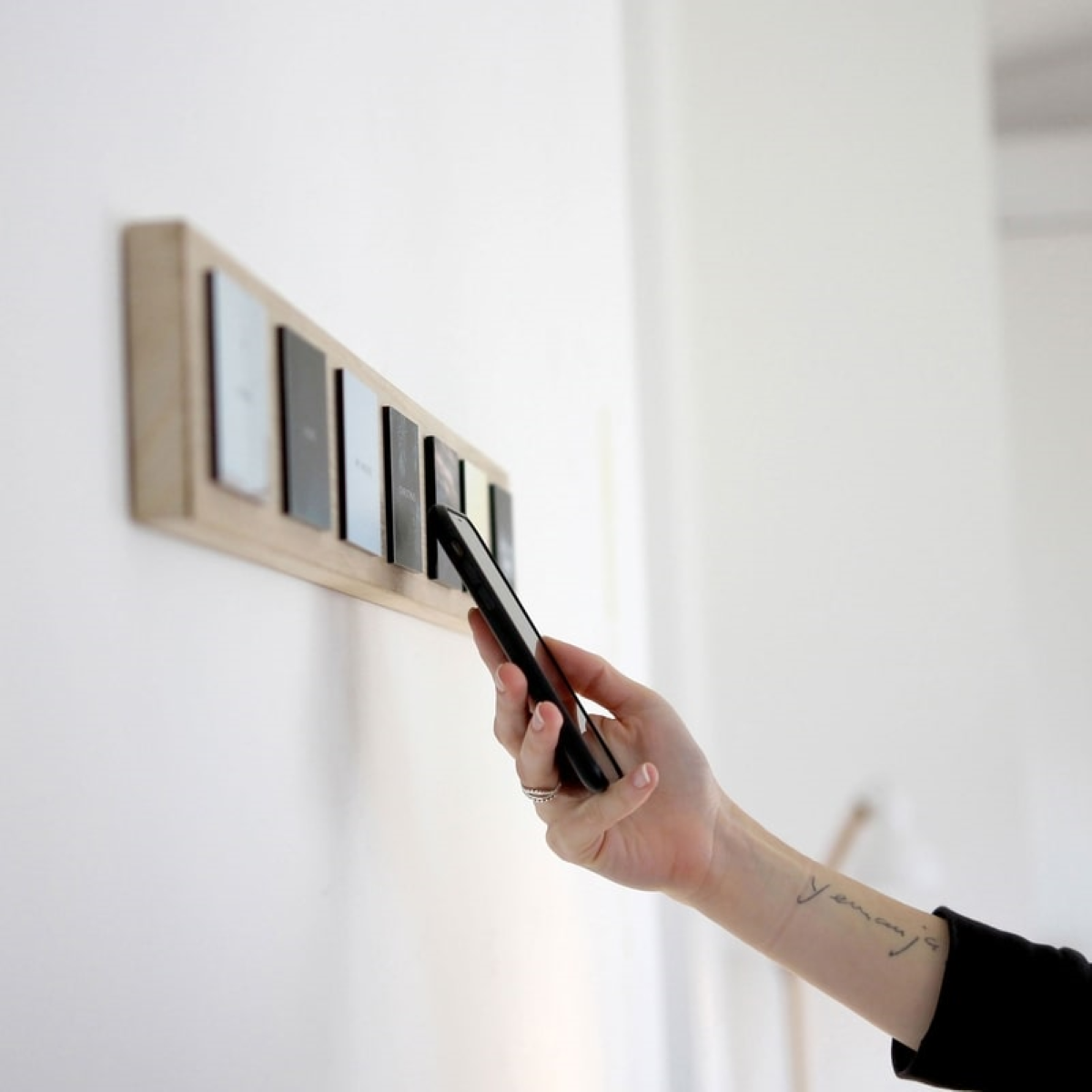 The main idea behind these Muse Blocks is to have them turn digital-only Media to a physical format, something like the CDs (compact discs) from 1982, with the slight difference that these also work as home decoration, or better saying, really cool smart NFC enabled home decoration.
Let's take a detailed look at the Senic Muse Blocks Art Bar Set, as well as how it works exactly.
DESIGN & SPECS
As said before, the Senic Muse Blocks Art Bar Set consists of a wooden wall mount and 7 Muse Blocks. The wooden wall mount is made of ash wood, measuring 2.76 in x 2.76in x 0.15in (7cm x 7cm x 0.38 cm). Each Muse Block is made of Acrylic Glass and is printed in high-resolution, featuring a soft-touch matte laminate finish, weighing only 0.7 oz.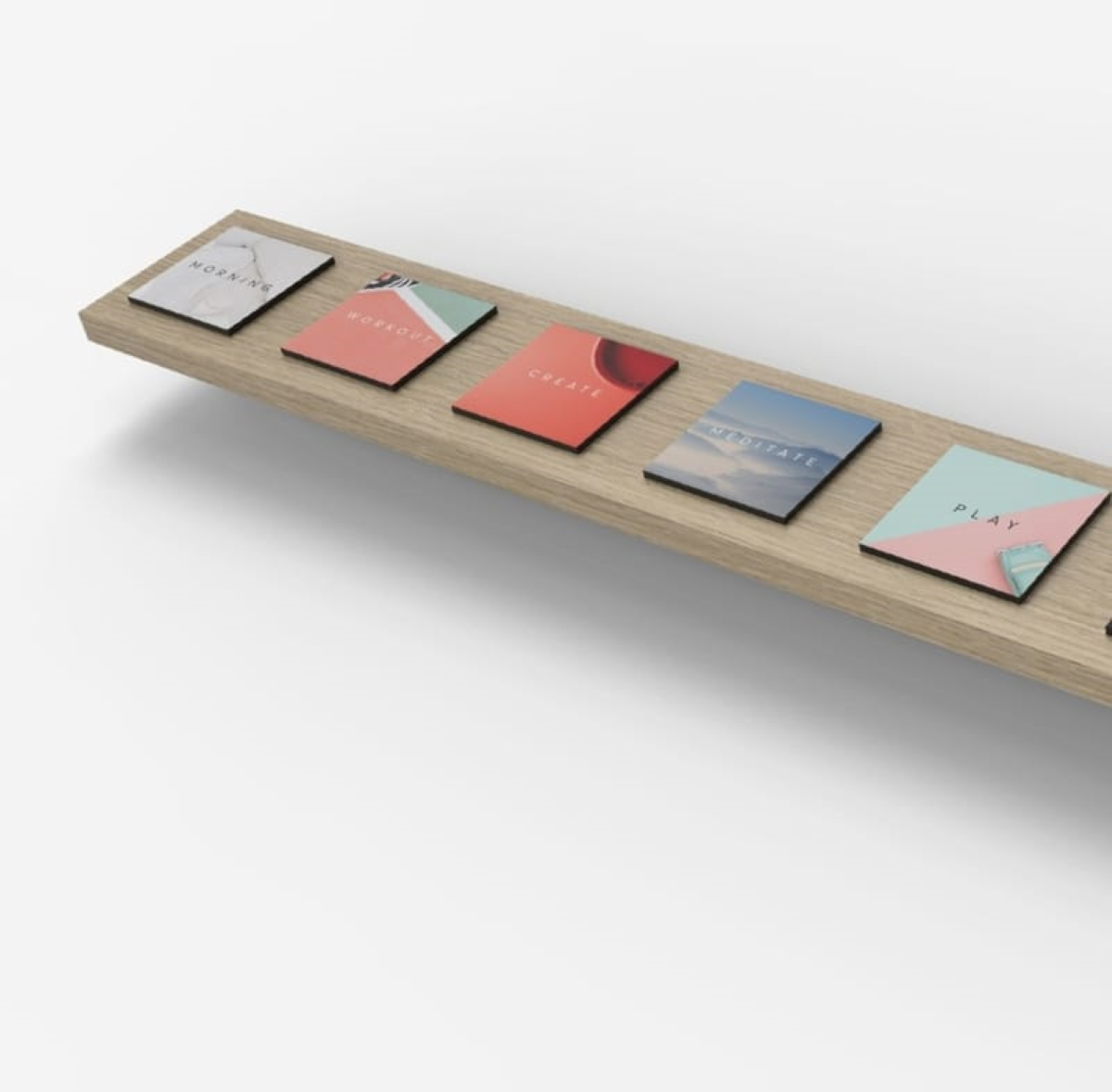 There are at least 30 different prints to choose from, including: Morning, Breakfast, Workout, Yoga, Meditation, Work, Coffee Time, Party, and many, many more.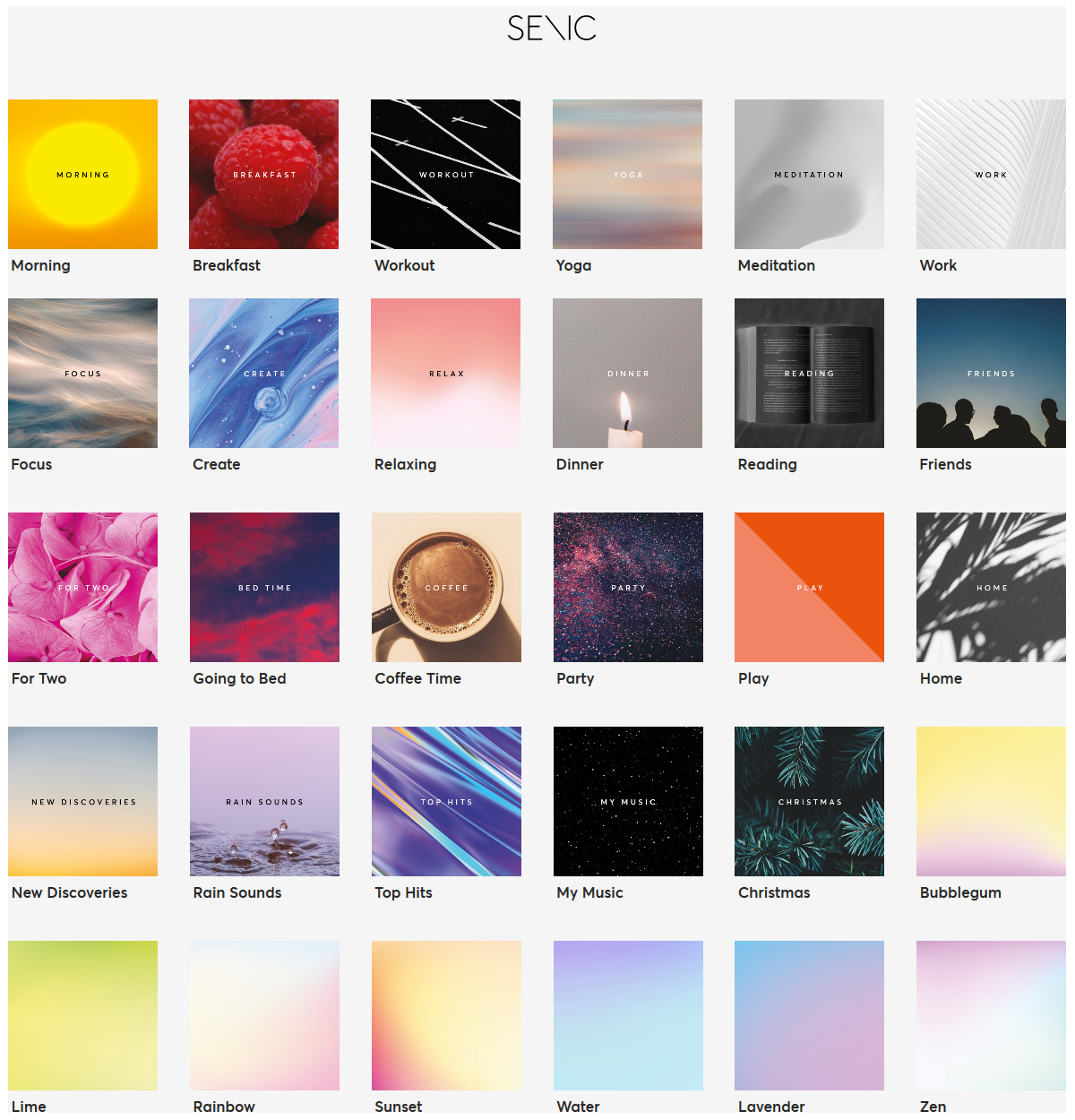 Customers can also have their Muse Blocks custom-printed by simply uploading any square format JPG image, but there's a catch: anyone that wants a custom-print Muse Block must own the rights to the image their looking to upload.
The Muse Blocks require no power at all and are also battery free, meaning they don't require charging. Each Muse Block comes equipped with an NFC chip that features NFC (Near-field communication) NDEF (NFC Data Exchange Format) technology.  These chips can be encoded to link to any song, album, playlist, or podcast from your favorite streaming music service, as long as that service supports linking.
HOW DOES IT WORK?
As stated before, each Muse Block features NFC NDEF technology. All you have to do is bring your smarthphone within 0.78 inches (2 cm) of a Muse Blocks and you'll be automatically taken to the NCF chip's programmed location within your music service's app.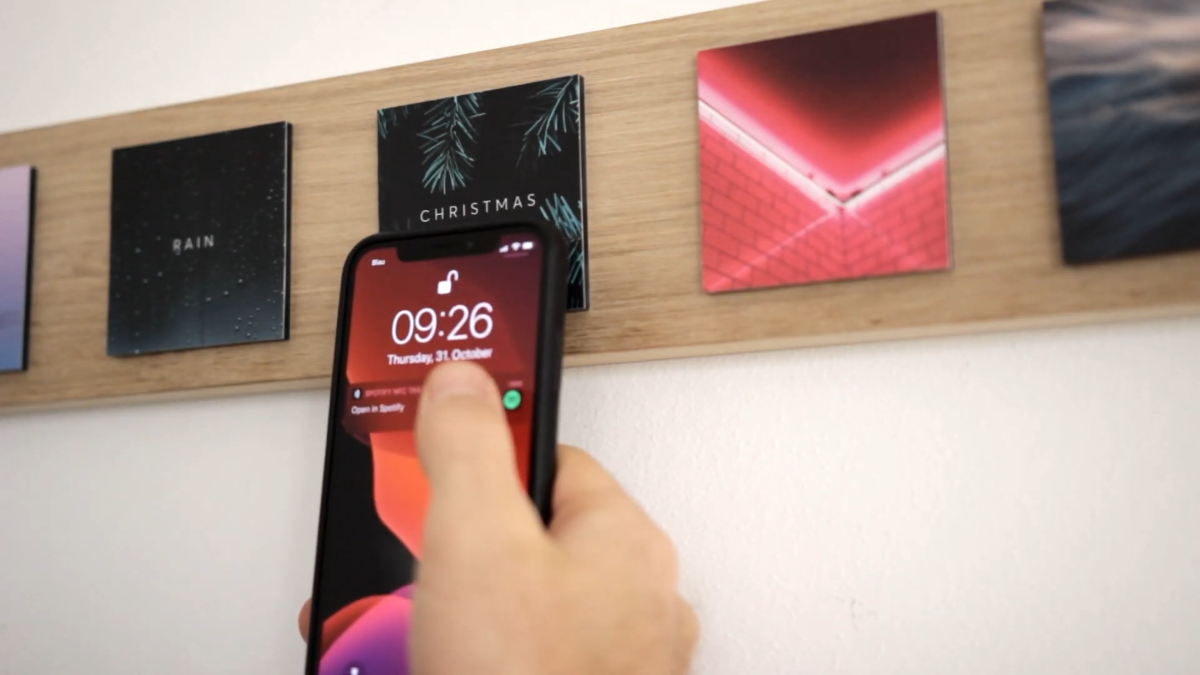 However, while Senic designed the Muse Blocks to be linked to music services, users can reprogram the chips at any time, and make these point to any online location that uses a static link. While the company says that it isn't actively exploring such options, many popular services like Netflix, If This Then That, and YouTube are compatible with NFC linking. This allows you to link the NFC chips to these services for a physical interaction that provides an easier and faster way to access to them.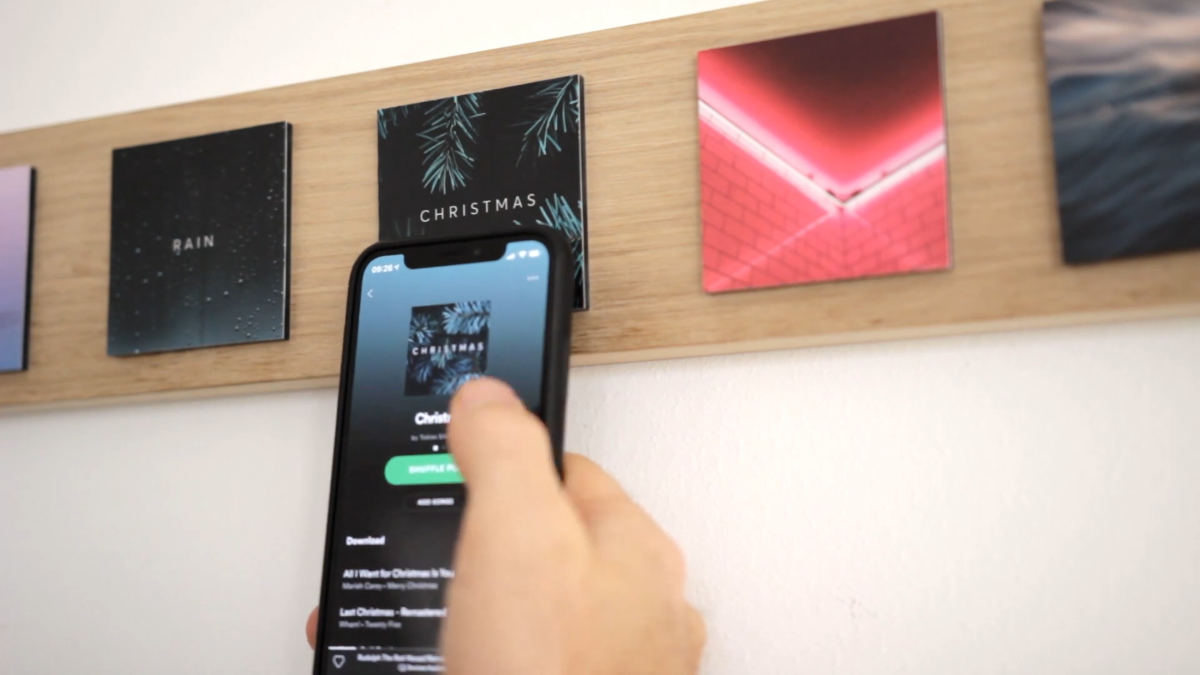 This also means that enterprising music labels might start looking for multiple ways of partnering up with Senic to offer non-reprogrammable Muse Blocks as promotional items tied to future album launches.
COMPATIBILITY
Keep in mind that not every phone supports NFC reading (or writing), and not all phones that support it will work with the automatic-launching feature.
For example, any iPhone that was released before the iPhone 7 can't read NFC chips. While some series like the iPhone 7, iPhone 8, and iPhone X can read NFC chips, they all need a dedicated App to be running for the NFC technology to actually work. However, the iPhone Xs or any other iPhones that were released after it feature NFC background reading, which makes the quick-launch feature possible.
Lastly, any Android device that supports NFC will almost certainly support NFC background reading.
FINAL THOUGHTS
If you're looking to upgrade your smart home to the next level, the Senic Muse Blocks Art Bar Set would be a great addition to your smart home's decor. This ash wood wall mount comes with 7 attached smart NFC enabled Art square pieces called Muse Blocks, allowing you to physically interact with them to play any song, album, playlist, or podcast via your favorite music streaming service.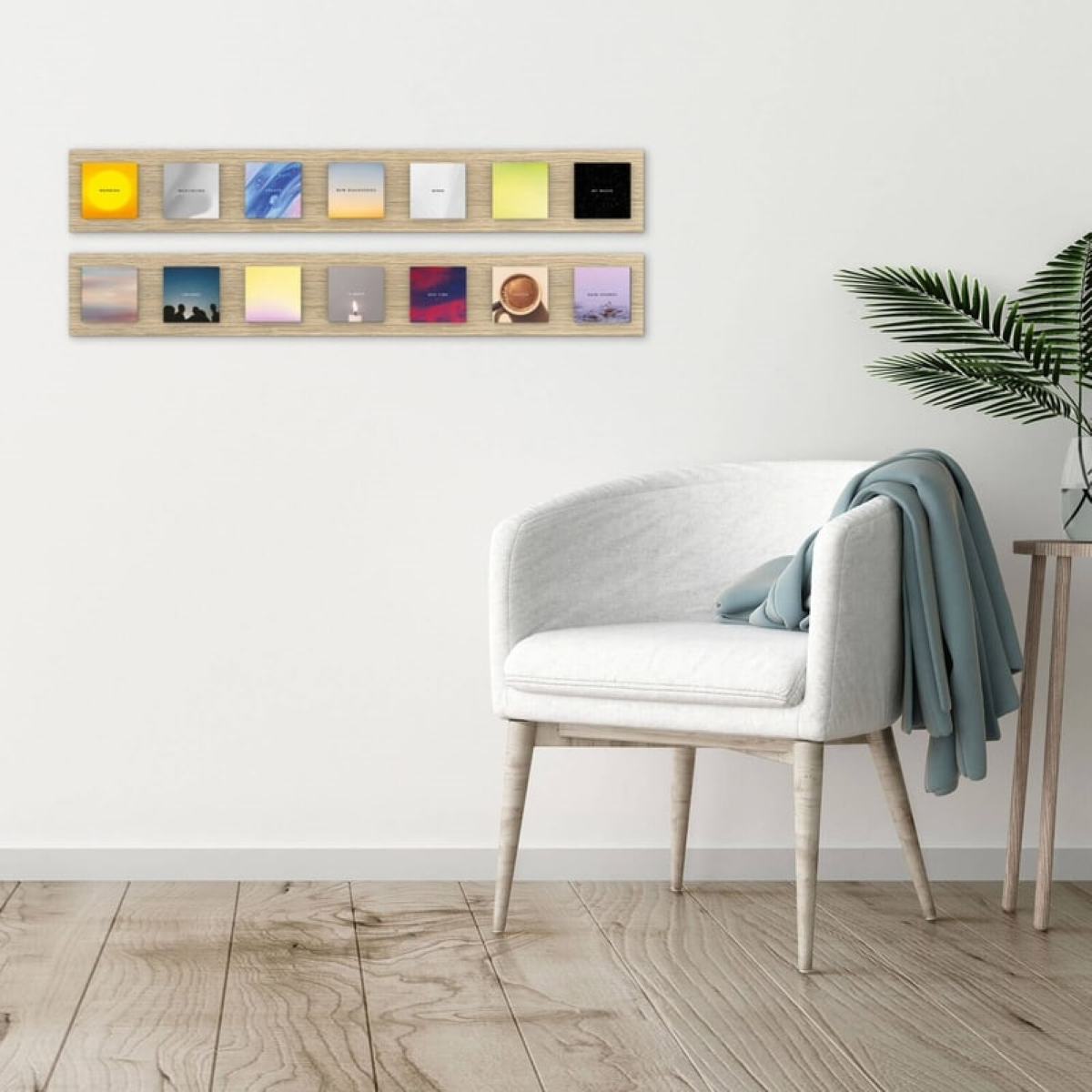 If you're interested in buying your own Senic Muse Blocks Art Bar Set, each set is priced at $79 and includes 7 Muse Blocks. As soon as you've purchased your Art Set, you'll get an automatic email with simple instructions on how to select each artistic print for your 7 Muse Blocks.
Each delivery takes around two to three weeks (usually 12 working days) for shipping to the U.S. and Canada from Germany, which is where the Blocks are made. For European countries it takes about 3-6 working days, excluding Germany itself, which takes only around 1-3 working days. Keep in mind that there is currently a high demand, so your order might take a bit longer to get shipped.
You can order your Senic Muse Blocks Art Bar Set right now by accessing Senic's official website, which you can do by clicking this link that'll take you to the corresponding shopping page.