Jump starters are portable battery devices that let you jump start vehicles. One great example is the Limitless Innovations Jumpsmart, a multi-use portable gadget that works as a car jump starter, a flashlight and even a power bank, all powered by a built-in 37000 mWh rechargeable battery .
Having a jump starter around means you won't need an additional vehicle to provide the power needed to boost a dead vehicle's battery. This means that if your car's battery, or anyone else's car's battery dies, you can basically just pull out your jump starter and save the day.
The Limitless Innovations Jumpsmart is simply one of the best vehicle jump starters currently available on the market, if not the best. This practical gadget packs a Vehicle Jump Starter, a 4-Mode LED Flashlight, and a Power Bank all in the same high-powered unit.
Let's take a look at it and at everything it has to offer.
DESIGN & SPECS
Contrarily to many other plastic and rubber jump starters on the market that are built with cheap materials, the Limitless Innovations Jumpsmart is a durable jump starter that's built to last. The Jumpsmart houses all of its components in an anodized aluminum casing featuring an ergonomic design.
The handle is knurled, which is a great feature on flashlight-like gadgets, providing users with a solid and sturdy grip. The entire case is durable and can withstand almost any collision that comes with everyday use, so, if you happen to drop the Jumpsmart every now and then because your hands were just too full, there's nothing to worry about. The Jumpsmart comes with an included sturdy carrying case, which you can use to store it when you're not using it.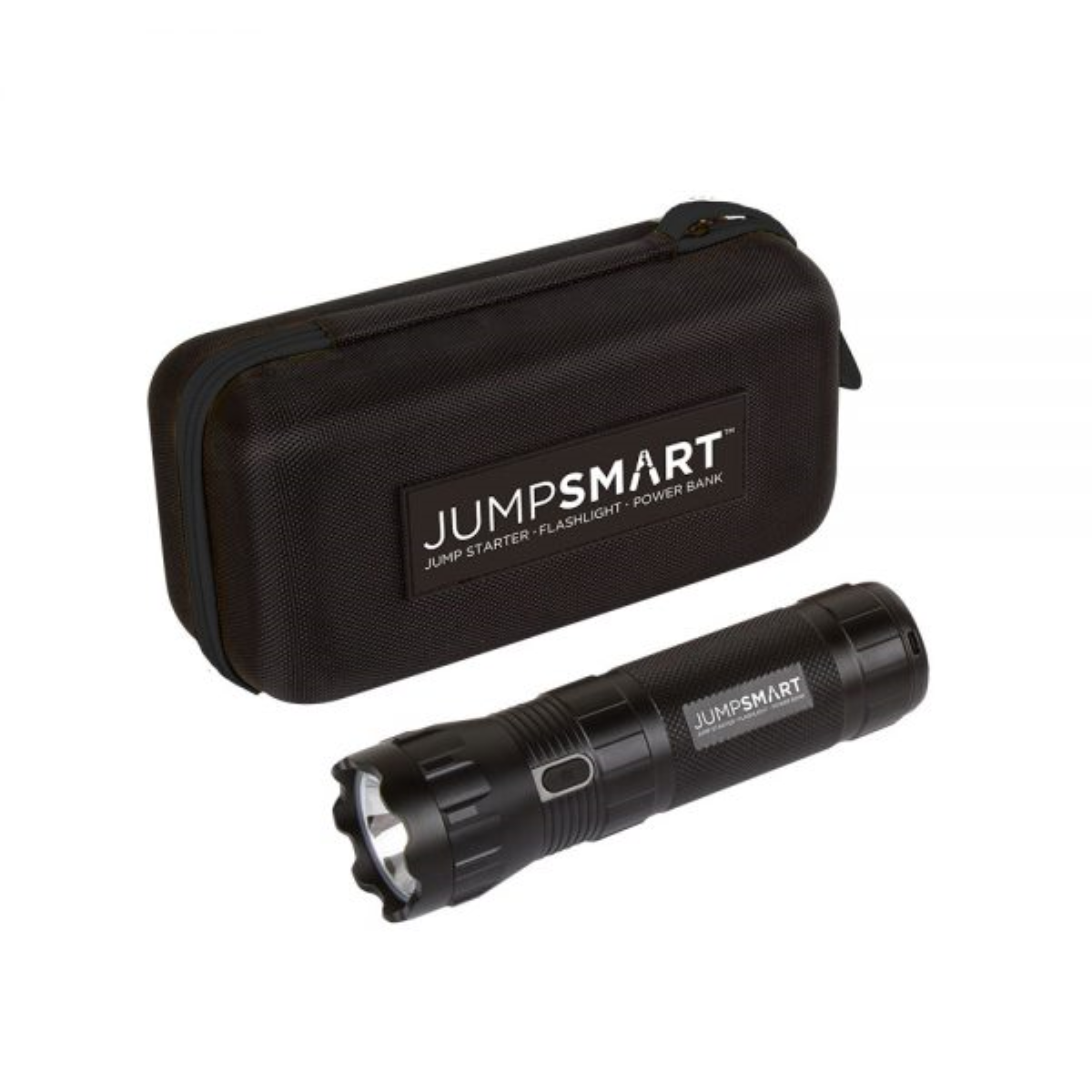 This gadget works under any weather conditions. That's right; whether you're under a blizzard, heavy rain, or somewhere in a hot desert, the Jumpsmart will always work. The device is capable of withstanding even the most abrupt temperature variations, working flawlessly between -4°F and 140°F (-20°C and 60°C). This makes it one of the best tools you'd wish to have anywhere in the world.
Lastly, the Limitless Innovations Jumpsmart comes equipped with a Lithium Polymer battery that features a 37000mWh capacity.  This battery is what feeds the device to work as all of its 3-in-1 solutions – a Car Jump Starter, a Flashlight, and a Power Bank.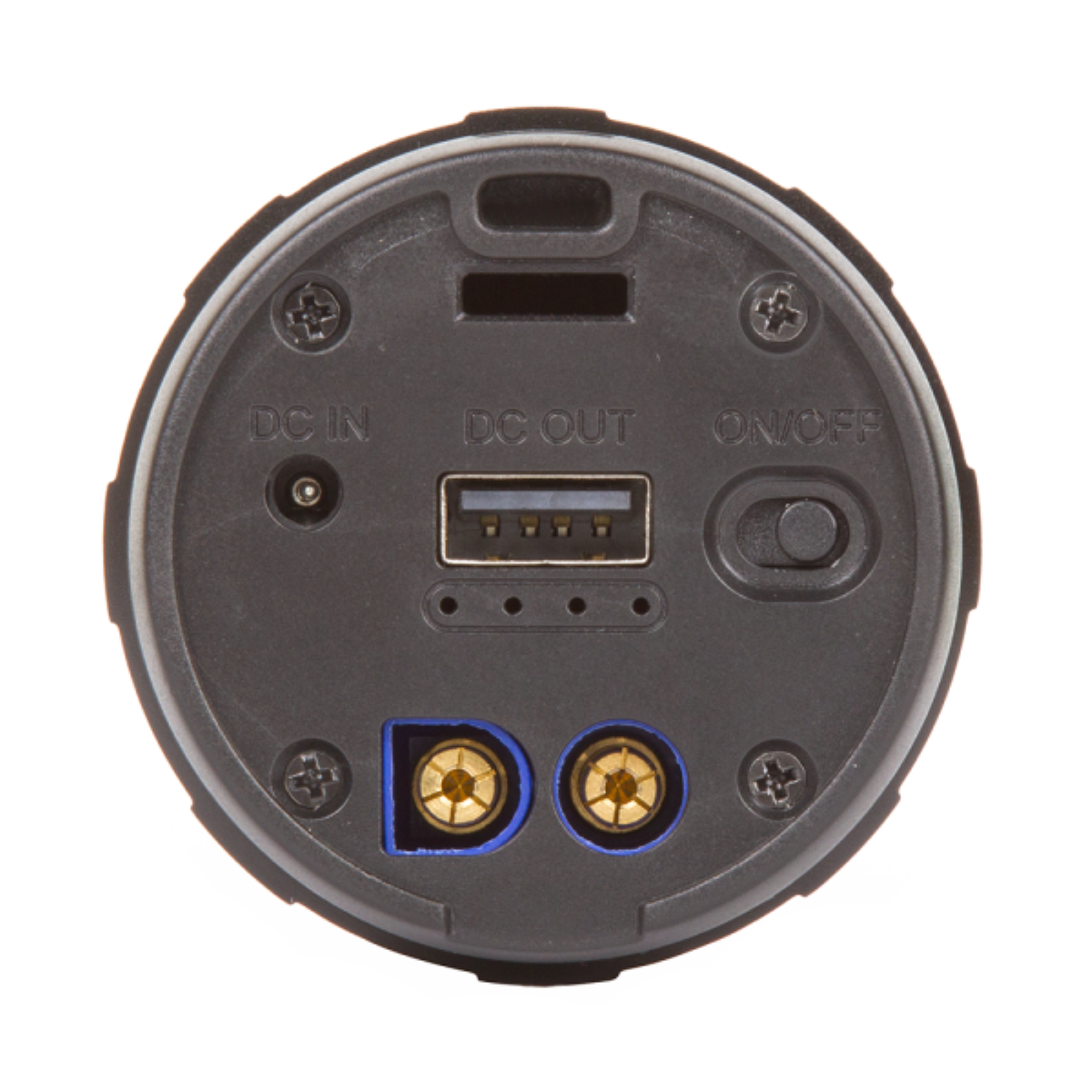 Located at the bottom of the device you can find all of its ports. There's a 15V / 1A input port (to recharge its built-in battery) and a 5V / 2.4A USB Output port (to use the Jumpsmart as a power bank). There's also a DC 12V / 200A Starter Port and a 400A Peak port, which are used to Jump Start a vehicle's dead battery.
FEATURES
Jump Starter
The JumpSmart can jump start up to an 8-cylinder, 5.0L engine with ease (up to 2.0L Diesel). Its powerful 37000 mWh high-grade Lithium-Polymer battery is compatible to jump start with most cars, trucks, and SUV's, as well as lawn mowers, motorcycles, ATV's, boats and more.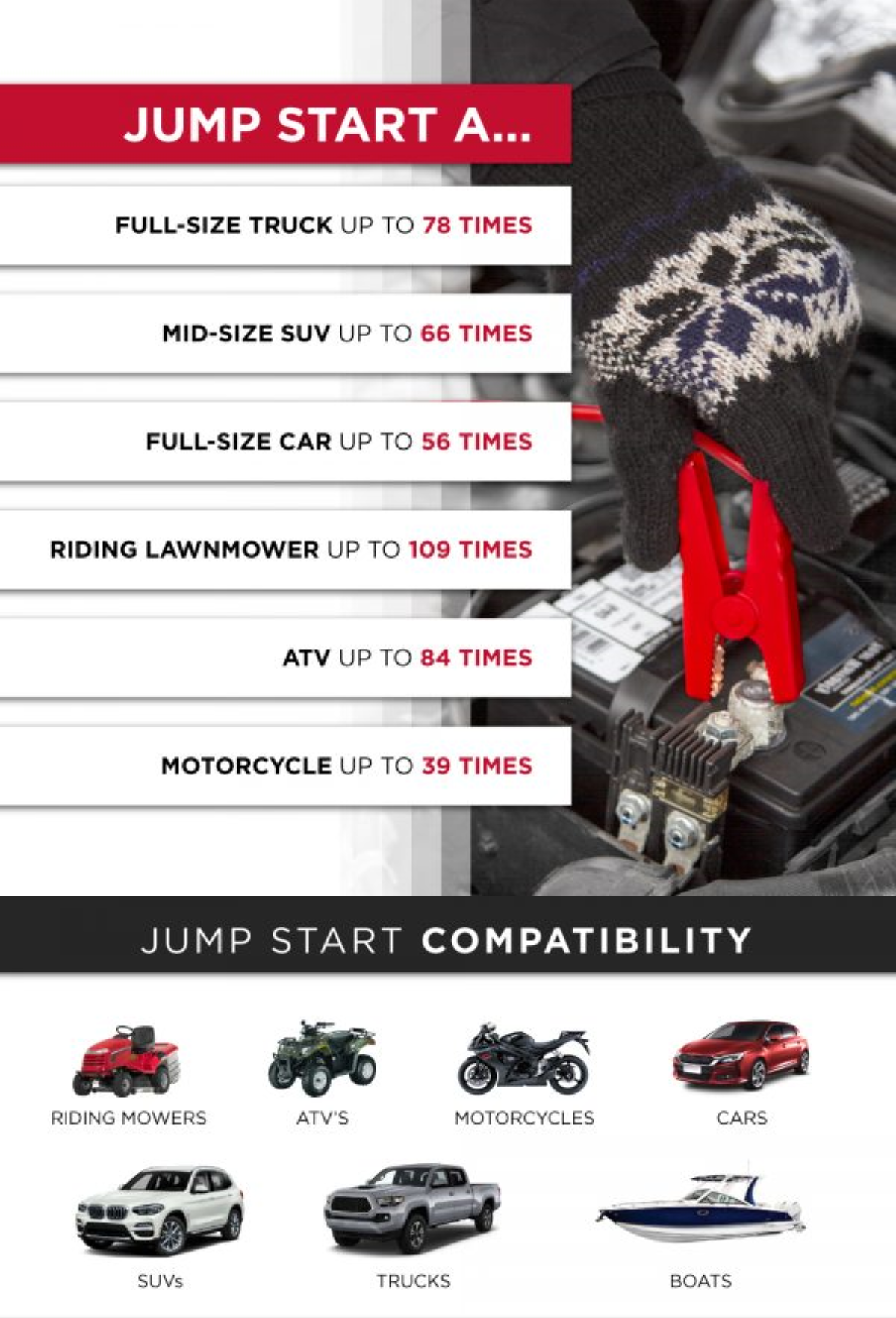 The picture embedded below contains a list of how many times the JumpSmart can jump start each different type of vehicle, and trust me, you'll be surprised.
Flashlight
Not only can the JumpSmart jump start many different vehicles a ton of times each, but it also works as a Flashlight. The JumpSmart can also work as an 8W, 330 Lumen LED Flashlight, featuring 4 different operation modes.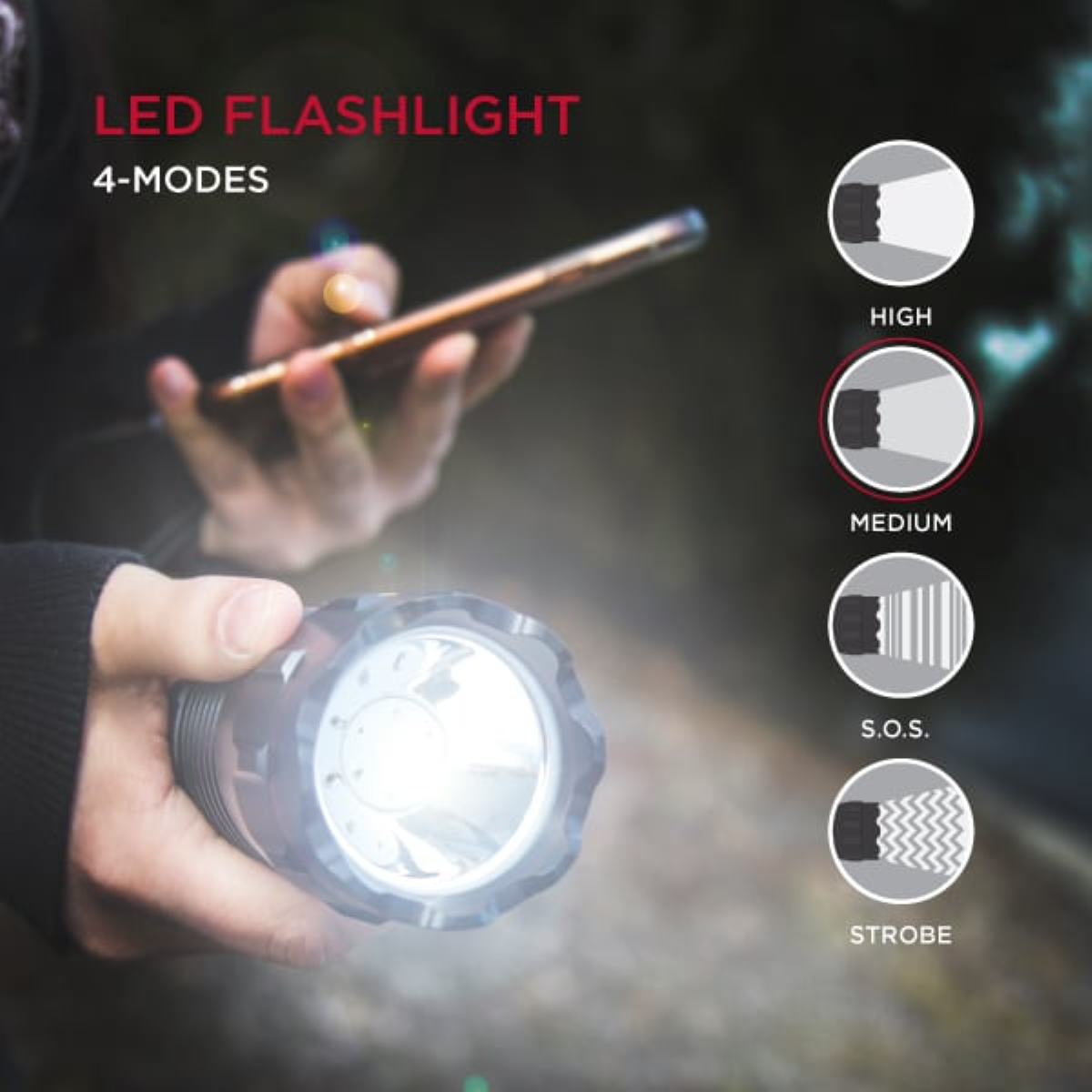 You can use it as a Low Beam, High Beam, Strobe Light, and SOS Light, offering a maximum reach of 495ft. All of these flashlight features make it the perfect tool for daily use, traveling, outdoor activities, and any emergency situations.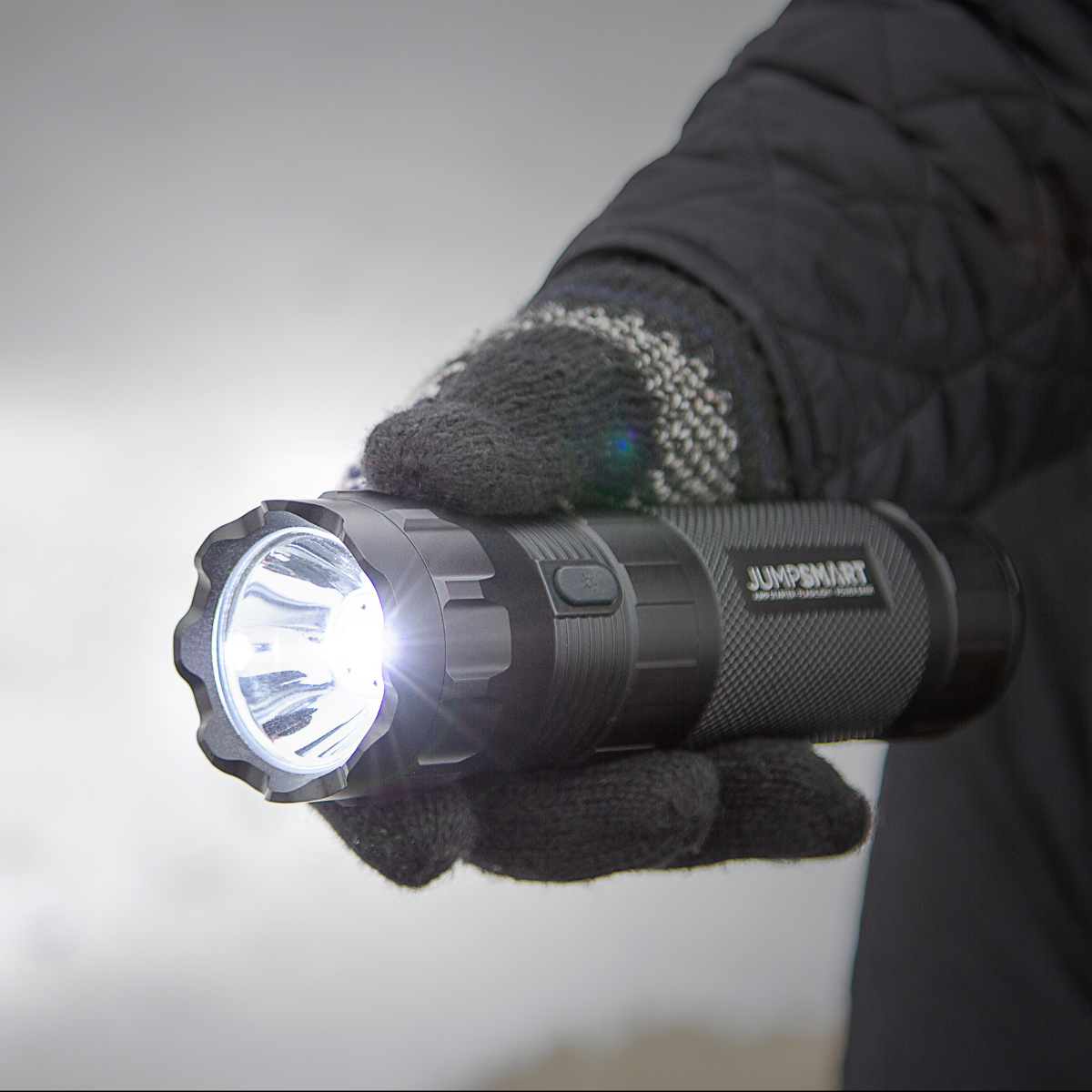 Power Bank
As said before, you can also use the JumpSmart as a Power Bank. The JumpSmart uses patented SmartSpeed Technology to quickly charge USB devices at 2.4 amps.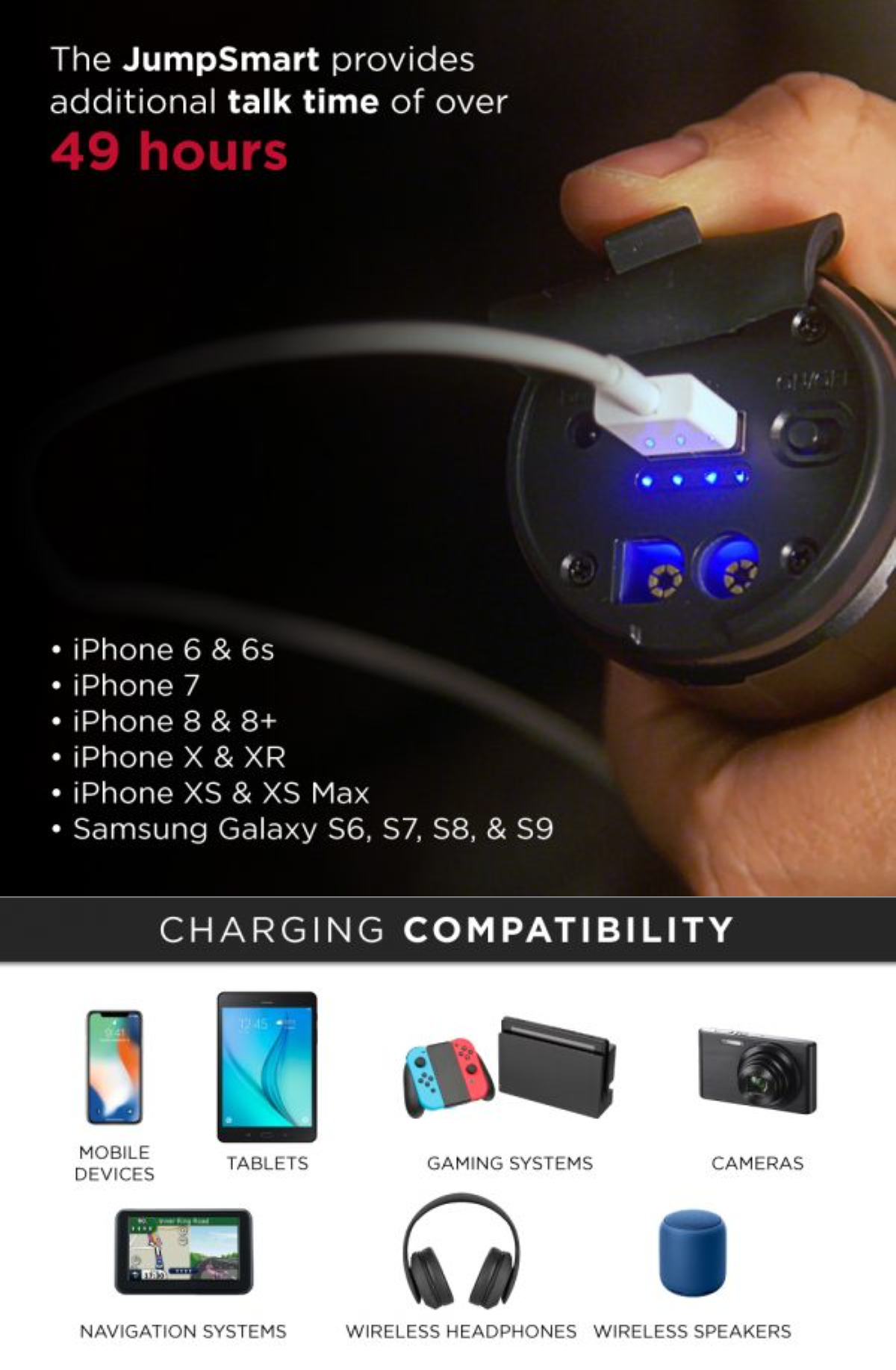 You can use it to recharge literally anything, including smartphones, tablets, cameras, navigation units, or any other rechargeable devices that you can think of. If it's rechargeable, the JumpSmart can make sure it will never run out of power, ever again.
Built-In Safety Features
The Smart Jumper Cables offer a total of 10 built-in safety features with audible alarms and visual safety indicator lights to warn you of any improper connection.
The JumpSmart unit itself is ETL Listed (Conforms to ANSI/CAN/UL STD. 2743), was 3rd Party Tested by Intertek, and is FCC Certified, CE Certified, and RoHS Compliant. Its internal battery is UL 1642 Listed. All of this basically means the device was tested multiple times, in a ton of different scenarios to ensure its the safest it can be.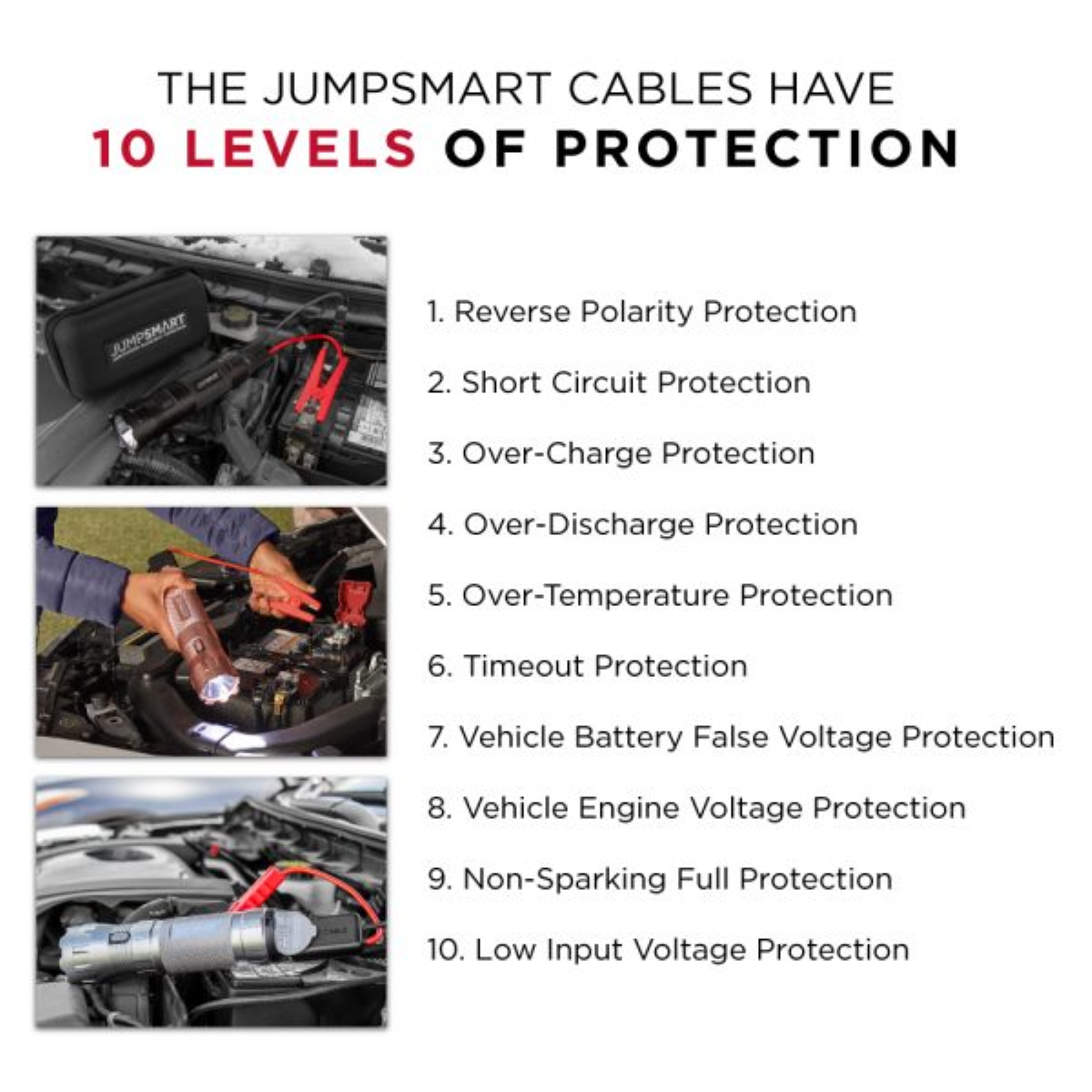 Its 10 built-in safety features offer protection from: Reverse Polarity, Short Circuits, Over-Charges, Over-Discharges, Over-Temperature situations, any Over Voltage, Low Input Voltage, Vehicle Battery False Voltage, Vehicle Engine Voltage, as well as any Timeouts.
FINAL THOUGHTS
The Limitless Innovations Jumpsmart is an extremely powerful 3-in-1 portable gadget equipped with a 37000 mWh rechargeable battery that works as a Car Jump Starter, Flashlight, and Power Bank. It's small and handy, sturdy, extremely durable, temperature-resistant, and can provide your rechargeable devices with a ton of recharges.
Not only that, but it even has enough juice to jump start most engines, and that includes the ones in large diesel pickup trucks. Lastly, you can also use it as a 4-Mode Flashlight for literally anything. The flashlight offers a Low Beam and a High Beam, but also works as a Strobe Light, and SOS Light, all of these with a maximum reach of 495ft.
This multi-use tool will easily fit any backpack, car glove compartment, or even most house drawers, making it one of the best tools to have around at all times. You can use it at home when the power goes out, on-the-road to ensure your car's battery always has a backup plan, or even when exploring the outdoors – whether you decide to take an All-Terrain vehicle with you or not.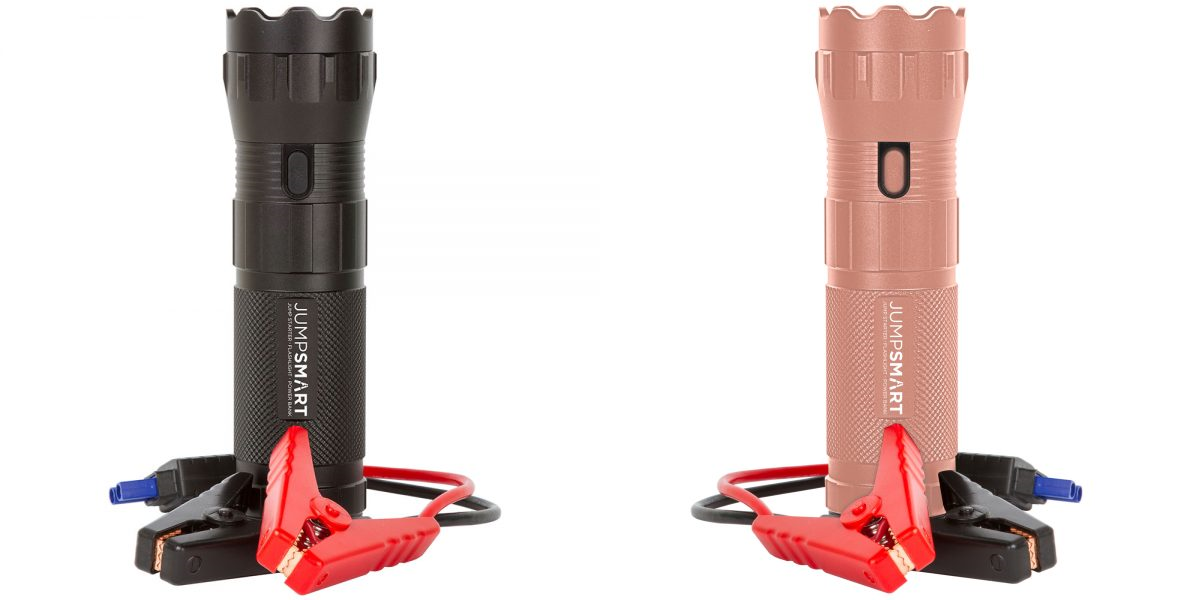 The company had already released 5 different color models, but they recently came up with the 6th. All the 6 different color models are: Black, Red, Blue, Platinum, Copper, and Rose Gold (the new color offering). At the moment there's only Black and Rose Gold available, but both look great.
If you're interested in getting one, each Limitless Innovations Jumpsmart is currently discounted from its normal price tag of $160, currently priced at $120 only (saves you $40). You can get yours right now by accessing Limitless Innovations' corresponding shopping page, which you can access via this link.