If you're looking for a smart multifunction switch that can further improve your smart home, you should definitely take a look at the Brilliant All-in-One Smart Home Control Switch.
The Brilliant Smart Home Control Switch makes all of your smart home devices work together flawlessly, allowing you to effortlessly control all of your smart home devices from one, easy to access and easy to use control panel. All it takes is a single tap on the control panel, a single tap on your smartphone via the App, or a simple voice command.
This Smart Multifunction Switch can replace any light switch in your home. Installing it will only take you a few minutes and you won't need to use any additional hubs, wiring, or batteries, and no programming is required either.
After you install the Brilliant, the panel will instantly turn all of your lights into smart lights, and will also give you voice and touch control over all of your other smart home devices.
Let's have a detailed look at the Brilliant Smart Home Control and see how it works and what it has to offer.
DESIGN AND SPECS
As stated before, the Brilliant is a Smart Multifunction Switch. The panel comes with an integrated 5″ LCD touch screen that features a 1280×720 resolution. The panel features a minimalist design, looking extremely simple, but still stylish enough to easily blend with any home. The Brilliant Switch also comes equipped with a built-in microphone, a motion sensor, and a camera with a privacy shutter.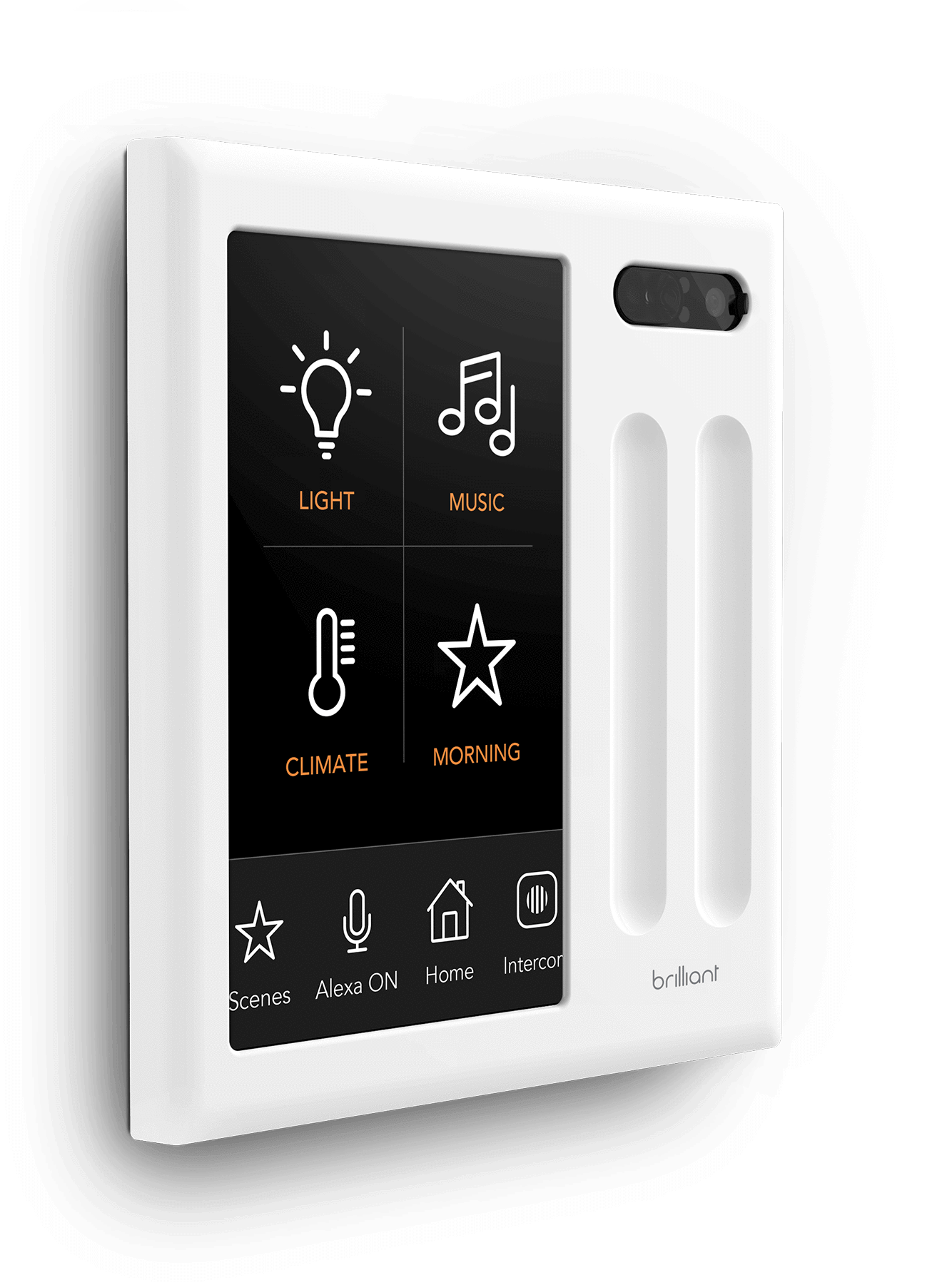 The device features a power rating of 120VAC/60Hz, and multiway switching is supported – meaning it replaces two-way lighting arrangements (two switches that control the same light).
The Brilliant Switch is available in 4 different models. You can get 1, 2, 3 or 4 gang boxes that will allow you to directly control any of your house lights. The Brilliant Switch is also dimming compatible, and features automatic line and load switching, but magnetic low voltage (MLV) lighting systems are not supported. This Smart Home control switch is compatible with 300W incandescent lights, 150W LED lights and CFLs (compact fluorescent lamps).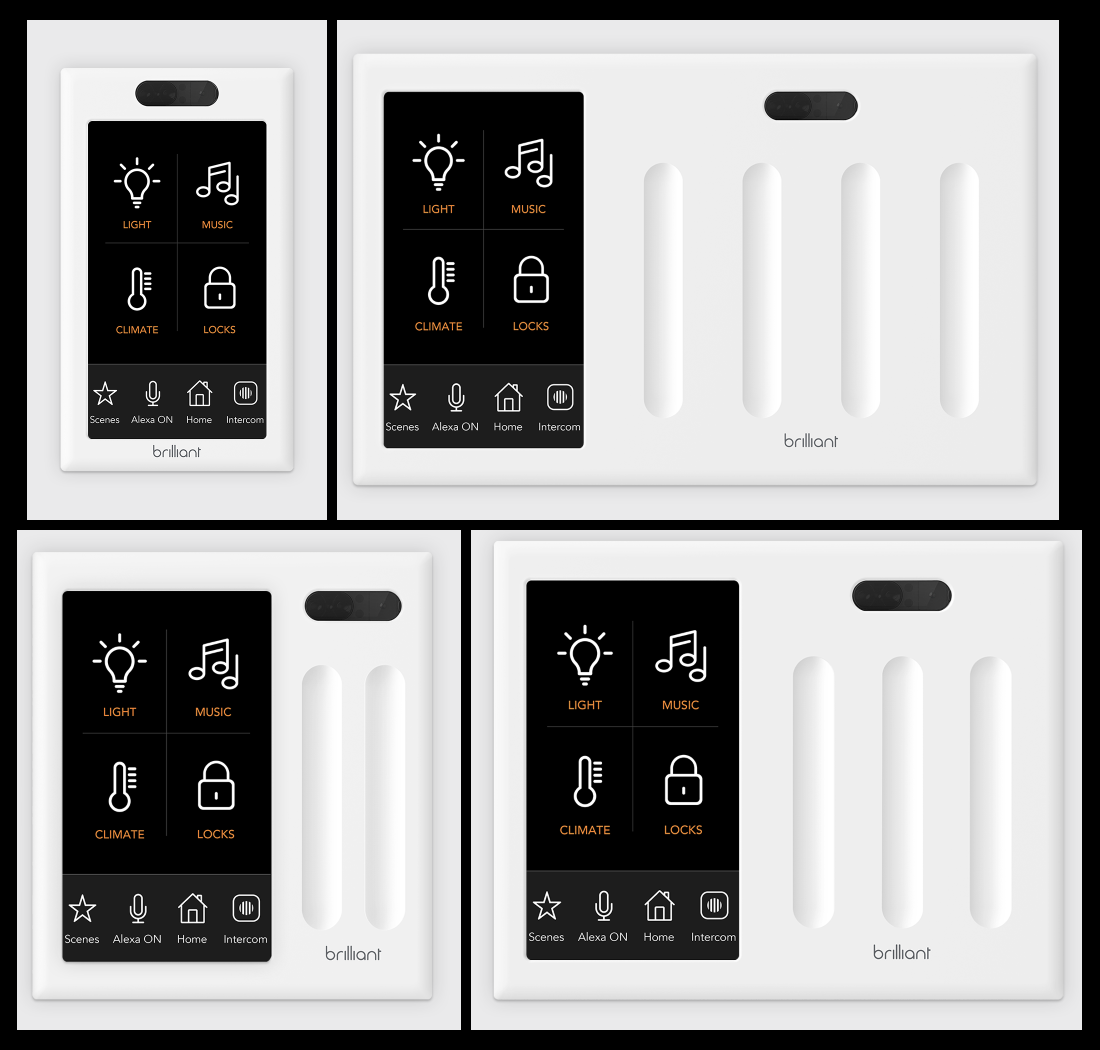 As stated before, the Brilliant Switch turns your existing wall switches to smart lights – each gang box controls 1 light, so getting the 4-gang boxes model will allow you to control up to 4 different lights. That's a pretty cool feature.
Keep in mind that this is a Wi-Fi enabled device, so you'll need to have a Wi-Fi network already set up before installing the device; otherwise, it just won't work. The device works with any Wi-Fi network that's configured with a WPA or WPA2 password, supports the most common Wireless Standards (802.11 b/g/n) and operates at a frequency band of 2.4 GHz. This device works with DHCP IP addressing.
WHAT'S IN THE BOX?
Inside their package users will find: one Brilliant Switch Smart Home Controller (2 split pieces), the included connection wires and wire nuts to perform the installation (hot, neutral, and ground wires), and a well-written Instruction Manual (with very detailed assembly instructions).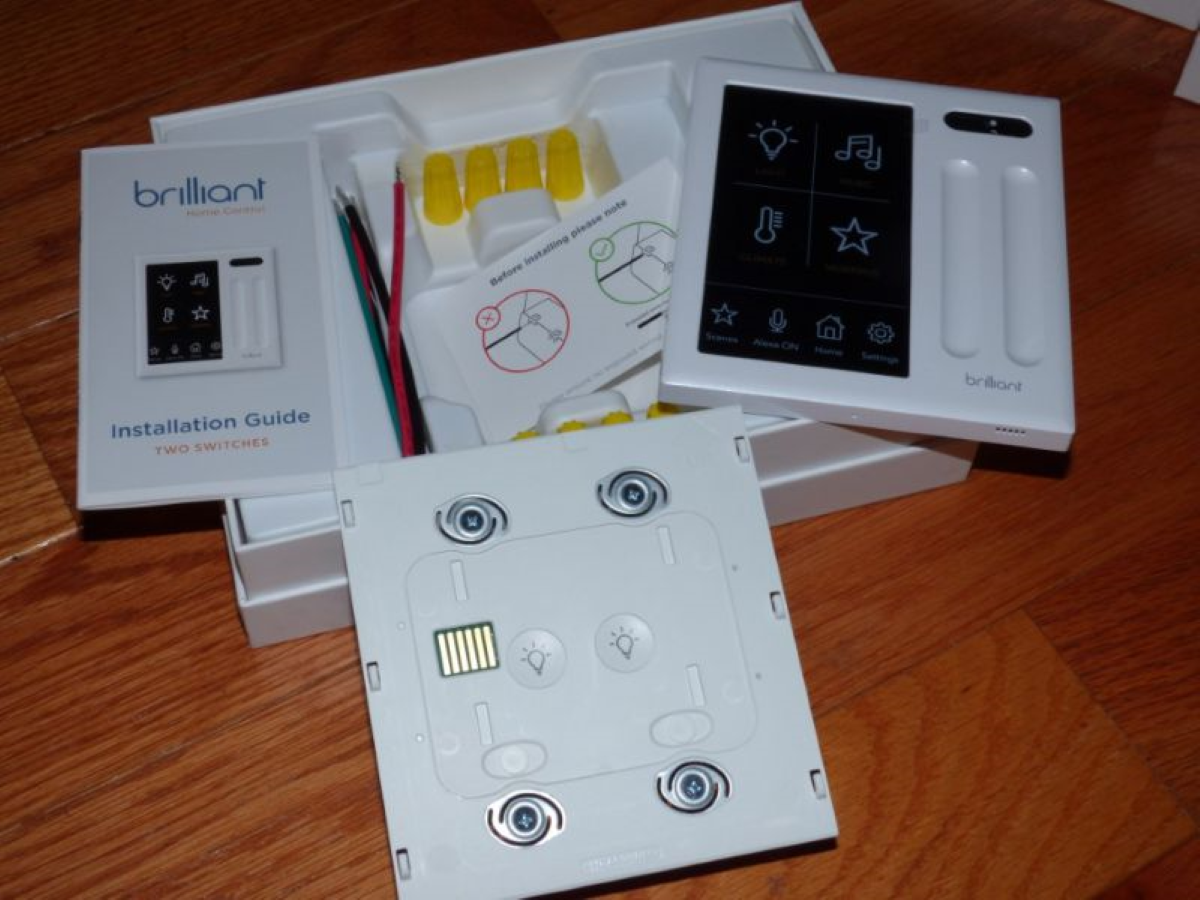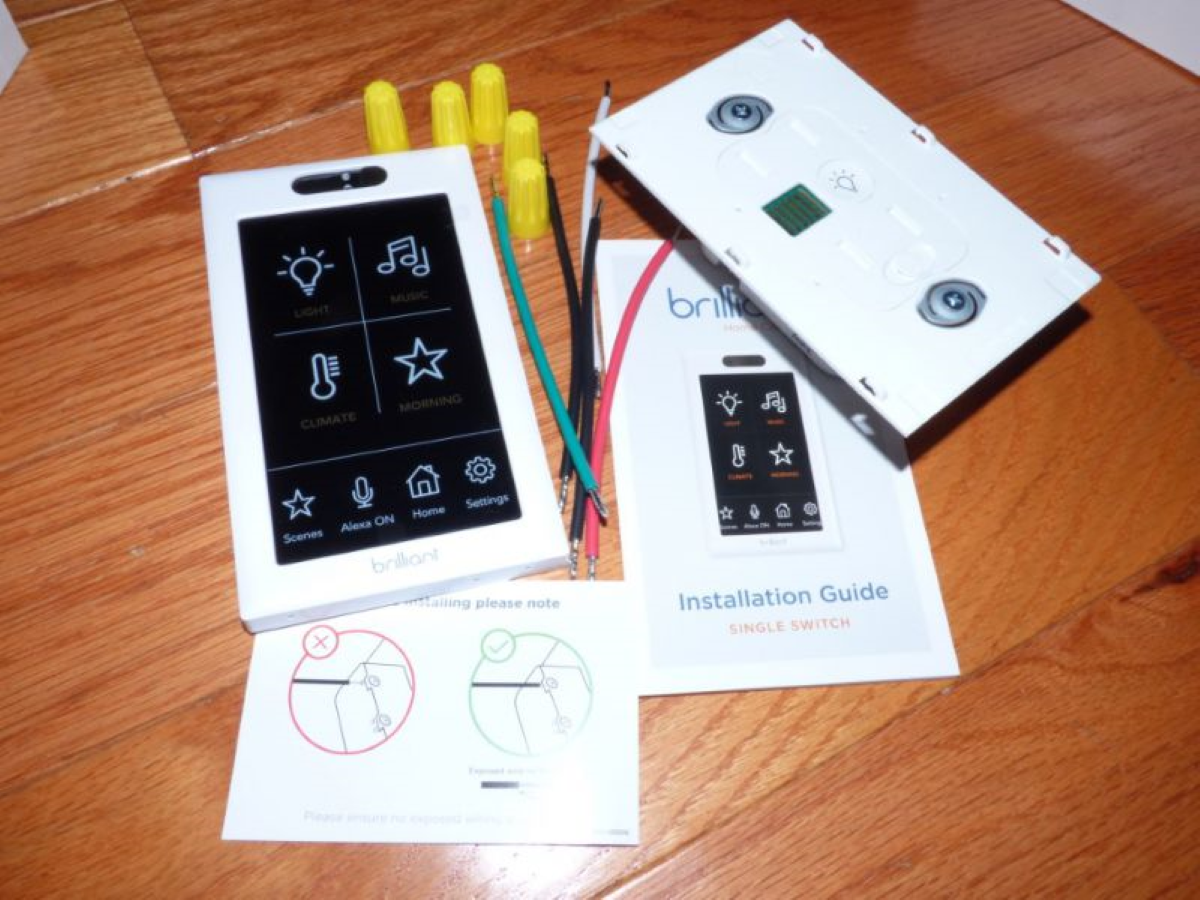 INSTALLATION & SETUP
Installation
Installing the device is not extremely complicated, and should only take you a few minutes while following the assembly instructions from the Instruction Manual. Obviously, you'll also need to turn off the power before installing the smart switch – this is just a friendly reminder.
However, if you're not very experienced with wiring you may want to consider hiring a professional. As stated before, keep in mind that hot, neutral, and ground wires are required for the device's installation.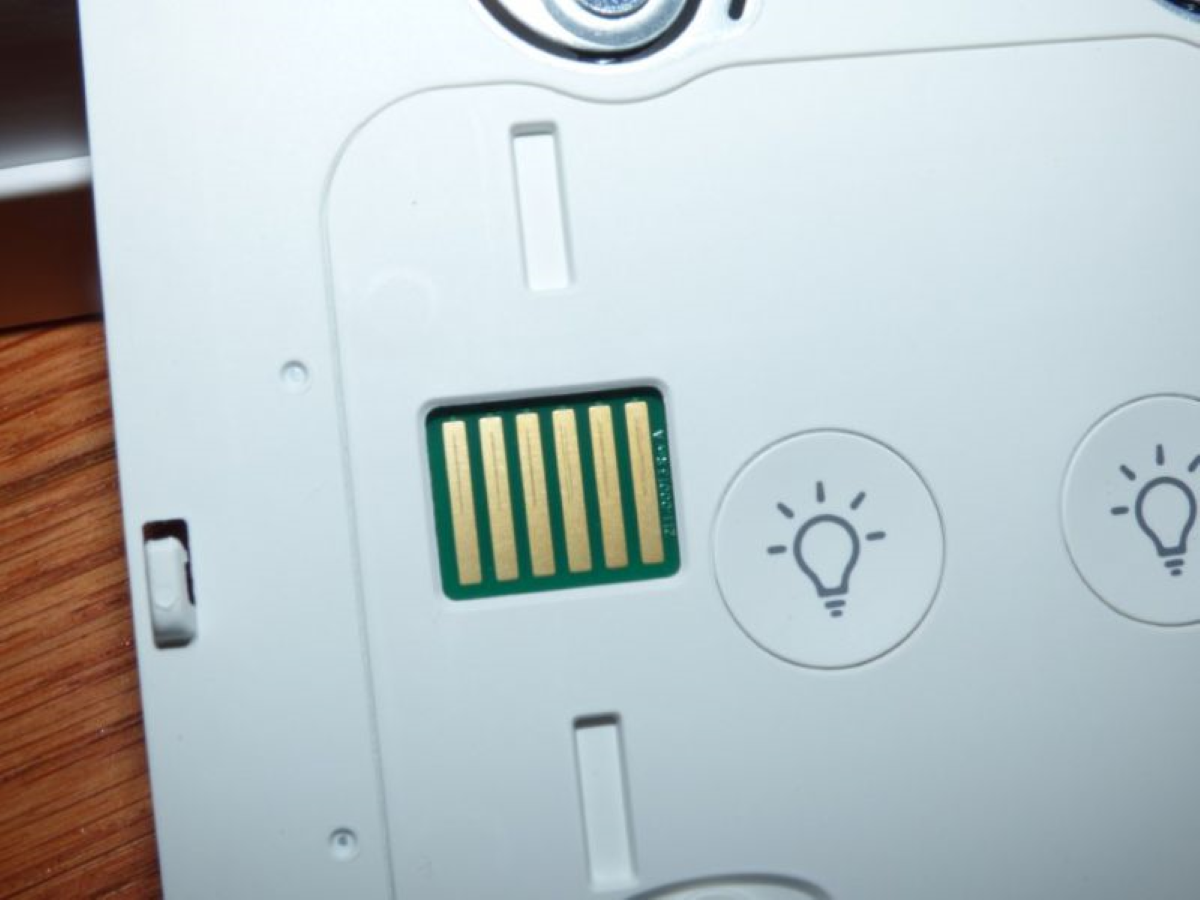 After you install the device to your electric power and the power is restored, there's a button for each light that you can use to test each functionality before you attach the screen assembly into place.
Setting Up the Device
After you're finished with your installation you'll be welcomed by the system with a simple step-by-step walk-through, which helps you to connect the smart home switch to your Wi-Fi network, customize the name of each of your "house rooms", and finally add some smart home devices to the system.
You can add almost any smart home integration to the Brilliant Switch's system. This includes Amazon Alexa and Google Assistant enabled devices like the Sonos Smart Home Speakers, August Smart Locks, LIFX Smart Lights, Ring Security Cameras, Ecobee Thermostats, Honeywell Home Thermostats, any SmartThings devices, Philips Hue Smart Bulbs and Lamps, and many, many more.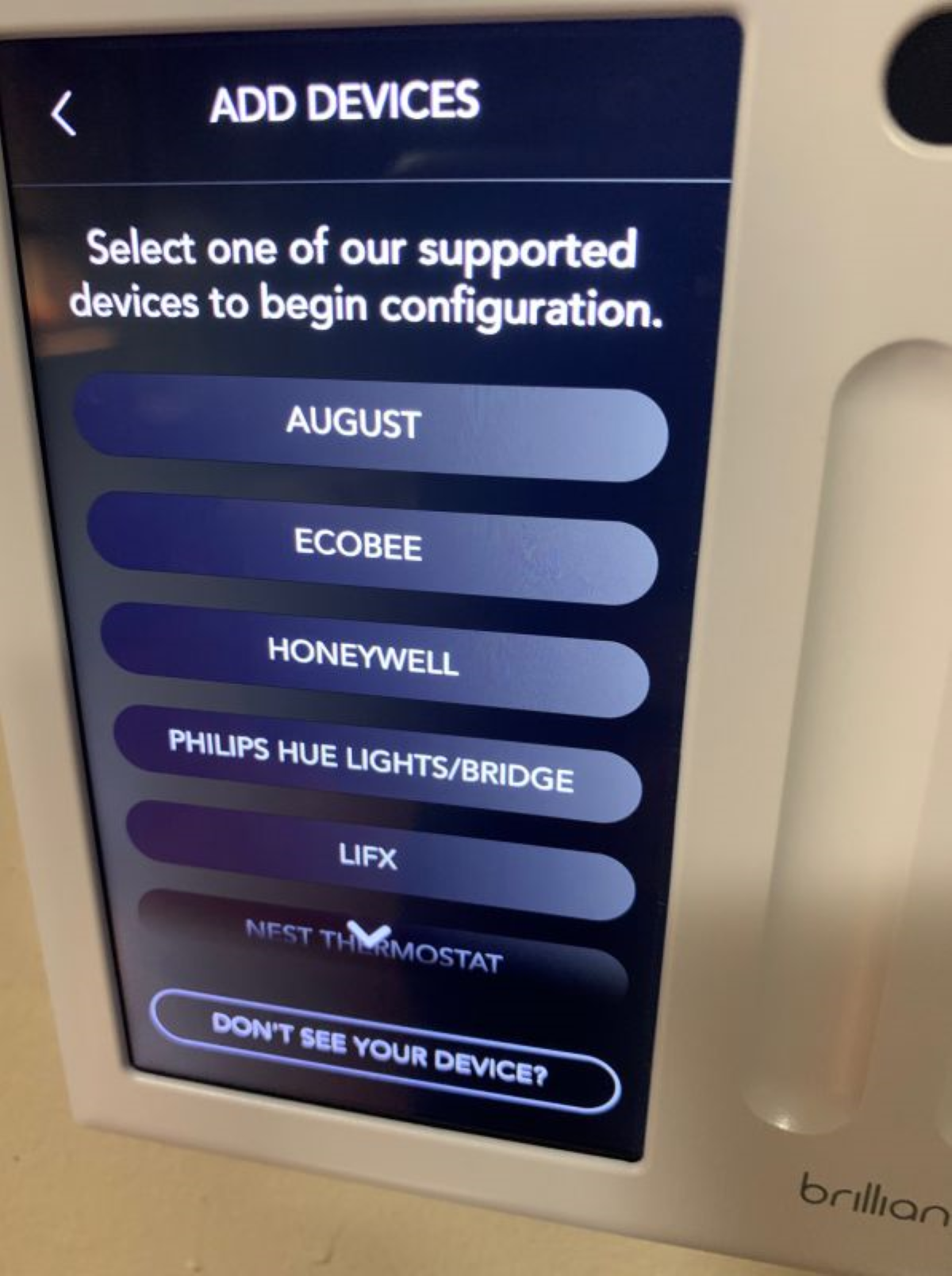 Linking the smart switches to accounts is also extremely simple, and you'll probably have no difficulties when linking your accounts. After that you can start customizing the names/labels of all the smart devices that you'll be controlling. The on-screen keyboard works well, and you'll find the interface very familiar – it works exactly like your smartphone's touchscreen's keyboard.
As stated before, the control system lets you group your smart home devices into different "rooms." You can group one Brilliant Switch together with a smart light switch to create a "bedroom" group and a different Brilliant Switch with another smart light switch and a Ring Camera to create a "Garage" or "Front Door" "room"/group.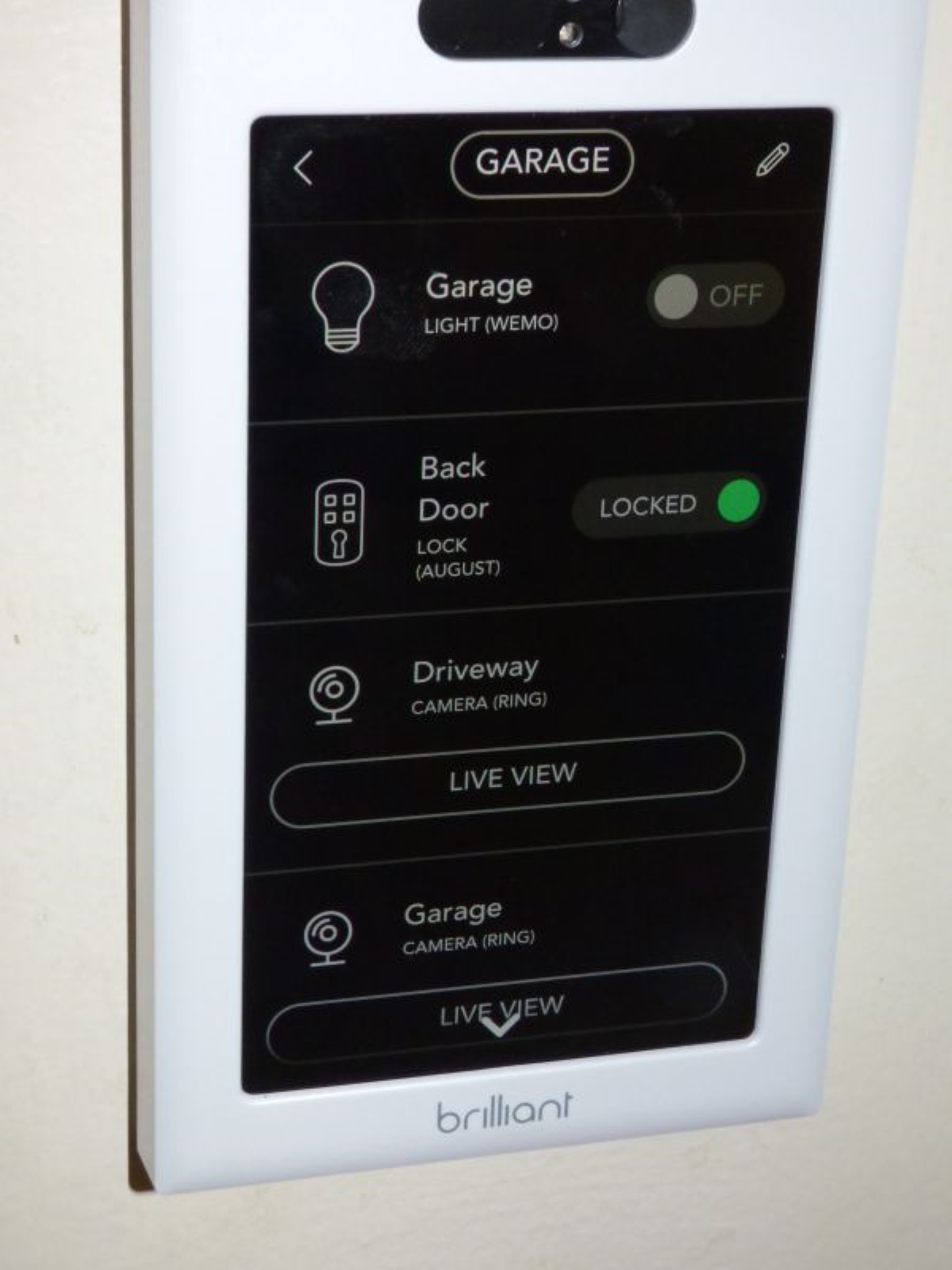 This will really help you to keep everything super intuitive. Naming rooms with intuitive names – like "Living Room" for example – will allow you to turn on specific lights that you'll already know about, and the same goes for any homeowners that have multiple smart home security cameras or multiple smart home door locks.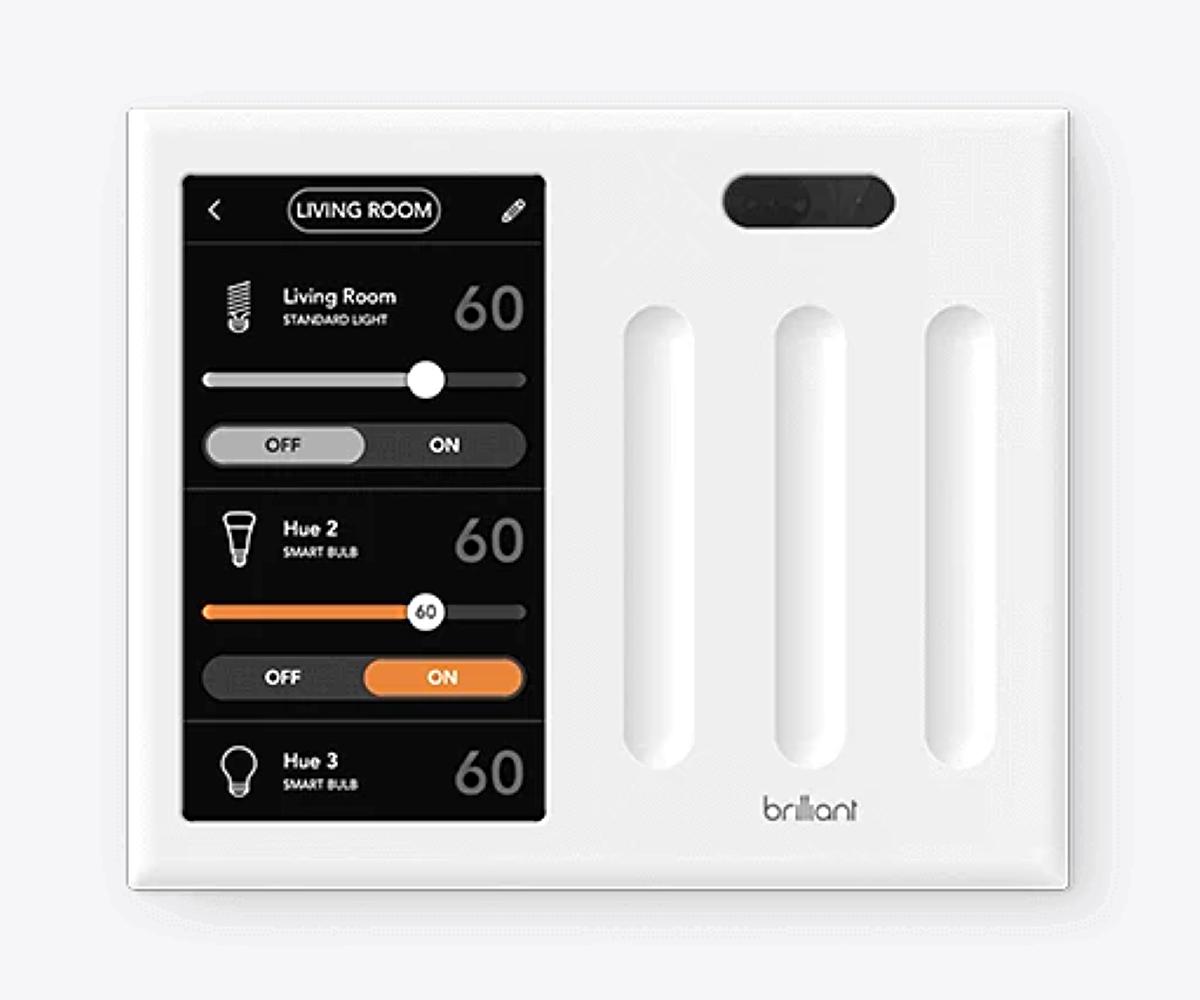 FEATURES
All-in-one Smart Home Control – Multi-Function Switch
After setting everything up you'll be able to access every single functionality (assuming you have the needed smart home devices). The Brilliant Switch's touchscreen will work as a smart panel that lets you control your home's lighting (normal and smart lights), climate (smart thermostats), music (smart speakers), and house access (smart locks).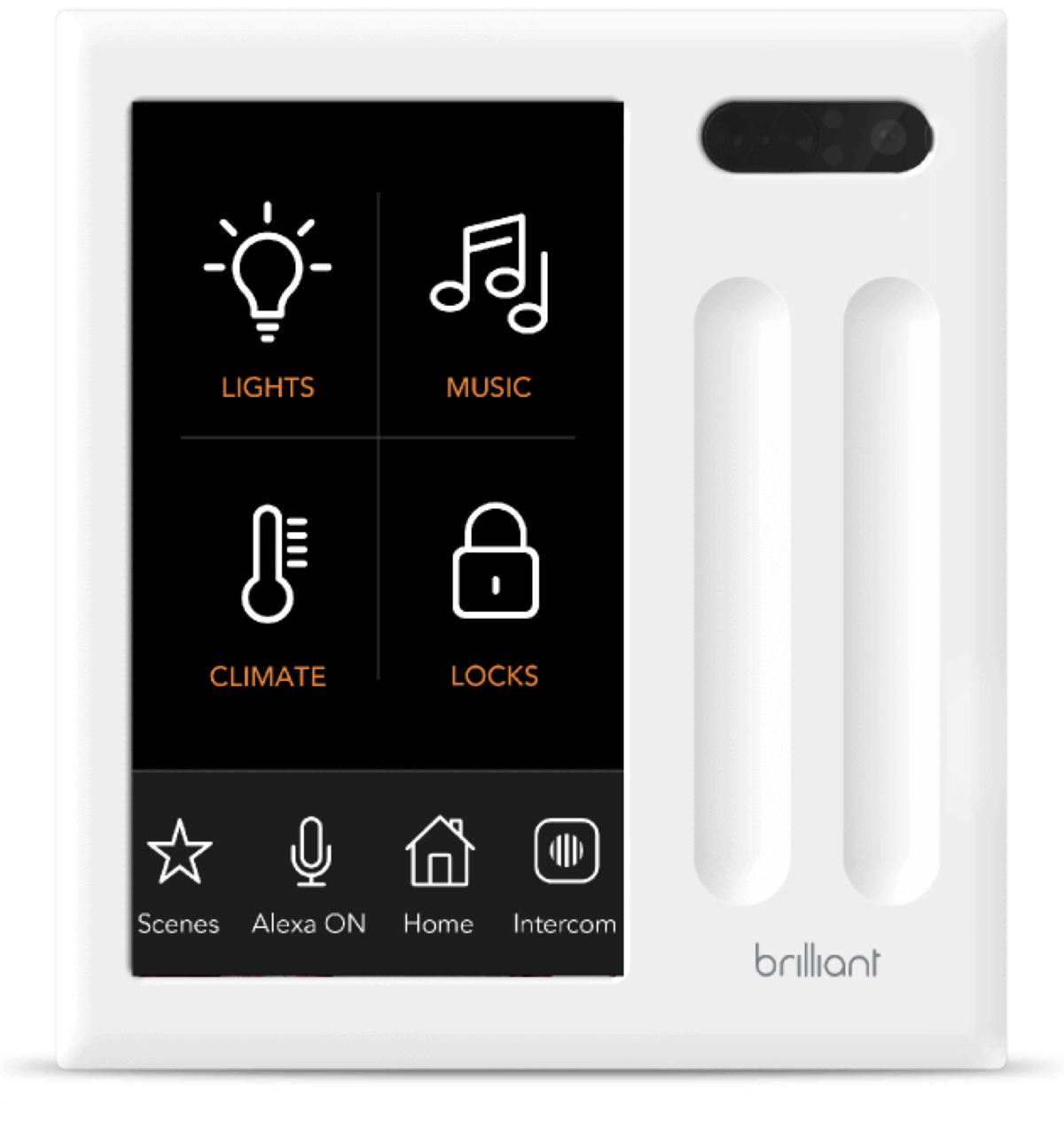 This also keeps the controls for every single smart home device in a single place, meaning that no more messy wired connections or multiple smartphone Apps will be needed again.
Digital Photo Frame
The Brilliant Smart Multifunction Switch will also work as a digital photo frame. This allows you to send photos from your smartphone to your Brilliant device so you can share memories with your entire home. The touchscreen will work as a canvas and will also display a digital clock that's overlayed on top your pictures.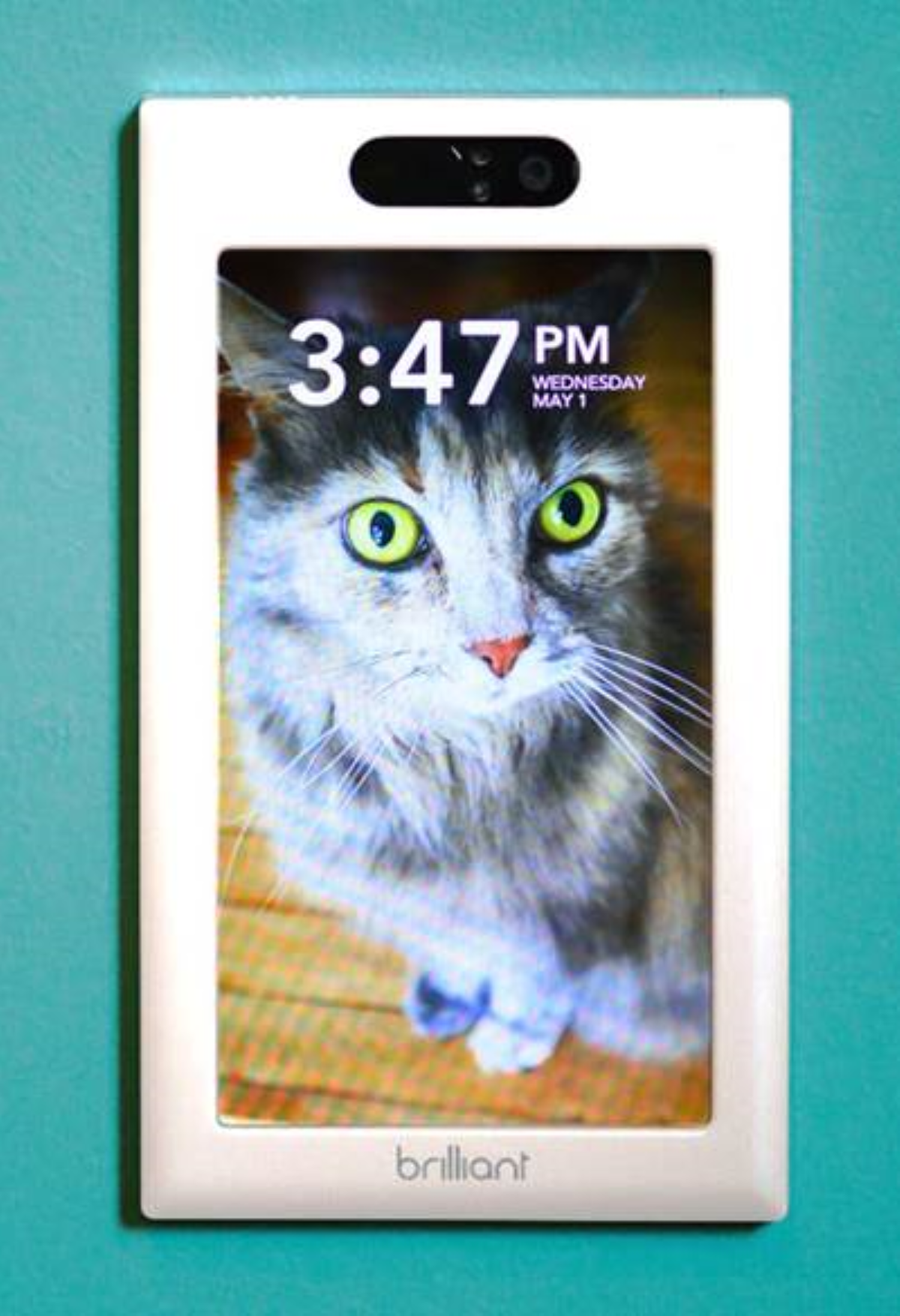 Multiple Brilliant Smart Multifunction Switch for Room-to-Room Intercoms & Live View
As stated before, every Brilliant Smart Multifunction Switch includes a microphone, a motion sensor, and a camera with a privacy shutter. Having multiple Brilliant Switchs installed will allow any of your family members to start audio or video calls between two rooms – this is a great functionality to talk with and make announcements to other family members.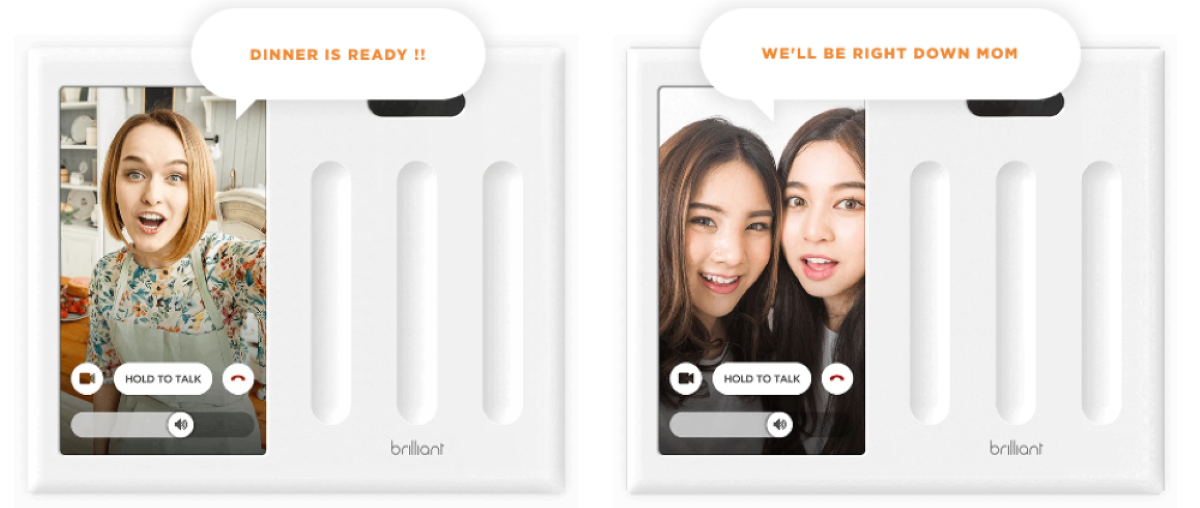 The Live View feature allows you to check in on any room you previously configured. You can do this from either your Brilliant Switch or by using the all-in-one Brilliant Control App (more about it later).
Brilliant Scenes – Different Times of the Day
The Brilliant Switch also lets you configure different Brilliant Scenes. These Scenes are a great way to control your home with a touch of a button or with your voice (Voice Assistants are also supported – more on that coming right up).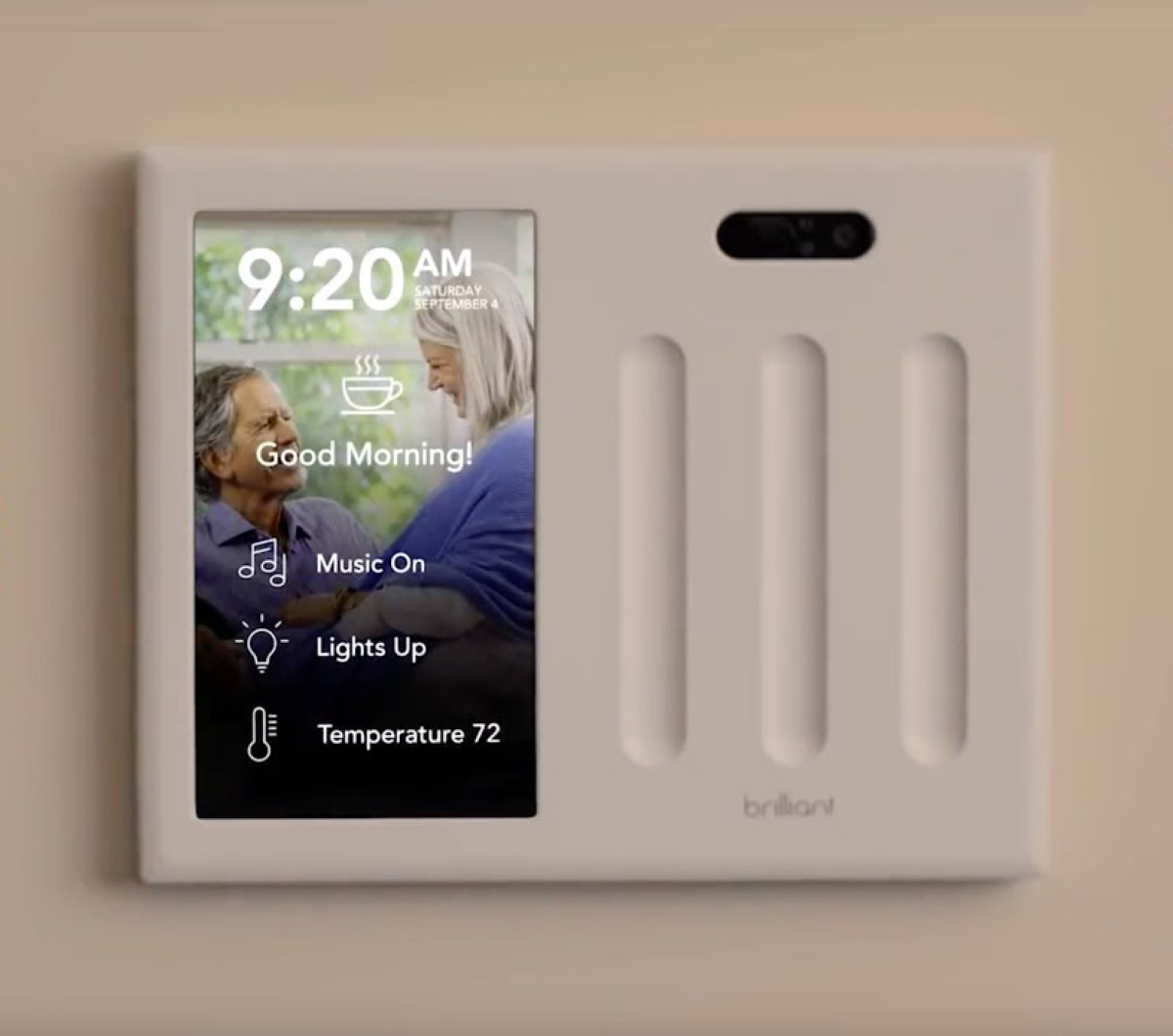 For example, you can configure a "Good Morning" Scene (as well as a Dinner, Bedtime, and many other Scenes) as an easy and fun way to have your smart home wake up with you and greet you right from the moment you wake up. This lets you have your lights gradually turn on, your favorite song played, and the perfect morning temperature automatically set on your thermostat.
Voice Assistant Support
The Brilliant Smart Multifunction Switch is also Voice Assistant enabled, supporting both Amazon Alexa and the Google Assistant. This allows you to control all of your smart home devices effortlessly, by using just your voice. This clears up some space since you'll be able to remove any other gadgets that you'd use to control your devices.
Now that's what a smart home should be like – just use your voice and control anything. You'll be able to use your voice to ask for news, about sports or the weather and get a verbal and visual response. You can also ask your voice assistant to turn down the lights, turn on your music, or to help you with different tasks.
SMARTPHONE APP
The Brilliant App (available for Android and iOS) eliminates the need of using multiple smart home Apps. This means that not only you can control all the smart home devices that are connected to your Brilliant Switch via the touchscreen, but also from the Brilliant App.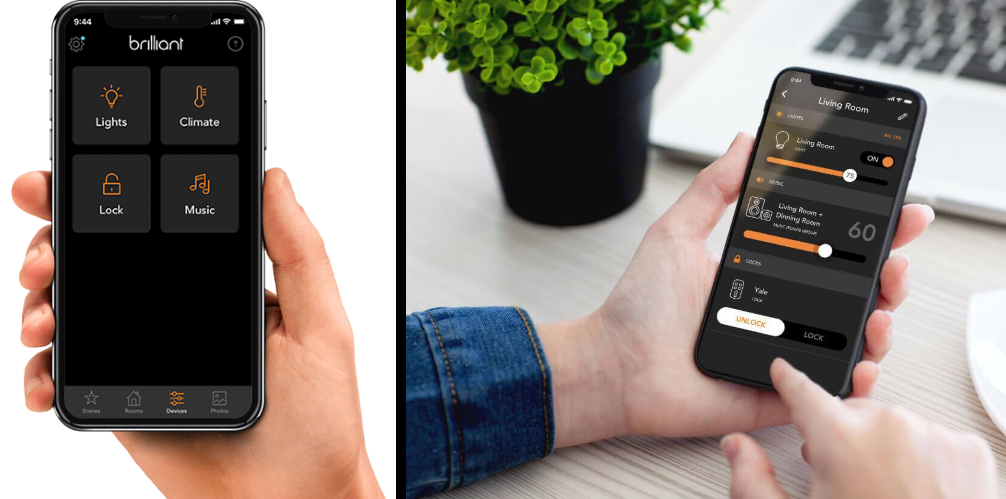 The best part is that you can do it from anywhere, which means that even if you're not at home there won't be a problem – you'll be able to see and manage all those smart home devices directly from your smartphone, and that includes the previously mentioned "rooms"/groups, allowing you to check everything room by room. This literally puts your entire smart home in your hands.
FINAL THOUGHTS
The Brilliant All-in-One Smart Home Control Switch is without a doubt the most advanced smart home controller you'll ever see. It can turn all of your lights into smart lights and control all of your smart home devices via its touchscreen, the smartphone App, or even your voice.
The Brilliant Switch also works as a digital photo frame and features Room-to-Room Intercoms (when you have multiple Brilliant Switches). Its customization is almost endless, allowing you to create multiple "room" groups and many different time-of-the-day Scenes for multiple smart-device-configurations.
The Brilliant Switch is currently available in 6 different color models: White, Ivory, Lt. Almond, Grey, Black, and Silver.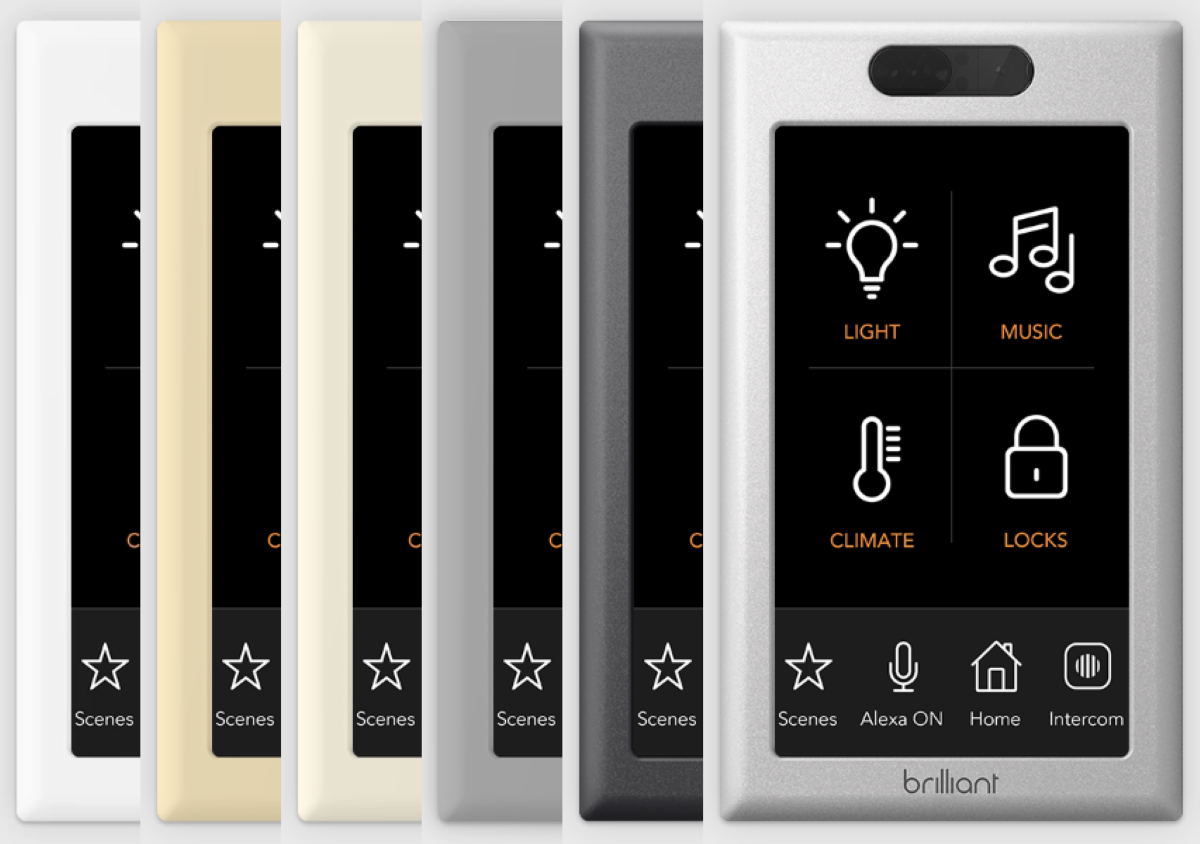 If you're interested in getting it, depending on what type of switch you get, as well as what color model you pick – White doesn't cost anything extra but other colors do – your unit(s) will cost you more (or less).
The 1-Switch Control version will cost between $299-$318 per unit. The 2-Switch Control version will cost between $349-$372 per unit. The 3-Switch Control version will cost between $399-$425 per unit. The 4-Switch Control version will cost between $449-$377 per unit.
You can order yours right now, directly from Brilliant's official website, which you can access by clicking here.