If you happen to be a passionate gamer that's looking for a new gaming backpack for your gaming laptop or console, you should definitely have a look at the Mobile Edge Core Gaming Backpack.
Mobile Edge has been designing and producing gaming gear with top brands for 15 years. All these products are extremely solid, and were designed, prototyped, developed, tested and produced by gamers, specifically for gamers.
Mobile Edge designed its new Mobile Edge Core Gaming Backpack with gaming in mind. The company's new Core Gaming Laptop & Console Backpack can hold most popular models of gaming laptops and/or consoles, including the Xbox One, PS4, and Nintendo Switch, plus any of your gaming accessories.
Let's take a detailed look at it and check everything it has to offer.
DESIGN & SPECS
The new Core Gaming Backpack measures 19.5 inches wide by 17 inches tall by 9 inches deep, weighing around 4.2 lbs. The backpack features a very sturdy build that's designed to protect your gaming laptop. The backpack features a beautiful minimalist design with a Black body and Red accents.
This gaming backpack is extremely durable. The backpack is made of Ballistic Nylon and includes padded air-mesh shoulder straps and a padded air-mesh back panel, as well as a padded carry handle that allows for easy lifting. This makes the backpack extremely comfortable to wear, even when it's fully loaded with all your gaming gear. There's also a trolley strap for stacking on any other luggage.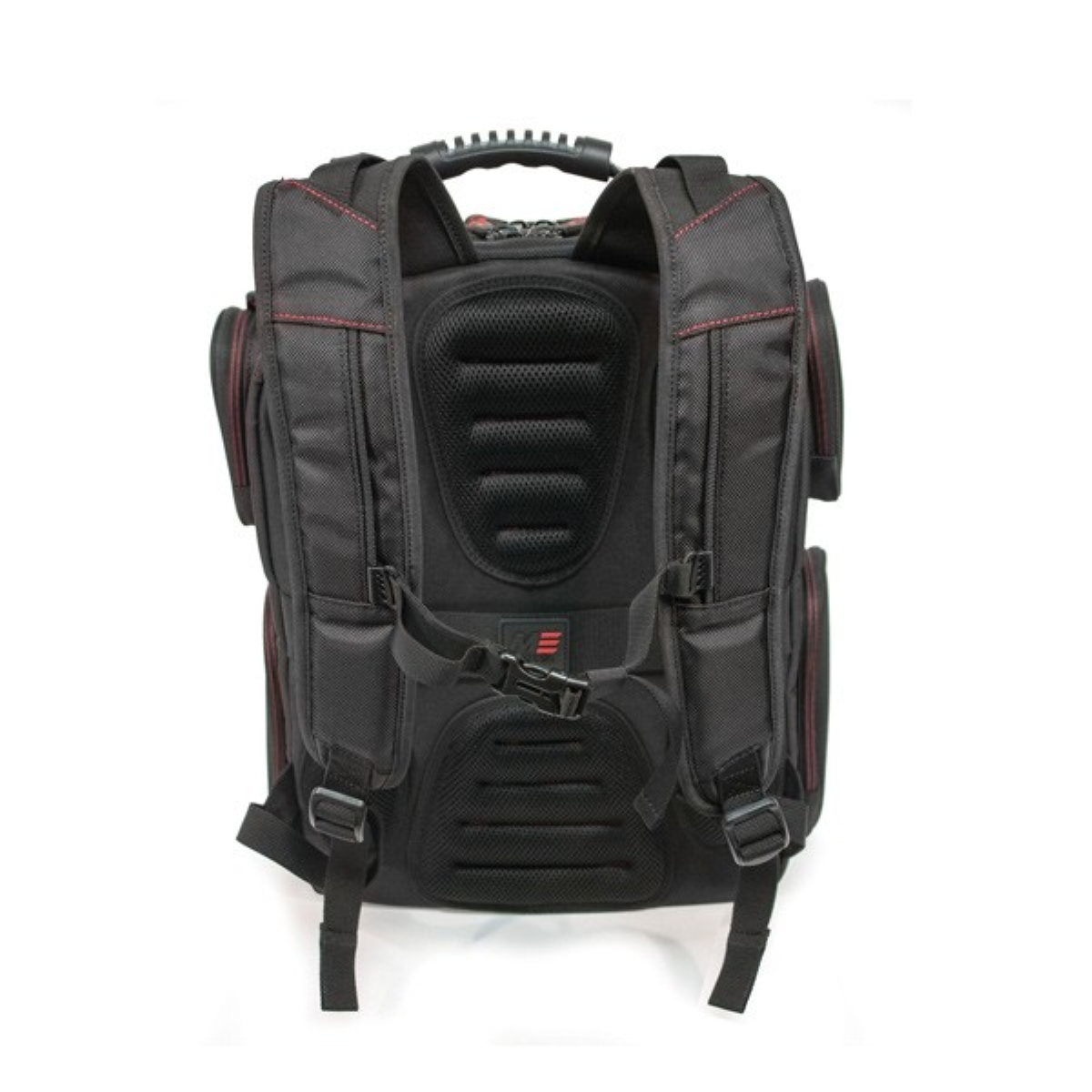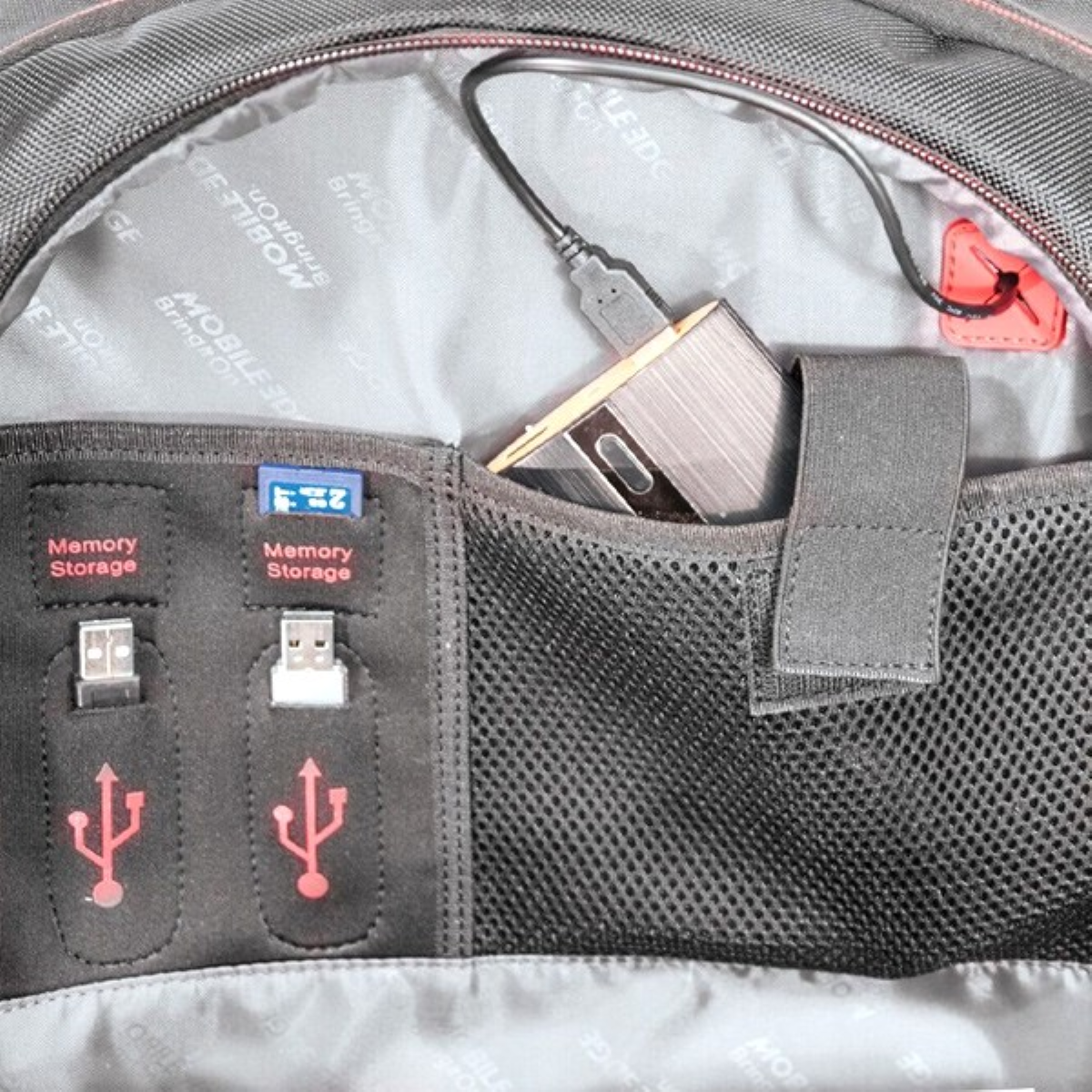 The backpack offers a total of three large storage sections that are pre-wired to a power bank or external battery. Its CheckPoint-Friendly Laptop Compartment is its main compartment, measuring 16.4 inches wide by 11.5 inches tall by 2 inches deep, fitting laptops that measure up to 17″-18″. This Checkpoint-Friendly design helps on speeding up through TSA checkpoints.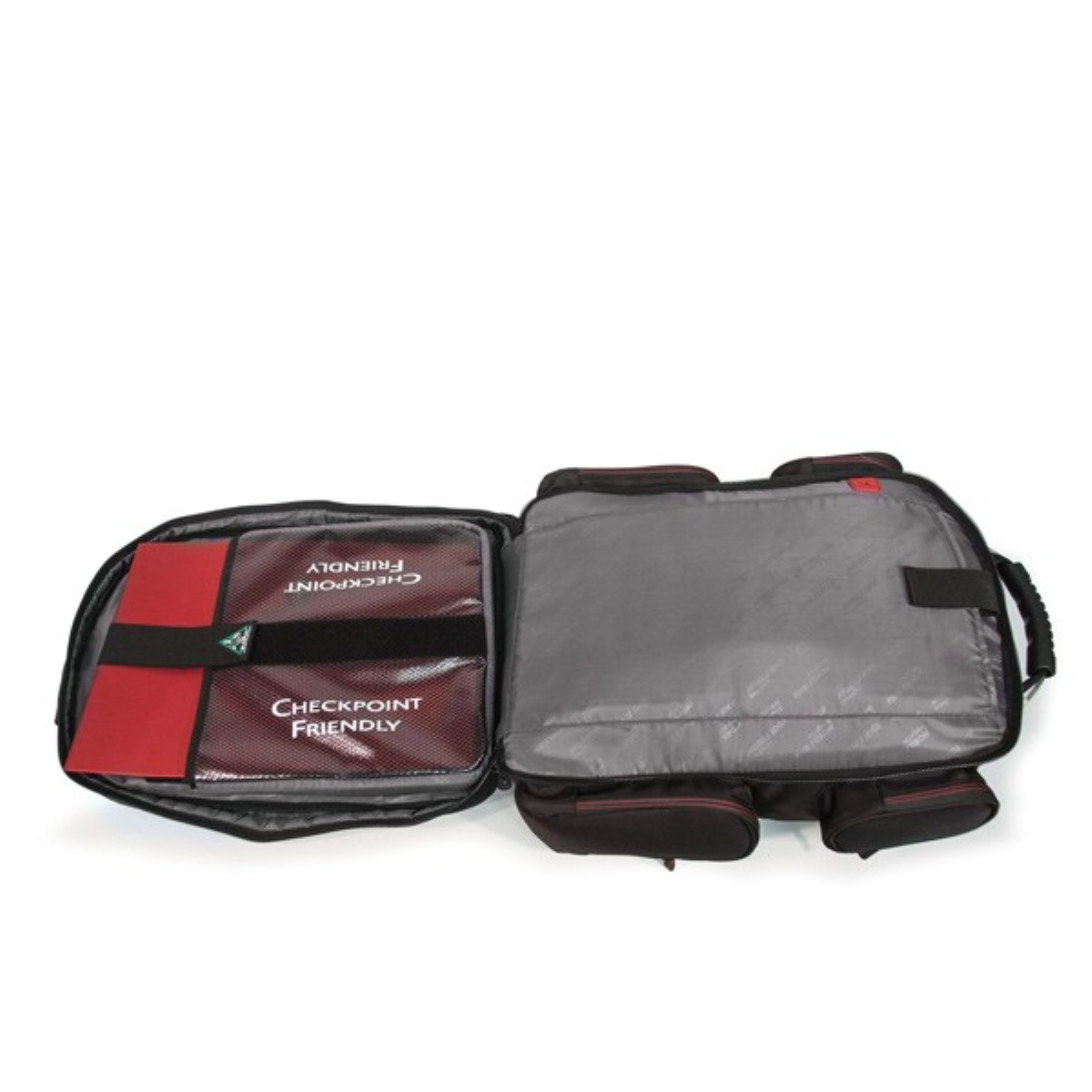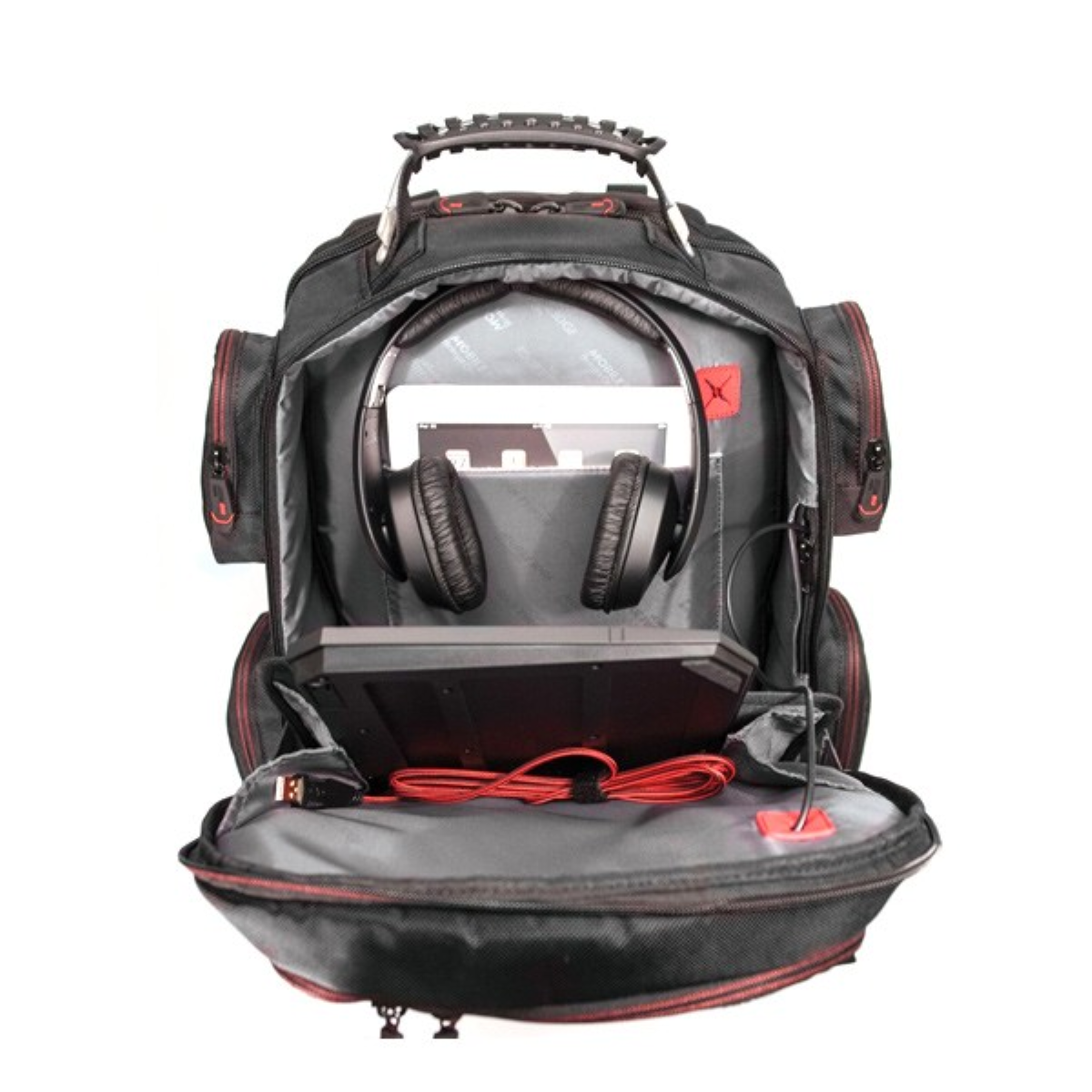 There's also a separate fleece lined pouch for an iPad, tablet or e-reader, as well as a headphone holder. There's still one more pocket. When going from the front to back, there's a full-size keyboard pocket (its last large pocket).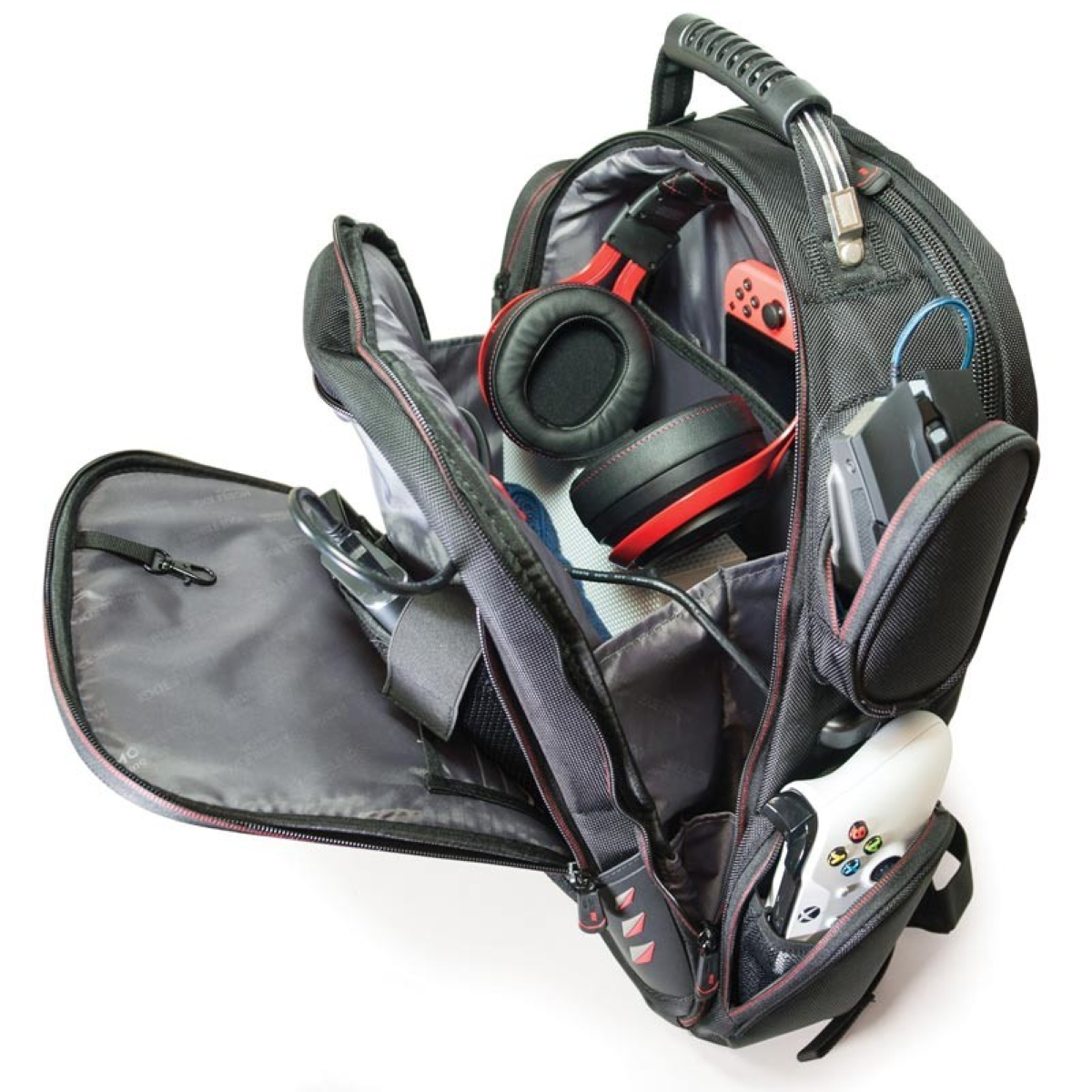 Its smaller pocket (front pocket) offers plenty of space to hold your extra gear and personal items. This organizer section features a high-capacity storage that provides pockets for pens, phone, business cards, keys, cables and other accessories.
Lastly, the backpack also features a total of four side accessory pockets that are perfect for your smartphone, any needed cables you decide to bring, a gaming mouse, a gaming controller, and even oversized water bottles. In this section you can find an external built-in USB ChargePort that can provide instant power access to your phone or any other rechargeable devices.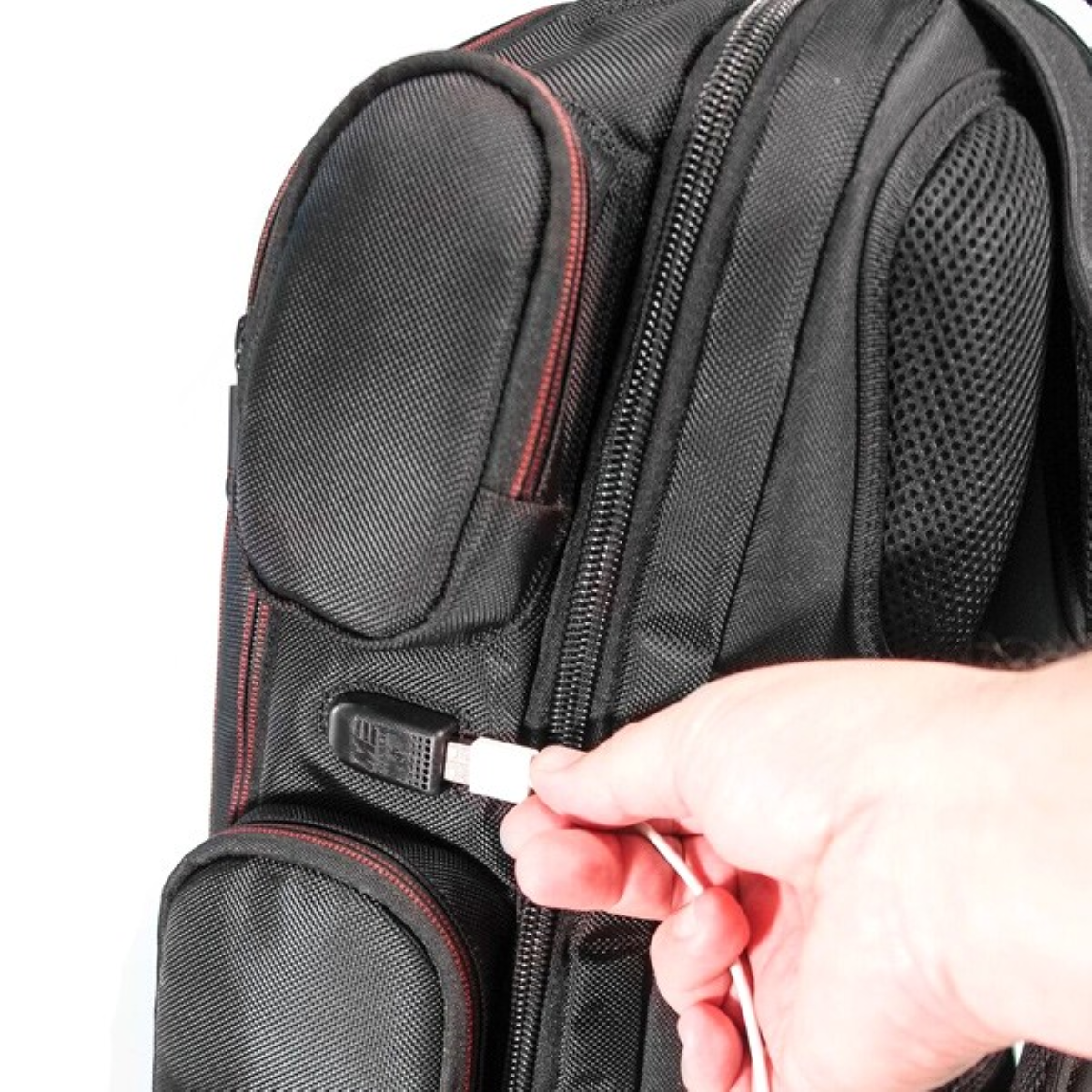 FINAL THOUGHTS
The Mobile Edge Core Gaming Backpack is one of the most complete gaming backpacks you'll ever see. It was designed specifically for gamers, and can easily hold most popular models of gaming laptops and/or consoles, as well as any of your gaming accessories.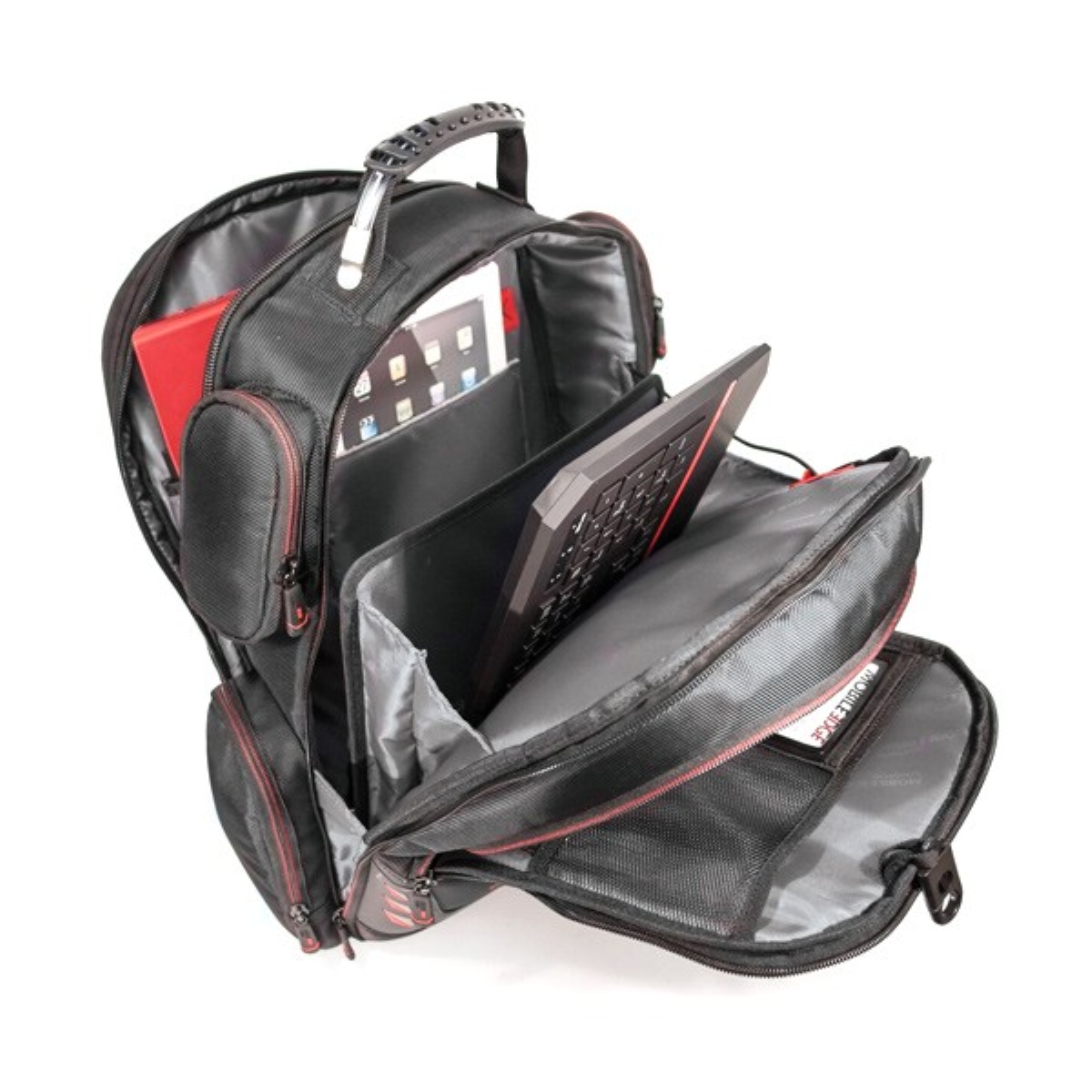 The backpack is extremely comfortable to wear and can easily carry and protect all your gaming gear.
If you're interested in getting your own Mobile Edge Core Gaming Backpack, each unit is currently going for $130 and comes together with a lifetime warranty. You can order yours right now, directly from Mobile Edge's official website, which you can access by clicking this link.