If you've been thinking about getting an electric bike to improve your daily routine, then think no more. The OYAMA CXE8D Series II is an amazing folding electric bike that was just recently released.
This folding electric bike is very lifestyle oriented; from bike commuting, to recreational riding, to travel riding. The OYAMA CX E8D Series II folding electric bicycle is based on the previous model (the original CX E8D) and comes with new and upgraded components that take your riding experience to the next level.
Let's take a detailed look at this folding electric bike and check out everything it has to offer.
DESIGN & SPECS
The OYAMA CXE8D Series II is a stylish bike that's very comfortable to ride. The bike comes equipped with aluminum alloy frames that are lightweight and provide an efficient, lively ride quality, while also giving it a lightweight folding frame. The bike weighs a total of 37 lbs. (16.78 kg). This electric bike comes with 20" 2.0 SCHWALBE tires that are protected by its two double wall alloy wheel rims with 13g stainless steel spokes. Both the seat post and handlebar are also made from aluminum alloy.
The bike is incredibly easy to fold, as well as to set back up, which lets you get on or off the road in minimal time. You can fold the bike to a small size, making it easy for you to bring it with you to the office, classroom, restaurant, shop, apartment, dorm, or even on the bus or train.
The bike integrates a OYAMA patented light weight alloy folding frame (as stated before), a OYAMA Hydraulic Disc Brake Fork, a SHIMANO ALTUS 8-speed Derailleur, and its Shimano 8-speed twist shifters. All of these components are reliable and durable. Its Folding Stem is OYAMA's patented 360 degree locking mechanism folding stem.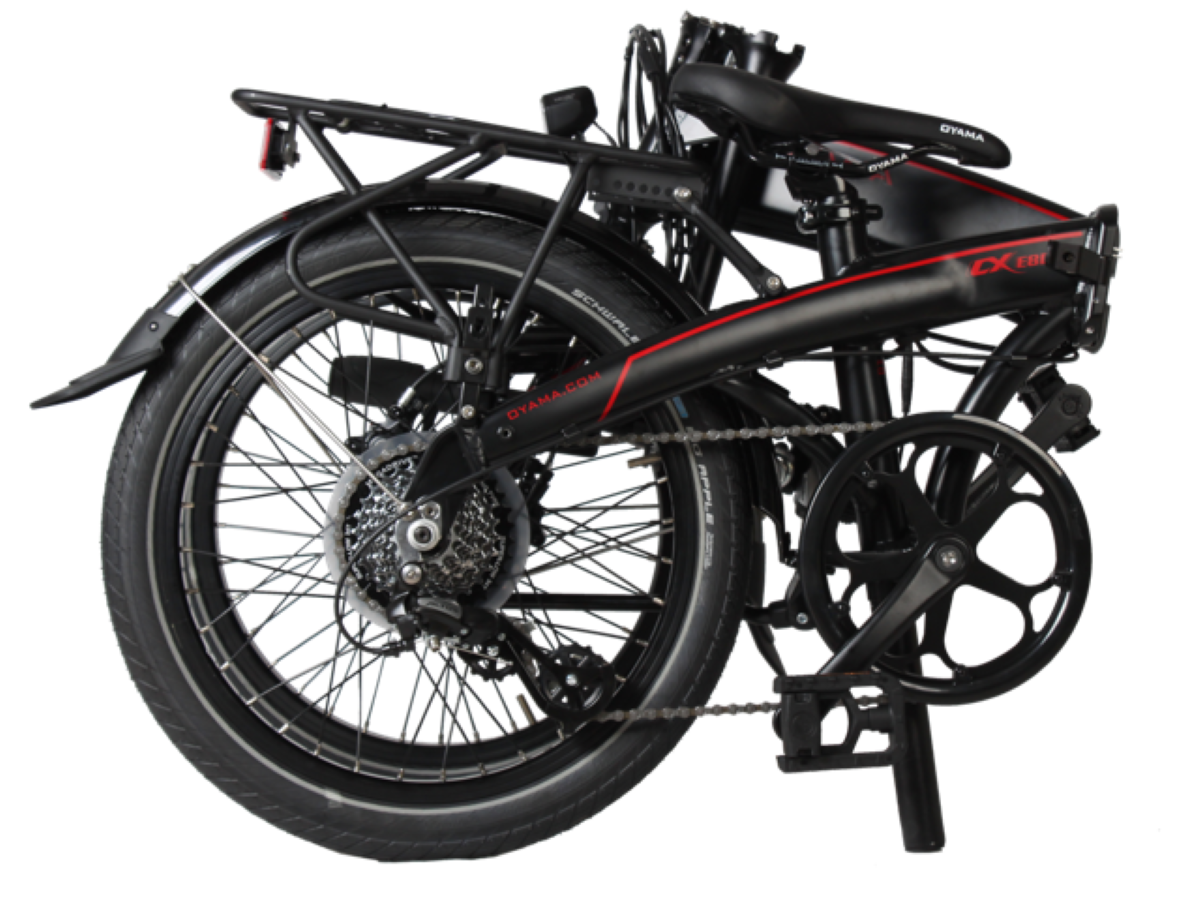 OYAMA's folding bikes are known for their included high-quality rear racks, fenders, kickstands, and handlebar-mounted courtesy bells – which are important for alerting others when you're in busy, tight spaces – plus the racks give students, business commuters, and shoppers a convenient way to store gear while they're on the move.
The OYAMA CXE8D Series II also features a LED front light and a 36V Programmable Illuminated LCD Screen with full onboard diagnostic.
MOTOR & SENSOR
This folding electric bike comes equipped with a built-in 36V/350-watt Rear Style Hub Drive Motor and a Torque Sensor.
BATTERY & BATTERY LIFE
The OYAMA CXE8D Series II Folding Electric Bike comes equipped with a removable, rechargeable 36V/10.5A battery that can be recharged via USB. The battery allows you to reach between 30 to 40 miles per charge.
FINAL THOUGHTS
The OYAMA CXE8D Series II is a very practical Folding Electric Bike. It's comfortable to ride and powerful enough to get you to most places in a city. The bike folds to a very convenient small size, allowing you to bring it anywhere with you. You can ride it for around 30 to 40 miles per charge.
If you're interested in getting this folding electric bike, each OYAMA CXE8D Series II is currently going for $2000. You can order yours right now, at OYAMA's official website, which you can access by clicking here.