If you're looking for a new gadget that allows you to play and interact with your pet from anywhere, then take a look at the Playdate Pet Smart Ball-Camera Toy. Some time ago, people used to wonder how it was possible to simply order food online, play online casinos at websites such as https://www.slotozilla.com/au/real-money, or even buy term papers online. Now you can connect with your pet the same way!
The Playdate is an innovative little Remotely Operated Gadget that combines a camera and a sturdy plastic ball together. This Smartphone-controlled pet toy is extremely easy to use, provides great fun for owners and pets alike, and is perfect for both cats and dogs.
Let's have a detailed look at it, see how it works and what it has to offer.
DESIGN & SPECS
The Playdate ball is a rather small pet toy. It is available in 2 different size models: 3-inch diameter and 4-inch diameter models. The ball itself is extremely durable, but also pet safe. The ball is made of polycarbonate, giving it a strong shell that makes this pet toy super-resilient and chew resistant. The Playdate was specifically designed to withstand play with even the most rambunctious pets.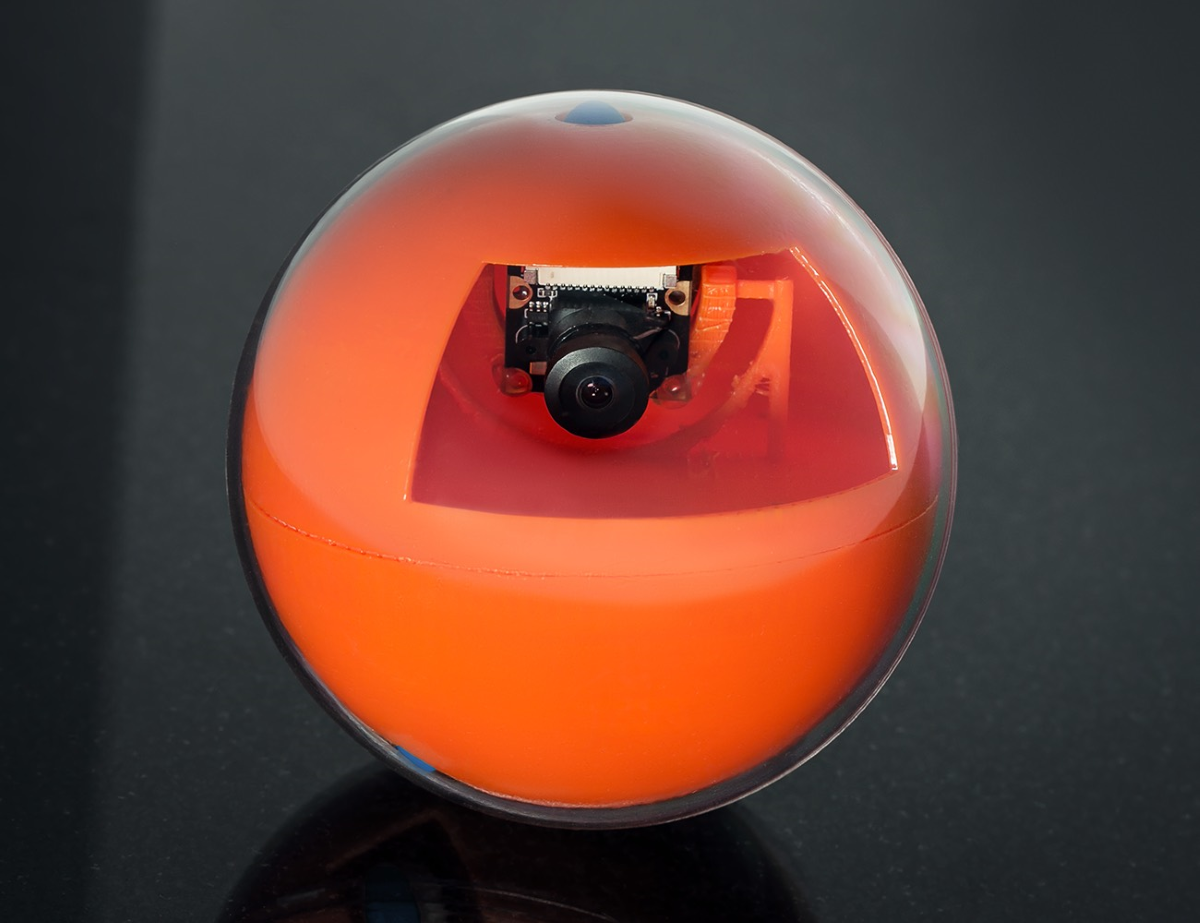 The ball comes equipped with a built-in 5 Megapixel, 160-degree wide-angle camera that allows you to freely drive it around your house and watch your pet in live, high-quality video. The camera works together with its stabilizing-technology-enabled system, which ensures you will never get dizzy while controlling the ball via Smartphone (great feature for anyone who gets motion sickness).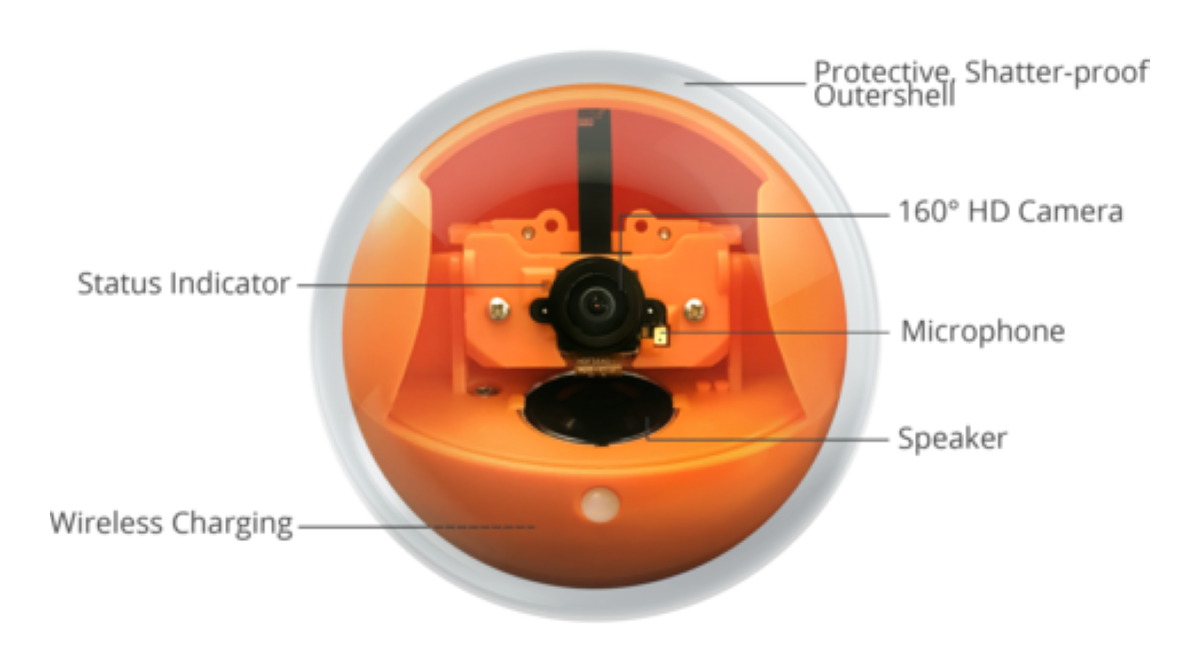 The Playdate also integrates a two-way audio system that features a built-in microphone and speaker. This allows you to create a truly personal, interactive experience with your pet(s).
Lastly, the ball also comes equipped with a Status Indicator that informs users about its current status (when setting it up), as well as its current battery status.
BATTERY & BATTERY LIFE
The Playdate comes with an included Wireless Charging Dock that lets you easily re-charge it. As soon as you're done for the day, just remotely drive your PlayDate back to its charging dock and let it sit there to recharge it back to a full charge. Charging the device should take you at least 30 minutes.
This gives you the freedom to play as much as you want and when you want, all while you're away from home.
WHAT'S IN THE BOX?
The Playdate comes inside a beautiful Orange, Bright Orange and Blue cardboard box. The packaging itself is not really "super-tidy", looking like the everything was just thrown in there in layers, but it's also not unprotected or anything like that. It would just be cool if the ball and accessories would come packed a little tighter than how they are packed.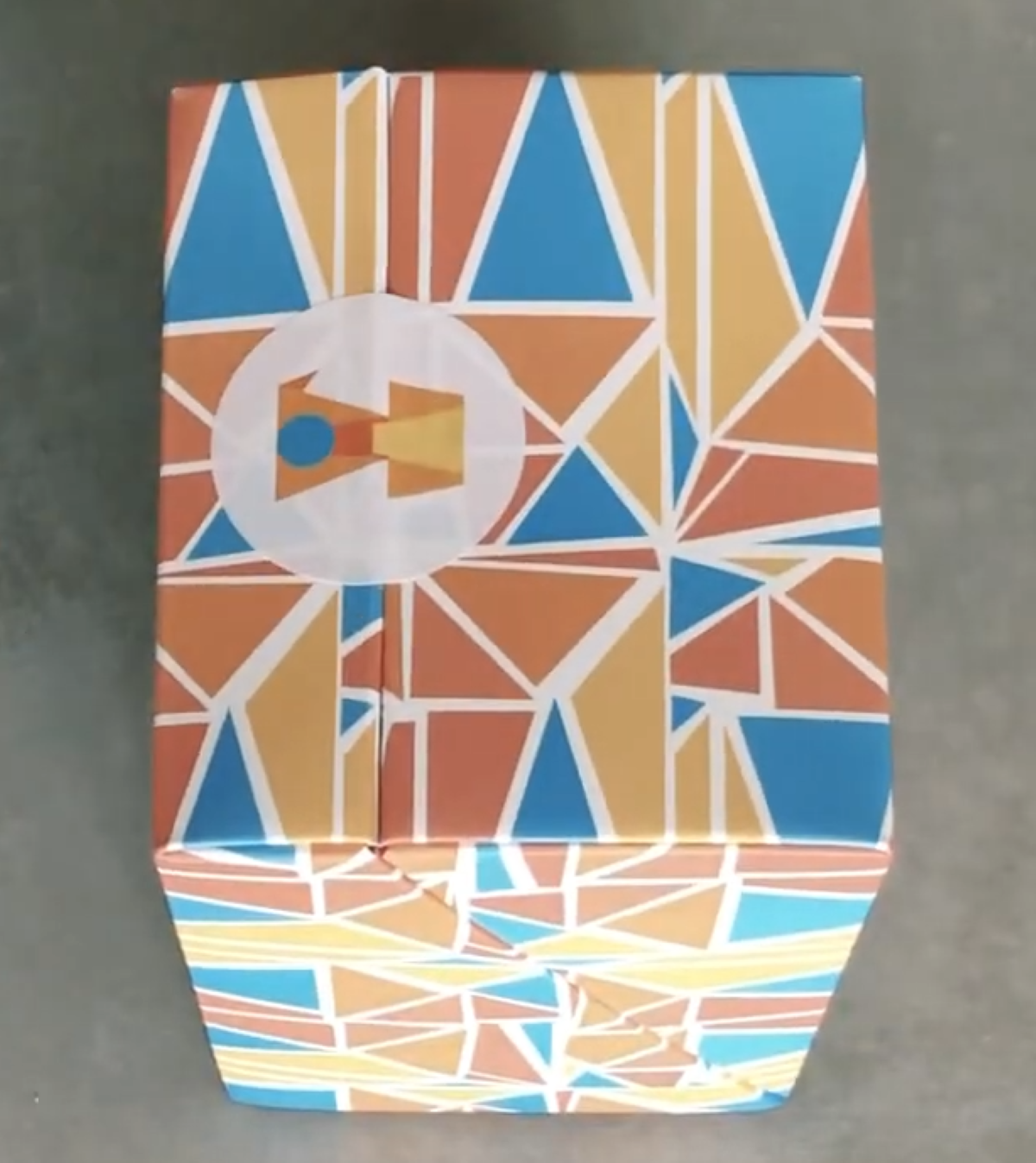 Inside the box users will find everything separated by 2 cardboard layers: first comes the Playdate ball, then the included power adapter and two little replacement parts, and lastly the Wireless Charging Dock.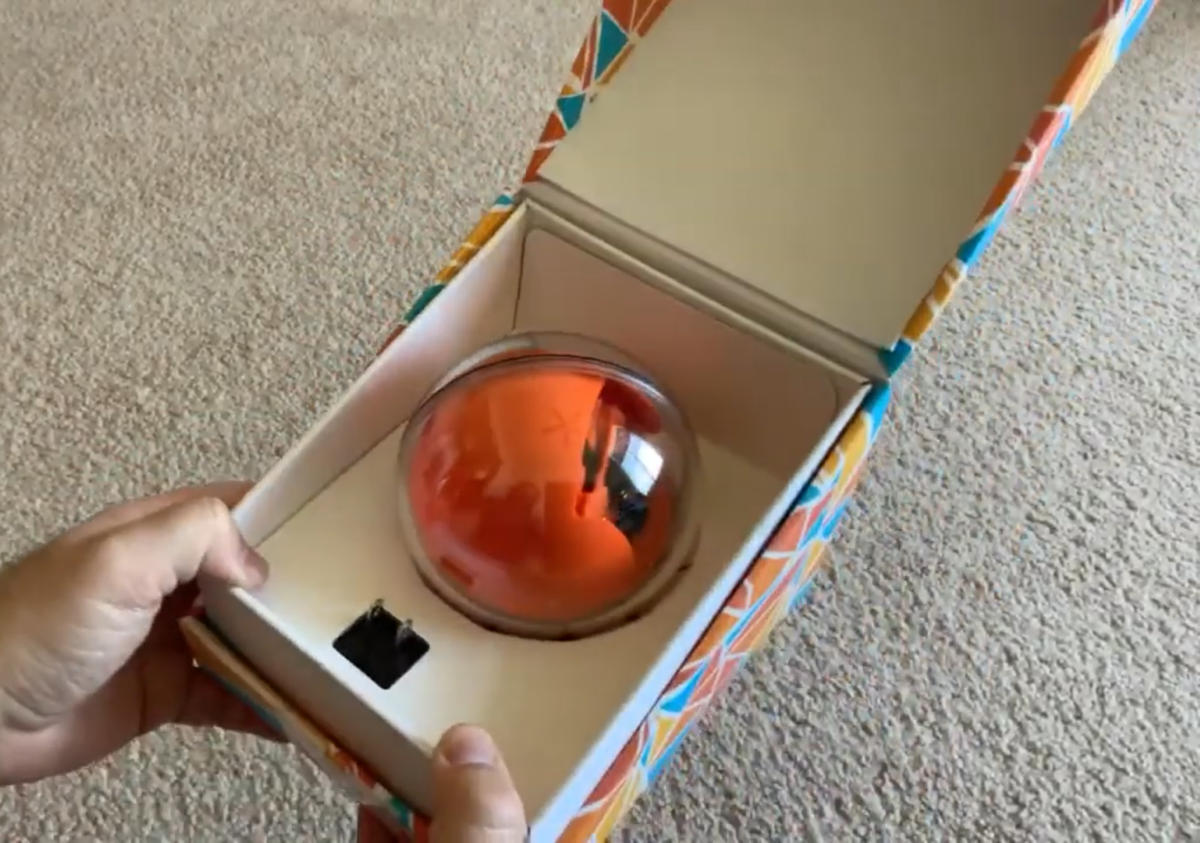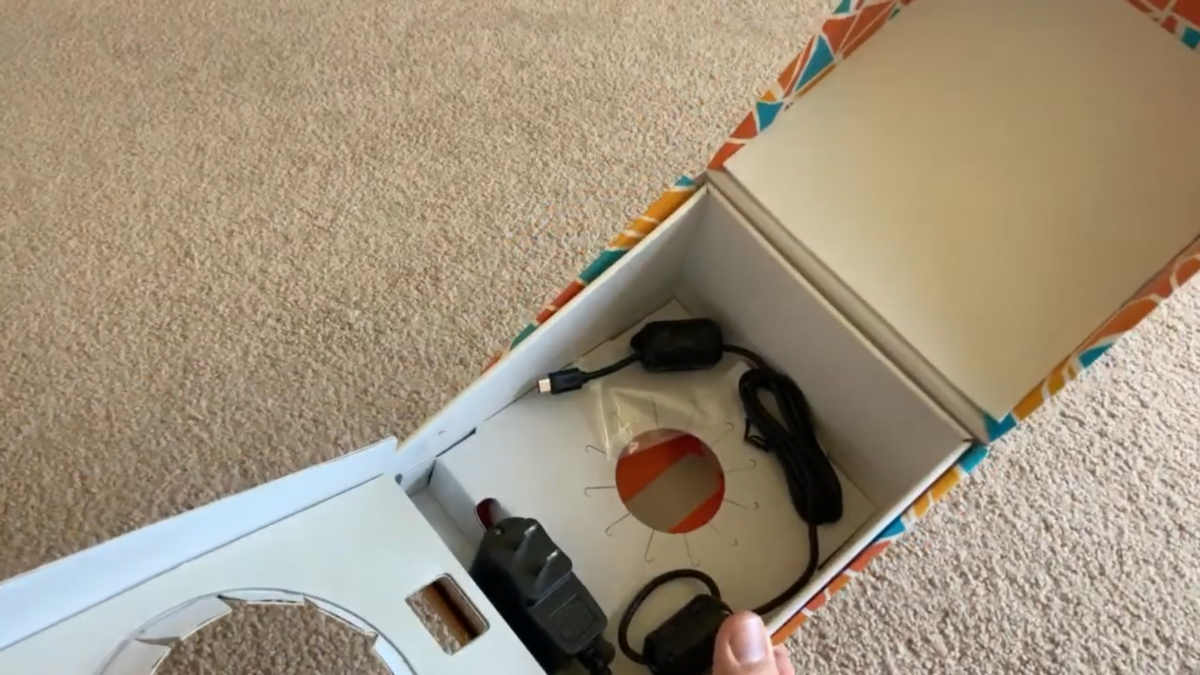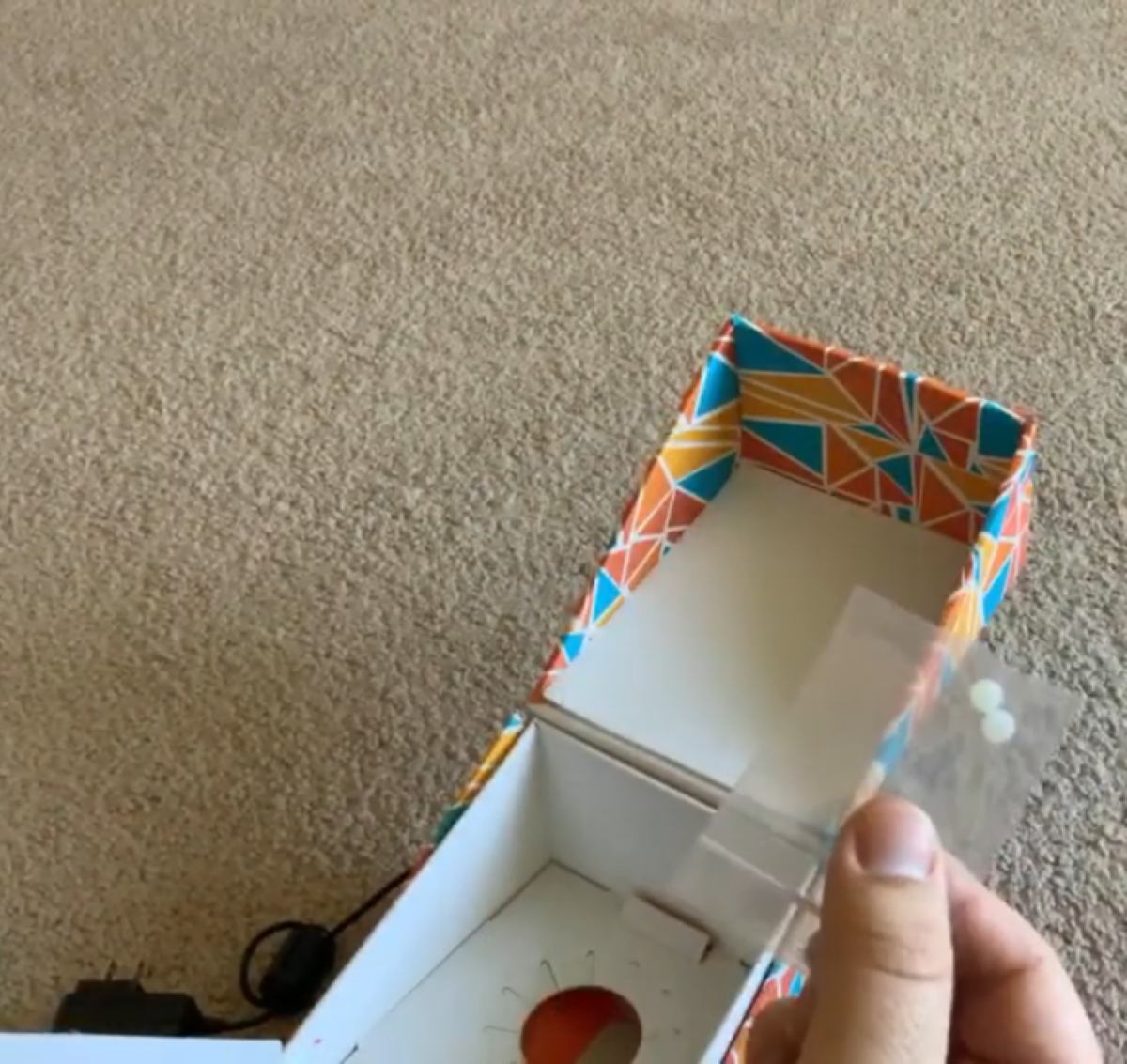 The ball itself (the Playdate) comes with a small protective plastic filter covering the camera lens. However, you don't have to feel disheartened or anything like that. You can grab both halves of the ball's body with each hand and rotate each one to a different side to unscrew the outer shell. That should allow you to easily open the ball and peel off the protective plastic filter from the camera's lens. Then just carefully close the ball again.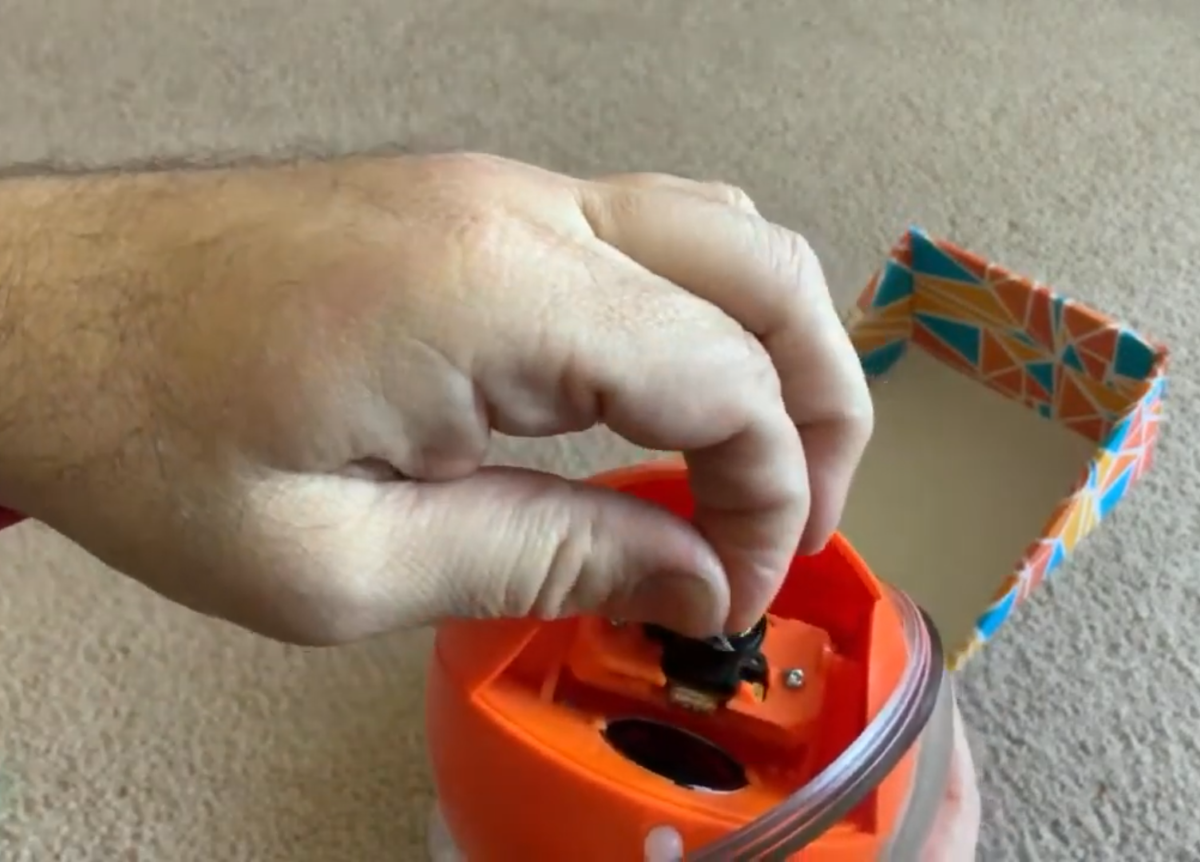 The Wireless Charging Dock comes with a built-in Inductive-Charging Coil, a connection port (for powering the device) at the back, and small plastic feet at the bottom that stop it from sliding away/ getting pushed by the ball – when you're driving the ball back to its charging station.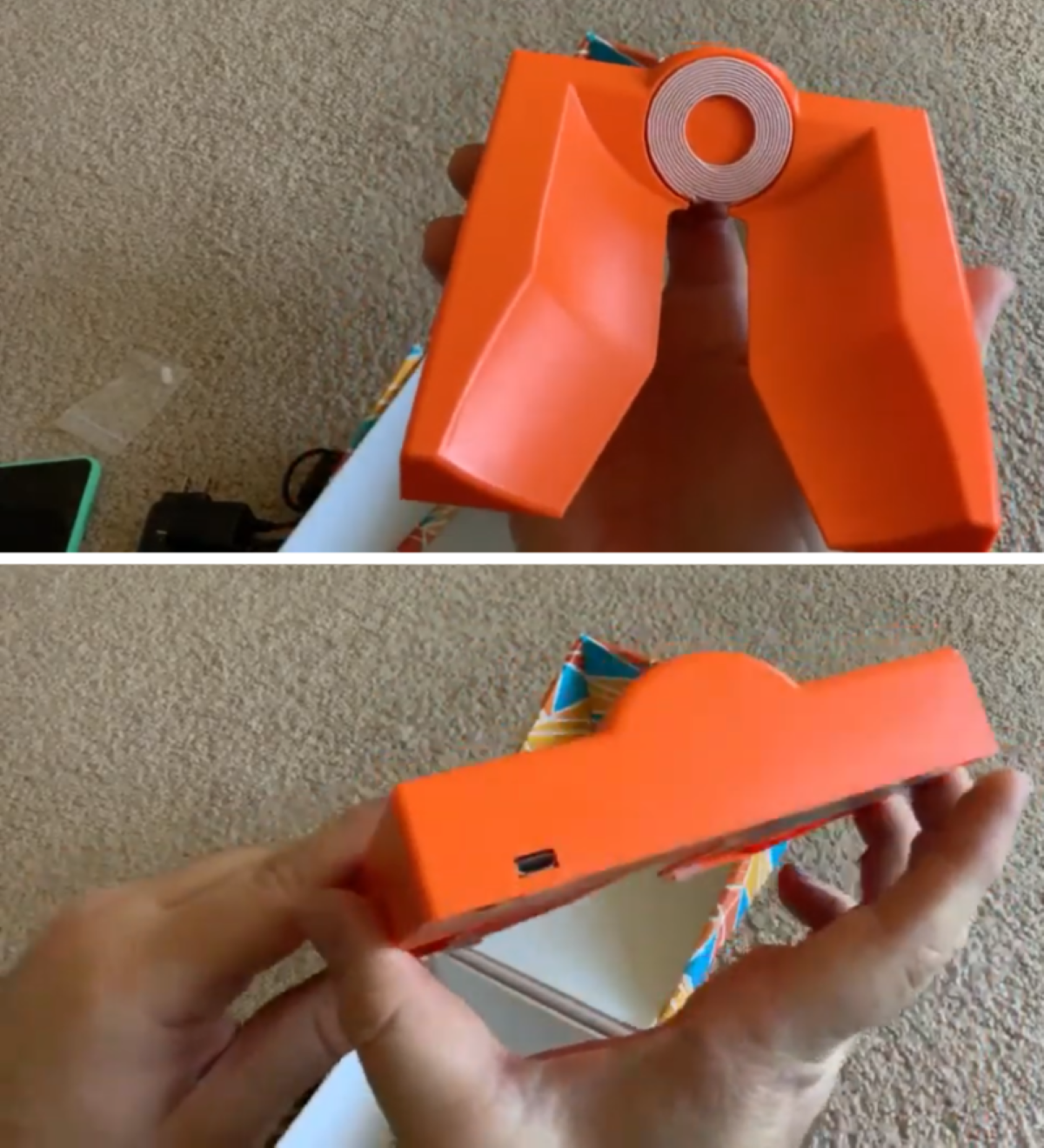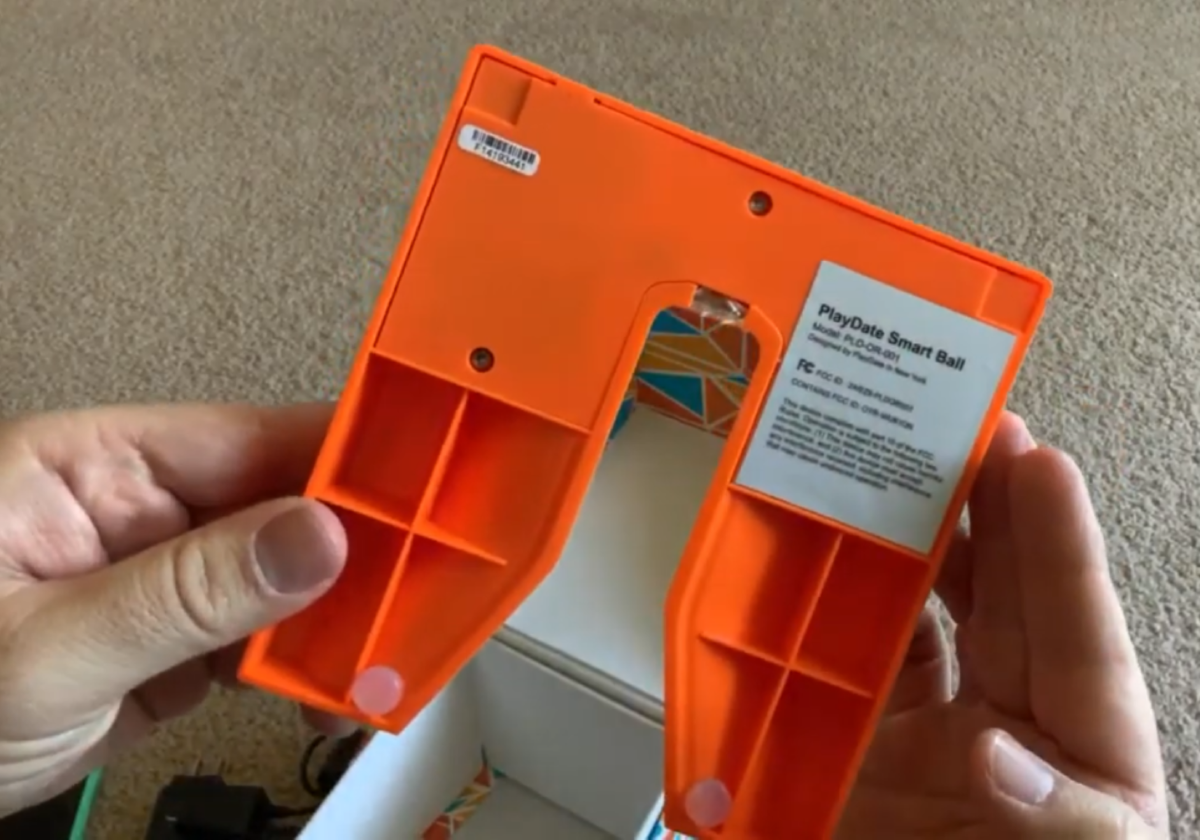 HOW TO SET UP?
Setting up your Playdate is extremely simple. The Playdate is compatible with both iOS and Android devices, which means that you can interact with your pet from virtually any device.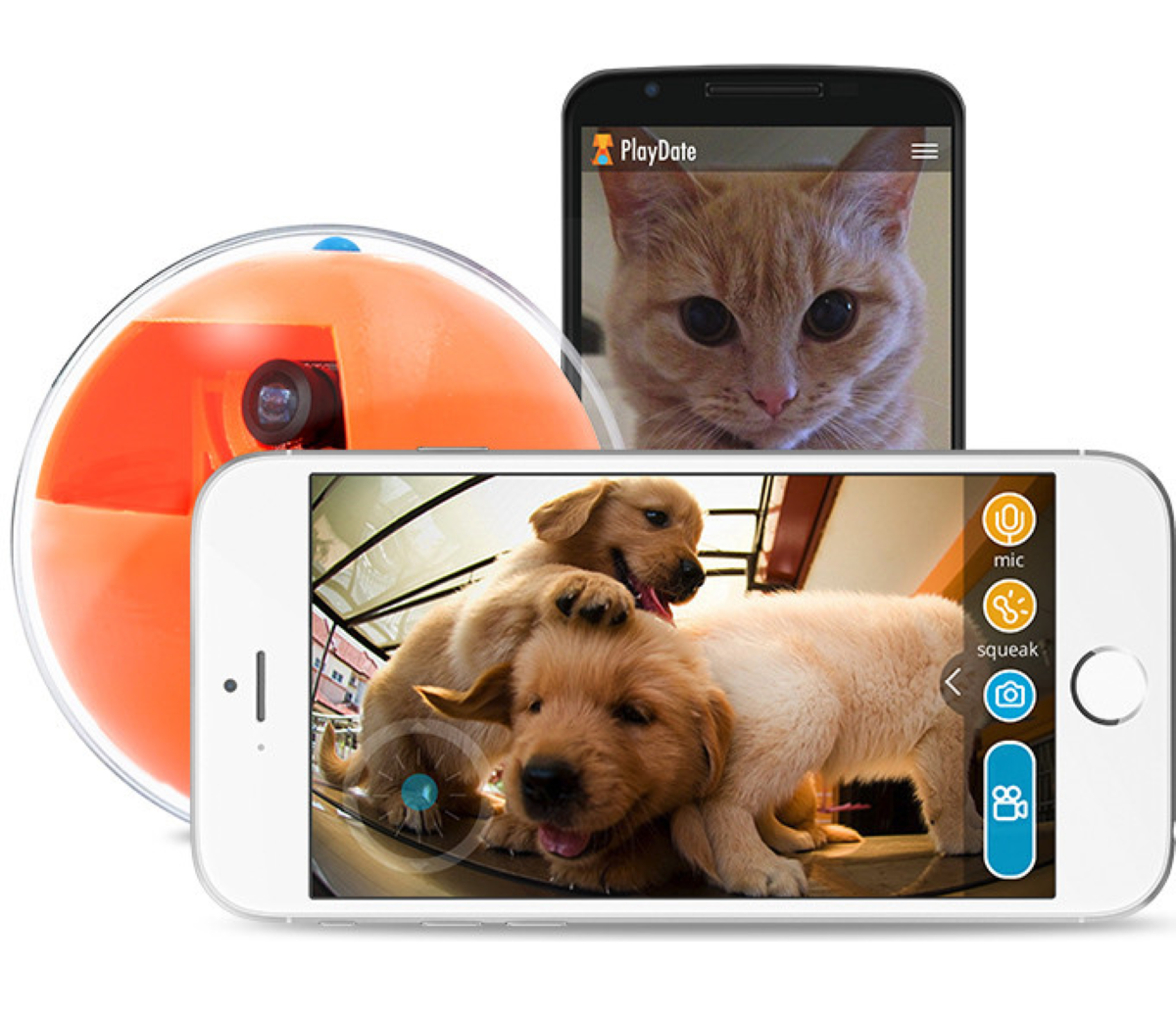 Start by downloading the Smartphone App and creating an account. After that, simply login and follow the "Getting Started" Tutorial's instructions.
Then plug the Wireless Charging Dock to power via its power adapter, place the Playdate ball on top of its Wireless Charging Dock (make sure both of the ball's charging coils are aligned with the Dock's charging coil) and wait for the ball's Status Indicator turns green.
After that use the App to connect your Smartphone to your Playdate and pair the ball with your Wi-Fi network. The ball's Status Indicator will slowly flash white when connecting to your Wi-Fi network and stop once the device is successfully connected. If the ball's Status Indicator starts rapidly flashing white it means that the ball couldn't connect to your Wi-Fi network and you'll need to try again.
That's all there is to it. As soon as you finish connecting the ball to your Wi-Fi network, you're all done and ready to roll (pun intended).
The video embedded below demonstrates all the steps.
HOW TO USE?
Operating the Playdate Pet Smart Ball is extremely simple. After you set up the Playdate's base anywhere in your house, just turn the Playdate on (should stay turned on for the future), open the mobile App and enjoy driving it around. As stated before, the Playdate can be operated from anywhere in the world via your Smartphone – as long as you have internet access, obviously.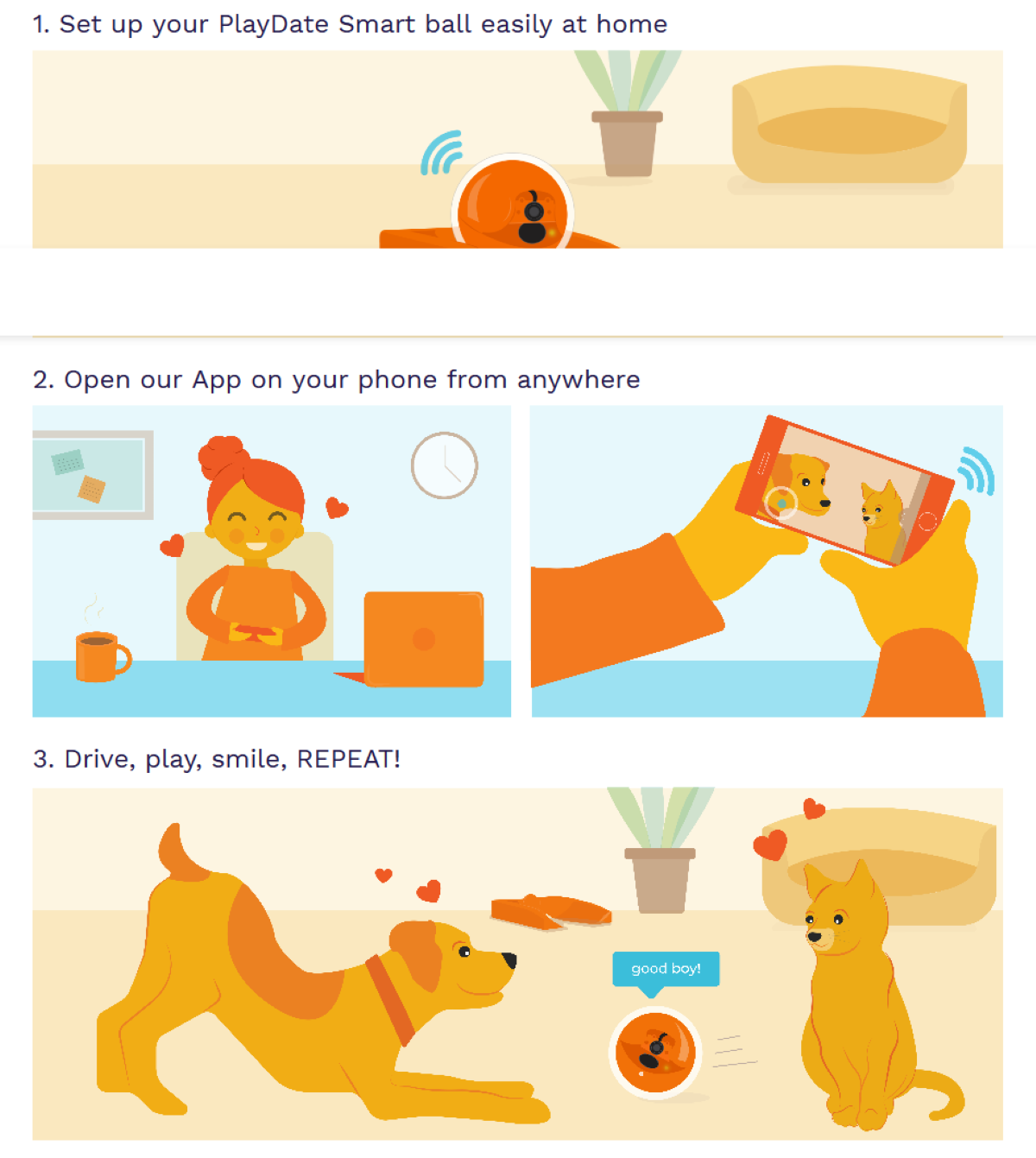 THE SMARTPHONE COMPANION APP – The PlayDate App
The PlayDate App (available for iOS and Android devices) will allow you to see everything in Live HD Video. The App features a directional touchpad that gives you total control of the Playdate's movement, as well as a couple of simple tools to use the ball's features.

There's a microphone tool to use the built-in microphone, a customizable squeaker button that'll play a "squeaky-sound" via the ball's speaker, and lastly, a camera-button to take pictures and a video button to record videos – both via the ball's wide-angle camera.
FINAL THOUGHS
The Playdate Pet Smart Ball is a little Remotely Operated Pet-Toy plastic ball with a built-in wide-angle camera. It's easy to setup and use. This Smartphone-controlled pet toy is extremely fun for both owners and pets, and is great for cats and dogs.
Its wide-angle camera allows you to connect with your pet in a way you'd never thought possible. This pet toy is simply awesome.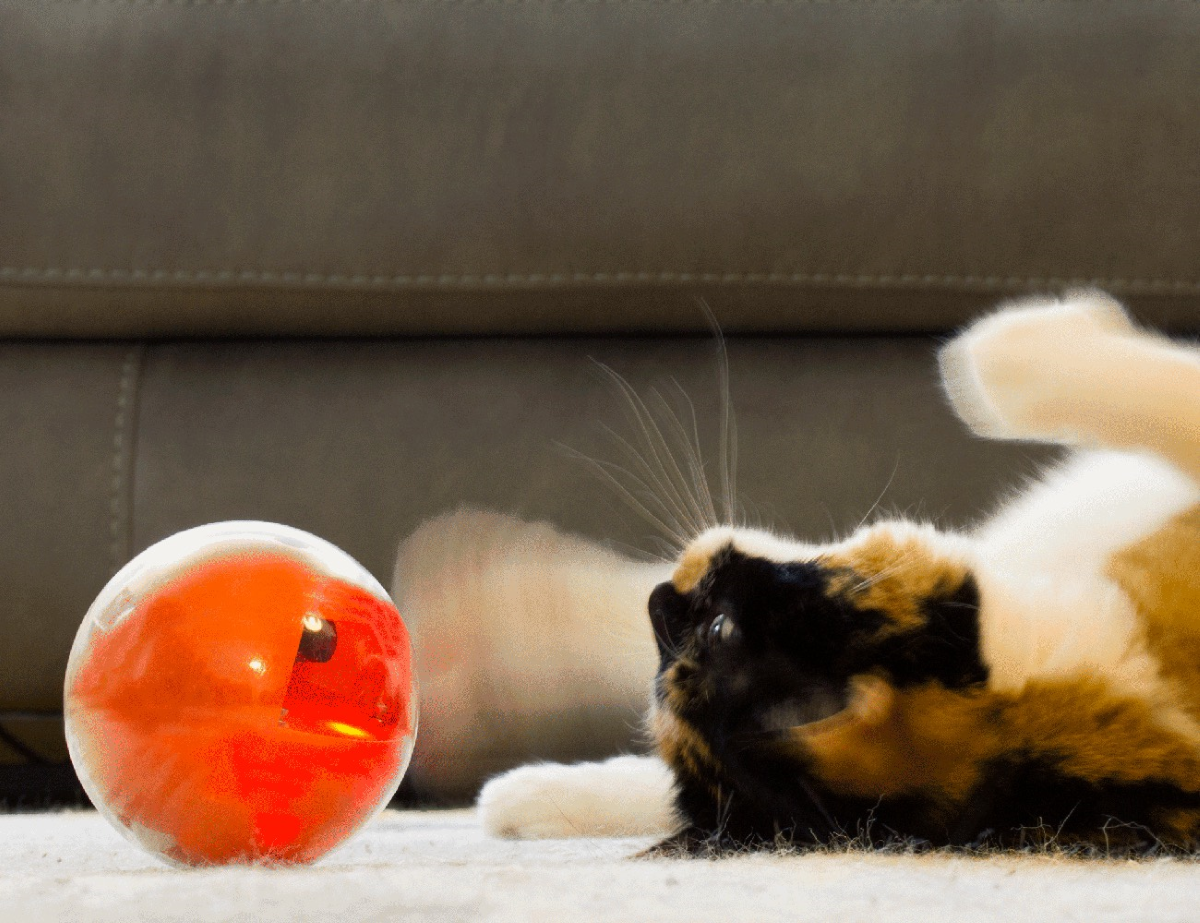 As stated before, the Playdate is available in 2 different size models: 3-inch diameter (recommended for cats and smaller dogs) and 4-inch diameter (recommended for larger dogs).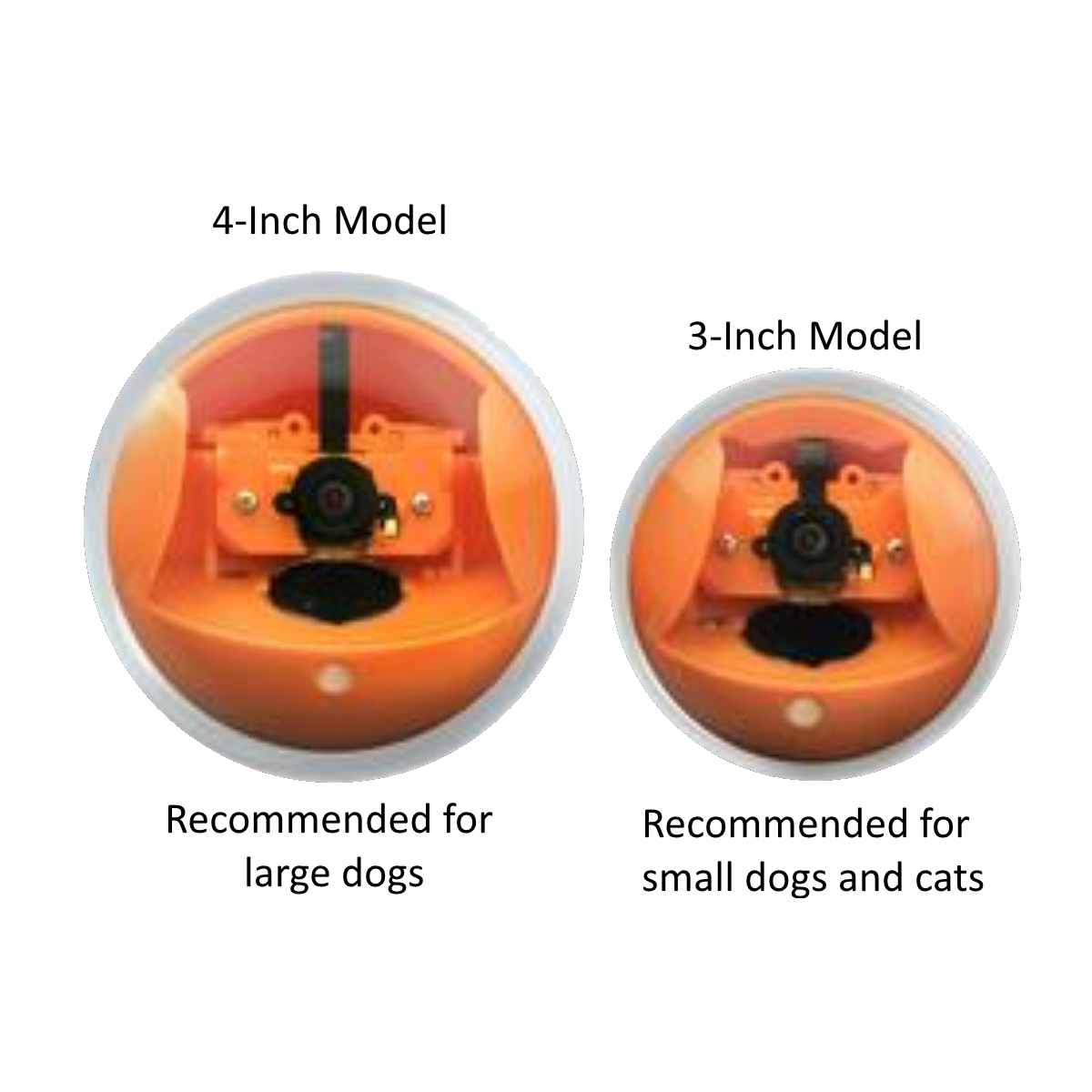 If you're interested in getting the Playdate Ball-Camera Pet Toy, each unit is currently discounted from its normal price tag of $249, and is currently going for $199 (saves you $50). You can get yours right now, directly from PlayDate Inc.'s official website, which you can access by clicking here.
---
Now, for any casino lovers out there that are looking for a stress-free online casino that offers new casino players a way to relax a bit and have fun without having to worry about any sort of registration fees, it doesn't get much better than a no deposit registration bonus 2022 casino.