If you're looking for a new camera that lets you take pictures, record and live-stream all of your outdoors adventures, then take a look at the GoPro Hero 7 Black Action Camera.
This high-quality GoPro camera is by far one of the most advanced GoPro Action Cameras ever made. With it you can get insanely smooth high-quality 4K video without ever worrying about your recordings getting shaky.
The GoPro Action Camera also packs a ton of additional cool features that take your recording experience to the next level.
Let's have a detailed look at the Hero 7 Black and see everything that this GoPro camera has to offer.
DESIGN AND SPECS
The GoPro Hero 7 Black Action Camera measures 2.45 inches long by 1.29 inches wide by 1.76 inches tall (62.3 x 33 x 44.9 mm), weighing exactly 0.25 lbs. (116 g). This is a 12 MP camera that can record high-quality 4K video at 60 FPS and live stream at 720p. The camera can also be used to record underwater, allowing you to record your diving adventures up to 33 ft (10m) underwater.
The GoPro Action Camera also features a new interface that's frankly a lot better, smoother, and much easier to use than the one that came with previous models.
At the camera's front side you can find a digital display status screen (top left of the front side), a replaceable lens cover, a status light (at the top left corner of the front side) and a shutter bottom (located at the top right of the camera when you're using it).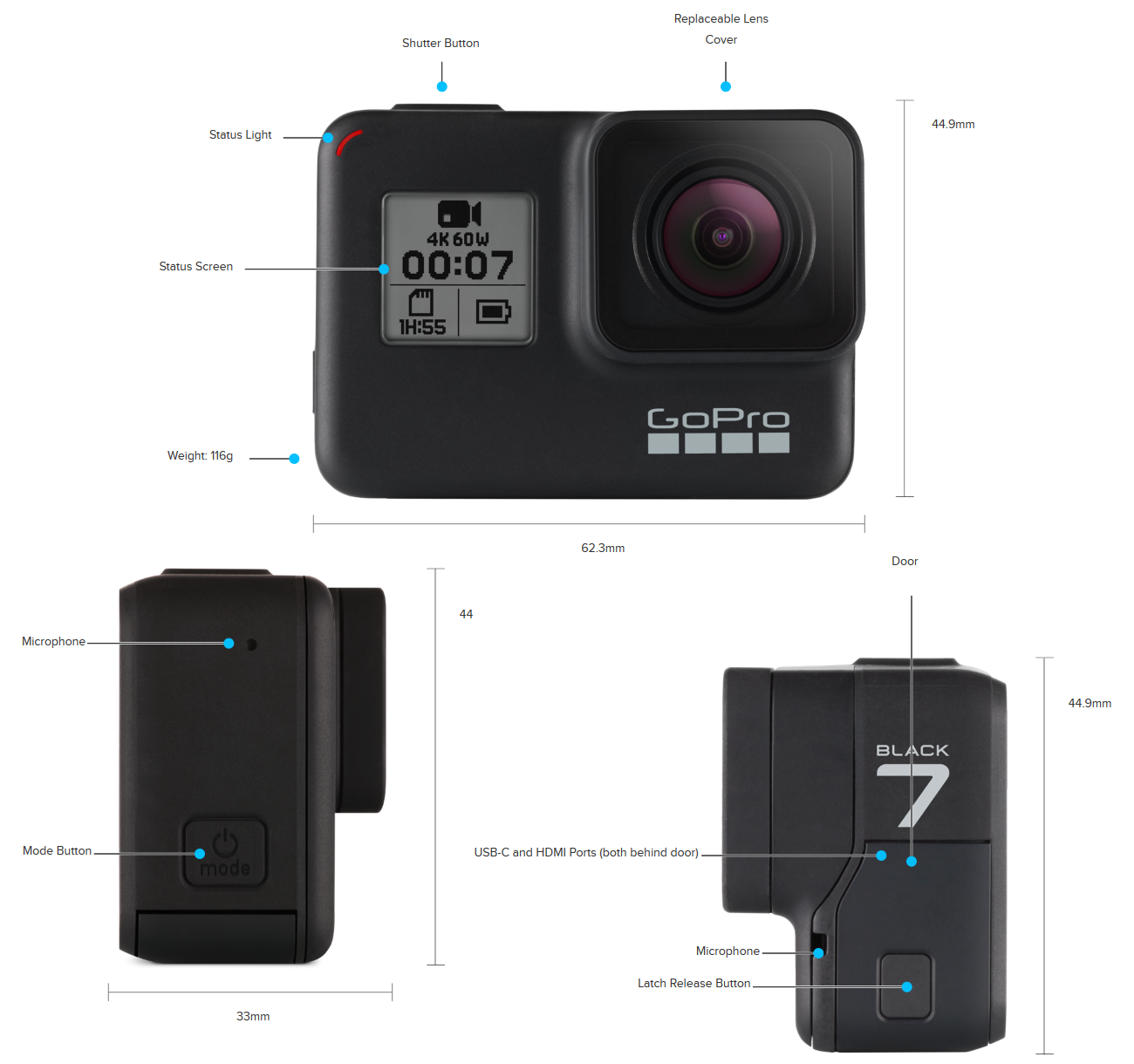 At the camera's left side you will find a built-in microphone (at the top of the left side) and a Mode Button (at the bottom of the left side) – this button allows users to change between different Photo/Video Modes. At the camera's right side you'll find another built-in microphone (at the bottom of the right side and close to the front), a door that houses a USB-C port (for recharging and transferring your media) and HDMI port, and a latch release button to open that door (at the very bottom of the right side).
At the camera's back side you can find its color touch screen, a third built-in microphone (located at the very top of the camera) and a second status light (at the top left corner of the back side).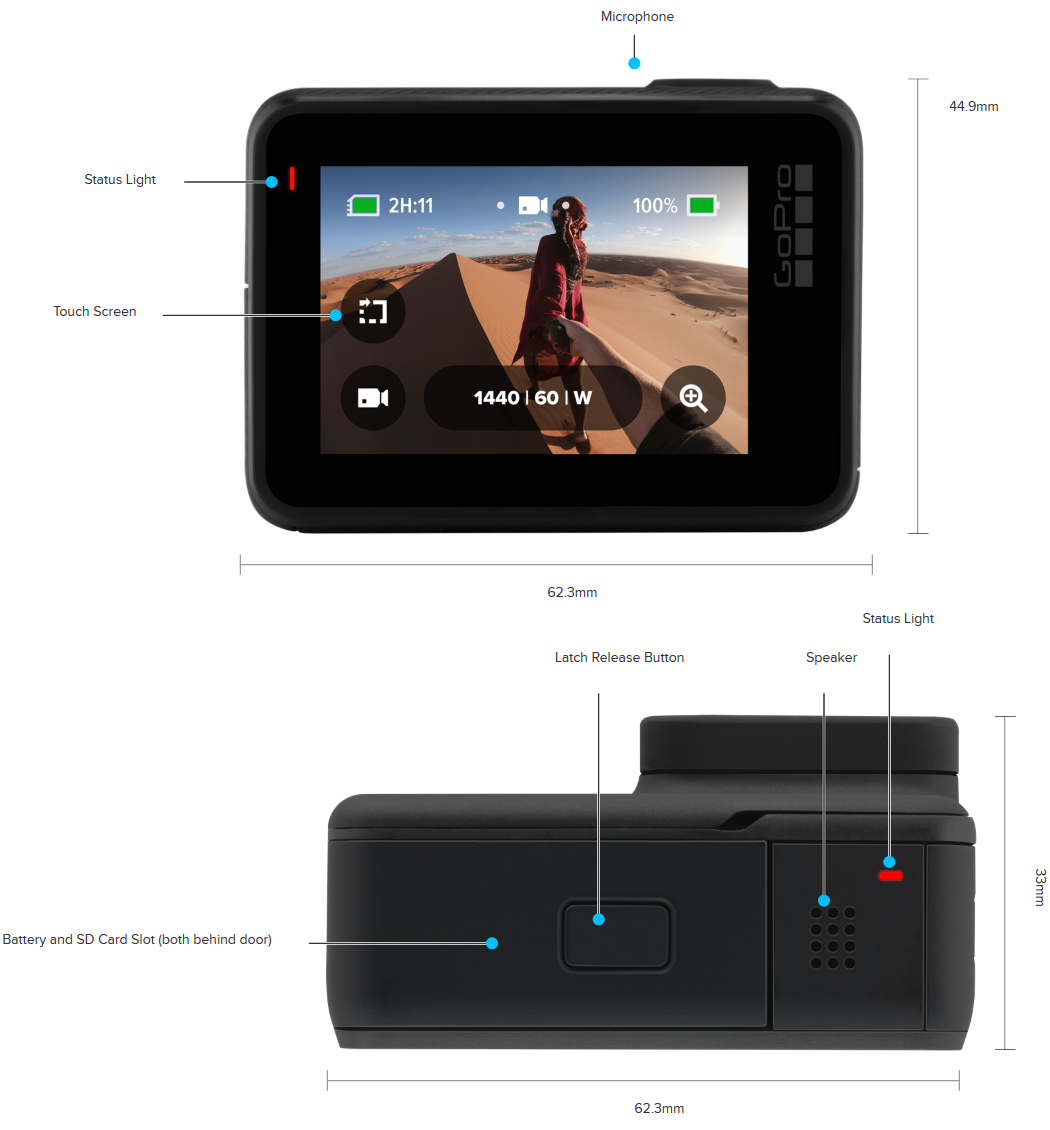 At the camera's bottom side you'll find its speaker, a third status light (at the top right corner of the bottom side), another latch release button (at the middle of the bottom side) and a battery and SD Card Slots (both behind the door activated by that latch).
The camera also offers additional audio features like a 3.5mm Audio Mic Input that works with its Pro 3.5 Mic Adapter (sold separately), as well as Stereo Audio via its speaker.
BATTERY, BATTERY LIFE & CHARGING
While there are three different models of the GoPro Hero 7 Action Camera – White, Silver, and Black – the Black edition is probably the best GoPro for travelling, mainly because it's the only one of all three that comes with a removable battery, while the other models come with a built-in battery.
The GoPro Hero 7 Black also has the highest price of all three different GoPro Hero 7 camera models, but that's easily justified by the advantage that comes with its removable battery.
Its removable battery can offer you around 1 hour and 45 minutes of continuous video at 1080p/30fps, which is somewhat decent. However, keep in mind that if you use the camera all day, it will deplete its battery really fast, so don't underestimate how quickly the camera can run out of power.
While you can charge the camera via USB or any decent Powerbank, having one, two, or even three spare replaceable batteries is obviously an advantage, allowing you to instantly swap out a depleted battery for a fresh one.
I highly recommend you get a USB charger with 2-3 spare batteries. These costs around $20 and will guarantee that you can use your GoPro Hero 7 Black for almost an entire day.
FILE TRANSFERING
By opening the door that houses the USB-C and HDMI ports (located at the camera's left side) users can connect their camera to a PC or laptop and transfer their files.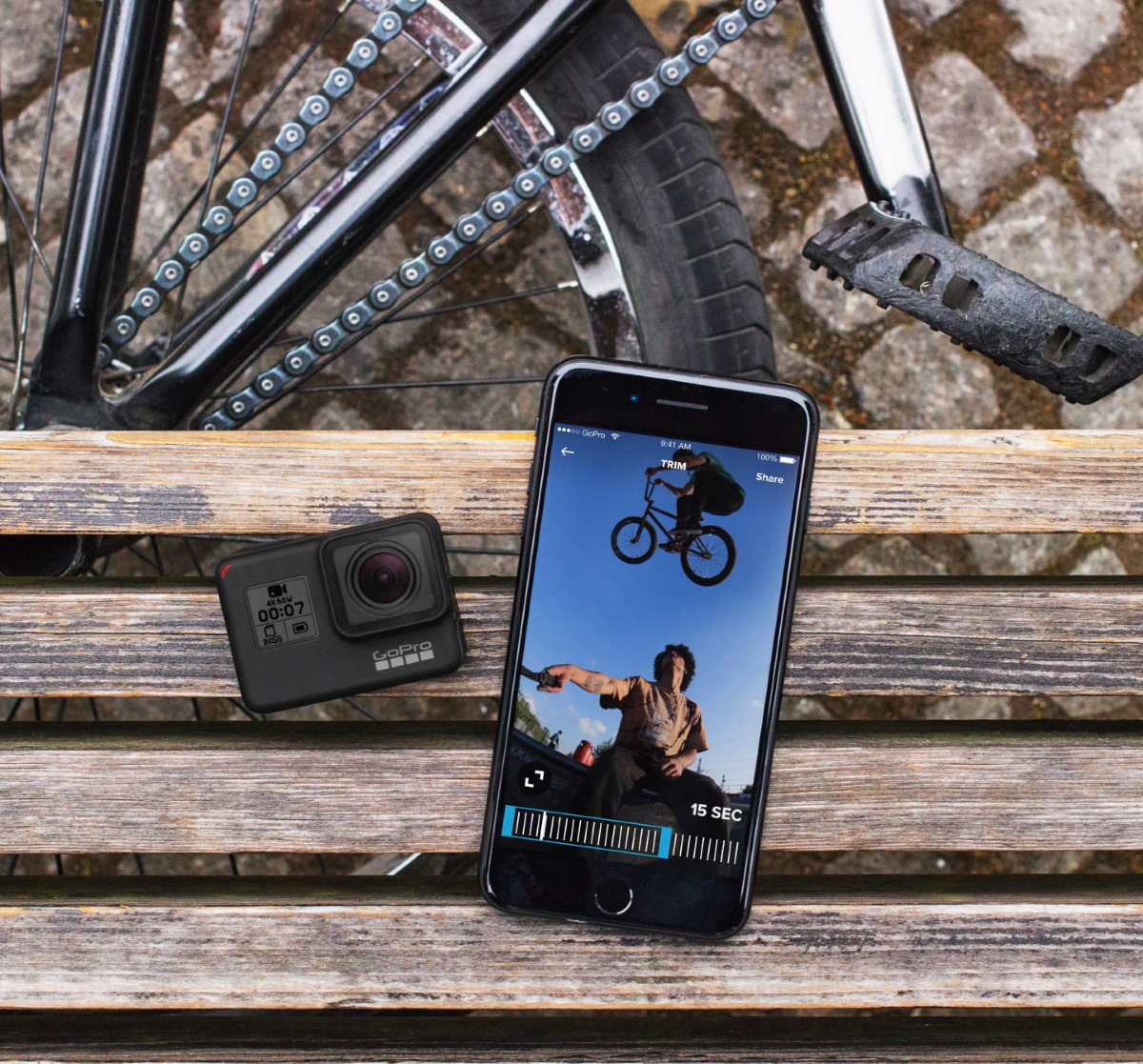 However, users can also automatically transfer their media files to their Smartphone via the GoPro App. Be aware that your camera must be connected to the GoPro App for automatic file transfer to work with your Smartphone. Burst photos can be transferred to your Smartphone manually while videos, time lapse photos/videos and single photos are transferred automatically.
FEATURES
Different Recording Modes
The GoPro Hero 7 Black can work in 3 different main modes which are: Photo Mode, Video Mode, and Time Lapse Mode.
Photo Mode
The Photo Mode allows users to take regular high-quality photos, but they're also able to swap between Normal Photos, Burst Mode and Night Mode, and also have the ability to use 4 different features for those secondary-modes (Touch Zoom, Photo Timer, Exposure Control, and Protune).
The Photo Mode can be integrated with Instagram where users can share their pictures, but it is required that you previously have the Instagram App installed, as well as an account created.
Video Mode
The Video Mode allows users to live-stream high-quality 4K video at 60 fps with a wide Field-Of-View. Users can stream their video directly to Facebook Live, YouTube or other platforms using an RTMP URL, but it's required that they previously have the Facebook App installed (for Facebook Live), as well as a Facebook/YouTube account (depending on what platform you choose to stream on).
Users can also record in 8x Slo-Mo Mode, which is a super slow mode. This mode records at an ultra-high frame rate (1080p*240 video), allowing up to 8x slow motion recording which lets you relive any of your recorded epic moments in all their glory.
Time Lapse Mode
The Time Lapse Mode allows users to record Time Lapse videos and Time Warp videos, as well as take Time Lapse photos and Night Lapse photos, while also allowing them to use the Touch Zoom and Protune features for extra visibility and image enhancing (respectively). With TimeWarp you can capture mesmerizing, stabilized time lapse video as you move through a scene.
Touch Zoom Feature for Specific Modes
It's important to note that the Touch Zoom feature is only available for specific photo modes/video modes.
HyperSmooth Stabilization
With HyperSmooth Stabilization users can get insanely smooth, and almost gimbal‑like video (without the gimbal). While Go-Pro does call it "gimbal‑like video", that's pushing it a bit too far. However, it's still insanely better than the previous models, and you'll barely see any screen shaking at all, even on the bumpiest terrains you could possibly find.
With past models you could only record at 4K 30Fps stabilized footage, but this new model brings 4K 60Fps stabilized recording to the table, which is a very welcomed feature.
There are three different secret Stabilizations Options, which are usually chosen automatically by the camera. These are Hypersmooth Stabilization, EIS (Electronic Image Stabilization), and No Stabilization – this third mode allows you to have Hypersmooth Stabilization completely turned off.
The Hypersmooth Stabilization option will compensate for unexpected things – like shakes, bumps, jumps, hard landings, etc – in advance.
The Electronic Image Stabilization (EIS) option will be activated particularly for some of the 4:3 Resolution Modes that do not support the new Hypersmooth Stabilization Mode.
The No Stabilization option allows users to have Hypersmooth Stabilization completely turned off, which is basically used if you don't want the Hypersmooth Stabilization turned On or if it's conflicting with something else you're trying to do.
GPS Performance Stickers
The Camera also features something called GPS Performance Stickers. These allow you to track your speed, distance and elevation, then prove it by adding stickers to your videos in your Smartphone's GoPro App.
SuperPhoto Mode
Lastly, there's also a new SuperPhoto Mode that delivers the best, most brilliant images automatically.
The previous GoPro camera models featured an HDR Mode that was great to capture different high-quality pictures like detailed forest views where the HDR mode would try to correct and balance over-exposed areas and under-exposed areas, but that mode wasn't that great when users would move the camera fast. That would result in having something that's called "Ghosting Artifacts" in your photos.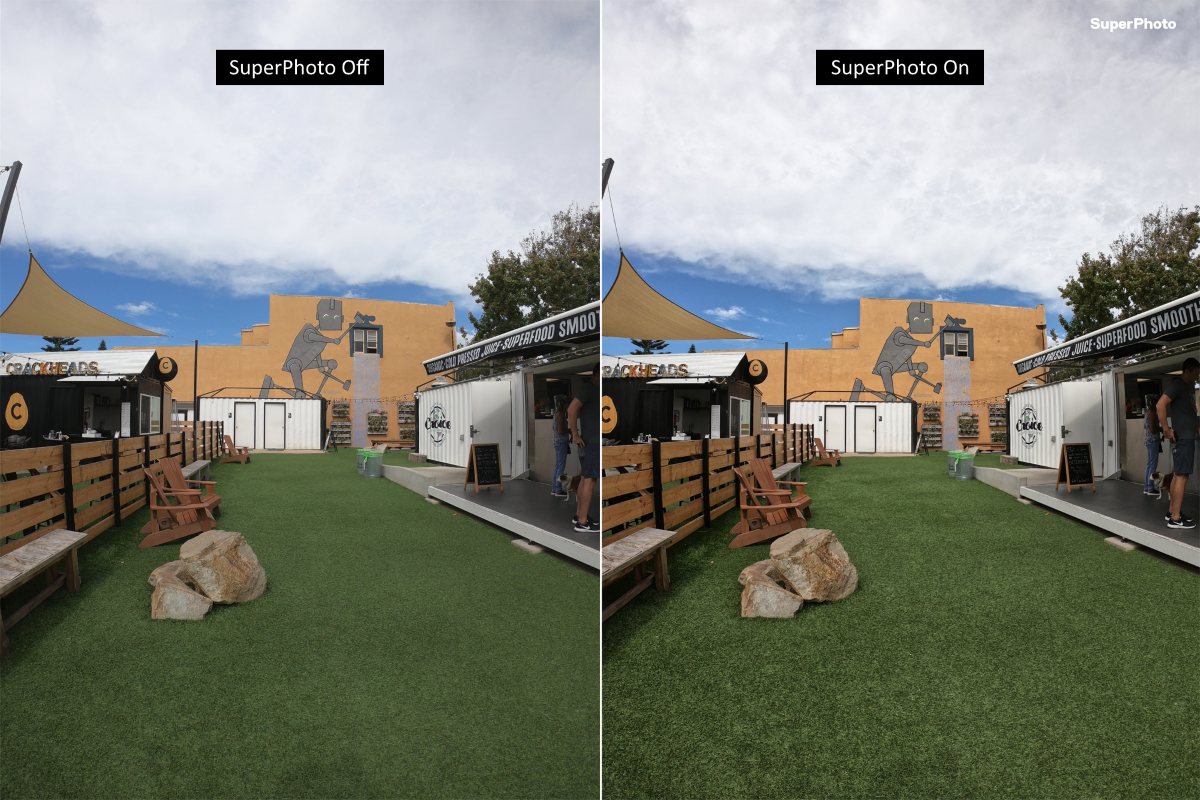 However, the SuperPhoto Mode uses Tone-Mapping instead of the older Multi-Framing Techniques to fix that problem, offering you the possibility of always having high-detailed pictures. This allows you to always capture high-quality details like very detailed textures, cloud shades that are highlighted by a background sunrise/sunset, or any vivid green colors on vegetation like plants and trees.
FINAL THOUGHTS
The GoPro Hero 7 Black is by far one of the best GoPro Cameras you'll ever see. The camera features 3 Different Recording Modes, HyperSmooth Stabilization, and a SuperPhoto Mode. With this camera you can live-stream all of your amazing outdoors adventure moments as they happen, as well as transfer all of your pictures and video recordings to your Smartphone automatically via the GoPro app. The GoPro Hero 7 Black completely changes the way you record.
If you're interested in buying the GoPro Hero 7 Black, each unit is currently discounted from its normal price of $320, and is currently going for $300 each. You can order yours right now at GoPro's official shopping page, which you access by clicking this link.