Monolingualism in the US is a common misfortune that often highlights our language boundaries. However, there's a smart little gadget called the Waverly Labs Ambassador Headphone Interpreter that can help anyone break all language barriers.
Anyone with friendly neighbors that speak in one or more different languages than the one most of us are familiar with (US English) can relate to this problem. The same goes for businesspeople that constantly travel abroad and have to communicate with citizens from different countries that speak a different language, all of that to establish, maintain and improve company relationships. While language barriers can be extremely frustrating, annoying and disappointing, they really don't have to be. Not anymore at least, and it's all thanks to the Waverly Labs Ambassador Headphone Interpreter.
This simple over-the-ear headphone comes in pairs of two. The owner uses one, and another person that speaks on a different language that the owner wants to communicate with uses the other.
Both Ambassador Headphones are then connected to the Smartphone App (free for iOS/Android) via Bluetooth right after they're turned on. The Waverly Labs Ambassador Headphone Interpreter will then listen to each person as they speak by turns, understand what language they are using to communicate, translate it to the other user via a voice assistant, and become once again ready to repeat the process back and forth between the two users.
However, it doesn't stop there. The system supports multiple Ambassador Headphones providing two or more monolingual people with a way to bypass their language boundaries and speak fluently to each other, ultimately allowing them to overcome any language barriers that they're faced with.
Let's take a look at the Waverly Labs Ambassador Headphone Interpreter and see exactly how it works and just how convenient it can be.
DESIGN & SPECS
The Ambassador Headphone features an over-the-ear design that makes it extremely hygienic, allowing owners to share one of the Headphones from their pair with whatever person they want to communicate with. This over-the-ear design makes the Ambassador lightweight and ergonomic for a comfortable wear, allowing users to keep them on for as much time as they please. The design also assures that the Ambassador Headphone gets uncompromised antenna strength.
The Ambassador Headphone comes equipped with a wider range antenna and a large microphone array that features two built-in microphones. This simple dual-mic setup has its two mics working in tandem to capture users' speech up to 8 feet (2.5 m) away.
Each Ambassador Headphone also comes equipped with small built-in LED lights at the front which provide users with visual feedback for translation. At the top of each headphone there's a Micro-USB port for recharging and for firmware updates.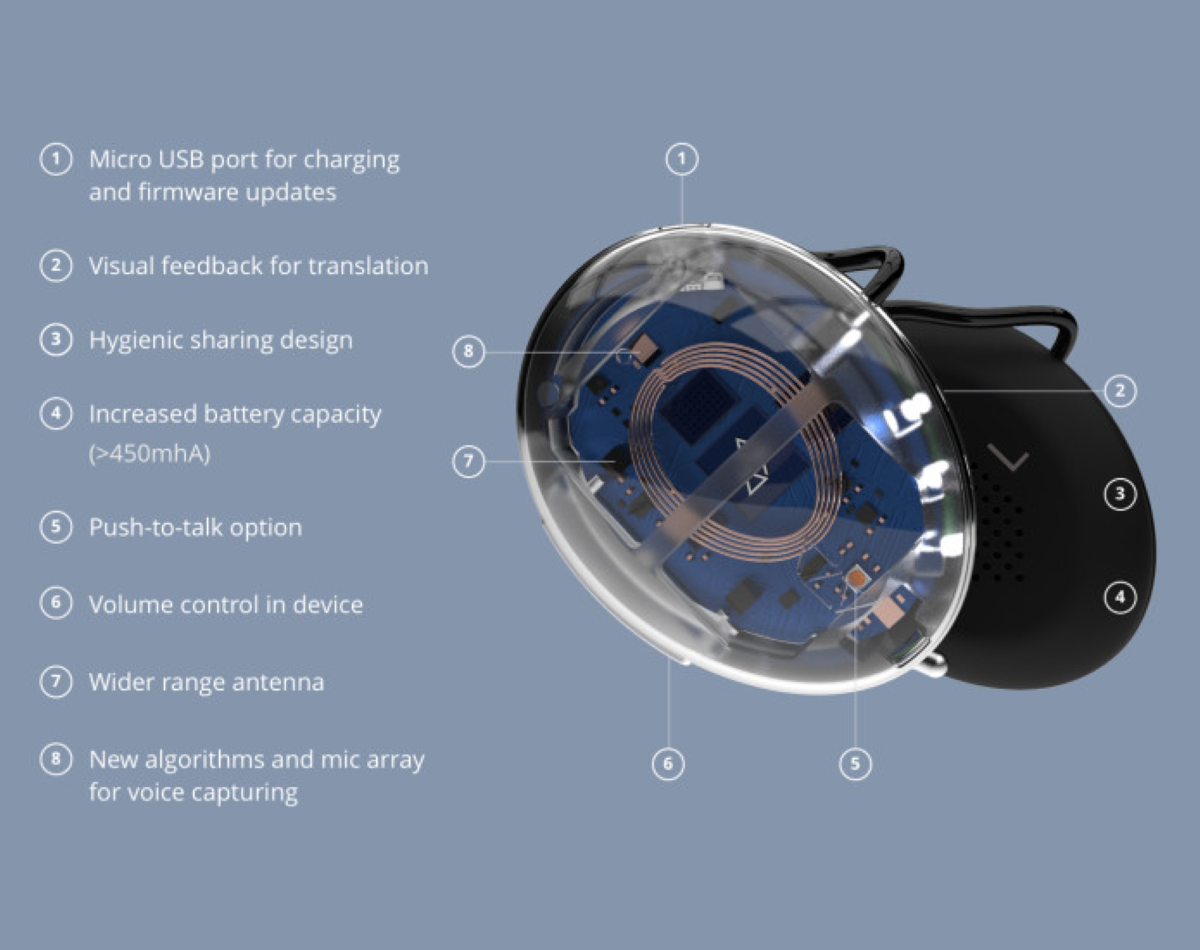 The Ambasaddor logo that's located at the outer side of each headphone (centered closed to the bottom of the outer side) works as a small easy-to-access touch control that allows users to swap between Continuous Voice Detection and Push-To-Talk voice recording modes. At the back of each headphone there are volume controls to increase and decrease the voice assistant's (Interpreter's/Translator's) volume.
BATTERY & BATTERY LIFE
The Ambassador Headphone features increased battery capacity (>450mhA), offering its users up to six hours of battery life.
WHAT'S IN THE BOX?
Inside each package users will find: two (x2) Ambassador Headphone units, an included carrying bag, Dual Micro-USB Charging Cables to recharge both Headphones, and a detailed user Manual.
HOW DOES THE AMBASSADOR INTERPRETER WORK?
Each Ambassador Headphone comes equipped with an advanced far-field microphone array (its two built-in microphones) that records the users' speech with astounding levels of clarity, but also features smart processing algorithms that offer high-fidelity speech recognition.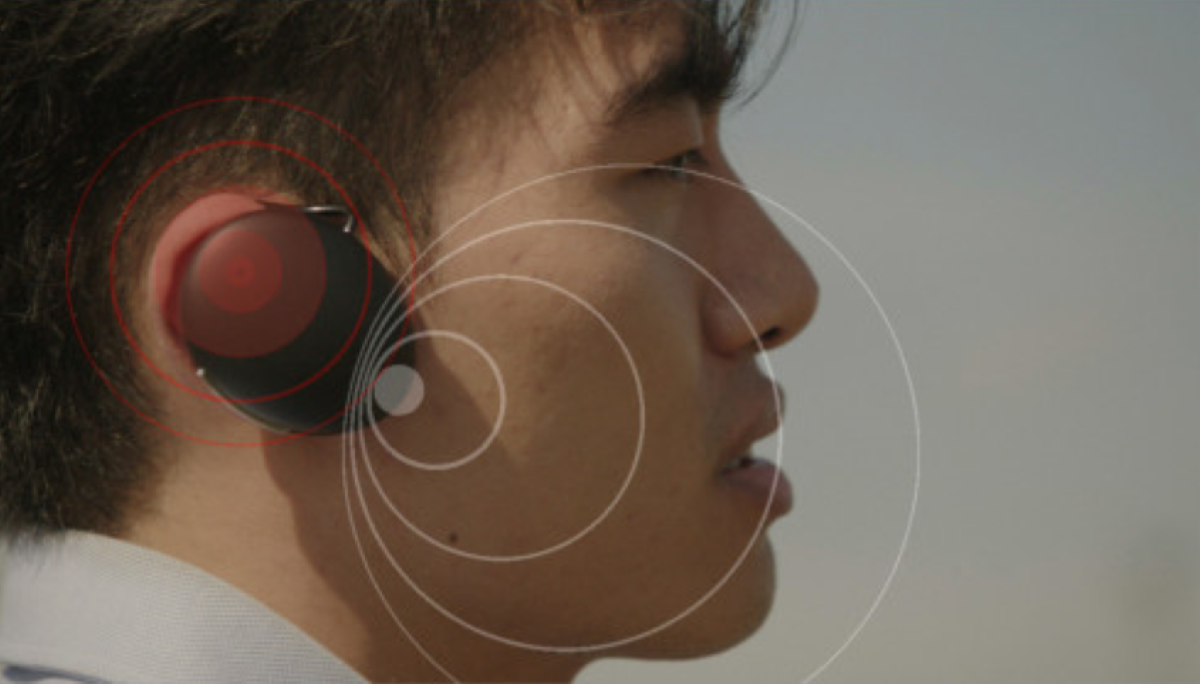 This allows the Ambassador Headphone to seamlessly compress and transmit the recorded speech signals to its cutting edge cloud-based neural network (running on the Smartphone's App) to recognize, translate and synthesize the speech into a new language to deliver fast, fluid and highly accurate translations.
OTHER NOTABLE FEATURES
Multi-Connectivity
The Ambassador Headphone is designed with convenience in mind so that it can be effortlessly shared between users. The Smartphone App can support up to four Ambassador devices, connecting them all together and establishing a speech recognition and translation network on the Smartphone via Bluetooth. This innovation makes sharing the device a truly smooth experience.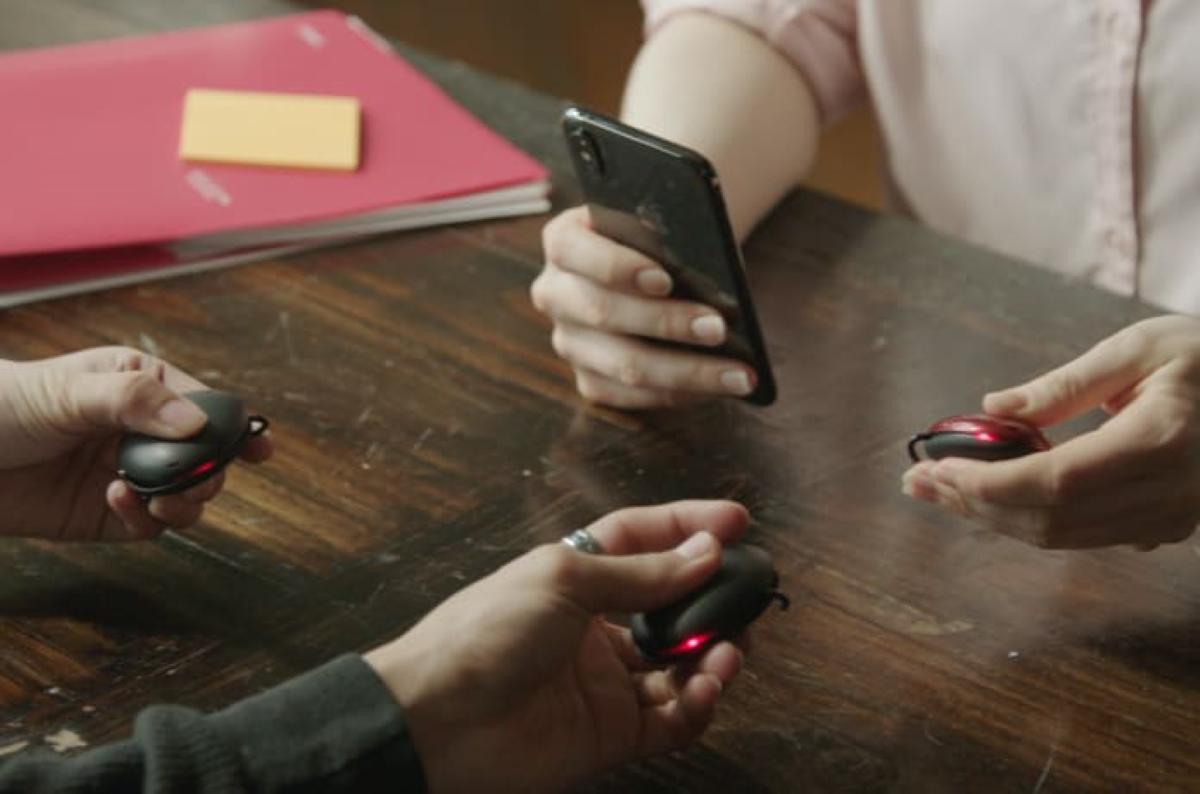 Multi-Language Support
The Ambassador Headphone can translate up to 20 languages and 42 dialects with guests and groups included.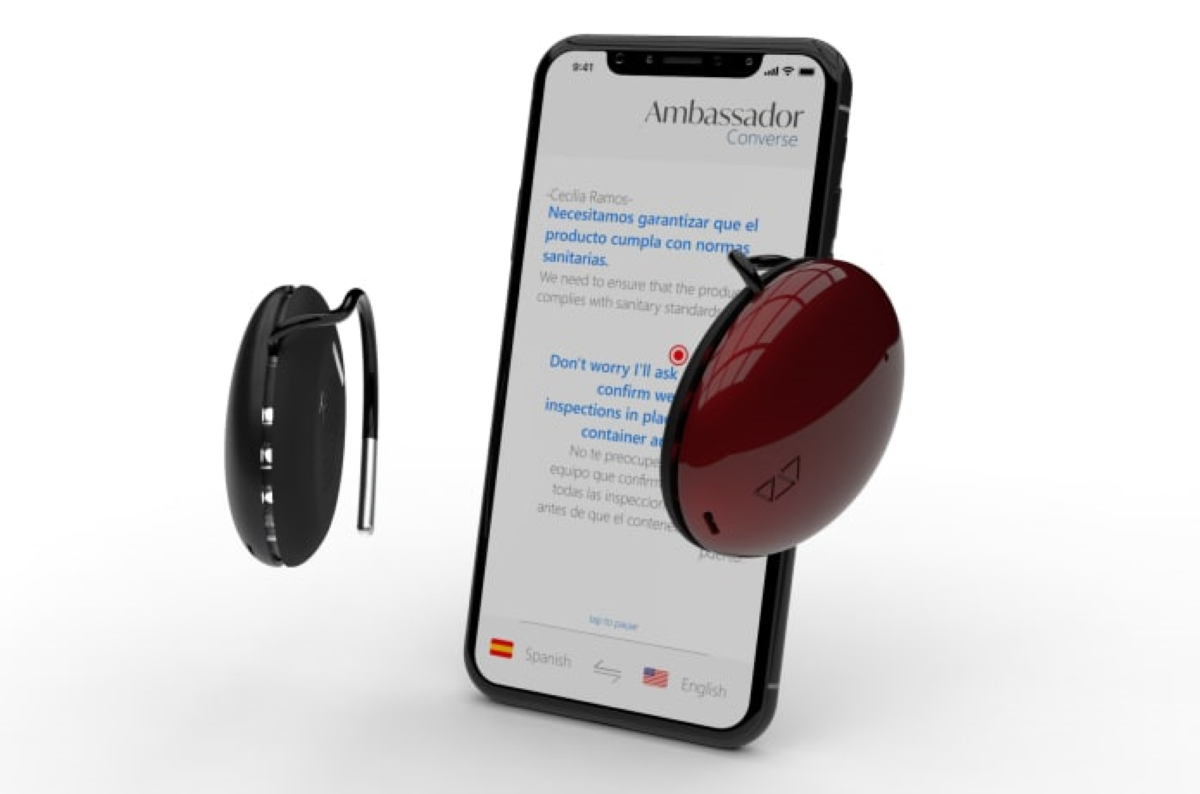 Multi-Modes
The Ambassador Headphone is incredibly easy to use and can be used in 3 different modes. After pairing their Ambassador devices with the Smartphone App users can enable the Listen Mode, Lecture Mode, or Converse Mode.
The Listen Mode triggers the Ambassador Headphone to actively listen for someone speaking near the user (within 8 ft – 2.5 m) and translate their speech into the user's native language. This mode is best used when traveling abroad and asking simple questions to local citizens, which will then have the Ambassador Headphone translate whatever they tell the user directly to the language that was selected.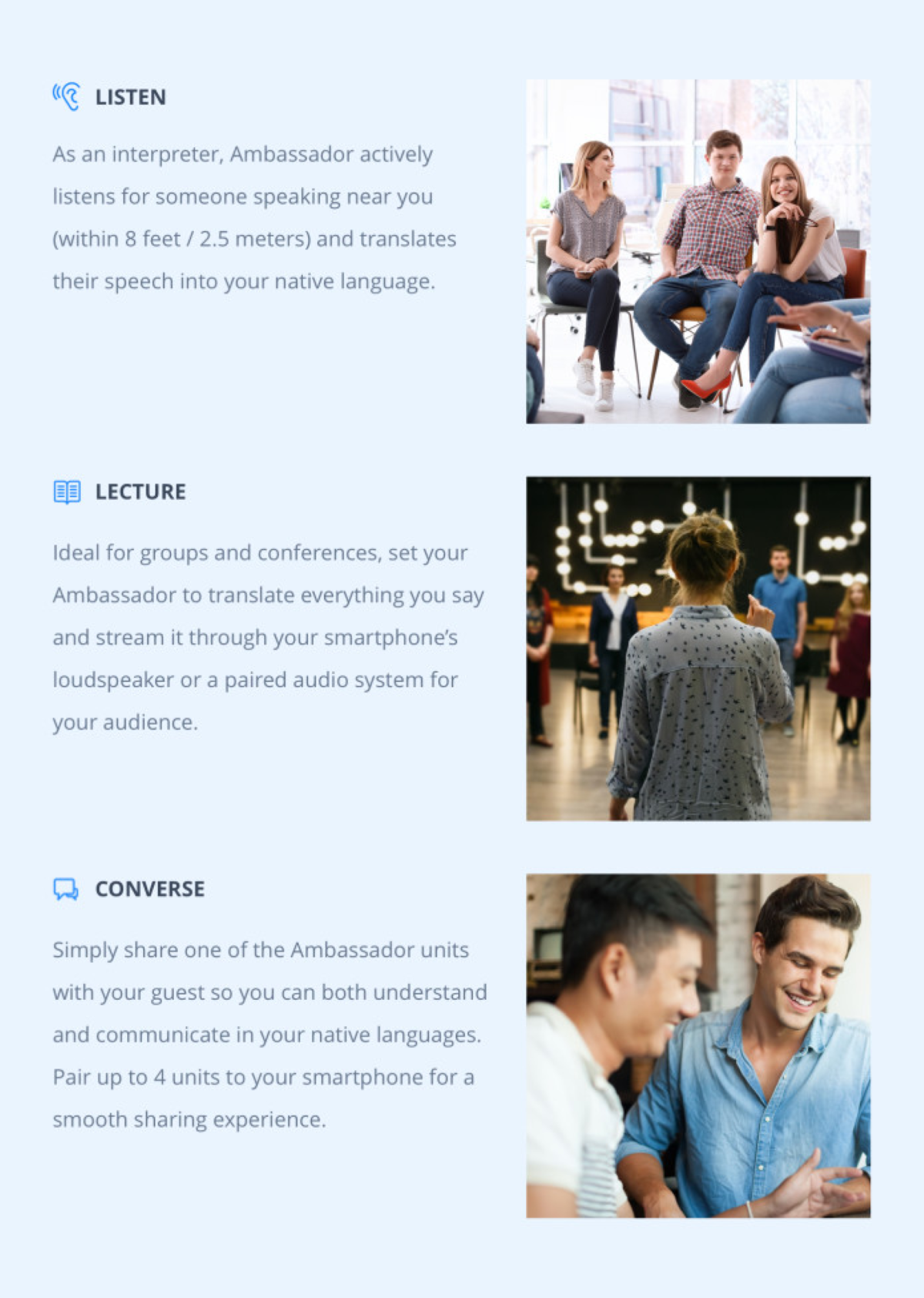 The Lecture Mode sets the Ambassador Headphone to translate everything a user says and streams it through the smartphone's loudspeaker or a paired audio system for the user's audience. This mode is great for School/University/Company Lectures.
The Converse Mode allows owners to share one of their Ambassador Units with their guests so that both sides can understand and communicate in their own native languages. This mode is great for teachers and students from different nationalities that speak different languages and face some language barriers, as well as for simple 1-to-1 conversations and any 3-way and 4-way conversations.
Infinite Use Cases
The Ambassador Headphone Interpreter is easily shareable and adaptable to a wide range of uses. This allows both owners and guest users to literally apply it to a ton of different scenarios, including Small Businesses, Education, Training, Hospitality, Events/Conferences, Entertainment, Travel, Medical/Treatment, Legal, and Family/Friend situations.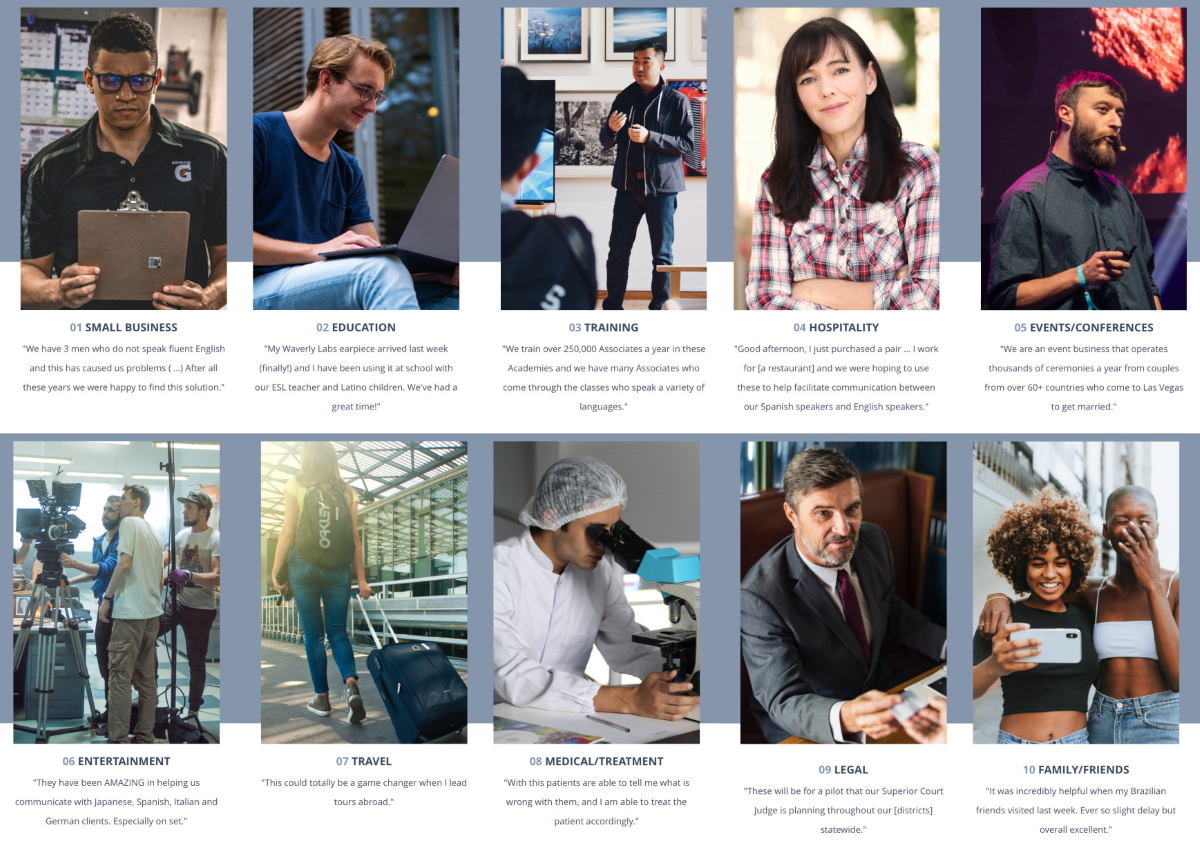 From training to travel and groups to solo, the Ambassador allows anyone to have smooth conversations free from the constraints of language barriers.
FINAL THOUGHTS
The Waverly Labs Ambassador Headphone Interpreter easily translates users' speech with extremely high accuracy. The device is great for both professionals and travelers of all backgrounds.
Whether you're a passionate explorer that travels a lot, a teacher that works with students from different countries, or a business professional that works with tons of foreign clients, the Ambassador Headphone Interpreter is the perfect tool to help you bypass and overcome all of your language boundaries.
The Ambassador Headphone Interpreter is currently available in two different color models: Black and Wine Red.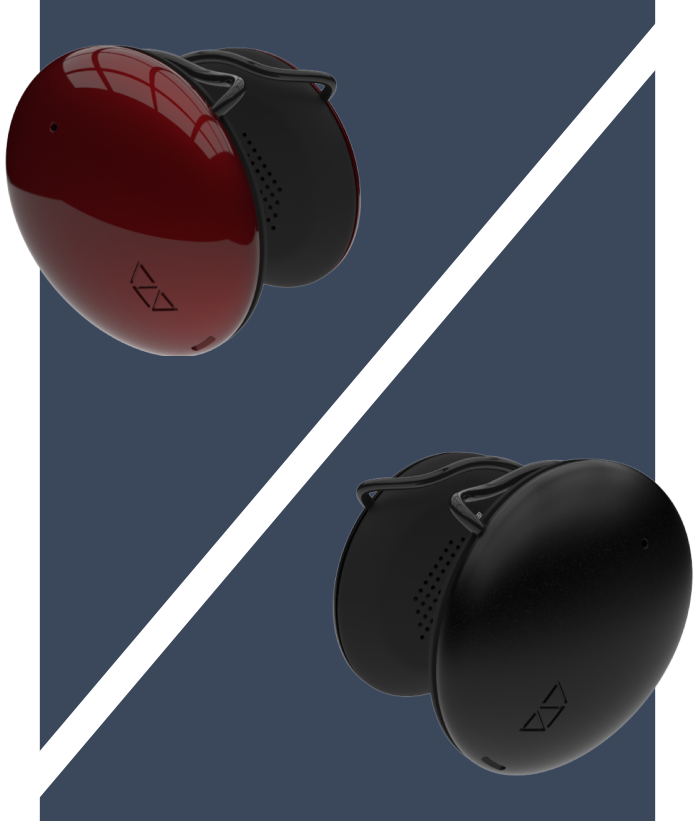 If you're interested in getting the Waverly Labs Ambassador Headphone Interpreter, you can get your pair (or pairs) of headphones right now by supporting Waverly Labs' Indiegogo Crowdfunding Campaign, which is about to come to an end.
Most early bird packs (the cheaper ones – 50% off and 33% off) are already gone, but there's still one left – the Ambassador Early Bird Pack with a 15% off from their future price – so it might be worth to get your hands on an early version if you really want to get them. Pledging a minimum of $129 dollars to Waverly Labs' Crowdfunding Campaign will get you the Ambassador Early Bird perk (brings everything described in the "What's in the box?" section).
You can order yours online right now via the corresponding crowdfunding campaign, which you access by clicking this link.