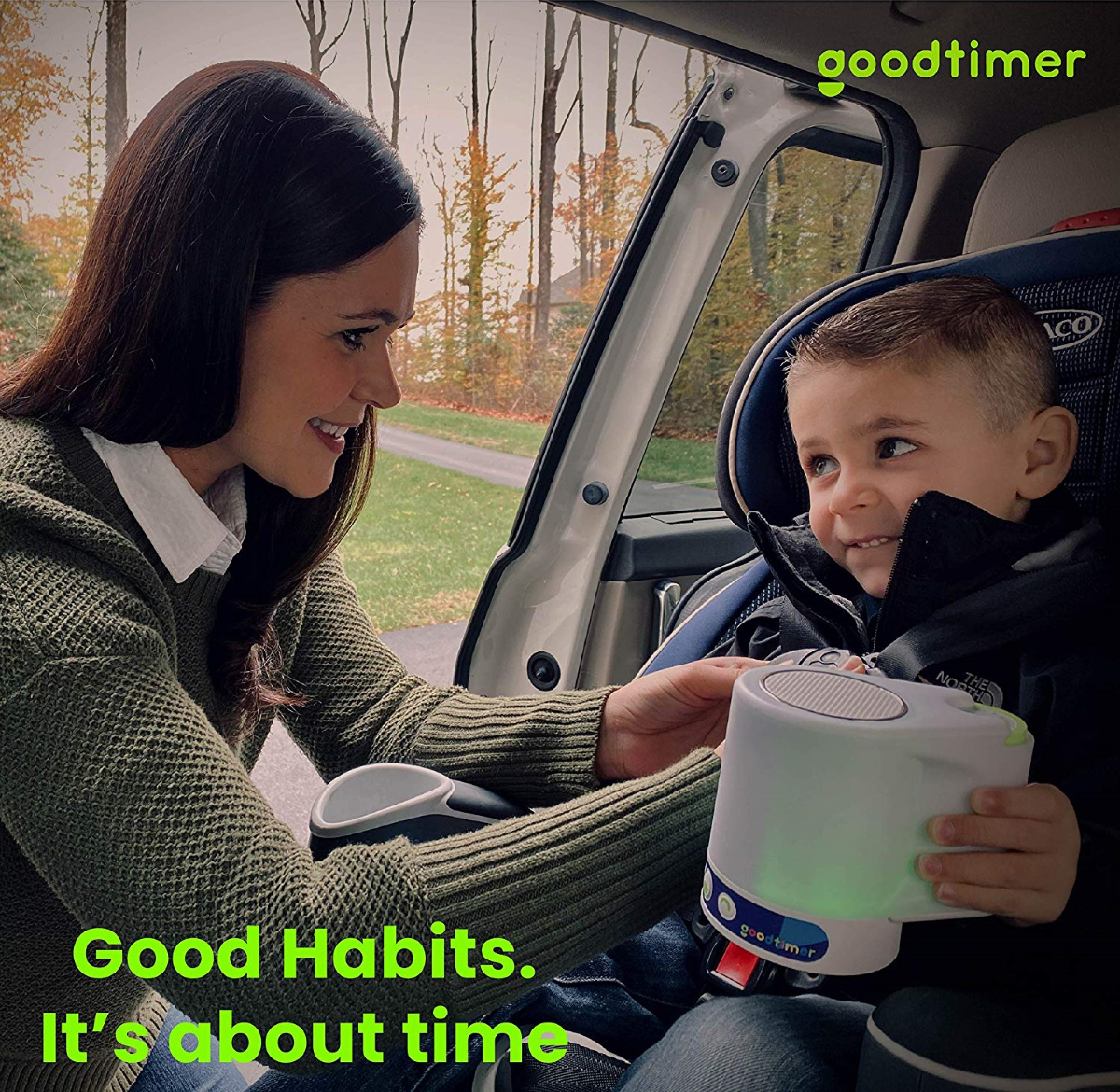 If you and your family are looking for the best way to make a make a positive start in the new year, then the Goodtimer is your answer.
The Goodtimer is basically a habit-forming, educational family toy and tech gadget that's backed by neuroscience and endorsed by child-development experts. Parents can use it to encourage their kids – from ages 3 to 10 – to form good habits by using positivity, tangible incentives and family participation.
Many parents complain about feeling frustrated and guilty after yelling and punishing their kids' bad behavior. In general, parents just want to be listened to. They want respect, and they want peace in their homes. However, it's important to remember that kids want exactly those same three things.
That's where the Goodtimer comes in handy. Its presence is a lot more than just a piece of equipment. This educational family gadget always puts a place for a very positive energy and really good vibes in your home.
Let's take a detailed look at it and see exactly how it works.
THE GOAL – HOW DOES IT WORK?
"Parents often get stuck finding solutions to challenges with their children's behavior that work for their specific family needs. The Goodtimer was created to help parents achieve a more peaceful home and connected family by incorporating positive parenting methods into an innovative product that is easy, effective and fun for the whole family."
The Goodtimer was developed to motivate children to form good habits by encouraging them to consistently make good choices in a way that is opposite to timeouts that punish unwanted behaviors.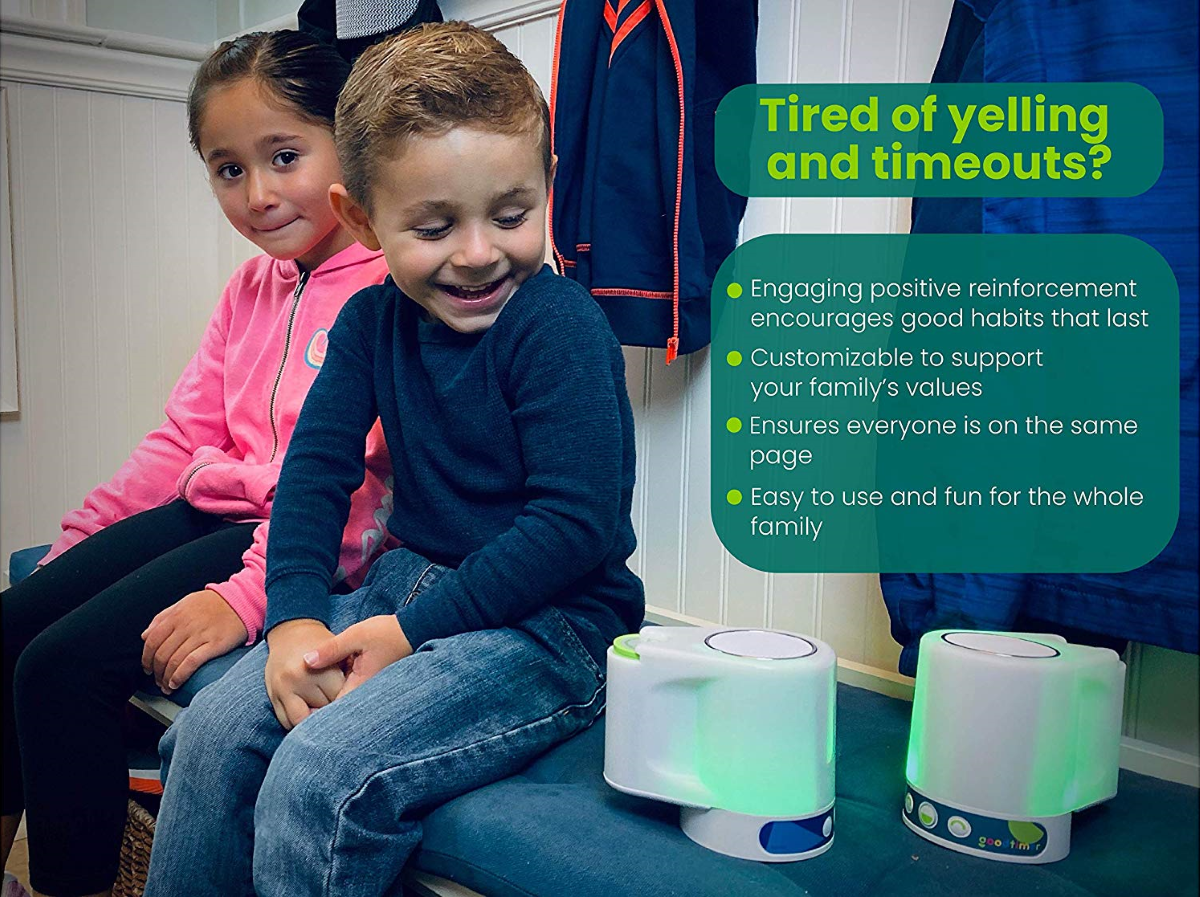 The main goal of Goodtimer is for your children to earn "Good Time" by following your family's house rules. Every time parents see their kids behaving and following rules, they can choose to reward them with "Good Time", which after a while will earn their kids one "Good Time Token".
First, a family establishes their house rules. Then, when children make good choices by following the house rules, they begin earning Good Time. Either the children or their parents just have to turn the device right-side up to generate Good Time.
The Goodtimer will then begin to glow green, a positive sound plays, and the device begins tracking Good Time. Goodtimer displays your child's performance by illuminating twelve glowing segments, similar to the hands of a clock. As the child continues to follow house rules and earn more Good Time, more segments are filled with green light, demonstrating your child's progress and performance in a way that's simple enough for a three-year-old to understand.
When enough Good Time has been earned, the device dispenses physical tokens that children can collect and save to exchange for incentives decided by their family. These can be family board games, watching a movie together, etc. For creative parents that love to plan family activities, the sky is the limit. Each Goodtimer comes with a total of 32 reusable tokens.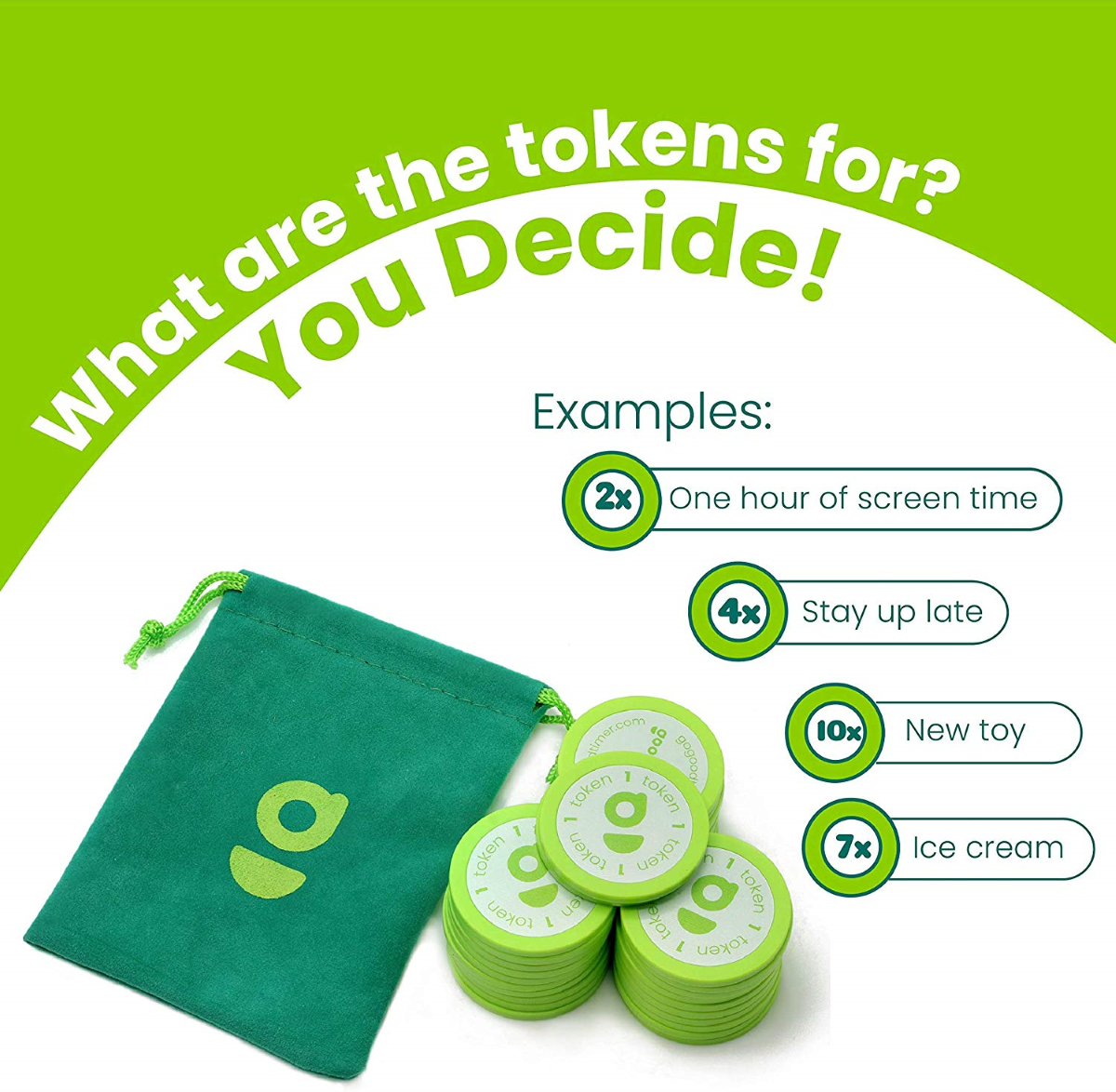 Rewarding good behavior is important, but having those tokens (something physical to hold on to and "value/cherish") helps children give more importance to good behavior, and ultimately helps to promote it.
DESIGN AND SPECS
The Goodtimer was designed with safety in mind. The device is toddler-tough, is water-resistant and drop-resistant, and features an impact-resistant body. Its Glowing Timer (the previously mentioned 12-segments timer) is simple enough for a 3-year-old to understand.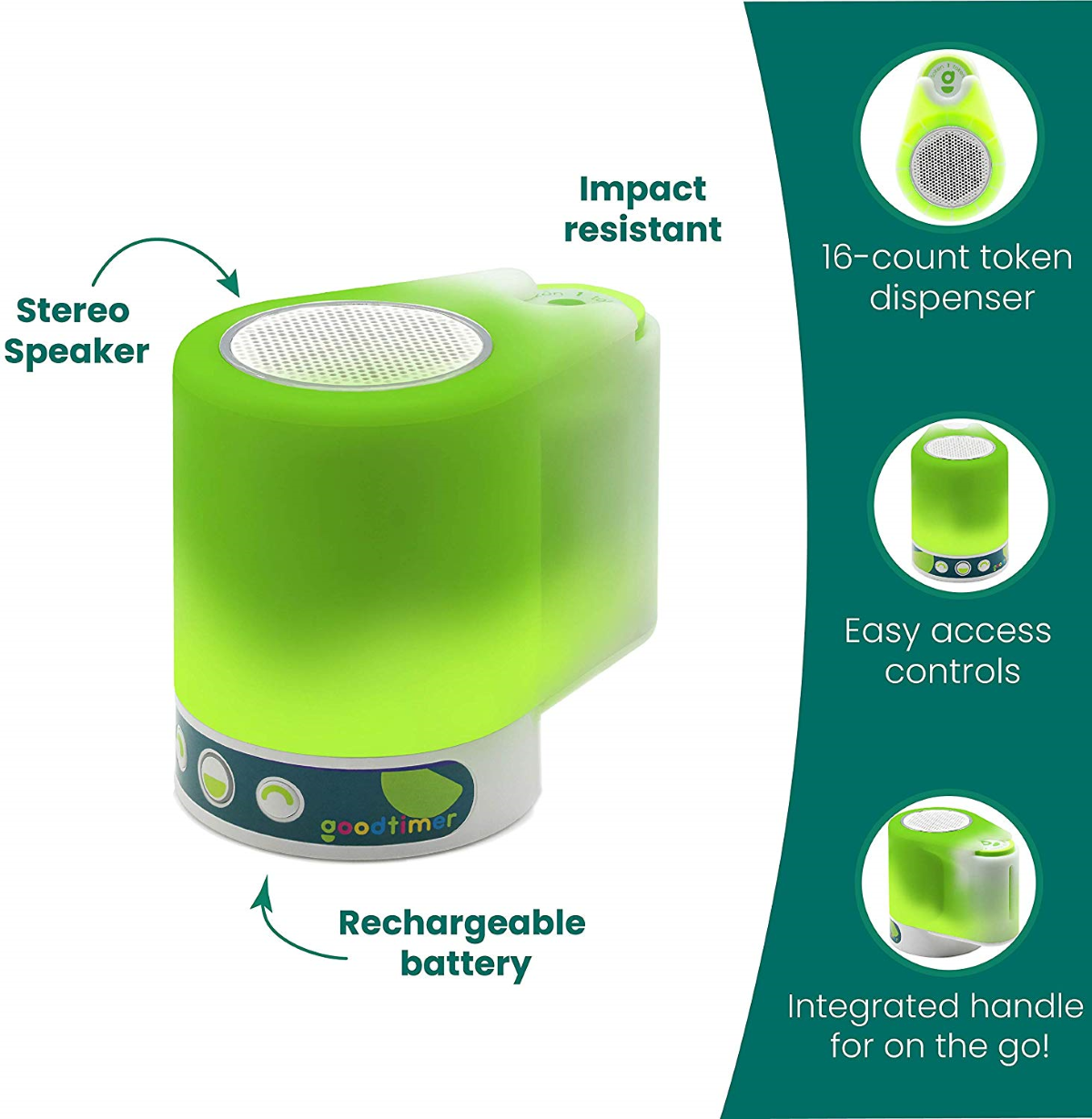 The Goodtimer features an integrated handle for when you and your family are on-the-go. The device also comes equipped with an integrated stereo speaker and features a token dispenser with a maximum capacity for 16 tokens and easy access controls for a better user experience.
BATTERY AND BATTERY LIFE
The Goodtimer also comes equipped with a built-in rechargeable battery that lasts up to 5 days with each full charge.
WHAT'S IN THE BOX?
Inside each package, parents will find: the Goodtimer device, an included children's book, a 5V AC/DC adaptor and charging cable, 32 reusable tokens, a plush token pouch.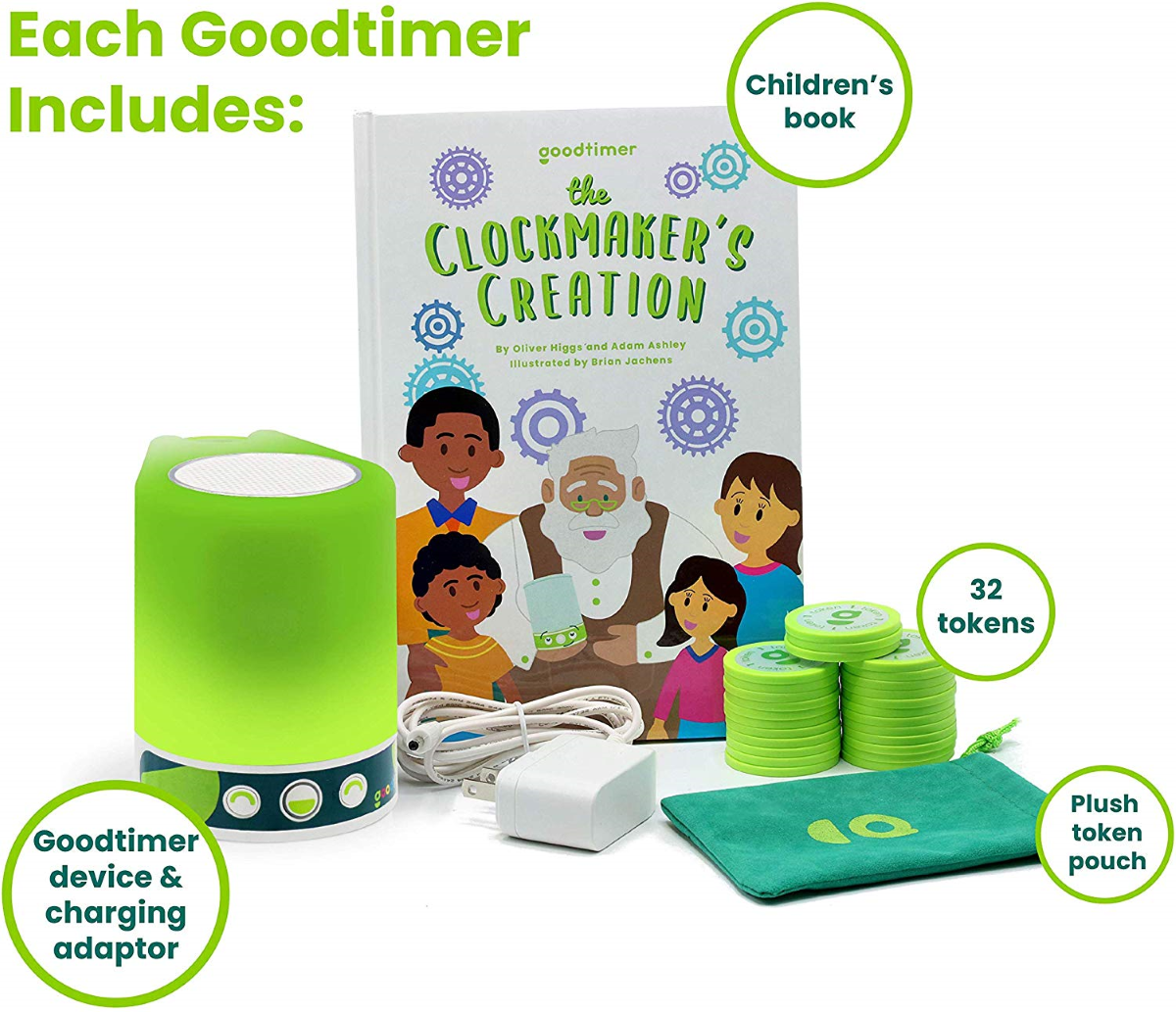 THE GOODTIMER BOOK
Each Goodtimer includes a children's book called "The Clockmaker's Creation" that tells Goodtimer's charming back story and provides families with guidance for how to use Goodtimer.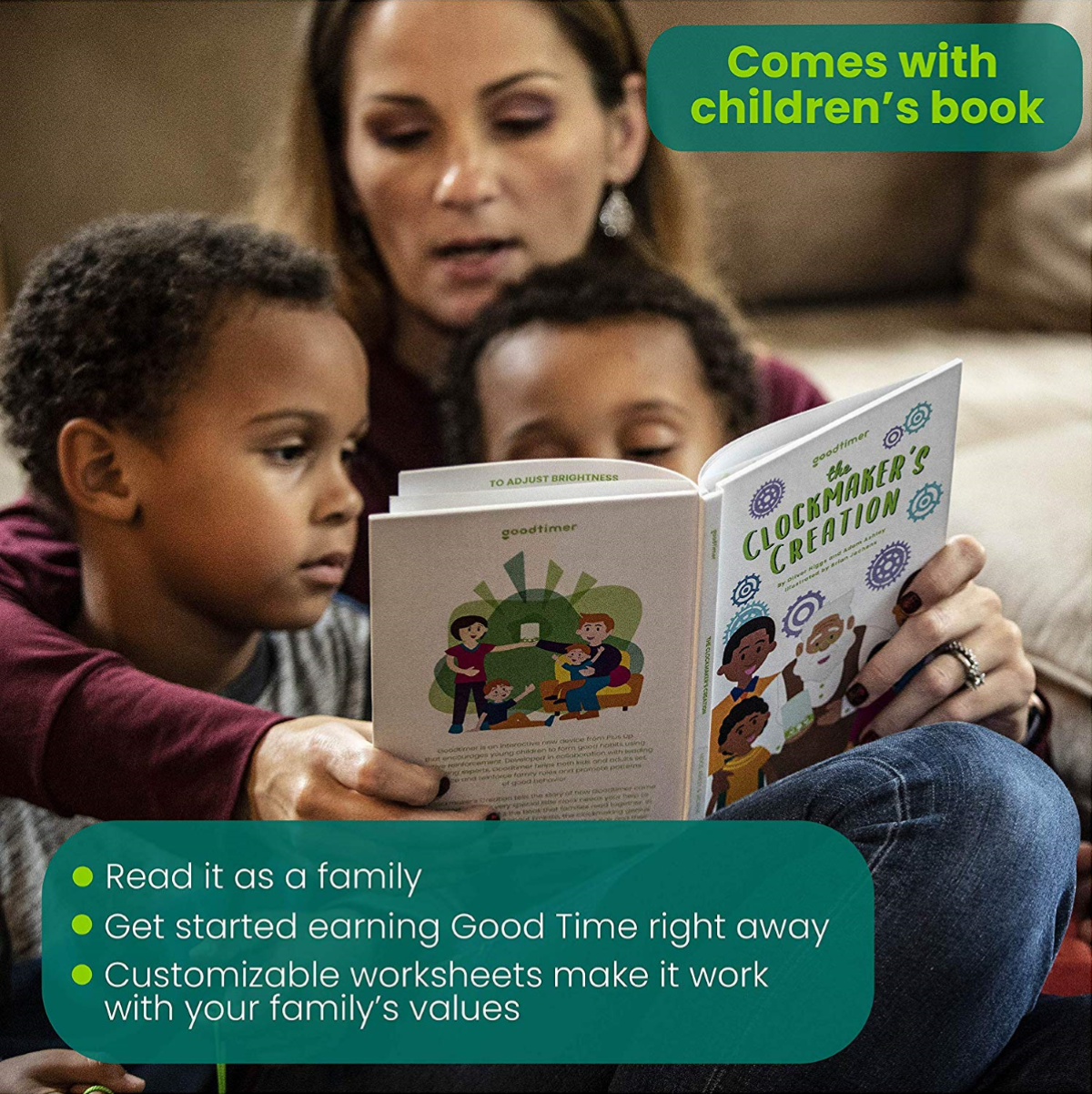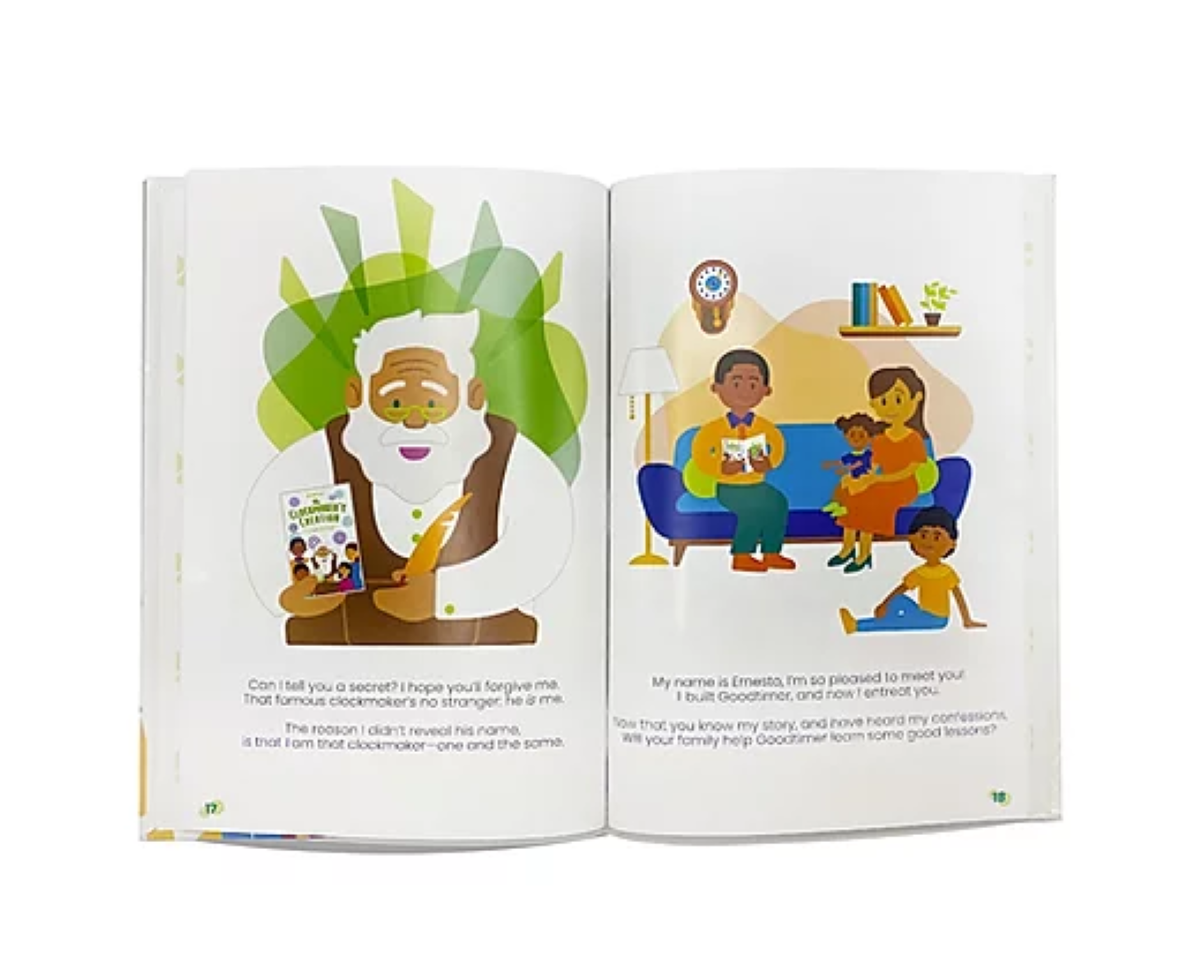 FINAL THOUGHTS
The Goodtimer is an amazing educational family toy and tech gadget that helps parents to encourage their children to form good habits by using positivity, tangible incentives and family participation.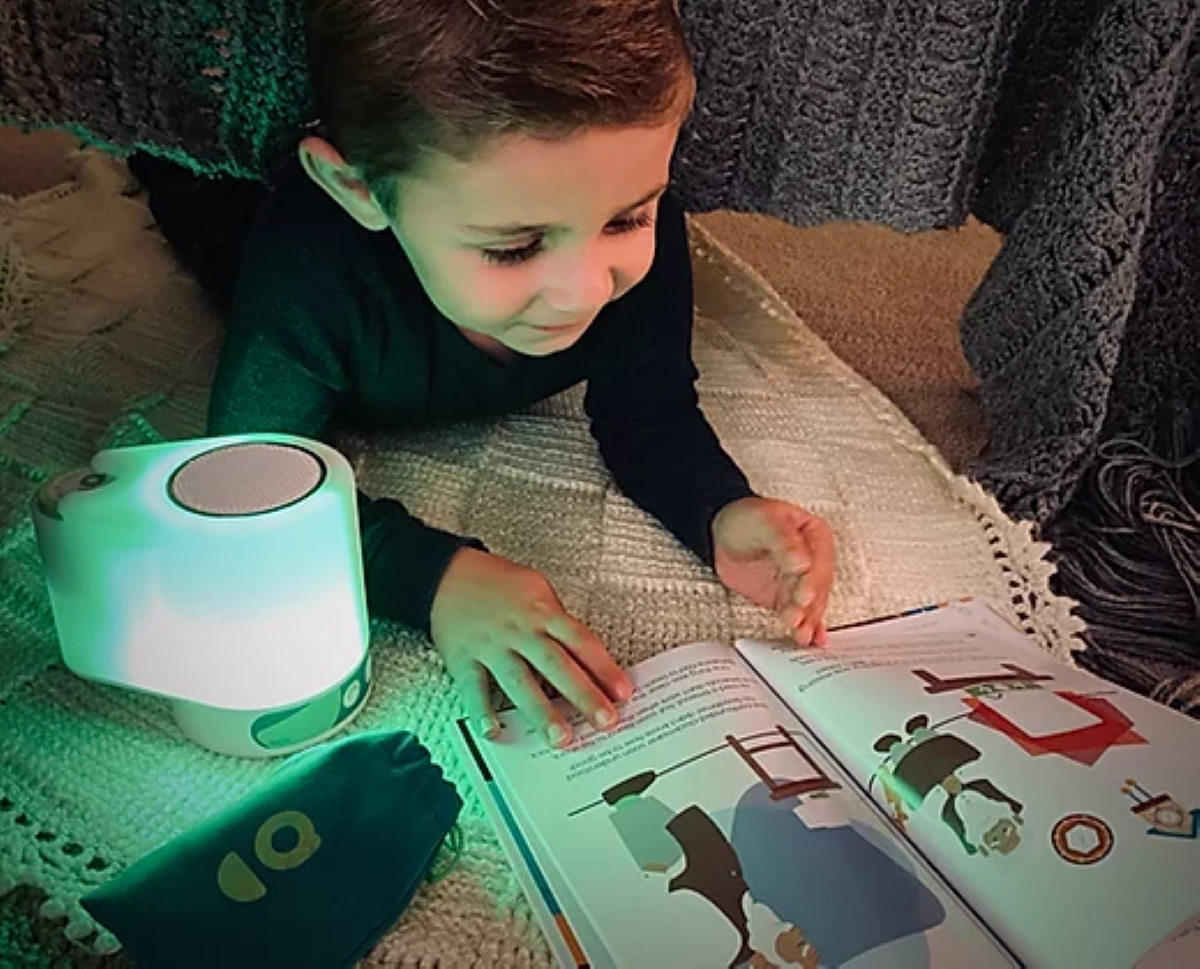 This family gadget would definitely make the perfect gift for families hoping to make a positive start in the new year.
If you're interested in buying it, each unit is currently discounted from its normal price of $149.95, now going for $100. You can order yours online, at the official website, which you can access by clicking here.