If you're looking for a digital pencil for your iPad, consider getting something like the Logitech Crayon – an amazing digital pen that works with all iPad 2018 releases and later.
The Logitech Crayon is a versatile, pixel-precise digital pencil that elevates the way teachers teach and students learn in K-12 classrooms (kindergarten to 12th grade).

With it, kids of all ages can get another dimension to learning, opening up new avenues of creativity for any class or curriculum. With a Logitech Crayon and an iPad together the only real limit is a student's imagination.
Let's have a deep look at it and check everything it has to offer.
DESIGN & SPECS
The Logitech Crayon is a small and lightweight stylus pen that's designed for most recent iPads (2018 or later). It measures 6.5 inches long by 0.5 inches wide by 0.3 inches tall (163 x 12 x 8 mm) when sitting flat on a table, weighing just 0.7 oz (20 g).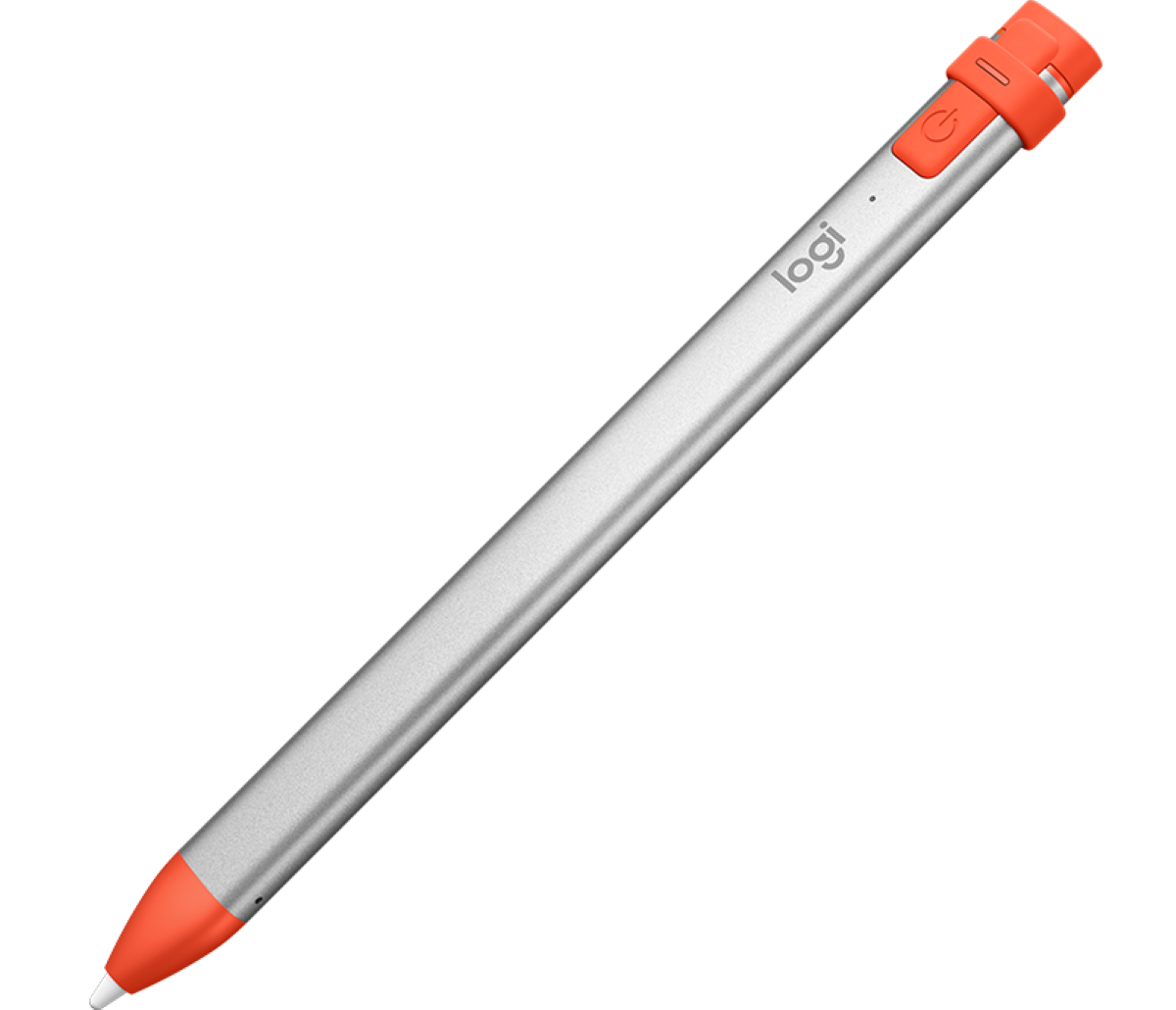 The Crayon was designed with a rectangular shape, allowing it to have a proper shape that easily lets it stay put and in place.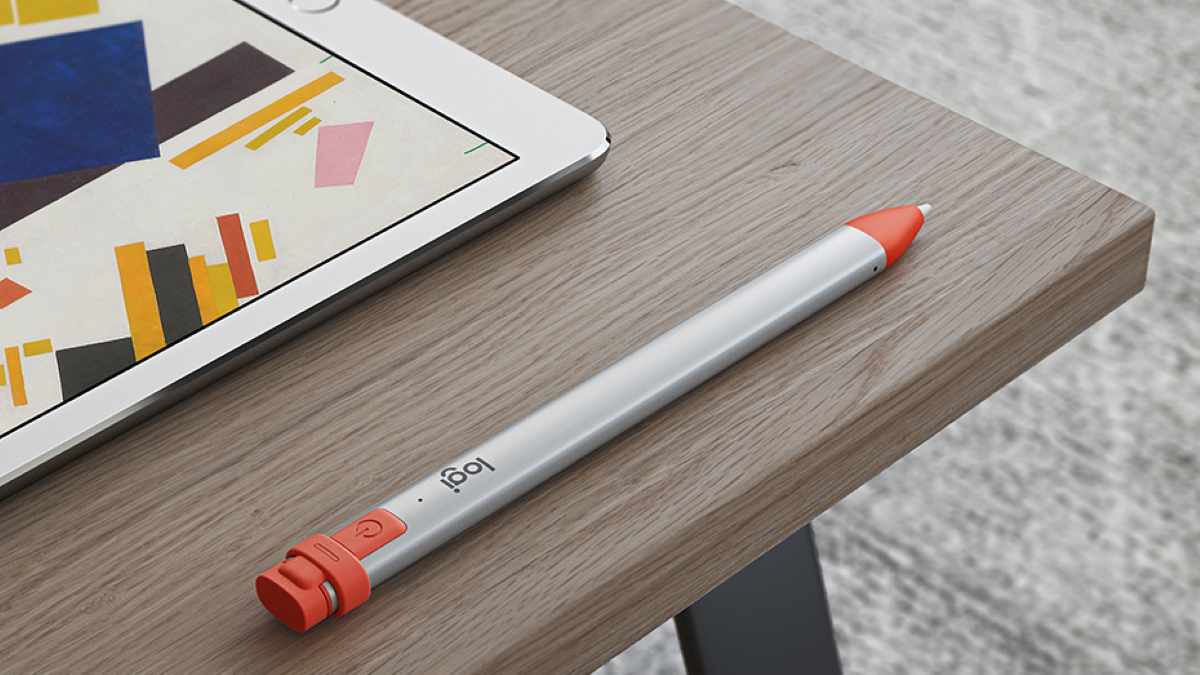 Its unique design features a flat shape that allows the Crayon to stay exactly where you leave it, preventing it from rolling off desks or getting lost underneath shelves.
The Crayon's design is also kid friendly. All parents know just how curious younger kids can be. Curious kids love to pick, poke, and prod anything they can get their hands on so.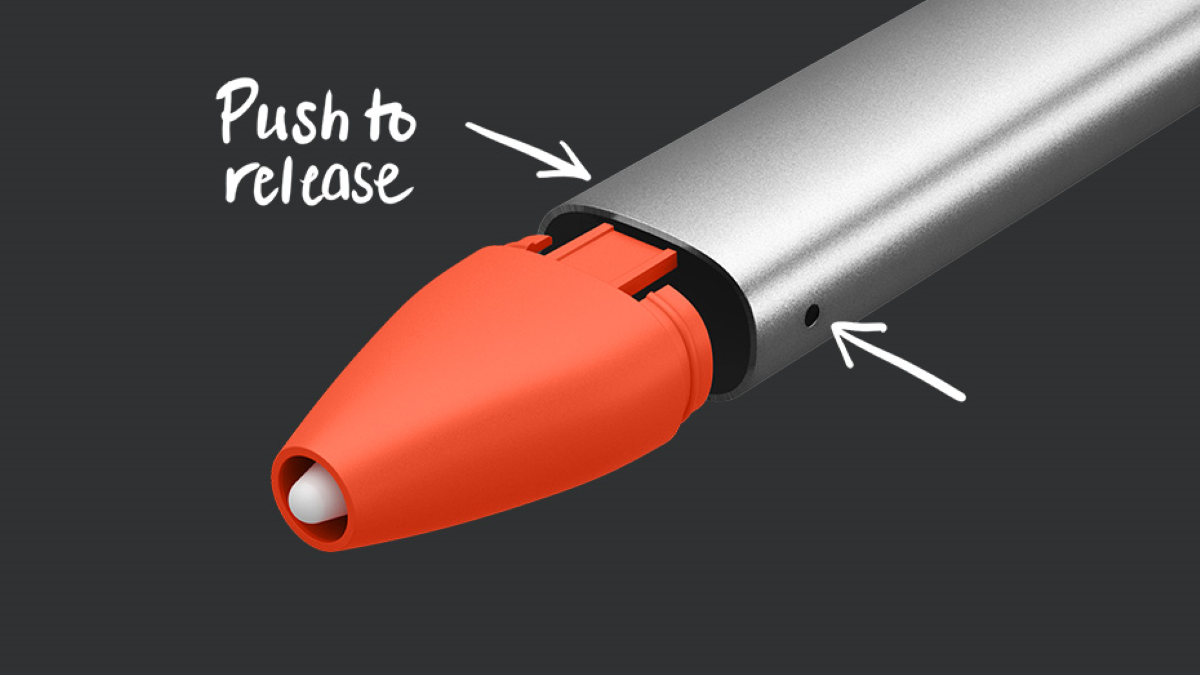 That's why the Logitech Crayon was built with key parts that are pry-resistant and replaceable. The Crayon's tip can't be removed by prying fingers, requiring a special tool.
The tip is completely replaceable, but it has to be purchased separately. At the same time, the rubber cap on the other end is tethered to Logitech Crayon to avoid being misplaced.
This digital pen was also built with durability in mind. Its tube (main body) is made of aluminum, its cap is made of silicon rubber and its skirt is made of PC+ABS materials. All these high-quality materials protect the Crayon from any average drops, offering 100% protection up to a maximum of 4 ft (1.2 m) drops.
The Logitech Crayon works precisely on point, working with absolutely no delays. This stylus pen offers zero perceptible lag time and extreme precision, all the way down to the pixel.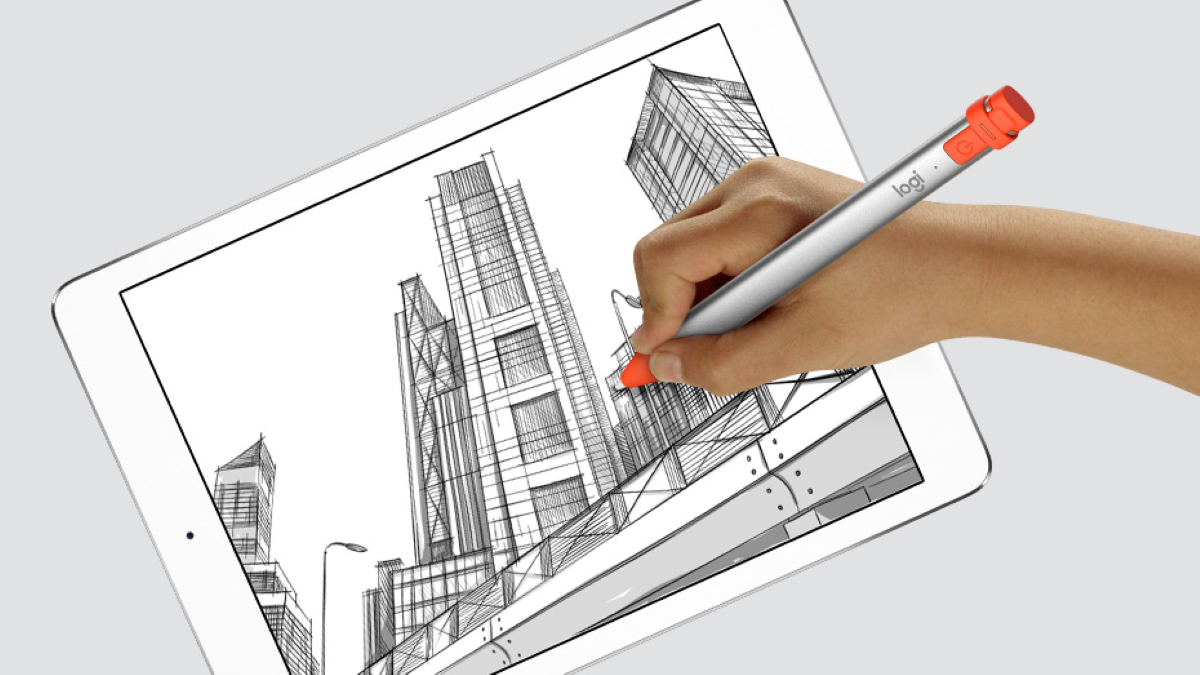 Users just need to worry about writing and drawing naturally without fearing of missing a single line or detail.
The Crayon also comes equipped with palm rejection technology that allows the digital pen to ignore any unintended/stray touches. This allows users to rest their palm on the screen while they write.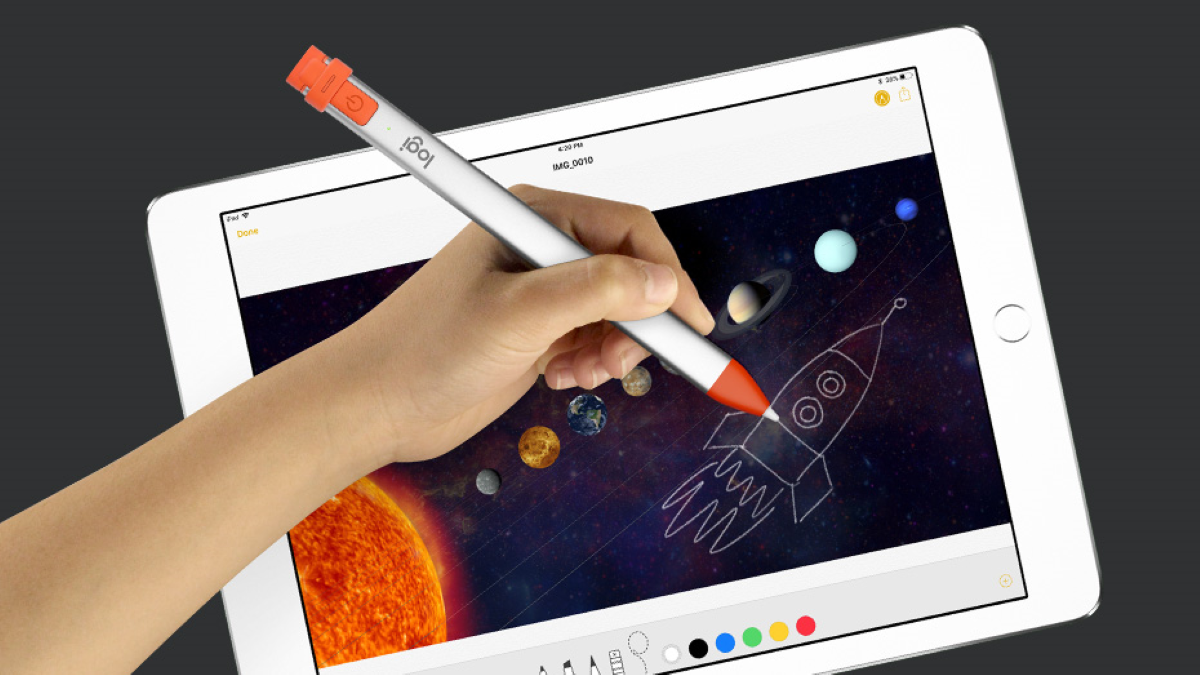 The iPad supports palm rejection for natural hand placement while using the Logitech Crayon. This way students can stop worrying about their hand placement and focus only on the task at hand.
The Crayon's tip is also tilt sensitivity for dynamic line weight, meaning that if you need a thicker or thinner line all you have to do is tilt the Logitech Crayon.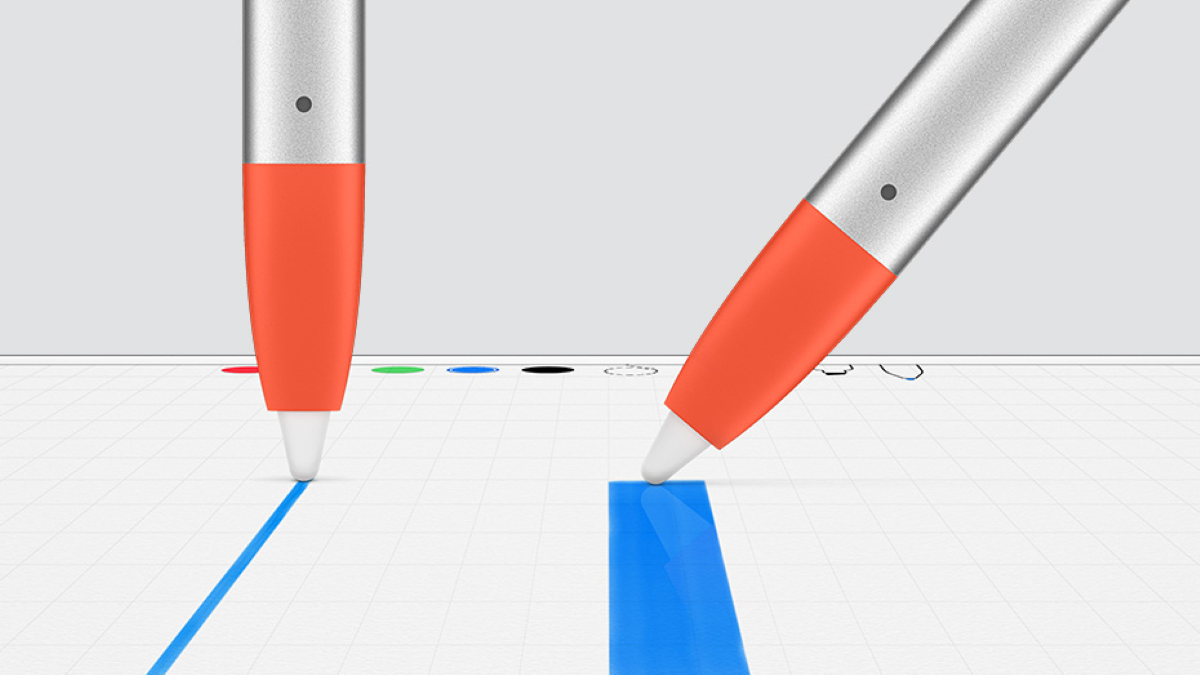 Its smart tip will then dynamically adjust line weight depending on the angle you place it down, making the Crayon work exactly like a regular pencil.
Turning this digital pen on and off is also extremely simple, and even younger kids can do it.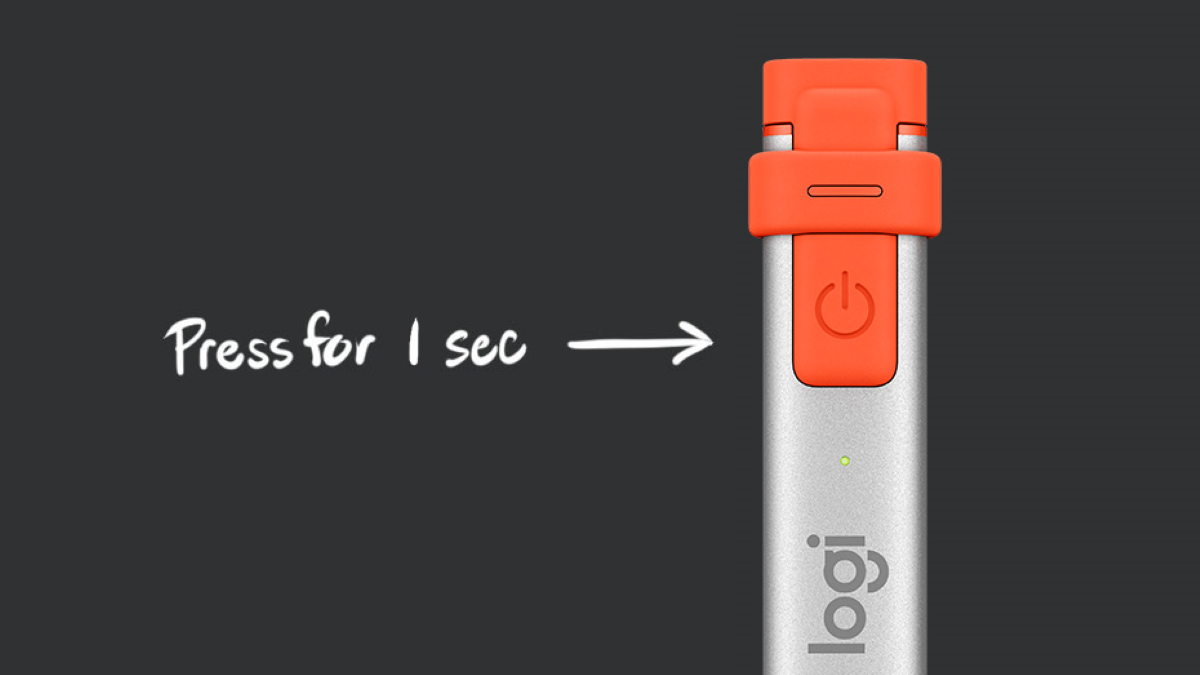 Users just need to press the Crayon's On/Off power button for one full second and their stylus pen will be ready to go.
BATTERY, BATTERY LIFE AND BATTERY INDICATORS
The Logitech Crayon comes equipped with a rechargeable lithium battery that offers up to 7.5 hours of writing time on a single charge, meaning its battery can easily last a full school day, making this digital pen perfect for students of all ages.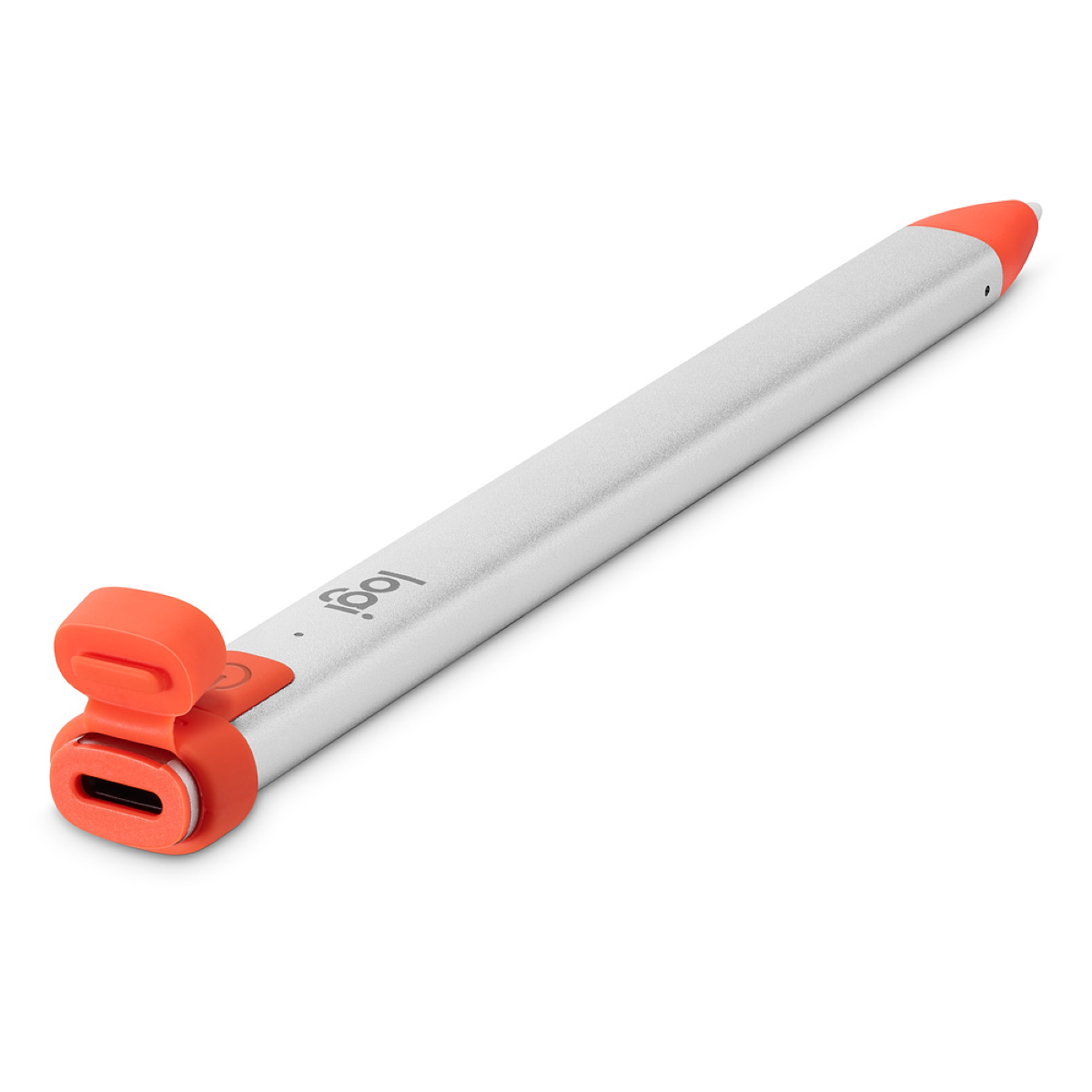 The Crayon's battery can be recharged with an iPad Lightning cable via its charging port, which is covered by a replaceable tethered cap. The best part is that if by any chance a student forgets to charge his Logitech Crayon before a class (or classes), there's absolutely no need to panic.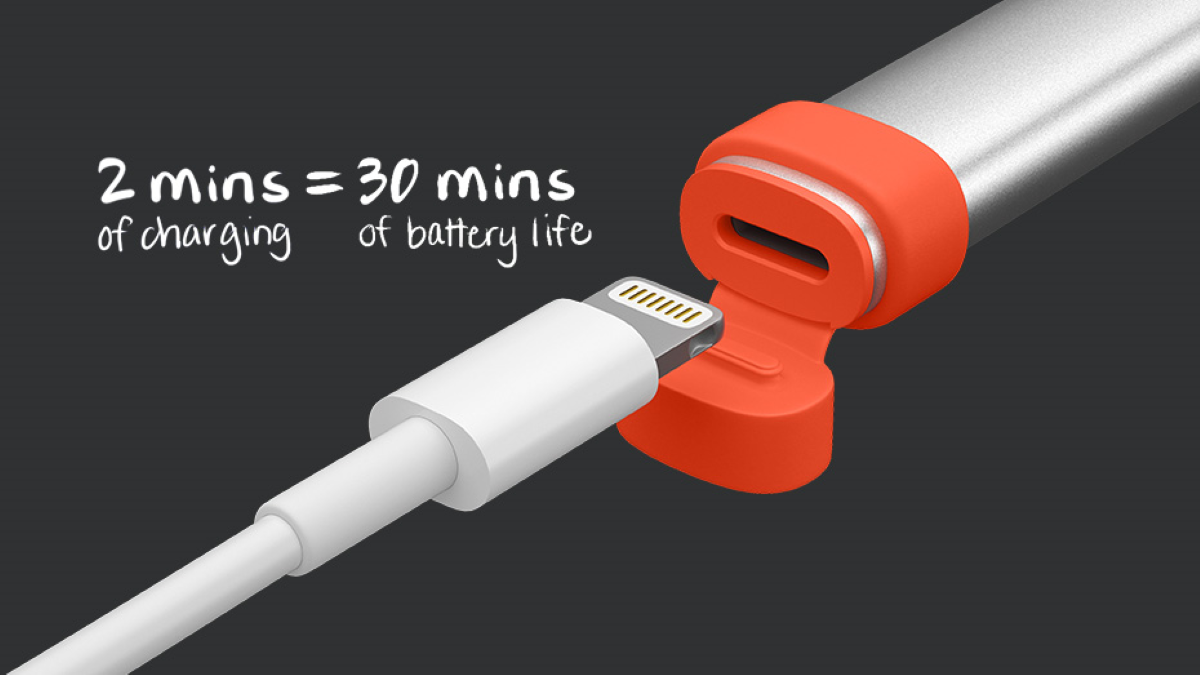 A fast 90 seconds to 2 minutes charging boost will provide 30 minutes of battery life for some quick digital writing/sketching, allowing students to take important notes.
The crayon's LED light (located right under the power button) also works as a battery life indicator. A short press on the On/Off button will quickly reveal useful information about the Crayon's current battery life.
If the Crayon's battery if above 10% capacity, a solid green light will be displayed. If its battery drops below 10% capacity, then a solid red light will be displayed instead. Whenever the battery is under 5%, the LED will blink with a red light.
COMPATIBILITY
The Logitech Crayon is compatible with most recent iPad models, including:
iPad Pro 12.9-inch (3rd gen) – Model Numbers: A1876, A2014, A1895, A1983;
iPad Pro 11-inch – Model Numbers: A1980, A2013, A1934, A1979;
iPad (7th gen);
iPad (6th gen) – Model Numbers: A1893, A1954;
iPad Air (3rd gen) – Model Numbers: A2152, A2123, A2153, A2154;
iPad mini (5th gen) – Model Numbers: A2133, A2124, A2126, A2125;
Keep in mind that all of the mentioned iPad models must be updated to iOS 12.2 and above for the Logitech Crayon to actually work.
FEATURES
Smart Battery Saving
The Crayon comes equipped with Smart Battery Saving technology, a smart power management system that automatically powers it off after 30 minutes of idle time, ultimately helping to preserve its battery.
Wide compatibility with tons of Educational Apps
The Logitech Crayon also works with a wide variety of Educational Apps that support Apple Pencil input.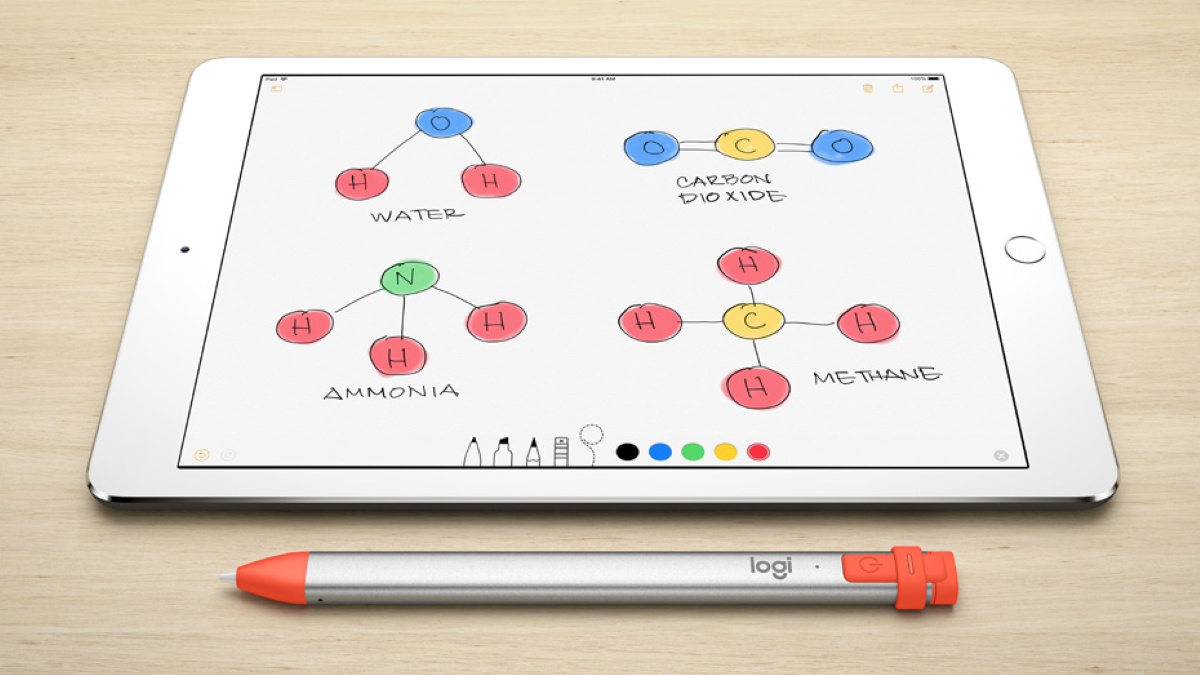 This means that whether students are looking to take notes in class, mark up a PDF, or sketch diagrams for a science lab, the Logitech Crayon is the perfect tool for the job.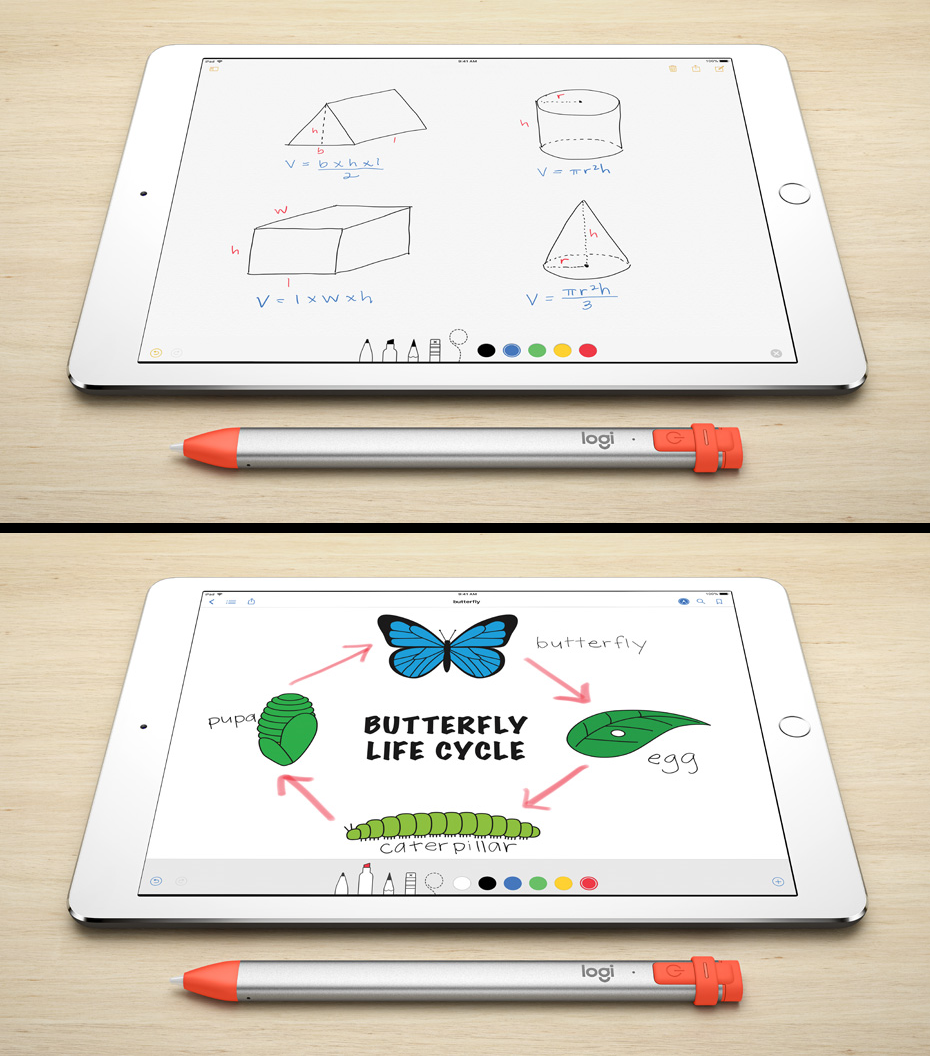 The best part about its wide App compatibility is that the list of indispensable classroom Apps just keeps growing non-stop, getting bigger every day.
FINAL THOUGHTS
The Logitech Crayon is super kid-friendly, offers up to 7.5 hours of battery life, features Smart Battery Saving and is widely compatible with a ton of Educational Apps.
This is without a doubt one of the best (if not the best) iPad digital pen/stylus pen for students of all ages available on the market. If you're looking for the best possible combo for your iPad (7th Gen), you can get a Logitech Slim Folio Case with Integrated Bluetooth Keyboard for iPad (7th Gen), which comes with a special Housing/Pocket-Sleeve that was specifically designed to precisely fit the Logitech Crayon.
The Logitech Crayon is currently available in two (x2) different color models: Gray (Full-Dark Gray) or Silver and Orange.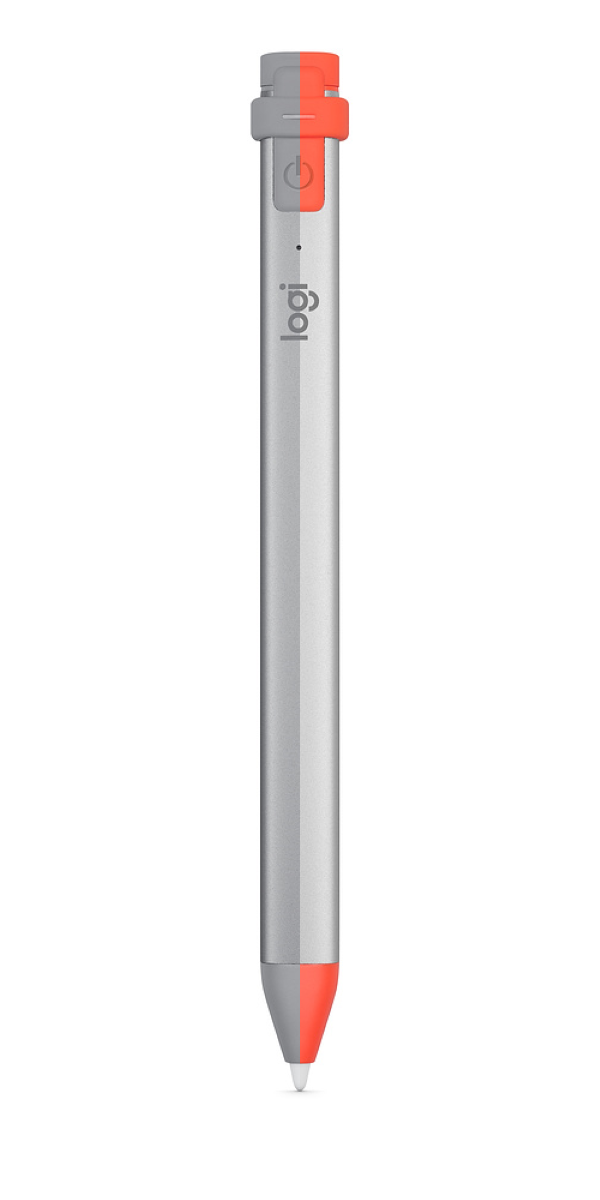 If you're interested in getting the Logitech Crayon, each unit is currently going for $70 (no matter what color model you pick), coming with a 3-year limited hardware warranty. You can order yours online, directly from Apple's official shopping page, which you can access by clicking here.