Massage guns are designed to help in relaxing muscle tightness and improving blood flow. They can be used virtually by all individuals experiencing pain; especially muscular pains. One of the best massage guns on the market is none other than the LifePro Sonic Mini Massage Gun.
The LifePro Sonic Mini is a super quiet massage gun that's used by healthcare professionals, doctors, trainers, and professional athletes to warm up before workouts and competitions, as well as after workouts and big sports games/events for the ultimate recovery.
The Sonic Mini is part of LifePro Fitness' SoarFX collection and its one of the most powerful recovery tools ever made by the company.
The Sonic Mini can help both beginner and professional athletes to reduce muscle tension, target trigger points, and ultimately promote a faster, smoother, and more effective recovery.
The Sonic's lightweight portable design lets you take it anywhere – the gym, track, sports club, or even the office. Implementing the massager in pre- and post-workout routines will keep your body optimally primed for overall better athletic performance.
Let's take a look at this small, yet amazing massage gun and check everything it has to offer.
DESIGN & SPECS
The LifePro Sonic Mini is a small, lightweight quiet massage gun that measures 6 inches long by 7.9 inches tall (the grip measures 5.5 inches tall by 1.75 inches wide) and weights just 2.5 lbs.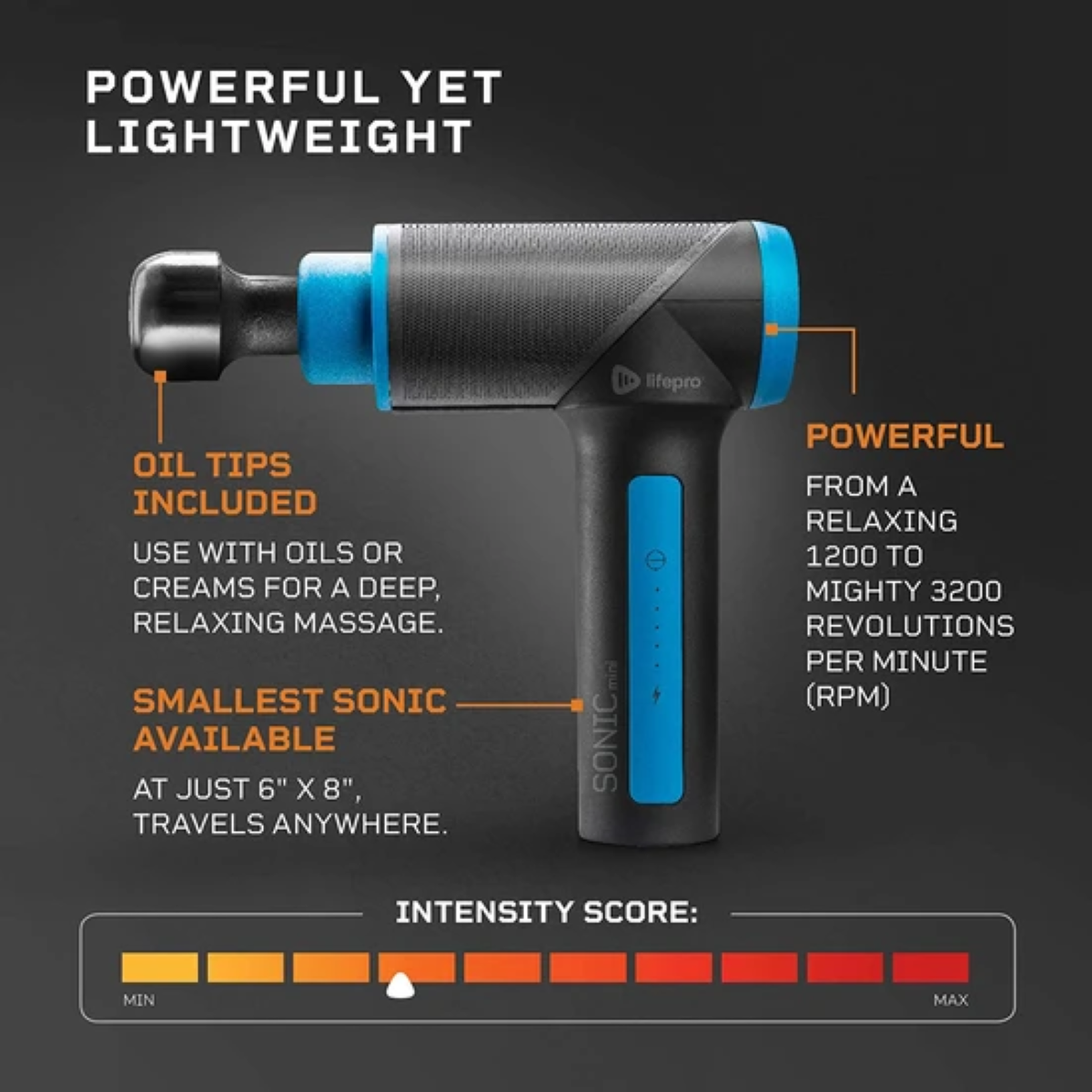 Its small and ergonomic handle makes it extremely easy to grip the massage gun, which is also extremely durable and, according to the company (LifePro Fitness) is guaranteed to last you a lifetime. The gun also comes with integrated soft-touch buttons for a smooth and comfortable user experience.
Thanks to the included oil tips (head-attachments – discussed further ahead), you can also use the gun for oil massages for an even deeper level of relaxation. The gun's included 6 interchangeable head-attachments are 100% waterproof and easy-to-clean.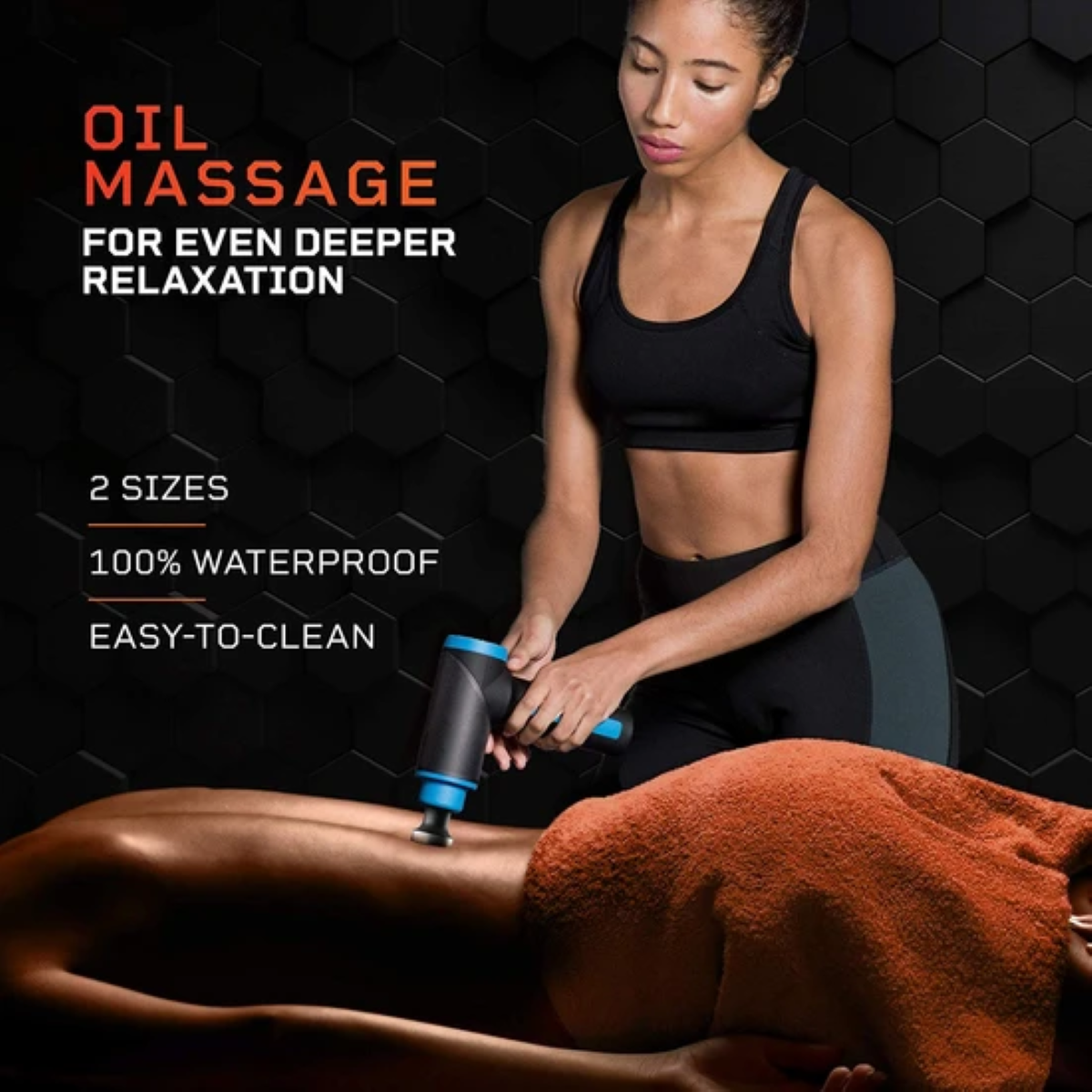 As stated before, this is a quiet massage gun, operating at a noise level of just 40 dB thanks to its Brushless Motor, which can work at many different frequencies (20Hz, 26Hz, 36Hz, 46Hz, 53Hz).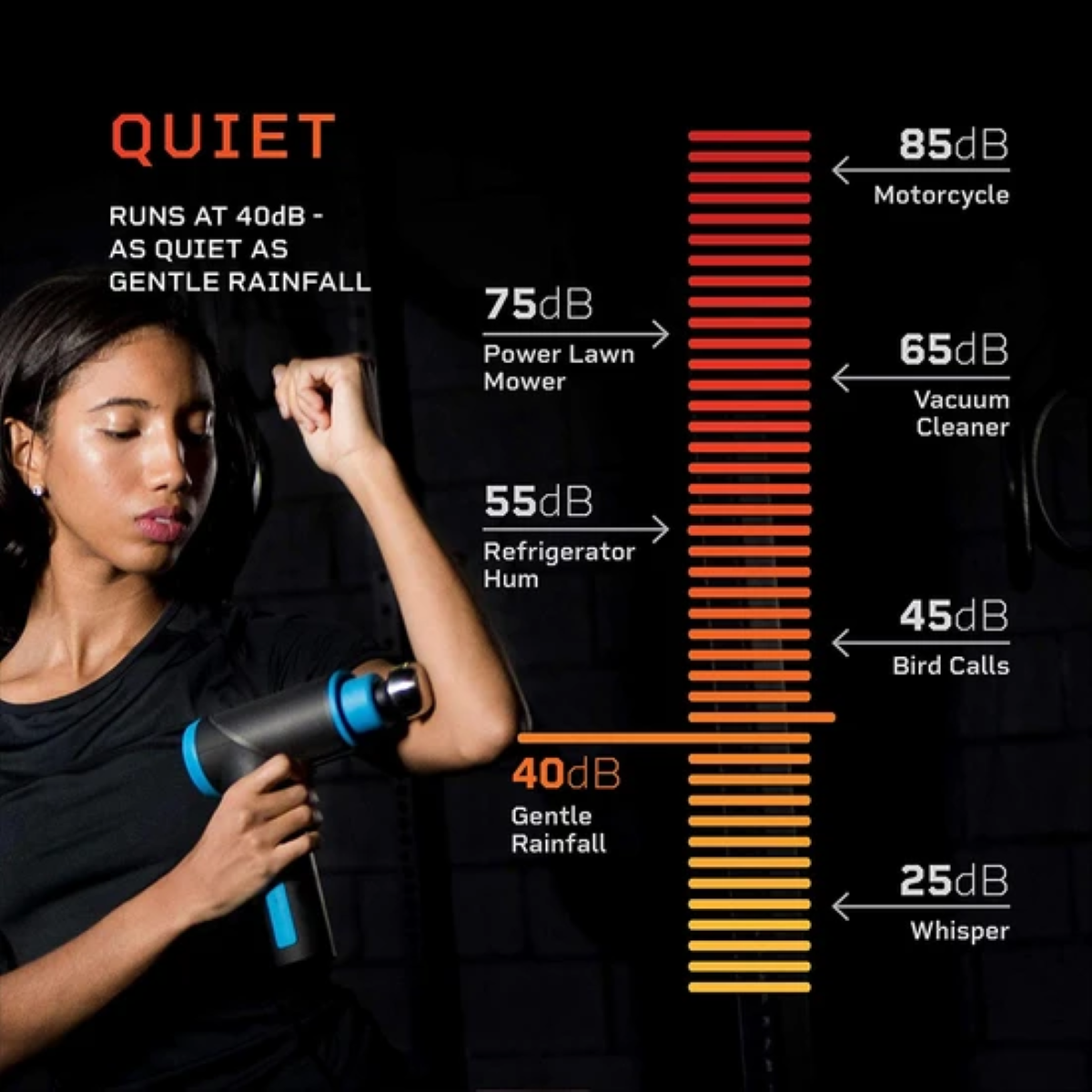 While the massage gun is indeed small and portable, its motor is a powerhouse, offering between 1200 to 3200 RPMs (revolutions per minute).
The LifePro Sonic Mini features a 5-Speed Vibration Frequency – 5 different levels of Stall Force – offering 26 pounds on its 1st speed, 35 pounds on its 2nd speed, 45 pounds on its 3rd speed, 50 pounds on its 4th speed, and a strong 55 pounds on its 5th speed.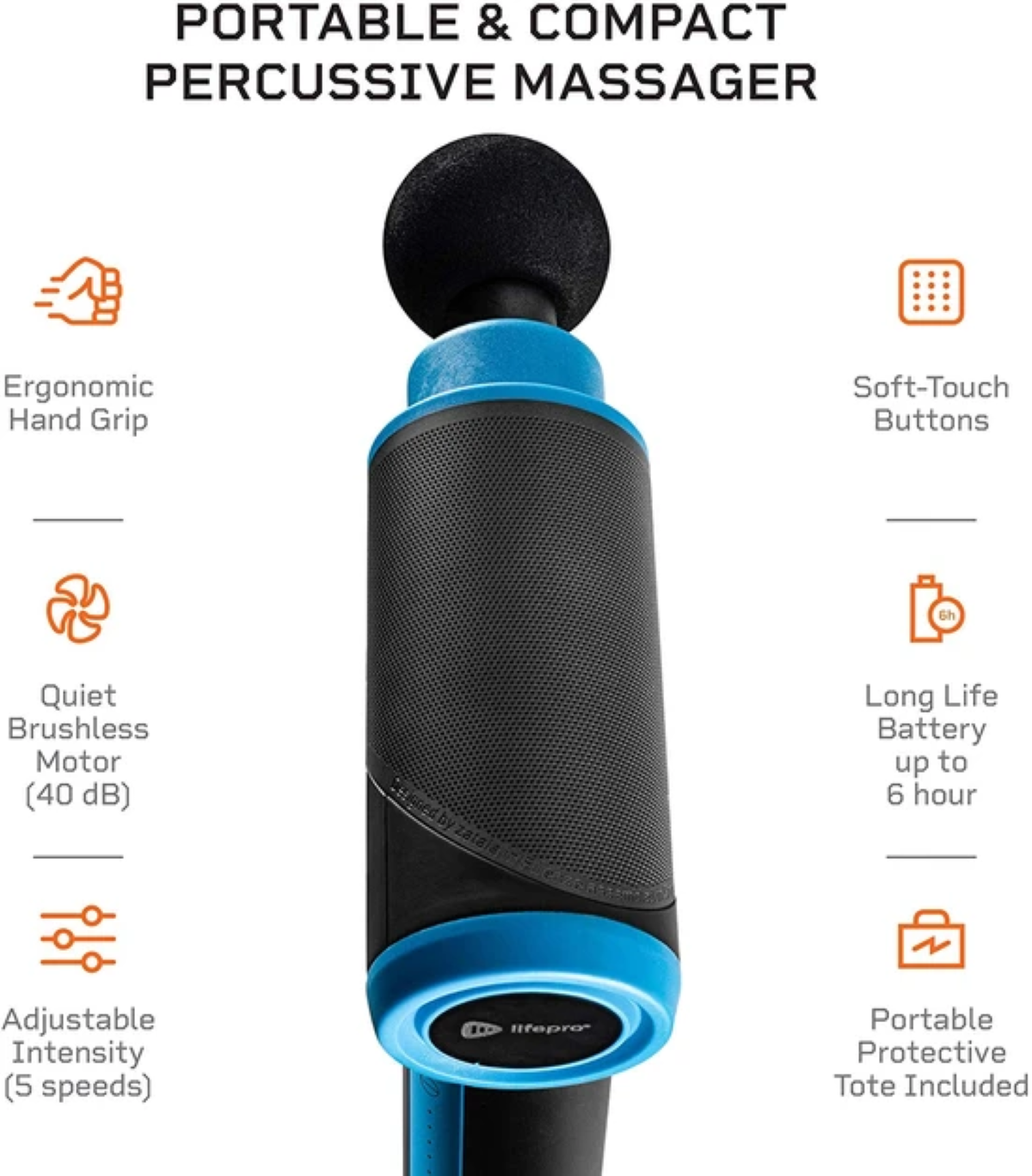 This massage gun features an Amplitude (maximum extent of a vibration or oscillation) of 11mm, operating between 15-160 Watts, depending on what speed level/frequency users have selected.
BATTERY AND BATTERY LIFE
The LifePro Sonic Mini comes with a built-in 2550 mAh Rechargeable Lithium-Ion 24V DC Battery that can offer up to 6 hours of runtime. Runtime can go anywhere between 3 to 6 hours, which will vary depending on what speed level users select as well as how much pressure they apply with the gun.
The Sonic Mini's LED lights pulsate to indicate its battery level, as well as letting users know when the device is actively charging.
The Battery's charging time last between 120 to 180 minutes.
WHAT'S IN THE BOX?
Inside each package users will find: their LifePro Sonic Mini quiet massage gun, its six (x6) included different interchangeable heads (Round, Flat, Bullet, Spinal, Round Steel, and Flat Steel), an included charging adapter (with integrated cable), an over-the-shoulder travel-tote protective carrying case (that easily and conveniently fits the massage gun and all of its attachments and charging adapter), one Owner's Booklet (with access to Training Videos and Live Support) and the User's Manual.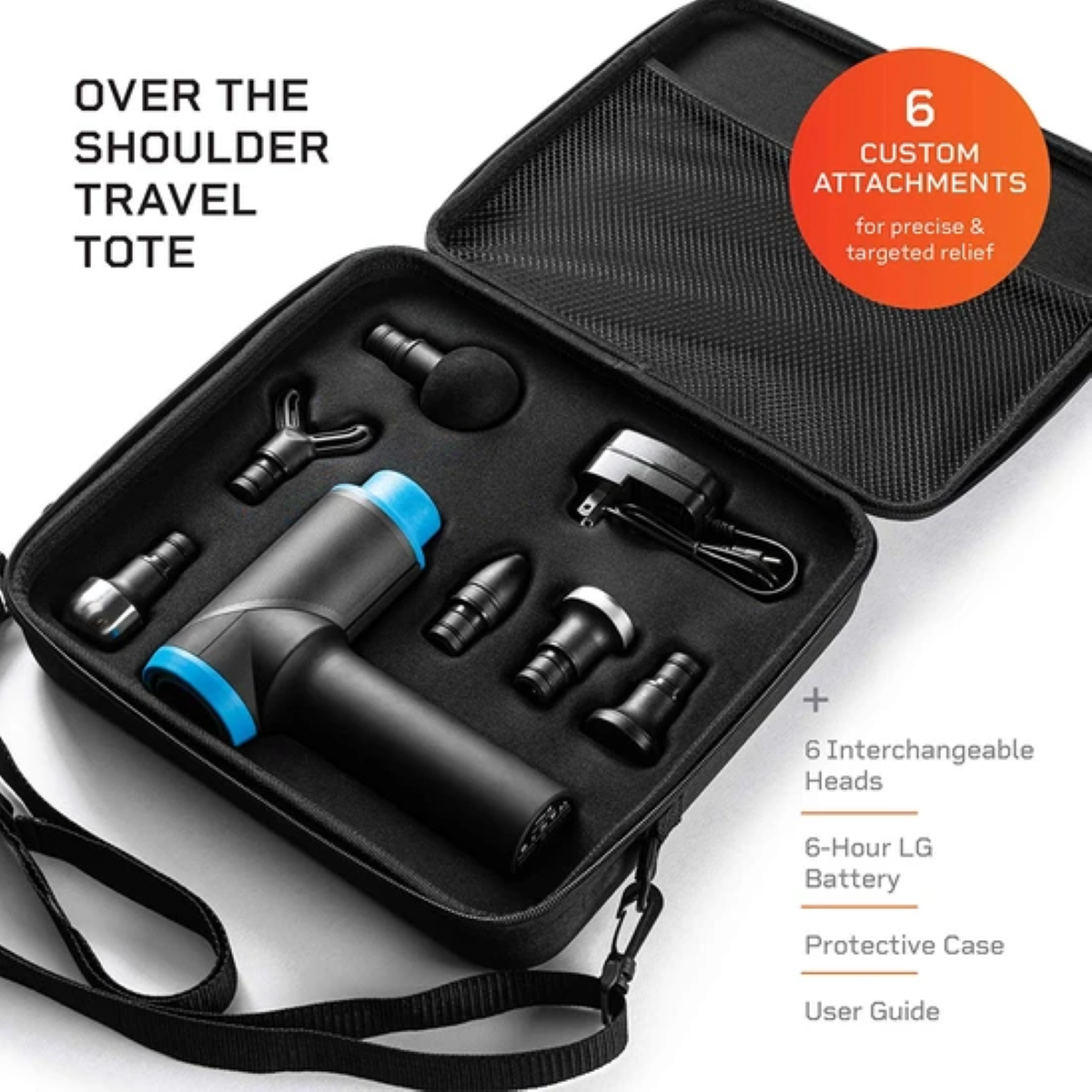 The LifePro Sonic Mini is the perfect massage gun for athletes and therapists who are constantly on-the-go, such as going to the gym or their clients' homes (respectively).
NOTABLE FEATURES
Designed to Accelerate Training & Recovery
While your body is capable of repairing itself after most injuries and workouts, that's a very slow and sometimes even painful process. Having a strong massage gun like the LifePro Sonic Mini deep tissue massager – which offers intense vibrations – lets you achieve some immediate pain relief.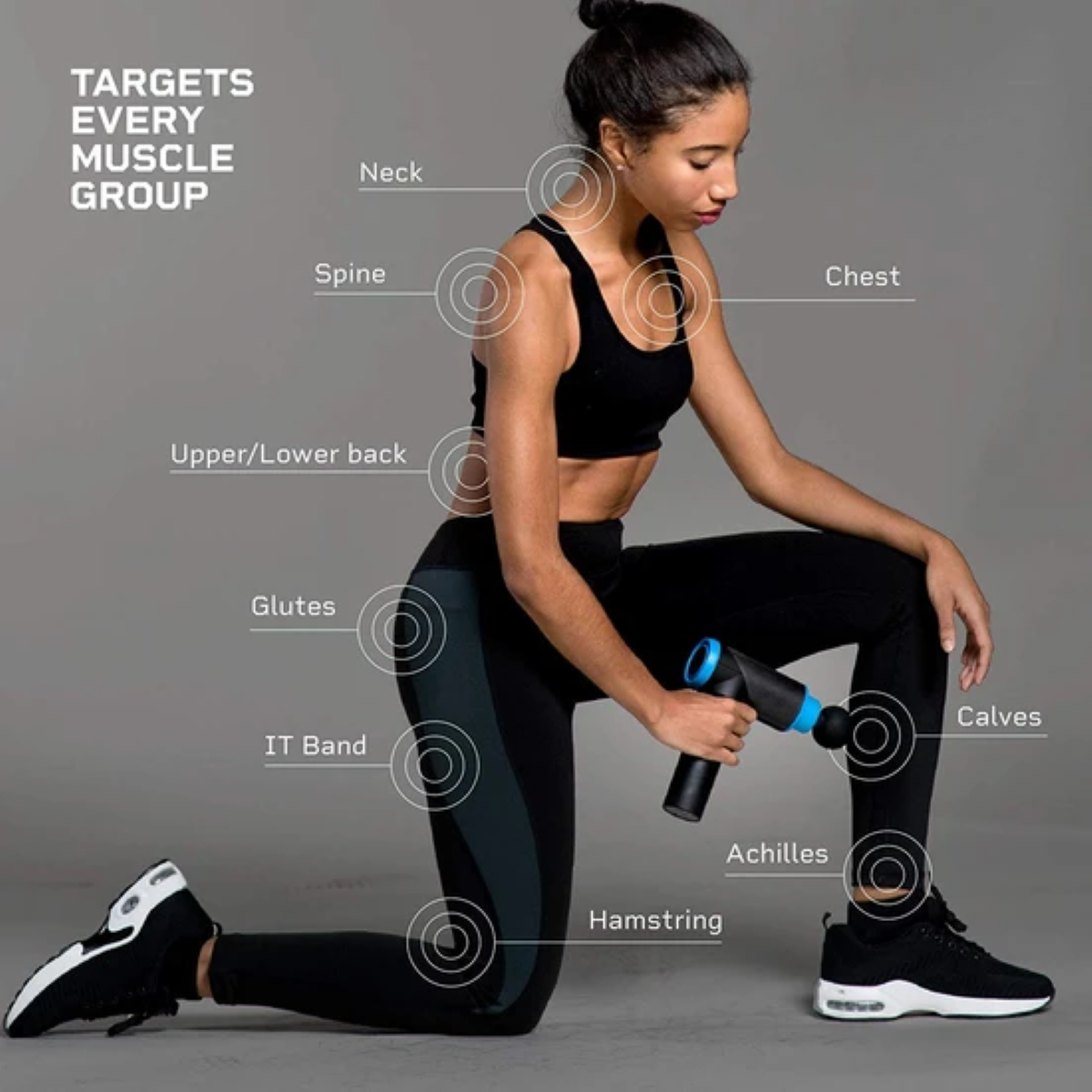 The Sonic Mini wakes up many different muscle groups throughout your body, triggering myofascial rapid fascia release, which enhances your body's ability to regenerate cells and repair itself.
This allows you to get less downtime between workouts so that you can spend less time on your recovery period and more time on your workout routine.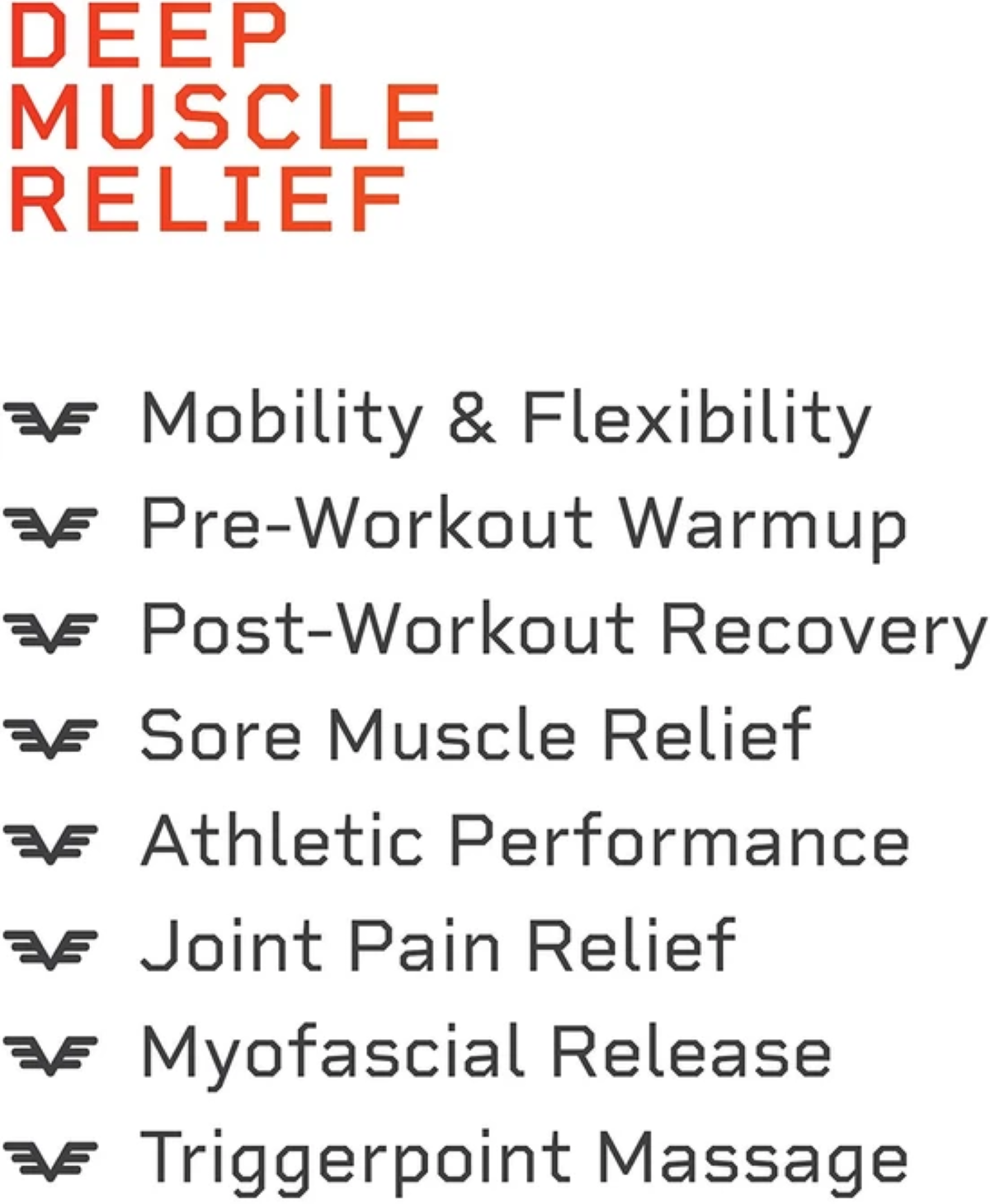 With the LifePro Sonic Mini you can improve Mobility and Flexibility, do a Pre-Workout Warmup and/or a Post-Workout Recovery, relief Sore Muscle Pain, improve your Athletic Performance, relief Joint Pain, trigger Myofascial Release and do some Triggerpoint Massage on specific muscle groups, joints and tendons.
FINAL THOUGHTS
The LifePro Sonic Mini is a quiet massage gun and one of the most powerful recovery tools ever made, offering up to 6 hours of battery life and 5 different speed levels of Stall Force.
The Sonic Mini is currently available in 2 different color models: Blue and Red.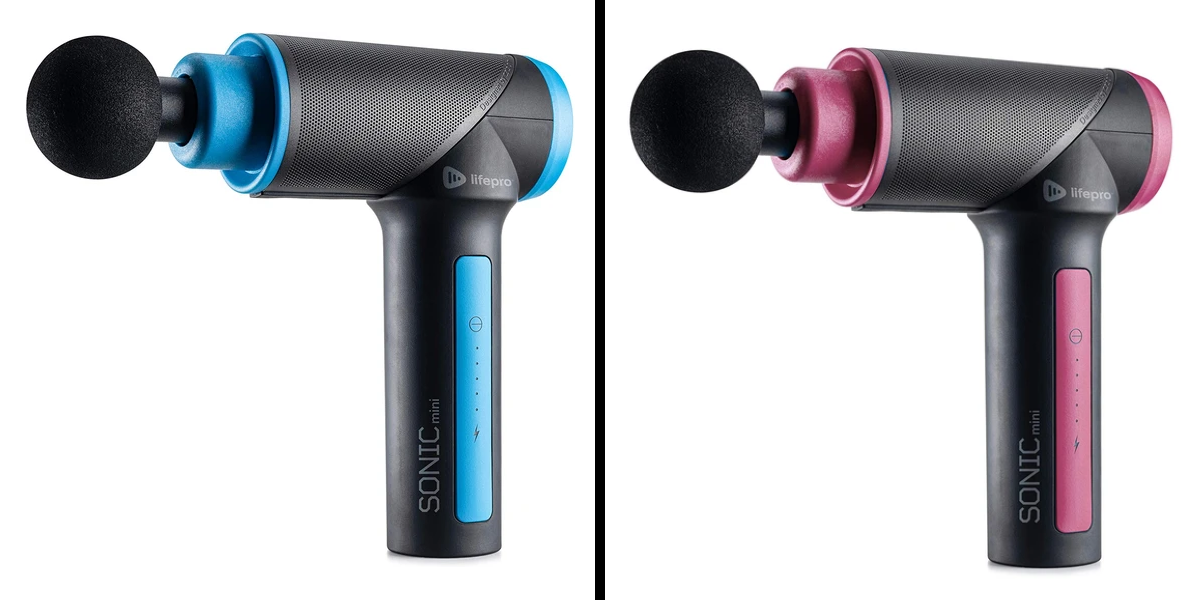 If you're interested in buying the LifePro Sonic Mini Quiet Massage Gun, each unit is currently discounted from its normal price tag of $220, and is now going for $199 each (saves you $21). You can order it online, directly from LifePro's official website, which you can access by going to this page.