If you're looking for a decent and safe chainsaw that you can use around your yard for some pruning and trimming work, then the WORX WG320 JawSaw might be the perfect tool for the job.
The WORX WG320 JawSaw is a 20V MaxLithium cordless electric chainsaw that has all the features of the original model (the WG307 JawSaw). However, contrarily to the standard model (the WG307), the WORX WG320 is a second version of the JawSaw that offers cordless convenience while powered by its 20V Max Lithium Ion Battery.
Let's take a detailed look at the WORX WG320 JawSaw and check of all its cool features.
DESIGN, SPECS & FEATURES
The WORX WG320 JawSaw is a lightweight, portable 20V Power Share cordless electric chainsaw. The Worx WG320 JawSaw weighs 7.9 pounds with its battery installed, which is about the same as a gallon of milk. The chainsaw's guide bar measures 6 inches long.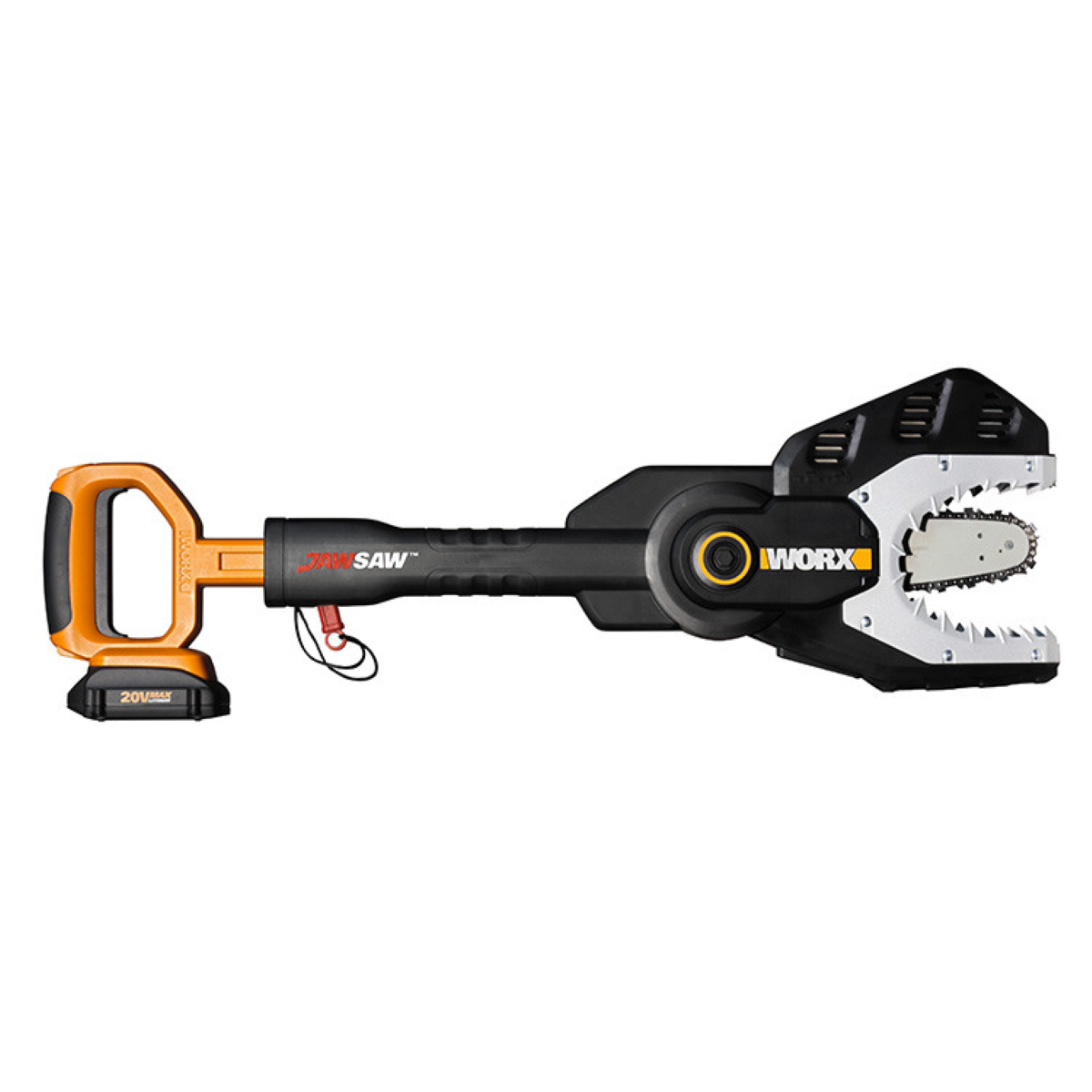 The WG320 JawSaw features a No-Load Speed of 1350 rpms, an Oil Tank Capacity of 30 ML, a Chain Pitch 1/4 inch and a Chain Gauge of 0.05 inches. The chainsaw also features a total of 42 chain links that are operated at a maximum Voltage of 20V (based on its battery).
Not only is the WG320 JawSaw's weight balanced for the best ergonomic experience for all of its users, its innovative jaw design helps to support the weight of the tool and makes it easy to use it when cutting overhead branches. This offers users a safe way to tackle pruning and trimming jobs, anywhere they decide to take the WG320 JawSaw.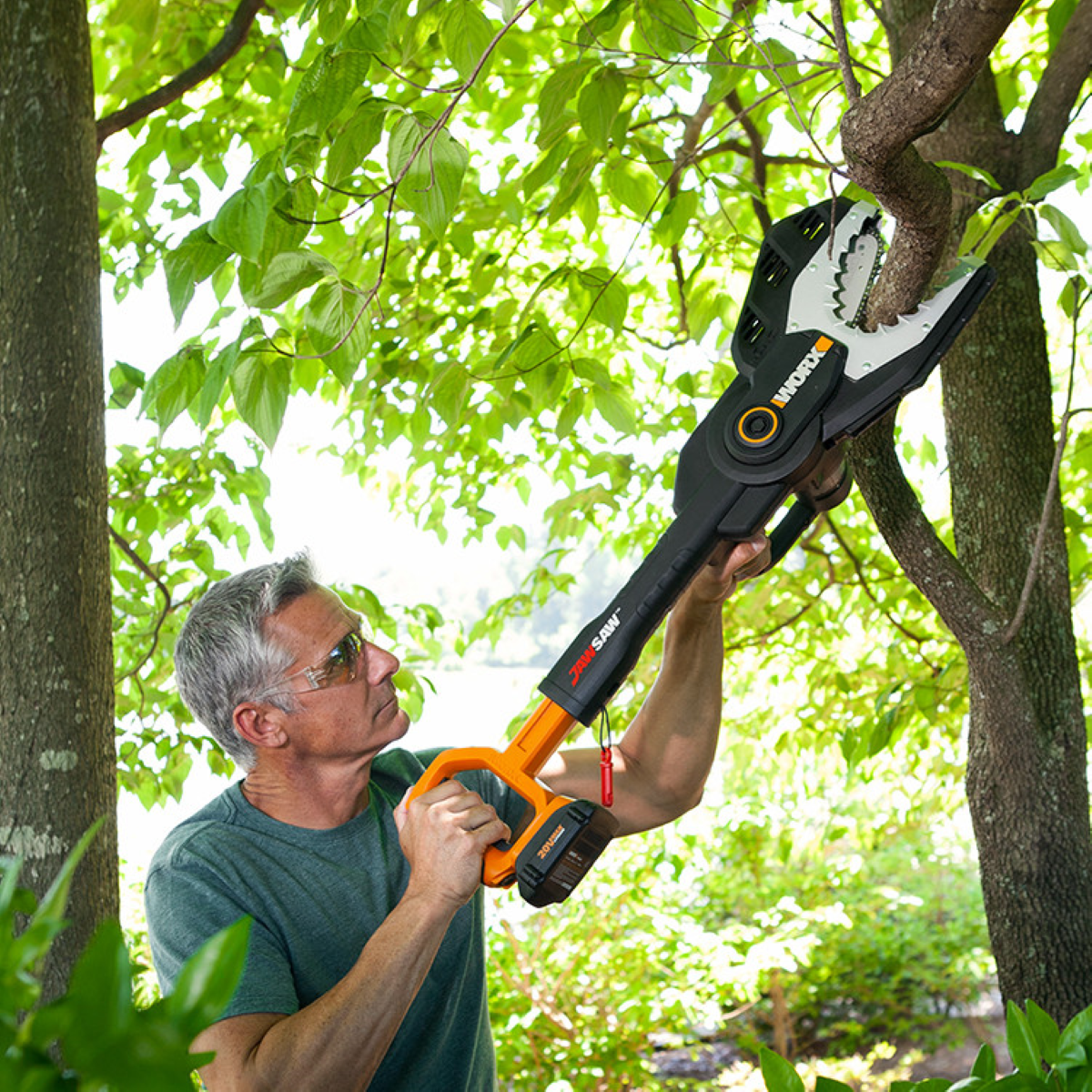 The WORX WG320 JawSaw comes equipped with a steel teeth blade housing that integrates a six-inch blade.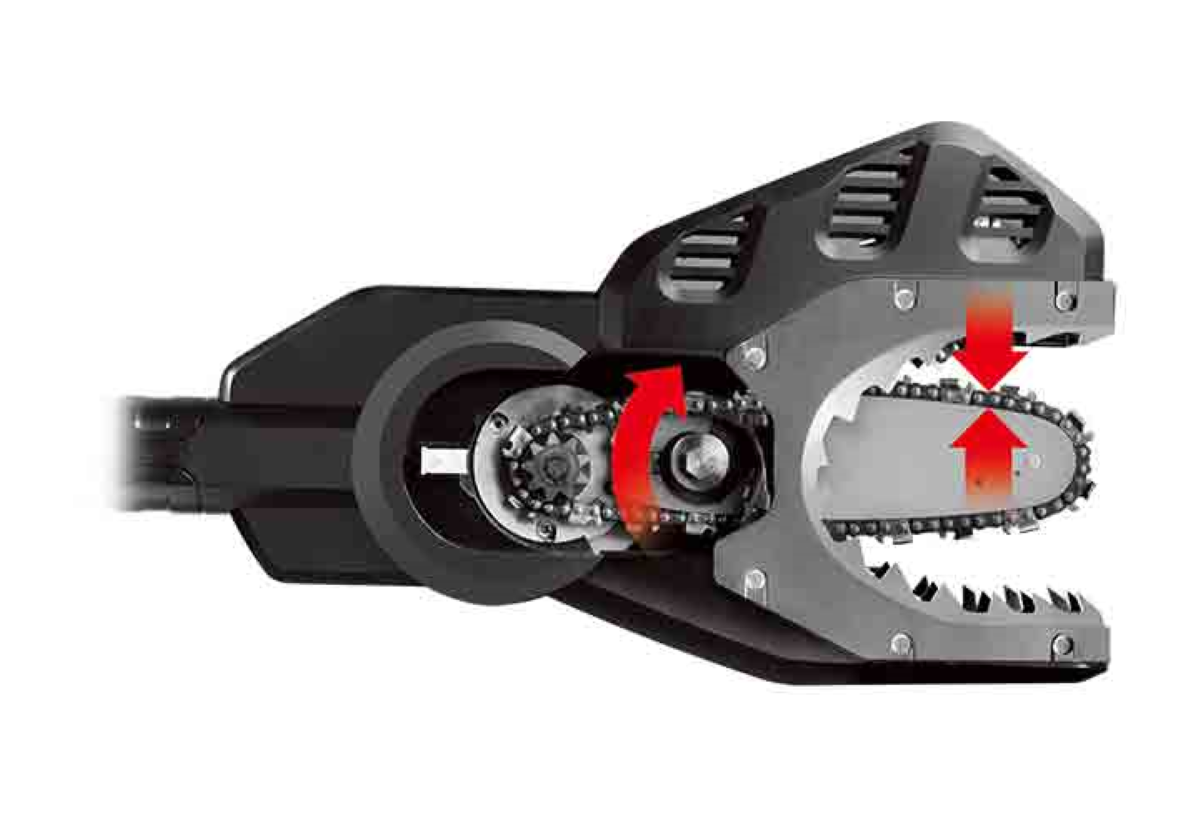 This allows for safe, yet clean and quick cuts directly on the ground, all without endangering any limbs. The chainsaw can cut or trim materials up to 4 inches in diameter.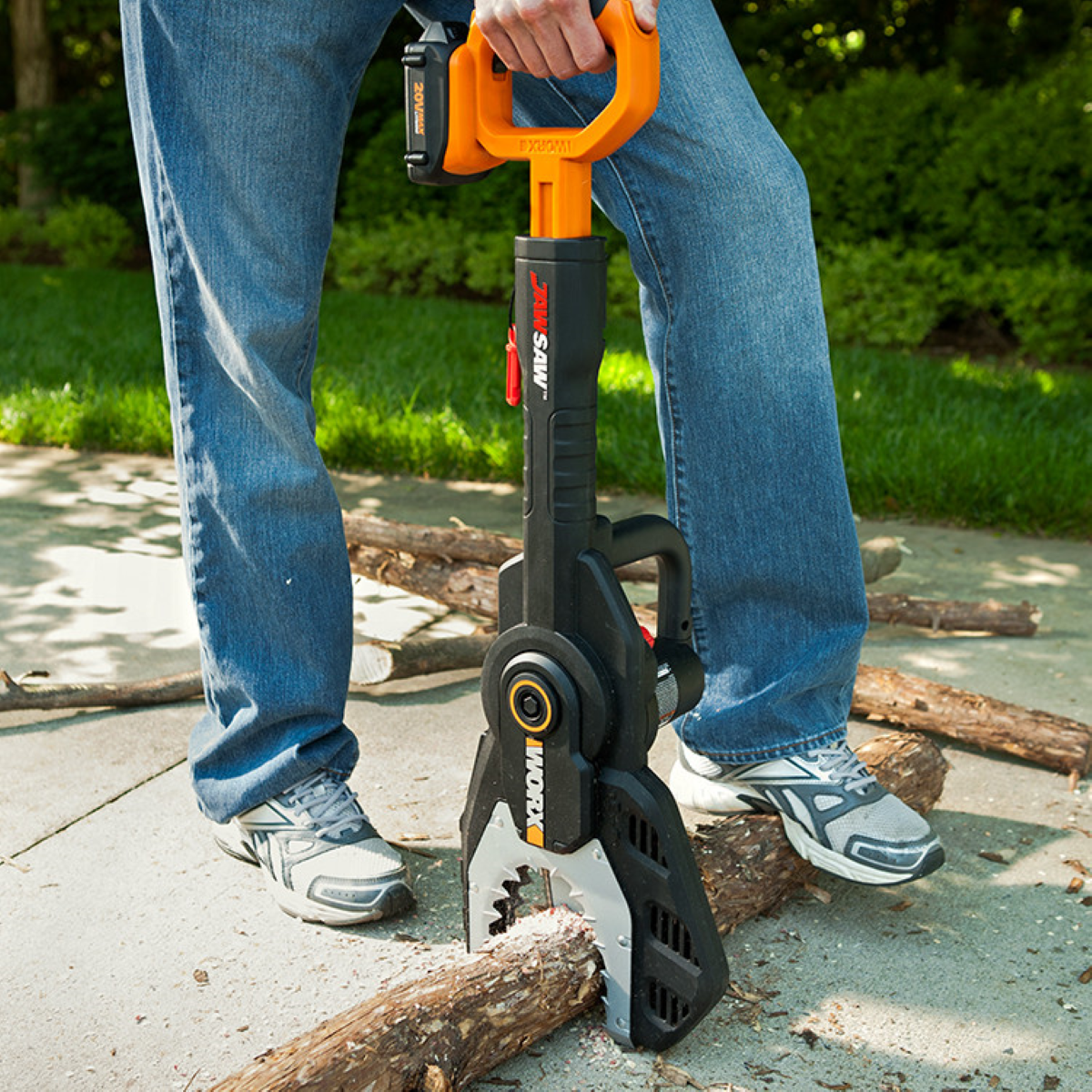 This chainsaw was also designed with safety in mind, and is without a doubt one of the safest chainsaws on the market. Its blade and chain retract until they're fully enclosed in the guard, protecting users from dangerous contact.

The chainsaw also offers an innovative auto-tension feature that guarantees optimum tension at all times, and comes equipped with an automatic chain oiler with an oil level indicator, allowing you to know at all times when you need to give it another gentle drip of oil.
Lastly, the chainsaw also comes with a red service key, which can be used to set it to "Service Mode", which keeps users safe by preventing it from accidentally operating.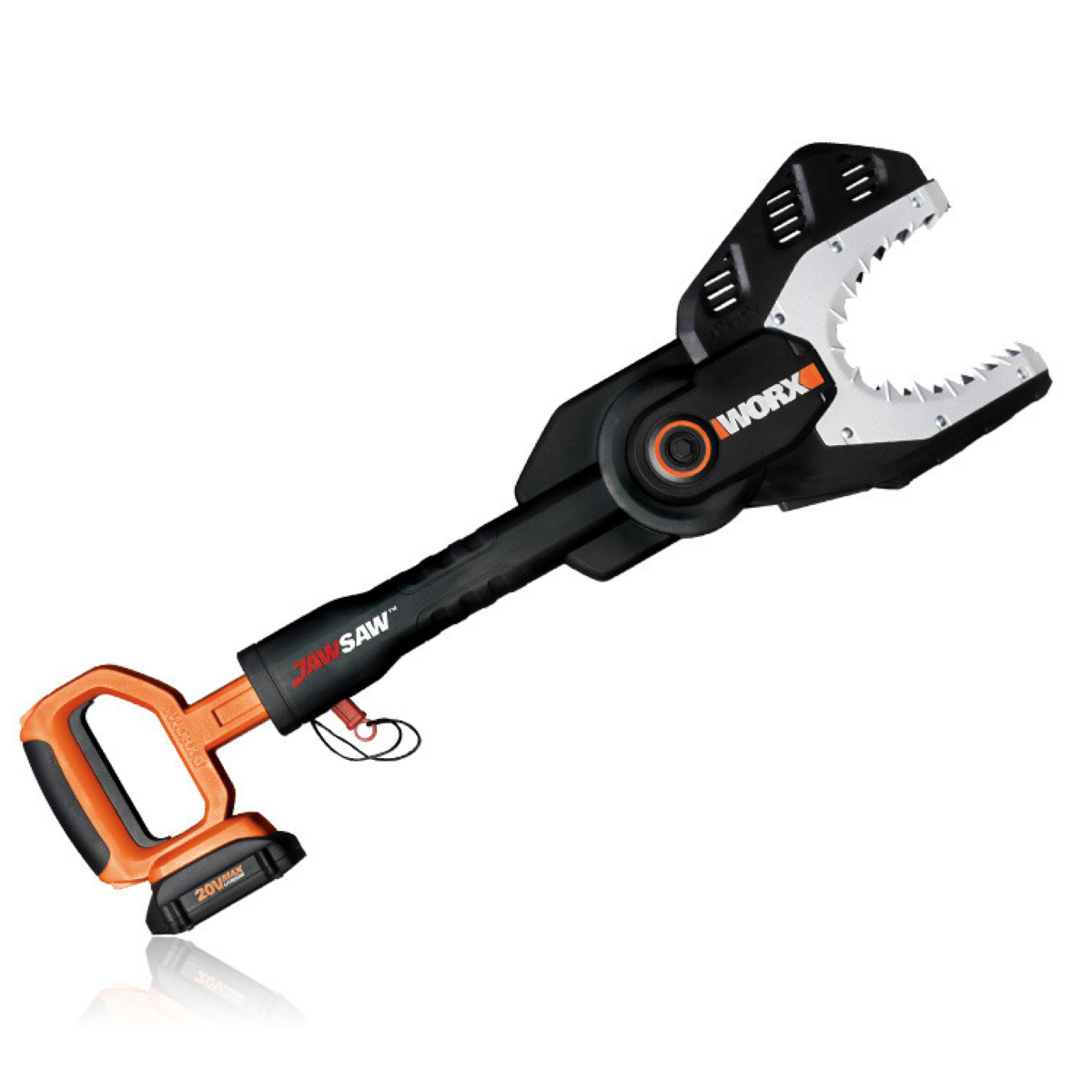 It basically works as a locking mechanism to prevent operation. When the WG320 JawSaw is set to Service Mode, its bar and chain can be removed, and the chain can be tightened.
BATTERY & BATTERY LIFE
As stated before, the WORX WG320 JawSaw is powered by a powerful and lightweight 20V Max Lithium Ion Battery that delivers long-lasting performance, offering you a total of 20 minutes of cord-free use.
However, keep in mind that the runtime will vary depending on the type and density of wood you're cutting and how thick the branches are for each cut.
The enclosed charger and battery take around 3 hours to fully recharge.
WHAT'S IN THE BOX?
Inside their package users will find: their WORX WG320 JawSaw, its included 20V MaxLithium Battery and 20V Battery Charger, one (x1) Chainsaw Chain and one (x1) Chainsaw Bar, an included empty Oil Bottle and a small plastic container of bar & chain oil (which you'll fill the empty bottle with and use when the chain needs some oil), and an included Spanner wrench.
FINAL THOUGHTS
The WORX WG320 JawSaw is a lightweight, portable, cordless electric chainsaw that offers you the safest way to tackle pruning and trimming jobs anywhere.
Its steel teeth blade housing with a six-inch blade is simply amazing, allowing you to perform safe, yet clean and quick cuts directly on the ground without endangering any limbs.
If you're interested in buying it, each unit is currently priced at $150, coming together with a 3-year warranty and a 30-day money-back guarantee. You can order yours online, directly from WORX's official shopping page, which you can access by clicking this link.
WORX also has an extension pole available, specifically for the WORX WG320 JawSaw (there's a different extension pole model for the standard JawSaw – the WG307). Each WG320 JawSaw's extension pole goes for $60, and you can get it here.