I love my phone … but the business of charging it? Not so much. I've got countless chargers (and drawers full of cables!). They mostly do the job, but I just don't love any of them. The MAGFAST family is a completely new take on how chargers and power banks should look, operate and integrate with your life.
DESIGN & SPECS
A collection of Power-Delivery (PD)-compliant charging devices, MAGFAST will charge everything you already own (any flavor of USB and Apple Lightning) and everything you're going to own in the coming years (which mainly means USB-C). The MAGFAST system is designed for ultimate ease-of-use combined with sturdy reliability: these are attractive, quality devices that you will want to have with you, engineered to last a long time.
The Magic of Magnets
The essential feature that makes MAGFAST chargers different from all other charging devices is elegantly simple: magnets.
Magnets make MAGFAST magic. How? Each charger has eight precision magnets neatly embedded so they snap together to charge your accessories – and each other – without wires.
FEATURES
The MAGFAST Product Range
There are six premium chargers and power banks in the family, all currently in the final stages of pre-production.
While each of the chargers is unique, designed for a particular part of your charging life, they all work together as a family and share some strong family features.
All MAGFAST power banks have a neat built-in-but-swappable mini-cable, a gorgeous array of 10 LEDs (that 'breathe' gently to indicate charging in progress), the MAGFAST magnetic interface, an ingenious new security and anti-counterfeit system called Fingerprint™ and the latest PD Power Delivery to maximize the speed of your charge on any device.
Check out the whole story here. (Pre-order is available if you want it, or just jump on the list for a FREE charger once they start to ship.)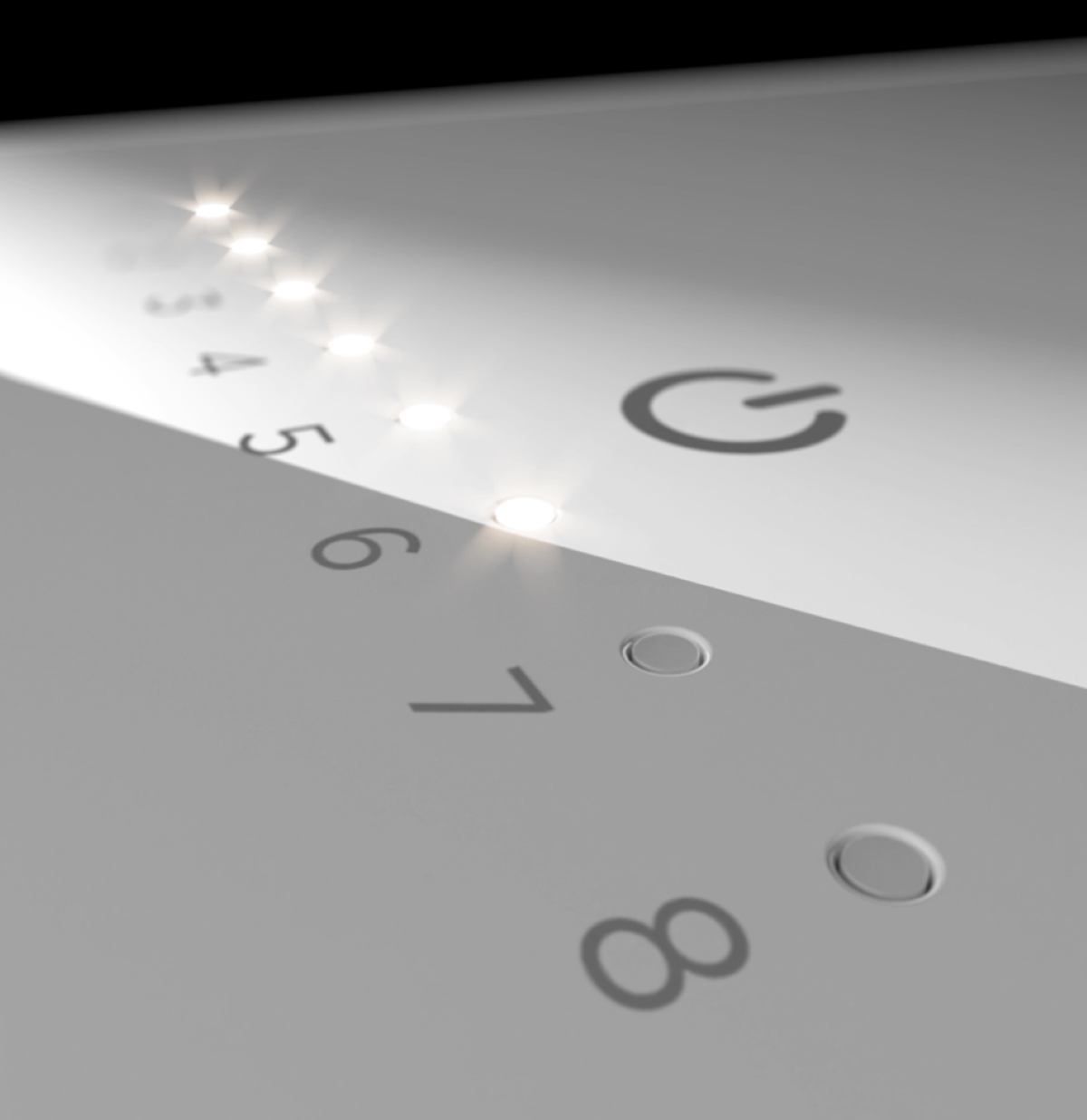 MAGFAST Wall: Cut the Cord for Clutter-free Charging!
MAGFAST Wall is the base station for the rest of the range. Wall is deceptively unassuming. It plugs into a standard 110V double outlet (nothing to install, no screws to screw) and from even a short distance, it looks as if nothing's changed.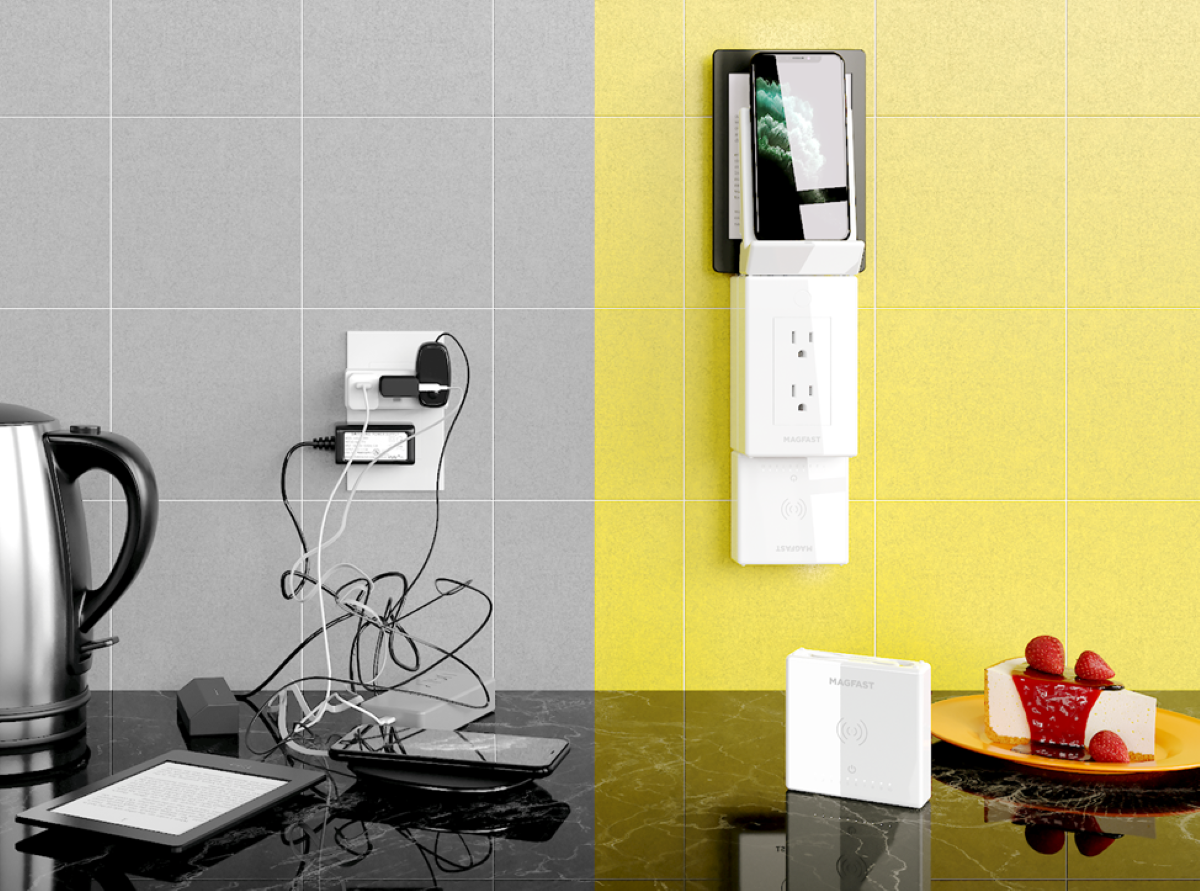 Unassuming or no, Wall is packed with features: the top model comes with surge protection, and two separate circuits to fast-charge your mobile devices top and bottom.
A charging tip on top can be swapped out to charge any Apple, Android or other phone or tablet using Lightning, Micro USB or USB-C.
Two USB-A ports and a new USB-C on the underside support any charging cable.
And then there's the magic of magnets. Any MAGFAST charger or power bank simply snaps onto powerful, precision magnets on the top and bottom of MAGFAST Wall.
This is where MAGFAST really changes the game.
Instead of fumbling for a cable (and where are my charging cables when I need them, anyway?) you just grab one of the neat, glossy, rectangular MAGFAST power bricks. Once it's a few inches from the magnets on Wall, it aligns automatically and snaps into place. It's instantly and automatically charging. Then when you're running out the door, simply grab and go.
Get on the list for a FREE MAGFAST Wall charger when you preview the range and give your feedback.
MAGFAST Air: Wireless that Works
MAGFAST Air is a Qi-wireless cradle that snaps magnetically on top of MAGFAST Wall, or any other MAGFAST charger.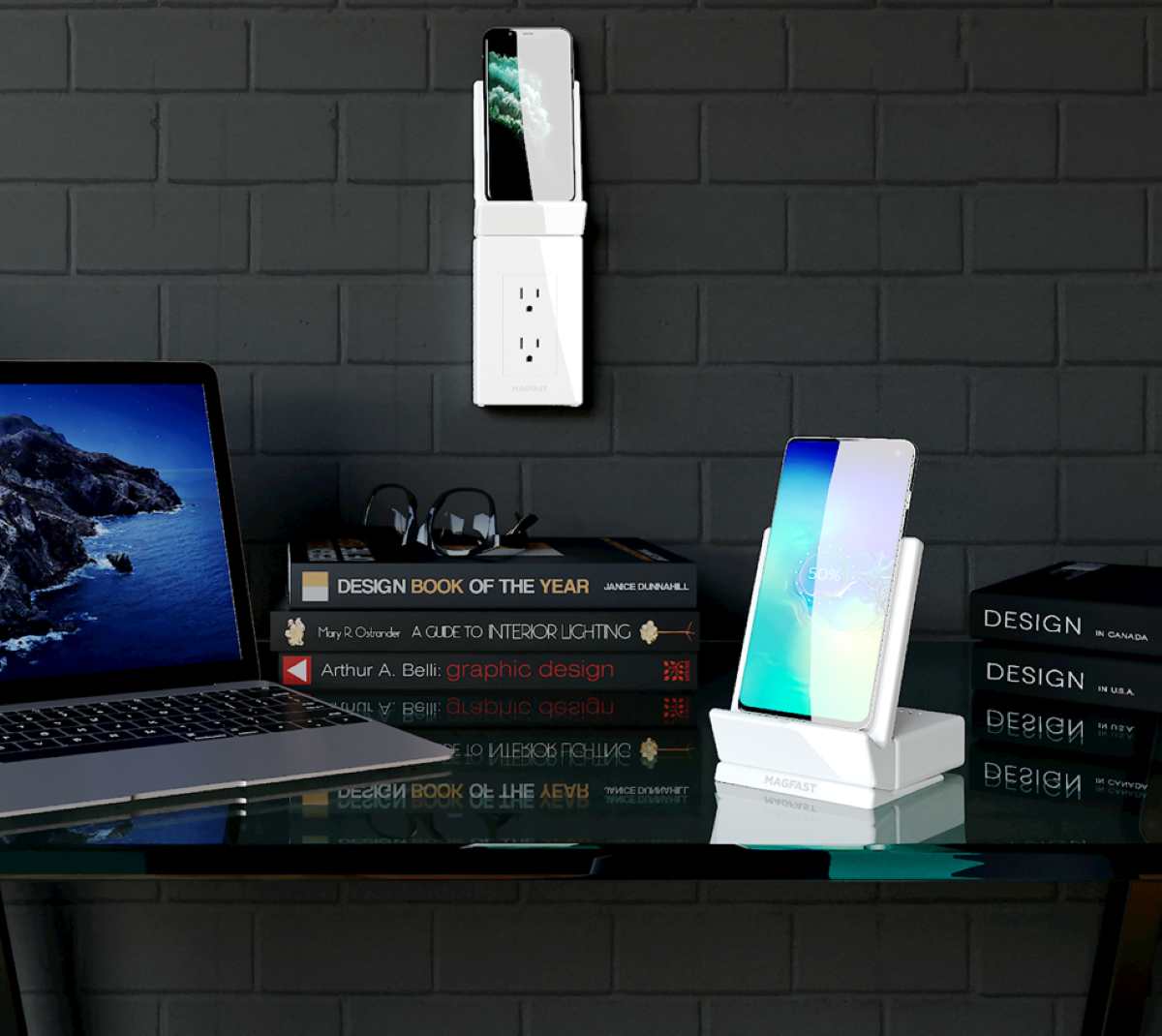 Qi is the wireless charging standard used by Apple, Samsung, Google, LG and all the other major brands. And MAGFAST Air actually works: it's over-engineered with two Qi coils so you can drop your phone onto Air vertically or horizontally: it will still charge.
MAGFAST Life: Power in your Pocket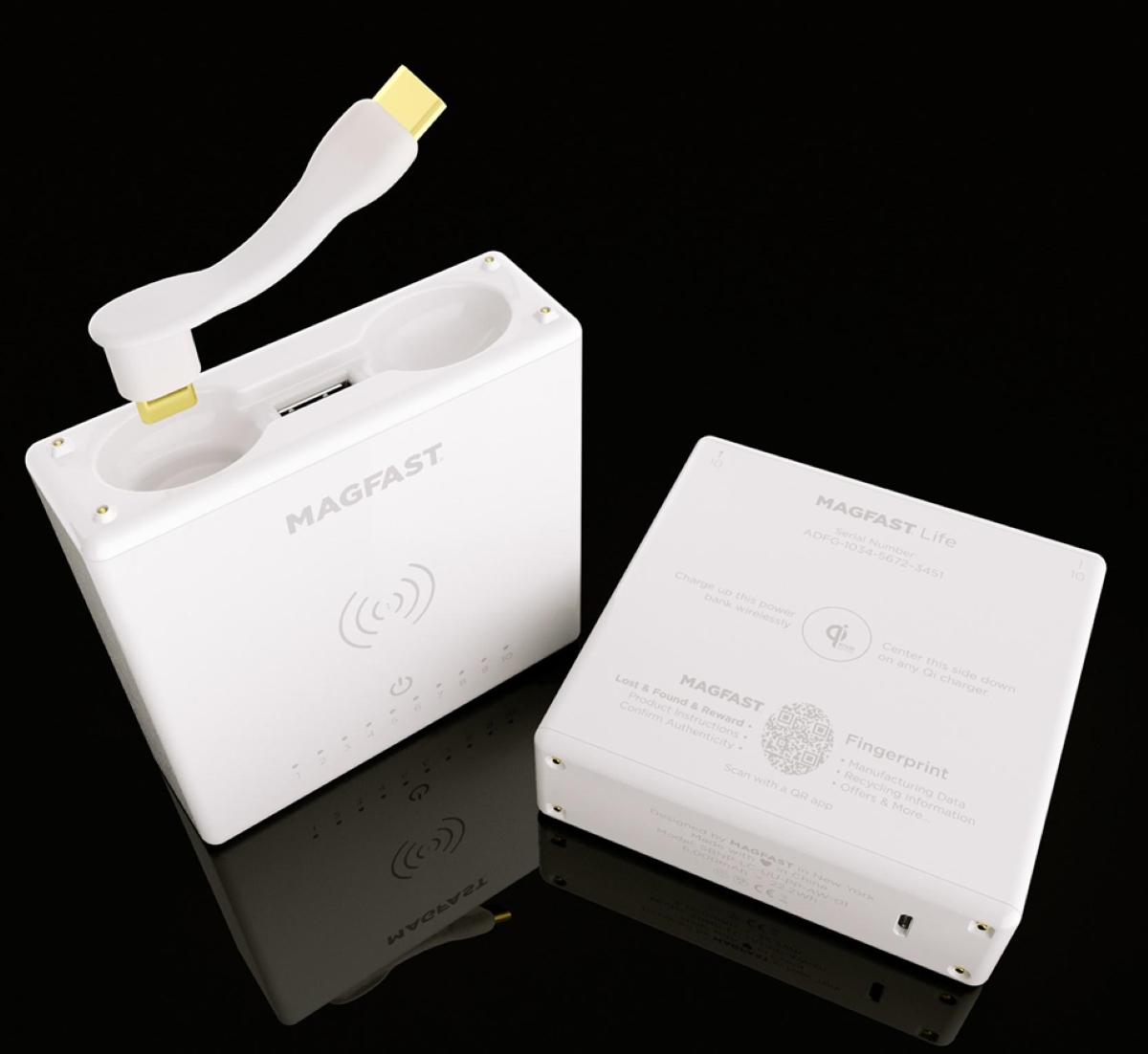 MAGFAST Life™ is that neat, compact power brick I mentioned earlier. A high-density battery packs 6,000 mAh into a handy pocket-sized block – that's enough to charge a depleted iPhone up to two times. Support for the new industry standard called Power Delivery (PD) gives you charging on the go at up to 18W.
MAGFAST Road: Car Power When You Need It
MAGFAST Road adds a built-in adapter that plugs right into the 12V charging port (what we used to call the 'cigarette lighter') in your car.
Perhaps Road Trip would be a better name because this charger has a total of six USB outlets for everyone in the family. Three USB-A (the port we've used for years) and three USB-C (the new must-have).
Road also gives you 18W PD output, and even comes equipped with a bright flashlight to help you find your way or flag down traffic in an emergency.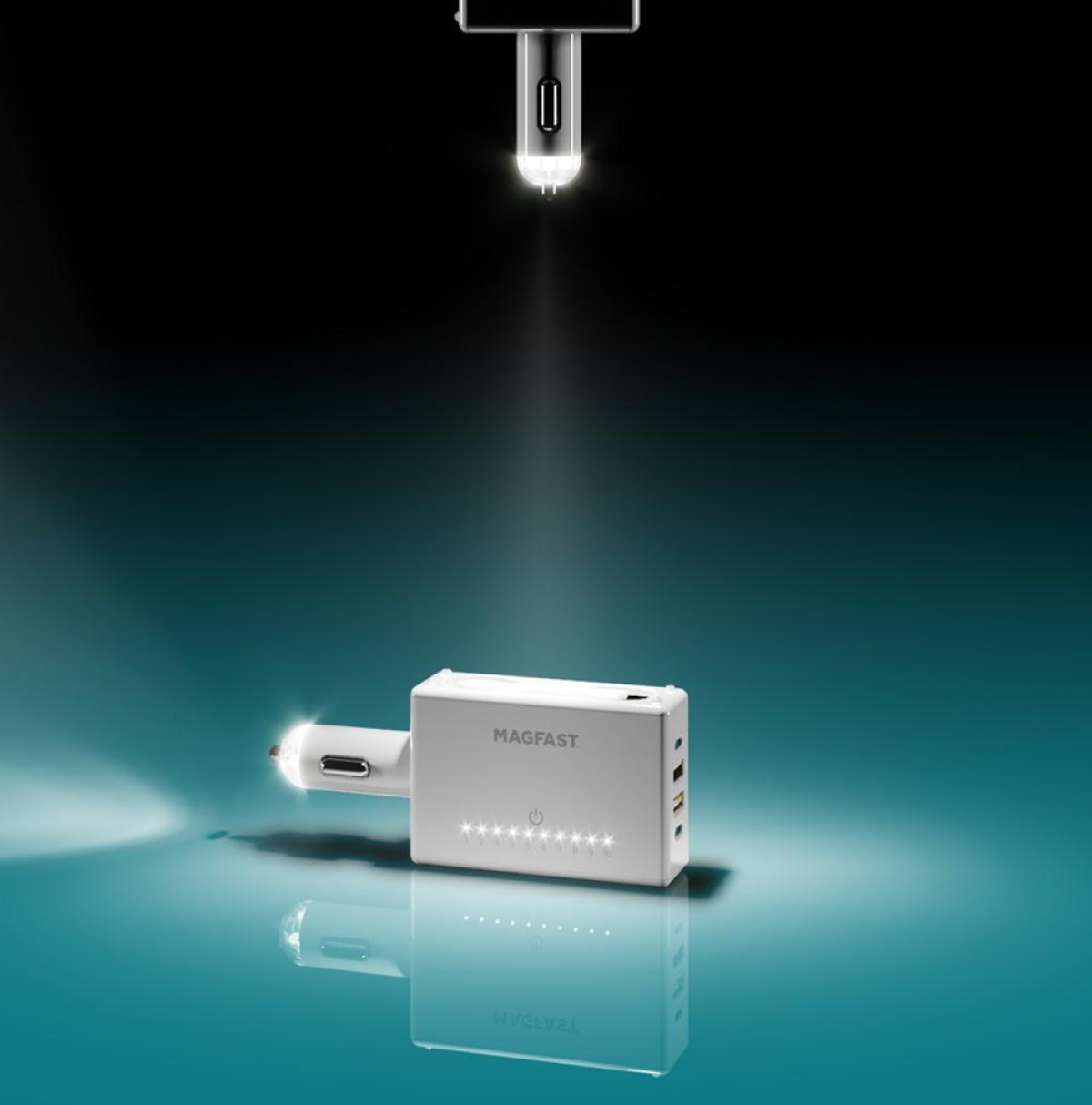 MAGFAST Time: for Apple Watch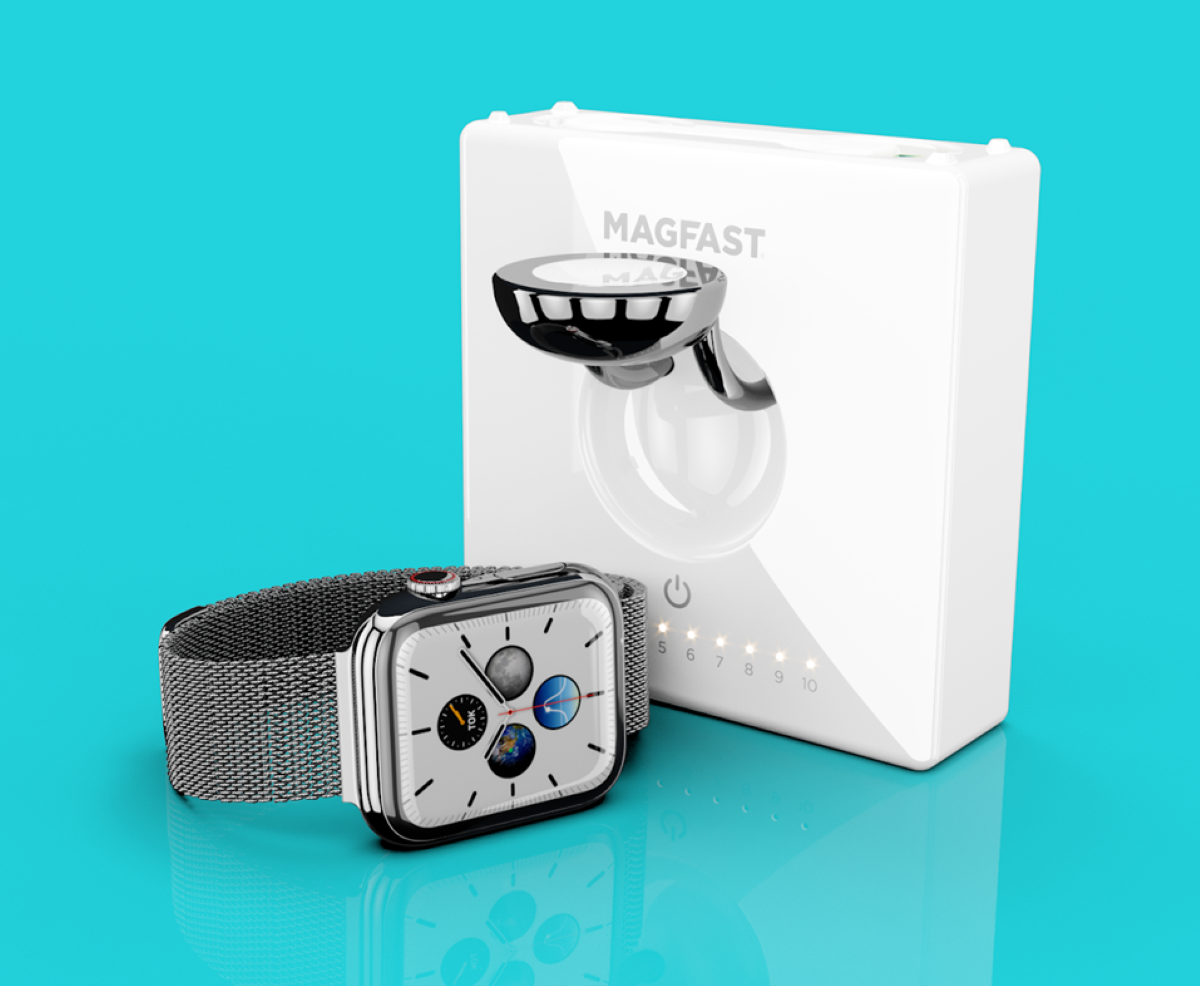 MAGFAST Time is a stunning new charger for the Apple Watch that carries enough charge to keep your watch going for up to 14 days.
Like all MAGFAST power banks, Time snaps on top of Wall or any other MAGFAST charger and a stylish motorized platform positions the charging disc at precisely the right angle to hold and charge your Watch. The disc slides back into the unit when not used so you can take Time with you on your trips.
Time travel, anyone?
MAGFAST Extreme: The Ultimate Power Pack
MAGFAST Extreme is the most radical of all the products, and probably my favorite. This is the device I'm going to have stashed in the front pocket of my backpack.
Extreme is a sleek, high-capacity battery pack, with loads of charging ports. Snap Extreme onto MAGFAST Wall or another device to charge, then grab and go with a versatile 18,500 mAh battery – that's up to five or six charges for your phone. Extreme can simultaneously charge three (yes, three) Qi-wireless devices and plug in another five items via USB!
And that's not all: the Extreme battery is remarkable – a rare combination that gives you two devices in one. You see, Extreme delivers the fast Power Delivery output to charge your phone … and it also packs a real punch: Pick up a set of optional jumper cables and Extreme will jump-start your car.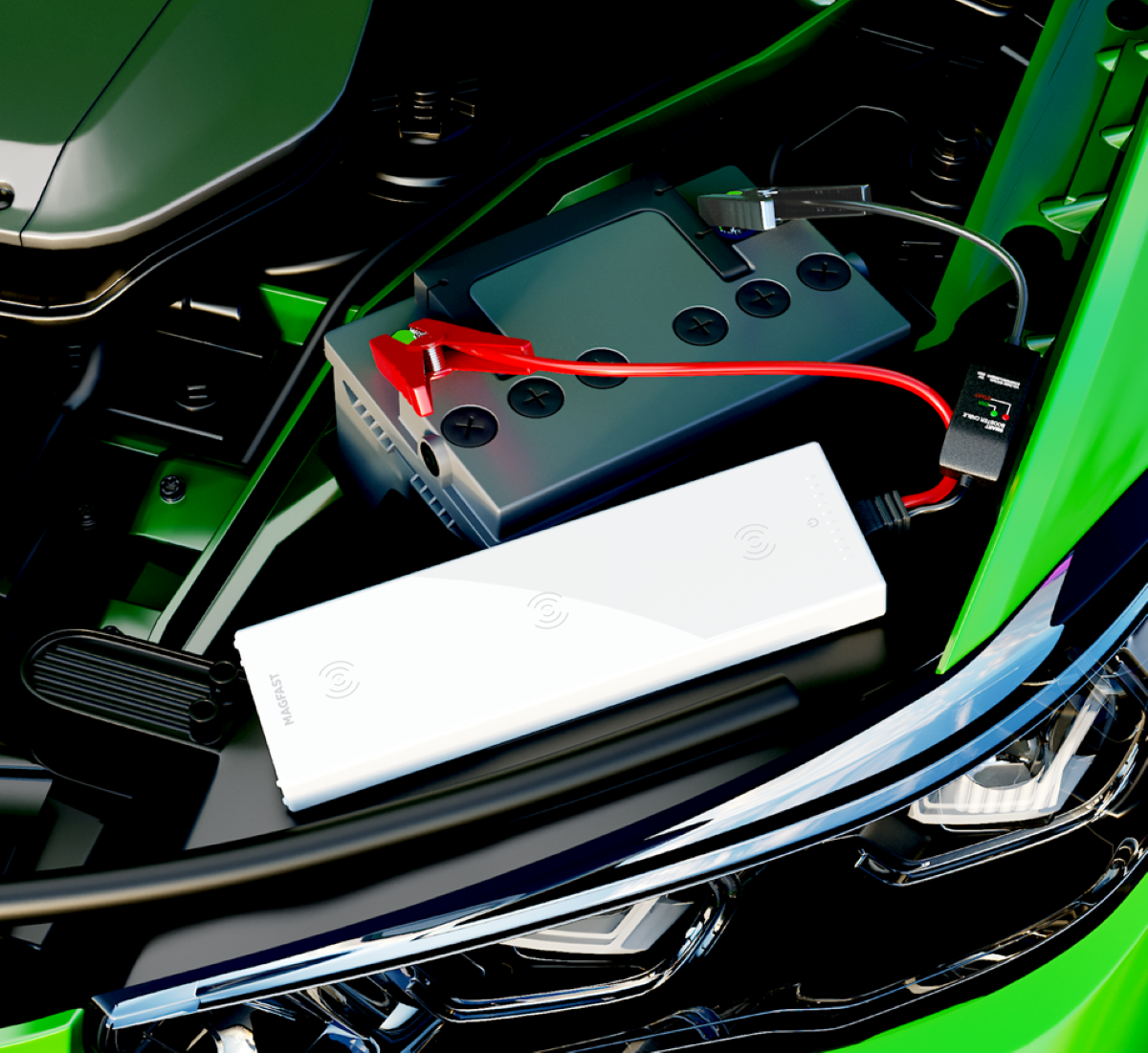 FINAL THOUGHTS
The MAGFAST family of chargers deserves the attention it's been getting from the media and from tens of thousands of backers who've supported its development.
Final thought? MAGFAST family is a clever and truly thoughtful range of products that I for one will want to use, every day, for years and years. You get the feeling they've spent a lot of time thinking through all the details.
All the products in the MAGFAST family are available individually or in a boxed Pro Kit. Special pricing and free bonuses are available right now for those who join thousands of others and support the pre-order campaign. Shipping starts later this year.
If you're keen to know more, you can claim a free MAGFAST Wall charger by registering here.