Samsung just unveiled its latest foldable Samsung Galaxy Z Flip Smartphone today, at its most recent Galaxy Unpacked event, simply tittled "Samsung Unpacked 2020". (In case you missed the event, you can watch it now by clicking the provided link)
First of all, Samsung's brand-new – and second – folding phone already looks super-different from its previous foldable phone – the "worldwide-troubled" Galaxy Fold.
Not only that, but the brand-new Samsung Galaxy Z Flip smartphone folds up in a very similar way to the new Motorola Razr.
This new Samsung foldable Smartphone was clearly designed to be a full phone with its strong OLED display that easily folds and shrinks into a much smaller square when it's closed.
DESIGN & SPECS
Display Screen(s)
The Z Flip comes equipped with a 6.7-inch OLED display screen that features an outstanding 21.9:9 aspect ratio when opened.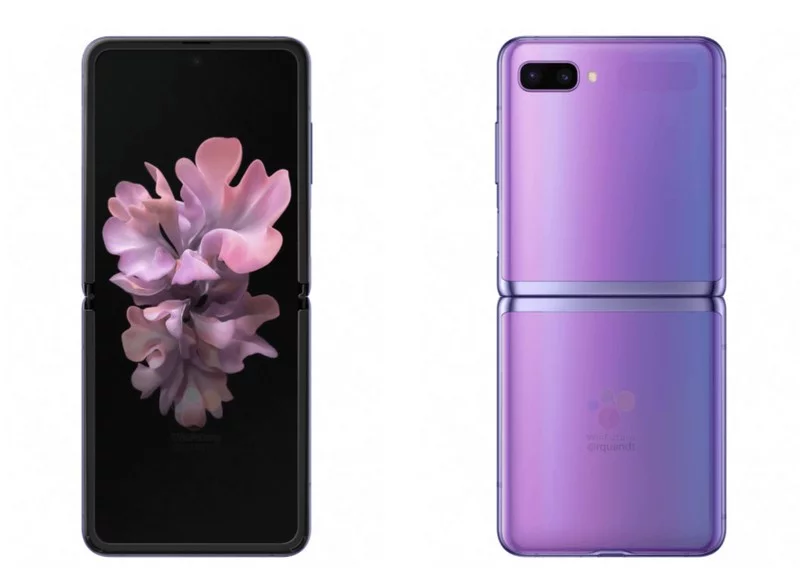 Last year's Samsung Galaxy Fold came equipped with an Infinity Flex display screen that felt incredibly weird, mainly because it wasn't made out of glass and was instead bonded with thin layers of "innovative materials". These were shamelessly crafted into a polymer to make it feel exactly like plastic.
Unlike its disheartening folding phone predecessor, the Z Flip shows that Samsung actually tried hard this time, and anyone will easily see the results of the company's efforts in the Galaxy Z Flip's Ultra-Thin Glass display.
You've heard it right, this one is actually made of glass (praise the lord), which means that Samsung's new phone should feel just like any standard Smartphone when touching its display screen.
Furthermore, the Galaxy Z Flip also comes equipped with a tiny 1.1-inch OLED cover display (at the smartphone's outer side), which allows users to see any recent notifications whenever they have the phone closed.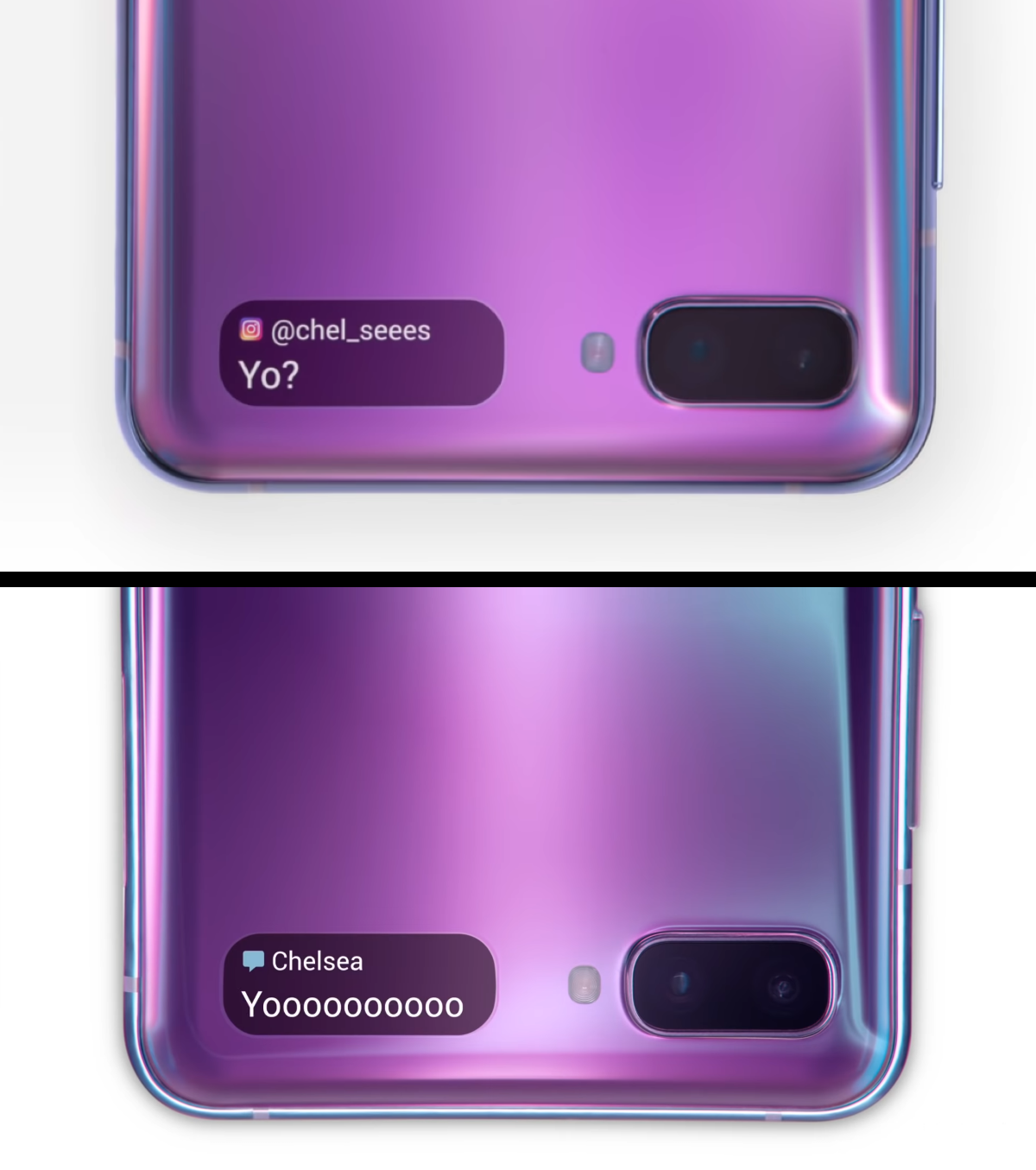 This smaller outer OLED screen can be used to check date, the time or even to get a glance at incoming texts or calls, as well as some other notifications.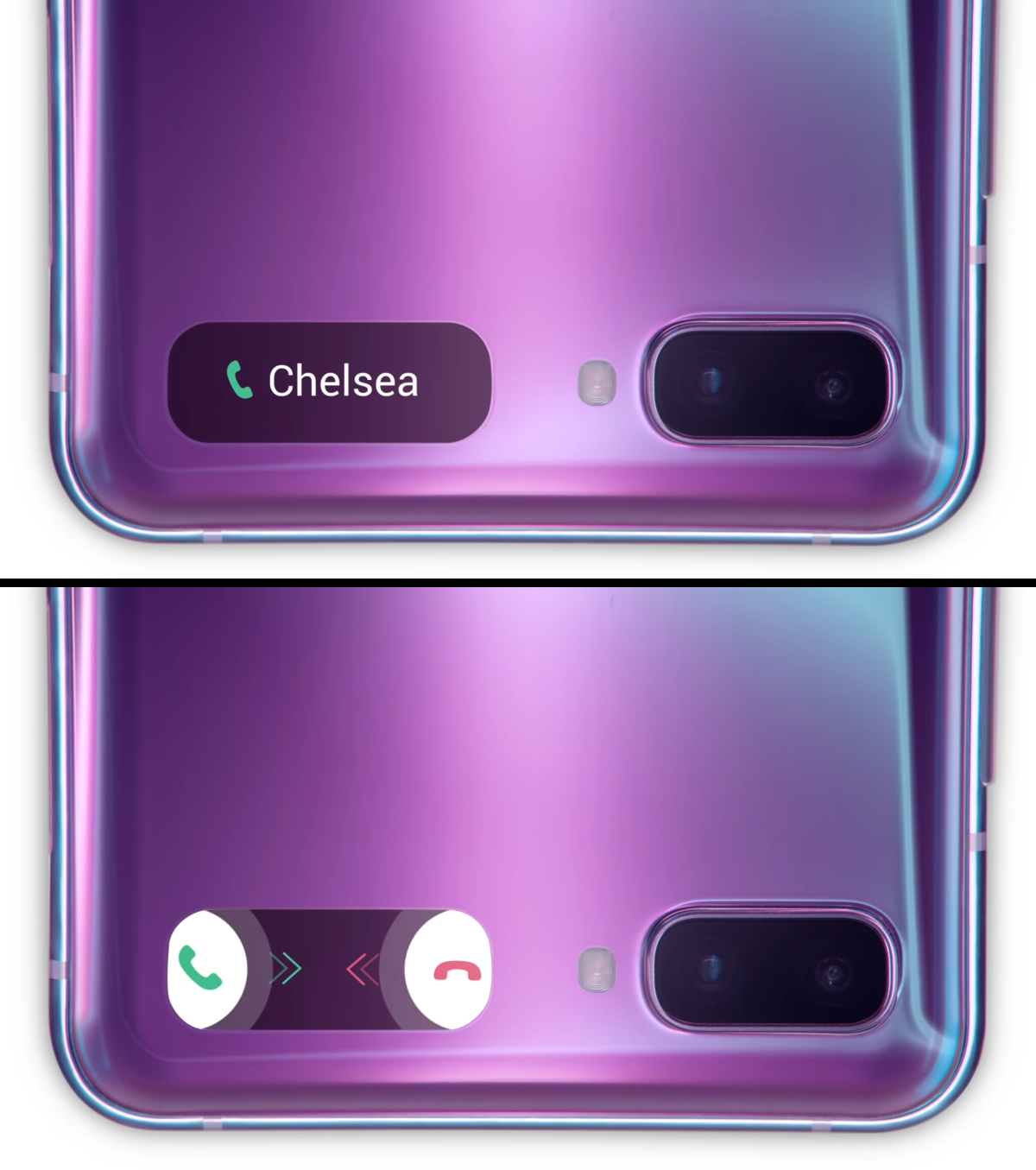 However, there's one little extra that seems to be an hidden functionality. You can use the phone's tiny outer screen to take a full-sized selfie by using the rear camera. It's still not clear how this will work – it might either be a functionality that's voice-controlled or maybe even accessible by using a hardware shortcut – but what's cool about it is that users won't need to open their Z Flip to shoot a quick selfie.
The Screen's Hinge
One thing that everyone can be sure of is that Samsung probably learned its lesson after releasing its original Galaxy Fold, which featured a ton of issues, including debris being able to easily fall inside, as well as its screen protector, which proved to be a huge problem in the end.
After the Galaxy Fold's extremely disappointing release, it was clear that Samsung had to work hard on the hinge for its upcoming Galaxy Z Flip, and so they did… or at least they claim to have done that. Still, it remains to be seen whether the company's claims are believable or not, but let's just hope for the best this time.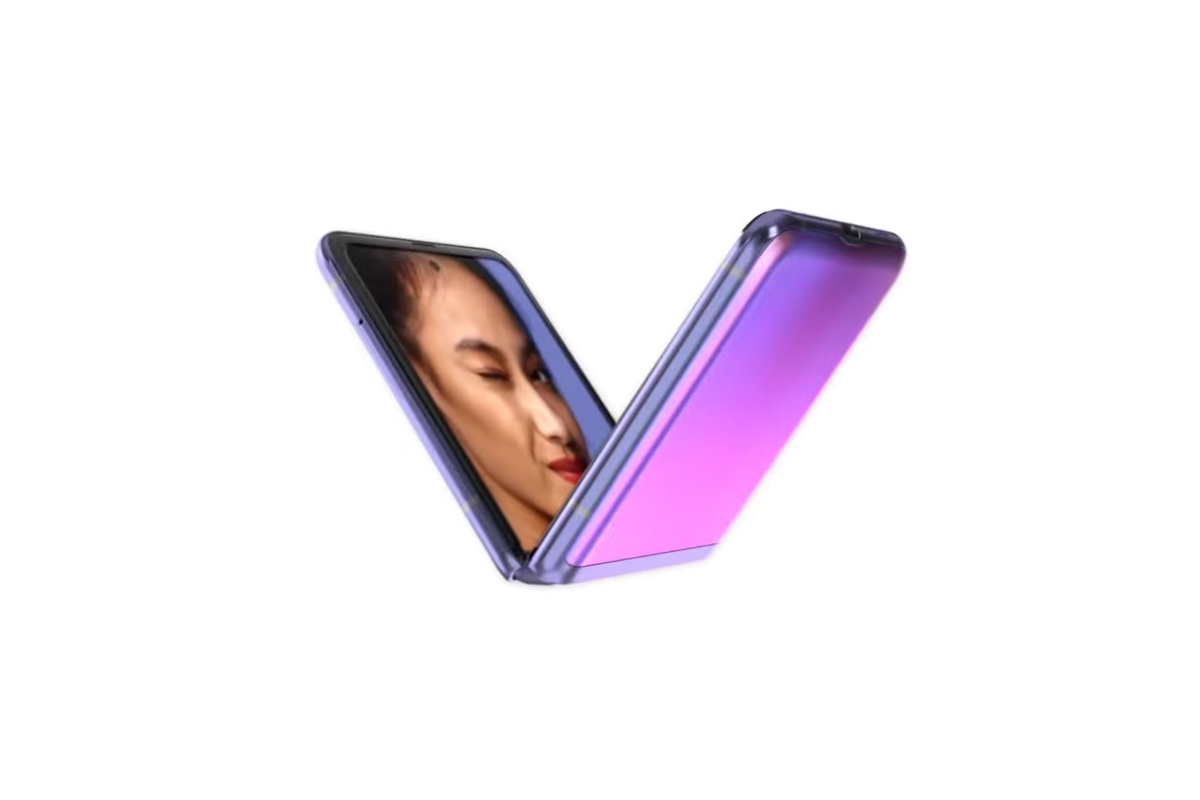 Nonetheless, this new model features a Hideaway Hinge, which means that this new hinge is made of a fibrous shield that will supposedly protect the phone from dust, dirt, and debris – the same kind of issues that eventually brought down the original Galaxy Fold.
According to the company's statement, its upcoming Z Flip can be folded and unfolded more than 200,000 times. This is also a not-so-discrete shot at the recently released Motorola Razr flip phone, which just like Samsung's old Galaxy Fold, has its own folding issues.
Cameras
The Galaxy Z Flip features a total of two 12-megapixel cameras on its back side – a regular wide angle camera and an ultra-wide angle camera – as well as an inner 10 megapixel selfie punch-hole camera that's cut out in the top of the display.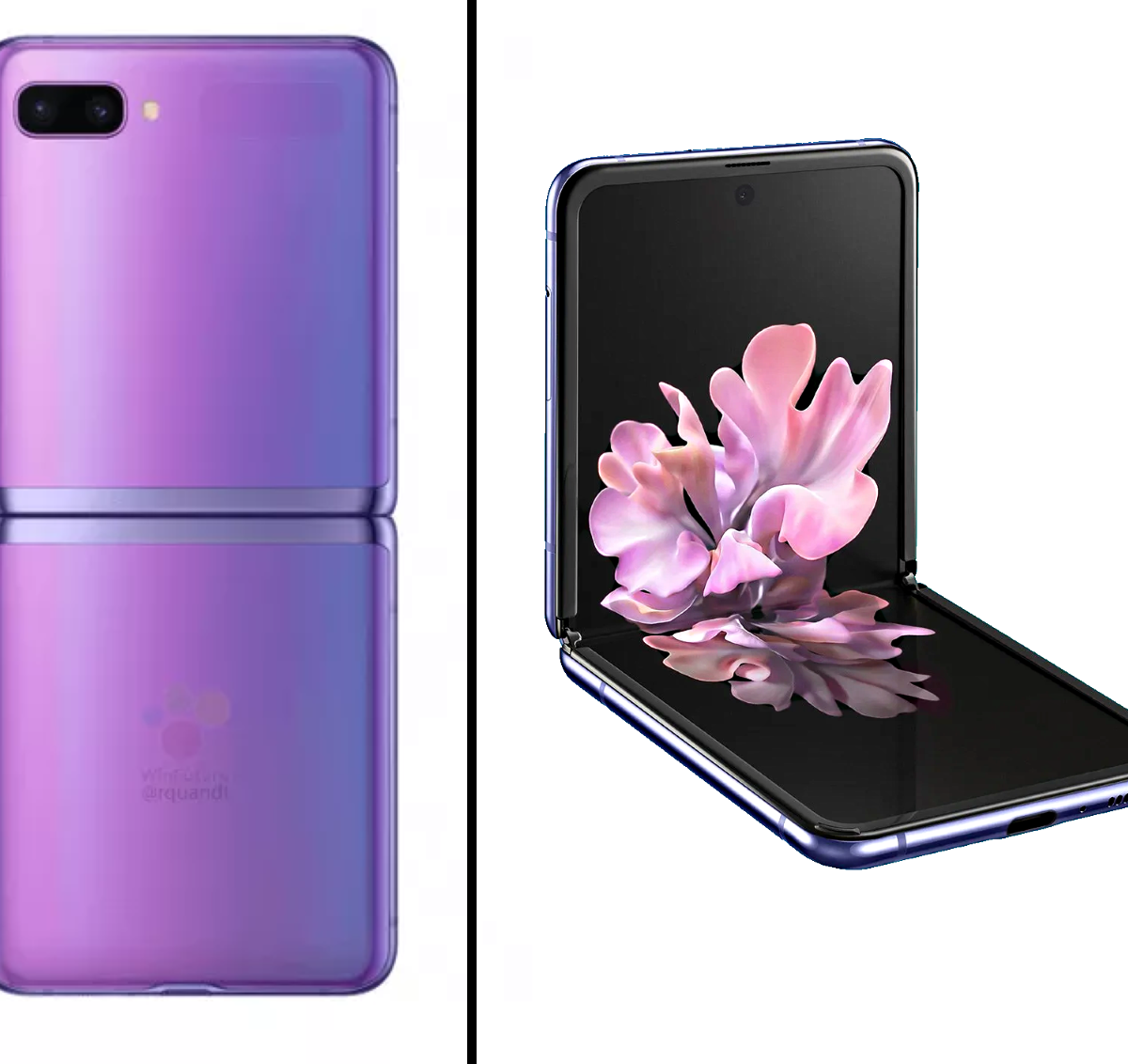 System
Samsung's brand-new folding phone also features 8GB of RAM and a storage capacity of 256GB, as well as a "somewhat-disappoint" and "somewhat-weak" 3,300mAh "dual" battery.
The Z Flip also features support to wireless charging and will be running on a customized version of Android 10.
Sadly, unlike the new Galaxy S20 Smartphone series, the Galaxy Z Flip phone won't support 5G (discussed ahead at the end of the article, in the Features section).
Lastly, the smartphone is powered by a Snapdragon 855 Plus processor that offers higher GPU and CPU clock speeds than the standard Snapdragon 855 processor. This is a 7nm, 64-bit Octa-Core Processor with a max speed of 2.95GHz, which curiously enough is actually faster than the processor found in the Samsung Galaxy S20 Plus.
FEATURES
Use it as a Mini Laptop
The Galaxy Z Flip's design is extremely different from its predecessor's (the Galaxy Fold's) design. Samsung's new folding phone doesn't just flips open or folds to be closed.
This new folding phone can also be used exactly in between, meaning that you can use it without fully opening it. This is something that the company refers to as "Flex mode".
Samsung described the functionality as having a viewing area (the upper half of the phone's screen) and an interaction area (the bottom half of the display screen), which ultimately works just like a normal laptop – and specifically in this case, a really tiny laptop.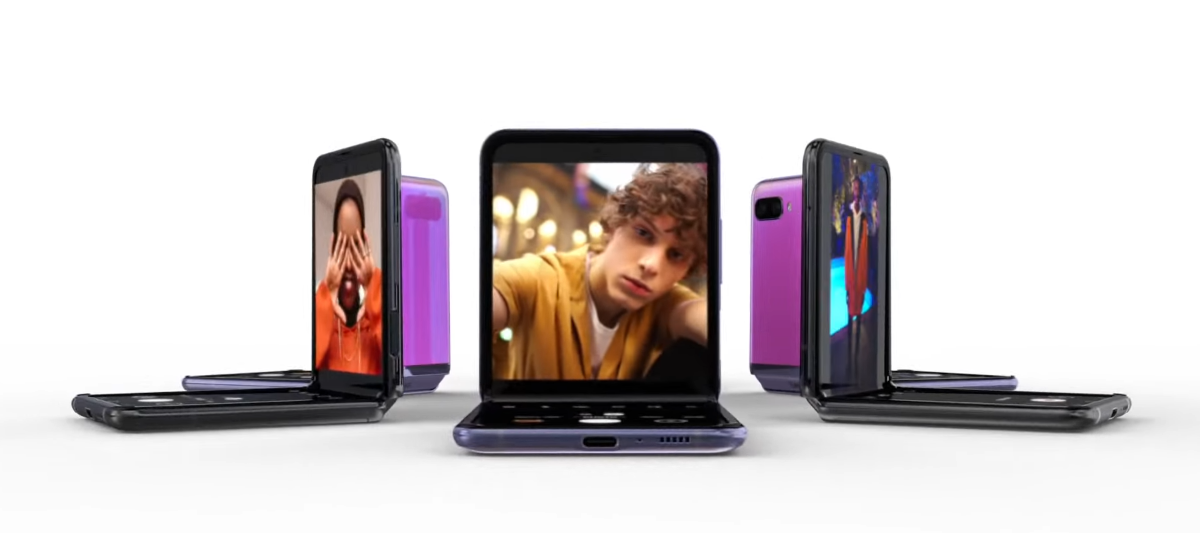 When opened halfway, some specific Apps (like the standard Camera App, the phone's Gallery, YouTube, Duo, and some others) will be split into two parts, meaning you'll have your images/video at the top, while the App's controls will be display at the bottom half of the phone's screen.
In that bottom half users will find a keyboard, track-pad, or even buttons (depending on the App that's being used). This cool new feature will fully-transform the Flip's 6.7-inch screen into something that's much more usable.
In addition, you won't have any reason to be worried when fully opening the phone back up (even if by mistake). Whenever the phone does get opened all the way a Multi Active Window will stack all of your opened Apps, bringing you a multitasking advantage that works exactly the same as if you were on your PC. This will make it extremely easy to use the Z Flip with multiple Apps running simultaneously.
A FREE Youtube Premium Subscription?
Google also rolled up its sleeves during this year's Samsung 2020 Unpacked event. The tech giant revealed a deep Duo integration that allows users to video chat as easily on their S20 as you would on a Google Pixel Smartphone – like Google's upcoming Pixel 4A Smartphone.
However, the coolest announcement involved in Google's presence was the free YouTube Premium subscription that comes with every Galaxy Z Flip purchase.
While it's still unknown if the subscription is open-ended (if you need to use the Flip to have the subscription active), the benefit seemed to be linked to the Flip itself since Samsung didn't limit the offer.
Nevertheless, even if you need to use the Flip to enjoy the included free YouTube subscription, this is still a great deal for a service that would normally cost nothing less than $12 a month.
R.I.P. 5G
This is a very sad one. While Samsung did talk a lot about 5G during its 2020 Unpacked Event, everyone was super surprised when it was announced that the new Galaxy Z Flip won't feature 5G support… Shame on you Samsung… Shame… On… You…
There are plenty of "somewhat meaningful" reasons to choose from about why the company decided to not bring 5G support to the Galaxy Z Flip's table.
These can go from the generated heat (which could cause the phone to easily overheat), the extra cost that would involve implementing a 2020 functionality like 5G support, or even the battery power this feature is known to need (which would easily consume the Z Flip's kinda-weak battery).
All of this basically means that if you were hoping for blazing download speeds on your Z Flip, then you'll sadly have to wait for the Galaxy Z Flip 2 to be released (or any other named Spin-Off version).
FINAL THOUGHTS
The Samsung Galaxy Z Flip will feature a strong 6.7-inch OLED glass display, a tiny 1.1-inch OLED cover display for notifications, two 12 MP cameras and one inner 10 MP punch-hole camera.
The smartphone will also bring 8GB of RAM, 256GB of storage capacity, a 3,300mAh dual battery, and a Snapdragon 855 Plus processor.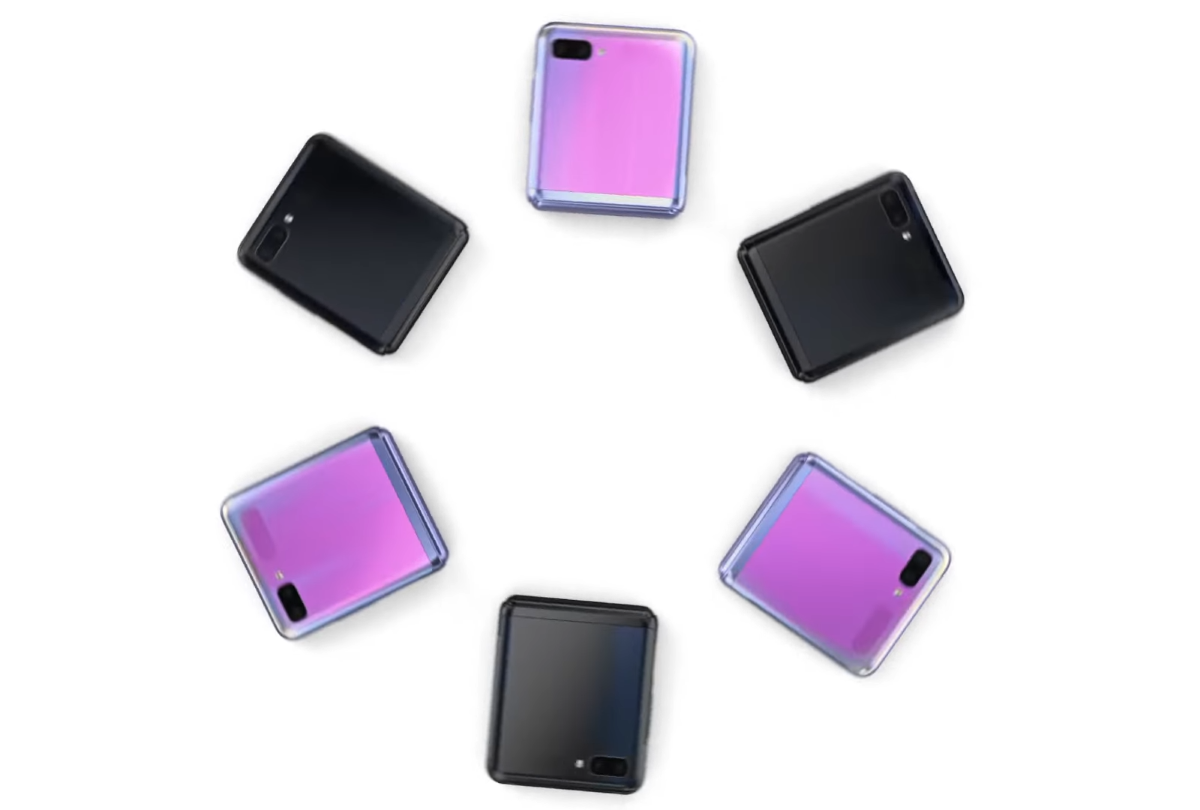 While it's super cool that this smartphone can be used as a Mini Laptop, its lack of 5G support leaves fans disappointed, and obviously hoping for more in the nearby future.
While no one can say for sure just yet, it seems like there will be at least two (x2) color models (or maybe even three (x3) according to this last picture). These will be Black, Purple, and possibly, Golden.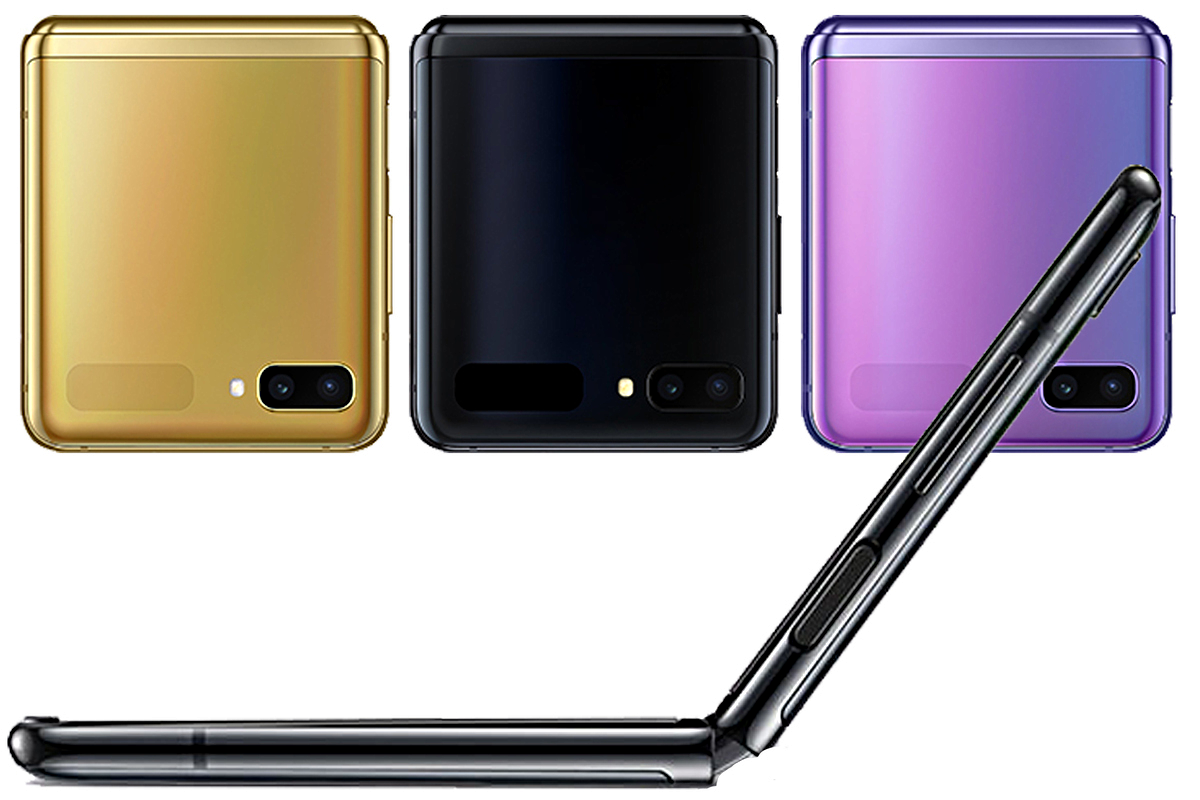 While this is already Samsung's second take at releasing a folding/foldable smartphone, this is finally its first one that's actually kind of affordable.
The South Korean Multinational Tech Giant is planning to launch its brand-new Galaxy Z Flip really soon – exactly on Valentine's Day (February 14th) – and each unit will be priced at $1,380, just slightly cheaper than Samsung's upcoming $1400 Galaxy S20 Plus.