Just like any other experienced parent would tell you, parents of newborn babies lose an average of over 6 weeks of sleep within their baby's first year. If you're one of those proud parents of a beautiful newborn baby, then you should know that you don't have to go through the same issue, which is basically sleep deprivation. This brings us to the 4moms mamaRoo Sleep Bassinet.
This is a smart and app-enabled baby sleeping gadget that can help you avoid the lack of sleep from constantly waking up in the middle of the night to tend to your newborn child. This smart baby gadget was developed by 4moms (owned by Thorley Industries, LLC), a Pittsburgh, Pennsylvania based Robotics company that makes amazing technology-enabled baby gear.
The 4moms mamaRoo Sleep Bassinet uses the same proven motions of one of the company's previously released products – the 4moms mamaRoo Smart Infant Seat. These gentle motions can easily help your baby falling asleep, as well as staying asleep for longer periods of time. This way, the device ensures that both your little one and even you and your life partner get the proper sleep that all of you need to be healthy and also diverse.
The mamaRoo Sleep Bassinet's special baby mattress provides a firm and flat sleeping surface that follows the AAP's Safe Sleep Guidelines and that's super comfortable for any newborn baby. Lucie's List adds that while the 4moms bassinet works roughly the same as the 4moms infant seat, its flat surface makes it safer for sleeping.
With the 4moms mamaRoo Sleep Bassinet you can easily and gently soothe and comfort your baby to sleep. The device works with a natural bounce and sway motions that move just like parents do. This smart baby sleeping bassinet features five unique motions as well as five different speed options for a total of 25 different combinations.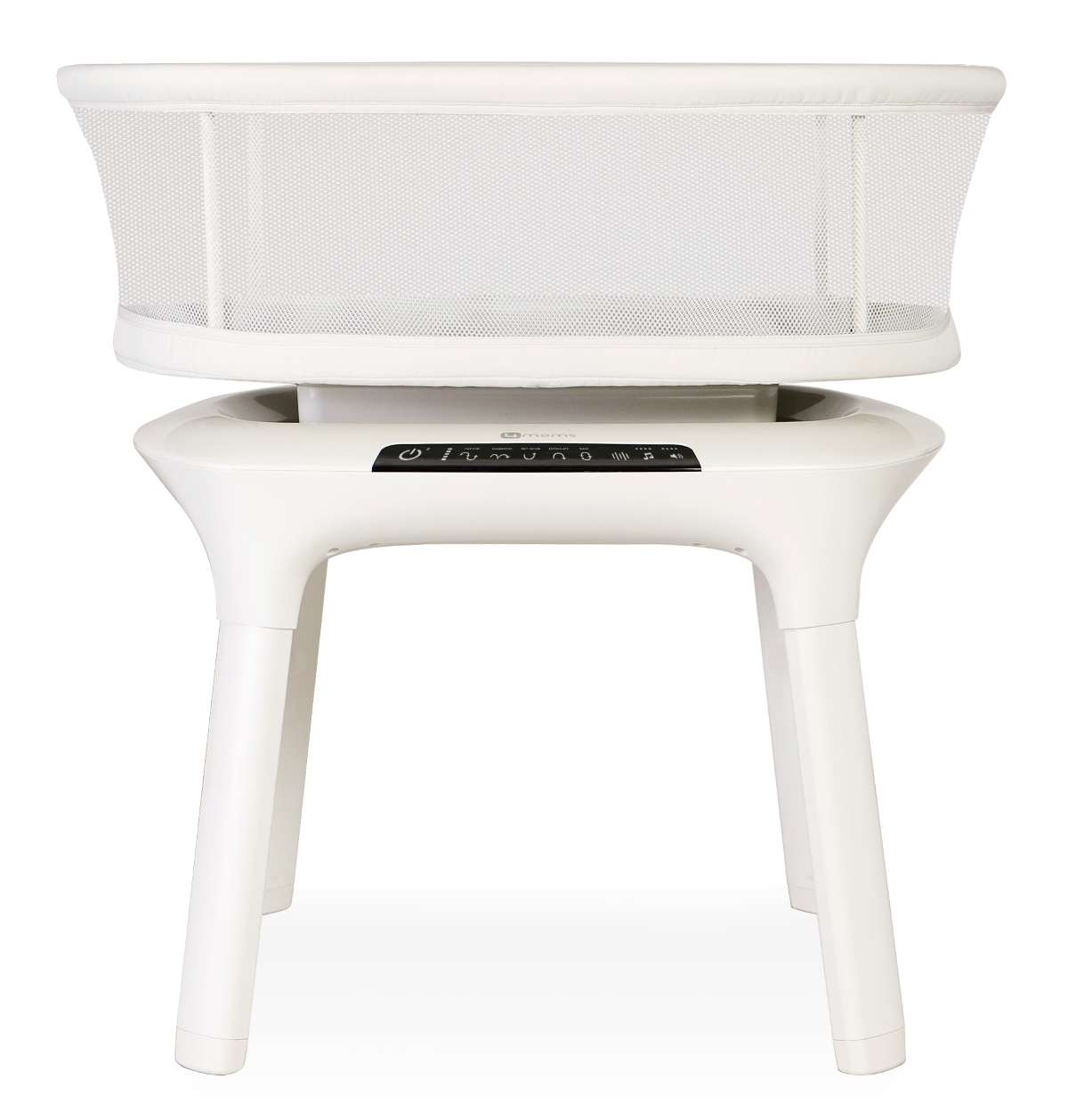 Let's take a detailed look at it, check all of its specs and features, and see everything that it has to offer.
DESIGN & SPECS
The 4moms mamaRoo Sleep Bassinet measures 34 inches long by 24 inches wide by 34.5 inches tall (without its Leg Extenders) or 34 x 24 x 39 inches tall (when using its Leg Extenders).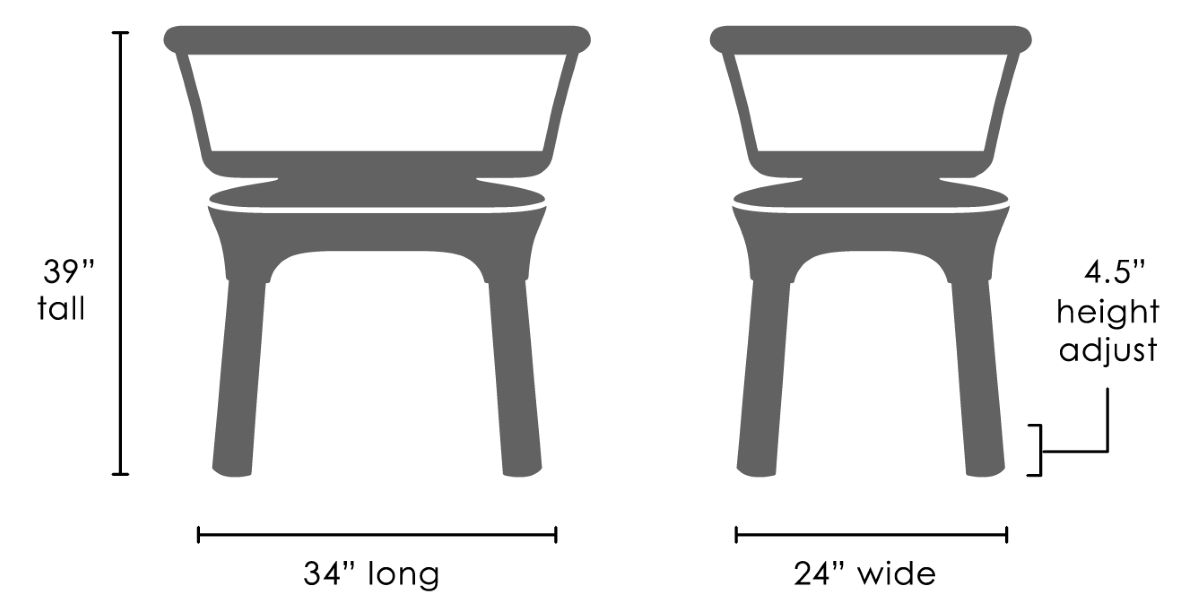 The unit is not super heavy, weighing exactly just 30 lbs. and comes with its own AC Power Adapter included, meaning that no batteries are required to make it work.
Thanks to the mamaRoo Sleep Bassinet's Leg Extenders, parents of newborn babies are offered an adjustable height for the device, ultimately making it extremely convenient to use.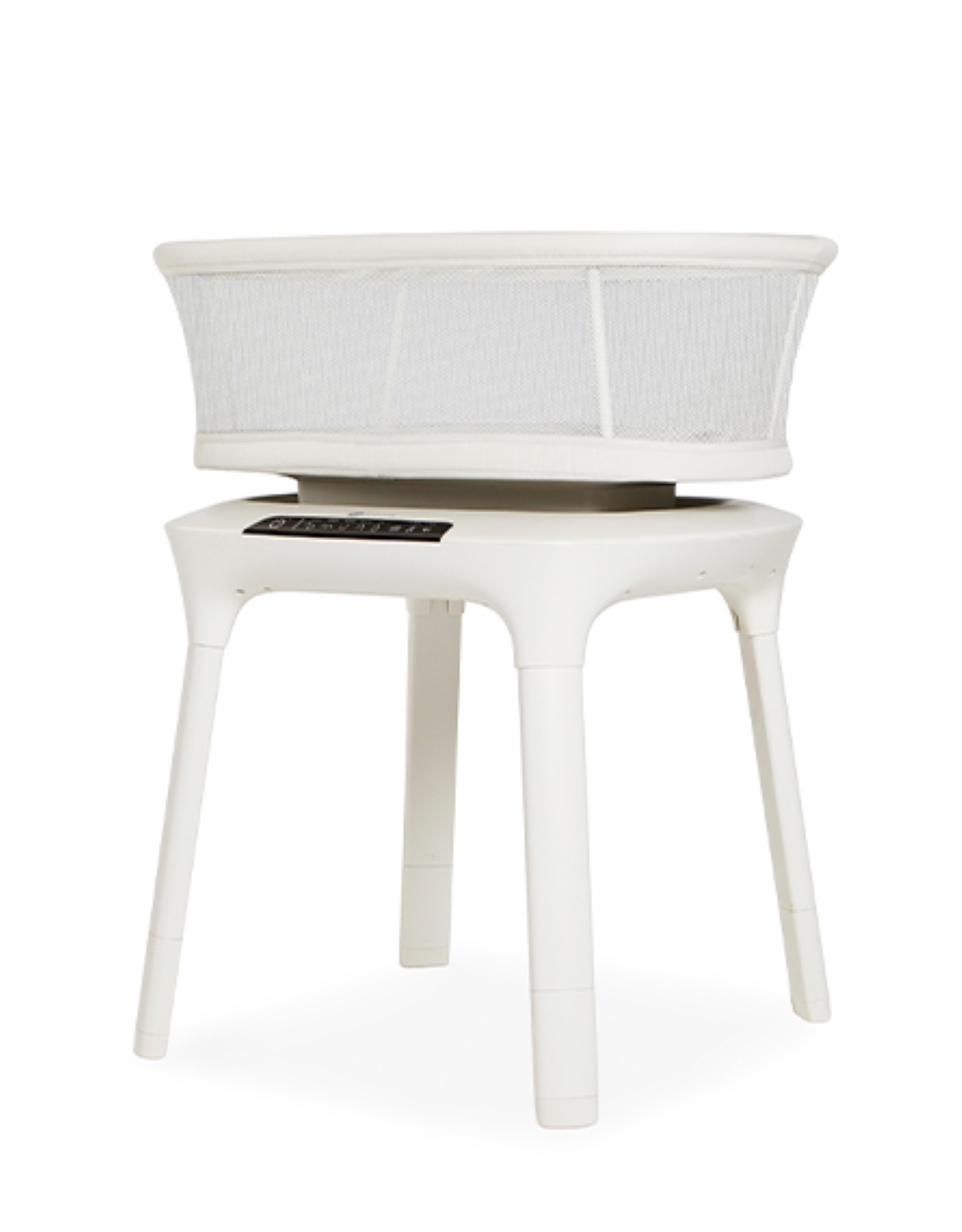 Be aware that this baby sleeping bassinet was designed to be used from your baby's birth until the child reaches the maximum weight limit of 25 pounds or until your baby can push up on their hands or knees (whichever comes first).
The mamaRoo comes with a water-resistant mattress (as well as with an included sheet) and features a super-easy tool-less assembly.
Keep in mind that while the included bassinet's sheets are machine washable. the bassinet's mattress, fabric and mesh are not, and can only be spot cleaned by using mild soap and warm water.
The mamaRoo Sleep Bassinet's special baby mattress provides a firm and flat sleeping surface that follows the AAP's Safe Sleep Guidelines and that's super comfortable for any newborn baby.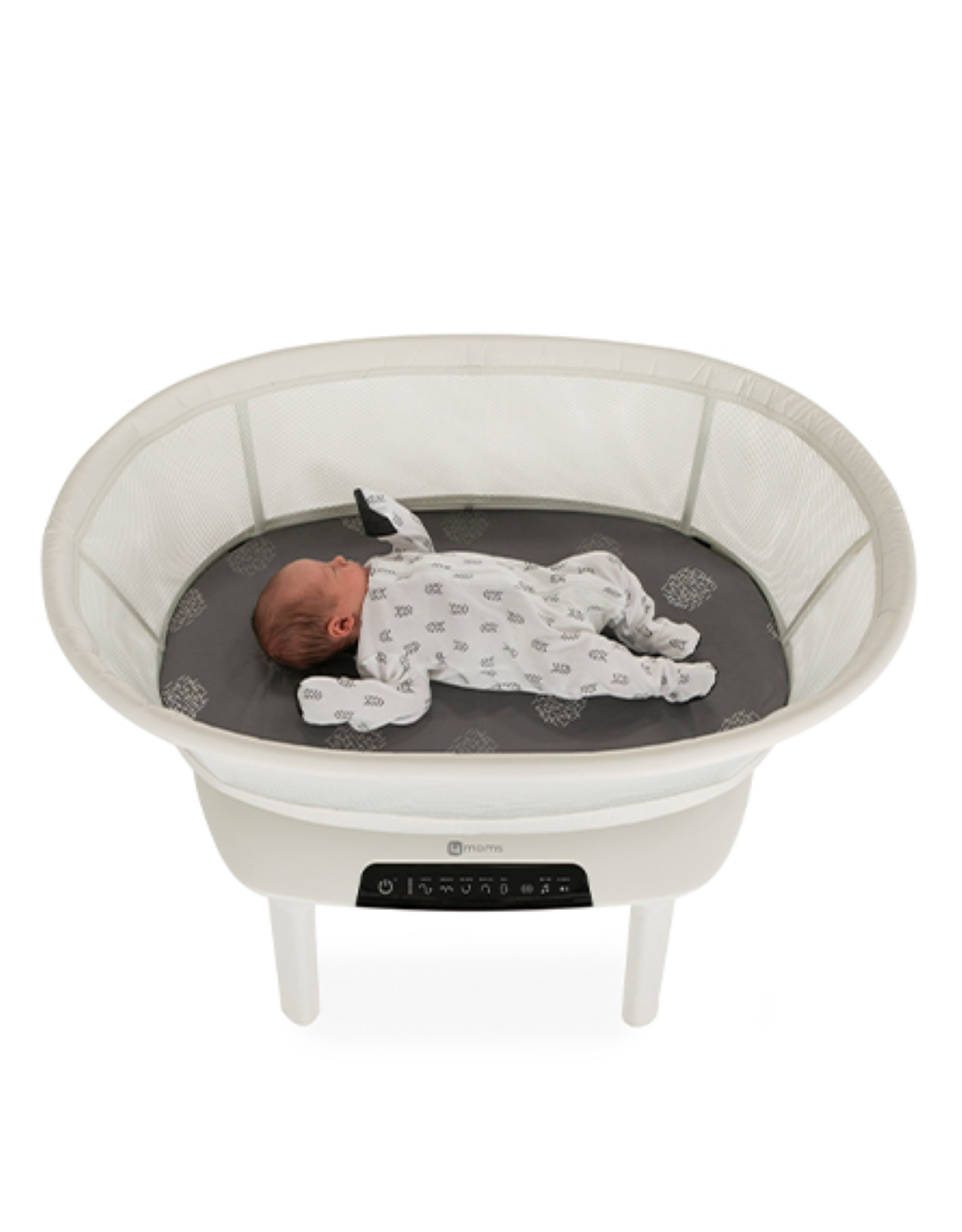 The bassinet itself (located at the top of the unit) can be easily accessed from the top and features mesh sides for added visibility from all sides (for the parents – when sitting next to their baby at the same height for example) as well as for extra airflow, allowing the baby to feel fresh and comfy.
This ultimately brings newborn babies their own separate sleeping space, one that's actually super comfortable and that can also gently rock them to sleep. All of the previously mentioned features (height adjustment, optimal visibility & accessibility, and breathable mesh sides) create a safe sleep environment for your baby and give both parents peace of mind so that both themselves and their baby can all sleep peacefully.
This smart baby sleeping bassinet also comes equipped with a Touch Screen Control Panel that allows parents to control all of its different functionalities (its 5 unique motions, 5 speed options and 4 noise options – all discussed ahead in the Features section of this article).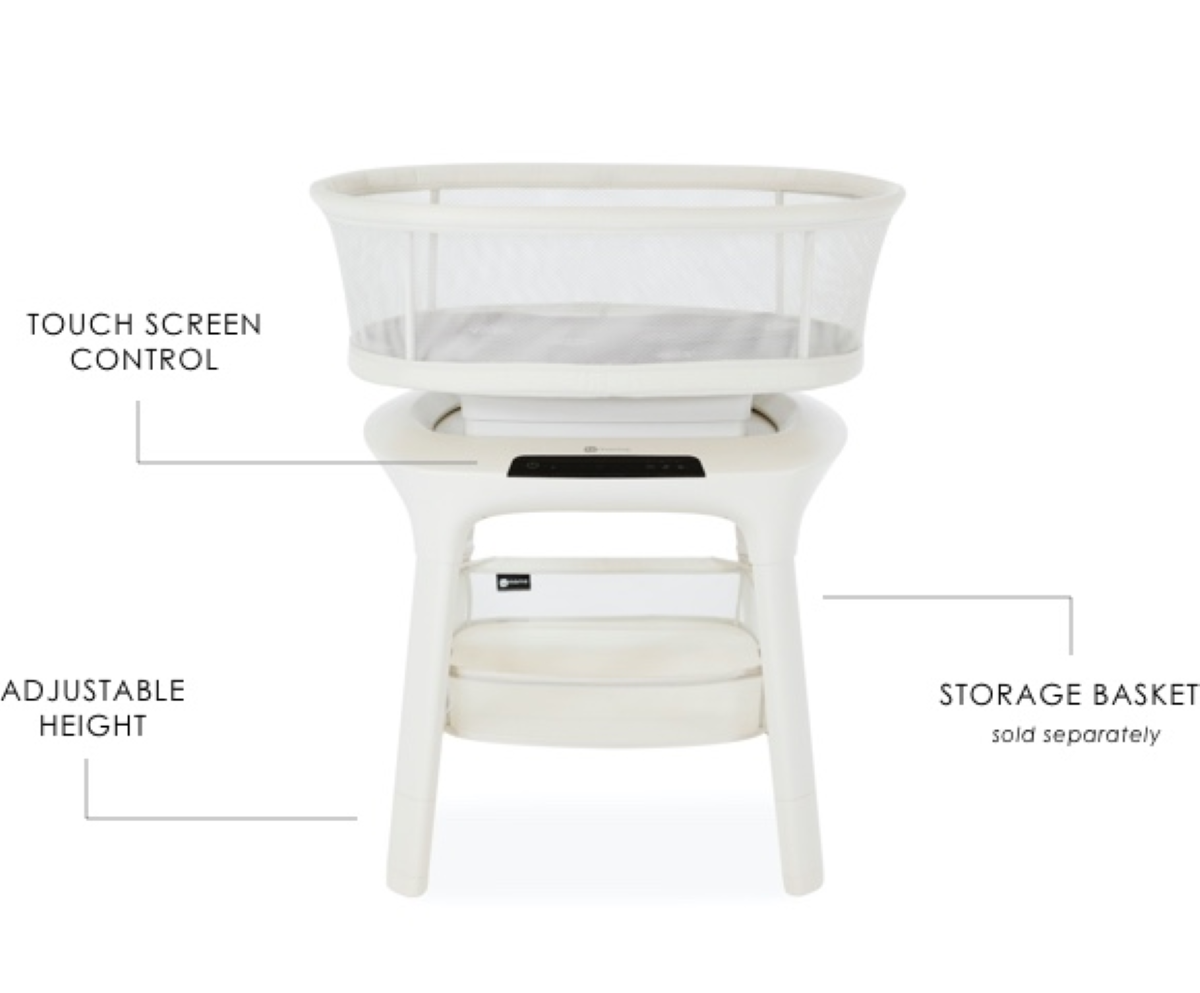 As stated before, this smart baby bassinet is also App-Enabled, meaning it can be controlled with your Smartphone via Bluetooth by using the mamaRoo Sleep Bassinet's Smartphone Companion App (the 4moms App – discussed at the end of the article).
FEATURES
5 DIFFERENT UNIQUE MOTIONS
4moms mamaRoo Sleep Bassinet features 5 different unique natural soothing motions. The shooting motions include "Car Ride", "Wave", "Kangaroo", "Tree Swing" and "Rock-a-bye".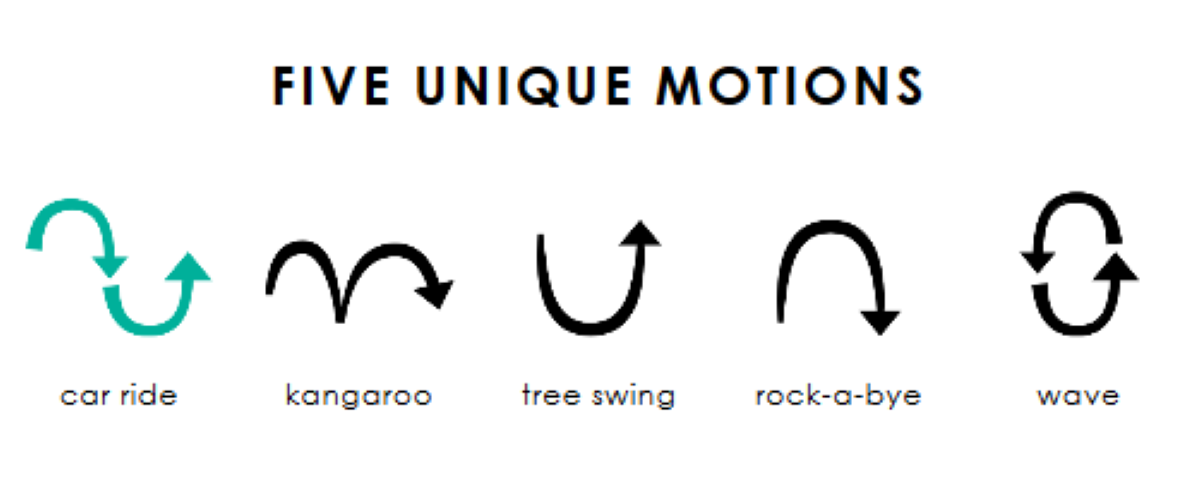 These 5 unique motions replicate the same natural bounce and sway motions that parents commonly use to soothe and calm their babies when holding them. The mamaRoo Sleep Bassinet's different unique bounce and sway motions can not only sooth your baby, but also help to improve the little one's sleep.
5 DIFFERENT SPEED OPTIONS
This smart baby sleeping bassinet also features a total of 5 different speed options for each of the 5 unique motions, allowing parents of newborn babies to find the perfect combination that their baby loves.
4 DIFFERENT WHITE NOISE OPTIONS – EXTENDABLE WITH .MP3 DEVICES
Not only does the unit present 25 different configurable combinations (5 motions x 5 speed levels), but it also features 4 different white noise options – which are "Rain", "Ocean", "Fan" and "Shh" – that can be activated by parents via the Smartphone Companion App (discussed right ahead), which can help their little relax and ultimately have an easier time falling asleep.
With these white noise built-in sound options, parents can easily soothe their baby to sleep. However, if they prefer parents can connect any MP3 device to the unit to play their own chosen white noise sounds.
VIBRATION MODE
The mamaRoo Sleep Bassinet also features a simple vibration mode that can be activated via the unit's control panel or via the Smartphone App, which can ultimately help your baby to fall asleep in a much easier way.
This can obviously depend from newborn to newborn, but most babies actually do like the gentle vibration that the unit produces.
CONFIGURABLE TIMER
Lastly, the mamaRoo Sleep Bassinet also features its own configurable timer that can help parents establish a bedtime routine for their newborn baby.
All that the parents need to do is to configure the unit's timer with their selected unique motion and speed level, and then schedule an exact time for those to be activated.
After that, parents will have the device work exactly like they've configured it, starting at the scheduled time frame and with the selected soothing motion and speed level, which will then get repeated each day.
THE SMARTPHONE APP – 4Moms App
With the 4Moms Smartphone App – which is completely free for both iOS and Android devices – parents can easily control the unit's features via their Smartphone.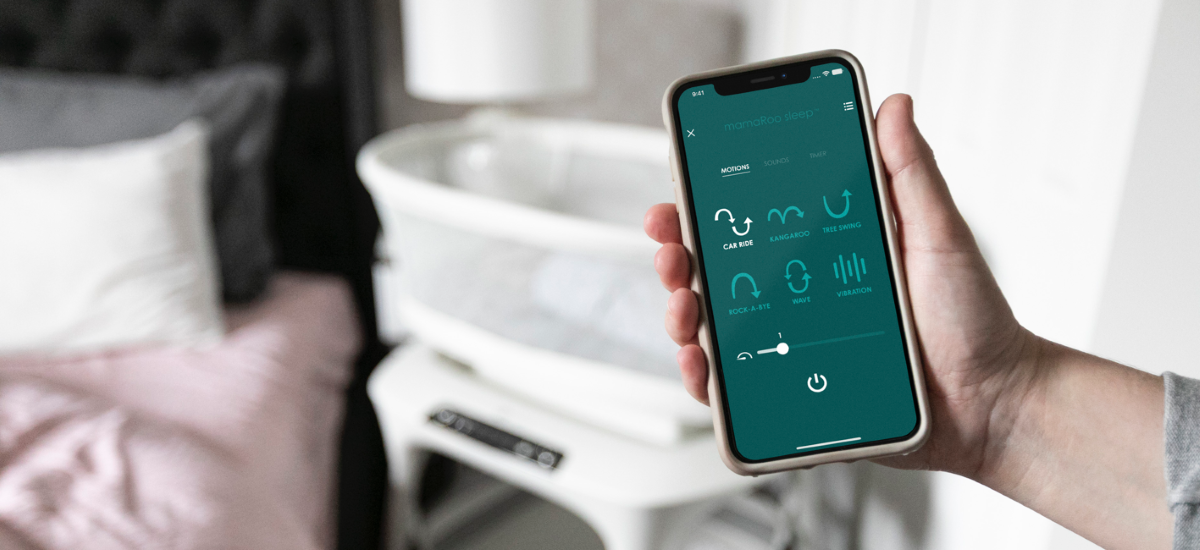 The 4moms App features the mentioned Configurable Timer that can – as previously stated – be used to help establish a bedtime routine for their baby, as well as to improve the child's sleep.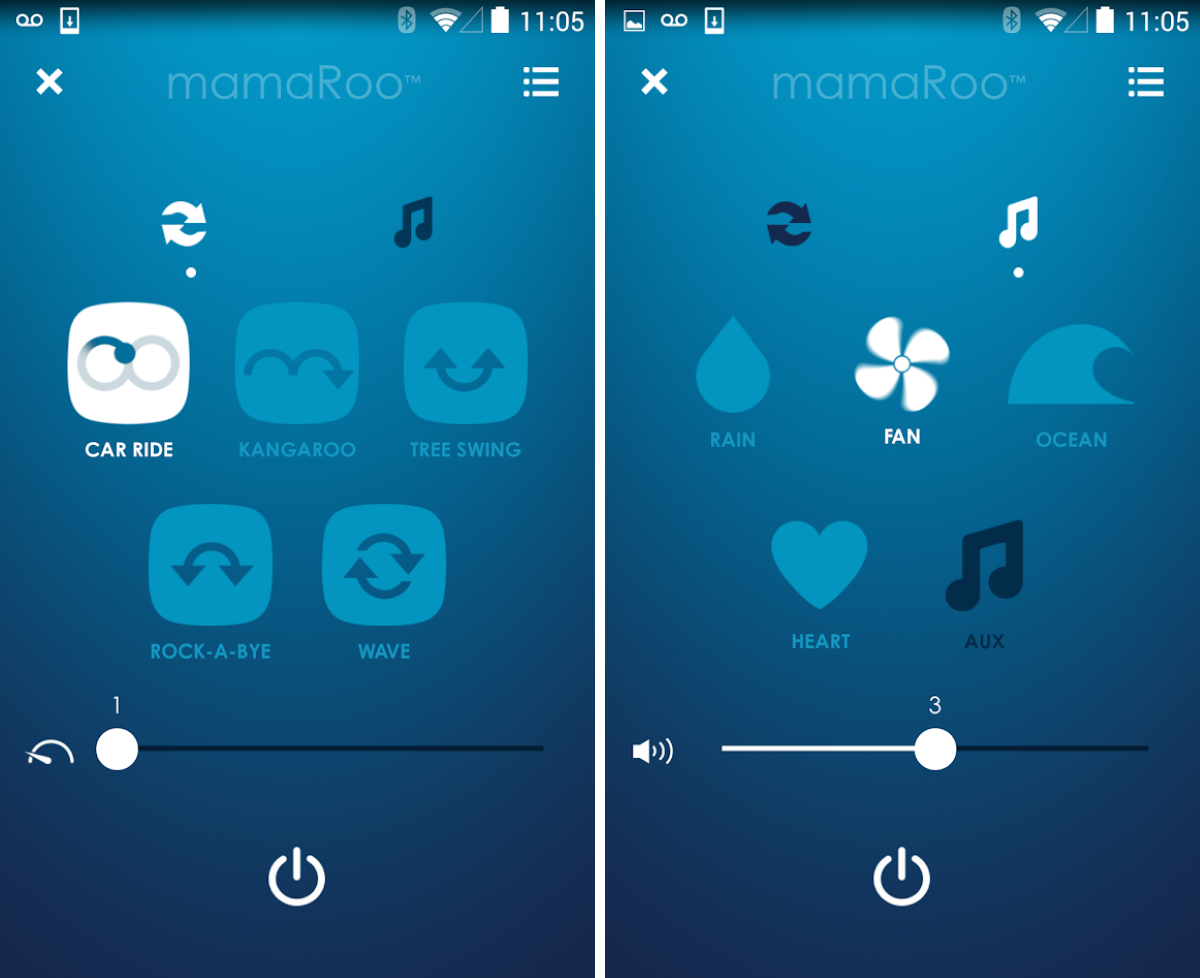 FINAL THOUGHTS
The 4moms mamaRoo Sleep Bassinet is Smart App-Enabled Baby Sleeping Bassinet that features 5 different motions with/without vibration, 5 speed levels, 4 white noises and a configurable timer.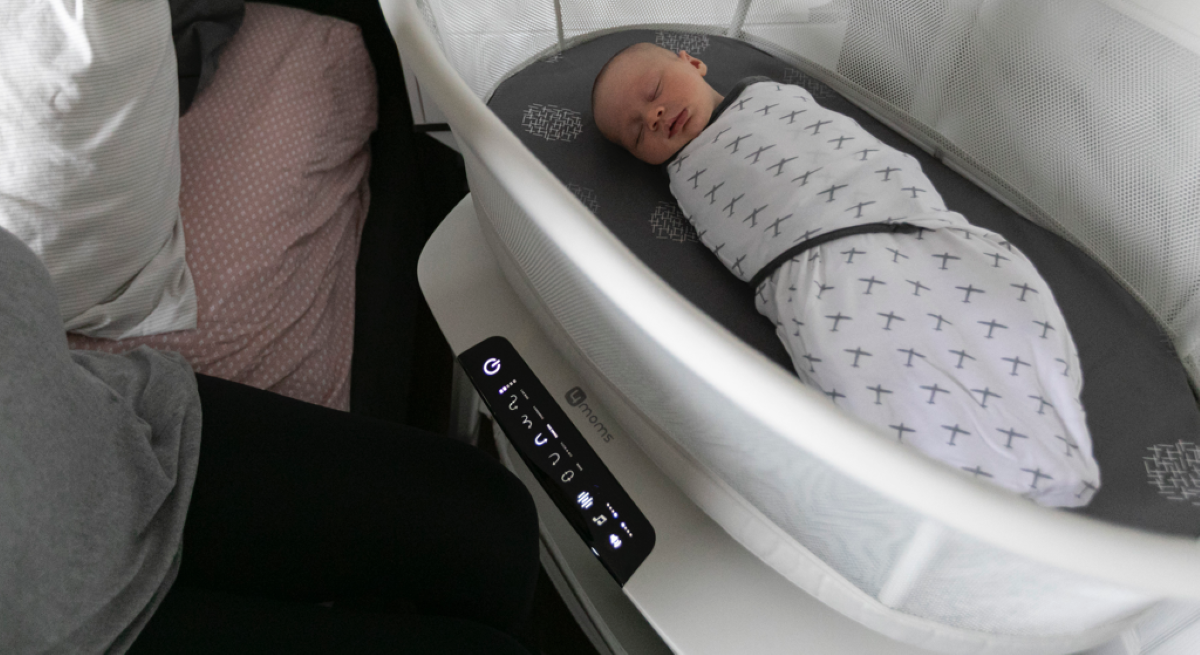 If you're interested in buying the 4moms mamaRoo Sleep Bassinet, each unit is currently going for $330 in total and comes with a 1-year warranty. However, you also have the option of going for monthly payments via affirm. You can choose to go with $28 p/ month for 12 months, $55 p/ month for 6 months, or even $110 p/ month for just 3 months.
You can check both payment options (full and monthly payments) by visiting 4moms' official shopping page, which you can access by clicking this link.