Ever feel like you can't keep up with technology, or things like the internet, social media and texting overwhelm you? If you're a senior, it's tough to keep up with the latest trends in tech, particularly those tech platforms that allow us all to communicate. I'm speaking specifically about talk, text and social messaging via a smartphone, tablet or PC. These days without some aptitude of these various devices, the world to many seniors can seem closed off, and leaves those same seniors isolated from family and friends. GrandPad, Powered by Consumer Cellular, is here to help those aging adults who still want to be on the tech bandwagon, and communicate with those who refuse to communicate in any other way other than text or messaging.
Consumer Cellular GrandPad is essentially a Nexus 7 tablet, which runs a customized version of Android that's designed specifically for older people.
Consumer Cellular GrandPad Overview
Consumer Cellular ships you the GrandPad quickly, and when opening the box, you'll find the GrandPad tablet, a stylus, a cover, the wireless charging stand and Verizon's 4G LTE onboard. The 4G connectivity is an added bonus considering seniors don't have to fool around with connecting to a router and home network. Plus, many seniors these days don't have home internet service, so the included Consumer Cellular wireless service is super-convenient, and it also gives them the flexibility of connecting where ever and whenever they want. Should they lose the device, no worries, Consumer Cellular insures the product if lost or broken, and they'll quickly ship a new one at no cost.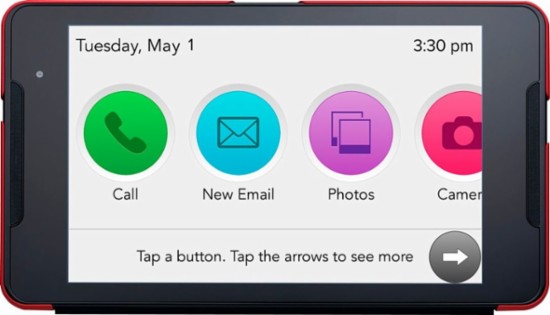 Consumer Cellular GrandPad Setup 
GrandPad is well thought out, and the company has an onboarding process that is second to none. In fact, when you receive the product, Consumer Cellular will call the user and walk them through setup, device orientation and training so there's no mystery about how to use the device. This can occur via a phone call, or right on the GrandPad screen.
The Consumer Cellular representation assigned to the senior's account will perform a multitude of setup functions, such as setting up user contacts, setting up admins, choosing user preferences, sending voice recorded emails, loading the user's favorite tunes, and even configuring their Instagram and Facebook accounts to automatically pull photos from these platforms so the user doesn't have to go searching for new pics. Additionally, the GrandPad can control how often new images show up, as well as the ability to connect the accounts of multiple family members.
The "Help" icon lets seniors view tutorial articles and videos, and the icon also provides a feature that lets them immediately connect to customer service for questions. Speaking of Consumer Cellular's customer service, they're available 5am to 8pm PST and 8am to 11pm EST.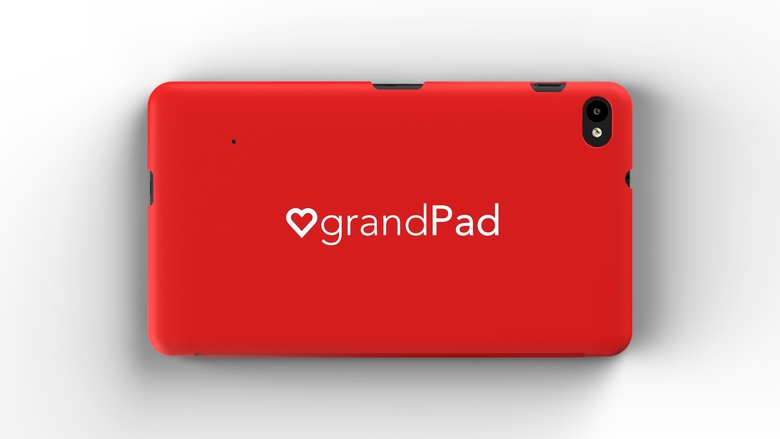 Consumer Cellular GrandPad Features
The user interface (UI) is designed with little to no guesswork involved. Using the stylus, seniors can select onscreen icons and links with pinpoint accuracy. The homepage is comprised of three different scrolling screens with various functional icons present. Primary features include Email, Phone, Camera, Photos, Music, Games, Help, Search and Weather.
Family members can use the Consumer Cellular GrandPad companion app on any Android or iPhone device to call the senior by voice or video or send text, email and upload videos and photos. When someone adds these photos and videos, every other family member in the network will see the same uploads if the senior sets it up that way.
There are also a few security features built into the GrandPad, specifically related to internet security and identity thieves. The GrandPad will allow seniors to call anyone using the 4G network, but the tablet will block incoming calls from unknown numbers. It also doesn't have a web browser, which will limit the risk of viruses, malware or unsolicited purchases.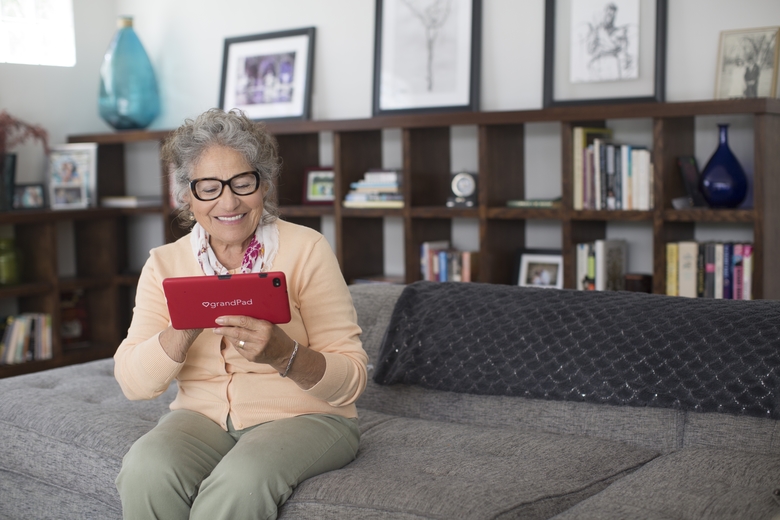 Pricing and Bottom Line
Technology solutions out there are designed for 30-year-olds, not seniors. GrandPad solves that problem by virtually eliminating the technology learning curve, and providing a state-of-the-art device that is super easy to learn and use.
The Consumer Cellular GrandPad runs $200 for the Tablet, and $40 a month for service. The monthly fee covers unlimited 4G LTE data, ad-free unlimited streaming music, customizable security options, mobile access for caregivers and family, and more. There are no long-term contract. You can even cancel the service at any time. For more information, or to order a GrandPad, visit Consumer Cellular's website here.
Comment on this article and other GadgetGram content by visiting our Facebook page, or our Twitter and Instagram feeds.