When looking for a smart pet camera, it's important to know all of its specs and features, as these can not only keep pet owners connected to their beloved pets, but also help to protect both their pets and their household. Let's check what are the best smart pet cameras currently available and discuss how important smart pet gadgets are when integrated in a smart home.
According to this Frontpoint Home Security Review, homeowners no longer prefer the traditional security system model requiring professional installation but instead, smart home systems that are easy to install and compatible with other devices such as smart pet tech.
FrontPoint Security Solutions LLC. provides security services by installing, monitoring, and maintaining security technology solutions in people's homes, including fire alarms and home security systems.
The company's recent survey – which accounted for 1,000 surveyed Americans aged eighteen and up – provided accurate statistics that suggested that exactly 56% of pet owners claimed that smart pet tech is now part of smart home systems, and is nowadays included in the smart home frontier.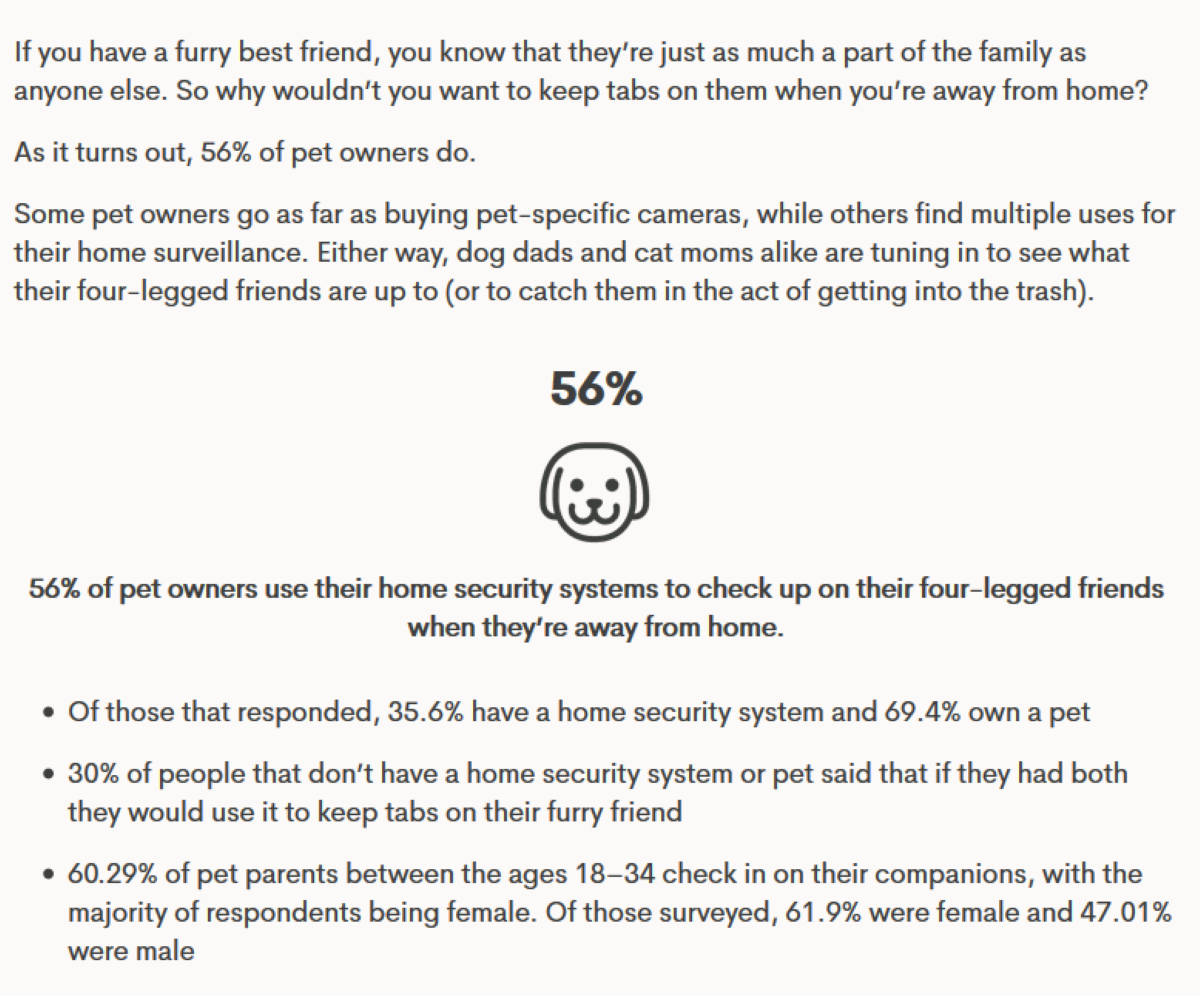 In its survey, the company had asked the respondents if they owned a home security system and if they owned a pet. Over 1,000 people responded, and more than half of people who own pets used their home security system to check in on their canine and feline friends.
Other statistics collected by the company also suggest that in 2019 alone, revenue from the smart home market amounted to $23.5 billion in the US alone.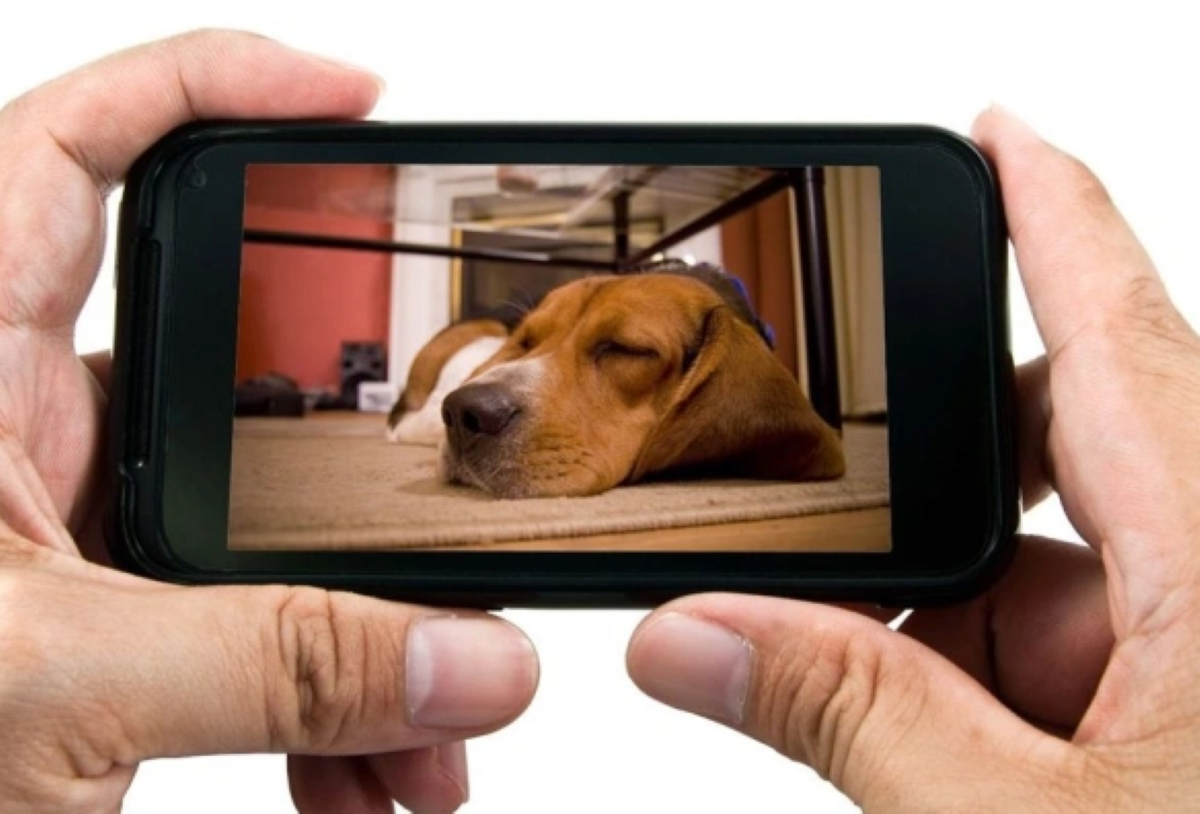 It's no secret that smart home products are on the rise, as we all know that these consumer gadgets can both lower utility costs as well as help you catch pesky porch pirates. Furthermore, smart home security systems also allow homeowners to check on their beloved pet(s).
SMART SECURITY CAMERAS AND THEIR MOST IMPORTANT FEATURES
These same smart home security systems mainly consist of smart security cameras packed with specific security features like HD Video Resolution, Remote Monitoring, Network Encryption (to offer only safe access to keep families safe), Night Vision, Motion-Activated Sensors and Recording, some included Storage Capacity (to go back to previous timelines and check those videos, which also might serve as empirical evidence when dealing with criminals), Smartphone Push Notifications and Alerts, as well as Two-Way Talk support.
In that same recently published report, FrontPoint Security Solutions LLC. offers a guide to Indoor Security Cameras – called "Your Guide to Indoor Security Cameras" – where in the original article the company compares both Indoor and Outdoor Security Cameras and speaks about both their advantages and disadvantages.
Pet parents can integrate these smart-home security cameras in many ways and in several different places. This includes camouflaging them, fastening them to stuffed animals, placing them somewhere in their living room or house entrance (indoors and outdoors) by using available vertical space, or even hiding them in plain sight between other smart home gadgets and smart home devices.
However, there are also several brand-new indoors smart home cameras that were designed specifically for pet owners and their pets. Here are some of the best smart pet cameras and pet owner-to-pet two-way communication systems that you can find today:
Furbo Dog Camera – Worldwide Smartphone Treat-Tossing Controls
The Furbo Dog Camera comes equipped with a Mic & Speaker that offer users Two-Way Audio, allowing you to talk to and listen to your dog.
It also comes with a 1080p Full HD camera, which is equipped with an Infrared LED night vision and a 160° (diagonal) wide-angle lens, capable of 4X digital zoom, allowing you to see your furry companion at any time of the day. The coolest part about it is that the Furbo Dog Camera also works with Amazon Alexa.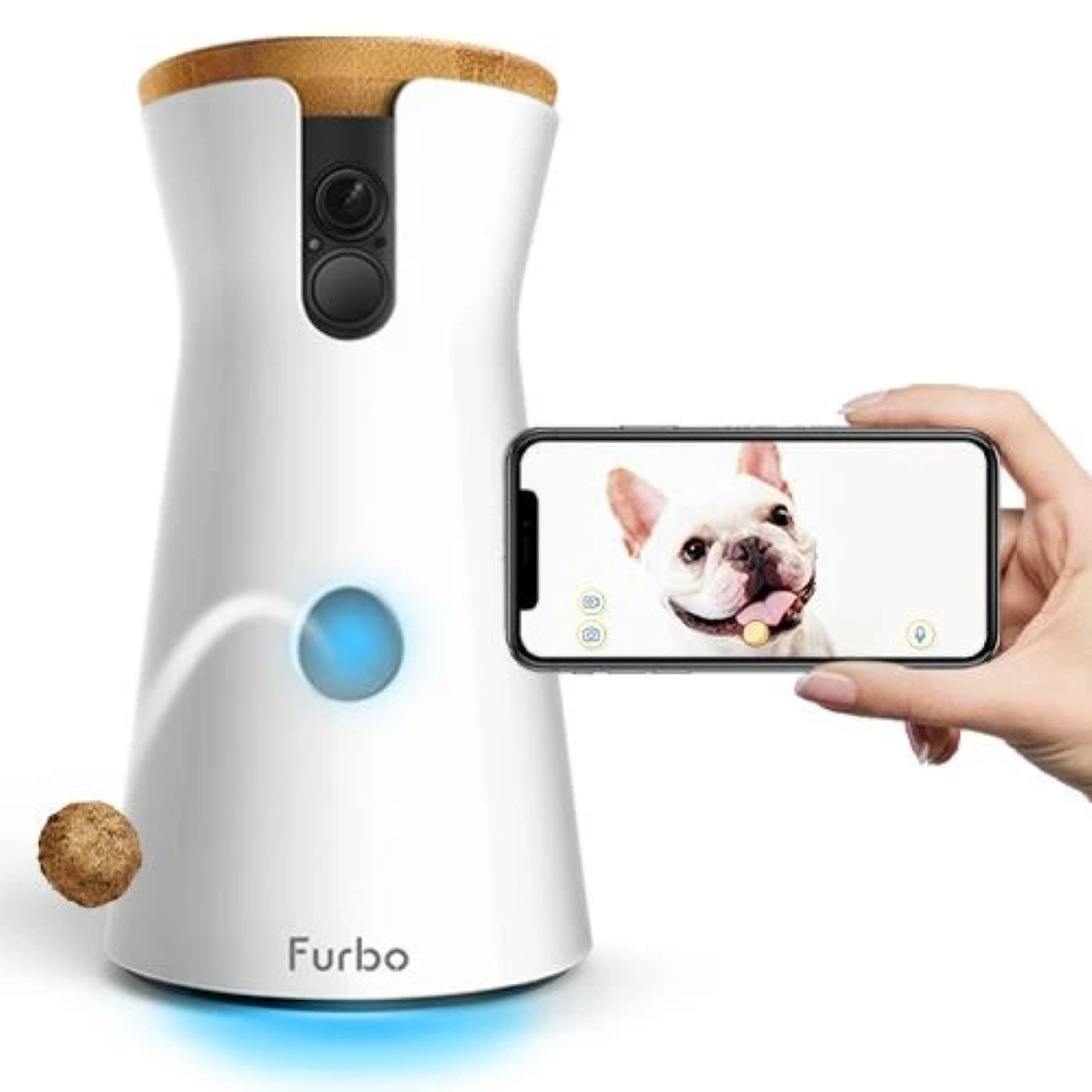 Via the Smartphone App users can shoot Photos and Record Video, use the unit's Fun Treat Tossing feature to toss a treat to their dog with the simple touch of a button, or even receive Barking Alert notifications as soon as the unit's microphone automatically detects barking.
The Furbo Dog Camera is currently discounted from its normal price of $250, now going for $180 (saves you $70). You can find it available at Furbo's official shopping page, which you can access via this link.
PetChatz HDX Pet Camera & PawCall – Two-Way Audio & Video for You and Your Pet
The PetChatz HDX Pet Camera and its companion device – the PawCall – are Pet Communication Gadgets that work as a Two-Way Communication system.
By using the main unit together with its companion gadget (the PawCall) pet owners can easily communicate with their pets, who usually wouldn't be able to answer a phone or make outgoing calls, that is… unless they use this system.
The PetChatz HDX Pet Camera comes equipped with a Low-Light HD camera, a Motion Detector, and a Full-Color LCD Display (where your pet will watch you during the Two-Way Calls), as well as a built-in Pet-Safe microphone, a Sound Detector, and a Full-Frequency Speaker (for robust sound), allowing you to talk to your pet everyday while using high-quality audio.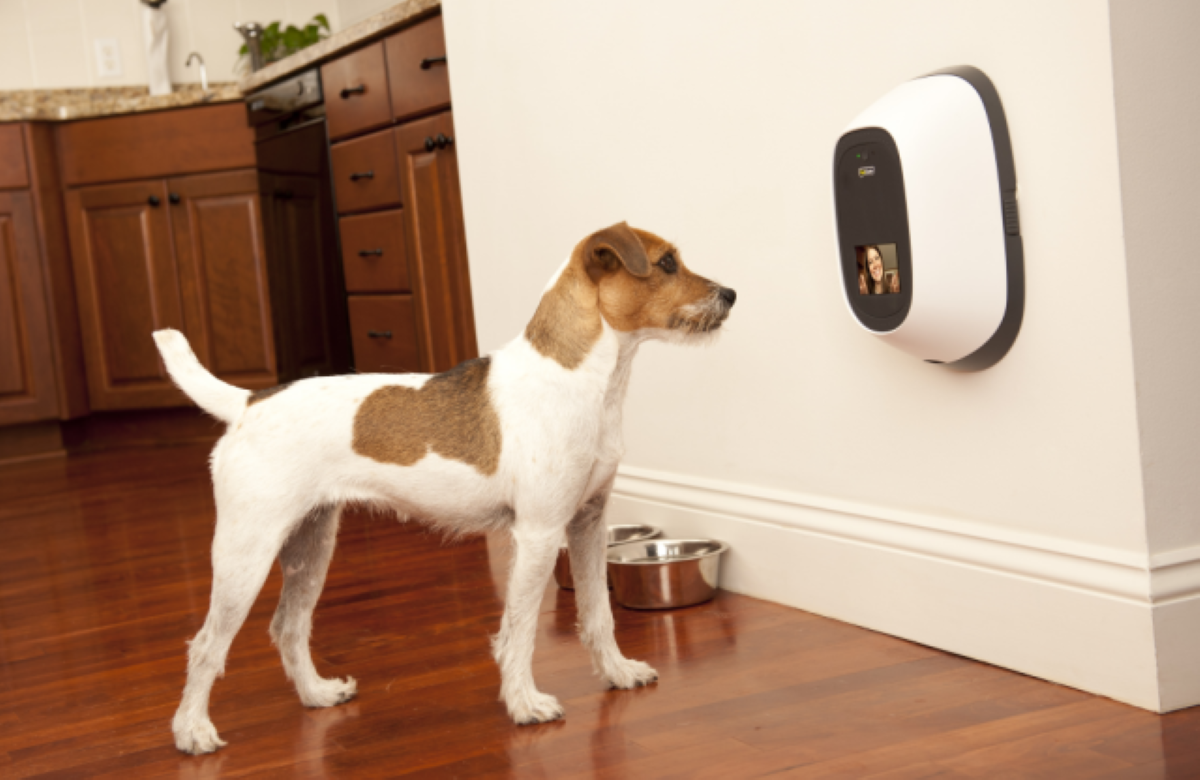 The main device (PetChatz HDX Pet Camera) is incredibly easy to via your Smartphone or computer/laptop. All you have to do is open the corresponding App on your Smartphone or personal computer, hit the chat button, and you can instantly go into Silent Mode where you can see your pet.
Whenever you want to chat with your furry friend, all you have to do is hit the chat button and the PetChatz HDX Camera will start to ring to alert your cat or canine about your virtual presence. The two of you can then see each other and "chat", and you can even press an in-App button to dispense a treat.
While the Camera offers pets Full Sensory Immersion to engage most of their basic senses – smell, sight, taste, hearing – the PawCall engages the last sense – touch – allowing pets to start video chats with their beloved humans.
This means that dog owners can train their dogs to call them when they miss their favorite human, thus strengthening the virtual bound between pet owners and their pets.
The PetChatz HDX Pet Camera costs $350 per unit and is sold separately from its companion device – the PawCall – which goes for $100 per unit. You can get them both at PetChatz's official website.
Petcube Play 2 Smart Pet Camera – Play Laser Chase with your pets at any time
With the Petcube Play 2 Smart Pet Camera owners can connect and play with their beloved pets 24/7.
The Petcube Play 2 Smart Pet Camera is a great Wi-Fi enabled Pet Camera for cat and dog owners. The device comes equipped with a 180° ultra-wide-angle lens camera for high-quality video (w/ Night vision) and motion detection, as well as a 4-microphone array and speaker bar that work as the unit's two-way communication system.
While its 1080p HD, 180° camera and interactive Laser Toy allow you to see, talk to, and exercise your pet remotely, the Petcube Play 2 also eases up the separation anxiety between you and your furry friend(s).
The Smartphone Companion App can be used to control both Camera, Two-Way Talk Audio System, and the Laser Toy features, as well as shoot Photos and Record Videos.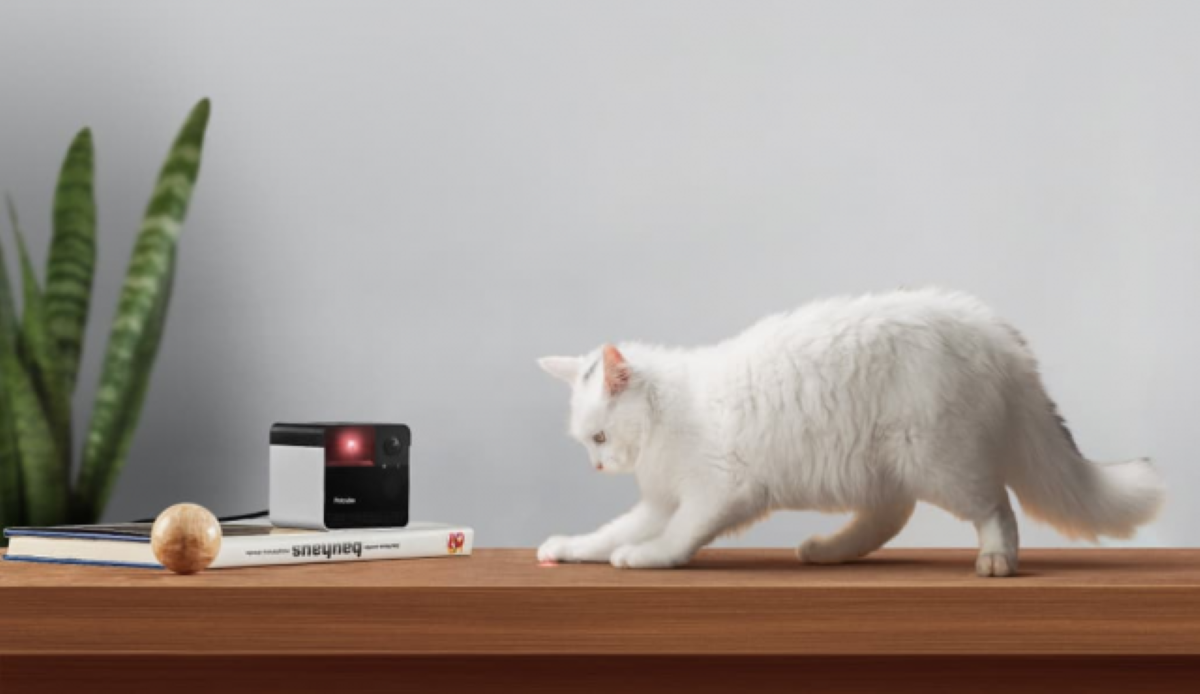 The system also features an Alexa integration, which allows pet owners to play music for their pet(s), order their pet's favorite treats, or even find the nearest vet.
All these features make the Petcube Play 2 one of the best smart pet cameras available on the market.
However, this smart pet camera lacks on a cool "treat-toss" feature like the one found in the Furbo Dog Camera, which could be used as a reward for the Petcube's laser-game.
Each unit is currently going for $150, and the company (Petcube) is selling its Petcube Play 2 Smart Pet Camera on Amazon. You can go to its corresponding shopping page via this link.
PlayDate Ball-Camera Pet Toy – Play Chase with Your Pets from Anywhere
While this "pet camera" is a bit simpler than the other ones mentioned above, it's still incredibly fun. The PlayDate Pet Smart Ball is a little Remotely Operated Pet-Toy plastic ball that comes equipped with a built-in wide-angle camera.
This smart ball-camera pet toy is extremely easy to setup and use, as well as super-fun for both owners and their pets, and works great for both dogs and cats.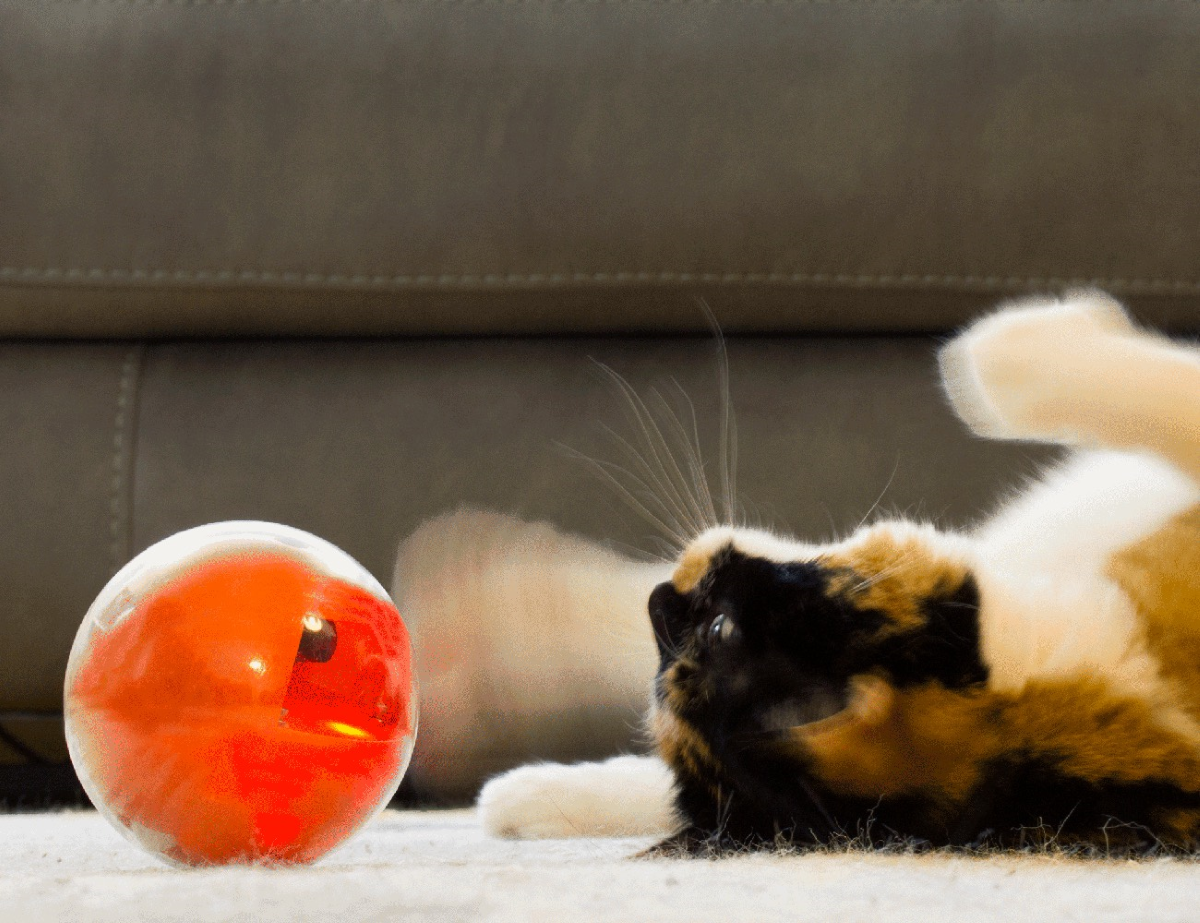 The PlayDate Ball-Camera works as a Smartphone-controlled pet toy, coming equipped with a 160º HD Camera, a built-in Microphone and a Speaker, allowing pet owners to use their voice to interact with their pets via the PlayDate's Two-Way Talk System.
The Smartphone App also features a customizable virtual Squeaker (its sound is reproduced via the unit's speaker), a directional touchpad that gives you total control of the Ball-Camera's movement, and Photo and Video recording buttons.

Thanks to the unit's wide-angle camera you can connect with your pet(s) and play together at any time of the day, in a way you'd never thought possible. All these features make this pet toy simply awesome.
The PlayDate Smart Ball-Camera Pet Toy (3″ unit) is currently discounted from its original price of $250, now going for $190 (saves you $60). There's a slightly bigger unit (4″ unit) for $200 (saves you $50). You can get it directly at its official shopping page, which you can access via this link.