Both fashion and technology never stop evolving. While these are two totally different categories, there are some ingenious gadgets on the market that manage to combine both classifications together into one single simultaneously stylish and smart gadget. And that's exactly the case with the Xoopar Iné Wallet.
The Xoopar Iné Wallet is basically a sleek, fine grain genuine leather wallet that can hold up to four of your preferred credit and transit cards, while also allowing you to recharge your smartphone via its ultra-thin 3000mAh battery.
The company (Xoopar) describes its brand-new Iné 3000mAh Power Wallet as the world's most advanced wallet available on the market. The Iné Wallet showcases Xoopar's experience of power bank design while also adding an expertise of elegant leather goods, allowing you to be both "chic" and connected with one single gadget.
While you might think that it is physically impossible to keep all of your credit cards and your smartphone charger in the same place, the Iné Wallet proves you wrong, as it can do exactly that.
Furthermore, if you're worried about your credit cards being erased or magnetized by the charger cells, know that there's nothing to fear. The Iné Wallet is lined up internally by a thin metal foil shielding within each of its card slots, offering Full RFID Anti-ID Theft Protection to all of your personal cards against RFID remote data theft, while also keeping them safe and sound against the magnetic field generated by the wallet's 3000mAh battery.
Let's take a detailed look at this amazing tech-powered wallet and check everything it has to offer.
DESIGN & SPECS
The Xoopar Iné Wallet is a sleek, durable, luxurious, gorgeous and innovative genuine fine grain leather wallet that measures 4 inches long by 3 inches wide by 0.5 inches tall, featuring a premium brushed aluminum body with high-quality traditional stitching.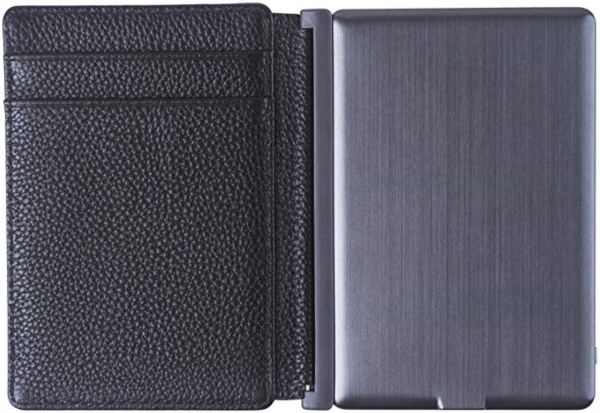 This is a wallet that was designed with both convenience and durability in mind. While the wallet features an extremely thin design to easily work as your personal credit card holder, it also comes equipped with an ultra-thin 3,000 mAH rechargeable battery, working as your very own pocket power bank for your smartphone, ensuring that your phone's battery lasts you the entire day.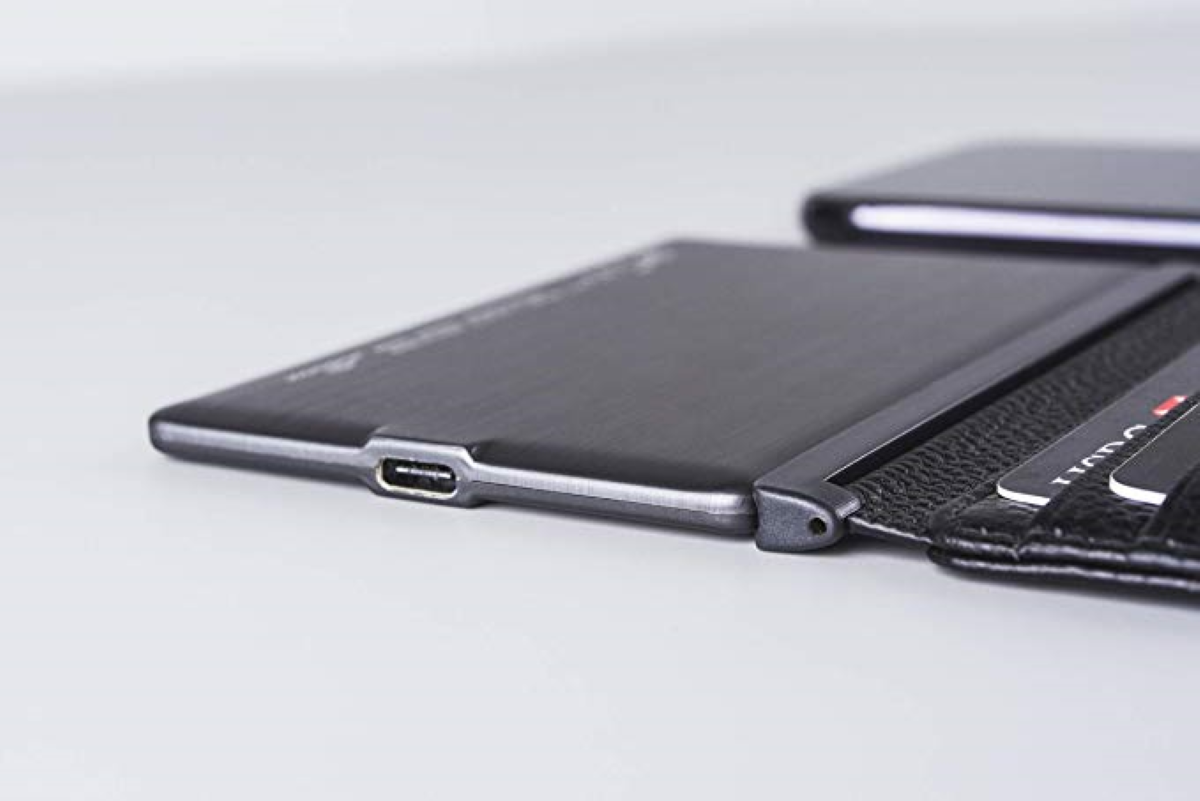 Not only it this the only wallet in the world capable of offering a full day of iPhone charge, as it delivers more than an additional full charge to most modern smartphones in an incredibly thin (and gorgeous) form factor, but it is also the most brilliantly designed wallet on the market.
There's also a built-in Multi-Function LED charge indicator located on the side of the wallet.
The wallet features a total of 4 credit card slots, each one offering full RFID anti ID theft protection (described with detail in the features section).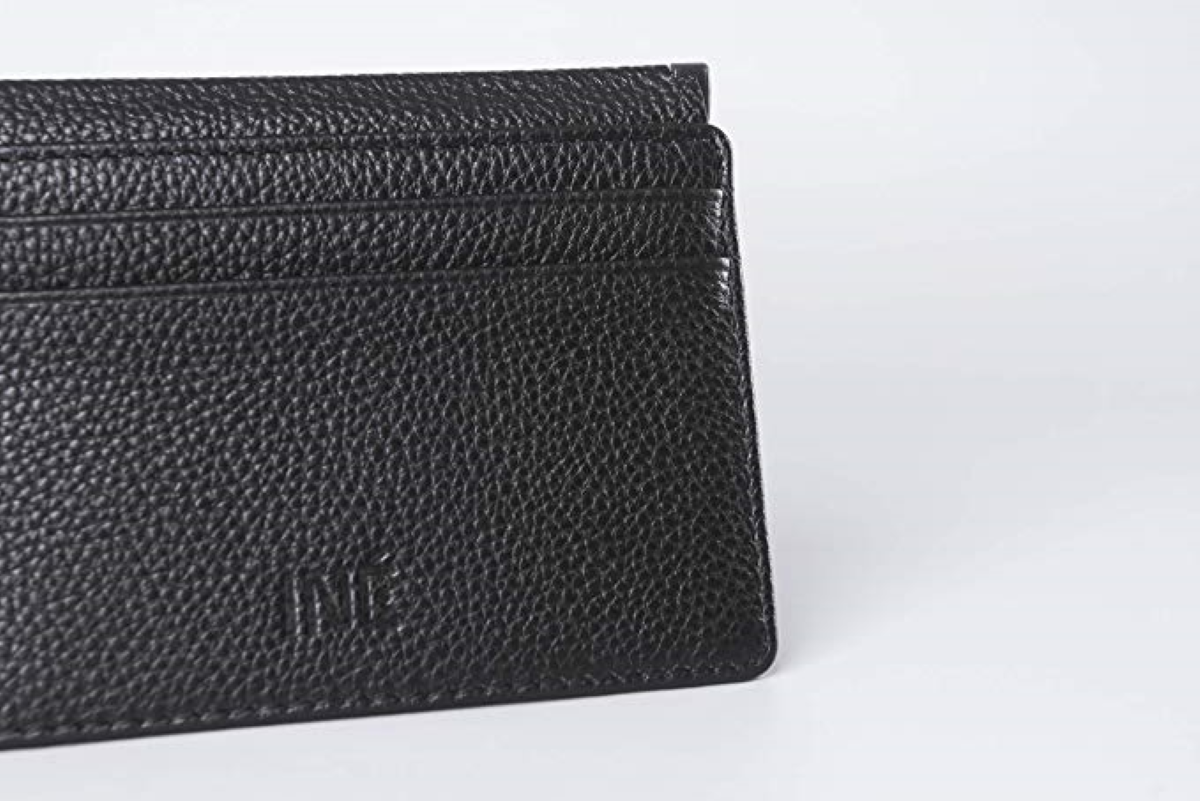 The wallet also features a patented sliding bar mechanism that allows you to make it even thinner.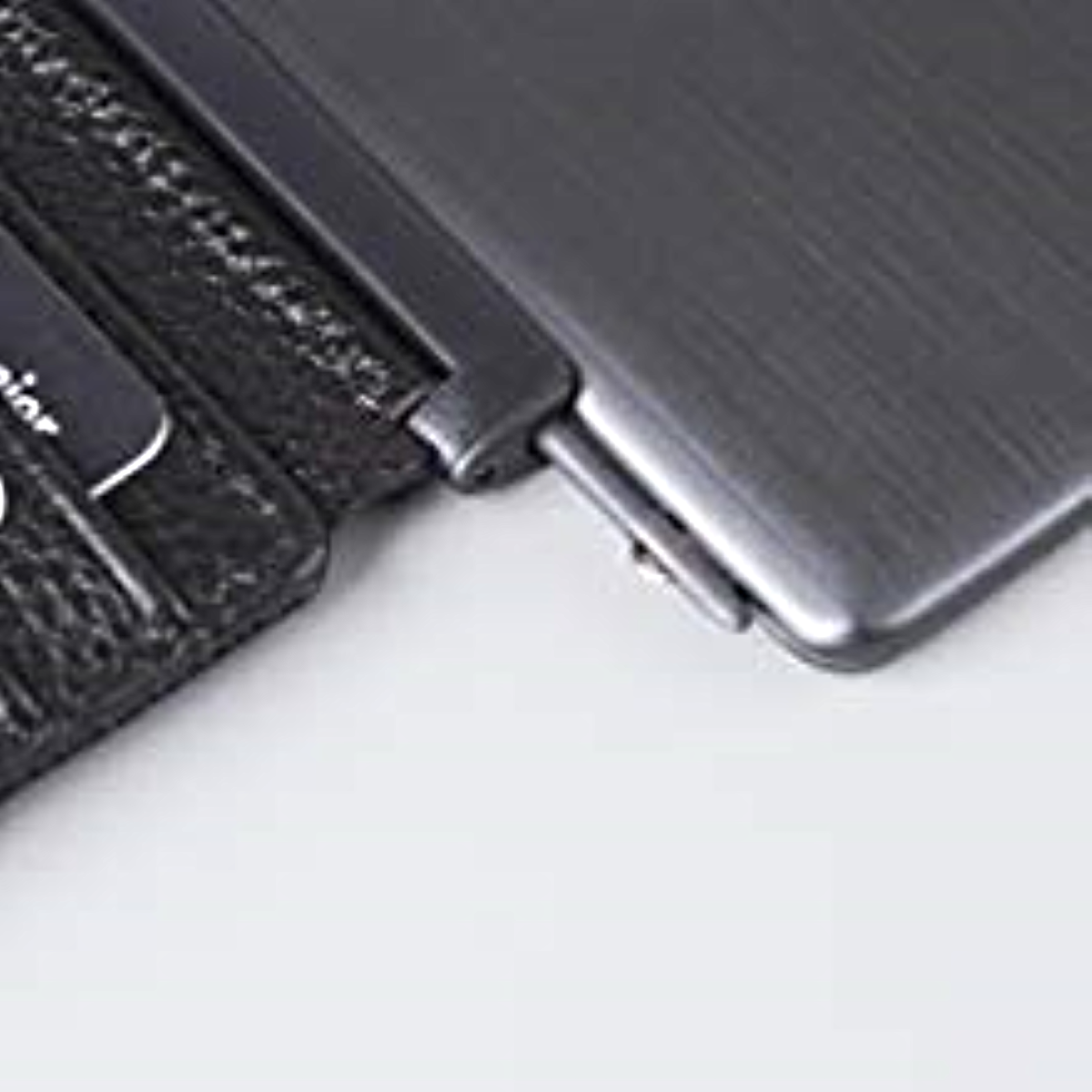 This way you get precision thinning mechanisms, attention to details, perfect stitching on fine grain leather, and an ultra-thin 3,000 mAh battery, all together in that "impossibly" thin enclosure.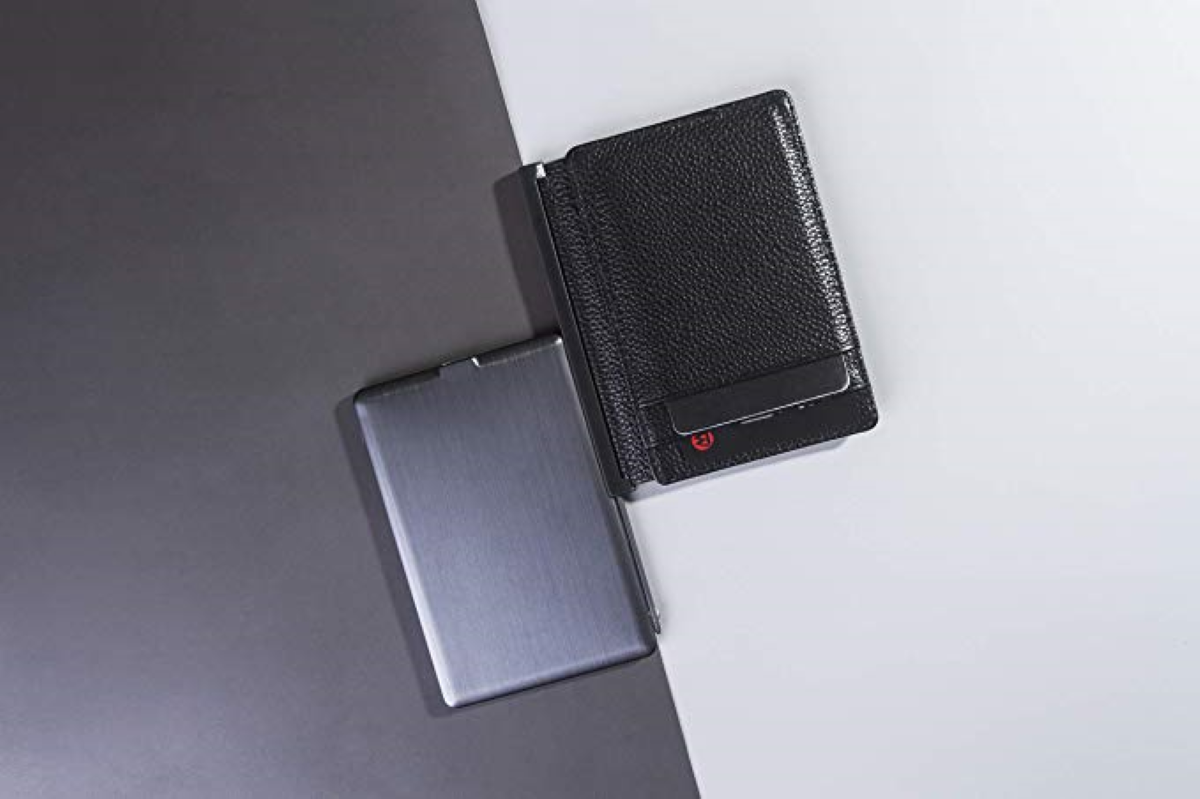 WHAT'S IN THE BOX?
The Xoopar Iné Wallet comes carefully packed inside a luxury metal box, which is reusable for endless purposes, unlike cardboard or plastic packaging that end up going directly to waste.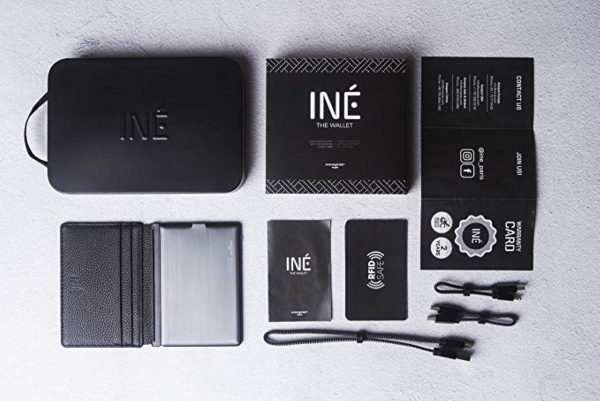 Inside each package users will find: their Iné Wallet, an included long USB cable (used to recharge the Iné Wallet either from a power wall USB plug (faster charge) or from a laptop USB port (slower charge)), a compact braided charging cable for iPhone / Android with USB-C connector that's ready to be looped to your keychain for maximum convenience, an Instructions Manual and its warranty card.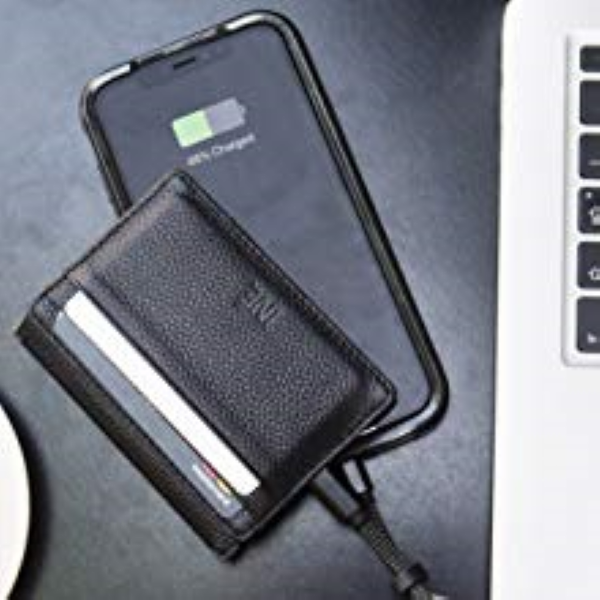 NOTABLE FEATURES
Full RFID Anti-ID Theft Protection
Other than its offered extra battery life convenience and featured ultra-durable design, the Xoopar Iné Wallet was also designed with security in mind, as it also offers its users full RFID protection for all of their personal cards.
Each card slot is lined up in a thin metal foil shielding that easily prevents any RFID remote data theft attempt.
FINAL THOUGHTS
The Xoopar Iné Wallet is a fine grain genuine leather wallet that comes equipped with a 3000mAh battery that works as your smartphone's powerbank while also featuring Full RFID Anti-ID Theft Protection for up to 4 cards.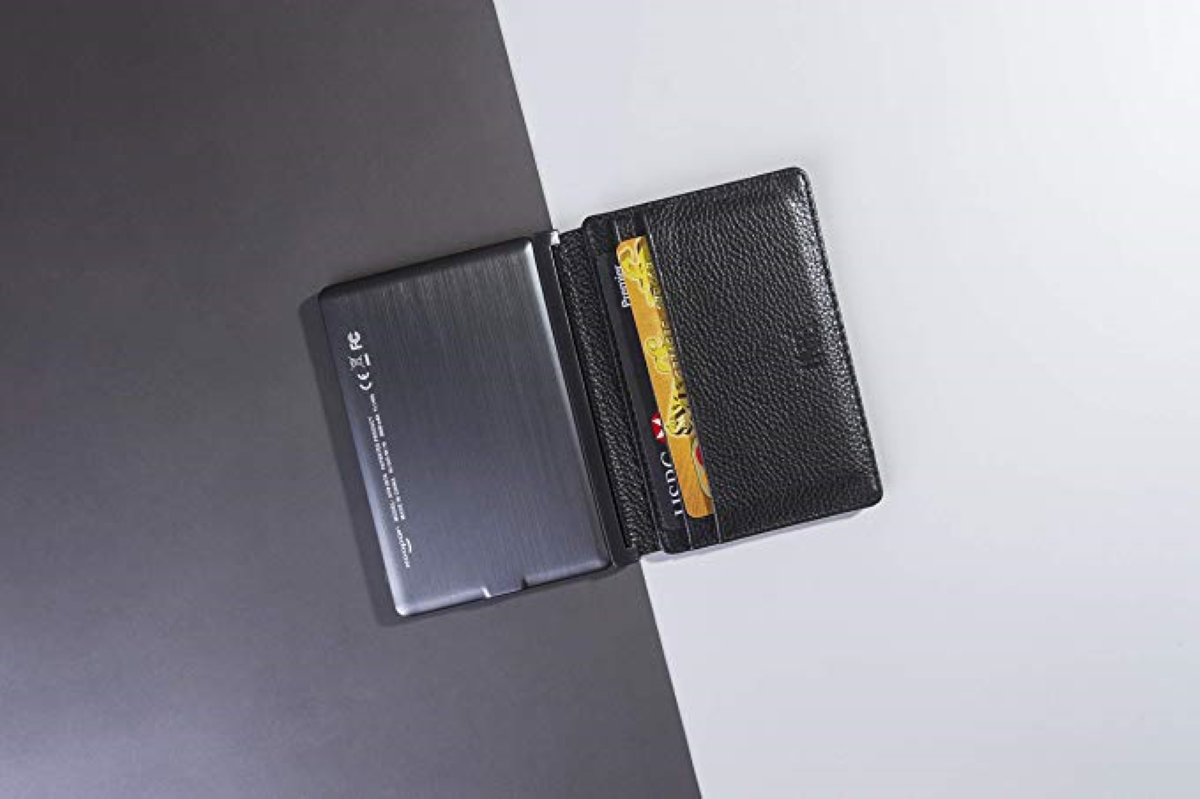 This wallet is perfect for all travelers, jet setters and business people that are constantly on-the-go. The Iné Wallet is convenient, super thin and beautifully classy in its fully brushed aluminum body, redefining both mobility and efficiency in one single piece.
If you're interested in getting it, each unit is currently going for $100. You can order yours online, directly from Amazon's shopping page (who Xoopar is officially partnered with, as that's where the company sells all of its products), which you can access by clicking this link.