Robotic lawn mowers are smart and autonomous robot mowing units that can easily navigate through a previously configured area within your lawn and cut the grass in that designated perimeter. One of the best robotic lawn mowers that's currently available on the market is the Robomow RS612.
Robomow's recently released Robomow RS612 is a robotic lawn mower that's packed with a ton – and I really mean A TON – of features. This smart autonomous lawn mower can automatically cut your yard without much interference, and comes with all the features of the flagship Robomow RS630, but contrarily to the RS630 model, the Robomow RS612 comes equipped with a smaller lithium battery and smaller brushed motors.

Not only that, but the Robomow RS612 also features Alexa Smarthome Capabilities, meaning that you can have it cut your lawn's grass with a simple voice command.
Let's take a detailed look at this amazing smart autonomous lawn mower and check everything it has to offer.
DESIGN & SPECS
The Robomow RS612 measures 29 inches long by 26 inches wide by 12.2 inches tall and weighs exactly 44 lbs. It's not exactly small, but it is also not that big.
It is, however, slightly heavy. Still, that's not entirely a bad thing, as its weight easily helps to keep the unit stable and also prevents it from flipping while moving through any unexpected slopes. Flips will only happen if the robot somehow finds a huge inclination while moving (more on that in the Coverage Area Section).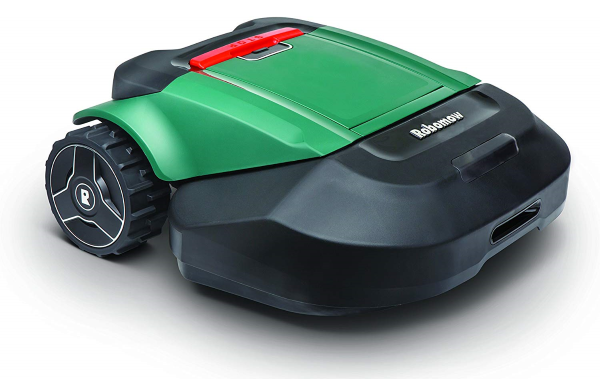 This robotic lawn mower features a robust and modular design that allows it to tackle different sized lawns. Furthermore, its design also allows the unit to easily handle all grass types, including thick St. Augustine grass.
This autonomous robotic lawn mower comes equipped with two strong 11-inch DC brushless blade mowing motors. There's one strong 11-inch stainless steel, three-star cutting blade attached to each of the unit's brushless blade motors. These two strong motors are combined to ultimately create a 22-inch-wide cutting path, which allows the Robomow RS612 to complete mow your lawn faster than most other robotic lawn mowers available.
Whether the unit has to go through pinecones, small twigs, thick lawns, or even thick, high St Augustine grass, nothing is a fair match for this robotic mower's 22-inch brushless blade motors.
Furthermore, its two 11-inch DC brushless blade motors are also super quiet, as the Robomow RS612 can barely be heard when standing only 20 feet away from it. The Robomow uses quiet motors and a robust, quiet drive system, which ultimately makes the unit quiet enough to mow at night.
This robotic lawn mower works at reduced noise levels, featuring a maximum noise level of 72~74 dB when running on its highest power settings, and only 66 dB when running on its ECO Mode (discussed further ahead).
This robotic mower also comes equipped with on-board lifting sensors, on-board tilt sensors, on-board bump sensors, and an emergency stop button that can be used to immediately stop the robot whenever users press it.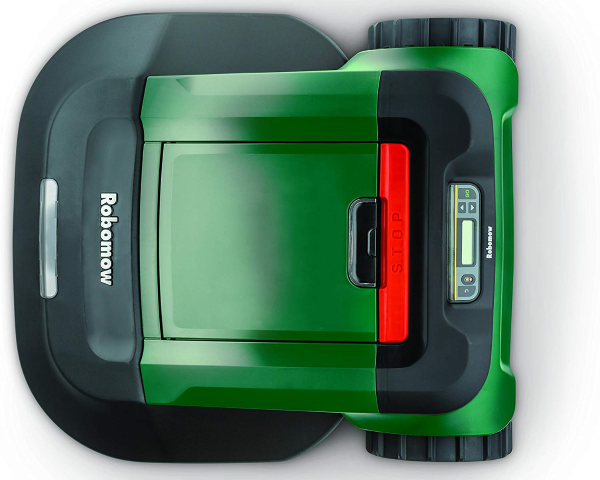 The Robomow RS612 also features an On-Board Rain Sensor that prevents the unit from mowing during rainy days. Whenever the robotic lawn mower detects rain, it will automatically start moving back to its charging base and will only resume mowing after rainfall (as soon as conditions improve).
You should also know that you can always choose to disable the rain sensor, as the Robomow is also weatherproof, meaning that mowing in the rain will not harm the lawn mower whatsoever. It's just a convenient feature to have, since mowing through wet grass takes a longer time that mowing through a dry lawn, as the latter doesn't create so much resistance to the unit's wheels.
Lastly, the unit also features a Floating Deck, which makes the Robomow RS Series the only robotic lawn mowers available in the US that are equipped with a floating deck. The unit's floating deck allows this robotic lawn mower to perfectly follow your lawn's contour for a smoother looking cut.
RECOMENDED / MAX COVERAGE AREA & ADJUSTABLE CUTTING HEIGHT
This robotic lawn mower was designed to cut within small yard cutting paths, working great within its recommended lawn size of 1/4 acres (10, 890 square feet). The average size you should use it on would be on 1/3 acre (anywhere ranging around 13,000 sq.~ 14,000 square feet). However, the unit can also be used to cut up to a maximum lawn size of 3/4 acre.
Remember that you should consider the areas not mowed by the robot like your house, driveway, etc., when looking to measure your mowing area/perimeter.
Lastly, thanks to its modular design, this robotic land mower can easily cut all grass within any bumpy terrain, and can easily climb any slopes/inclines up to 20 degrees or 35% grade. As stated before, its two 11-inch DC brushless blade motors offer a maximum mowing width of 22 inches, and the unit can mow grass between 0.8 – 3.5 inches.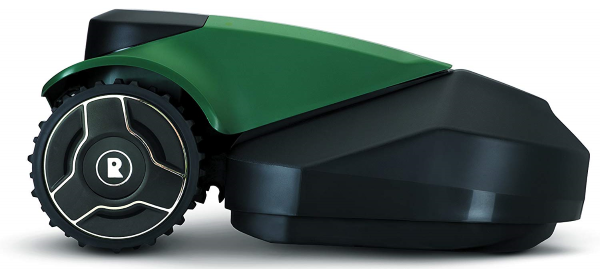 The Robomow RS612 also offers you an easy way of adjusting its blade height. The unit's cutting height can be easily adjusted from 1.05 to 3.25 inches.
To adjust the cutting height, all you have to do is flip open the unit's cover door (which is located at the top of the mower), and turn the knob by hand. It's as easy as that, meaning you won't require any tools, and there's also absolutely no need to pick up the robot. It's as user friendly as you wish it would be, making it a super-easy, super-fast, and mess-free height-adjustment process.
BATTERY & BATTERY LIFE
The Robomow RS612 automatic robot mower comes equipped with a 26V Lithium-Ion 4.5 Ah battery that can offer up to 55 to 70 minutes of mowing (running) time on one charge. The unit features an average area coverage per hour of 1937.5 square feet (180 m2/square meters).
Once depleted, recharging the unit's batteries back to a full charge should only take you between 90 to 110 minutes. This is done with the Robomow RS612 inside its Charging Station/Charging Base.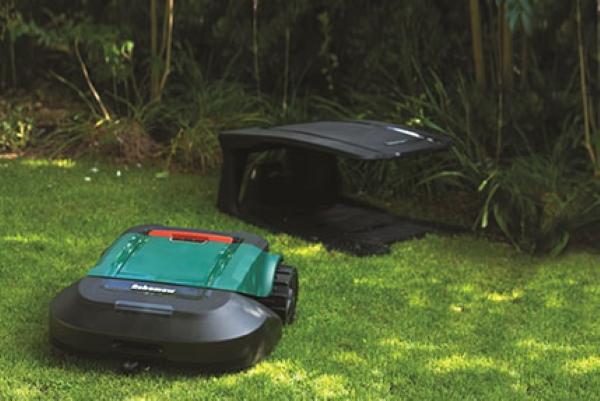 The unit's Li-Ion batteries are also user replaceable and should last you at least 4-5 years before needing to be replaced.
Lastly, the unit features a mowing power of 400 watts and a power consumption of around 22kWh per month.
FAST & EASY SETUP
Typical robotic lawn mowers (in particular earlier generation models) require the user to set up a border wire around the lawn to define the area to be mowed. That's exactly the case with the Robomow RS612, which is one the most user-friendly robotic lawn mowers available on the US market.
This robotic lawn mower comes with everything you need to install it within your yard, meaning you'll never have the need to buy additional accessories.
Setting up this robotic lawn mower is both quick and easy. All you have to do is install its included 800 feet of perimeter wire around the perimeters of the mowing area, and use some (or all) of its included 300 pegs. This means you'll get enough materials to cover almost 1/3 of an acre lawn.
After that you just need to set your weekly mowing schedule (done within the Smartphone App, which is discussed at the end) and you can then relax while your Robomow mows your lawn for you.
Check the image embedded below to have an idea of just how easy it is to set up your robotic lawn mower's virtual perimeter. The image below (original source from Never Mow Again) is an example of a Robomow wire layout created from Google Maps.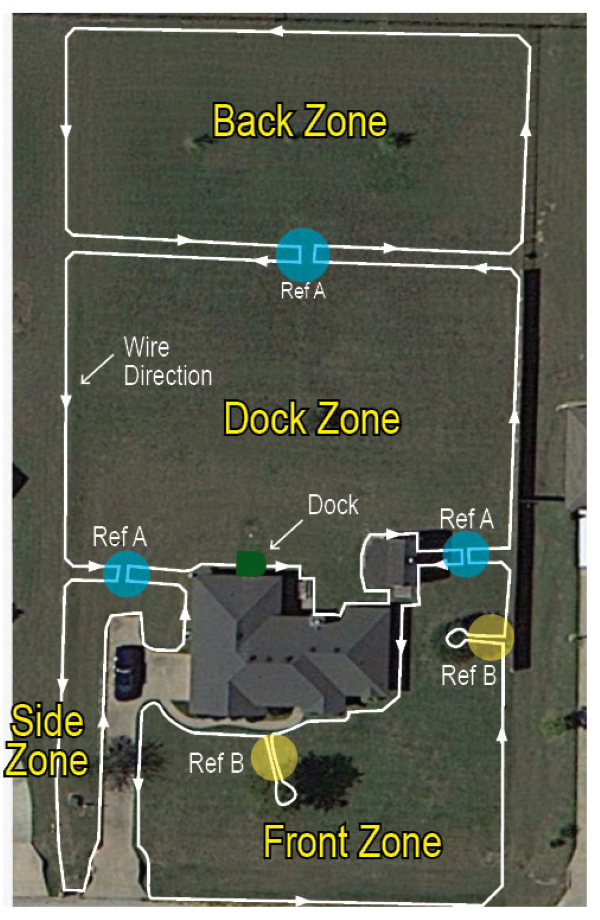 WHAT'S IN THE BOX?
The Robomow RS612 package is shipped with everything you need, literally. It comes with a lot of stuff, including tons of installation accessories. The package contains everything you'll ever need to get this robotic lawn mower running for years and years.
Inside each package users will find: their Robomow RS612, 800 Feet of Perimeter Wire, 300 included Pegs, some included Watertight Wire Connectors (for splicing) and Plot Connectors, a Roboruler (used for wire placement), a Narrow Pass Template (for narrow pass areas), a Lithium-Ion Battery, the unit's Base Charging Station (used for the unit's automatic charging) and some Base Station Stakes, an included 65 Feet Extension Cable (for the unit's charging station), a Power Supply Box and a Power Box Mounting Kit, an included DVD setup/installation and operation video, and the User Manual.
FEATURES
Basic Safety Features
The Robomow RS612's on-board lift sensors will instantly stop its blades while the robotic lawn mower is lifted, while its on-board bump sensors will also immediately stop its blades' rotation whenever activated (during unexpected bumps).
The unit's on-board tilt sensor will stop the Robomow whenever it is tilted in a vertical position.
There's also a safety child lock that prevents anyone from operating the unit.
Anti-Theft & Anti-Flipping/Pick Up Safety Features
The Robomow RS612 also comes equipped with its own built-in anti-theft alarm, working as its first safety feature. This means that in case that your mower is removed from its designated area, its smart anti-theft alarm will be activated.
Users can also set up a 4-digit PIN code, which will then be needed for the Robomow to be able to operate once again, and this goes for each time that the unit is removed from its previously configured operating perimeter . Only with its pre-configured valid code will the unit once again start working.
Lastly, there's the Robomow RS612 offers its users one more safety feature. The unit will automatically shut itself off whenever the mower is tilted or picked up. This ultimately helps to save some battery power during unexpected flips while also keeping users' hands safe during any time you might need to pick up the unit (after a flip, during repositioning, etc.).
Smart Mowing
This robotic lawn mower is capable of making a turn whenever it approaches the wire around the boundary of your yard. The unit will continuously move forward without ever stopping or going backwards.
This greatly reduces the possibilities of getting the robotic lawn mower stuck in place, which allows the unit to complete its mowing cycle 10% faster than most other robotic lawn mowers, while also increasing its drive system's lifespan.
Unique Edge Mode
The Robomow RS612 also features a Unique Edge Mode. Whenever you set your robotic lawn mower to run in this mode, the unit learns the exact length of your configured perimeter during its initial, one-time guided setup.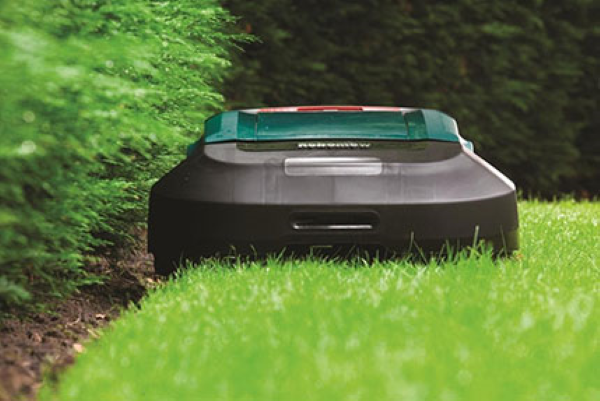 From there, it precisely mows the edges of your lawn, allowing your Robomow to deliver the perfect finishing touch.
Turbo Mow Setting
While your Robomow comes set by default to cut high grass while running at a slower drive speed, you may enable its "Turbo Mow" feature during Spring, as well as whenever your grass gets high.
This awesome feature will always automatically reset the unit back to "regular cutting mode", which will happen right after a "Turbo Mow" cycle is completed.
ECO Mode
The Robomow RS612 can also be set to run on its ECO Mode, which forces it to run a bit slower to save some battery life. This mode is great for cutting short grass.
4 Fully Automatic Managed Zones
The Robomow RS612 can mow up to four areas automatically. Users can configure up to four Sub-Zones (or "Starting Points") as well as up two Separated Zones.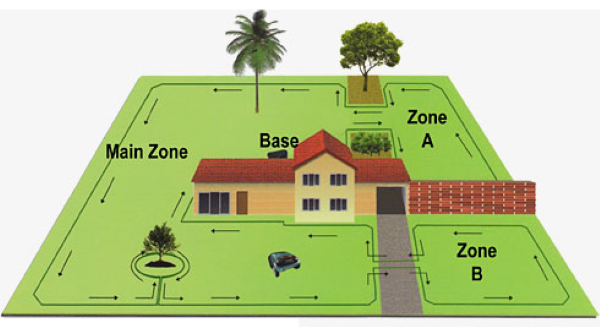 The unit's easy one-time, on-screen setup guide will walk you through setting up your Robomow. Once this is complete, your Robomower will automatically travel from your backyard to your front yard, or to any other areas of your lawn that you choose to configure.
As soon as the Robomow RS612 is done mowing the designated area, the robotic lawn mower will automatically follow the perimeter wire back to its charging base. For larger lawns (up to 2624.67 ft / 800m), multiple charging bases can be used in the same yard if necessary.
Voice Assistant Support – Alexa Smarthome Capabilities
This is something new that came with the 2019 models. Since 2019, the Robomow RS612 has joined the Alexa smart home ecosystem.
This allows users to have their smart robotic lawn mower cutting their grass via simple voice commands. This is an awesome Voice Assistant feature integration.
CUSTOMIZABLE SMARTPHONE COMPANION APP – Robomow App 2.0
The Robomow RS612 also comes with its own customizable Smartphone App. With Bluetooth connectivity, the new Robomow App 2.0 lets you manage your Robomow smart robotic lawn mower from any place, at any time.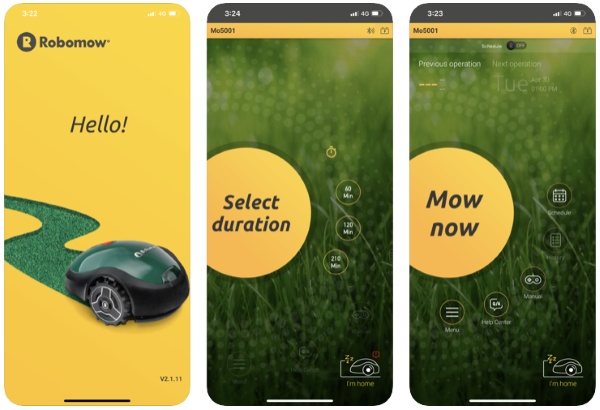 The Robomow App 2.0 is available for free for both iOS and Android devices, and can used to control the unit's settings as well as to monitor the status of your lawn mower.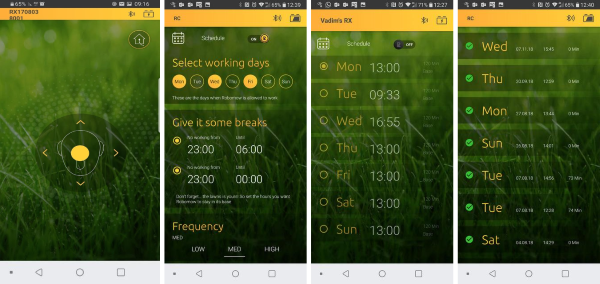 There's also a Web App, called MyRobomow, that also allows users to configure and control their Robomow RS612. After registering an account with an email address, users can receive email notifications about their Robomow RS612's status.
FINAL THOUGHTS
The Robomow RS612 is a smart and weatherproof autonomous robotic lawn mower that features a max cutting width of 22 inches and a quiet operation, an anti-theft and other safety features, and both Alexa and App support.
The Robomow RS612 is without a doubt one of the best automatic lawn mowers around.  It's super smart, strong, durable, quiet, and super reliable, as well as near-maintenance free. This is a great smart robotic lawn mower, as it allows you have more free time, which you can use to spend some great moments with your loved ones.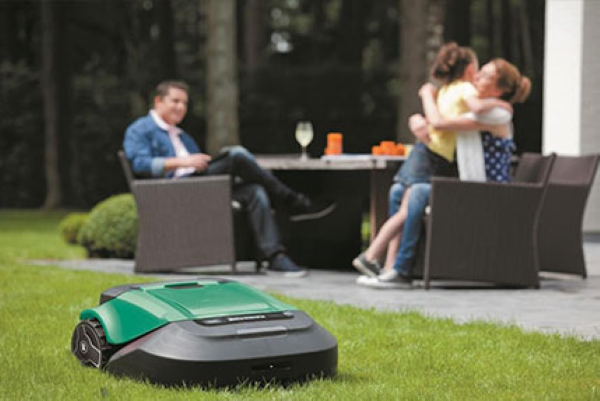 This smart robotic lawn mower was designed to last you around 8 to 10 years without any repairs or scheduled maintenance. The only replacements you'll ever need to go through are replacing its blades once every year, changing its battery every 4 – 5 years, checking underneath for grass build up from time to time, and keeping its wheels free of debris.
If you're interested in buying the Robomow RS612 smart robotic lawn mower, each unit is currently discounted from its original price of $1900, and is now going for $1650 (saves you $250), coming with a 1 year warranty (which covers the entire robot lawn mower including battery, parts and labor), as well as with unlimited customer support, access to an exclusive Tips & Advice Guide, and the option to get a Customized Perimeter Wire Installation Plan (these last two only come if you buy it from Never Mow Again).
You can order your Robomow RS612 online right now, directly from Amazon (which Robomow is officially partnered with), from Never Mow Again, or from many other retailers.
Know that this robotic mower is not discounted on Never Mow Again. It is only currently discounted on Amazon. Clicking any of the provided links will take you to the corresponding shopping pages.
You also have the option to buy a wireless remote control that can be used to drive the Robomow around different areas in your yard, or even to manually mow if you choose to do so.
Furthermore, you can also get a RoboHome Charging Station Cover, which provides additional protection of your robot from weather damaged (this is great for really heavy rain). The cover can be lifted up easily to access the unit's control buttons and display, and it is compatible with all RS Robomow charging stations.