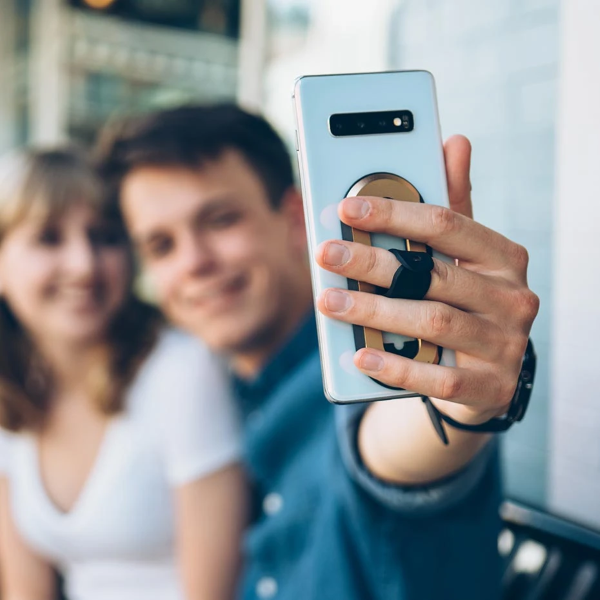 Smartphone grips are small accessories that can be easily attached to your Smartphone to ultimately offer you a better grip, thus reducing the chances of unexpected drops. One of the best Smartphone grips currently available on the market is the ohsnap Phone Grip.
"Smartphones are enormous, expensive, and fragile, and they're not doing you any favors when it comes to hold them or using them any other way."
The ohsnap features a clever and convenient grip design, offering you a sturdy and comfortable grip to easily ensure that you never drop your Smartphone; ever again.
This Smartphone grip is ultra-thin, extremely lightweight, and super convenient to use.
Let's take a detailed look at it and check everything it has to offer.
DESIGN
The ohsnap Phone Grip features an ultra-thin and lightweight design, as it is only 0.10 inches (2.7 mm) thick.

This ultra-thin design also features some really smooth and short rounded edges, meaning that the ohsnap won't get caught against your pocket. This basically means that you won't even notice it's there until you actually need it.
The ohsnap was also designed with convenience in mind, as it offers a super secure grip. It's one-finger-grip design offers its users total control of their smartphone with their grip strength being used within as little as just one finger.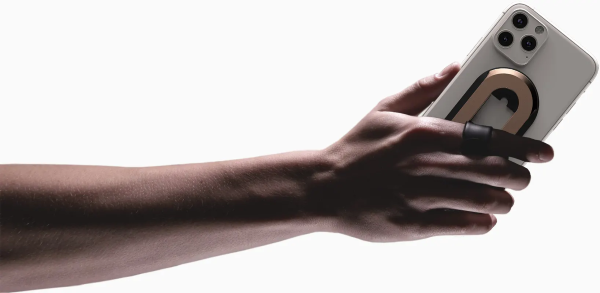 This design is actually pretty decent, and will easily ensure that you'll never drop your phone again. It's a really simple design, but still, very well done.
The grip itself feels really nice and the ohsnap's built-in finger bracelet is actually pretty strong, giving you a very sturdy grip over your Smartphone.
COMPATIBILITY
The ohsnap Phone Grip is compatible with almost every smartphone that was recently released, including iPhones like the iPhone 11, iPhone 11 Pro, and iPhone 11 Pro Max.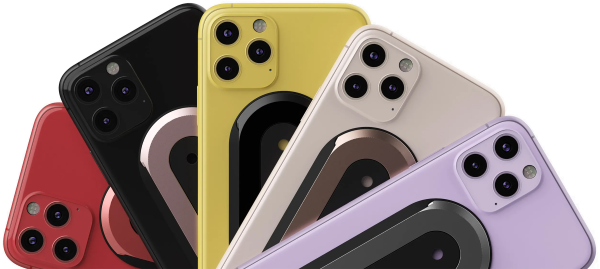 Not only that, but it is also compatible with very recently released smartphones like the Samsung S20.
If you want to know if the ohsnap is compatible with your personal Smartphone, just check the full compatibility list to see what smartphones are compatible and/or incompatible with it.
HOW TO INSTALL & USE?
The ohsnap Phone Grip is a very convenient sticky smartphone mount that can be easily installed. Its installation should take you around a minute or less.
Every ohsnap comes with an integrated sticky plate that allows you to easily affix the ohsnap anywhere.
All you have to do is open up the package and reveal the ohsnap's sticky back side by removing its back protection.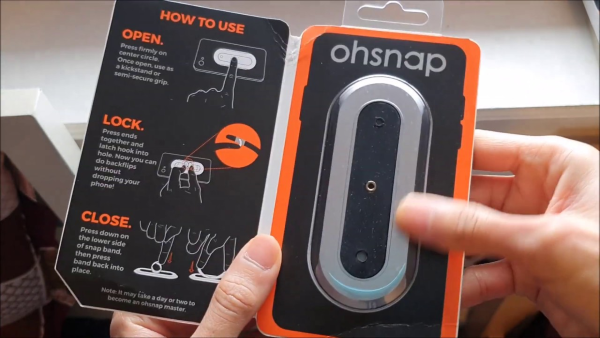 You can then quickly attach it to the back of your Smartphone to have a better grip on it than when using it normally (without any grip attachments).
After you're done installing it you can easily use the ohsnap to have a sturdier grip over your Smartphone.
Pressing the center circle of the Ohsnap releases the finger band.
You can then use its finger band's "U" shape as a grip or connect the ends together to make a complete loop. By having your finger through the loop, smartphone drops are next to impossible.
A very cool thing is that this Smartphone Grip attachment can also be moved up and down, which conveniently allows you to decide if you want to grip your Smartphone around a higher or lower spot.
FEATURES
Kickstand
The ohsnap Phone Grip can also be used as a one-click kickstand. This allows you to easily watch videos or stream your favorite shows from anywhere you are.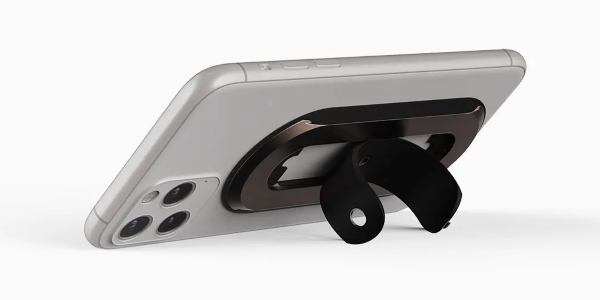 It's a great feature for whenever you want to kick back and relax and need your smartphone leaning for a better viewing angle.
Magnetize
The ohsnap Phone Grip is also magnetic, allowing you to utilize it on magnetic surfaces like refrigerators, workout machinery, and magnetic car grips to place your smartphone somewhere convenient while you multi-task.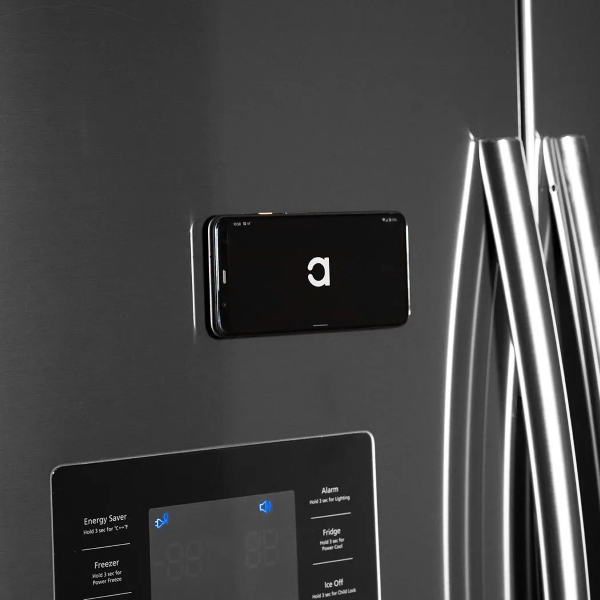 Slide & Rotate
The ohsnap's versatile design allows you to easily slide it up or down so that you can quickly reach every corner of your screen, as well as rotate your Smartphone 360 degrees to snap photos or videos at the best possible angle.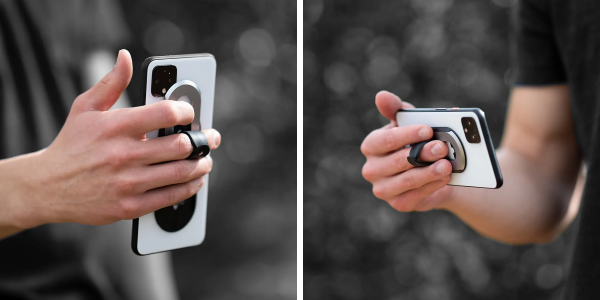 You can use it in whatever position you prefer, meaning vertically and/or horizontally.
Easily Removable for Wireless Charging
While the ohsnap Phone Grip is guaranteed to offer its users an extremely secure grip, it is also very easy to detach it from your Smartphone.
Keep in mind that this doesn't mean, in any way, that this is not a secure Smartphone grip to use, as it will never slide out/fall out of your Smartphone when installed.
Not at all. It's just very easy to remove it from your Smartphone by sliding its frame out whenever you intend to do so.
This ultimately allows you to get your Smartphone back to normal use (without the ohsnap Phone Grip), as well as conveniently have some quick and easy wireless charging.
FINAL THOUGHTS
The ohsnap Phone Grip is an ultra-thin, extremely lightweight, and super convenient Smartphone Grip that can be used as a Kickstand or magnetically attached to metal surfaces for some quick multi-tasking.
It can also be used in a full 360 degrees positioning to snap photos or videos at the best possible angle.
The ohsnap is currently available in six (x6) different color models: Black, Space Grey, Rose Gold, Gold, Cobalt Blue, and Ruby Red.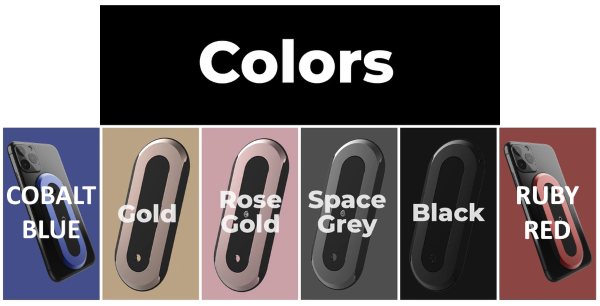 All these color models look amazing. They're super simple, yet extremely stylish.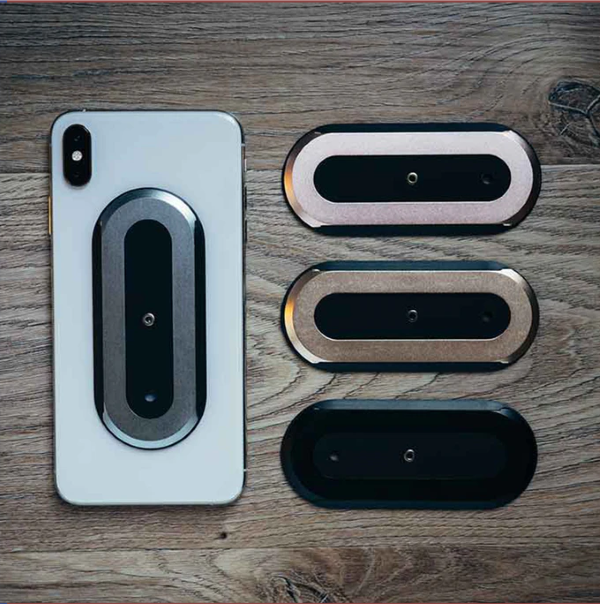 If you're interested in buying the ohsnap Phone Grip, each unit is going for $29, for all color models except the Black one, which sells for a bit more, $35 each.
You can order yours online right now, directly from ohsnap's official website, which you can access via this link.