Cats make great house pets, especially because they don't need as much work and attention as dogs usually do. Nonetheless, these curious little felines also quickly make a mess when their owners least expect it. As extremely curious animals, cats can quickly get bored, and whenever that happens, they try to find something "funny" and "entertaining" to do, which can ultimately involve climbing and running all over your precious furniture, like bookshelves or dinner table for example. However, instead of having their furry friends knocking everything over from bookshelves and coffee or dinner tables, cat owners can give their cats the perfect spot for them to climb by having something like the Refined Feline Cat Cloud Cat Shelves.
The Refined Feline Cat Cloud Cat Shelves are wall shelves that were strictly designed to be used by cats. This ingenious furniture addition helps cat owners create more floor space while letting their cat(s) have their own spot to lounge on.
This way, cat owners can provide their cats with some neatly looking vertical space that also indulges their climbing instincts. Furthermore, your cat(s) will be a work of art while "relaxing in the clouds" with these cat shelves.
Let's have a detailed look at the Cat Cloud Cat Shelves made by the Refined Feline team and check everything that these cat shelves have to offer.
DESIGN & SPECS
Each Refined Feline Cat Cloud Cat Shelves unit measures a total of 38 inches long by 10 inches wide by 10 inches tall and the unit can support up to 70 lbs. of weight. Additionally, each Cat Cloud Cat Shelf includes two large platforms that measure 20" x 10" each.
Each of those same platforms is super robust/sturdy and extremely durable, as these metal platforms feature a powder-coated steel construction.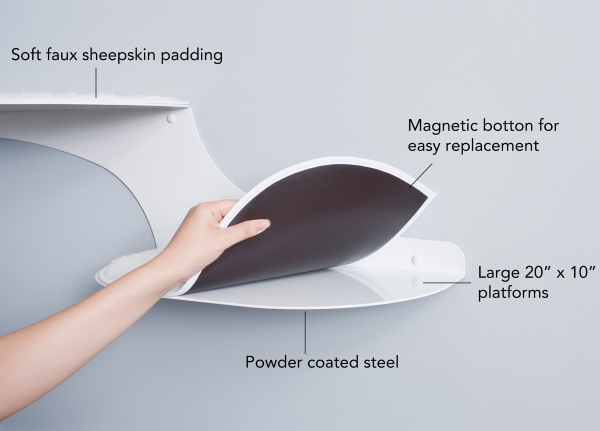 Furthermore, each platform also features an included magnetic bottom for easy replacement, while also sporting a soft faux sheepskin padding that makes each platform extremely comfortable for your cat's paws.
HOW TO INSTALL AND USE?
The Refined Feline Cat Cloud Cat Shelves are extremely easy to install and use.
These cat shelves work best with drywall (which is what's recommended by the company) or ultimately, can be integrated within your home walls via a wall beam installation – which should be easy to do since wall anchors also come included.
By placing multiple Cat Clouds Cat Shelves along your wall your cat(s) can have the ultimate cat-walk pathway for them to walk around, play on, and relax.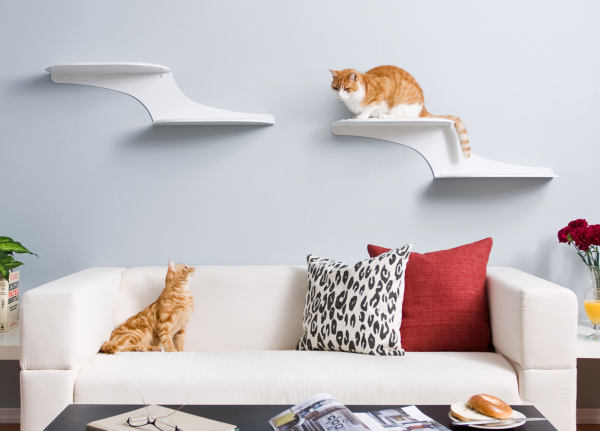 This will not only give them a specific place to climb at, move around, and rest, but should also help to drive your cat(s)' attention away from the rest of your furniture.
FINAL THOUGHTS
The Refined Feline Cat Cloud Cat Shelves are sturdy and durable cat shelves that let cat owners provide their cats with a neat vertical space where they can climb to, move around, play and relax, while also helping to indulge their climbing instincts.
By installing this two-tiered shelf on one of your home walls, you'll provide your cat(s) with a decent high spot to lounge on, which not only boosts their confidence but also makes them feel safe (contrarily to what happens when kitties climb a cat tree).
The Cat Cloud Cat Shelves can be purchased in one of two different structural models, facing either left or right.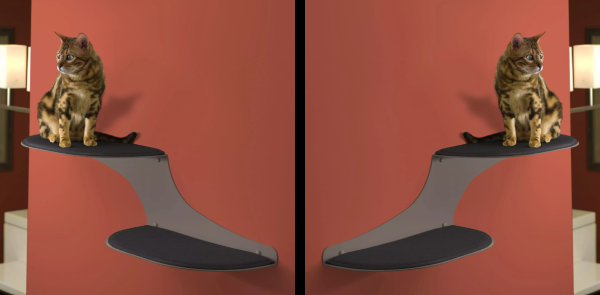 Furthermore, each set is currently available in a total of four (x4) different colors: Black (Full Black), White (Full White), Red (Red Shelves with White Padding), and Blue (Blue Shelves with White Padding).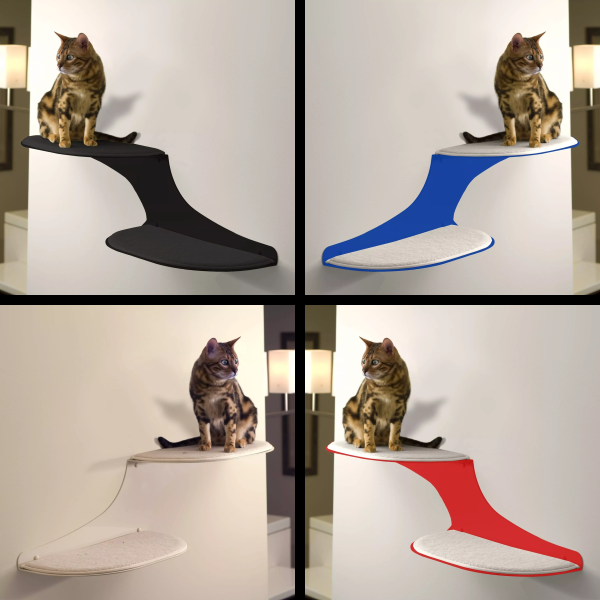 If you're interested in buying the Refined Feline Cat Cloud Cat Shelves, each set (one unit w/ two shelves) is currently going for $125 each. You can order yours right now, directly from Refined Feline's official website, which you can access via this link.
Additionally, you can also get replacement soft faux sheepskin padding sets in different colors – Titanium (Grey), Off-White (Beige), White, and Black – by $30 each.