For people that are passionate about music but also spend most of their time on-the-go, having the right set of earbuds is extremely important, as their day by day basis is spent traveling. That basically means that their earbuds should provide them with both a comfortable fit as well as the best possible freedom of movement, all without ever having to worry about if their earbuds are going to fall off their ears. That's exactly what the Samsung Galaxy Buds have to offer.
The Samsung Galaxy Buds are high-quality true wireless earbuds that not only offer an extremely comfortable and super secure fit, but also bring users an amazing sound quality.
Furthermore, these are also some of the best earbuds that are currently available on the market, featuring a simple, yet gorgeous design, a high-quality sound performance that's combined with a water-resistant design, super easy-to-use touch-controls, and much, much more.
Let's take a detailed look at Samsung's new Galaxy Buds true wireless earbuds and check everything they have to offer.
DESIGN & SPECS
The Samsung Galaxy Buds are super compact and extremely lightweight earbuds that measure 0.68 inches long by 0.87 inches wide by 0.76 inches tall (17.5 x 22.3 x 19.4 mm), weighing a measly 0.19 oz. (5.6 g).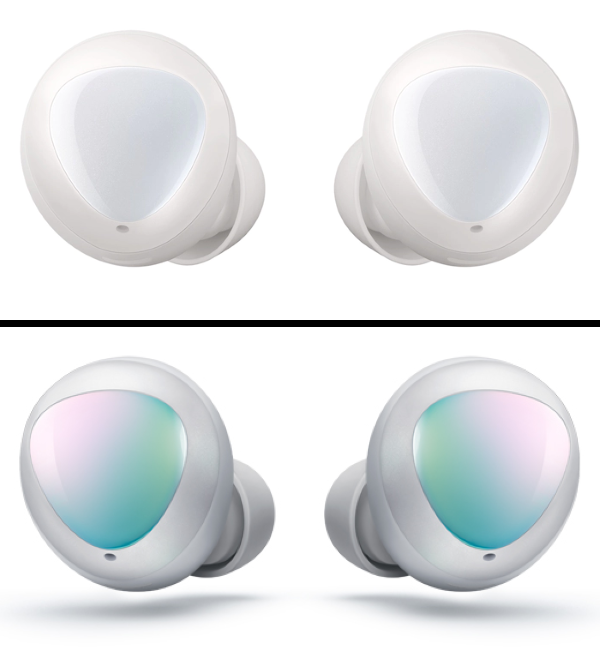 These earbuds also come with a neat Charging/Carrying Case that measures 1.52 inches long by 1.03 inches wide by 2.75 inches tall (38.8 x 26.3 x 70.0 mm), weighing just 1.39 oz. (39.6 g).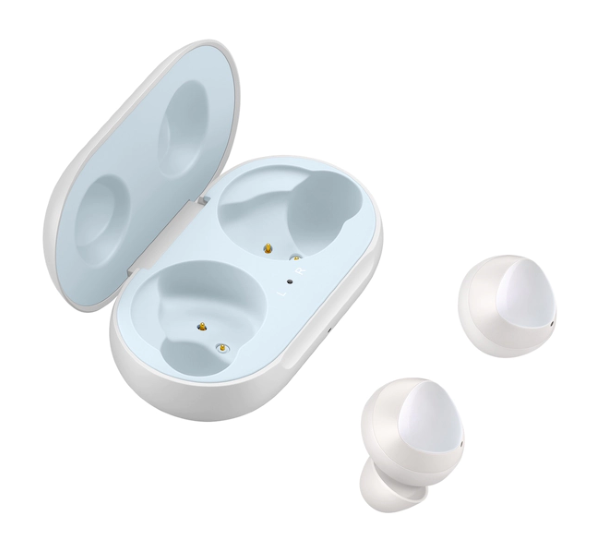 The Samsung Galaxy Buds features a simple, stylish, and gorgeous design that allows them to easily blend in with any choice of clothing you choose to go with.
However, the earbuds were also created with fitness in mind, as they were designed to comfortably fit inside your ears without ever falling off. That's because they come with three sets of adjustable Eartips and Wingtips that both come in three different sizes (S, M, L).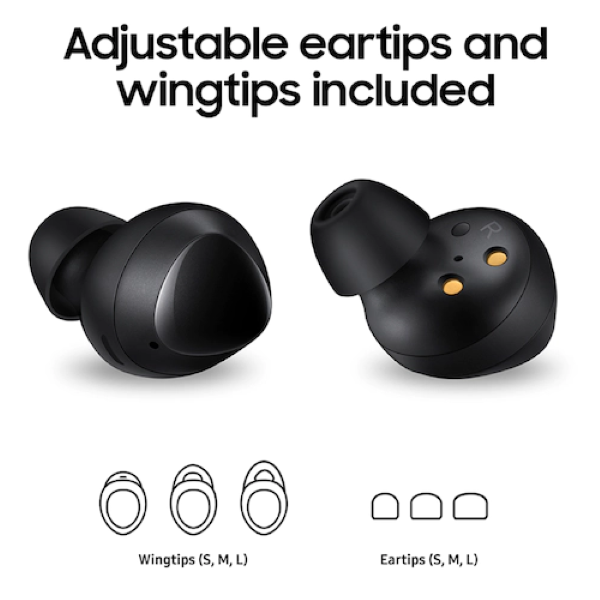 That basically means that no matter what type of physical activity you decide to perform – including running, dancing, weightlifting, or even parkour – you're ensured to always get the best possible fit for your ears (no matter their size and/or shape), all while listening to your favorite tunes.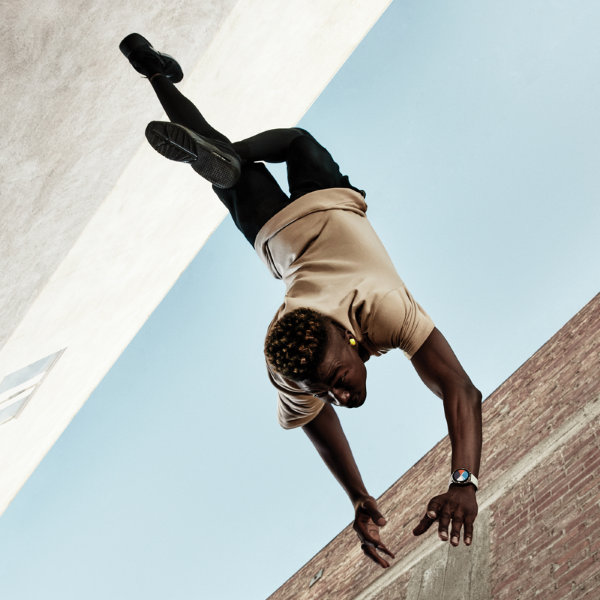 Additionally, the Samsung Galaxy Buds were also designed with the ultimate utility in mind, as they also feature a IPX22 water rating, combined with a splash-resistant technology that allows the earbuds to handle any unexpected splashes of water, a little sweat within each workout (meaning they're also sweat-proof), or even the occasional accidental water spill.
SOUND SPECS & SOUND QUALITY
As mentioned before, the Samsung Galaxy Buds are high-quality true wireless earbuds that deliver excellent sound quality.
Featuring their premium sound by AKG, the Samsung Galaxy Buds come equipped with high-quality sound drivers that can provide a balanced and natural sound as well as a superb dynamic range and exceptional accuracy, meaning that every word and note you listen to sounds super crisp and crystal-clear.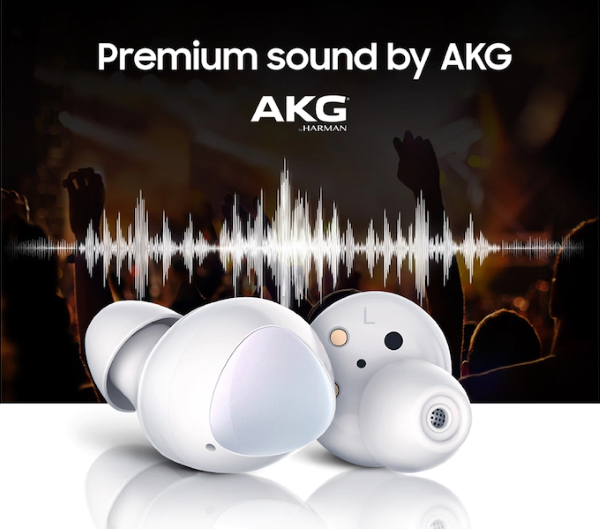 Thanks to those same high-quality sound drivers, the trebles and mid ranges are super crisp and clear, and the same goes for the deep bass within each low sound, which ultimately makes heavy-drums soundtracks and dubstep drops super enjoyable to listen to.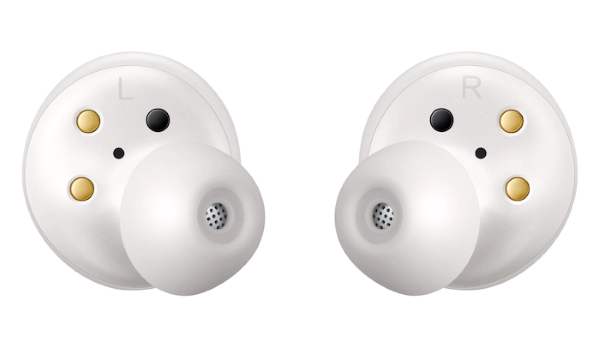 Furthermore, that same featured premium sound by AKG not only allows the Galaxy Buds to be perfect for all of your music and podcasts, but also for any phone calls you need to take, while also keeping you aware of your surroundings whenever walking around the busy city streets, during work hours or even while you're working out.
These earbuds feature a Stereo BT Audio Playing Format, a Quick Ambient Mode that allows outside noises ("Ambient Sounds") to easily pass at an average level while your audio (music/podcasts/phone calls) is playing, and TTS (Text-To-Speech) Notifications.
Lastly, each earbud also comes equipped with a total of two (x2) built-in microphones (one inner mic & and one outer mic) that allow you to have the best possible voice sound quality when using the Samsung Galaxy Buds during your phone calls.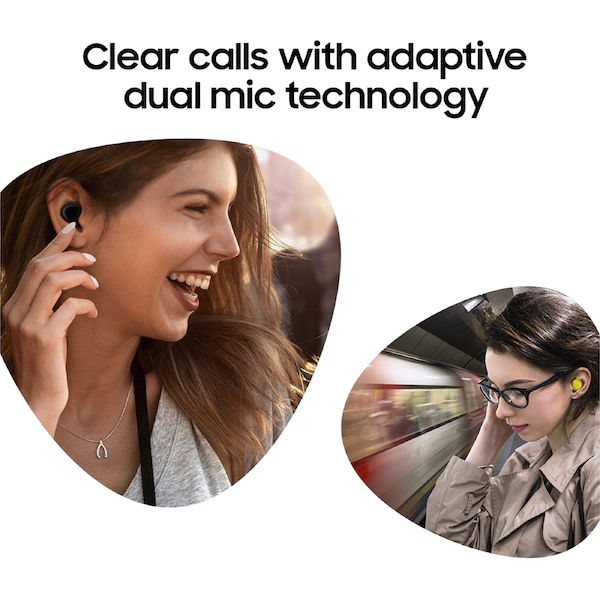 INTERFACE
These wireless earbuds also feature a simple, super-intuitive and very easy-to-use interface that allows users to control their Galaxy Buds with a simple touch via their featured touch-controls.
With these easy-to-use touch-controls users can easily switch between soundtracks, Play/Pause their songs, increase or decrease the volume, or even quickly take phone calls (Audio Mute/Reject Phone Call tap dual-feature).
Furthermore, since these are smart wireless earbuds, whenever you remove the Galaxy Buds your music is automatically paused.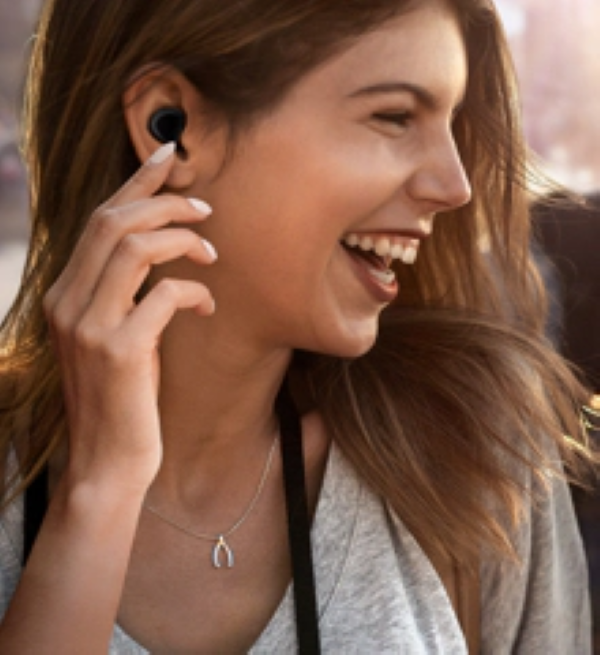 Contrarily to that, after placing them back them back in your ears, a simple tap at the earbud's touch-pads (the outer side) gets your paused music to be instantly resumed (the previously mentioned Play/Pause touch-controls).
CONNECTIVITY
The Galaxy Buds are fully compatible with both Android and iOS Smartphones via Bluetooth 5.0 connectivity, featuring a decent wireless range that can go up to a maximum distance of 120 feet (~37 meters) before dropping connectivity.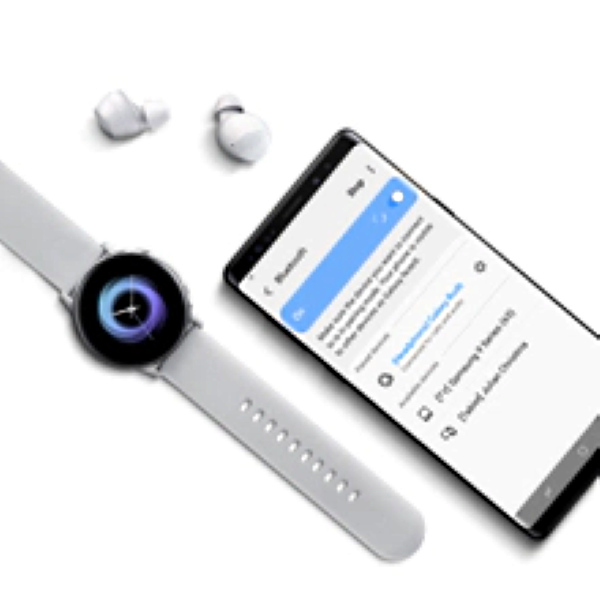 BATTERY & BATTERY LIFE
Each of the Galaxy earbuds comes equipped with a small built-in 58mAh rechargeable Lithium-Ion battery that can offer up to 6 hours of music playtime or up to 5 hours of talk time (phone calls).
Additionally, the included Charging/Carrying case also comes equipped with a built-in 252mAh rechargeable Lithium-Ion battery, thus offering its users an additional 7 hours of music playtime or an additional 6 hours of talk time (phone calls).
This way, when combining the earbuds with their included Charging/Carrying case, which doubles as the earbud's wireless charger, users can get a total of 13 hours of battery life for music playback, or 12 hours of battery life for phone calls.
Lastly, the Samsung Galaxy Buds also feature Quick-Charging, allowing users to get a quick 15-minute charge after placing the earbuds inside the case, which will offer you 1.7 hours of play time per 15-mins quick-charge.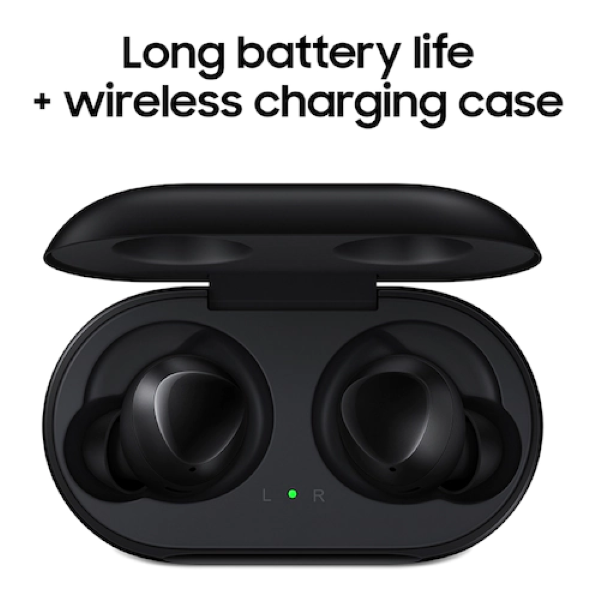 This is a great feature for whenever the earbuds are completely out of juice but you know you're going to need them soon to take another phone call or to listen to some more songs while you're on your way back home.
WHAT'S IN THE BOX?
Inside each package users will find: their Samsung Galaxy Buds, a total of three (x3) included adjustable Eartips and Wingtip in different sizes (S, M, L), the earbuds' proprietary Charging/Carrying Case, an included USB Cable (to connect the case to power and recharge it), and a Quick Start Guide.
FEATURES
Easy Ambient Awareness with Quick Ambient Mode
As mentioned before, these earbuds also feature a Quick Ambient Mode, allowing you to just hear what you want to hear. By activating (turning ON) the earbuds' Ambient Aware feature you can control how much surrounding noise you let in.
This way, the Quick Ambient Mode allows users to listen in and pay attention to street traffic, catch any important flight announcements at the airport, or even hear when kids or any other family members, as well as friends and coworkers are calling out your name.
QUICK AND EASY BLUETOOTH PAIRING
These earbuds also offer a super easy Bluetooth pairing feature. All you have to do is open the Galaxy Buds' proprietary case near your Smartphone or tablet to pair them together in an effortless fashion.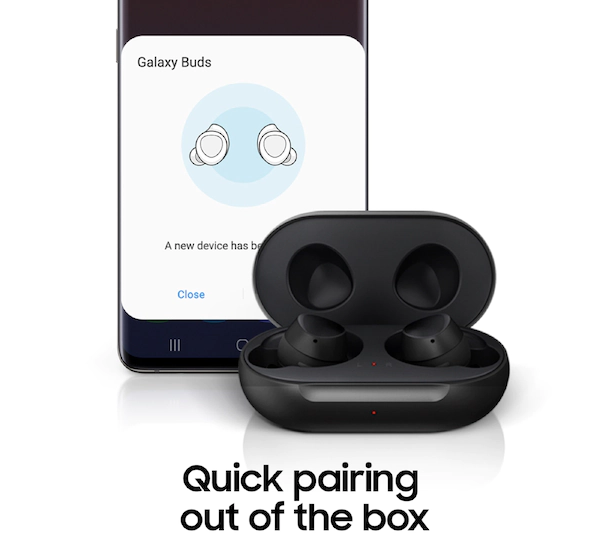 As soon as your device features a window pop-up for Bluetooth Pairing, you'll know that you're ready to go.
FINAL THOUGHTS
The Samsung Galaxy Buds are high-quality sweat-proof true wireless earbuds that feature a comfortable and secure fit, an amazing sound quality with premium and crystal-clear sound by AKG, easy-to-use touch-controls, up to 13 hours of play time, 15-mins Quick-Charging for 1.7 hours of additional battery life, a Quick Ambient Mode, and a quick and easy Bluetooth Pairing.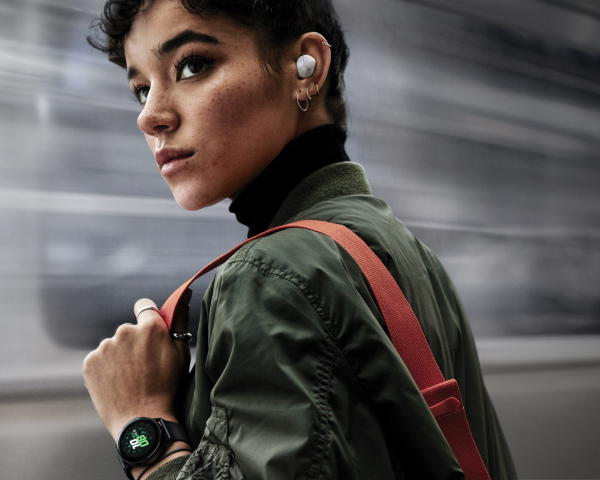 All of this makes these earbuds some of the best around, without a single doubt, but the best part about them is that you can get all of this at a super affordable value.
If you're interested in getting your own set, each pair is currently discounted from its normal price of $130, now going for $110 only. You can also get these via a 6-month payment, which will only cost you $18.33/mo (the same discount is already applied).
You can order your set of Galaxy Buds online, directly from Samsung's official shopping page, which you can access via this link.