With the worldwide threat associated with the COVID-19 pandemic, people quickly realized that washing their hands at a regular basis is one the most effective ways to stop the spread of this new coronavirus' disease, now commonly known as SARS-CoV-2 (Severe Acute Respiratory Syndrome-Coronavirus-2). However, Samsung looked for a way to contribute to the world in its fight against COVID-19, and that's why one of its dedicated software teams developed the Samsung Hand Wash App.
While health researchers and other health professionals try to find new ways to fight the COVID-19 threat, tech companies like Samsung also help the world to stay strong, in their own way, that is.
Just some weeks ago, a small group of designers and developers from Samsung Research Institute-Bangalore, or SRI-B's UX and wearable teams, worked hard, non-stop, and around the clock for two full weeks to come up with a solution that helps Galaxy Watch users to keep healthy and safe.
And if you're worried about this software team's health, fear not, as this new App was fully developed by the team while all of its members were working safely from home.
Samsung's latest App is now here to help its fans with its super useful "hand-wash" reminders, allowing owners of Galaxy Watches (like the Galaxy Watch Active 2 Under Armour Special Edition) to stay extra safe during each of their countries' mandatory curfews.
The company officially announced the release of its newest App for its smartwatches right at the end of the week (April 17th, 2020). This new Samsung Smartwatch App, which was simply called the Hand Wash App, is actually extremely useful, as it conveniently reminds Galaxy Watch users to wash their hands every couple of hours.
Once a user makes his/her way to the washbasin, it will also ensure that each person spends enough time scrubbing their hands with a 25-second timer (meaning that the App's reminders are also up to WHO guidelines, which are the World Health Organization's recommend guidelines for hand washing, where people should spend at least 20 seconds scrubbing their hands with proper care).
Those guidelines are also more or less then same guidelines for handwashing suggest by the CDC.
The Samsung Hand Wash App features a brand-new watch face that shows users how long it has been since the last time they've washed their hands. Not only that, but it also lets Galaxy Watch users know whenever they've missed a scheduled visit to the faucet.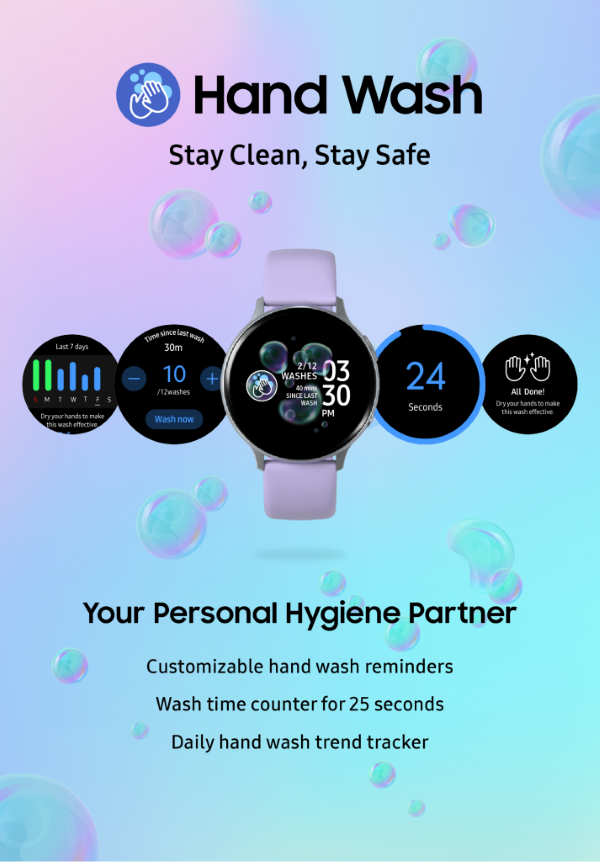 Lastly, it's also worthy to mention that Samsung isn't the only wearable company that's concerned about its users' health, as just earlier this week, Google also updated its Wear OS' Clock App by adding hand-washing reminders to it.
In the case of Google's Wear OS watch users, their Clock App will try to have them scrubbing their hands for about 40 seconds in total, and Google's Clock App reminder will also tell them to always use soap while hashing their-hands.
It's safe to say that both of these companies are actively doing what they can to contribute to the world's resilient struggle against the COVID-19 worldwide pandemic, all while everyone that's not part of a law enforcement organization, have a job in politics or works as a healthcare professional is forced to stay locked down at home.