As more scientific/medical researches are conducted to inform us about the health detriments of sitting on traditional desk chairs all day, more and more companies look to contribute to the world of home offices by making their own ingenious ergonomic desk systems, ultimately giving users plenty of different ways of getting up and out of their standard desk/office chairs for good. One of the newest additions to this market is none other than the Edge Desk System.
The Edge Desk is an adjustable ergonomic desk system that already comes fully assembled so that it can be easily and quickly deployed, and setting it up will take you less than 30 seconds.
This highly functional desk system features an ergonomic design that helps to improve its users' wellness/well-being by promoting a healthy posture and optimizing comfort for its users' neck and shoulders, which consequently increases productivity.
This way, this adjustable ergonomic desk system ultimately provides its users with an optimal viewing height and angle, as well as a comfortable position for both office work and for creative projects work.
Let's take a fully detailed look at the Edge Desk System and check everything it has to offer.
DESIGN & SPECS
As mentioned before, this is an adjustable ergonomic desk system that's great for users to comfortably work both on office work as well as on creative projects.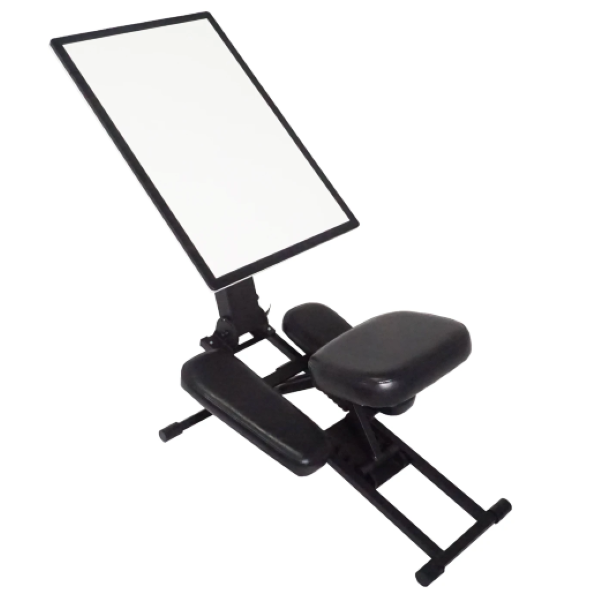 The Edge Desk comes equipped with a cushioned adjustable seat that can be adjusted between four (x4) different positions.
Furthermore, it also comes equipped with built-in leg/knee cushions that feature a deep padding for maximum comfort.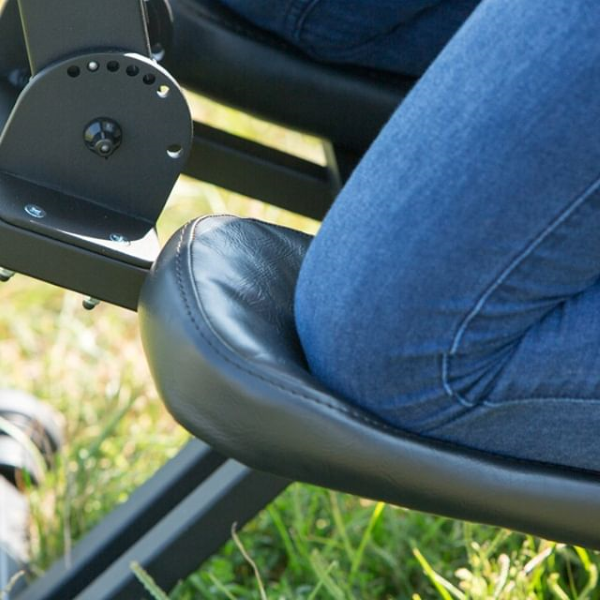 Both these comfortable cushioned integrations allow the system to keep users in a very healthy, comfortable, and focused posture.
Since the Edge Desk System is a fully adjustable ergonomic desk system, it can be completely adjusted for a huge range of body types. The Edge Desk can be adjusted with ease for height, tilt, orientation of desktop, and distance from its user.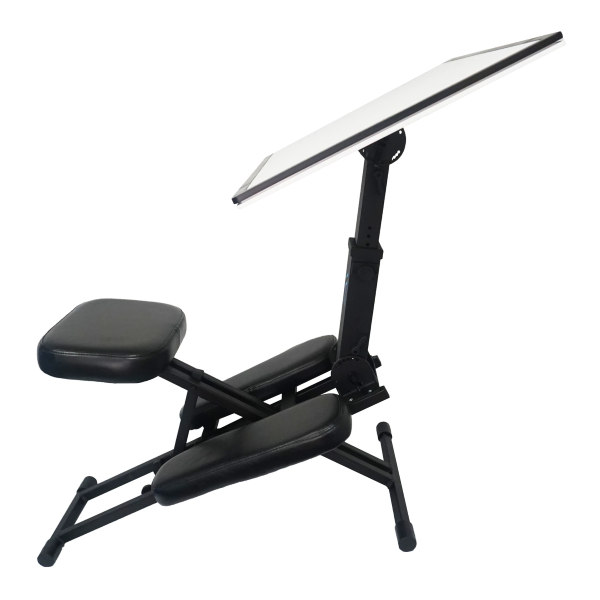 While its padded cushions provide users with an extremely comfortable support, its adjustable and ergonomic design encourages a proper upright sitting instead of the hunching posture that's typically associated with fatigue and lower back pain; something that's very common when using standard (or even lower-quality) desk chairs.
Lastly, the Edge Desk also features a very versatile design that's focused on both portability/transportation and storage.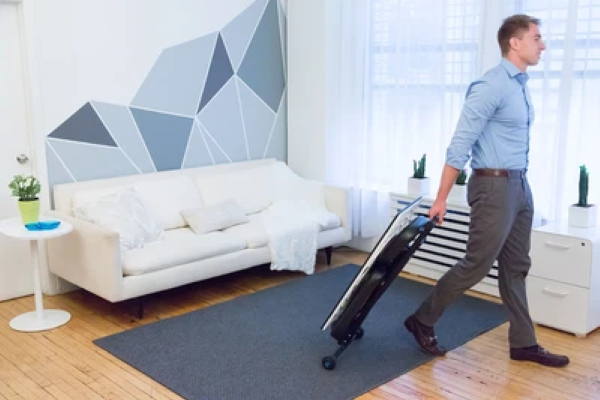 The Edge Desk comes equipped with very smooth, high-quality and durable wheels that make the system super mobile.
Not only that, but the entire system can also be folded down to a mere 6″ tall, giving users an easy way to store it away under pretty much any other piece of furniture, like a bed or a couch for example.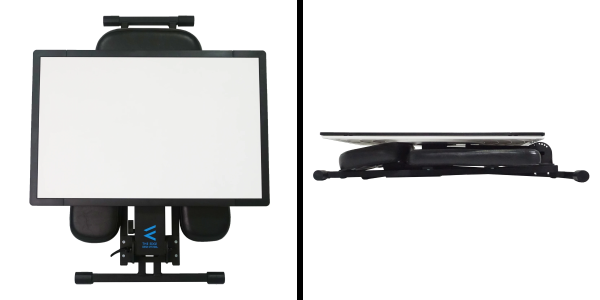 This way, users can quickly fold it and store it somewhere to get the system out of the way whenever they need extra space.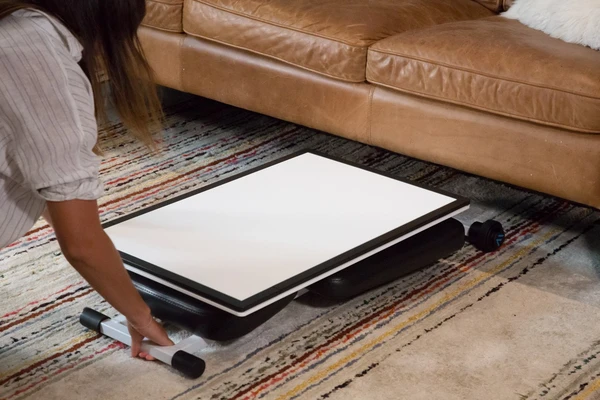 HOW TO USE & CARE/MAINTAIN?
As mentioned before, the Edge Desk System comes fully assembled and can be quickly set up in less than 30 seconds.
Designed to accommodate to the user's ideal comfort level, the Edge Desk's height, angle and tilt are adjustable to suit individual body size and desk preferences.
FEATURES
Easily Adjustable between Portrait and Landscape Viewing Modes
Since the Edge Desk System is fully adjustable, its white work surface can be easily swiveled, allowing users to quickl switch back and forth between landscape to portrait mode (and vice-versa).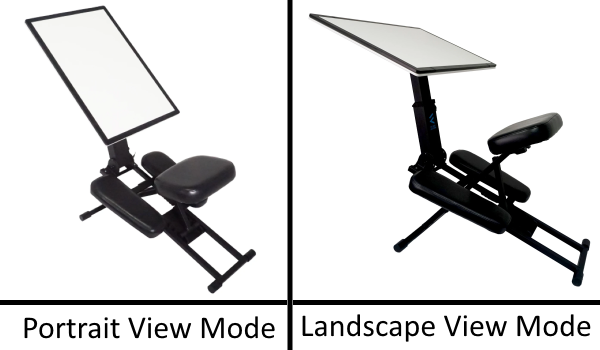 This is the system's main feature that allows users to use the Edge Desk System for both for their creative projects (Portrait Mode), as well as for any urgent office work they need to get done (Landscape Mode).
FINAL THOUGHTS
The Edge Desk is an adjustable ergonomic desk system that promotes a healthy posture, thus allowing users to comfortably work on office work and creative projects with ease for hours and hours without any pain or discomfort.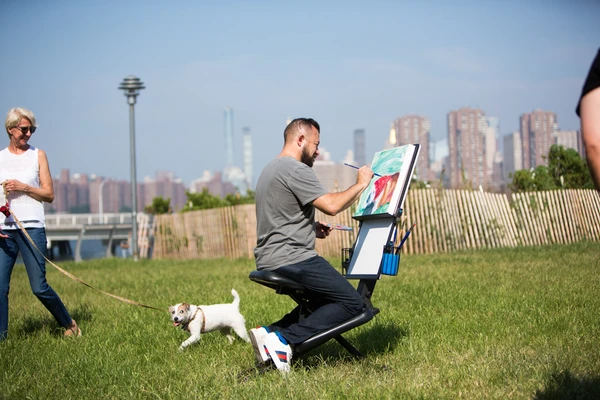 The system comes fully assembled and be quickly set up in less than 30 seconds.
The Edge Desk System is currently available in 3 different color models: Matte Black (Full Black), Platinum White (White Body w/ Black cushions and base supports), or Silver (Silver Body w/ Black cushions and base supports).
If you're interested in buying the Edge Desk System, each unit is currently going for $399, coming with an included 12-month limited parts and labor warranty.
Assuming that you're not completely satisfied with the Edge Desk, the company also offers a 15-Day Satisfaction Guarantee for either a replacement or refund (but be aware that if that's your case, you'll get charged with a small restocking fee).
You can order yours online right now, directly from Edge Desk's official shopping page, which you can access by clicking this link.
Lastly, there are also some "snap-on" accessories available that are fully compatible with the Edge Desk System and allow you to accessorize the system's outer edge to ultimately keep its work surface completely clear, but those are sold separately.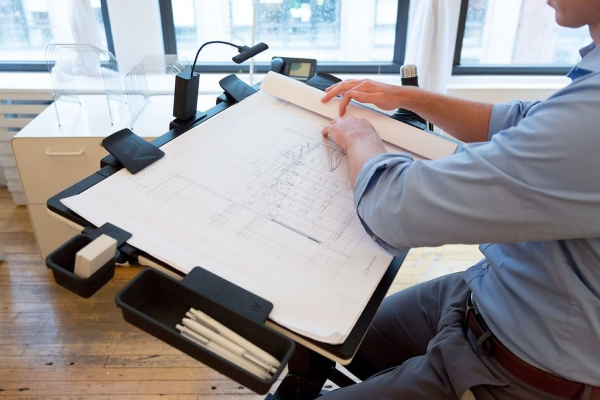 You can check all of the available accessories for the Edge Desk on this page.