For people that are constantly on-the-go, having the ability to make a hot cup of revitalizing coffee at anytime and anywhere is simply empowering, as it ultimately allows them to have that extra little boost of energy whenever they need it the most. This brings us to the Wacaco Nanopresso.
The Wacaco Nanopresso is a small/compact, reliable, easy-to-use, and versatile hand-powered portable espresso machine that's bound to provide each traveler on-the-go with a perfect hot cup of coffee/espresso each time they use it.
Not only that, but this is one of the best and most versatile espresso machines ever made, as it comes packed with a ton of innovative new features and capabilities that'll drastically improve the way you prepare your favorite coffee while you're on-the-go, ultimately making it a truly unique addition to your coffee toolkit.
All of that not only makes it perfect for anyone that spends a lot of their time on-the-go, but also for any campers or outdoors explorers that are looking for an easier way of preparing their coffee while enjoying the wonders of "Mother Nature".
Let's take a more detailed look at the Wacaco Nanopresso and see what this coffee maker is all about.
DESIGN & SPECS
The Wacaco Nanopresso is – as mentioned before – a somewhat small/compact hand-powered portable espresso machine that measures 6.14 inches long by 2.8 inches wide by 2.44 inches tall (156x71x62 mm) when resting/sitting horizontally on top of a flat surface.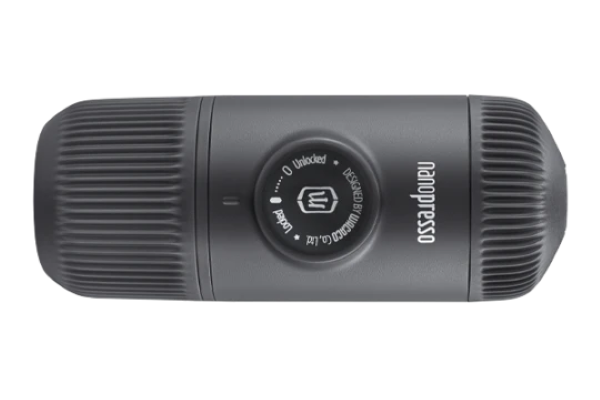 Not only that, but this portable espresso machine is also extremely lightweight, weighing just a measly 0.74 lbs. (336 g).
Thanks to its ergonomic design and shorter length, the Wacaco Nanopresso can easily be any coffee lover's best travel companion.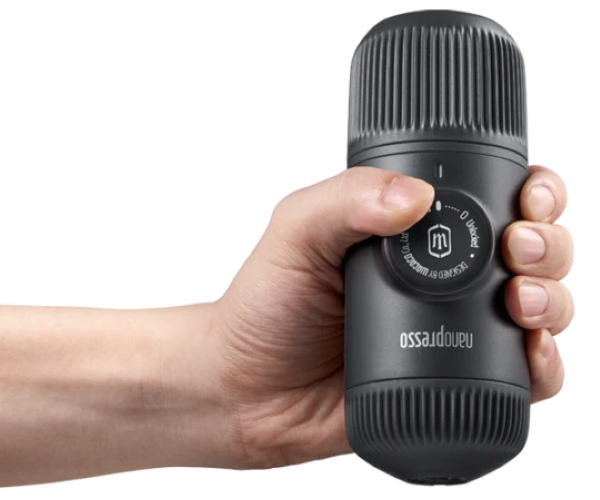 It's small size makes it extremely easy and comfortable to hold with just one hand, and also, obviously, super easy to pack in your bag/backpack together with the rest of your belongings while you're traveling, camping and/or exploring the outdoors.
The Wacaco Nanopresso comes equipped with a built-in water tank that can hold up to 2.70 fl. oz. (80 ml.) of water, and its water tank is lined and protected by the machine's detachable espresso cup (comes attached to the water tank).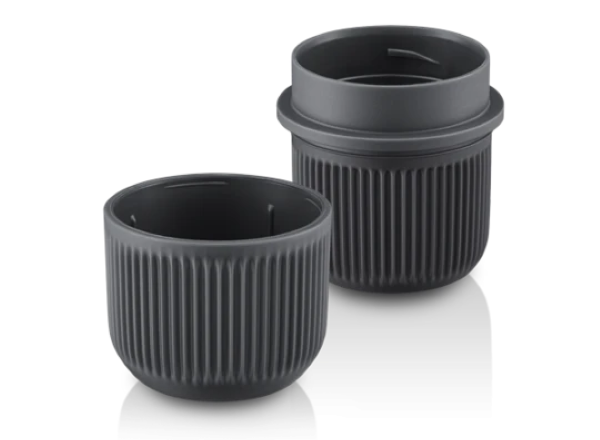 Both parts feature a heatsink pattern that helps to absorb and protect users' hands from the heat generated by the machine while preparing espresso shots.
The machine's ground coffee tank features a max capacity of 0.28 oz. (8 g.).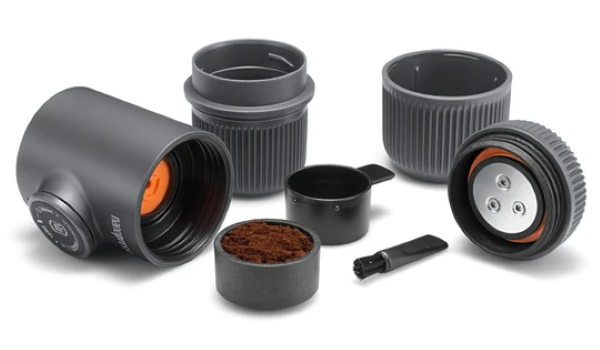 Lastly, all of its parts are made of BPA-Free materials, meaning none of the machine's parts was made with the organic compound Bisphenol A, which ultimately makes the machine a clean and healthy espresso maker that's completely safe to use.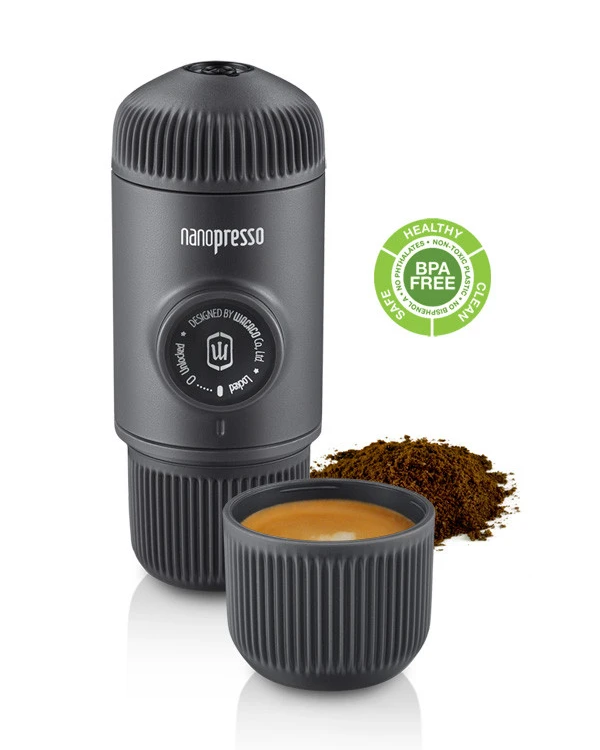 HOW TO USE?
Since the Wacaco Nanopresso is designed to be used like a hand-powered portable espresso machine, using it to prepare a hot cup of delicious espresso while you're on-the-go is rather simple and super easy.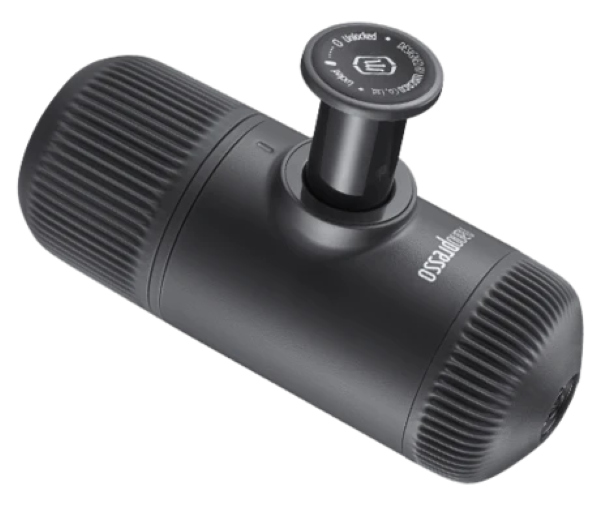 This portable espresso machine was built around the company's newly patented pumping system, an ingenious hand-powered "one-button-press" design that makes using the Nanopresso easier than you'd ever tough to be possible.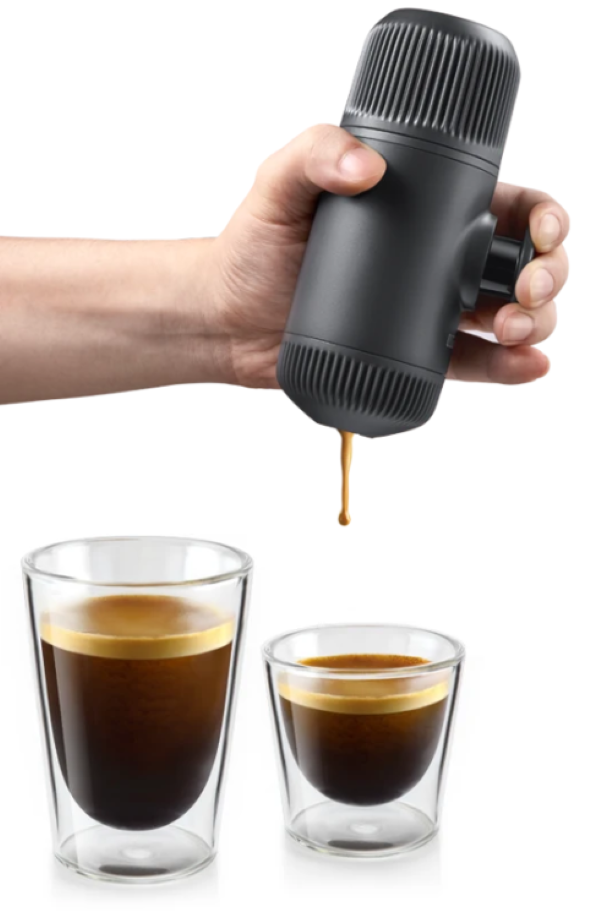 Literally all you have to do after filling up the machine's ground coffee tank with ground coffee and water tank with hot water is simply press a button, and that's it. After that, you can just watch the magic happen and enjoy a hot cup of slowly pouring espresso deliciousness.

Thanks to its ingenious "one-button" design, the Nanopresso is capable of reaching a maximum of 18 bars (261 PSI) of stable pressure – which is more than what most home espresso machines can deliver, mind you – all with just the help of your hands during the entire process, which ultimately gets you a great coffee extraction method that's bound to deliver unparalleled coffee quality.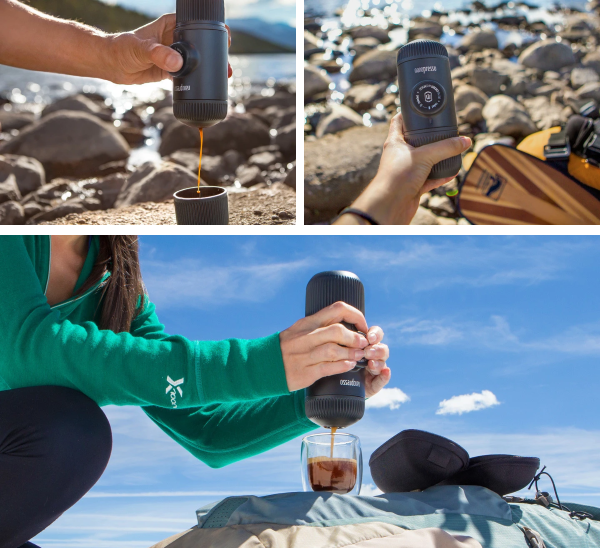 Take a look at the company's video embedded below to see just how easy it is to use the Nanopresso to prepare a hot cup of espresso while you're on-the-go.
HOW TO MAINTAIN/CLEAN?
Thanks to its new portafilter design, the Wacaco Nanopresso offers its users a super easy maintenance that will only take you a few seconds each time you're looking to clean it, or maybe 1~2 minutes at most.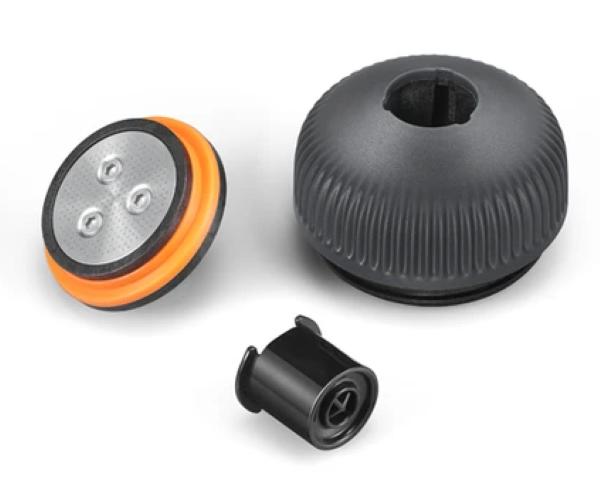 Whenever you feel that it is necessary to clean the espresso machine, you can quickly dismantle it with ease to clean up all of its components, which, mind you, can all be easily separated for deep cleaning.
All you have to do after preparing and serving your espresso shot is carefully separate the espresso machine's components and gently wash them up under a small/weak stream of running water.
Keep in mind that the Wacaco Nanopresso is not dishwasher safe.
The components that can be washed up with water are: the machine's scoop, its brush, the cup (whenever it is used), its portafilter, the filter basket and the machine's area of the main body (where its filter basket is attached).
All the other parts should be gently and carefully cleaned with a humid cloth.
Lastly, as soon as you're done with cleaning, simply let all of the Nanopresso's parts dry separately and then reassemble the machine when everything is finally dry.
WHAT'S IN THE BOX?
Inside each package users will find: their Wacaco Nanopresso portable espresso maker (equipped with its built-in water tank and detachable espresso cup), a couple of other included accessories like its filter basket, scoop and brush, as well as the Nanopresso's Carrying Pouch, a Multi-Languages Instruction Book, some stickers, and the device's warranty card.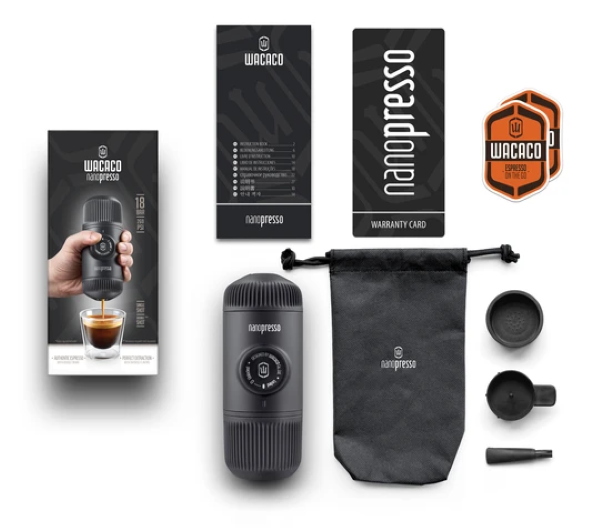 FINAL THOUGHTS
The Wacaco Nanopresso is a compact, reliable, powerful, easy-to-use and versatile hand-powered portable espresso machine that can provide travelers on-the-go with a perfect hot cup of coffee/espresso each time you use it.
It's perfect for coffee lovers that spend most of their time one-the-go, as well as for campers and any other outdoors exploration enthusiasts.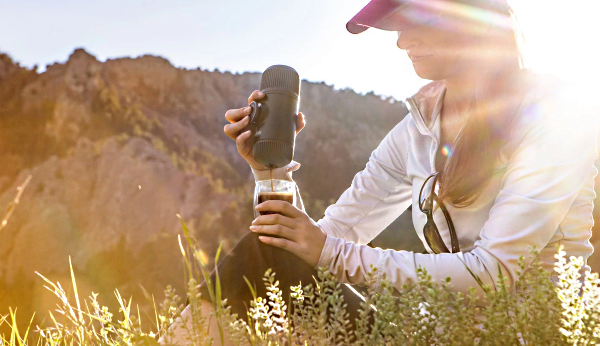 With it, you can have the ultimate power of making a delicious and hot cup of espresso at any time and anywhere. No matter where you decide to take your adventure next, this ingenious and reliable espresso machine is small enough to be brough and travel with you at all times.
If you're interested in buying the Wacaco Nanopresso, each unit is currently going for $65, coming together with the company's 1-year warranty (12 months starting from the date of purchase) against defects that might occur due to faulty materials or workmanship. But don't be to worried, as the company's (Wacaco's) portable coffee machines are actually super reliable.
You can order yours online right now, directly from Wacaco's official shopping page, which you can access via this link.