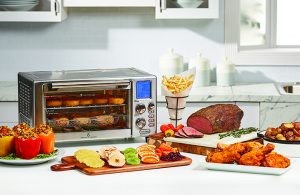 Perhaps this Mother's Day more than any is an important time to let the moms in your life know just how much each means to you. Of course, absolutely nothing can replace a loving hug, a compassionate touch, knowing glances and those comfortable silences—highly personal and togetherness moments that perhaps exemplify strength-of-relationship above all other. Even so, overt gestures of love and appreciation through gift-giving are always a welcome occasion. With this in mind, I've curated a cross-section of gift ideas suited for gadget-minded moms.
RevAir Reverse-Air Dryer (www.MyRevAir.com)
Help mom spoil herself on her special day, and every other day, with the RevAir Reverse Air Dryer. This ingenious invention replaces your blow dryer and in many cases, your flat iron too. It's a multi-functional hair tool that uses patented suction technology to dry hair in the natural direction of the cuticle (downward), without damaging brushes and hot plates, to lock out frizz and seal in shine—and with minimal use of heat. So, mom can avoid those sweat-inducing blow dry sessions. And it's fast! RevAir dries, stretches, smooths, and straightens your hair in less than half the time of a blow dryer and flat iron. It reportedly performed 3.25 times faster than conventional blow-drying and straightening routines according to third party trials. Unlike traditional devices, RevAir thrives when being used for final or stretch styles on the toughest hair types, even curly and coily hair. The system closes cuticles in their natural direction, reducing flyaways and increasing shine. Allure, Elle and OK! Magazine have all agreed that it's a "Game-Changer," and mom surely will too.
Photo Rejuvenation Infrared LED Light Therapy: AMT GLOBAL's 'Orion' and 'Radiance' Beauty Devices (www.AzureMedTech.com)
The Orion and Radiance Photo Rejuvenation Red and Infrared LED Light Therapy Beauty Devices by Azure Medical Technologies will help mom put her best face forward. These high-tech tools use concentrated beams of red and infrared light to help remove and diminish skin blemishes, acne scars and wrinkles. Dermatologists and clinicians worldwide have used LED clinical devices for years in treating all types of facial wrinkles. But, with these, mom can experience the efficacy and convenience of this gentle and clinically proven light therapy technology in the privacy of her own home. Azure's Radiance has a two times larger medical grade lens than Azure's Orion, a small version of the device, but both devices are equally powerful and both have added features such as proprietary beneficial microstructure diffusers and higher performing LED treatments. The treatment is gentle and safe for in-home, clinical-level treatments and the sleek USFDA 510k cleared devices are cordless, rechargeable, portable and simple to operate with a one button operation. Both Radiance and Orion provide true super intense red through infrared light use, with four wavelengths of red and infrared, and very even beam patterns—a MUST for quick and effective results and features the company reports as unmatched by any competitive device. Just a three-minute treatment, per three-inch-long area, five days a week for two months is recommended for optimal results.
Neato D7 Robotic Vacuum (www.NeatoRobotics.com)
Let's face it. All most moms want is help. And you can get her just that this Mother's Day with the Neato D7—a premium and highly advanced robot vacuum that does the dirty work so mom (or anyone else in the family, perhaps including YOU) will not have to. This smart and powerful robot helper features top-of-the-line technology and his highly feature-rich. This includes LaserSmart technology that allows it to intelligently navigate the home; zone cleaning that lets it clean specific areas on demand; no-go lines to keep the robot out of places it shouldn't be; turbo mode that boosts suction to pick up pet hair and tough debris; voice compatibility with Amazon Alexa, Google Assistant and Siri Shortcuts; and up to 120 minutes of battery life. Beyond all of those impressive considerations, what makes Neato particularly unique? First, the D-shape (which Neato first brought to the industry) was specifically designed to deep clean corners, unlike its round shaped competitors. The extended battery life is also best-in-class, allowing for a bigger brush and dustbin. This makes it particularly perfect to give even large homes a more regular deep clean. Lastly, Neato is the only robot vacuum to use LiDAR technology for its laser mapping. So, Neato can scan and map the entire house, creating up to three multi-floor plans for the robot to follow. With lasers, Neato can even clean in the dark, getting those hard-to-reach places under furniture.
Litter-Robot 3 Connect (www.Litter-Robot.com)
Cat ladies rejoice! While we all love our feline fur-babies, cleaning those messy and stinky litter box bins leaves much to be desired. However, I've found a perfect solution, which offers a gift idea that'll keep on giving each and every day. It's the Litter-Robot—the highest-rated automatic, self-cleaning litter box on the market. It uses an innovative patented "hands free" sifting system that is triggered automatically just minutes after your cat exits the unit, reducing the chance of a lingering unpleasant odor. Beyond the luxury of not having to inhale all of those nasties, Litter-Robot also saves owners time by eliminating scooping. Plus it saves money by reducing overall litter usage up to 50 percent, since it only removes the clumps from the litter. What's also super handy is that Litter-Robot 3 Connect pairs with the Connect smartphone app to help keep track of one or more units from anywhere at any time, which provides yet more freedom from litter box duties. It also allows for remote monitoring of waste drawer levels and usage history, providing insight into the cat's overall health, as well as providing alerts for when the waste drawer is full. Being a good cat parent has never been this easy. It's better for mom and kitty as well. Oh happy day!
Honeywell Outdoor Evaporative Cooler CO610PM (www.Amazon.com)
As temperatures rise in May and into the summer months ahead, you can easily keep mom from getting too hot under the collar. In fact, you can readily keep her cool and collected with the powerful Honeywell Weatherproof Outdoor Portable Evaporative Cooler that's built to cool large outdoor spaces. This includes outdoor patios and porches, backyard decks, large common areas, studios, workshops and more. The unit's triple-sided honeycomb and high-velocity fan delivers robust cooling to make any hot and humid outdoor space far more enjoyable. This Honeywell cooler is definitely a welcome upgrade to outdoor living. This model is even equipped with an ice compartment, wide 14″ metal fan blades and a continuous water supply option since this unit uses water to cool hot air instead. New to evaporative air cooling? The sensation is like a lakeside breeze. Evaporative air coolers do not use heavy compressors or refrigerant gas to lower air temperatures, nor do they spray mist. Instead, they effectively reduce heat through evaporating water vapor into the air. They work most effectively in hot, dry climates. So keep mom—and all of her family and friends—cool, comfortable and confident in the summer months courtesy of the geniuses at Honeywell.
Emeril Lagasse Power AirFryer 360 with Accessory Kit (www.EmerilEveryday.com)
Help out your busy mom all year through by inviting Chef Emeril Lagasse into her kitchen! With his Power AirFryer 360 unit, mom can enjoy nearly effortless, one-touch cooking for almost any type of meal—from healthier daytime snacks to decadent family roasts, all cooked in one appliance right on the countertop. The Emeril Lagasse Power Air Fryer 360 gives the versatility of an all-in-one and multi-cooker, with this particular unit using seamless airflow in combination with powerful, even heat. Twelve one-touch pre-sets give endless cooking options: Air fry meals golden crisp using superheated hot air instead of the unhealthy oil of a deep fryer; dehydrate fresh fruit or jerky without added sugar or preservatives; air roast an entire 12-pound turkey; toast up to six slices of bread; slow cook stews; air bake decadent desserts; and much more—all in one easy-to-use countertop appliance. Unlike ordinary units, five all-over heating elements combined with 360-degree air flow cook meals to a perfect, even crisp on all sides, not just the top and bottom. The package even includes a cookbook full of Lagasse-created air fryer recipes developed exclusively for the Power Air Fryer 360. Plus, mom can do even more with the included accessory kit, which gives two additional Crisper Trays, one additional Pizza Rack, and a Rotisserie Stand.
KYBOE Watches from Shop LC (www.ShopLC.com)
Here's a style savvy idea that'll help mom keep perfect time while looking fabulous all the while. It's unisex watches from KYBOE as featured on ShopLC.com! She can wear these snazzy timepieces anywhere, from the beach and gym to the office and those nights out on the town! Highly versatile, these attention-getting accessories are great to pair with her dressier ensembles down to those casual outfits. These fashionable and functional KYBOE watches are constructed with sturdy stainless-steel cases, durable silicone bands, and sapphire-coated mineral glass. Each watch is operated with accurate Japanese quartz movement, and is designed to keep ticking no matter what life throws at her. Formed in 2007, Shop LC was originally known as The Jewelry Channel (TJC). In 2017, they decided to change the name to match what they offer: The opportunity to shop low cost (Shop LC means Shop Low Cost). Over the years, the Shop LC business model has evolved into an expansive shopping experience far beyond jewelry and gemstones, precious metals and collectibles. Today, Shop LC features handbags and fashion accessories, beauty essentials, the latest in cooking and kitchen supplies as well as luxurious, comfortable bedding and bath products for the whole family. So explore everything Shop LC has to offer this Mother's Day, you're sure to find the perfect fit for any type of mom.
Samsonite Mobile Solution Spinner Mobile Office (www.Shop.Samsonite.com)
Another fabulous option for those moms on-the-go is the Samsonite Mobile Solution Spinner Mobile Office. Like the name says, this is an office that's on the move! With a little bit of everything in one bag, the Spinner Mobile Office combines practicality, style and functionality in a silhouette that's ideal for adapting from treks to the office, through that commute and wherever she needs to be overnight. It features nylon twill fabric with vinyl trim and water-resistant coating, a retractable push button handle and front zippered pockets that are great for storing smaller items needing quick and easy access. Plus, an integrated USB Port provides power connectivity (battery not included). The Spinner Mobile Office even includes a patent-pending Wireless Charging Pocket that is designed to fit wireless batteries and phones for effortless charging on-the-run. There is also an organized front pocket with accessory slip pockets therein, pen sleeves, card slots, and a larger slip pocket that's sized to fit most tablets up to 9.7-inches. A laptop compartment is made with dedicated, padded section of the bag that fits most laptops up to 15.6-inches; including two accessory storage pockets. There is also a dedicated compartment that maintains a separate packing area featuring cross straps to secure items and a divider to store additional travel or business items. The SmartSleeve technology fits over most upright luggage handles for easy mobility as well.
Samsonite Encompass Womens Convertible Brief Backpack (www.Shop.Samsonite.com)
From the same company, and with the same ideals in mind, comes the Samsonite Encompass Womens Convertible Brief Backpack. This model takes the guesswork out of organizing and packing so mom can get on with enjoying her day. Four wearable modes provide the flexibility and convenience needed for the fast paced, modern commuter. It has four-to-one convertibility: Backpack—clip the strap to the secure D rings and adjust the fit to create the traditional backpack mode; Shoulder—unclip the strap from backpack D rings and attach the adjustable shoulder strap to comfortably carry on the shoulder; Crossbody—when packed full, adjust the shoulder strap to wear across the body for a more comfortable, secure, hands free commuting mode; Tote—remove the crossbody/shoulder strap and carry by the tote handles on your arm or on your shoulder. It also has water resistant body fabric that features a deep coating for protection against the elements. A personal organization pocket is unique to this collection as the front includes pen sleeves, and a slip pocket to hold all of her need-it-now business or personal essentials. The Brief Backpack also includes a RFID Data Vault, which is a protected pocket that will safeguard her otherwise vulnerable travel essentials from identity theft.
GermAway Handheld UVC Surface Sterilizer Wand (www.CureUV.com)
There's perhaps no greater gift than the gift of health, and cautious moms out there will enjoy the peace-of-minded provided by the GermAwayUV Surface Sterilizer Wand. This travel-friendly handheld gadget uses natural UV-C light to sanitize and disinfect surfaces no matter she may be: at home, a hotel room, a restaurant, a doctor's waiting room–anywhere germs are sure to lurk (which is pretty much everywhere)! This device uses the same advanced UV-C light technology that hospitals have been using to sterilize equipment for over 30 years—but now the technology is available to everyone at economical price points. This wand will actually eliminate bacteria, viruses, fungus, molds and a host of other pathogens! The Ultraviolet (UV-C) light technology is a really efficient and effective way to keep things germ free, and it's certainly a better option than using harmful and messy chemicals to keep things sanitary. Use on linens, bathroom fixtures, airline seats and trays and nearly any other surface where germs live. It should also be mentioned that in addition to its germicidal usefulness, this UV wand also fights unwanted odors and allergens such as mold and dust mites. So, use it on those old gym sneakers, the kids' grungy soccer bag, anything that stinks really. Its miniature size is convenient for daily life and for travel. Should this GermAway Wand be out-of-stock due to its efficacy and relatively economical price point, another handheld sterilizer solution worth considering is CureUV.com's 18-watt UV-C Sterilizer, as it's also a portable light-based tool that will disinfect and sterilize high traffic areas and other locations where bacteria and viruses congregate.
~~~
Merilee Kern, MBA is an internationally-regarded brand analyst, strategist and futurist who reports on noteworthy industry change makers, movers, shakers and innovators across all categories, both B2C and B2B. This includes field experts and thought leaders, brands, products, services, destinations and events. Merilee is a Member of the esteemed Forbes Business Council; Founder, Executive Editor and Producer of "The Luxe List"; and Host of the nationally-syndicated "Savvy Living" TV show, As a prolific consumer and business trends, lifestyle and leisure industry voice of authority and tastemaker, she keeps her finger on the pulse of the marketplace in search of new and innovative must-haves and exemplary experiences at all price points, from the affordable to the extreme. Her work reaches multi-millions worldwide via broadcast TV (her own shows and copious others on which she appears) as well as a myriad of print and online publications. Connect with her at www.TheLuxeList.com and www.SavvyLiving.tv / Instagram www.Instagram.com/LuxeListReports / Twitter www.Twitter.com/LuxeListReports / Facebook www.Facebook.com/LuxeListReports / LinkedIN www.LinkedIn.com/in/MerileeKern.
***Some or all of the accommodations(s), experience(s), item(s) and/or service(s) detailed above may have been provided or arranged at no cost to accommodate if this is review editorial, but all opinions expressed are entirely those of Merilee Kern and have not been influenced in any way.***