When shopping for a new golf bag, it's important that you choose the one that better fits your needs as a golfer. That brings us to the Sun Mountain H2NO Staff Cart Bag, which not only has the perfect size for both beginner and intermediate golfers, but also works great for any experienced golfers that like to carry all of their golf clubs and accessories in one highly-durable and easy to carry cart golf bag.
Some styles of cart golf bags are smaller, and are mainly designed to hold some of your main clubs – or most, but still not all of them – and just some golf accessories like a few extra golf balls and tees (ball stands), allowing golfers to ultimately play golf for just a couple of hours in a lightweight fashion.
On the other hand, larger cart golf bags allow you to bring a lot more of your golf gear/equipment with you so that you can ultimately carry around everything together in the same space. That usually includes almost all – or even all – of your golf clubs, as well as quite a few (and sometimes a lot of) golf accessories, which ultimately allows more experienced golfers to practice for hours and hours on end.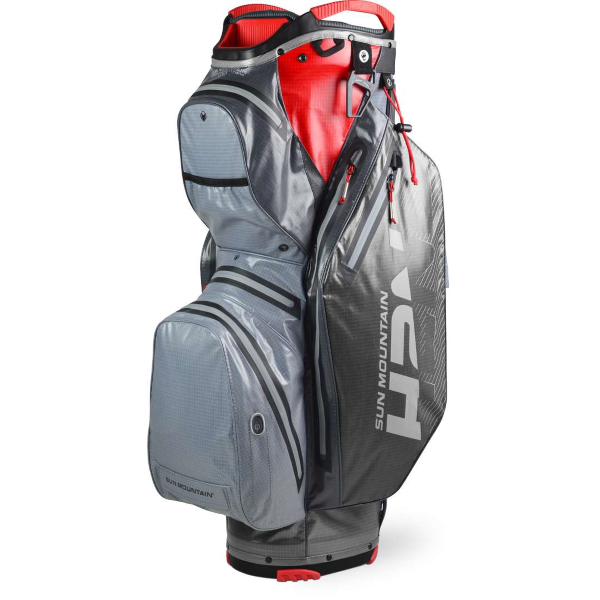 This last type of cart golf bags (the larger ones) ultimately exclude the need of having a secondary smaller cart golf bag just to carry the rest of your extra golf accessories that just don't seem to fit on your main cart golf bag, no matter how hard you try. That is, assuming you have a smaller cart golf bag, of course. Instead, having larger golf bag saves you money, as well as time and energy carrying two smaller golf bags around.
Back to the Sun Mountain H2NO Staff Cart Bag. This highly-durable and full waterproof large cart golf bag is constructed with the exact same high-quality waterproof materials as the company's rainwear, and as such, not only does it help to prevent any drop of rain or unexpected water splash from touching your precious golf equipment, but also features a ton of storage space for all of your golf clubs and golf accessories.
That way, this super reliable cart golf bag can ensures that none of your rounds of golf will ever get spoiled. Whether we're talking about some unexpected rain, a clumsy accident like dropping the bag on a puddle of water right after a rain storm, or even not having enough space for all of your golf gear, this large cart golf bag has you covered for any and every single situation you might face during your golf days.
Let's take a detailed look at it and check its design, specs and everything else that it has to offer.
DESIGN & SPECS
The H2NO Staff Cart Bag is basically a reliable large cart golf bag that allows you to carry pretty much anything you need for a full day of golf practice, weighing around 6 lbs. (2.72 kg) when completely empty.
As mentioned before, the H2NO Staff Cart Bag is made of super durable high-quality waterproof materials, making the bag itself, as well as all of your golf gear completely protected against any bad weather.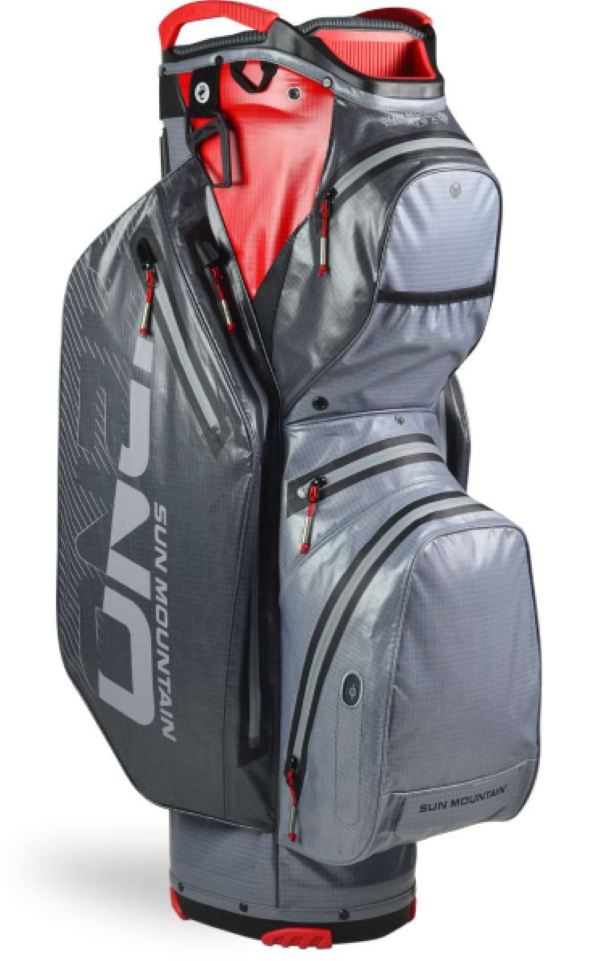 The bag's highly durable fabric also features an extra waterproof treatment on both sides of the bag.
The bag also comes with an included matching rain hood that's 100% waterproof, ultimately making the bag fully waterproof, of course. This way, golfers can have some extra peace of mind when playing a round of golf under unexpected weak or heavy rain.
Literally speaking, you could spray this thing with a garden hose, and nothing would happen. Just remember to use the bag's included rain hood (obviously) if you ever want to run the experience yourself.
Furthermore, the bag features a total of eight (x8) velour-lined pockets for extra-storage, and those can be used to store any of your valuables.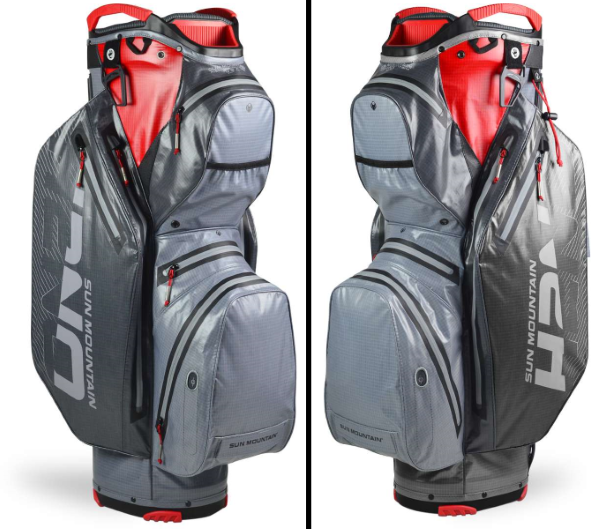 There's also an additional two (x2) full-length apparel pockets that can be used to store any extra golf gear like golf gloves (for a better grip and/or comfort) balls and tees (stands), as well as a range finder pocket (x1) and even a cooler pocket (x1).
All of the pocket's zippers are high-quality durable and water-resistant zippers, and the bag's pockets are all protected by sealed seams.
Additionally, the bag also includes a single pass-through cart strap that runs behind its range finder pocket, which means that you ultimately have unhindered access to all of the bag's pockets whenever the bag is strapped to a golf cart.
Now, let's talk about the bag's main feature, which is none other than it's "main pocket".
While most traditional/standard cart golf bags only have a couple of dividers – which basically means that smaller cart golf bags only allow users to carry and play golf with their main clubs – the Sun Mountain H2NO Staff Cart Bag has a ton of dividers; 15 to be precise. As such, this cart golf bag ultimately allows golfers to bring a ton of clubs with them for each and every of their golf rounds.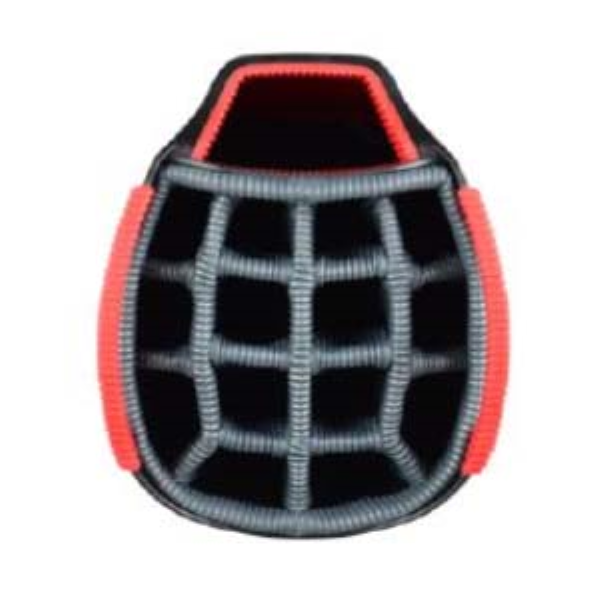 The bag's main-compartment's opening measures exactly 9.5 inches in diameter. Its "main pocket", which is obviously the bag's golf clubs storage compartment accounts for a total of fifteen (x15) full-length club dividers and an integrated putter compartment that not only keep all of your clubs protected, but also prevent any migration of your club's shafts during storage.
FINAL THOUGHTS
The Sun Mountain H2NO Staff Cart Bag is perfect for the any golfer that either needs extra club space or doesn't mind playing under the rain, featuring a full waterproof design, eight small pockets, two full-length pockets, a range finder pocket, a cooler pocket, a single pass-through cart strap and fifteen full-length club dividers with separate storage spaces for full club protection.
This is, without a doubt, one of the best and most complete cart golf bags currently available on the market. It's ultra-durable, super reliable, made of extremely high-quality waterproof materials, and it is guaranteed to never let you down, no matter what your next golf session has in store for you.
The H2NO Staff Cart Bag is currently available in two different color models: Black (Black Body with Grey Outlines), or Nickel-Gunmetal-Red (Grey Body with Red Top and Black Outlines).
If you're interested in buying one of these awesome cart golf bags, each unit is currently going for $330. You can order yours online right now, directly from Sun Mountain's official shopping page, which you can access via this link.