Shooting a "Selfie" picture/photo with your dog can be hard, especially for any dog owner that's the proud doggy parent of a super energetic dog that just doesn't seem to keep his/her energy for himself/herself. While dog selfies can normally be hard for dog owners to capture, the Pooch Selfie can help any desperate dog owner out there that's passionate about saving some pictures with Fido to shoot their "Selfies" together in a much easier (and also funnier) fashion.
The Pooch Selfie is a simple, yet super reliable smartphone accessory that can greatly help dog owners to have an easier time at capturing/shooting the absolute best selfies with their beloved four-legged friend(s).
Thanks to the Pooch Selfie you're guaranteed to never again have to go through a face licked selfie with your pup(s), and furthermore, you'll finally be assured that you never again miss any of those great social media opportunities to share your pups face with your family and friends.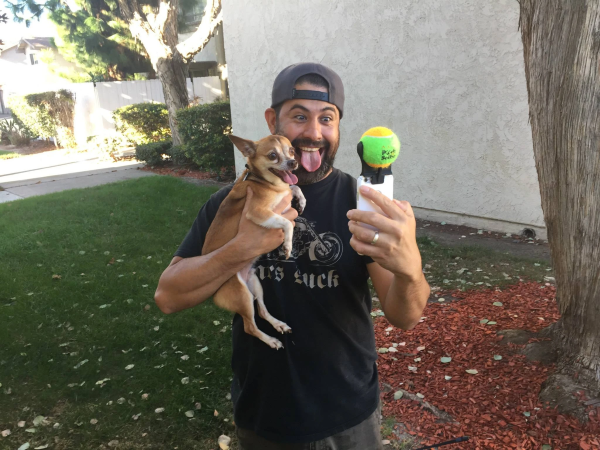 Let's take a more detailed look at this "Pet Selfie" smartphone accessory and see what it is all about.
DESIGN & SPECS
The Pooch Selfie is the very first Original Pet Selfie Smartphone Accessory that was available on the market.
Since it comes with an included squeaky tennis ball for maximum attention grabbing, this simple, easy-to-use and super reliable "Pet Selfie" smartphone accessory can completely change the quality of any dog owner's pictures when their looking to capture not only themselves, but also their dog(s) in a perfect image frame.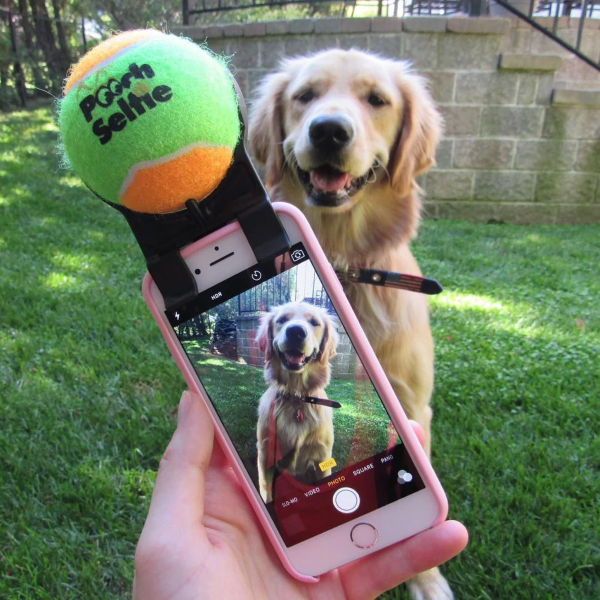 The Pooch Selfie can very easily captivate your dog's attention, and will then reliably give you a way to perfectly center not only your face, but also your dog's happy goofy face within your Smartphone's camera picture frame, ultimately allowing you to always have high-quality and perfectly framed selfie pictures with Fido.
As such, this smartphone attachment empowers dog owners to always be able to capture the absolute best selfies with their dogs.
COMPATIBILITY
The Pooch Selfie Smartphone Accessory was mainly designed for the newest iPhone models (like the iPhone 11) and the most recently released Galaxy Smartphone models (like the Galaxy Note 10), but it also works universally with most smartphone cases available on the market.
HOW TO USE?
As said before, the Pooch Selfie is a reliable "Pet Selfie" smartphone accessory that allows for dog owners to get stable and high-quality photos with their dogs, all without having their pups constantly liking their face due to being overly excited and fully energized.
This smartphone accessory is both super simple and very, very easy to use.
Literally all you have to do is slide the Pooch Selfie's clip on the attachment over your smartphone or tablet and then simply attach its included Squeaking Pooch Selfie tennis ball to the top of its smartphone ball attachment and you're all done.
After that you'll be super ready to snap tons of Selfies away with no concerns of Fido moving whatsoever.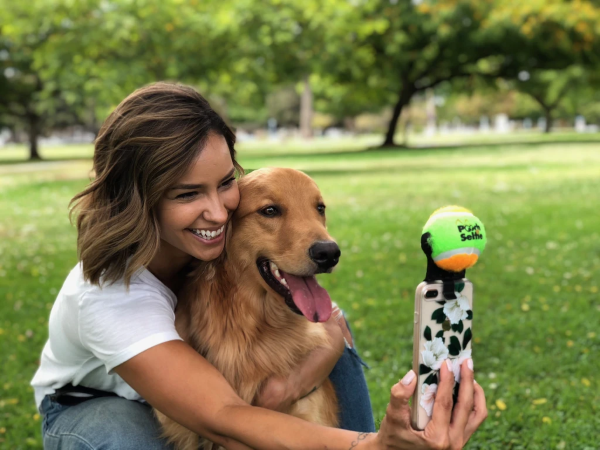 Not only does this smartphone accessory works with front and rear facing cameras, but you'll also never have the need to remove the attachment from your devices (Smartphone/Tablet). This ultimately gives dog owners the ability to take Portrait-Oriented (vertical orientation) style pictures and selfies without ever having to worry about removing the attachment.
Lastly, never forget to reward your dog(s) for his (their) good behavior during your Selfie sessions together with some fun play time by throwing the ball a for few rounds of "fetch", as well as maybe even handing out the occasional doggie treat.
Rewarding your dogs will encourage and teach them that it's important for you that they stay still during family Selfie times. This will also ultimately help dog owners to teach their dog(s) that modeling for family pictures is actually fun as well as worthwhile.
Since the Pooch Selfie was designed in a super convenient way, pulling the tennis ball out of the attachment is actually super simple, and be quickly done after each and every Selfie session.
WHAT'S IN THE BOX?
Inside each package users will find: their Pooch Selfie Smartphone Attachment and an included removable Squeaking Pooch Selfie tennis ball.
FINAL THOUGHTS
The Pooch Selfie is a simple, super reliable and easy-to-use smartphone accessory that can greatly help dog owners to have an easier time at capturing/shooting the absolute best selfies with their dogs without experiencing the common face liking that overly excited dogs end up delivering.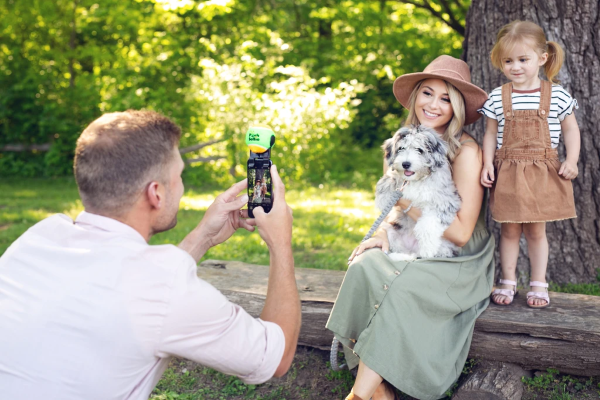 If you're interested in buying the Pooch Selfie Smartphone Accessory, each package is currently discounted from its normal price of $13, now going for $10 each (saves you $3). You can order yours online, directly from the company's official website, which you can access by clicking here.
Furthermore, the company also has that same special discount available for groups of 2 friends, allowing both you and your best friend (who's most likely also a dog lover) to buy two units together and have one for each. The Pooch Selfie Twin Pack comes with 2 separate packs and only costs $20 per pack of 2 units. This link will take you to the corresponding shopping page.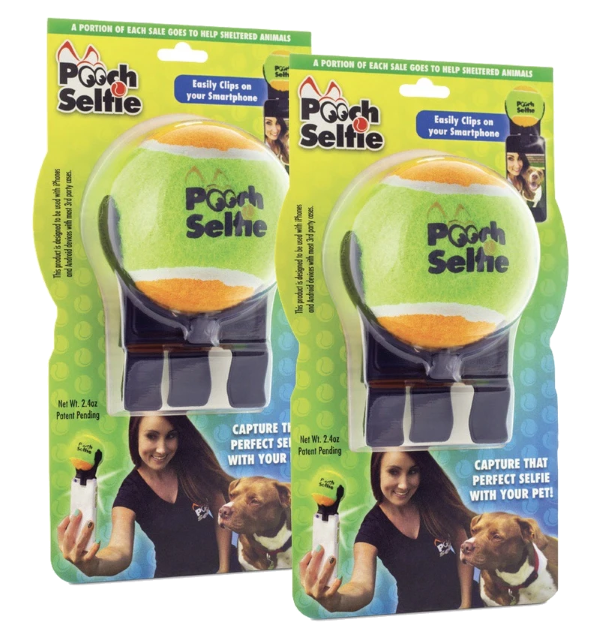 Lastly, for dog owners that know that they're dogs simply love to play fetch, the company has a Pooch Selfie Combo Pack available, which not only includes the smartphone accessory itself, but also 3 additional replacement tennis balls that let you keep the selfies rolling with ease for longer periods of time.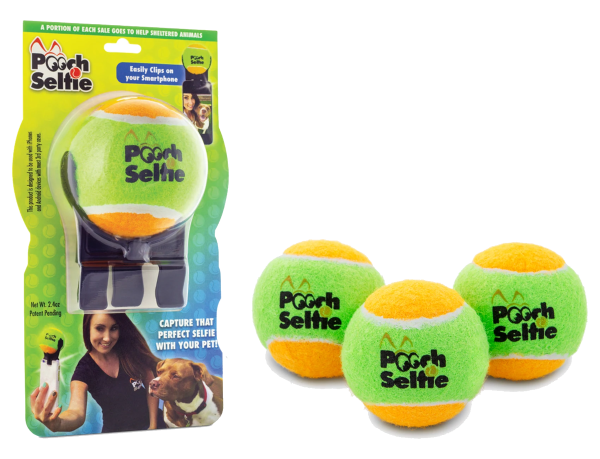 It's literally Selfie, Throw, Re-Attach another of your extra tennis balls, and Repeat.
Each Combo Pack is also discounted from its normal price of $16, and is now available for $13 each. Click here to order yours.