With hurricane season upon us, it is more important than ever for homeowners to prepare their abodes for hurricane-force winds, tropical storms and possible flooding. The start of the Atlantic hurricane season begins on June 1st and many meteorology experts are forecasting above-normal activity. As such, there's a company out there called Deltec Homes that can help any concerned home owners to have a decent plan against the upcoming hurricane season.
Deltec Homes is an American company that's focused on home production and well specialized on designing strong and durable houses that can withstand hurricane-force sustained winds of up to 185 mph. These houses are engineered for strength and durability, and are designed to last for at least as long as a family's lifetime.
According to the U.S. Census Bureau, nearly 145 million people or about 45% of the American population live within coastal regions vulnerable to hurricanes. In the past five years alone, the nation has experienced devastating and destructive storms like Harvey, Maria, Michael, and Irma and, as a result, thousands of homes have been destroyed. With hurricanes intensifying and the world climate changing, resilient design for homes is becoming even more important.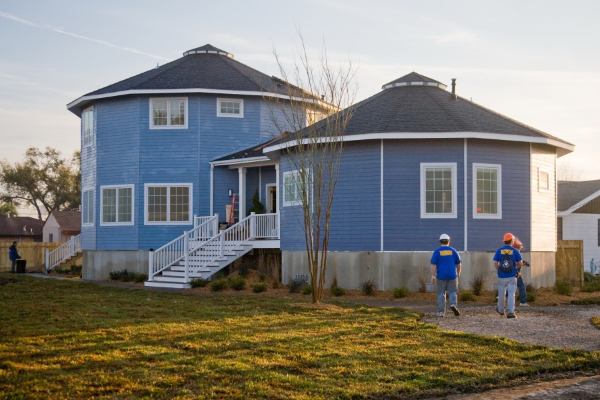 However, and as mentioned before, there's one home design company out there that's on a mission to change the way homes are built, and that's none other than Deltec Homes, a family-owned business headquartered in Asheville, North Carolina.
The company is renowned worldwide for its unique circular design, innovative materials, and advanced technology and processes.
A Deltec home can be designed to withstand hurricane-force sustained winds of up to 185 mph. They are engineered for strength and durability – in fact, they are so strong that in over 50 years and with over 5,000 homes built their homes' survival rate is 99.9%.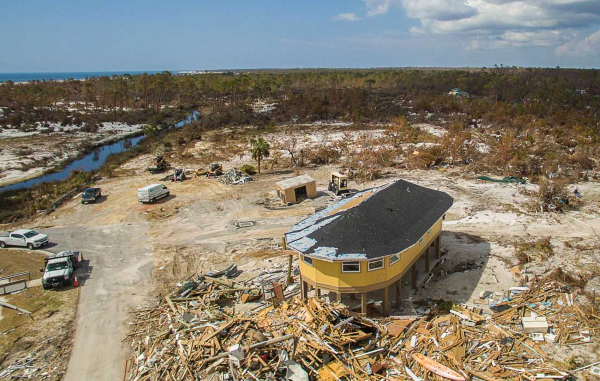 "We understand what it takes to build a home in a severe wind environment," says Steve Linton, president of Deltec. "From planning to design to construction, we are focused on the details of building the most durable home possible for the harshest weather. Everything we do is designed with intention."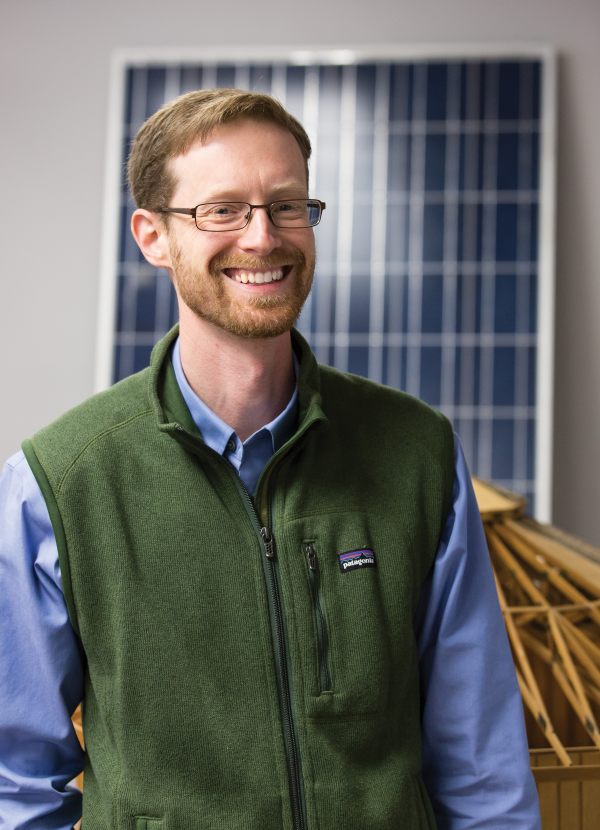 Deltec Homes is a hybrid between a prefab manufacturer and custom home builder, delivering the efficiency and precision of factory building, while offering the flexibility and location-specific design of a custom stick-built home. What ties it all together is their systems-built approach to building, from the engineering to sustainability to their use of biophilic design. Their homes are integrated with the natural environment due in part to its expansive windows and panoramic designs.
There are five key elements in their design
Shape: The company's unique 360-degree panoramic design ensures that wind diverts around the structure so wind pressure doesn't build up on a traditionally flat side of the home, which can collapse the walls. This design reduces the air pressure by about 30% on the exterior walls and roof. Additionally, the radial nature of the structure ensures that the house is equally protected regardless of the wind angle, acting like spokes on a wheel. The roof pitch is specifically engineered for wind deflection and resist lift.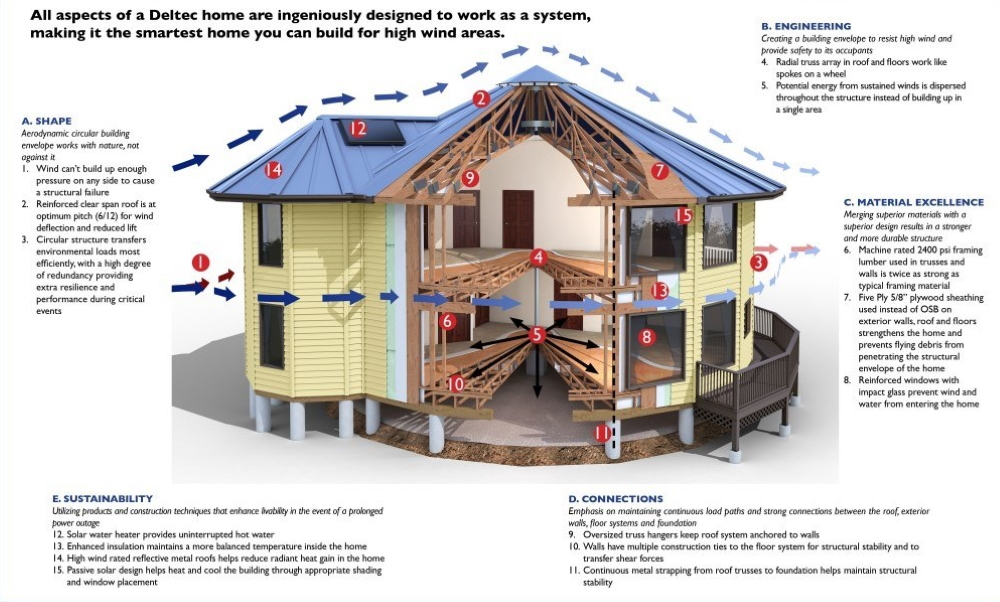 Engineering: The roof and floor trusses radiate from the center of the house, helping it remain intact by spreading the energy from the high winds throughout the structure instead of allowing it to build up in one area. "The precision with which we build our structural components ensures a quick and easy construction process on site and ultimately a home of the highest quality and efficiency," said Linton. "That is especially important for homeowners living where there are extreme weather conditions." The strength relies on its comprehensive approach including its engineering, construction and materials.
Connections: Deltec focuses on three key potential points of failure due to high winds — roof to walls, walls to floor, and floor to foundation. To ensure connections are as tight as possible, they use connectors that are much stronger than those required by most building codes. Additionally, the pre-fab construction method leads to a much tighter fit for all the exterior walls and roof—providing a much more structurally secure building with fewer gaps for wind and rain.
Material excellence: Deltec homes are framed with Diamond grade wood rated at 2400 psi that is twice as strong as traditional lumber. Additionally, oversized truss hangers to keep the roof anchored to the walls, and continuous metal strapping from roof trusses to foundation maintain structural stability, while high impact windows keep wind and water outside the house, and 5/8 plywood on the exterior resists flying debris penetrating into the house.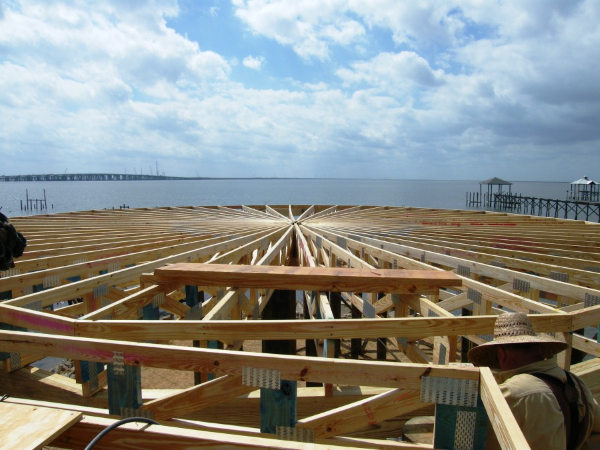 Sustainability: Deltec regularly incorporates efficiencies like passive heating and cooling, solar energy and high-performance insulation. This contributes to energy cost savings and will sustain the home's occupants in the event that local utilities and infrastructure are crippled. Their homes have been built around the world to an array of building-science backed certification programs including the demanding Department of Energy's (DOE) Zero Energy Ready Home, as well as having an average Home Energy Rating System (HERS) rating of 45 vs. 100 for a new code-built home (with their best home coming in at 0 and the highest at 66—still 44% below the average home). The company also walks the walk – it builds all of its homes in a facility powered by 100% renewable energy.
The Future of Homebuilding
Through a journey of innovation, Deltec is at the forefront of designing homes that can resist some of the most extreme weather on earth. It continues to push the envelope, continually expanding its capabilities and designing homes to withstand stronger and stronger storms. Linton concludes by sharing, "Year after year, storm after storm, Deltec homes are the ones left standing.".