Isometric exercises are a unique form of exercise that involves the static contraction of a muscle without any visible movement in the angle of the joint. This us brings us to something called "Planking", which a very specific isometric core strength exercise that involves nothing more than maintaining a position similar to a push-up for the maximum possible time. So, if you're into staying in shape by practicing isometric exercises, then the Stealth Core Trainer Deluxe might be the perfect workout tool for you.
The Stealth Core Trainer Deluxe is a special fitness tool that was designed around the concept of Planking. However, while that might sound super simple at first, because Planking basically means you just stand there in a push-up position for as long as you can, there's a little bit more to this workout gadget than just that.
As almost any other person in the entire world, you probably love Smartphone games to. Now, imagine the possibility of combining a Smartphone game with isometric planking exercises. That's exactly what the Stealth Core Trainer Deluxe really is, and does.
The Stealth Core Trainer Deluxe's isometric planking exercises are accompanied by its very own free-to-download Smartphone Companion App, which basically works as an interactive fitness smartphone game that makes you sweat a "buttload" while also torching your entire core and ultimately leaving your arms feeling like jelly.
Not only that, but this fitness tool also features a unique Smartphone slot that's located at its top, allowing you to place your Smartphone inside that slot as a "temporary built-in screen" where you can see the Stealth Core Trainer's interactive fitness smartphone game while you practice your planking exercises.
This makes the Stealth Core Trainer the world's very first interactive core trainer available on the market, taking one of the most basic isometric training exercises (Planking or just "the plank") available to literally anyone and turning it into a full-on gaming experience.
Ultimately, by using this ingenious "isometrics exercising gadget" – which forces you to hold a plank on a balance board-like piece of equipment – you can get a lean and strong core while playing games on your Smartphone. That's simply crazy, but still, super cool! As such, the Stealth Core Trainer Deluxe can ultimately make planking both super fun and much more effective.
Let's have a more detailed look at it and check how this amazing and very unique fitness tool was designed as well as how it works.
DESIGN & SPECS
The Stealth Core Trainer Deluxe was designed for personal use and as such, you can even easily use it at-home and share it with both family and friends to make your isometric planking exercises extra fun.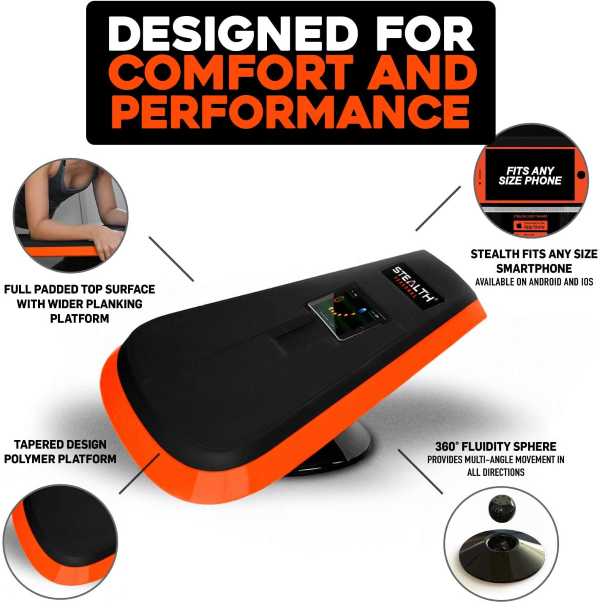 The unit basically consists of a wide/large highly-durable polymer planking platform (meaning its made of high-quality plastic)  that features a tapered /narrow design and integrates a fully-padded top surface – contrarily to the basic model's simple built-in urethane molded arm pads.
Check the video embedded below to see the difference between both models (Original vs Deluxe):
Not only that, but that platform is perfectly installed on top of the company's very own patented "360º Fluidity Sphere", which basically allows this planking fitness gadget to be able to move fluidly in multiple angles, allowing it to seamlessly and flawlessly lean towards any and all directions.
The Stealth Deluxe's proprietary design with 360 degree full range of motion ultimately brings you superior dynamic isometric planking exercises.
Thanks to the combination of its 360º Fluidity Sphere and highly-durable polymer planking platform, the Stealth Core Trainer Deluxe can support up to 250 lbs.
Additionally (and as mentioned before), it also comes with a Smartphone-specific slot located close to its top which can fit pretty much any Smartphone you can think of.
HOW DOES IT WORK?
The Stealth Core Trainer Deluxe works like a "health club quality fitness gadget" that will push you to a new level of core training within the privacy of your own home. As such, this super fun isometric-exercises training device can be used by pretty much anyone.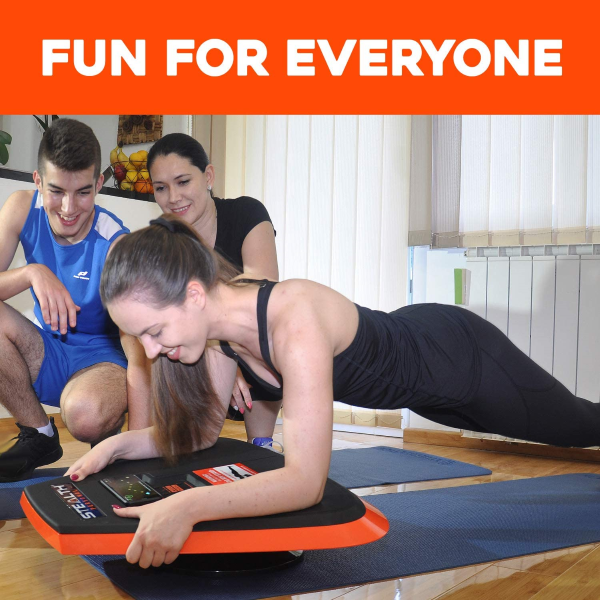 This simple yet ingenious isometrics-based fitness board can give you a tough workout by using your core strength to control the action on your mobile phone's screen, which, as mentioned is where the Stealth Core Trainer Deluxe's Smartphone App's games are viewed and played, and this ultimately makes static isometric exercises like "Planking" much more fun and engaging, and that goes for both your muscles and your brain.
All you have to do is place your Smartphone on its rectangular section that's specifically designed to fit pretty much any Smartphone (located at the top of the unit) and have the Stealth App already opened on your phone's screen.
Since the unit's rectangular Smartphone slot is slightly lower than the board's surface, that means that your phone will always stay in place, even after you start moving/rocking the board around.
The App itself (the Smartphone games) counts you down to plank game time. As soon as the game starts you'll constantly have to adjust your position to hit the targets on the screen, and that's done shifting your weight to the left or to the right and then holding specific angles to stay in the game.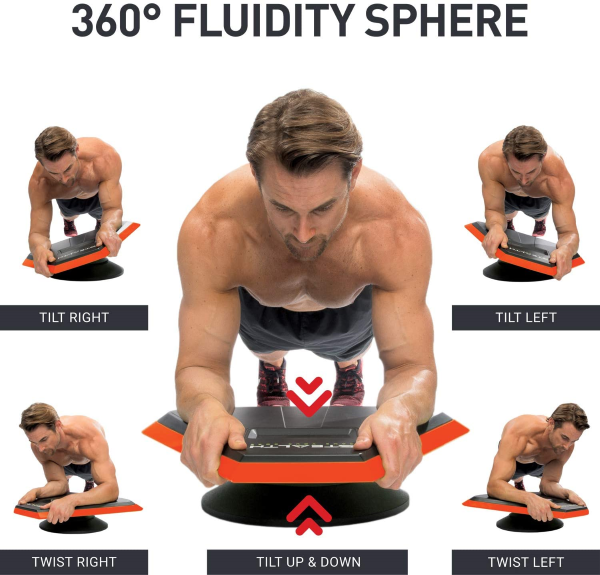 While you can obviously go through it as fast as you want, the real challenge is how well you maintain a clean plank form, and that's why this workout / fitness tool works as a great tool to improve your Planking form.
While Planking might feel like hell for a few minutes, it'll be much more fun than you've ever had while doing this isometrics exercise without any other interaction. This way, your core and muscles are constantly trained to stay in shape while your mind stays occupied.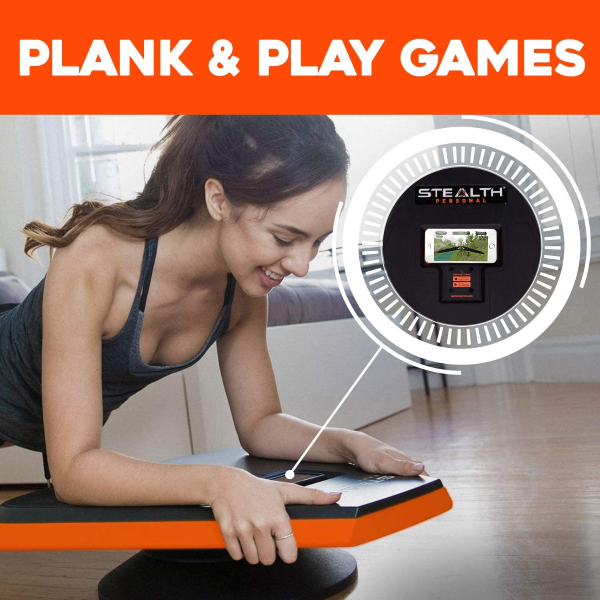 HOW TO USE?
Using the Stealth Core Trainer Deluxe might be a bit hard at first, but after a few days it gets funnier, as well as simpler and easier to do every time.
While your first planking workouts might only last you around thirty seconds to one or two minutes before reaching muscle failure (especially for beginners), which you'll definitely feel, games will still help to make it more fun and motivating.
By using the Stealth Core Trainer Deluxe for your isometric planking exercises for just three (3) minutes a day you can ultimately get a strong core and a healthy back.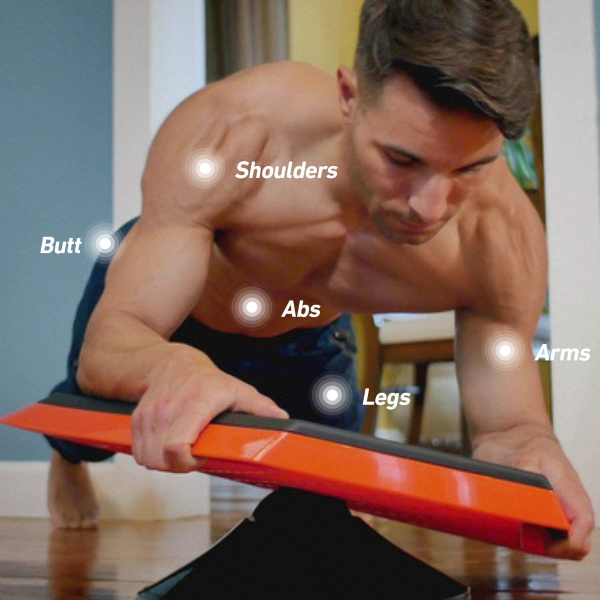 While the Stealth uses your core strength to control the action on your mobile phone screen to make your planking exercises more engaging for both your muscles and brain, you can ultimately get a full core/body workout while playing games, allowing you to not only work your shoulders, arms, abs, legs and butt, but also to build more muscle and lose some unwanted body fat.
THE SMARTPHONE APP – Stealth Fitness App
As mentioned before, to use the Stealth Core Trainer Deluxe, you'll have to download its Smartphone Companion App, which is simply called the Stealth Fitness App and is available for free for both iOS and Android devices.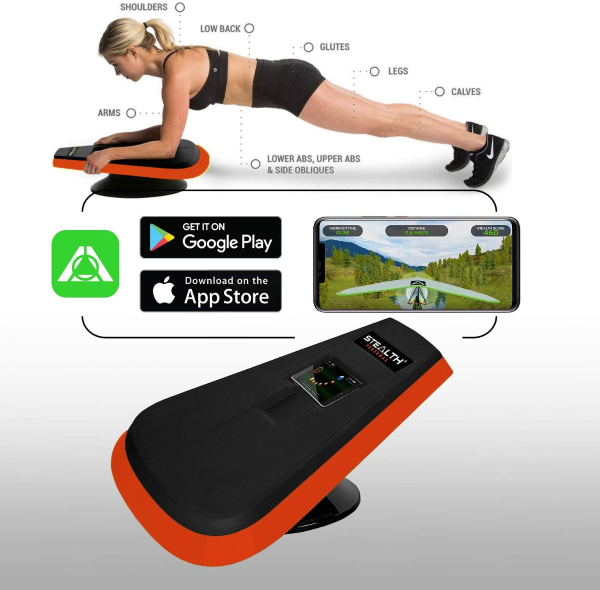 Thanks to the App, you'll never have to do boring plank isometric exercises, sit-ups or crunches ever again to train your body and core shape.
By integrating mobile gaming into core planking workouts, the Stealth Core Trainer Deluxe makes planking exercises both fun and exciting, allowing you to train shoulders, arms, lower back, upper and lower abs and side obliques, glutes/butt, legs and even calves, all in a more entertaining manner.
The Stealth Fitness App integrates a total of two (x2) Gaming Apps, called "Galaxy Adventure" and "Speed Gliding", and you can play any of those via planking exercises by using just the power of your muscles (arms, legs, and abs).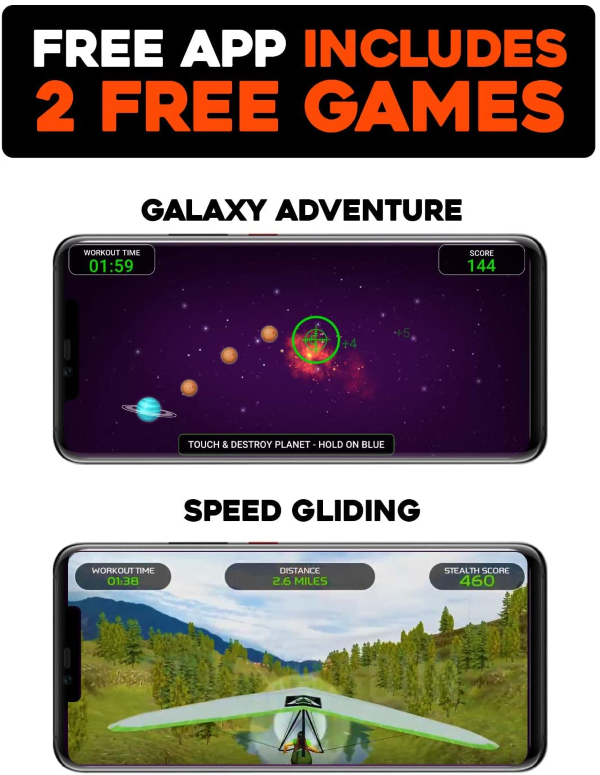 No matter what game you decide to go with, the Stealth Fitness App will always track your daily progress. Furthermore, both games also include a worldwide leaderboard, which means that you'll be able to create fun and competitive challenges between family and friends.
FINAL THOUGHTS
The Stealth Core Trainer Deluxe is an interactive core trainer that combines isometric planking exercises with two interactive fitness smartphone games that allow you to take your planking workouts to the next level and turn them into a full-on gaming experience.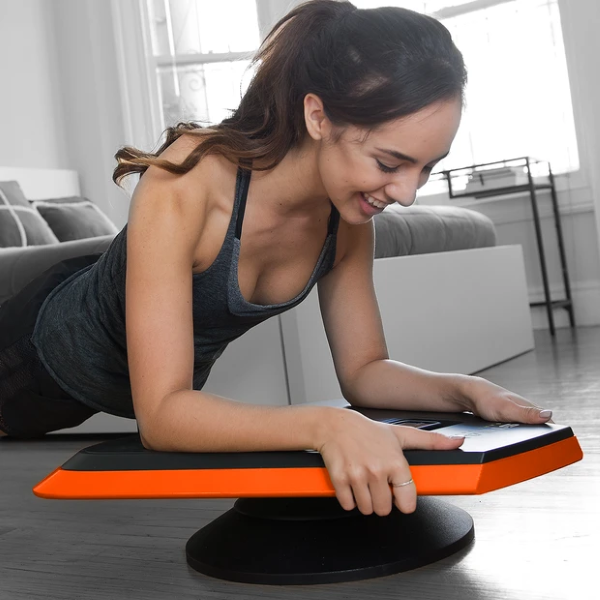 If you're interested in buying it, each unit is currently discounted from its original price of $149, now going for $99 each, which also comes with a free 1-Year Extended Warranty ($20 value) and a 30 Day Money Back Guarantee.
You can order yours online right now, directly from STEALTH's official campaign page, which you can access via this link.