After releasing its original Android Wear-based Moto 360 Smartwatch (1st Gen) back in September 5, 2014, it just took Motorola one single year to come up with its follow-up model of the Moto 360 (2nd Gen), which was built on many of the original model's (1st Gen) features, getting officially released on November 27, 2015. However, while the very first iteration of the Moto 360 (1st Gen) was one of the very first smartwatches ever released to feature a circular body – which allowed both the original model of the Moto 360 as well as its 2nd Gen (released at the end of 2015) to stand out from the competition – it then took a whopping four extra years for the company to come up with a third version of its Moto 360 Smartwatch. As such, many Motorola fans finally got what they were hoping for, the Motorola Moto 360 Smartwatch 2020 (3rd Gen).
As the company finally announced its recently released Moto 360 Smartwatch 2020 (3rd Gen) on October 29, 2019, we now finally have the Moto 360 Smartwatch making its way once again into the wearable market.

Still, four years a very long time to come up with a brand-new model of such a renowned Smartwatch, which just makes it a very intriguing decision by the company to release a new iteration of its Moto 360 so long after the second model, especially given how popular smartwatches are these days, as there are tons of choices to go with including smartwatches like Apple's Apple Watch, as well as Samsung and Garmin smartwatches, and even other tech companies as well.
Nonetheless, one thing is certain. It's clear that Motorola didn't want to come up with a simple 3rd model/iteration of its famous Moto 360 Smartwatch, especially if the company is looking to remain competitive in the smartwatches market. That's why the company probably took so long to release a newer model of the Moto 360.
And so, that has probably got you thinking whether or not the wait was worth it. So, if you're wondering what's under the hood of Motorola's newest version of its Moto 360 Smartwatch, join us on this review and let's have a look together at Motorola's Moto 360 Smartwatch's (3rd Gen) design, specs, battery and battery life, and pretty much everything else that's important to discuss.
DESIGN & SPECS
First of all, after taking a brief look at the Moto 360 Smartwatch 2020 (3rd Gen), we can easily notice that this newer smartwatch features the same type of circular body that both of its predecessors (the original model – 1st Gen – and Moto 360 2nd Gen) also packed.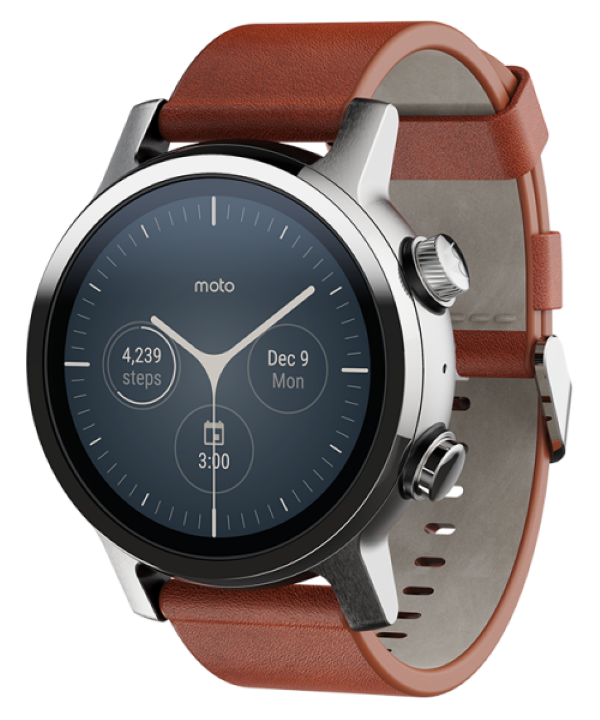 The Moto 360 Smartwatch 2020 features a very solid, ultra-durable, and compact build, measuring just 1.68 inches long by 1.68 inches wide by 0.45 inches tall/thick (42.8 x 42.8 x 11.68 mm) when sitting flat / resting on top of a flat surface – 0.52 inches tall (13.28 mm) if counting with the unit's Heart Rate Monitor. Furthermore, the smartwatch itself (meaning without the strap) is also very lightweight, weighing just 1.8 oz. (52 g).
While the Moto 360 is just a little thick when compared to other smartwatches as it kind features a bit more bezel than what actually feels necessary, it's still lightweight enough and feels super secure on your wrist, as its relative chunkiness gives it a very robust feeling.
Additionally, when it comes to the smartwatch's circular design, the Moto 360's stylish, yet simple look seems rather minimalist.
For this specific color model that we're reviewing (the Moto 360 Smartwatch 2020 / 3rd Gen – Steel Grey color model) our review unit features a gorgeous stainless steel silver body and the smartwatch came with a brown leather strap (which measures 0.78 inches / 20 mm wide), but there's also a replaceable black silicone leather strap included.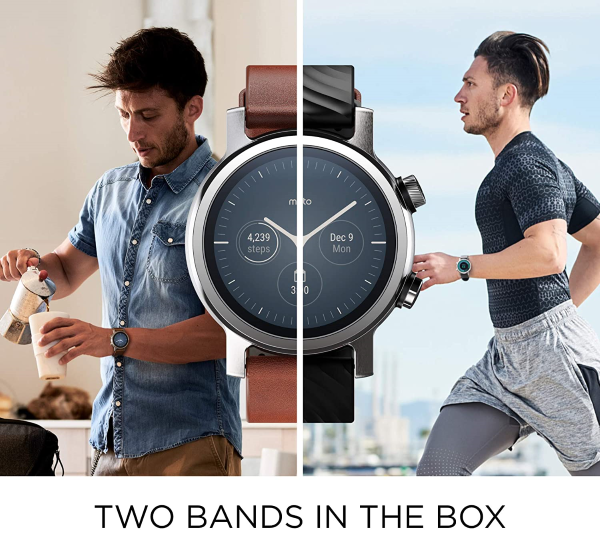 While the top of the smartwatch features a luxurious stainless steel silver body, the very bottom of the watch's body is made of plastic, which basically means that you're comfort is completely ensured, as you'll have no cold metal pressed against your skin.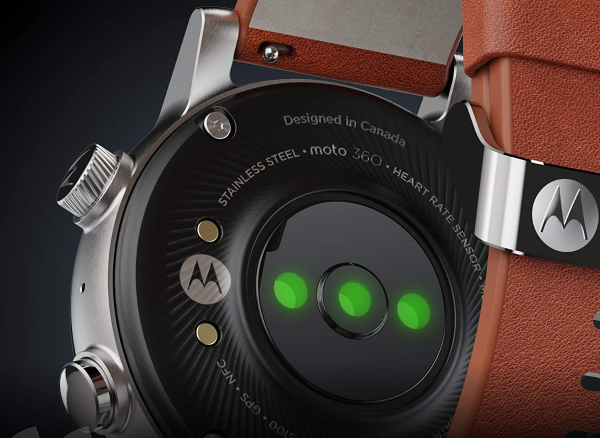 The watch's strap itself already comes with plenty of holes/perforations, so whether you have a thin or a thick wrist, it should be pretty easy for literally anyone at all to get comfortable fit.
Both of the watch's strap's buckle and lugs feel ultra-secure, which means that you'll never have to worry about your brand-new Moto 360 (3rd Gen) flying off your wrist with a more energetic flick while you're preparing a tasty meal at your kitche, working out at the gym, running or even during your work schedules.
Lastly, the Moto 360 (3rd Gen) is also rated 3ATM Water Resistant, which basically means the unit is just splash resistant, as the company reportedly tested it for exactly 10,000 swim strokes.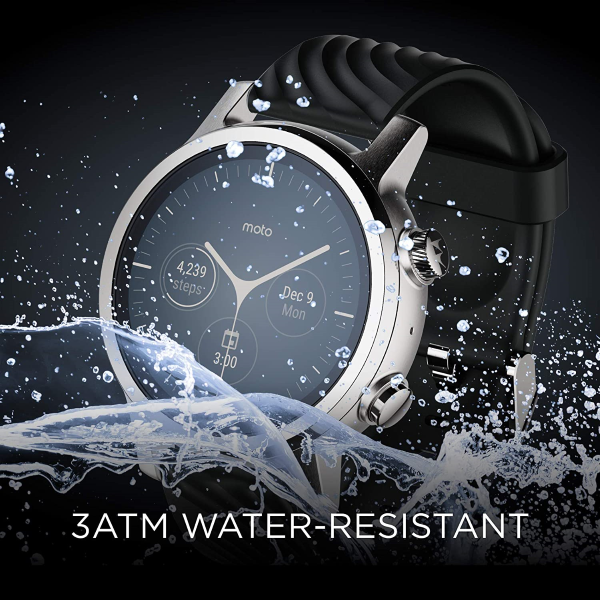 SCREEN DISPLAY & BUTTONS/CONTROLS
Moving on the smartwatch's screen, the Moto 360 (3rd Gen) comes equipped with a 1.2-inch display, but unlike the two previous models (1st Gen 2014 and 2nd Gen 2015), there's no 'flat tire' effect at the bottom of the screen, as the company decided to go with a fully circular display for the Moto 360's 3rd iteration.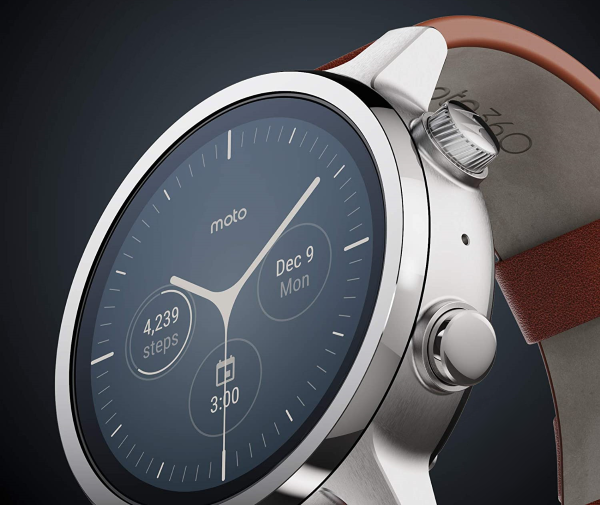 There's also a low bezel around the edge and there's one black ring bezel between that and the watch's screen, so the body of the watch is somewhat larger than its display screen.
The Moto 360's 1.2-inch circular AMOLED display screen works as a Full-Color Always-On display that features a maximum resolution of 390 x 390 pixels. This screen is a Corning Gorilla Glass 3 screen, which basically is three times more damage resistant than Gorilla Glass 2. This ultimately allows the watch's screen to greatly resist any deep scratches that tend to cause many watches' screen glass to end up breaking.
As the watch's 1.2-inch AMOLED display screen works like an always-on display screen, this means that you won't have to "wake up" the watch in order for you to actually see a the smartwatch's face, which will show you your active minutes (Fitness Activity Time Count), as well as the date and time.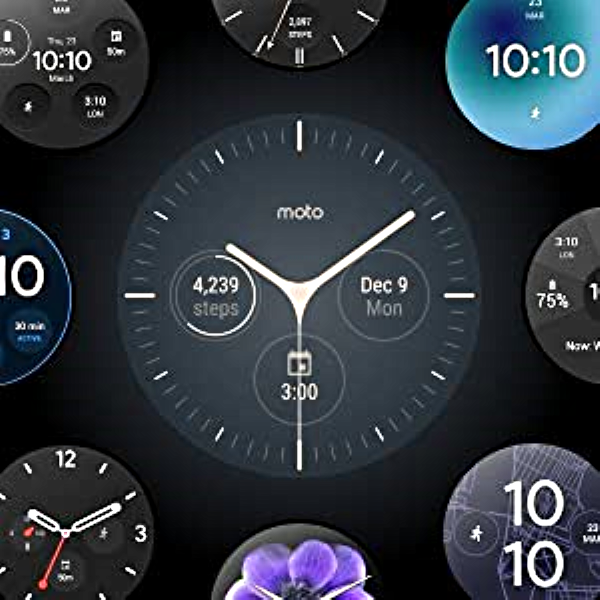 While having an always-on display screen is actually a very useful feature that enables you to have a quick-check of all of the previously mentioned info at a glance – all without having the need to raise the watch towards you in order to wake it – this might end up proving to be a negative aspect when it comes to the watch's battery life. However, it isn't as bad as it sounds, and we'll discuss that right ahead (in the Battery Life section of the article).
Furthermore, for such a compact smartwatch like the Moto 360 (3rd Gen), the unit's display quality is actually great, and the screen's color-quality also looks quite good. Whether you're checking out your heart rate values (thanks to its internal Heart Rate Monitor) or a photo through on of its many compatible Apps, you'll never feel a struggle when trying to read numbers or checking out on your photo's details.
Additionally, the Moto 360 (3rd Gen) also features a total of two buttons that are located on the right-hand edge of the watch. One of those buttons works like a rotating crown that you can spin with your finger to scroll through its menus while the other button can conveniently be configured to be used for a variety of functions.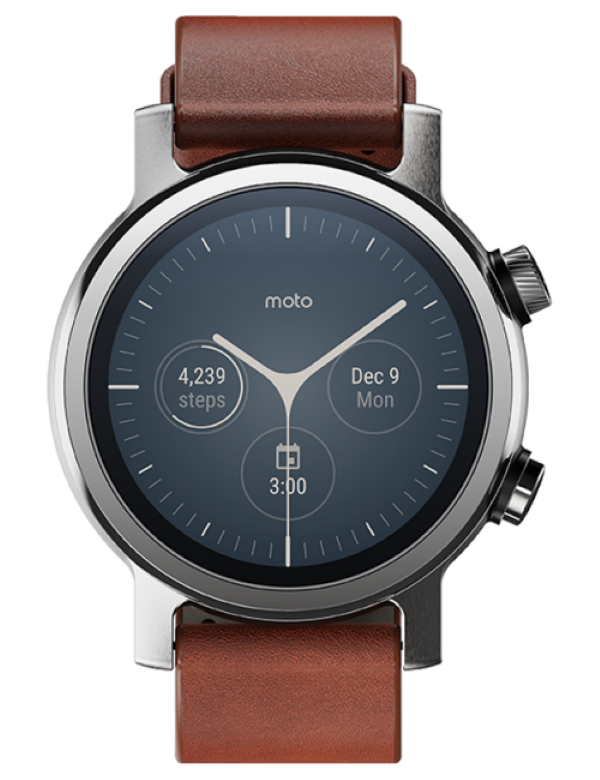 INTERNAL COMPONENTS
Motorola's newest Moto 360 Smartwatch (2020 / 3rd Gen model) also comes equipped with some nice high-quality sensors, including an Accelerometer, a Gyroscope, a Barometer, the already mentioned Heart Rate Monitor and an Ambient Light.
Furthermore, this smartwatch comes packed with 1GB of RAM Memory and a 8GB Internal Memory. The latter one basically means that you'll be able to load up your Moto 360 Smartwatch (3rd Gen) with tons of Apps without ever having it showcasing a "laggy" operation.
Not only that, but all of the smartwatch's operations are powered by a Qualcomm Snapdragon Wear 3100 processor, which brings this 3rd generation of the Moto 360 Smartwatch some very welcomed battery life optimizations when compared to both of its predecessors (1st Gen and 2nd Gen).
Thanks to the combination of its 1GB on-board RAM Memory and its Qualcomm Snapdragon Wear 3100 processor, the Moto 360 feels extremely easy to navigate,
Lastly, this smartwatch runs on Google's Wear OS (Operating System).
COMPATIBILITY
The Moto 360 Smartwatch (3rd Gen) is only compatible with devices running iOS 10.0 or higher or any devices running Android 6.0 (excluding the Go edition) or higher.
CONNECTIVITY
In terms of the Moto 360 Smartwatch's (3rd Gen) connectivity, this smartwatch supports Bluetooth 4.2 connecvitiy and Wi-Fi (b/g/n standards), as well as NFC and GPS (GLONASS, Beidou, and Galileo).
BATTERY & BATTERY LIFE
The Moto 360 Smartwatch (3rd Gen) comes equipped with a built-in 355mAh rechargeable Li-Ion battery that can offer up to around one full day of battery life on a full charge.
This basically means that you'll have to remember to charge up the watch every single night. However, if you'd ever end up forgetting to do just that, it's also worth to mention that the watch's built-in 355mAh Li-Ion battery also supports Quick Charging, and as such, you can quickly recharge its "fully-dead" battery (meaning 0% battery) from 0-100% in just 60 minutes.
Charging is done via a dock that you plug into a USB port, and then your Moto 360 Smartwatch (3rd Gen) is simply clipped to its dock magnetically, so recharging the watch is something's that's pretty easy to do. However, unlike older Moto 360 devices, there's no wireless charging supported; just USB charging.
Additionally, there's also a Battery Saving Mode that helps to reduce the smartwatch's battery consumption, as this specially battery-life saving-mode brings the Moto 360's functionalities to its bare time-telling functions.
While it's somewhat unclear on just how much time this special feature helps to extend the smartwatch's battery life, the company stated that the watch's battery life should last you for around a total of three days when running solely in this mode. This is actually a very usefull feature, as it automatically kicks in whenever the watch's battery level is critically low.
WHAT'S IN THE BOX?
Inside each package users will find: their Moto 360 Smartwatch's Stainless Steel Case (3rd Gen), an included Brown Leather Watch Strap and a Black Silicone/Rubber Watch Strap, the watch's included USB Charging Cradle and USB Charging Cable, and a Quick Start Guide.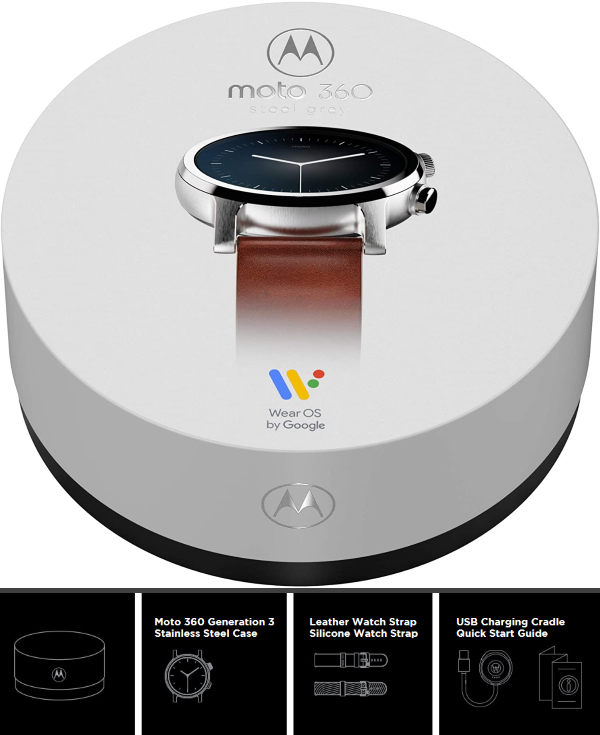 NOTABLE FEATURES
Moving on to the Moto 360 Smartwatch's (3rd Gen) features, users are offered Google Pay for NFC payment, Google Fit for fitness tracking, Google Maps for navigation straight from your wrist, and more, and as such, all these functionalities simply make the Moto 360 (3rd Gen) work more like an extension of your Smartphone than as a separate smart device.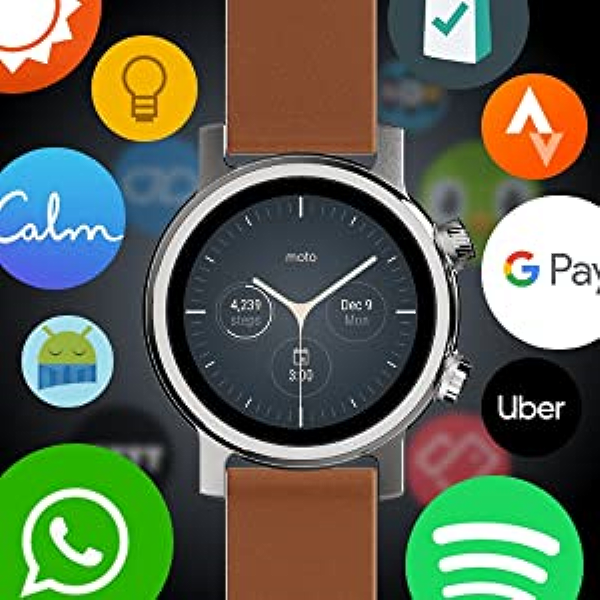 Still, these are very convenient features to have available right at your wrist if you're in a hurry and/or walking around your place of work or around town with your Smartphone in your pocket and you need to use any of those functionalities in a short time.
FINAL THOUGHTS
The Moto 360 Smartwatch 2020 (3rd Gen) is a very useful smartwatch that's quick to respond and easy to use, supporting Bluetooth and Wi-Fi and featuring 1 full day of battery life with Quick Charging, as well as a ton of memory space for all of your convenient Apps.
The Moto 360 Smartwatch 2020 is available in a total of three (x3) different color models, including: Steel Grey, Phantom Black and Rose Gold.

If you're interested in getting it, each unit is currently going for $300 each, making it a somewhat affordable Smartwatch to get, especially when considering all of its cool features. As such, it should certainly be worth its cost.
You can order yours right now, directly from Motorola's official shopping page, which you can access via this link.