Samsung has recently announced a more durable and somewhat simpler version of its renowned Galaxy S20, but sadly, it is not available for everyone. As such, the South Korean multinational tech company has just very recently introduced its newest Smartphone, the Samsung Galaxy S20 Tactical Edition, which, as its name obviously suggests, was specifically designed to meet the needs of the US military and federal government.
So, if you were already getting hyped up for getting a military version/edtion of Samsung's Galaxy S20 Smartphone, you can re-slot your credit card back into your wallet, as this limited edition model will only be available for military branches and federal government agents.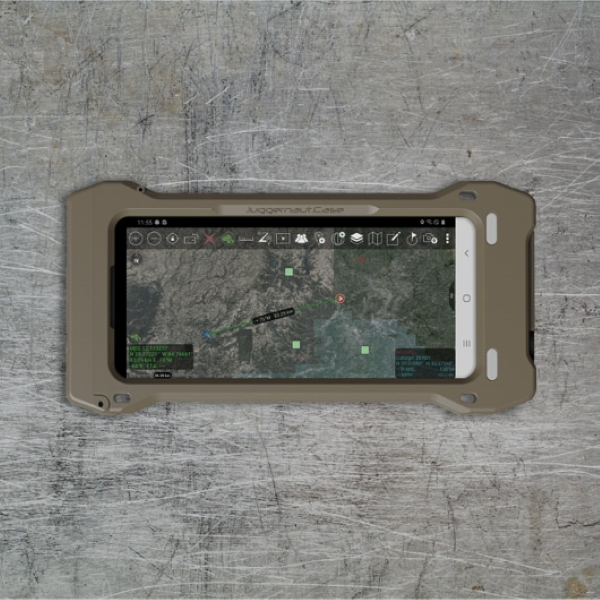 Still, Samsung already shared most of the specs for its "Special Tactics" Smartphone Edition, which basically means we at GadgetGram took a deep look at it as soon as we had the chance.
Let's have a full look at Samsung's new Galaxy S20 Tactical Edition Smartphone and check what it's all about.
DESIGN & SPECS
First of all, the Samsung Galaxy S20 Tactical Edition comes fully protected inside its included rugged casing, but the company didn't mention whether or not the Smartphone itself was rugged.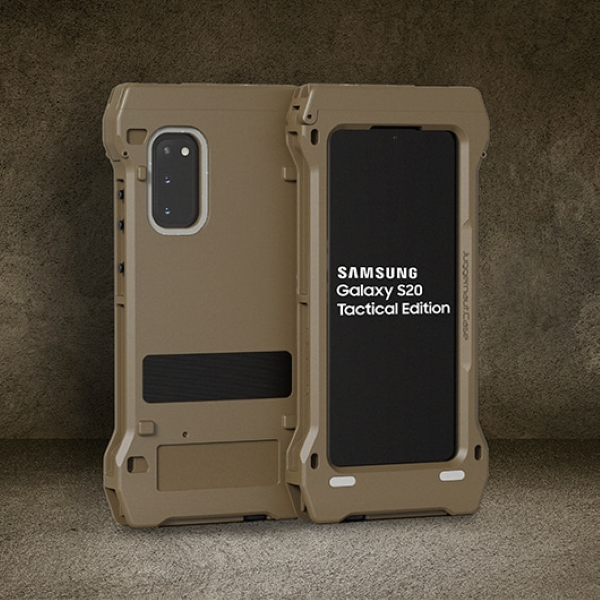 Not only that, but the Galaxy S20 Tactical Edition Smartphone also features Auto-Touch Sensitivity, which basically means that military operators can very conveniently leave their gloves on while using the Smartphone.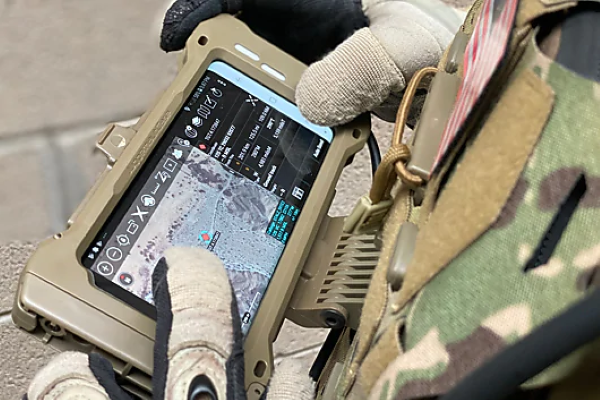 This Auto-Touch Sensitivity features allows the Smartphone to automatically adjusts its S20 TE operations for any gloved hands, whether those gloves are a bit thinner or ultra-thick.
Furthermore, the phone also features a rating of IP68, which makes it perfectly fit to withstand dust, dirt and sand. Additionally, this protection rating also means that the Smartphone is also resistant to water submersion up to a maximum depth of 1.5m underwater for up to thirty minutes.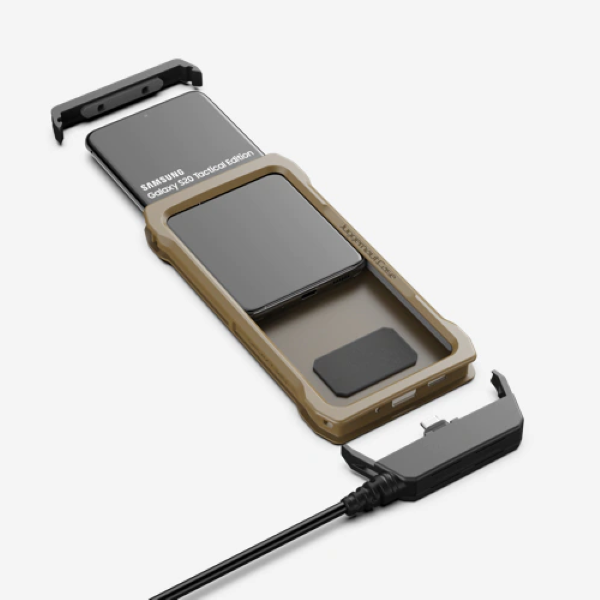 This Tactical Edition of the Samsung Galaxy S20 also features TACTICAL APP QUICK LAUNCH, which basically means that the phone comes equipped with a remapped side key button that ultimately provides military operators with a one-touch launch/hide key for mission applications including ATAK, APASS and BATDOK.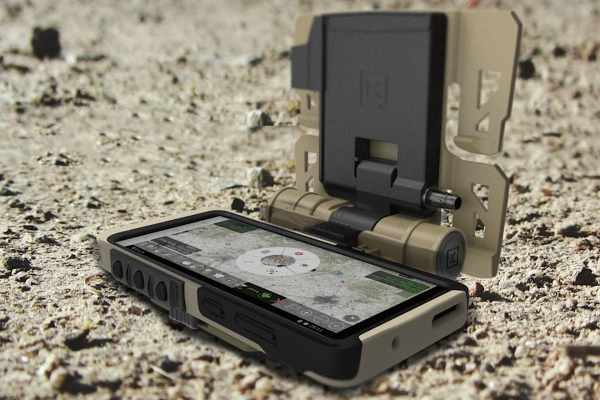 This more standard version of Samsung's Galaxy S20 Smartphone comes equipped with a Dynamic 6.2-inch AMOLED 2.0, 1440p and 120Hz display that allows military operators to easily view and analyze detailed terrain maps, as well as intel and mission data in a much greater detail than ever before (when compared to the original Galaxy S20 Smartphone).
Not only that, but the Samsung Galaxy S20 Tactical Edition also comes packed with a Snapdragon 865 processor, 12GB of RAM, 128GB of expandable storage, and a powerful a 4,000mAh battery.
Lastly, while the Galaxy S20 Tactical Edition Smartphone features the usual arrays of front and rear cameras, the phone also integrates a pro-grade 64 MP camera that allows military troops to take and share high-resolution images or 8K video, all without giving away their strategical position.
FEATURES
Easy-To-Use Landscape Mode
It's also easy for military troops to unlock the phone while it is being used in Landscape Mode so that you can quickly launch an app while the device is mounted to your chest.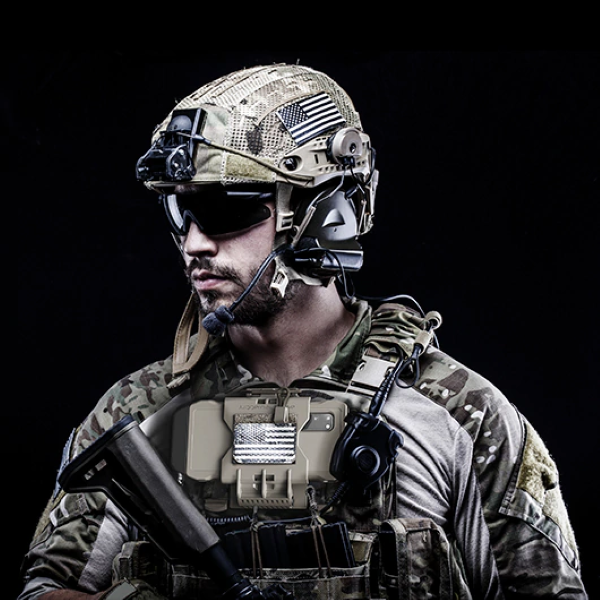 Two Encryption Security Layers
The Samsung Galaxy S20 Tactical Edition also features two layers of encryption that ultimately allow military operators to confidently store any top-secret data.
First of all, both of these encryption security layers come packed together in a DUALDAR design that integrates both an Inner Encryption Layer and an Outer Encryption Layer.
This means that even when the device is powered off or in an unauthenticated state, its DualDAR technology will always enable a confident storage of up to top secret data on the device.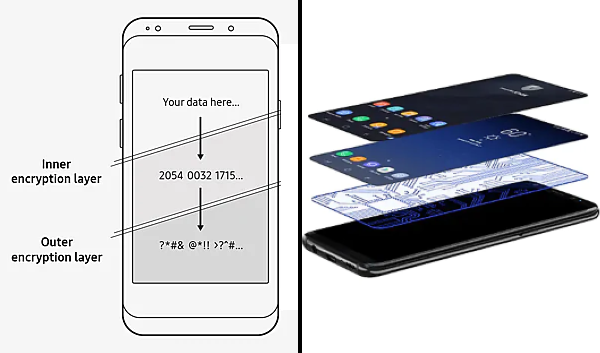 Furthermore, these layers of encryption work with the Knox Defense-grade Security Platform, which ultimately provides military branches and government agencies with a proven and trusted device for secure voice, video and data communications.
Lastly, these two encryption security layers also allow the Galaxy S20 Tactical Edition Smartphone to seamlessly be connected to tactical radios and mission systems right out of the box.
Exclusive Tactical Features / Special Modes
The Samsung Galaxy S20 Tactical Edition also packs combat-related conveniences as well, as it packs quite a few exclusive tactical features.
The Smartphone's Night Vision Mode allows military operators to very conveniently turn the display On and Off while they're wearing night vision goggles.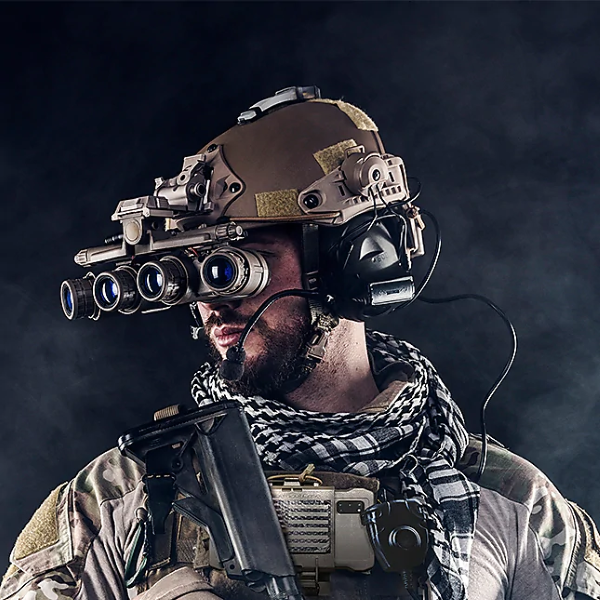 Furthermore, there's also a Stealth Mode that allows users to turn off LTE, and this mode also automatically mutes all RF broadcasts to ultimately eliminate even the slightest chance of eavesdropping.
Lastly, there's also a Lock Screen Auto Rotate features that ultimately delivers a faster access to any type of information that operations might need.
FINAL THOUGHTS
The Samsung Galaxy S20 Tactical Edition Smartphone is a more durable version of the original model, also coming packed with a ton of special military tactical features like Easy-To-Use Landscape Mode, 2 Encryption Security Layers, Night Mode and Stealth Mode.
It was fully designed with military tactics and security in mind, and as such, it is the perfect Smartphone for any military operator that's still active on the field.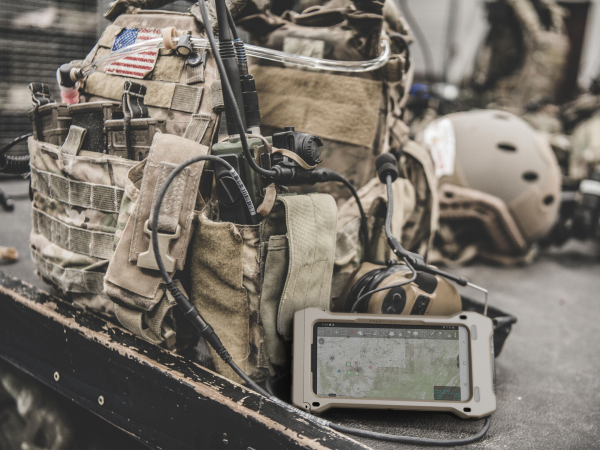 The Samsung Galaxy S20 Tactical Edition will be available in the third quarter of 2020 year, and according to Samsung, it will be sold by "select IT channel partners."
For any currently active military operator that ends up getting one, there's a big chance that their unit will have been issued to them as part of a bulk order.
Still, Samsung's Galaxy S20 Tactical Edition Smartphone might be the perfect tool for any soldier that's eager to get a tactical communications upgrade or for any official who regularly handles classified data.