Whether you're looking to endure/withstand the rugged terrain and decreasing oxygen content on higher altitudes while you're out exploring the outdoors, to improve your workout performance , or to ultimately break sports records, any of those three things can only be achieved by focusing on one specific approach, and that's obviously having a proper breathing technique. Having a proper breathing technique can help you to never run out of air, and that goes for any outdoors adventure, any fitness and/or sports activity, or even for any sports competition. It's for situations and challenges like these where having something like the Airofit Respiratory Trainer can help you and your lungs to be fully prepared, and obviously, to ultimately beat the competition.
The Airofit Respiratory Trainer is basically a breathing technique training device that's part of the Airofit System, which also incorporates a Virtual Breathing Coach in the unit's interactive Smartphone Companion App (the Airofit App – discussed at the end of the article).
As such, the by using the Airofit Respiratory Trainer, the Airofit System can help anyone (and I literally mean anyone), no matter if they're beginners, intermediates, or expert athletes to train their breathing technique for pretty much any sports that you can think of, and that even goes for professional athletes.
To put it simply, the Airofit Respiratory Trainer works by measuring its users' breathing volumes and breathing strength. Right after that, the Airofit System (the Trainer unit and App) analyzes its users' breathing data to ultimately provide adjustable resistance to a user's respiratory muscles in order to help them train their Respiratory strength, Vital capacity, Anaerobic threshold, and many other areas of their breathing technique.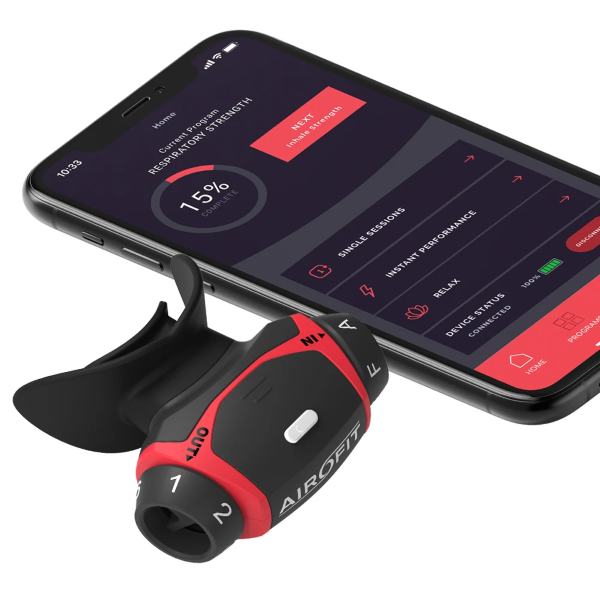 Let's have a more detailed look at both the Airofit Respiratory Trainer and its Smartphone Companion App and see exactly how the Airofit System works and check what benefits it can offer to any fitness enthusiast and/or sports athlete.
DESIGN & SPECS
As mentioned before, the Airofit Respiratory Trainer is a state-of-the-art breathing training system and performance enhancing device that can provide adjustable resistance to your respiratory muscles.
The Airofit System is simply composed of two things – the Airofit E-unit and the Airofit Sport mobile App.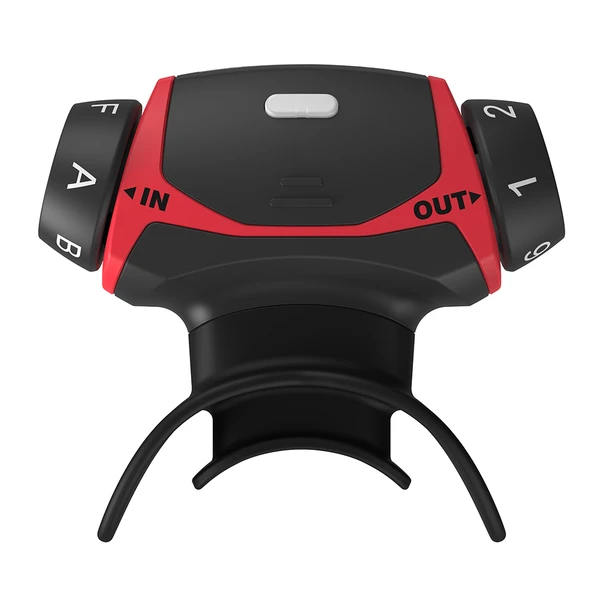 The Airofit E-unit (Airofit Respiratory Trainer) itself contains both pressure sensors (which is what allows the unit to measure a user's breathing technique) and a Bluetooth transmitter (which is how the E-unit sends your breathing data to the mobile App, thus allowing the Airofit System to accurately measure your breathing patterns and display them on your Smartphone via the Airofit App).
The Airofit E-unit is a pocket-sized gadget that's composed of the main device (the electronic-unit itself) and a detachable mouthpiece (which can be easily removed to be conveniently washed after each use).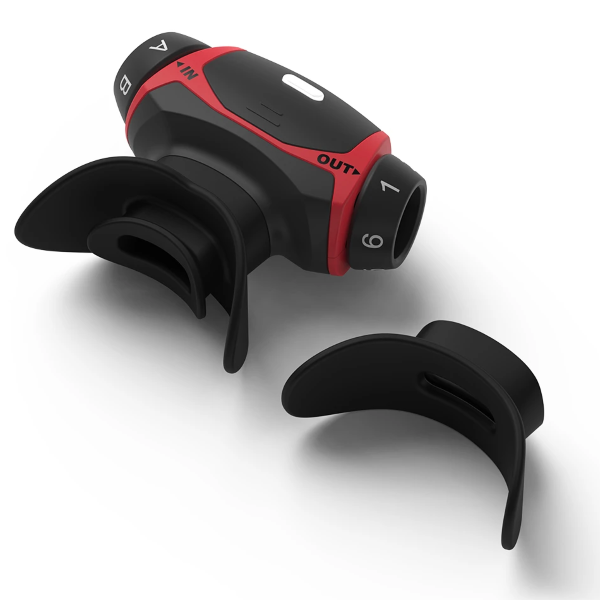 The Airofit Respiratory Breathing Trainer can ultimately provide you with adjustable airflow resistance, which ultimately makes your respiratory muscles work overtime.
Depending on the selected training program, duration and intensity, you will be able to select the most appropriate resistance level for your current breathing technique and breathing muscles (which basically include your diaphragm, rib cage muscles and chest muscles, and lungs).
THE SCIENCE BEHIND THE AIROFIT RESPIRATORY TRAINER
As Respiratory Training is something that's very well documented scientifically, it's also worthy to take a look at the science behind the Airofit Respiratory Trainer.
The Scientific Study
AMBU International has conducted a clinical survey regarding the effects that the Airofit Respiratory Trainer has on exercise performance. The study was based on expiratory (exhalation of air from the lungs) and inspiratory (inhalation of air from the lungs) resistance training.
The performance effect was measured in a standard Cooper running test before and after a two-month trial. The study sample consisted of a total of 68 people, which were divided into 3 groups, all of which spent 8 weeks training with different resistance levels.
The Study Sample
Group 1 was a control group and trained with virtually no resistance -o.5%. Group 2 trained with 33% resistance, while Group 3 had the the difficult task of 50% resistance training.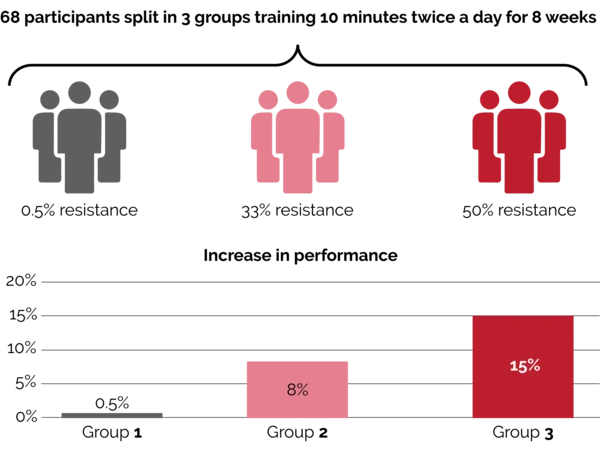 The Results
The results show that those in Group 1 (control group) increased their performance by 0.5%, Group 2 improved by 8% and Group 3 improved athletic performance by 15%.
This study helped to ultimately prove that the higher the training intensity set while using Airofit, the stronger the user's respiratory muscles become, thereby enabling a higher sports performance as an end result.
MAIN BENEFITS
So, if you're asking yourself what would the main benefits be of using a device like the Airofit Respiratory Trainer, then we also got the answer for that.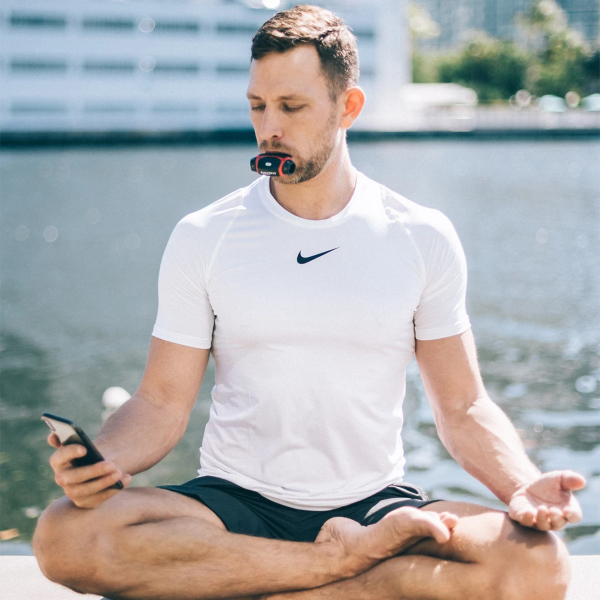 For Cycling and other Cardio-Based Activities
For any sports/fitness activity that relies mainly on cardio – such as cycling for example – the Airofit Respiratory Trainer can help its users improve their respiratory strength.
That's because stronger breathing muscles allow athletes of all levels to improve their performance in high intensity, as well as in endurance sports.
As such, focusing on your breathing muscles (but mainly the diaphragm) helps athletes to prolong the time until they reach fatigue, which consequently prolongs oxygen supply to the muscles used during each exercise, whether that's cycling or any other cardio-based sports like Athletics (competitive running, jumping, throwing, and walking).
For Swimming and any other Intense-Breathing Activities
For any sports/fitness activity that relies mainly on an athlete's Vital Capacity – such as Swimming or even any Fighting Sports (MMA, UFC, etc.) – which is the actual amount of air you can get in and out of your lungs, the Airofit Respiratory Trainer can also help its users to improve their Vital Capacity.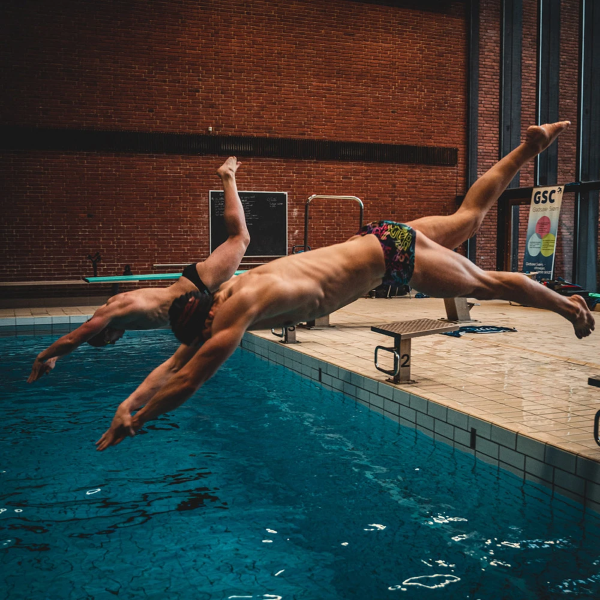 That's done by having the device helping its users focusing on further stretching their diaphragm and intercostal muscles, which allows users to decrease the residual volume and increase the amount of usable air.
This, of course, is interesting for athletes, but could also specifically help patients with asthma or COPD to have a better time breathing on heavy-duty situations like any workout or while carrying heavy objects around, climbing long sets of staircases, etc. Pretty much any intense-breathing activity.
For Endurance Sports or anyone looking to improve their Breathing Performance
For anyone that's looking to improve their Breathing Performance during each and every workout session, or for any specific competitive sports, having a Boosted Anaerobic Threshold (AT) – exertion level between aerobic and anaerobic training OR the point during exercise when your body must switch from aerobic to anaerobic metabolism – can ultimately help athletes to pretty much outperform better than the entire competition.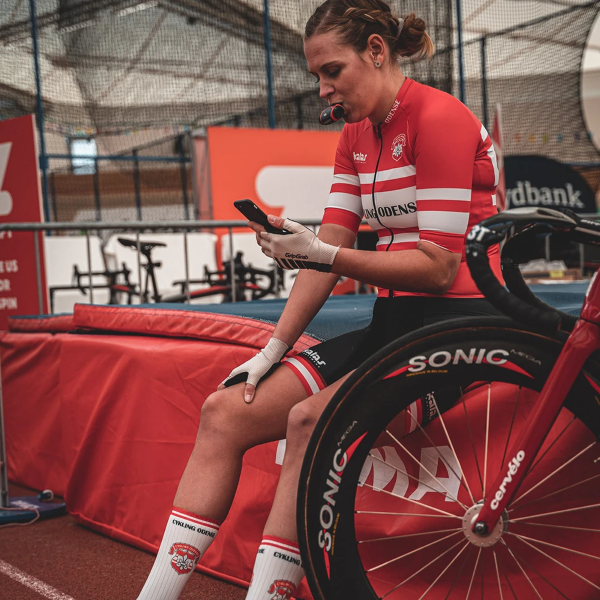 That's because Anaerobic Threshold is a useful measure for deciding exercise intensity for training and racing in endurance sports (like Orienteering, Triathlon, Rowing, Water Polo, Ultimate, Swimming (200m Free), Ultra Marathon, Road Cycling, Squash, Boxing, and others).
Ultimately, the importance of having a Boosted Anaerobic Threshold allows athletes to workout and perform harder, as their muscles require more energy than what can be produced using oxygen.
That's because our bodies cannot supply enough oxygen for such high performance, and so, getting your muscles used to an "oxygenless" environment ultimately ensures that athletes can have a prolonged ability to perform at high intensities for longer periods of time.
HOW DOES IT WORK?
So, thanks to the Airofit E-unit's built-in pressure sensors, the Airofit Respiratory Trainer can accurately measure a user's breathing technique, while the E-unit's built-in Bluetooth transmitter then sends that same breathing data to the mobile App, which ultimately allows the Airofit System to work as a whole and to accurately measure your breathing patterns and display them on your Smartphone via the Airofit App.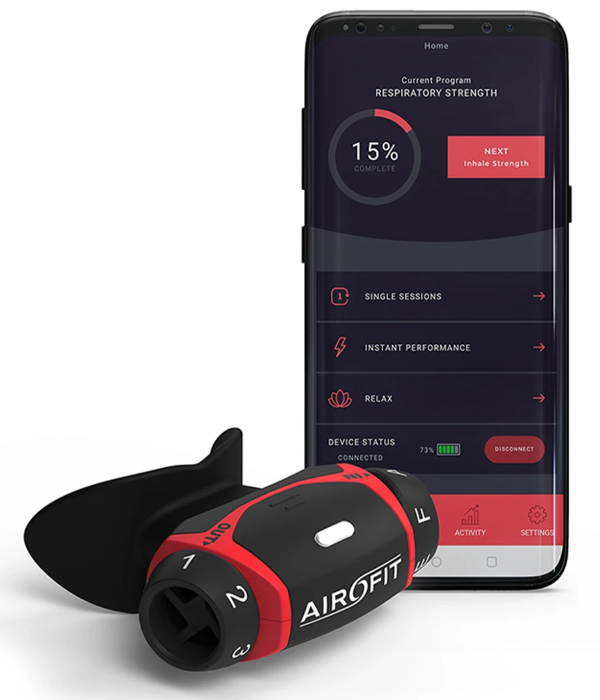 Users can then analyze that same data and change their breathing resistance settings on the E-unit to ultimately train their Respiratory Strength, Vital Lung Capacity, Anaerobic Threshold, Instant Performance and Breathing Muscles Relaxation / Body Relaxation (this last would be applied for right after an intense workout sessions).
THE SMARTPHONE COMPANION APP – Airofit App
Moving on to the Airofit App itself, which is available to download for free for both iOS and Android devices, the Smartphone Companion App basically works as the Airofit System's Virtual Breathing Coach, as it will give you real-time guidance and feedback, and track your progression in various tested exercises and training programs.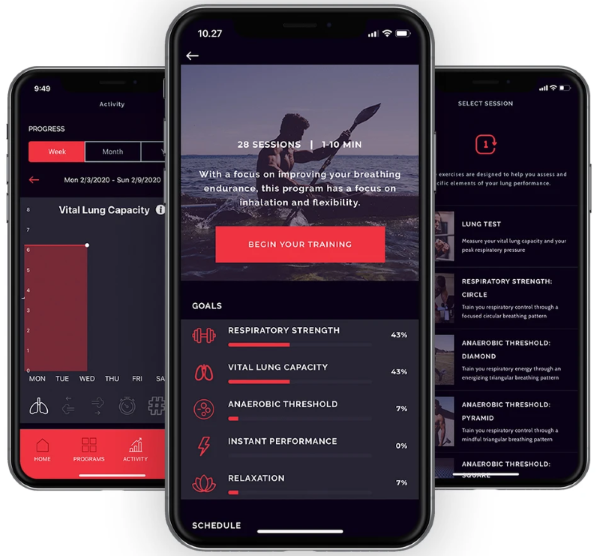 The App is actually quite reliable to practice and improve your breathing technique, and just like the test group from the scientific study, in just a mere 8 weeks after you use the Airofit Respiratory Trainer you'll pretty much start noticing a huge difference on your breathing patterns.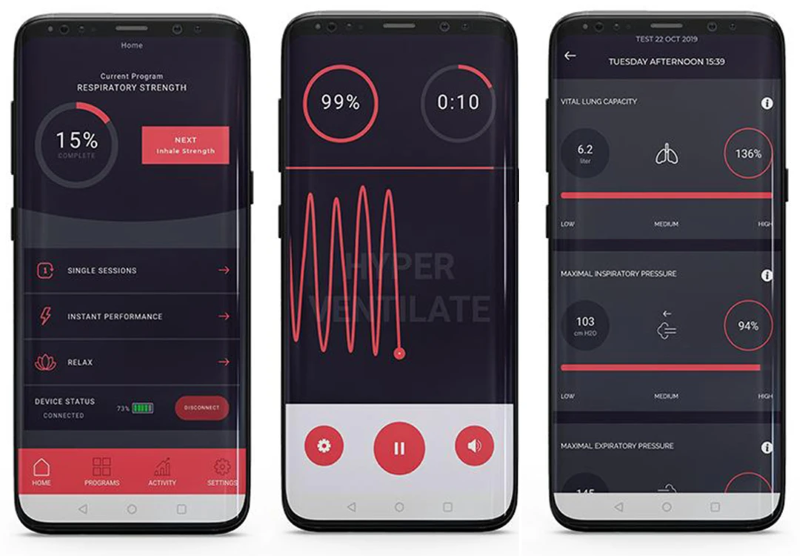 All of the App's training programs are simply amazing, as they'll seamlessly guide you into becoming the very best version of your Breathing-self, literally!
There are training programs related to Hyper Ventilating, training programs to practice your Inhaling Technique, and many, many more.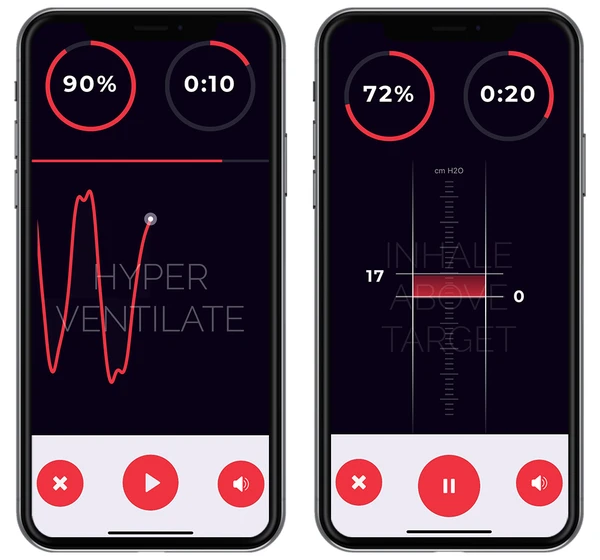 FINAL THOUGHTS
The Airofit Respiratory Trainer is a breathing technique training device equipped with built-in pressure sensors and Bluetooth transmitter that sends information to a mobile App which works as a Virtual Breathing Coach to help both fitness enthusiasts and professional athletes to improve their breathing technique and overall performance.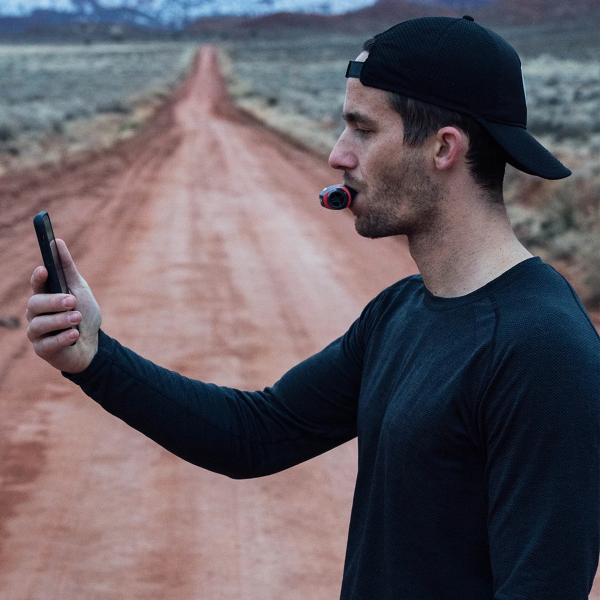 If you're interested in buying it, each unit is currently going discounted from its normal price of $299, now going for $274 each (saves you $25). You can get yours right now, directly from Airofit's official shopping page, which you can access by clicking this link.