While ANC (Active-Noise-Cancellation) still isn't a very common feature among all audio manufacturers' true wireless earphones, its certainly one of the most important tech traits to have, as ultimately it brings earbud users a huge quality of life improvement. As such, ANC Earbuds are quickly gaining more popularity at a day by day basis. So, if you're looking to block out the sounds of this noisy 2020 world and exclude the annoying sounds of roaring engines from the city traffic, as well as vehicles honking on crosswalks, and even Subway Stations' "ear-wrecking" train sounds and loud-beep announcements, then you'd probably want to get the best possible pair of ANC Earbuds. This brings us to the 1More True Wireless ANC In-Ear Headphones (EHD9001TA model).
These True Wireless ANC In-Ear Headphones are 1More's most recently released Active-Noise-Cancelling Earbuds, coming equipped with Dual ANC Mics that are guaranteed to block all unwanted external sounds so that you can enjoy all of your favorite albums and soundtracks without having to make a huge effort focusing on listening to your tunes, as well as Dual 10mm High-Quality Sound Drivers that were designed to deliver an awesome sound quality while ANC is already turned on.
Additionally, as these In-Ear Headphones offer a wireless connection, they can be connected to your Smartphone via Bluetooth 5.0 so that you can have a stable 24/7 wireless experience.
Not only that, but with extremely convenient Quick-Touch Controls, you won't even have the need to slide your Smartphone out of your pocket to adjust sound settings or even answer calls, and the same goes for the headphones' supported Voice Assistants (Google Assistant and Siri), which allow you to interact with your favorite Voice Assistant with a simple and quick touch gesture.
Let's have a more detailed look at the 1More True Wireless ANC In-Ear Headphones and check everything they have to offer.
DESIGN & BASIC SPECS
Heaphones' Design
Starting with their size and design, both of the 1More True Wireless ANC In-Ear Headphones are actually quite small, but not extremely small. They're just the perfect size to comfortably fit your ears without actually weighing them down and making them feel uncomfortable.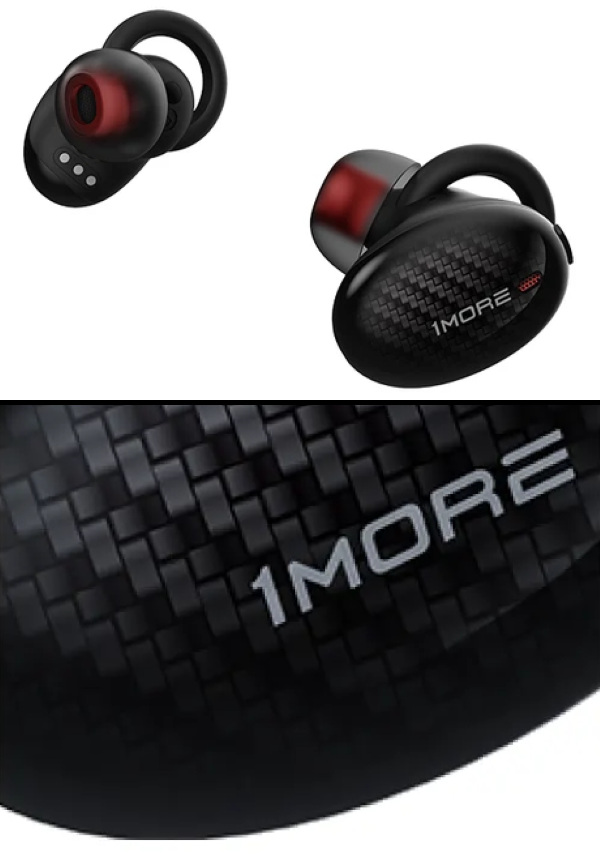 Each headphone measures exactly 1.18 inches long by 0.70 inches wide by 1.51 inches tall (30 x 18 x 28.5 mm), and each headphone is also super lightweight, weighing just a measly 0.27 oz. (7.9 g).
Additionally, these In-Ear headphones are also extremely durable, as they feature a durable craftsmanship that only integrates high-quality and durable materials, and that goes for both the earbuds' exterior as well as their interior.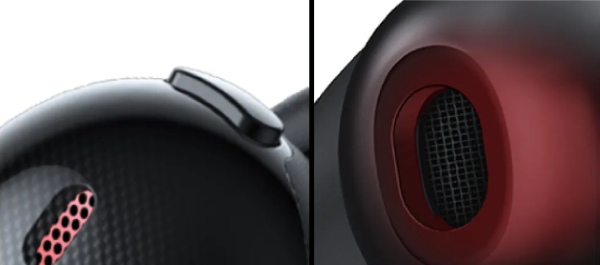 As such, each headphone's body also features an external Dust-Proof Stainless-Steel Mesh Cover that gives both earbuds some extra durability, while also making them extra sturdy and dent-proof against any unexpected drops.
Furthermore, these headphones also come equipped Silicone Ear Tips that are not only ultra-soft, meaning they're very skin-friendly, but that also provide a great noise isolation.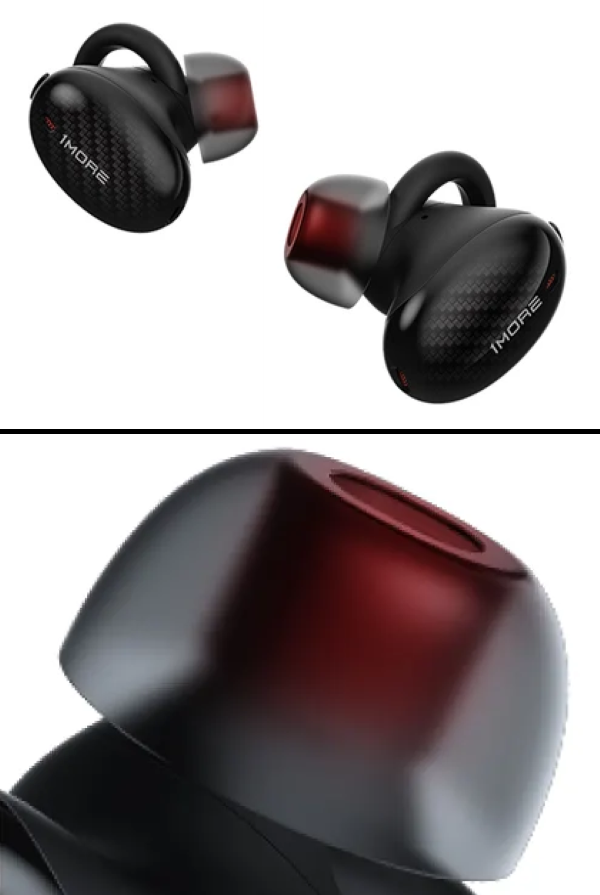 Not only that, but these earbuds also come with some included additional pairs of Silicone Ear Tips (a total of 6 pairs) and O-shaped Ear Hooks (a total of 3 pairs) that can help you to find the perfect fit so that you can ultimately get a very comfortable and secure fit during use.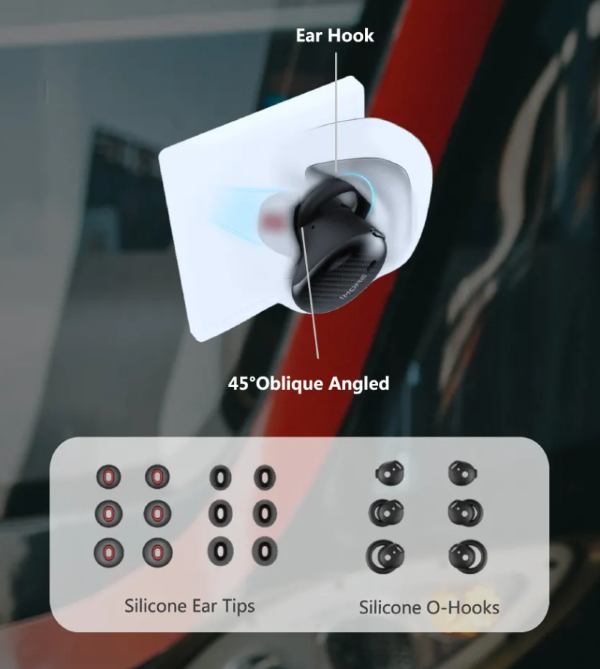 On a very positive note, both types of accessories (the 6 pairs of Silicone Ear Tips and the 3 pairs of O-shaped Ear Hooks come in a variety of different sizes.
On top of all of that, the 1More True Wireless ANC In-Ear Headphones also feature a flawless design, as they showcase the company's latest comfort-based design with their perfect ergonomics. That basically means that these headphones were built with 45º oblique-angled nozzles so that users could ultimately enjoy a comfortable fatigue-free fit during extended periods of use.
Additional pairs of ear tips and O-hooks of different sizes are included to help you find the right fit.
Charging Case's Design
After taking a proper look at the headphone's included Carrying & Charging Case, the case itself is also quite compact, measuring just 3.20 inches long by 1.18 inches wide by 1.51 inches tall (81.32 x 30 x 38.5 mm), and it is also quite lightweight, weighing just 2.22 oz. (63.2 g).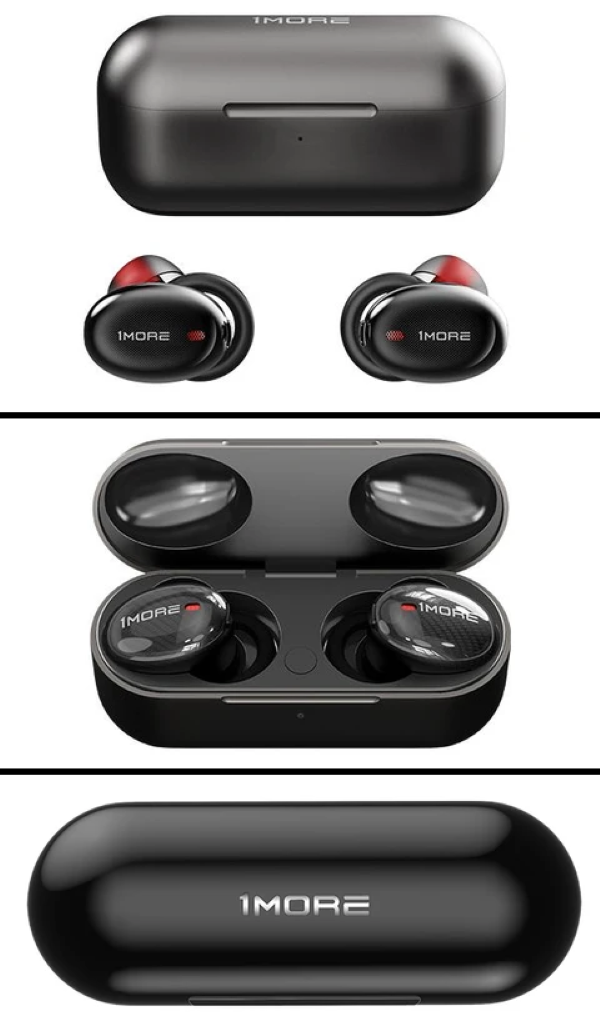 Thanks to its ultra-small size, the headphones' Carrying & Charging Case can easily fit any of your pockets. Whether you're looking to fit it in your pants' pockets, backpack's / tote-bag's / man- or lady-purse's front pockets, the Charging Case is simply guaranteed to fit those.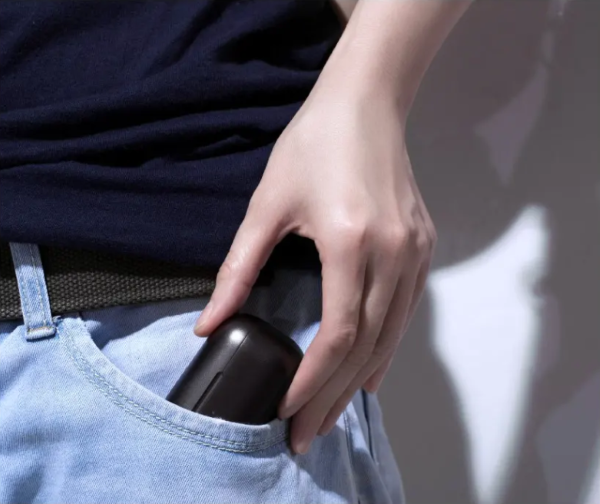 Furthermore, just like the In-Ear Headphone themselves, their included Charging Case is also very durable, as the Charging Case's metallic body is made Aluminum, thus making quite sturdy, and perfect to protect the headphones whenever you're not using them.
AUDIO SPECS & AUDIO QUALITY
Then, moving on to the headphones' Audio Specs and Audio Quality, the 1More True Wireless ANC In-Ear Headphones's design features a balanced armature that ensures music lovers always get the crispest of high-sounds (highs).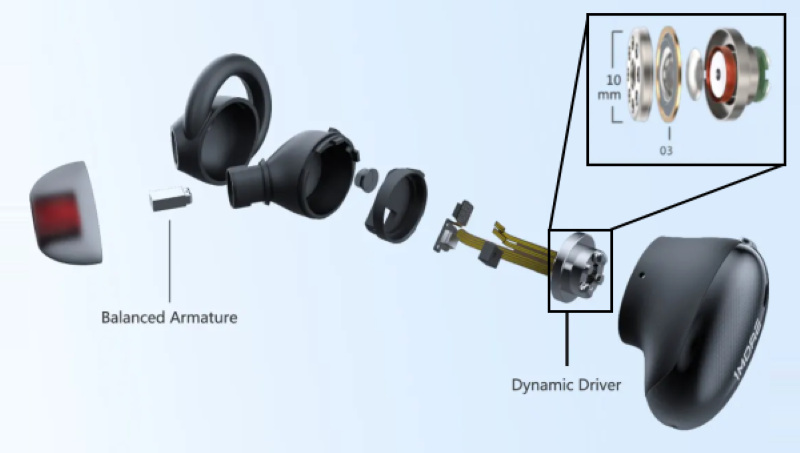 At the same time, each headphone also comes equipped with a 10mm Titatium Composite Diaphragm that integrates a powerful 10mm Dynamic Sound Driver, and this high-quality audio component ultimately ensures that you always get crystal clear mid-sounds (mids) and a very noticeable and ultra-punchy bass (lows).
While 1MORE's patented balanced armature easily handles all of your soundtrack's high frequencies, the earbuds' dynamic drivers reproduces crystal clear lows (low-sounds / bass).
As such, these meticulously crafted Hybrid Dual Sound Driver earbuds ultimately deliver a crystal-clear sound quality that isn't sacrificed even when you have the headphones' ANC feature turned on.
Speaking of ANC, the 1More True Wireless ANC Headphones also come equipped with dual ANC Microphones, which is makes the earbuds' high-quality ANC (Active-Noise-Cancelling) feature work flawlessly.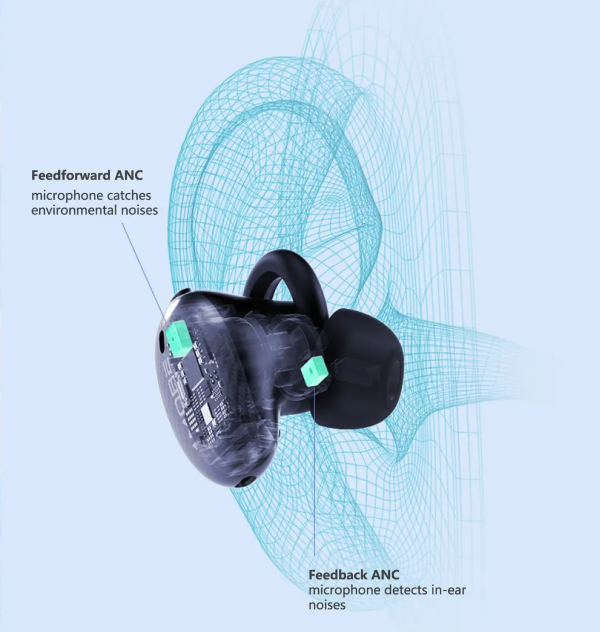 Basically, the headphones' Hybrid Active Noise Cancellation technology works thanks to the earbuds' feedforward (outside) and feedback (inside) ANC Dual Microphones (two separated mics per earbuds), which are able to catch all external environmental and in-ear noises (respectively).
This ultimately allows any unwanted noises to be suppressed at a broader range of frequencies.
At the same, a built-in dedicated DSP (Digital Signal Processor) on each earbud analyzes and adjusts the sound waves in real-time to ultimately provide users with a well-balanced and natural sound, and this is exactly what will allow you to get fully immersed in your favorite music while you're out and about with your daily commute.
Additionally, the headphones also feature a really nice Sound Impedance, which is rated exactly at 32 Ω (ohms).
INTERFACE / QUICK-TOUCH CONTROLS
Quick-Touch Controls for Music & Phone Calls
Each 1More True Wireless ANC earbud also comes equipped with a reliable Quick-Touch Audio Button that can be used to control both music and phone calls, and all of the button's quick controls can be easily executed in either earbud.
Pressing the button twice will allow users to Play/Pause their music while pressing and then holding one of the buttons for a total of 2 seconds while allow you to change to either the previous or the next track (Left Button for Previous Track and Right Button for Next Track).

For controlling your phone calls, pressing either button twice during an incoming phone call will allow you to answer that call (as well as hang-up when you're already in one), while pressing and holding the earbuds' button for a total of 2 seconds lets you decline an incoming call.
Lastly, pressing either earbuds' button three times while having the headphones' Bluetooth connection already On (when playback is off) will allow you to activate the 1More True Wireless ANC Headphones' Voice Control features for your favorite Voice Assistants (discussed at the end within the Features section of the article.)
Quick-Touch Controls for Different Sound Modes
The 1More True Wireless ANC Headphones also feature a very intuitive Touch Interface that offers its users additional quick-touch controls that are super easy to use.
Literally all you have to do is double tap the outside of the earbuds to easily switch between the different levels of the earbuds' ANC Mode as well as their Full Pass-Through Sound Mode.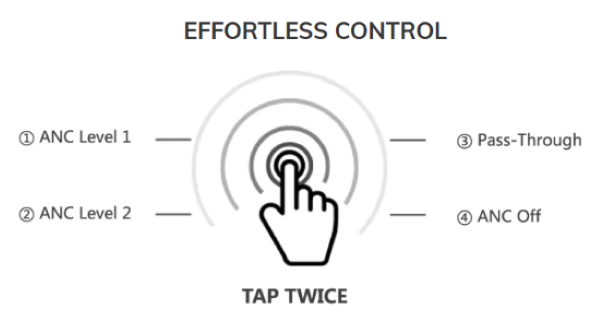 Each double tap will allow you to cycle through one of a total of four (x4) different Sound Modes, including ANC Level 1, ANC Level 2, Pass-Through Sound Mode, and ANC Off.
The ANC Level 1 Sound Mode was designed to be used in airplanes, as it filters out unwanted noise up to 35 dB, while the slightly weaker ANC Level 2 Sound Mode is perfect for any busy city with loud city traffic, as it suppresses ambient noises up to 20 dB.
The ANC Level 2 ultimately allows you to focus less on the unwanted noises of your daily commute and more on your music while you move from one place to another (between home and work and vise-versa, for example).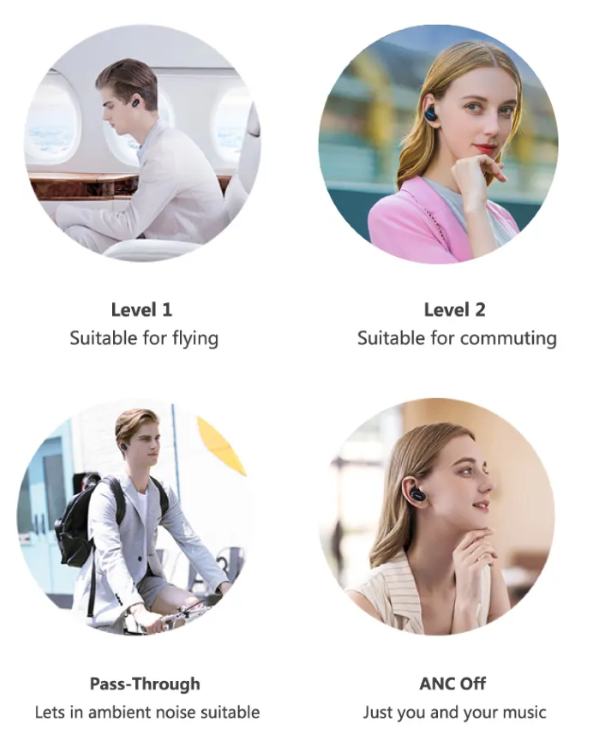 Additionally, there's also a special "Level 3" Sound Mode, which is simply called the Pass-Through Sound Mode, which basically lets in all ambient noises so that you can always stay aware of your surroundings whenever you need to do just that.
This Pass-Through Sound Mode is perfect to let all surrounding ambient noises in while you also enjoy your music. As such, this can be a great feature to use when you're looking to enjoy some relaxing albums while also listening to the birds singing around you on a quiet afternoon at the city park.
Lastly, the ANC Off Sound Mode allows you to turn the ANC feature completely off (as the name suggests), which will allow you to focus entirely on your music.
CONNECTIVITY
As these are Bluetooth-enabled In-Ear Headphones, the 1More True Wireless ANC Headphones also feature Bluetooth 5.0 connectivity.
As such, each headphone comes equipped with an optimized Qualcomm Chip that works with Bluetooth 5 technology, which ultimately provide users a fast, stable, and seamless wireless connection while also ensuring a 24/7 low power consumption.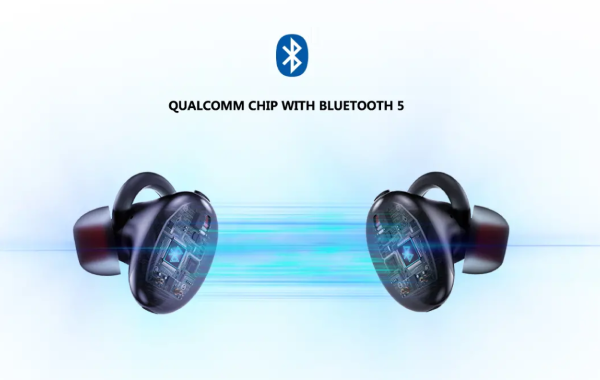 Each earbud also combines that same Bluetooth 5.0 Qualcomm Chip with a Customized LDS Antenna to ensure your wireless connection is as stable as you'd want it to be on this new decade (2020).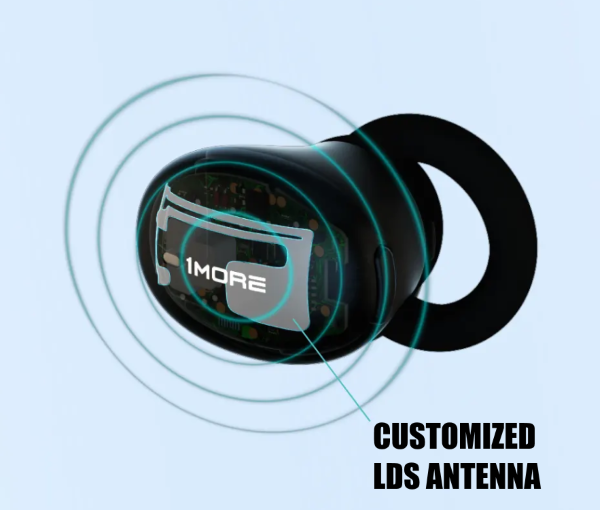 This ultimately ensures that your wireless signal avoids any internal signal interference while also ensuring that a wider area for your wireless transmission is also covered.
As such, you always get a very stable connection, no matter what your next location is, and that even goes for places with tremendous signal interference like airports or train stations, allowing you to always stay connected with your music without ever missing a beat.
The headphones' Bluetooth 5.0 connectivity offers you a maximum wireless range of 32.80 ft. (10 m).
These Bluetooth-enabled Headphones also support the most standard Bluetooth profiles, including HFP (Hands-Free Profile – used for your incoming phone calls), as well as both A2DP (the basic Bluetooth stereo streaming protocol) and AVRCP (Audio/Video Remote Control Profile – for remotely controlling the earbuds with Quick-Touch Controls).
Lastly, these earbuds also support both APTX (audio codec compression algorithm for Android devices) and AAC (high-quality audio coding digital audio compression standard for iOS devices) audio codecs.
BATTERY & BATTERY LIFE
Moving on to the earbuds' battery life, each headphone comes equipped with a small built-in 55 mAh rechargeable battery that can provide up to 4 hours of battery life on a full-charge with ANC turned On, or up to 5 hours when ANC is turned Off.
Not only that, but the earbuds' Carrying & Charging Case also comes equipped with a built-in 410 mAh rechargeable battery that can offer an additional 10 hours of battery life on a full-charge with ANC turned On, or up to an additional 13 hours of battery life with ANC Off.
This ultimately accounts for a total of 14 hours of playtime with ANC On or a maximum of 18 hours of playtime when ANC is turned Off.
Be aware that all these numbers were accounted while using the headphones at 50% volume, so obviously, increasing the volume will slightly lower the earbuds' maximum playtime.
Additionally, these earbuds also support Fast Charging, which basically means that you can always go for a quick 15-minute charge, which is guaranteed to provide you with an additional 2 hours of playtime. This ultimately allows you to spend more time enjoying your favorite tunes and less time worrying about long charging times.
Recharging the headphones back to a full charge will only take you 1 hour, will recharging their Carrying & Charging Case back to a full charge will take you exactly 2 hours.
Recharging the earbuds is fairly easy, as all you have to do is place them inside their Charging Case. When using the Charging Case to recharge the earbuds, the case features a maximum Power Input of 5V / 1A.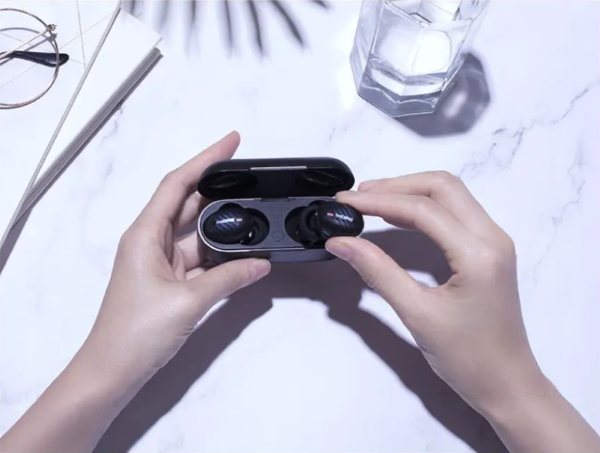 Since each earbud comes equipped with Fade-Proof and Rhodium Coating Charging Contacts, both headphones can be easily connected to the Charging Case's magnetic charging ports, which will also help to secure the earbuds safely during transportation, thus bringing its users an enhanced portability option.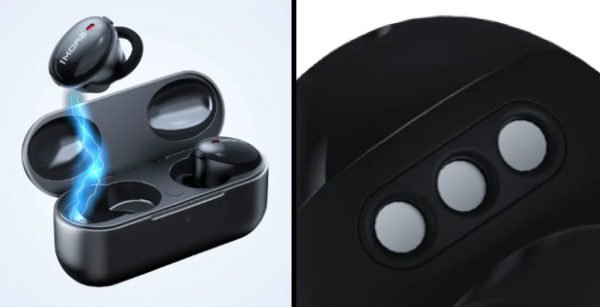 Lastly, since the headphones' Carrying & Charging Case is both compatible with USB Type-C Charging as well as with QI Wireless Charging, you can easily recharge the earbuds' portable Charging Case by using either a USC-C Charging Cable or a Qi 5W wireless charging pad.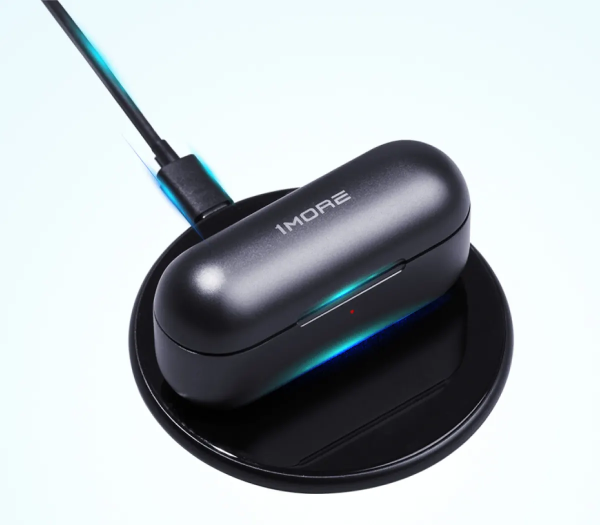 It's also important to note that there's no wireless charging pad included in the package, so you'll have to buy one at the side.
OTHER NOTABLE FEATURES
Auto Pause Current Playback
These ANC earbuds also come equipped with a small built-in Infrared Sensor, and as such, removing either earbud (or both) from your ears will trigger the headphones to automatically pause you're your music.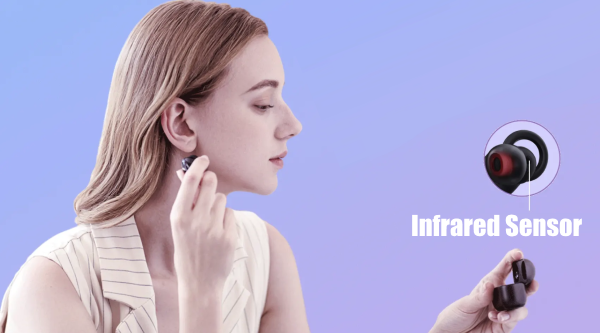 Voice Assistant Support
As mentioned at the beginning of the article, these In-Ear headphones also deliver support to some Voice Assistants, including both the Google Assistant and Siri.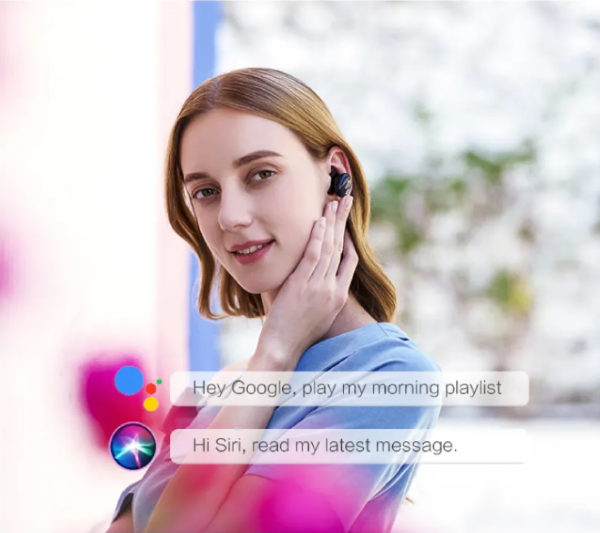 As such, you can easily activate this feature so that you can get access to your Voice Assistant's super convenient Voice Controls.
FINAL THOUGHTS
The 1More True Wireless ANC In-Ear Headphones are super comfortable to wear and feature 18 hours of battery life, Quick-Touch Controls, Voice Assistant Support, Auto Pause upon earbud removal, and much, much more.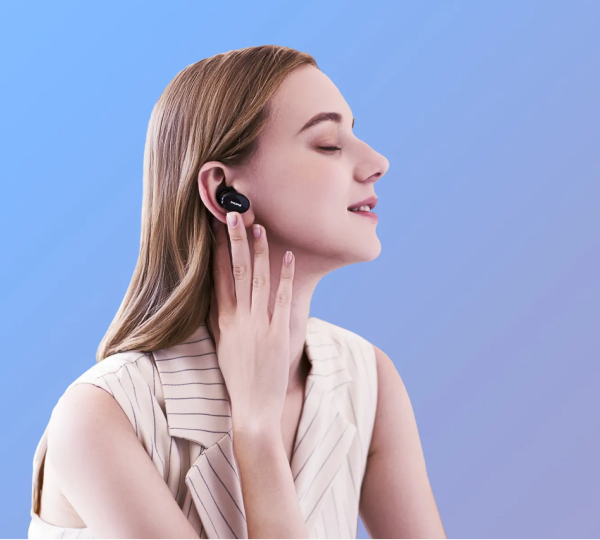 If you're interested in buying these super reliable Bluetooth-enabled true wireless earbuds, each set is currently going for just $200. You can order yours right now online, directly from 1More's official shopping page, which you can access via this link.