With more Smart Home gadgets that feature convenient Voice Assistant functionalities flooding the market, Tech giants have been pushing more smart screen devices onto your bedroom's and living room's countertops, and those are simply called Smart Displays. These small smart devices with a simple touchscreen and built-in speaker combine the functionality of smart speakers like the Google Home or the Amazon Echo with a digital touchscreen for watching videos, looking at pictures or even seeing extra info after you ask your favorite Voice Assistant one or more questions. This brings us to the Lenovo Smart Display 7.
The Lenovo Smart Display 7 gives Google Assistant its most compact visual workstation yet. This smart display is ultra compact and sleek, and works with very low energy consumption levels while still offering a ton of features, ultimately making it the ideal smart home gadget for any shared space in your home.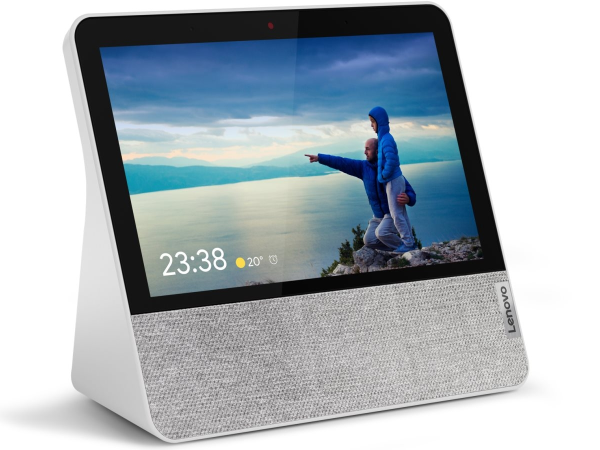 While the audio is underwhelming, the design is much more home friendly than anything in Amazon's Echo Show lineup. Not only that, but both its built-in camera and very affordable price tag end up making it a very nice alternative to the Google Nest Home Hub.
With the Lenovo Smart Display 7 you can easily enjoy streamed music and videos while you relax at home, while its touchscreen display allows you to relive your favorite photos.
Furthermore, you can control some other Smart Gadgets within your Smart Home, as well as very easily check your daily commute, calendar, and the weather each morning, and it's all thanks to its Voice Assistant integration.
With smart displays from several major tech companies (like Lenovo or even JBL) now available at ridiculously affordable price tags, these new smart home screens bring tech. enthusiasts third-party Google Assistant touchscreens with many quality of life functionalities that are perfect for the time you spend at home.
As such, it's time to ask if recently released smart displays deserve a place on your countertop.
Now, let's take a more detailed look at the Lenovo Smart Display 7 and check everything this powerfull smart display has to offer.
DESIGN & SPECS
First of all, after taking a quick look at its size, we can easily notice that the Lenovo Smart Display 7 is actually quite small, measuring just 6.93 inches long by 3.27 inches wide by 6.10 inches tall (176mm x 83mm x 155mm), and the entire unit is also somewhat lightweight, weighing just 1.5 lb (675g).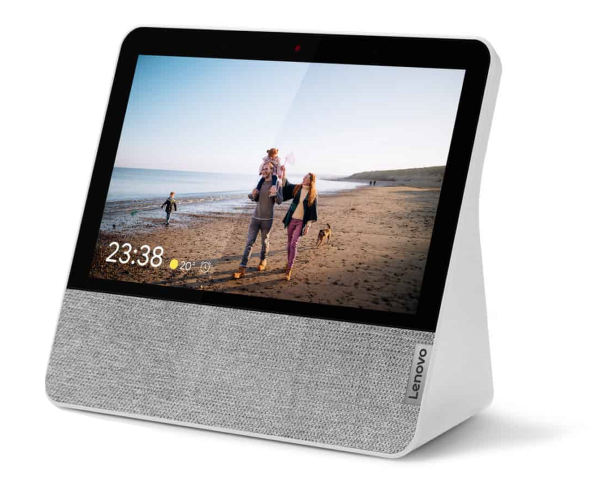 Its weight is just enough to ensure that it stays in place when you're placing other stuff around it at your countertop (house keys, purse/bag, etc.) after you get home every time from your daily commute.
DIGITAL TOUCHSCREEN DISPLAY
Moving on to the smart displays' touchscreen, the Smart Display 7 comes equipped with a high-quality built-in 7″ SD digital touchscreen that works at 1024 x 600 resolution with IPS (in-plane switching) technology. The colors are great for something that is actually this small (when compared to bigger screens like laptops' and computer monitors.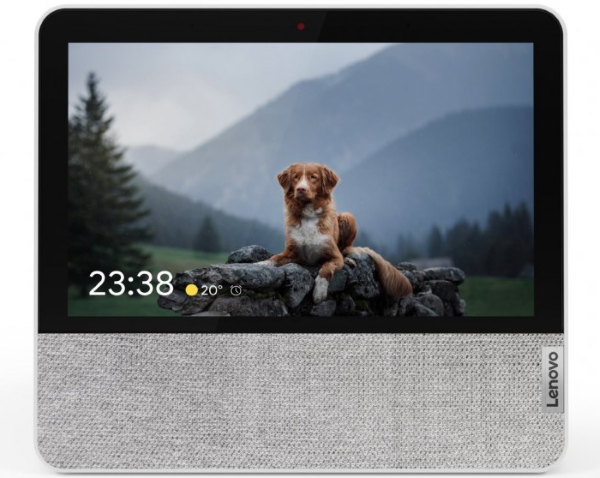 CAMERA, SPEAKERS & MICROPHONE
As mentioned at the beginning of the article, the Lenovo Smart Display 7 also comes equipped with a built-in 2MP Wide-Angle Webcam that boasts 720p live video.
Furthermore, it also comes equipped with two 1.5″ 5W stereo speakers equipped with a Passive Radiator that allow it to have great sound quality when you use it to stream your favorite tunes and/or video.
Lastly, the unit also comes equipped with a Dual-Array Microphone, which is what will allow you to communicate with your Voice Assistant (for the Lenovo Smart Display 7's case, it will be the Google Assistant).
MEMORY, PROCESSOR & OS
Moving on to the unit's internal hardware, the Lenovo Smart Display 7 features a 2GB LGDDR3 Memory and also comes equipped with a 4GB eMMC Hard Drive.
All of the smart display's operations run on its MediaTek 8167S 1.5GHz Processor, which runs the "Android Things" Operating System so that the smart display can work together with the Google Assistant.
INTERFACE
Now, going through it's interface, the Lenovo Smart Display 7 features a super simple interface, as there are only four (x4) simple things to mention.
At the top right side of the device there's a Microphone Mute button, and sitting just next to it (right at its left side) there's an Horizontal Volume Control Button with two ends (+/- Dual Volume Button) to easily control the unit's sound.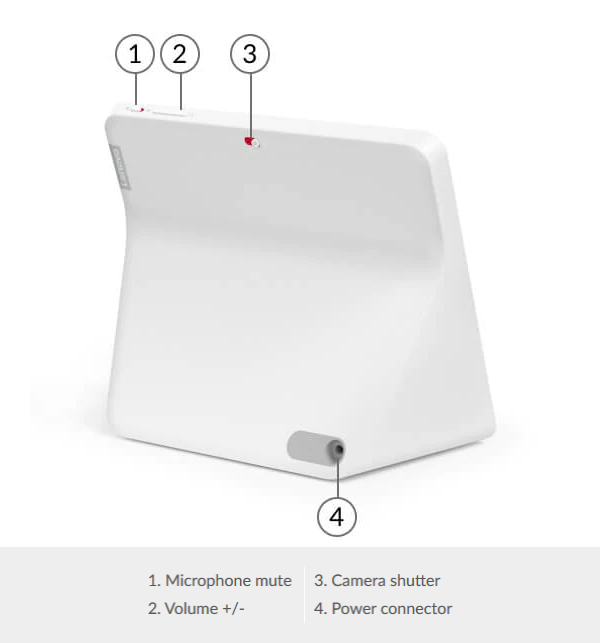 Additionally, there's just a Camera Shutter right at the middle of the unit's back side, located  very close to the unit's top, as well as a Power Connector port for the device's AC Power Adapter.
CONNECTIVITY
As this smart display is another smart gadget designed to be used at any Smart Home, the Lenovo Smart Display 7 features both Bluetooth 5.0 connectivity.
Furthermore, this smart display also boasts Wi-Fi Connectivity, supporting the most common wireless standards (802.11 ac), working at 2.4GHz/5GHz, with MIMO technology (Multi-user MIMO allows multiple Wi-Fi devices to simultaneously receive multiple data streams).
Its Wi-Fi connectivity is what will allow the smart display's Voice Assistant (the Google Assistant) to access any online information for any questions you might have, as well as stream any online music.
WHAT'S IN THE BOX?
Inside their package users will find: their Lenovo Smart Display 7, an included AC Power Adapter, the unit's Quick Start Guide, and an included Warranty Card (for the device's warranty).
NOTABLE FEATURES
Video-Monitoring & Voice and Video Chatting
Thanks to the Lenovo Smart Display 7's built-in screen, you can easily check in on the kids' bedroom.
At the same time, the smart display's built-in microphone lets you easily answer your front door or even use the Google Assistant to quickly lower the lights, as well as manage the rest of your Smart Home gadgets in a super easy way.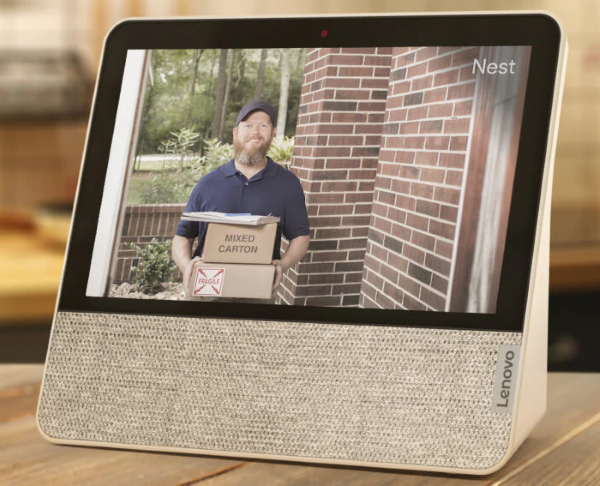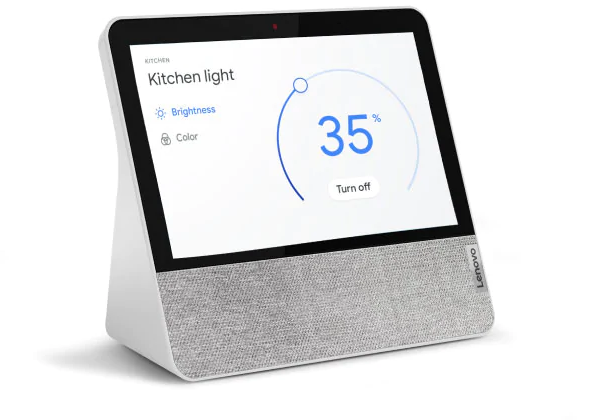 Not only that, but since the Lenovo Smart Display 7 is voice-controlled, you can also pick up your best friend's call even if your hands are busy. The video-calling app Google Duo let's you talk to anyone you need to chat with.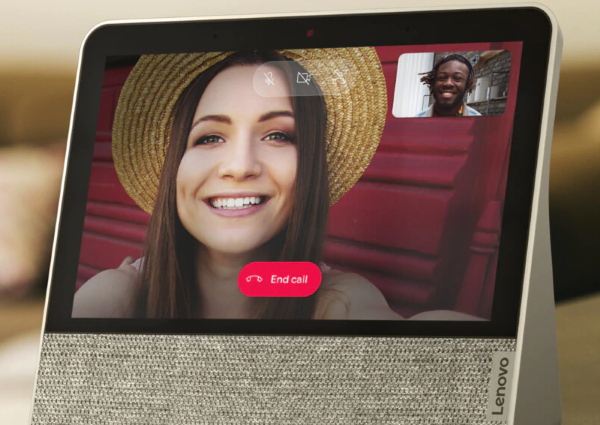 Google Photos
Thanks to Google Photos, you can showcase your family albums automatically and find your favorite photos, quickly and easily.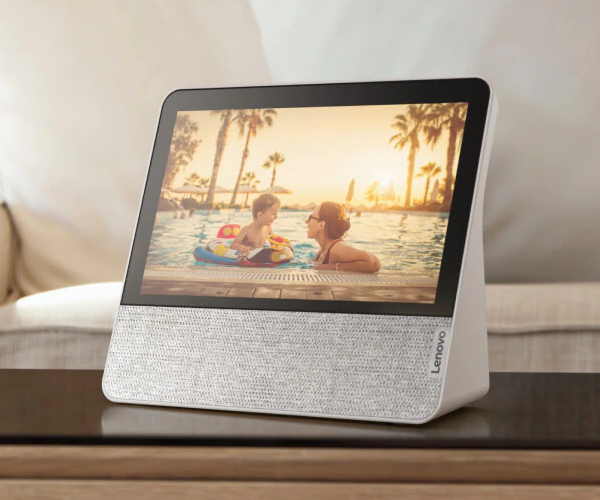 Not only that, but the Smart Display 7's color tone sensor will auto adjust the unit's display touchscreen to the light and time of the day, enhancing every image in a flawless manner to make look crisp and gorgeous.
Music Streaming
As mentioned before, the Lenovo Smart Display 7 can also be used to stream music from your favorite artists in a fashionable manner. Just ask the Google Assistant to play a song and the Wi-Fi connectivity will kick in.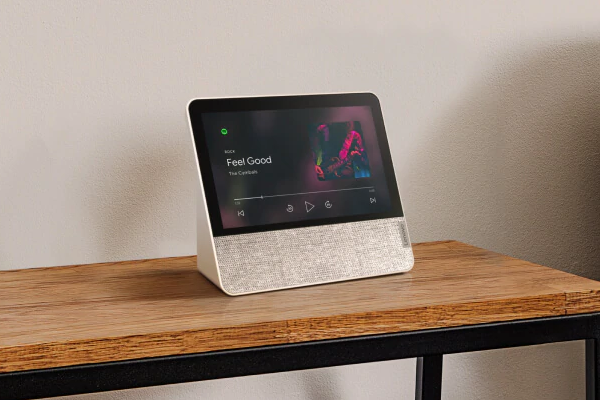 This feature ultimately let's you listen to music, podcasts, and even online radio, working with YouTube Music and Spotifty.
Voice Assistant Support
Thanks to the built-in Google Assistant, the Lenovo Smart Display 7 can help you to maximize your day, every day.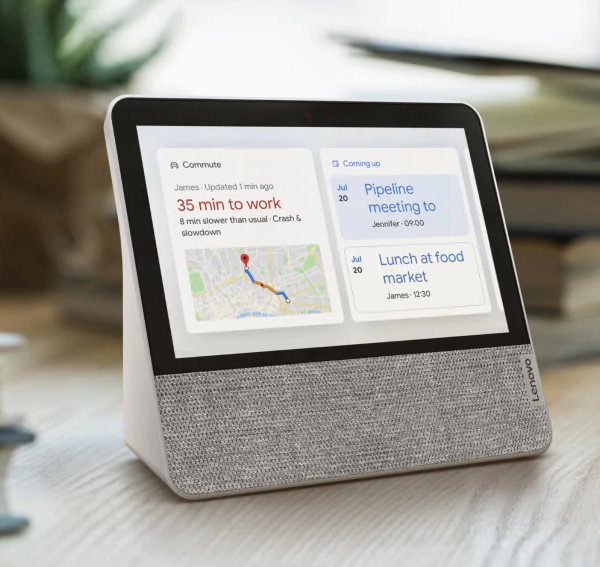 Ultimately, you can use its supported Voice Assistant to ask any question you might have, and as such, you can check your daily schedule, monitor the morning traffic, and get all the news and sports.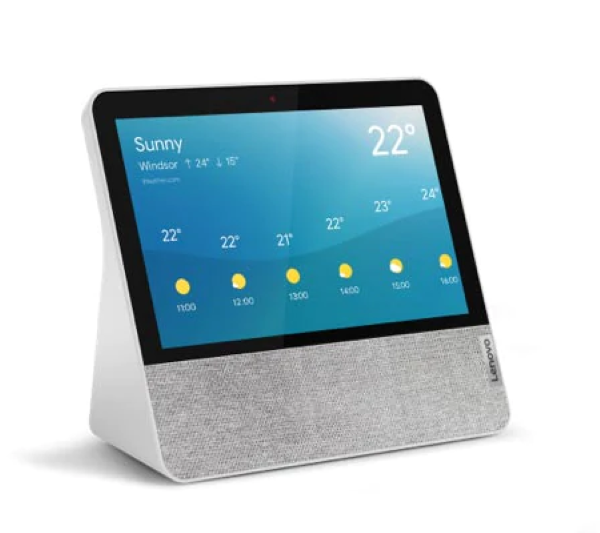 FINAL THOUGHTS
The Lenovo Smart Display 7 works with Google Assistant and features a high-quality 7-inch touchscreen, as well as a built-in camera, powerful dual speakers and microphone.
You can use it for streaming music, answering the door, checking on your kids' bedroom, asking the Google Assistant any important questions, controlling your daily tasks in an easy way, and much, much more.
If you're interested in buying the Lenovo Smart Display 7, each unit is currently going for just $100 and comes with 1-Year Limited Warranty.
You can order yours online, directly from Lenovo's official shopping page, which you can access via this link.