Whenever using a lighter, the disadvantages of using standard BIC lighters and standard Zippo lighters are just too many. First, standard BIC lighters reflect their cost of just 1$ to 2$ in their quality, and as such, their renowned plastic body isn't that durable at all, as a sudden drop can have its body quickly cracked or even broken. On the other hand, while Zippo lighters feature metallic bodies that are quite more durable than their BIC counterparts, Zippo lighters tend to rust quickly if not handled with care, and when starting to get from within, these are a pain to clean and fix. Lastly, both of these types of lighters (BIC and Zippo lighters) have one really bad thing in common – whenever you're trying to light something up with their non-directable flame, like a candle for example, you end up having to rotate the object, in this case the candle, around the lighter, which is pretty much counter-intuitive and can end with you getting an unexpected burn on your fingers. This brings us to the DISSIM Inverted Lighter.
The DISSIM Inverted Lighter is the world's first lighter that's designed for both upright and inverted use, making it the perfect tool to light up pretty much anything at any possible angle. With it, you get the ability to use it in almost any possible conditions.
Let's have a more detailed look at this brand-new and ingenious inverted lighter and see exactly how it works, as well as what it has to offer.
DESIGN & SPECS
Starting with its design, the DISSIM Inverted Lighter features a very compact body that measures just 1.8 inches long by 0.6 inches wide by 3.5 inches tall. Furthermore, this futuristic looking lighter is also quite lightweight, and it's thanks to its body's composition, which is solely made of high-quality lightweight and durable materials. As such, the DISSIM Inverted Lighter only weighs a measly 3 oz.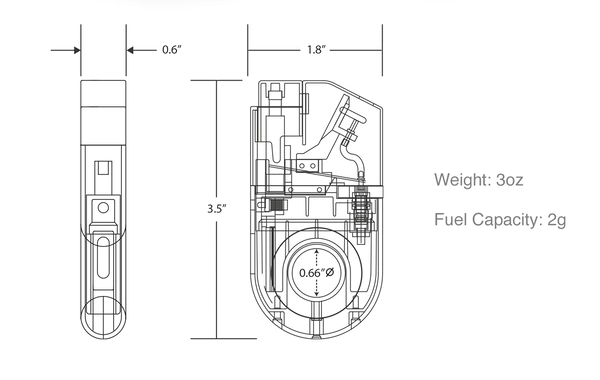 To be a bit more specific, the lighters upper half part of its durable body is mainly composed of extremely resistant Cast Metal Components, which give it the perfect durability and high-temperature resistance for any unexpected drops and for its flame (respectively).
Furthermore, there's also a carved hole right at the center of its bottom half, which is basically the company's patent-pending circle grip.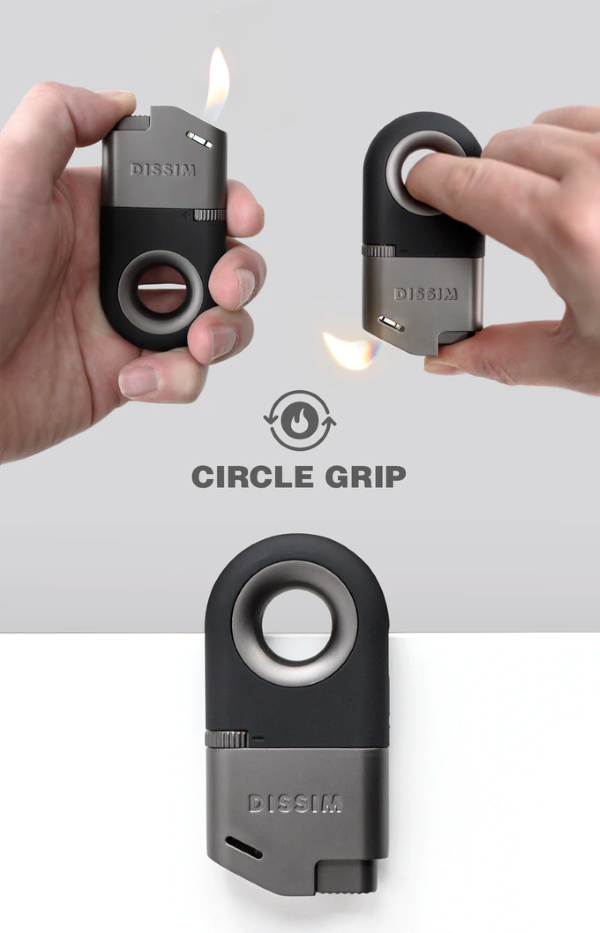 This unique circular grip allows you to fit one finger inside it, which not only creates a unique ergonomic grip on the lighter that makes it easy to ignite its flame either in the upright or inverted positions so that you can more easily control the direction of its flame, but also makes it super easy to maneuver the lighter within your hand with little cool flipping tricks.
Additionally, this inverted lighter was also designed with the environment in mind, as it also integrates a refillable butane tank that ensures that unlike many standard and disposable BIC lighters, the DISSIM Inverted Lighter doesn't end up in landfills.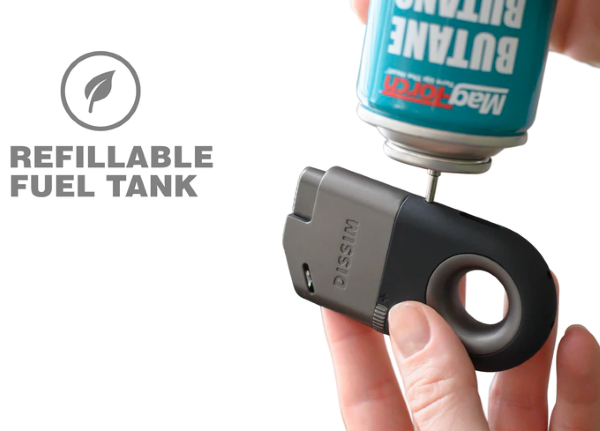 Not only that, but since this is a refillable lighter, you won't have the need to buy another disposable lighter ever again. You can easily find any canned butane fuel brand online to use it with this lighter.
If you're thinking that that's all this inverted lighter has to offer, then think again. As mentioned before, its flame softly bursts out of a dedicated angled flame port that allows users to perfectly direct the flame to whatever needs to be lighter next, no matter the angle, direction, or necessary hand-position.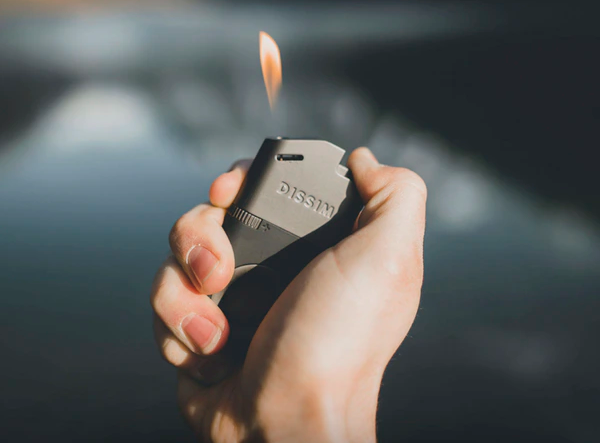 The end result is a low temperature candle flame that's fueled by the lighter's pressurized butane fuel tank, which ensures that you always get an optimal flame to light up pretty much anything, even if that includes one of your living room's tabletop candles inside a glass jar that you really don't feel like picking up (like you'd have to do whenever using a standard BIC lighter).
In sum, the DISSIM Inverted Lighter features a durable body, a patent-pending circle grip, and an angled flame port. There's also an easy-to-use refill valve to access its refillable butane tank and even a dedicated fuel window to check its fuel status.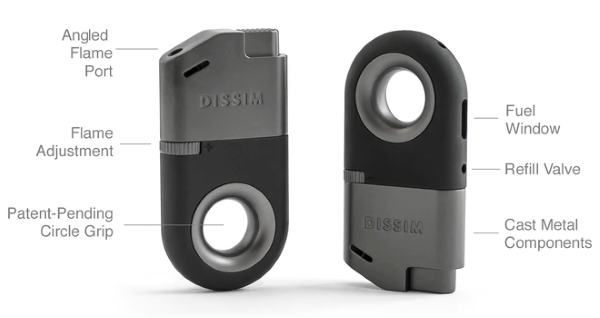 Lastly, there's also the option to get this cool-looking inverted lighter with an included fully-waterproof Carrying Pouch, which integrates both a high-quality waterproof fabric, a water resistant zipper, and even a "Hang Hole" to hang it from a belt or backpack strap or pretty much anything else.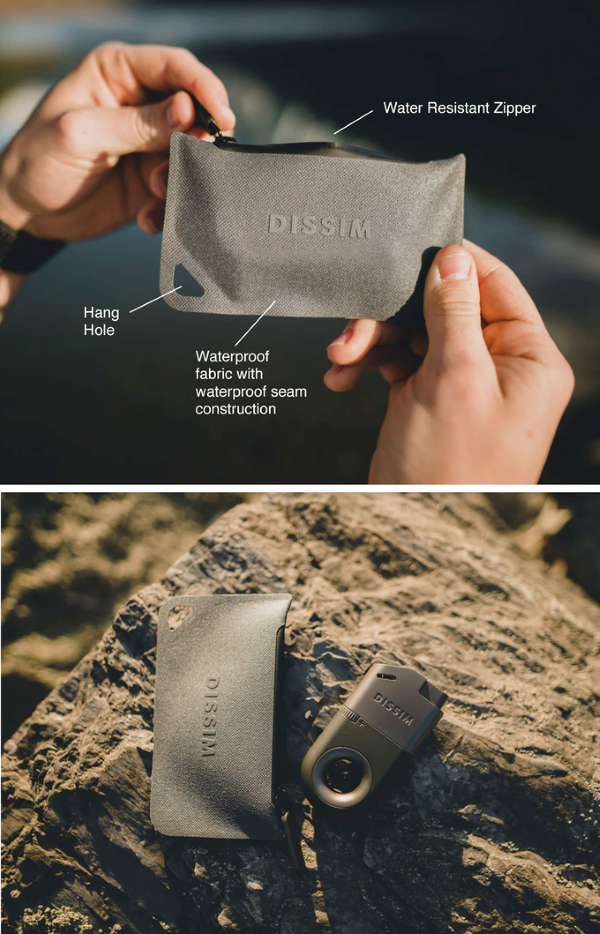 Whether you choose to go for just the lighter, or the lighter with an included Carrying Pouch, everything comes neatly packed in a beautiful cardboard box.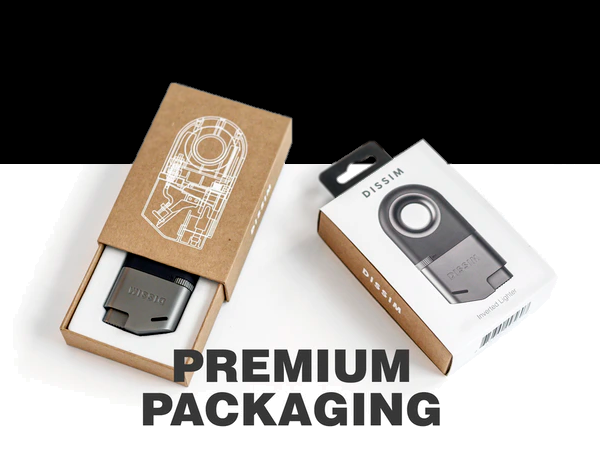 FINAL THOUGHTS
The DISSIM Inverted Lighter is a high-quality durable lighter that's built to last, featuring a durable body, a dedicated circle grip, an angled flame port, an easy-access refill valve for its refillable butane tank and a dedicated fuel window to check its fuel status.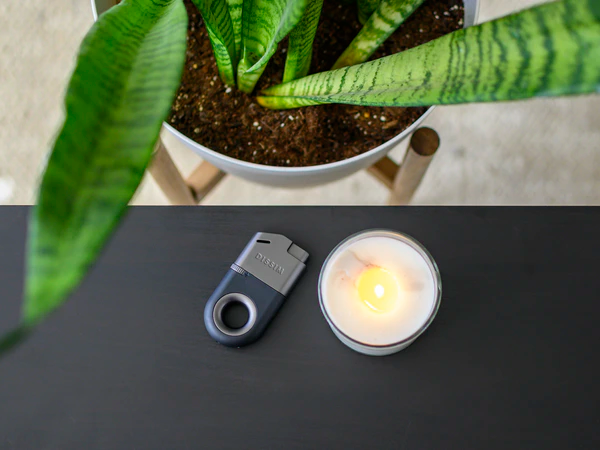 Lastly, since this state-of-the-art inverted lighter is backed by a lifetime warranty, no matter what happens to it, you're always assured that the company will either try to repair it, or if they can't do it, they'll simply replace it with a brand-new one.
If you're interested in getting the DISSIM Inverted Lighter, you can already pre-order yours now either via DISSIM's Kickstarter Crowdfunding Campaign or via its dedicated online pre-ordering page. Click any of the two provided links to go to the corresponding pages.
For the company's Kickstarter campaign specifically, pledging at least $24 will get you just the lighter, while pledging a minimum of $35 will get you both the lighter and its Carrying Pouch.
For DISSIM's dedicated pre-ordering page, the lighter alone goes for $30, while a full set (lighter and Carrying Pouch) goes for $40.